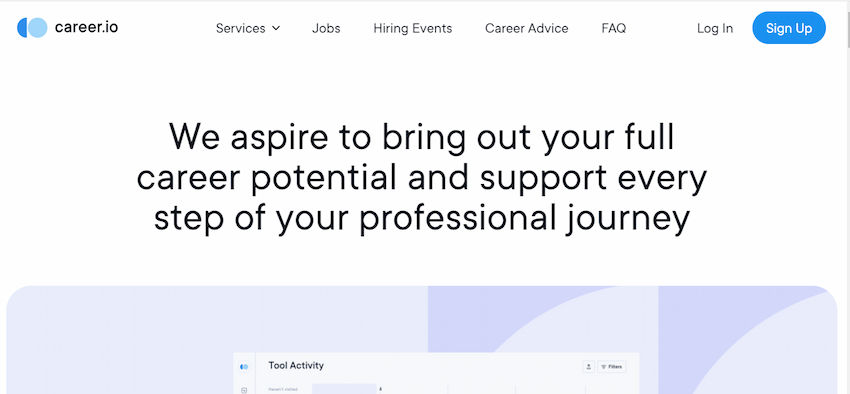 Considering the myriad career-related platforms, why should you care about our Career.io review? Having explored countless online career services, I've come to rely on a specific set of attributes to separate the game-changers from the time-wasters.
The attributes include Qualities, Features, Costs, Interface (Website Usability), Worth for Money, Reviews, and guarantees. Well, you know what? Your career path is one-of-a-kind, just like your thumbprint. Therefore, finding a career advising solution that aligns with yours is essential!
And this is where our review of Career.io can help you. Having benchmarked against those, we can tell you which ones meet our criteria — or don'ts so you won't be lost in the vast ocean of alternatives.
Career.io says they've got everything you need, from creating an excellent resume to sharpening your interview skills. But does it truly deliver? In this Career.io review online, our goal is to spare you some pain while helping you find the perfect path on your career journey.
Features of Career.io that Really Stand Out
From what I have seen in this area of professional expertise, this platform is relevant for anybody who wants to progress their career or begin afresh. Let's quickly discuss the people this platform would be valuable for.
Career.io is an innovative system that truly changes the face of searching for a new career, whether you're a job-seeking beginner (e.g., a new college graduate) or someone with years of experience in the job market like a lawyer or federal worker. It supports the challenging transition from college to professional life or from military to civilian. For mid-career professionals, Career.io will be an indispensable tool to stay on top of the constantly changing job landscape.
Entrepreneurs and freelancers can also get the benefits of Career.io service. Get ahead with one-on-one career guidance and the latest market information so you can confidently navigate each stage of yours.
The solutions/attributes of Career.io could be divided into 3 different categories, which include: "Find a new job," "Excel in my career," and "Make a career switch." In whichever category you may be in, an ocean of resources is available on this platform for your uprise.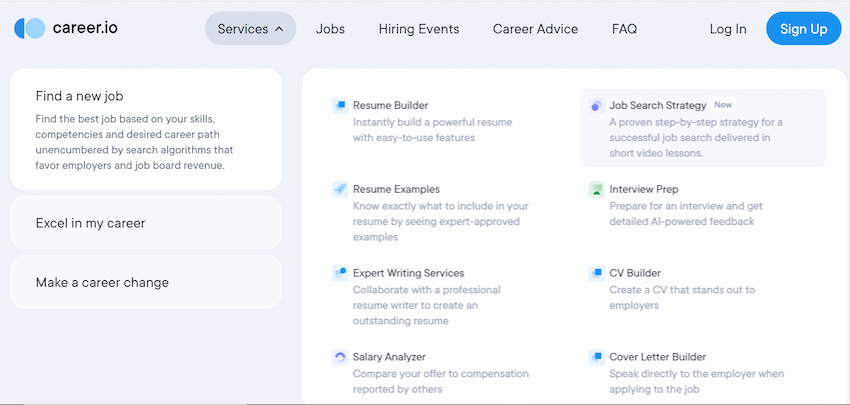 One, "Find a new job." Ignore the algorithmic inequalities and job board noise. From here, you'll open up tools like the Career.io resume creator, making generating killer resumes easy. With this service, you will gain access to Job Search Strategy and Interview Prep. Create an impressive CV, nail your job interviews, and easily browse matching jobs. Also, get access to compensation stats and customizable resumes/cover letters.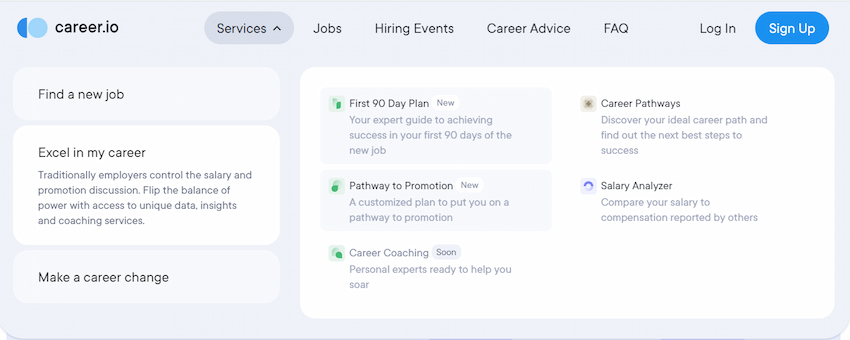 "Excel in my career." Be the driver of your work odyssey. Use First 90 Days Plans, Career Pathways, and Pathway to Promotion to release your potential. Unlink yourself from the classical power of an employer and get access to data and courses. Tools tailor-made for putting YOU behind the wheel of your career growth.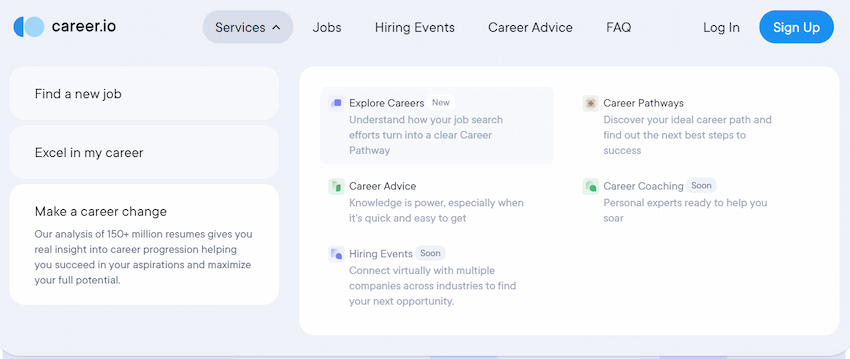 Finally, "Make a career change." Find your dream job and discover how Career.io analyzes 150+ million resumes to help you get there! Discover careers and find personal career coaching in career exploration. Through our Virtual Hiring events, you can connect with many companies and ease the transition of shifting your job.
Career.io is home to various opportunities, and this article only scratches the surface; stay tuned for a more detailed exploration of the platform's quality!
In essence, having a career coach in your back pocket and being able to support you along the way as you progress towards success.
What to Expect from Career.io in Terms of Quality
Their crew at Career.io is an amalgamation of varied abilities from every nook and corner of the globe. It's an eclectic mix of HR specialists, career writers, coders, and designers. They both work together to offer you the freshest updates and news to continue your career success path.

Polina Oparina, their Head of Product, firmly believes in two things. Firstly, your career matters. Secondly, you have the power to steer it towards success. They're crafting this platform to be your career's faithful companion, helping you unlock your full potential.

Todd Goldstein, the EVP Global Partnerships, recognizes the historical employer advantage in recruitment. Career.io claims to be flipping the script, giving career-driven professionals the tools to level the playing field.

Mike Moreno, the Content Strategy Manager, emphasizes that now, everyone can shape their career's destiny. No more being at the mercy of fate.

Debby Grooteman, the SEO Specialist, ensures that their valuable resources and career advice reach a wider audience through search engines. Her goal is to maximize the online visibility, ensuring you discover the wealth of resources on their website.
Are There Any Guarantees to Expect?
Career.io allows for a 7-day money-back guarantee on each of their pricing options. But on their terms of use page, they clarify that they do not make extravagant promises. The platform is provided as-is and as-available.
They also assertively disclaim all express and implied warranties, including those of merchantability and fitness for a specific purpose.
Liability for personal injuries, server breaches, or transmission interruptions is explicitly disclaimed. Even the prospect of viruses infiltrating from the recesses of the internet fails to perturb them. In summary, Career.io refrains from offering guarantees.
How is it Different from Other Services?
Platforms
Career.io
PurpleCV
TopCV
Prices
$4.70 – $74.95
£50 – £215.
€129 – €349
Value (what you get)
Unlimited job recommendations.

Tailored job hunts.

Live and A.I.-powered interview prep.

Unlimited PDF downloads.

A wealth of expertly crafted resources.

An all-inclusive deals include a CV, Cover Letter, and LinkedIn Profile makeover.

These packages provide a cost-effective solution to boost your career prospects without compromising quality.

My experience with TopCV's pricing reveals that their services might not offer the best value for money, especially their cheapest option at €129 for just a CV.
Quality
A diverse team of HR experts, career writers, programmers, and designers.
Tailored CV writing services that spotlight individual strengths, skills, and career aspirations.

A team of industry-savvy writers, transparent pricing, and responsive customer support.

Consultative approach

Meticulous drafting

Commitment to revisions.

They transform CVs into powerful tools for professional success, aligning them with individual aspirations and industry standards.
Career.io offers a versatile range of features between $4.70 and $74.95, including unlimited job recommendations, tailored job hunts, live and AI-powered interview prep, unlimited PDF downloads, and a treasure trove of expertly crafted resources. PurpleCV's £50 to £215 price range is decent, but Career.io's value is unmatched.
Career.io boasts a diverse team of HR experts, career writers, programmers, and designers. Their comprehensive service package leaves no stone unturned in elevating your career prospects. PurpleCV might be cost-effective, but Career.io's tailored approach to showcasing individual strengths and aspirations outshines the competition.
TopCV, on the other hand, might leave you scratching your head with prices ranging from €129 to €349, especially when their cheapest option offers only a CV. Career.io's comprehensive offerings provide better bang for your buck.
The Costs of Using Career.io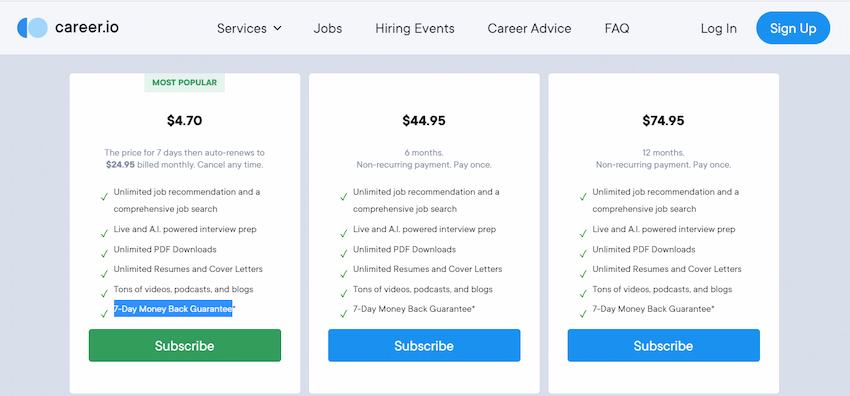 Career.io offers three distinct pricing tiers to cater to various preferences and needs. The first tier, the crowd-pleaser, starts at a wallet-friendly $4.70 for a 7-day trial, subsequently auto-renewing at $24.95 monthly, and you can cancel at any time.
The second tier begins at $44.95 for a generous 6-month period without recurring payments; it's a one-and-done deal.
Lastly, the third tier kicks off at $74.95, granting you a full year of access, also with a non-recurring payment structure.
Each tier, regardless of your choice, comes packed with impressive features. You'll enjoy unlimited job recommendations, comprehensive job search capabilities, live and AI-powered interview preparation, unlimited PDF downloads, and an abundance of resumes and cover letters.
Credit cards, debit cards, and even third-party services like PayPal are all acceptable forms of payment on Career.io.  Alternate methods of payment may be available in certain regions.  Some of Career.io's services may have a price associated with them.
However, it's worth noting that Career.io rarely dishes out promo codes. It falls on the less-trodden path when it comes to discounts.
So, while you might not find a Career.io promo code easily, the value you get from their pricing tiers and features makes it a worthwhile investment in your career journey.
Value for Money on Career.io
In my expert experience, Career.io indeed offers substantial value for money. Their pricing tiers are well-structured, catering to diverse needs. The entry-level tier at $4.70 for a 7-day trial provides a taste of their impressive features, making it accessible to virtually anyone.
The next higher rung on the ladder is the six-month plan with a single payment of $44.95, representing an impressive sweet spot in value and low cost. For those looking for the best return on their investment, $74.95 gives you an entire year's worth of access to the Career.io treasure chest. That said, you can snag yourself a Career.io coupon code, which is an additional plus in our view—if you can find one!
Now, let's explore why it is worth its cost. First, you get limitless recommended jobs that fit your interests, meaning that finding work has never been simpler. The extensive job search features mean jobs are not missed out on. career.io offers LIVE & AI-Driven practice interviews to give you an advantage.
Infinite PDF access, high-quality resume & cover letter templates, and a wealth of learning resources (videos, podcasts, blogs) become your weapon to win in the battlefield of the job market. The abundance of resources and tools offered for such a small price is worth it for anyone investing in their career journey.
Career.io has a multi-disciplinary group of experienced human resources officers, writers, programmers, and graphic designers to offer the best possible experience. Their mission is to give you top-level news and information on your career path.
Having spent time on their Career.io platform, I can attest that they're an invaluable friend-for-hire if you want to land your ultimate position. It offers an easy-to-use resume writing services and builder in addition to the Job Search Strategy and Interview Prep features required to create an eye-catching resume and ace your interviews while still having time to browse available positions in the marketplace.
And bonus: The salary insight and custom cover letter stuff is the shit.
The Career.io Reputation: What Do Job Seekers Think?
I had an amazing interaction when working at Career.io. Their reputation with the job-seekers is not entirely all sweet fragrance and roses, but neither is the bed of thorns.
As far as the support team was concerned, no engines were running. I sometimes found their assistance a bit lackluster, but it was bearable. They didn't exactly shine in the customer service department, but they didn't plummet into the abyss either.
In my expert experience, Career.io has room for improvement, especially in the support department. But if you're looking for a job platform, it's not the worst choice. But don't expect everything to go perfectly smoothly. Because of lousy feedback from third-party platforms like Trustpilot, Career.io has faced criticism about its reputation.
Job seekers like Serena Matthews, Luc Danty, and Daria E have voiced dissatisfaction with their platform experiences.
Serena Matthews expressed frustration, accusing Career.io of sneaky money-grabbing tactics. She cited unprofessional customer service and a lack of managerial support. She can't wait till this Career.io process is over.
It was also disappointing for Luke Daney. He issued a warning for hidden fees, claiming that Career.io does not mention to users the $36 that's charged after your first 7 days. The renewal process, he claimed, happens without consent, leaving subscribers in a frustrating predicament.
Daria E's experience shed light on a peculiar situation. Daria insisted that Resume.io and Career.io are the same. In other words, Career.io also operates through another name (Resume.io), which raises the same concern. Thirty minutes after presenting proof of cancellation troubles during her free-trial subscription registration, Daria got zero refunds despite her efforts with customer care.
The Career.io reviews online prompt serious questions about openness, client support, or billing procedures that don't have a good influence on the site. Career.io needs to rectify itself to build back credibility & make the user experience better.
Pros
Because Career.io has everything one would need as a job seeker, new graduate, or professional, it is rather versatile.
With an easy-to-use online Resume Builder, users can make visually appealing CVs and improve their chances in the Job Market.
Career. io offers tools like the First 90-Day-Plans and Career Pathways, giving you the power to steer your career development.
Through access to analysis on over 150 million resumes and career coaching, Career.io helps individuals transition from their current jobs into meaningful, high-growth positions.
The platform allows participants to interact with several companies in virtual events, thus promoting networking and job prospects.
Cons
Some users might not feel well-supported due to inconsistent customer service.
Negative career.io reviews on the internet raise concerns over integrity, hidden fees, and unfair billing practices.
Career.io's reputation among job seekers is lukewarm, as reviews are polarized, suggesting an opportunity for enhancement.
Summing Up: Is Career.io Worth It?
Career.io is a solid site that has been around for many years, offering all sorts of job-hunting/job-seeking services, particularly those I mentioned earlier (career advancement, resume upgrading, and professional growth). However, there are pros and cons (just like every other platform).
FAQs
Is Career.io worth it?
I've tested it extensively. From my experience, I can say that it's worth it! It offers valuable insights, personalized advice, and job opportunities. All these tools can help you boost your career with confidence.
How much does Career.io cost?
Career.io offers three pricing tiers to fit your needs. The first is $4.70 for a 7-day trial, then $24.95 monthly. The second is $44.95 for 6 months. The third is $74.95 for a year.
Is Career.io free?
Career.io is not free. They offer three pricing tiers. Each tier includes valuable features. While promo codes are rare, the investment in your career is worth it.