Do you not hate how much time you spend applying and uploading your resume to many different job sites? We know how tiring it can be.
After all, you may not have a lot of time if you still have a full-time job. That is why we are conducting a review of ResumeRabbit.com. We want to see if this website and company live up to the hype.
We are going to provide you with a Resume Rabbit free review. Let's dive in and see if this is a company you want to use!
Once you have created your CV or used the best resume writing services, this review will be useful to you.
If you do not have a professionally written resume, we recommend checking the best resume writing service reviews, picking a resume service, and only then submitting it anywhere.
Our main goal at EduReviewer is to make your life easier by showing you the Monster resume writing review on the market today.
ResumeRabbit Overview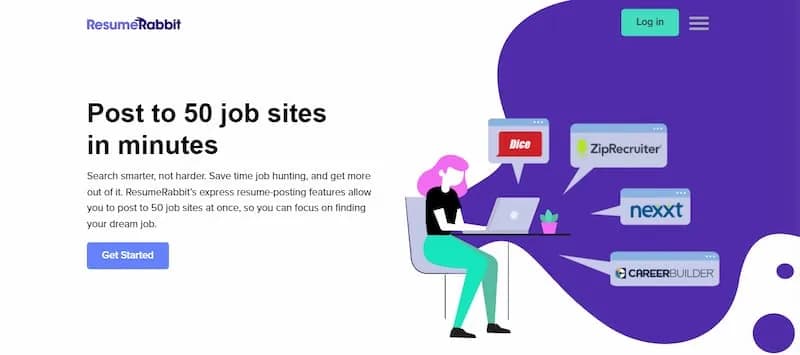 ResumeRabbit is a lot different from other resume posting services out there. This is because they use a patented technology system to automatically post your resume to lots of different websites at once. This can be up to 60 job sites of your choosing.
They create all of the accounts for you and log in on your behalf, but you manage all of your interactions on their platform to be straightforward. Finding a new job does not have to be difficult.

If you are looking for a job in the government, you'd better check our professional federal resume writing services list first. There you can hire certified government resume writers to get yourself a top resume.
ResumeRabbit com Story
ResumeRabbit com is a resume posting service that can make it easy for you to find a job. They aim to cut down the time you spend posting your CV online.
They have partnered with 60 jobs to make sure your resume goes out to big companies that may be interested in your skills and experience.

They want to make it quick and easy for professionals to share their resumes. If you are just in the process of making your resume, you can check the CraftResumes.com review and find out that this service will help you with it in the short term.
Resume Rabbit Cost
The pricing of Resume Rabbit is made clear to customers from the beginning. This means no hidden charges or surprises later on.
It is all honest and upfront so you can make an informed decision. You pay a one-time fee of $59.95. This entitles you to increased resume exposure and access to the top 60 job sites used by recruiters.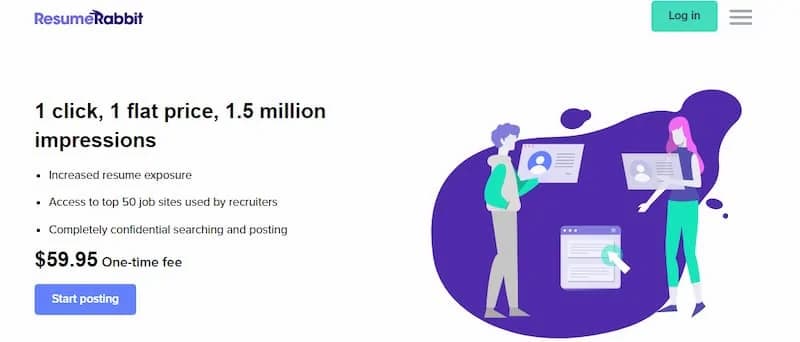 It is all completely confidential searching and posting, which means your current boss does not have to know. We would say that this is a good price.
That is paying around $1 for every professional job website.
Overall, even though it is not among other top cheap resume writers, we believe the Resume Rabbit cost is fair for the service that you get.
ResumeRabbit Payment
Payment is straightforward at ResumeRabbit. There are different options available to suit everyone. This includes Visa, Mastercard, and American Express.
There is also the option of paying for the service through PayPal.
The company clarifies that none of your credit card details will be kept on file after your order. This means confidentiality and peace of mind.
During the process, your credit card information is secure and it is encrypted. ResumeRabbit uses Secure Socket Layer (SSL) technology for transactions.
ResumeRabbit.com Quality
We are impressed by the quality service of ResumeRabbit.com. The information you provide is used to complete forms on up to 60 popular job sites.
This means a lot of exposure for your skills and experience, perhaps enough to land you your dream job.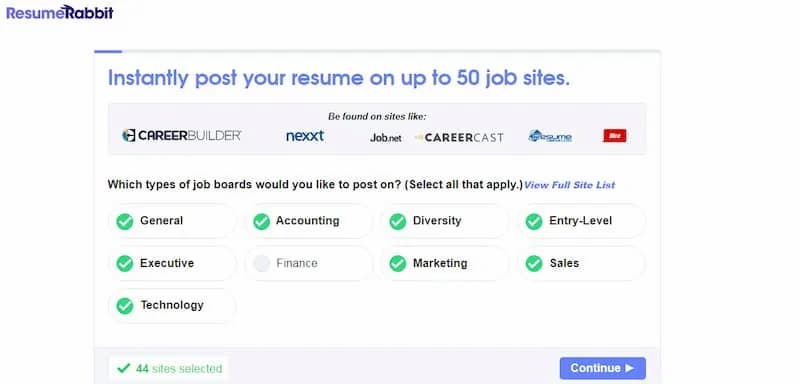 Our ResumeRabbit review found that this can lead to your information being found by around 1.5 million recruiters and hiring managers across the country.
You can be the qualified candidate that they are on the lookout for. Some of the websites include:
SalesJobHunter;
TalentZoo;
ITJobCafe;
Resume Library;
GovtJobs;
CareersInGovernment;
America's Job Exchange;
Bank jobs;
HeadHunter;
DiversityClassifieds;
iHireAccounting.
We also like how you can hide your job search for your current employer. This is ideal if you look at what other options are out there or do not want to tell your boss you want to resign yet.
You will be able to post, but your details are kept private.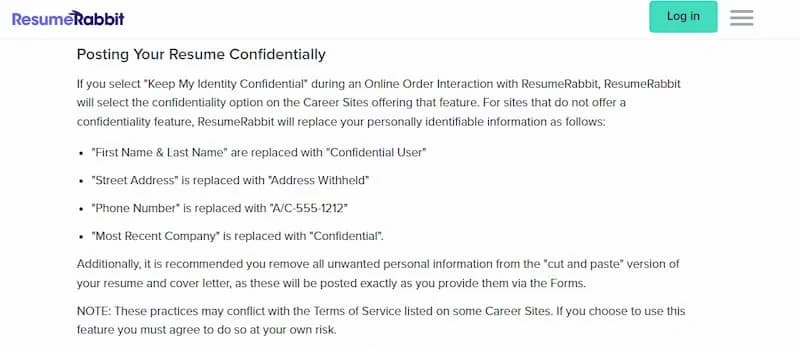 ResumeRabbit.com Customer Service
There is some customer service available if you want to enquire about the resume posting service. You can call them at 1-800-385-4583. You can also send them an email at [email protected].
The hours of operation are weekdays from 9 am to 6 pm ET. There is no live chat function offered; these are the only ways to contact customer service.
To know when your details have been posted to the job websites you have selected, you can track your progress. This is done through the Real-Time Posting Report, which you can find on your dashboard.

ResumeRabbit.com Website Usability
The website is simple to use. There is a dropdown menu, and you can easily see how to get started. You have to upload your resume to start the process.
You can also see reviews, how to contact customer service, and frequently asked questions. It is easy to navigate, even if you are not tech-savvy.

Pros
Great resume auto-posting offers by Rabbit Resume.
All of your posts are up quickly.
Rabbit Resume is partnered with popular job websites.
We like how ResumeRabbit takes your privacy seriously.
Employers that are interested in speaking to you can message you directly to your Rabbit Mail account.
The website is easy to use.
There are specific job websites for different fields.
Cons
No online chat function.
Some people may find ResumeRabbit costs too much.
There is no customer support on the weekends.
This company does not help you with your resume.