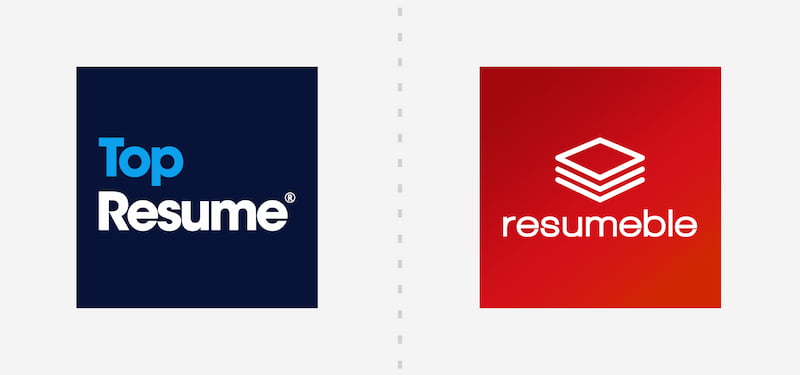 Resumeble and TopResume are useful and efficient resume-writing services. Once you've made a request, there is nothing to wrap your head around. The experts will complete your assignment on time, meeting all requirements.
Resumeble offers an exceptional service for anyone seeking a quick and high-quality resume from scratch. On the other hand, TopResume goes a step further by providing support for existing resumes with a free complimentary review and valuable feedback.
Although TopResume and Resumeble both have quite a good and well-deserved reputation, it's hard to pick the one you need immediately. First, you need to compare them, evaluate their benefits and drawbacks, and consider which suits your specific situation. To save you time, we've done it all for you.
Check out our in-depth reviews of each service at EduReviewer and read this article! Here I compare both services regarding key features, pricing, and overall resume writing quality based on my thorough research and analysis.
Overall Comparison Table
Choosing TopResume or Resumeble is complicated as both services are quite different. Below is an overview of what my tests have shown!
 
TopResume
Resumeble
Overall score
4.2
4.0
Lowest price
$149
$159
First draft
7 days
5 days
Revision
2 available
Unlimited
Additional services
●       Cover letter

●       LinkedIn makeover

●       48-rush writing

●       Cover and Thank you letters

●       One-on-one consultation

●       Cold outreach

●       LinkedIn makeover

●       Job guarantee

Discounts
58 offers
34 offers
Refund policy
N/A
N/A
Customer support
●       Email

●       Phone call

●       Contact form

●       Live chat

answer in less than 24 hours

●       Email

●       Phone call

●       Contact form

●       Live chat

answer in less than 24 hours
Quality of Resume Writers
Before selecting TopResume vs Resumeble, and paying money to get your task done, you need to consider the quality of each service. So, here are the results of my research.
Resumeble

Positive feedback from the previous clients.
Get as many revisions as needed.
Complete your request within 5-7 days.
Look through various authors, read their reviews, and decide which one suits you best.
Resumeble clients leave positive feedback about how detail-oriented the writers are and how promptly and efficiently they complete their work.
Writing Process
The application and completion processes are quick enough and consist of a few steps:
Clients must register on the website and select a package that suits them the best. Among the choices are Career Pro, Professional, and Premium plans.
To create your perfect resume, Resumeble authors need to know your job history, strong career points, and motivation for new employment. Additionally, you'll receive a questionnaire to define the area of your job interest.
Further, the selected writer will get in touch with you. Together, you can discuss the key requirements of your CV and create a rough draft. During the writing process, you can also offer suggestions to tailor your resume to your needs and expectations.
The resume is done, which means you're ready to apply for jobs and get discovered. Resumeble guarantees a boost of confidence with a new CV on your hands.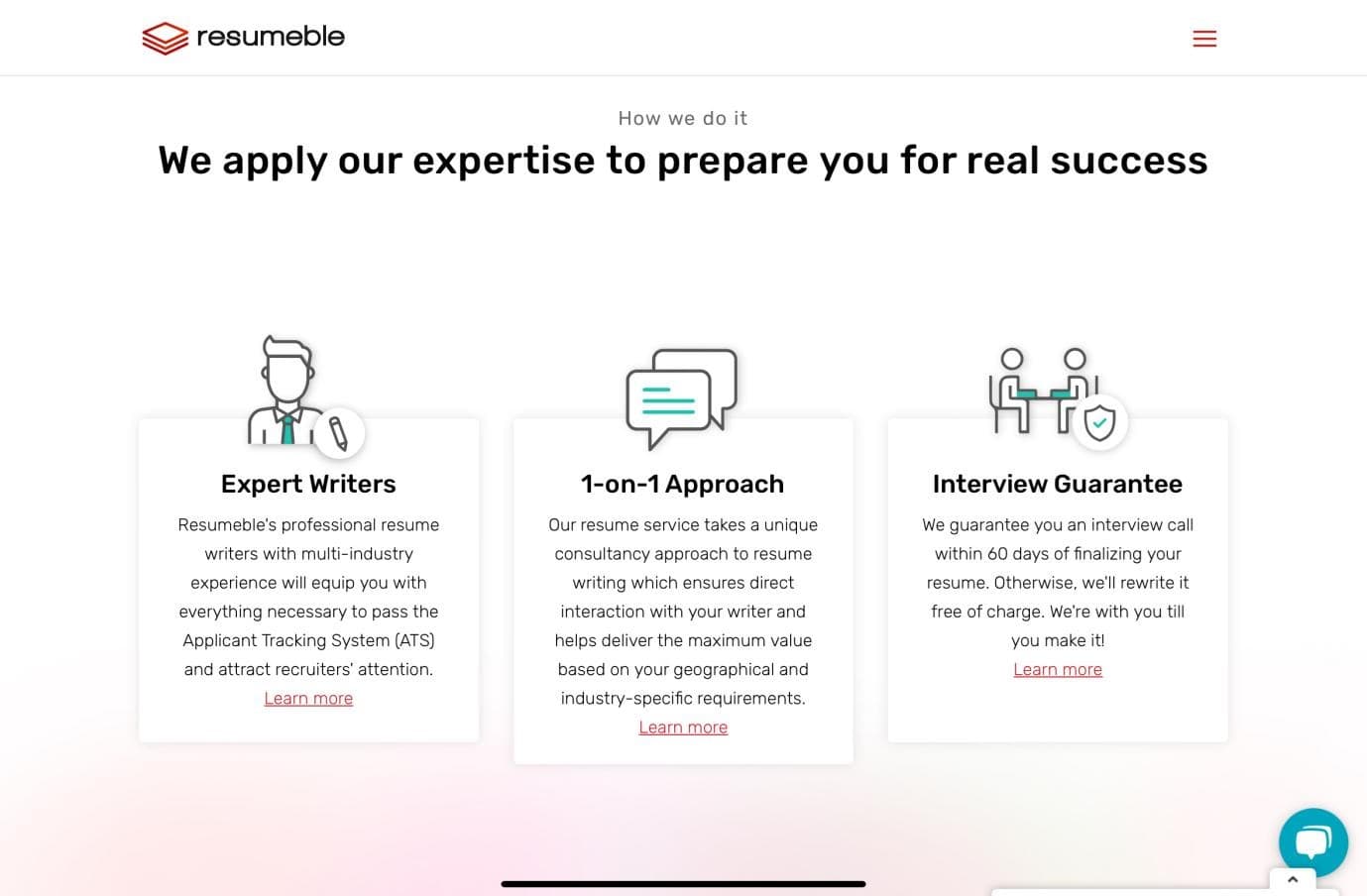 Completion Tenure
The first draft comes within 4-5 working days. After your suggestions, the author takes 2-3 more days to finish the task and provide you with a final version.
Luckily, the writing service doesn't limit your communication with the writer, so you get as many revisions as needed. On average, the Resumeble experts complete your request within 5-7 days. In the case of extra revisions, the procedure may take longer.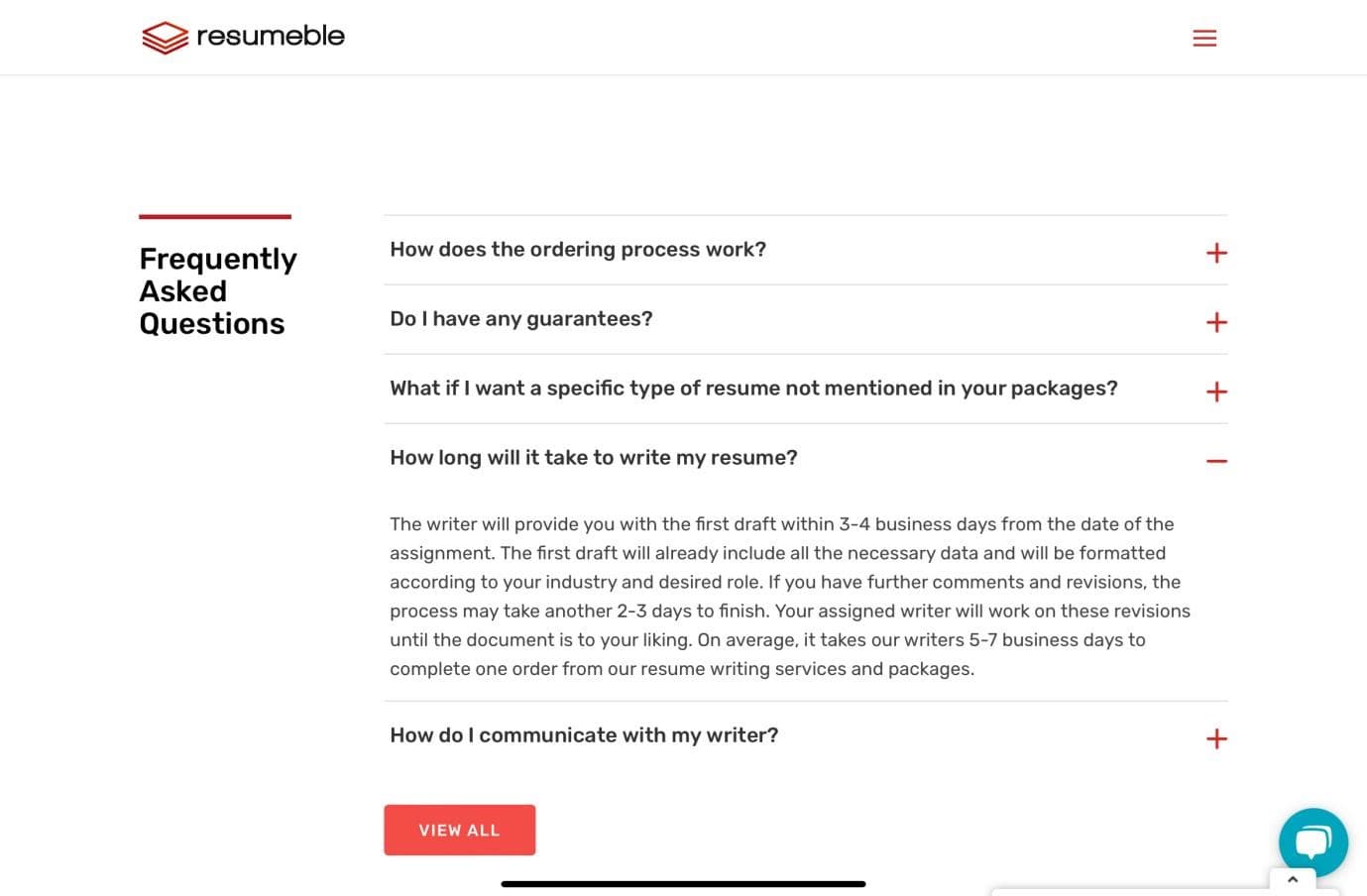 Finding the best writer is a long process. Some don't specialize in your area, others can't meet your requirements, etc. Therefore, to receive an outstanding CV, you need to check our list of resume writers ratings beforehand. There you can look through various authors, read their reviews, and decide which one suits you best.
TopResume

The TopResume takes up to 7 days to complete your resume.
You have 7 business days to look through the paper and discuss your suggestions
Given the revisions, the writing process may take up to 2-3 weeks.
Find prompt, efficient, and cheap solutions to finalize your resume.
TopResume doesn't fall behind. Customers highlight the constructive feedback that comes with no charge and the writers' focus on the necessary field.
Writing Process
The procedure's scheme is short and includes the following:
Customers have three options to choose from — Starter, Premium, and Ultimate packages.
You can additionally request a CV distribution service, thank you letter, and 48-rush completion for extra fees. Once you've decided, you need to purchase.
The next step is creating a client profile, where you upload the existing resume and fill out a questionnaire.
According to your area of work and job history, the site matches you with the writer who will process your request and create a draft within 7 working days.
The TopResume will provide you with a chat where you can communicate with the writer. You can also pay extra to request a phone call.
There are only two opportunities to make changes in the resume and provide your suggestions. This also should be done within 7 working days. Afterward, your resume is ready!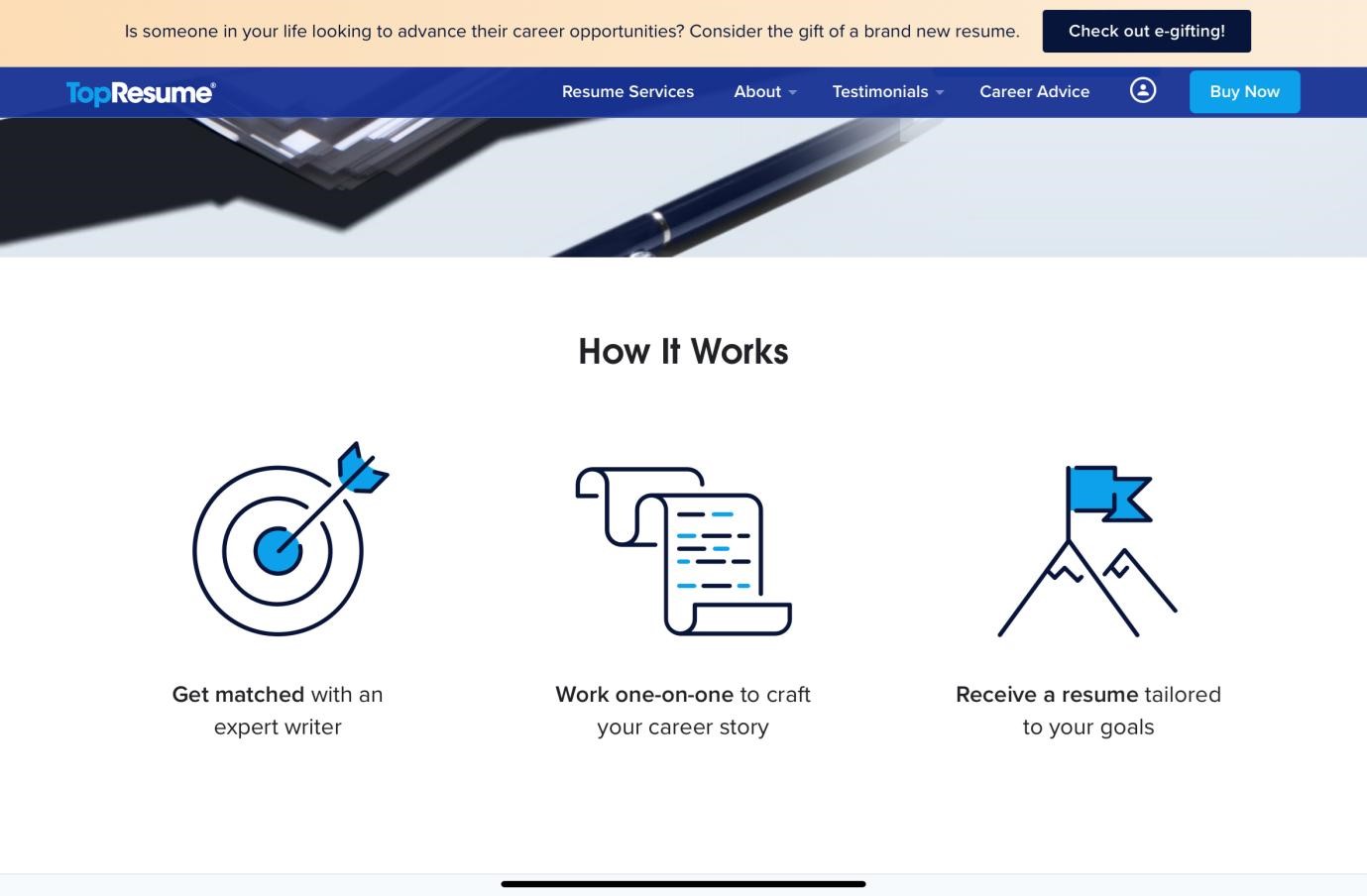 Completion Tenure
As I mentioned, the TopResume takes up to 7 days to complete your resume. After, the writer sends you a draft that you can evaluate and propose your changes.
However, you have only 7 business days to look through the paper and discuss your suggestions with the writer. So, overall the writing process takes a week but considering possible revisions, it may take up to 2-3 weeks.
If you've forgotten about the revision period and have no more opportunities to suggest changes to the TopResume, read our article about the best resume editing services. There you'll find prompt, efficient, and cheap solutions to finalize your resume.
Key Features of the Resume Writing Services
So, is TopResume or Resumeble better? Let's compare the services offered by these platforms and their features.
| | | |
| --- | --- | --- |
|   | TopResume | Resumeble |
| Resume Writing | TopResume offers several types of resumes: federal, academic, military, and executive. The writers always generate perfectly tailored and detailed CVs. | Excellent approach. Prompt and high-quality product. Resumeble authors can create a resume for a wide range of niches. |
| Cover Letter | Cover letter is available for applicants with Premium and Ultimate plans only. The website ensures that the cover letter from TopResume increases one's chances of recognition by up to 40%. | Professional writers complete the task in collaboration with you. The process is personalized, and the results perfectly highlight your value as an applicant. |
| Thank You Letter Writing/Editing | N/A | Resumeble writers create a thank you letter that emphasizes one's attentiveness and tenacity to support the job interview or a call. It's available only on the Premium plan. |
| LinkedIn Profile Organization | The LinkedIn makeover is aligned with one's resume. It presents your achievements and helps your profile to get into the top ranks for job opportunities. | Experts work with branding, target adjustment, error correction, and reputation building. The service guarantees privacy and confidentiality. |
Resumeble
Resumeble customers have rated its services with 4 to 5 stars, which highlights the website's quality and reliability.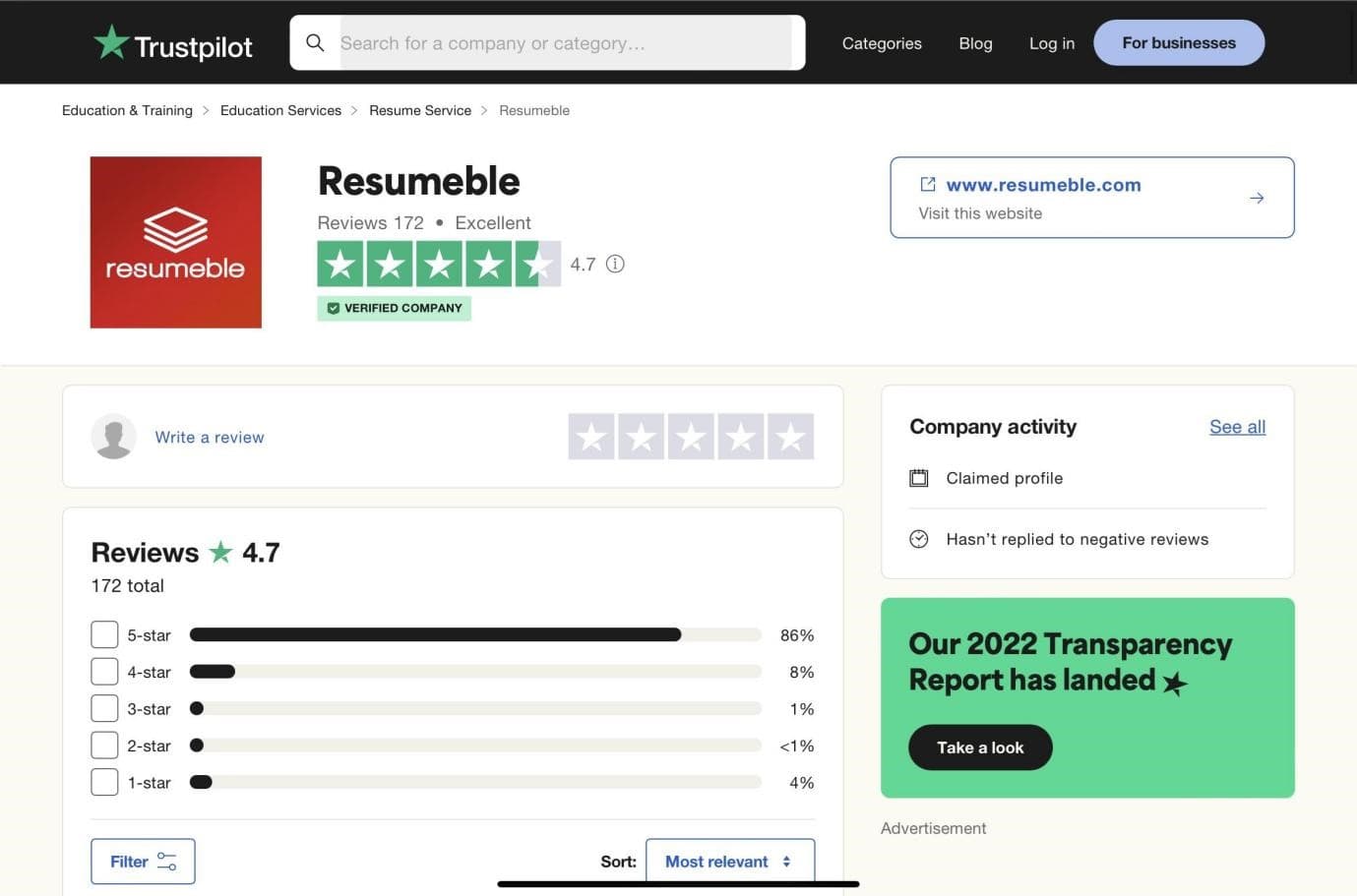 Discounts
Like many popular resume writing platforms, Resumeble is generous with discounts and strives to ease one's financial hardness. Therefore, as of July 2023, Resumeble offers 7 active promo codes and 34 discount promotions.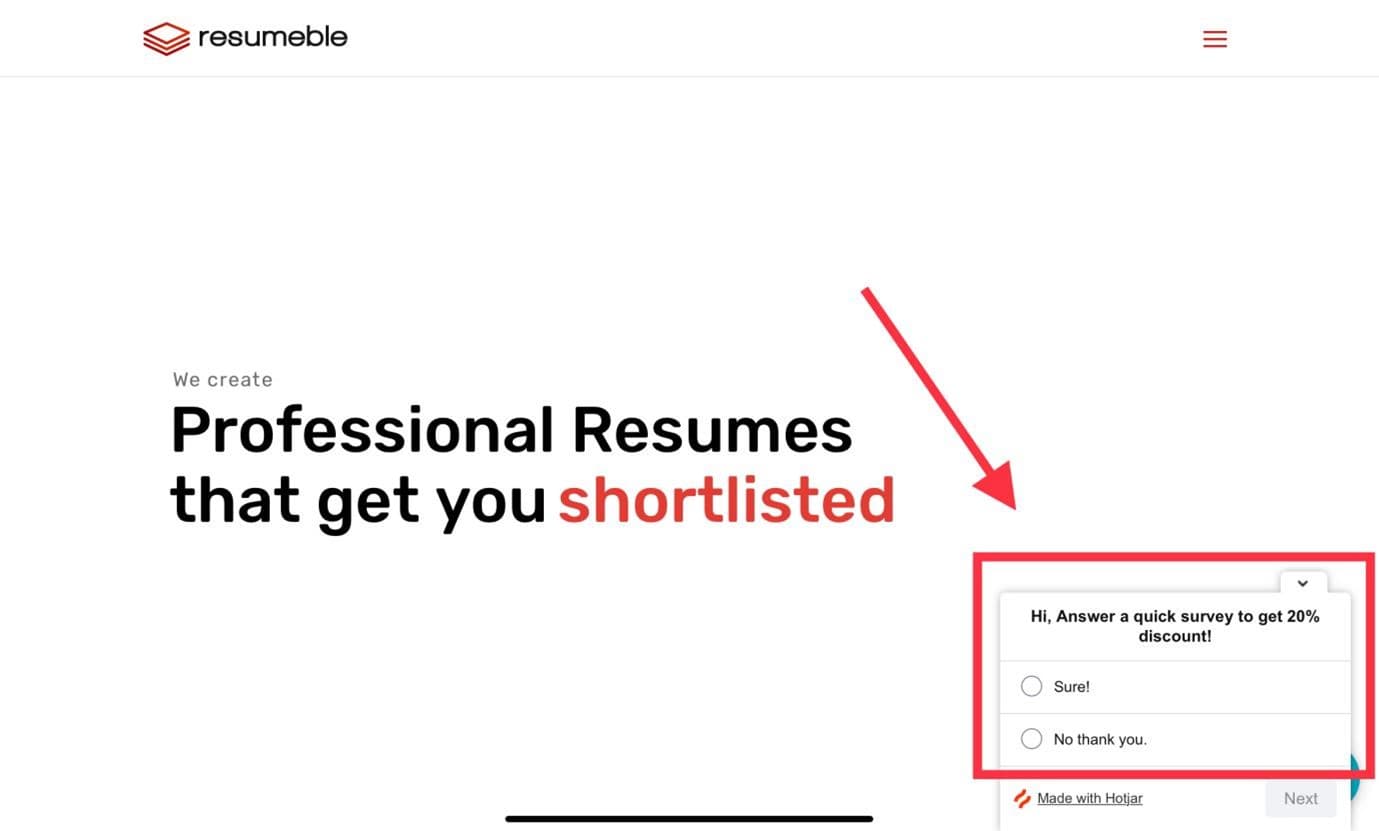 The amount of discounts varies from 10% to 50%. You can find these in the newsletters or on related sites on the web.
Refund Policy
Resumeble promises to match you with the best authors and complete your task perfectly, so there will be no need to demand your money back. Besides, you can see a floating window on the website, saying "Money Back Guarantee If You Didn't Get a Job Within 180 Days".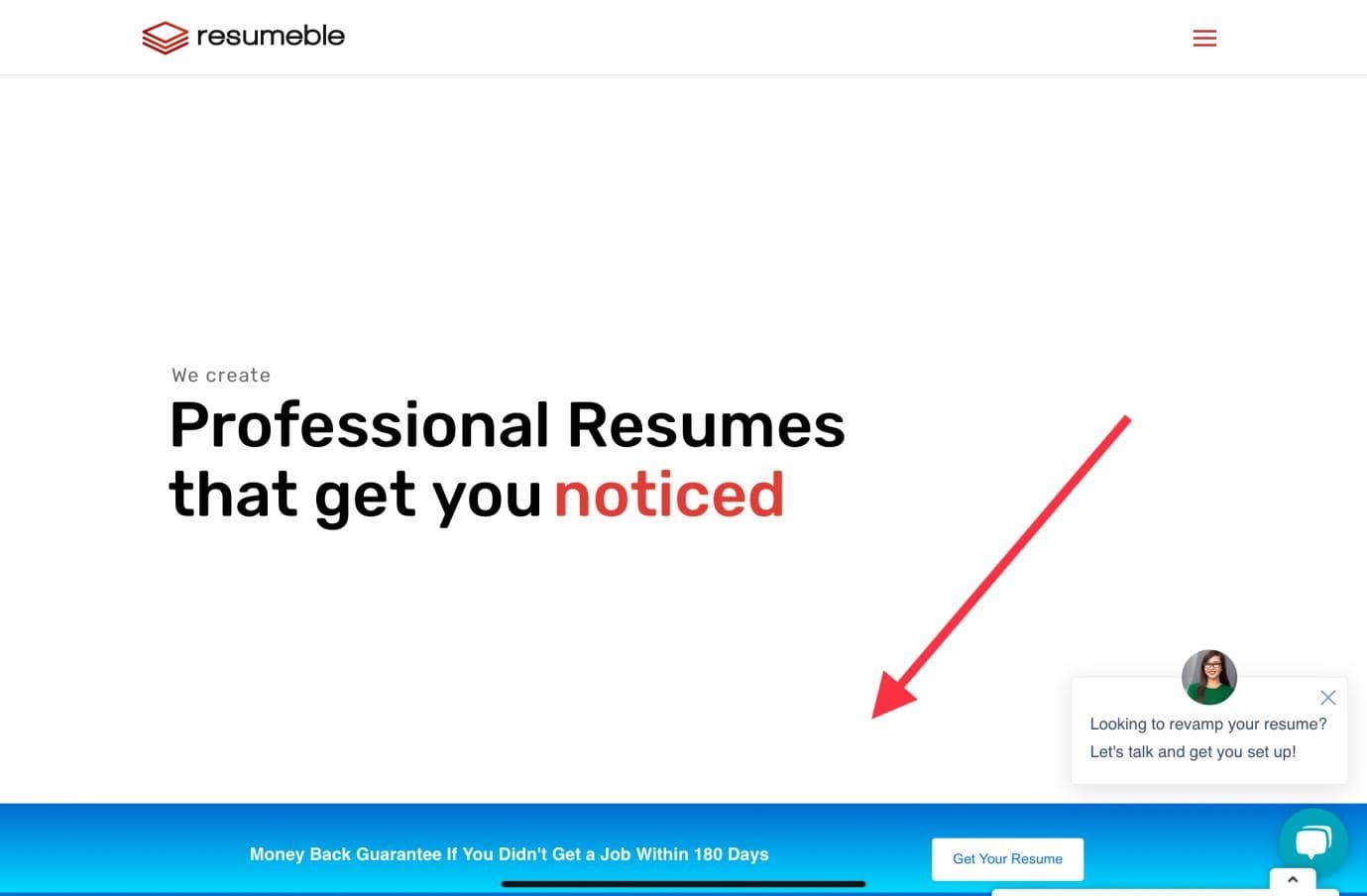 Our experts at EduReviewer have tested numerous writing services themselves. That's why we create useful and valuable articles for you with a detailed overview of CV and resume writing services. Read a TopCV.com review on our blog to make sure!
Customer Support
Resumeble provides answers to lots of customers' questions in the FAQ section on their website. Although, If you haven't found what you're looking for, you're free to contact customer support.
There are several ways how you can get in touch:
Customer support email: [email protected] (feedback in less than 24 hours)
An online contact form is available on the Resumeble website (feedback within 24 hours)
There's also a live chat with a support department manager in the bottom-right corner of the platform (feedback within 24 hours)
Customer support department mobile number: (+1) 866-2319823 (Mon-Fri, 9 am to 6 pm EST.)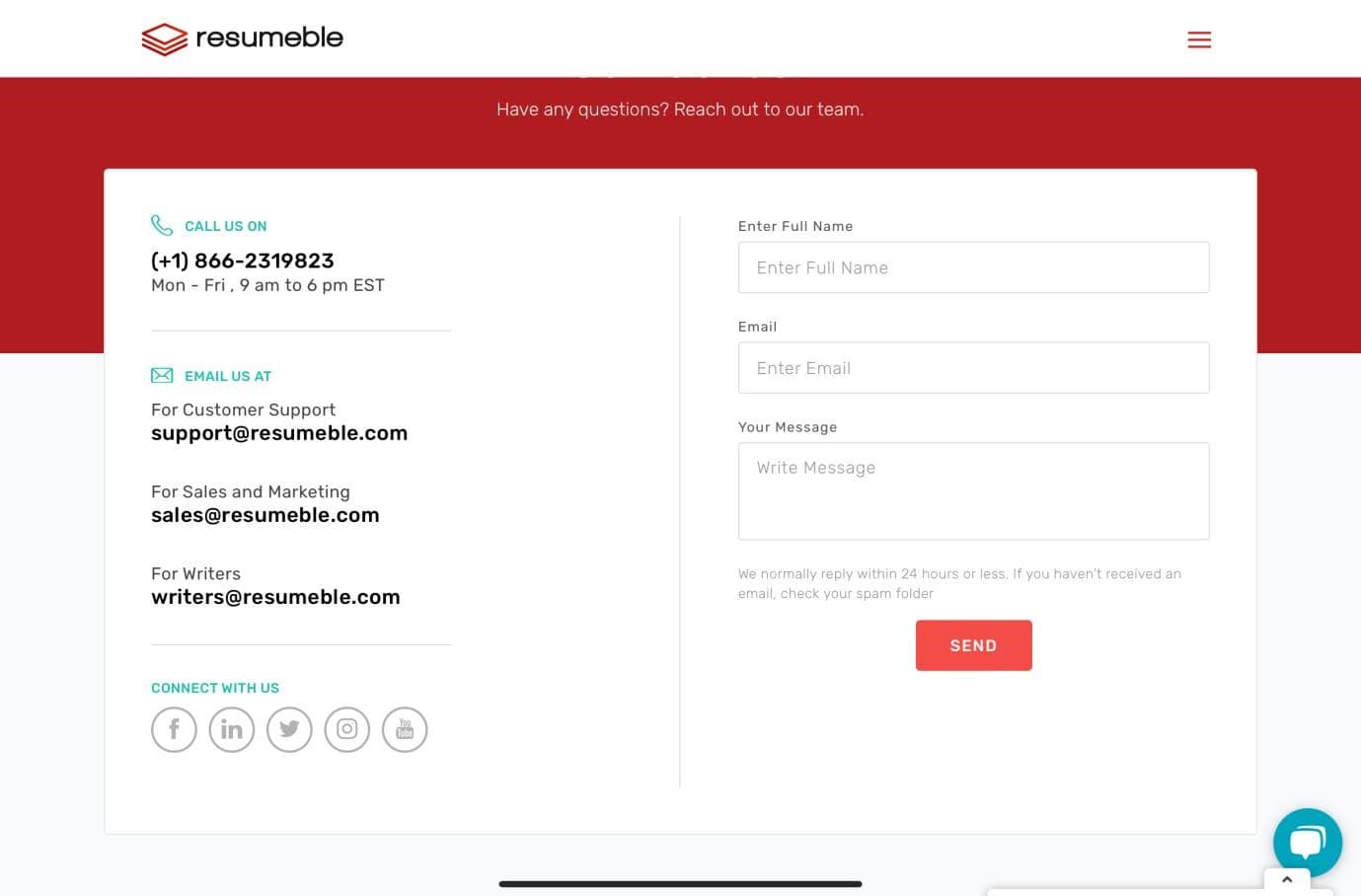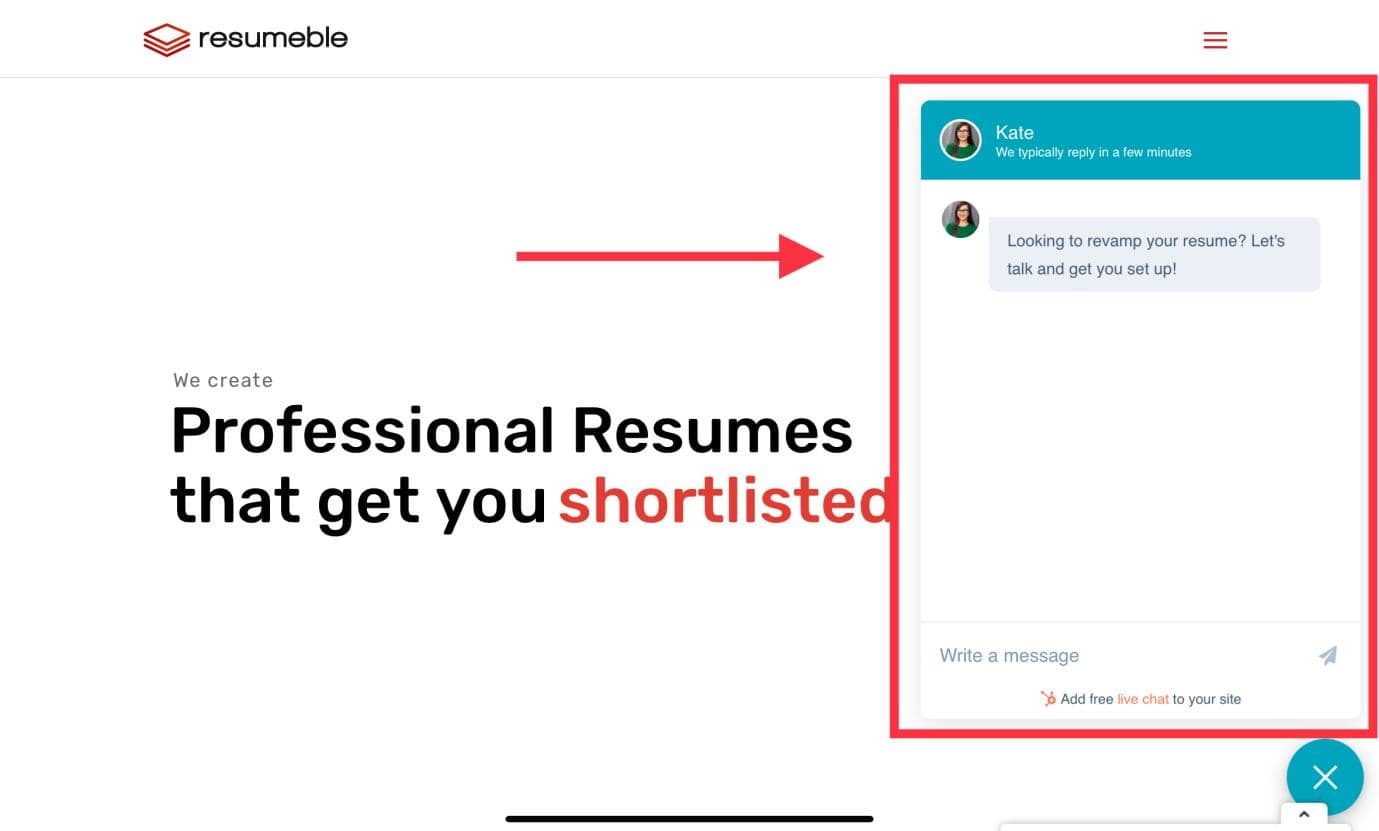 TopResume
TopResume service is high-rated by its clients and has 4.5 to 5 stars on such platforms as TrustPilot and SiteJabber. All the reviews emphasize the website's expertise and experience in the resume writing field.
Discounts
TopResume always supports its customers and tries to provide them with convenient and useful benefits like discounts. Currently, the website offers 12 active coupon codes and 58 total discounts.
The amount of promo code or discount also varies between 10% and 50%. Moreover, clients can benefit from a Buy Now, Pay Later feature with up to 4 no-interest payments. You can find such offers on the Internet, looking through related revisions platforms, or in newsletters.
Refund Policy
TopResume doesn't have a specific refund policy. The website guarantees to rewrite your CV in case you're not getting a job within 60 days. Note that you can request a new resume only within 180 days after you receive your paper from TopResume.
Customer Support
The managers are available within business hours only (Mon-Fri, 9am to 6 pm EST). The number of a support department is 1-800-604-1929. In my experience, TopResume managers were extremely friendly and helpful.
One more way to reach out to TopResume is by writing an email to [email protected] or live chat. On average, managers answer promptly but in the worst-case scena,rio you may wait up to 24 hours, although it happens seldom.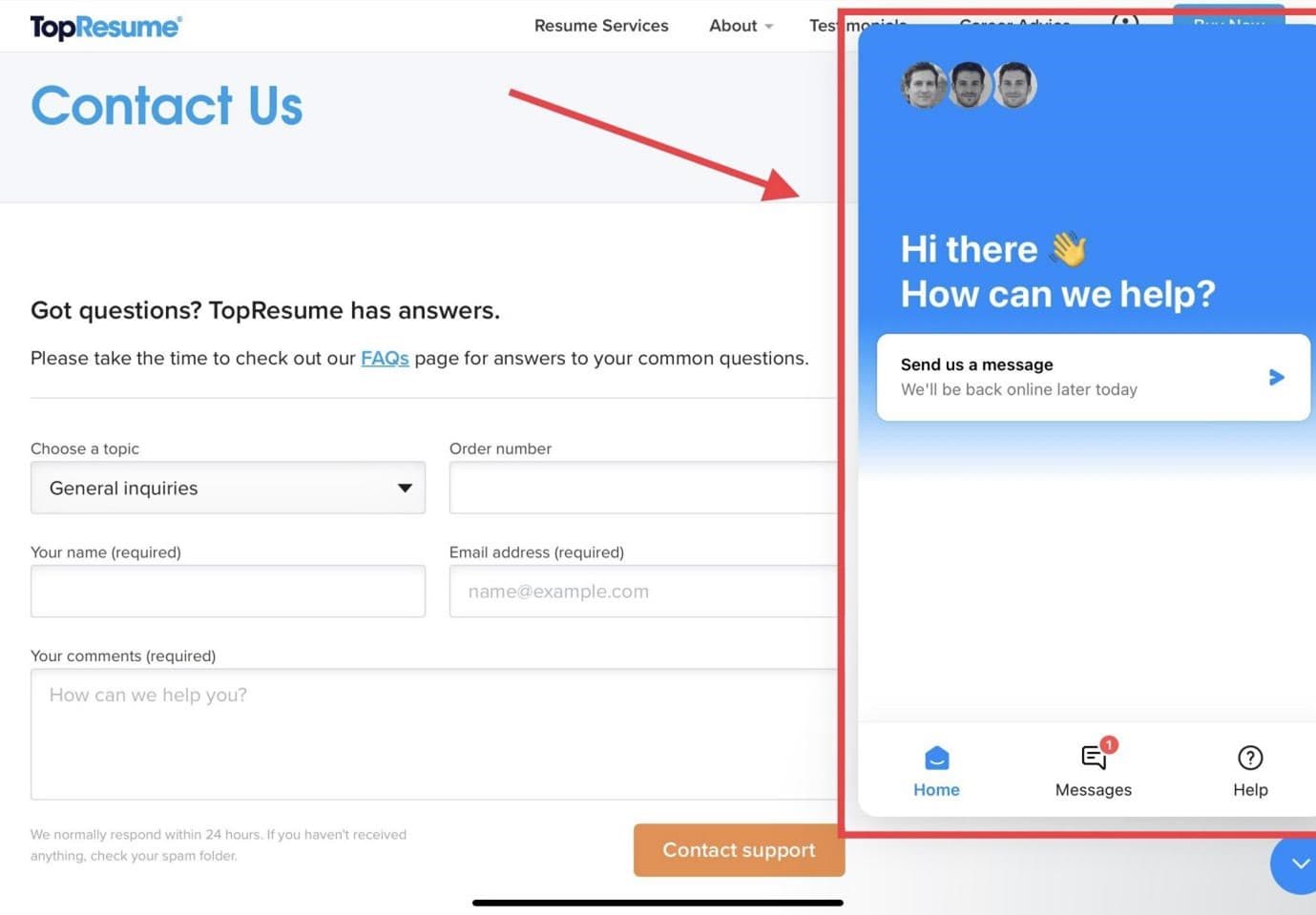 Lastly, you can use the contact form in the "Contact Us" section. You can indicate the nature of your concern and describe it in a comment box. The answers from the contact form also come within 24 hours.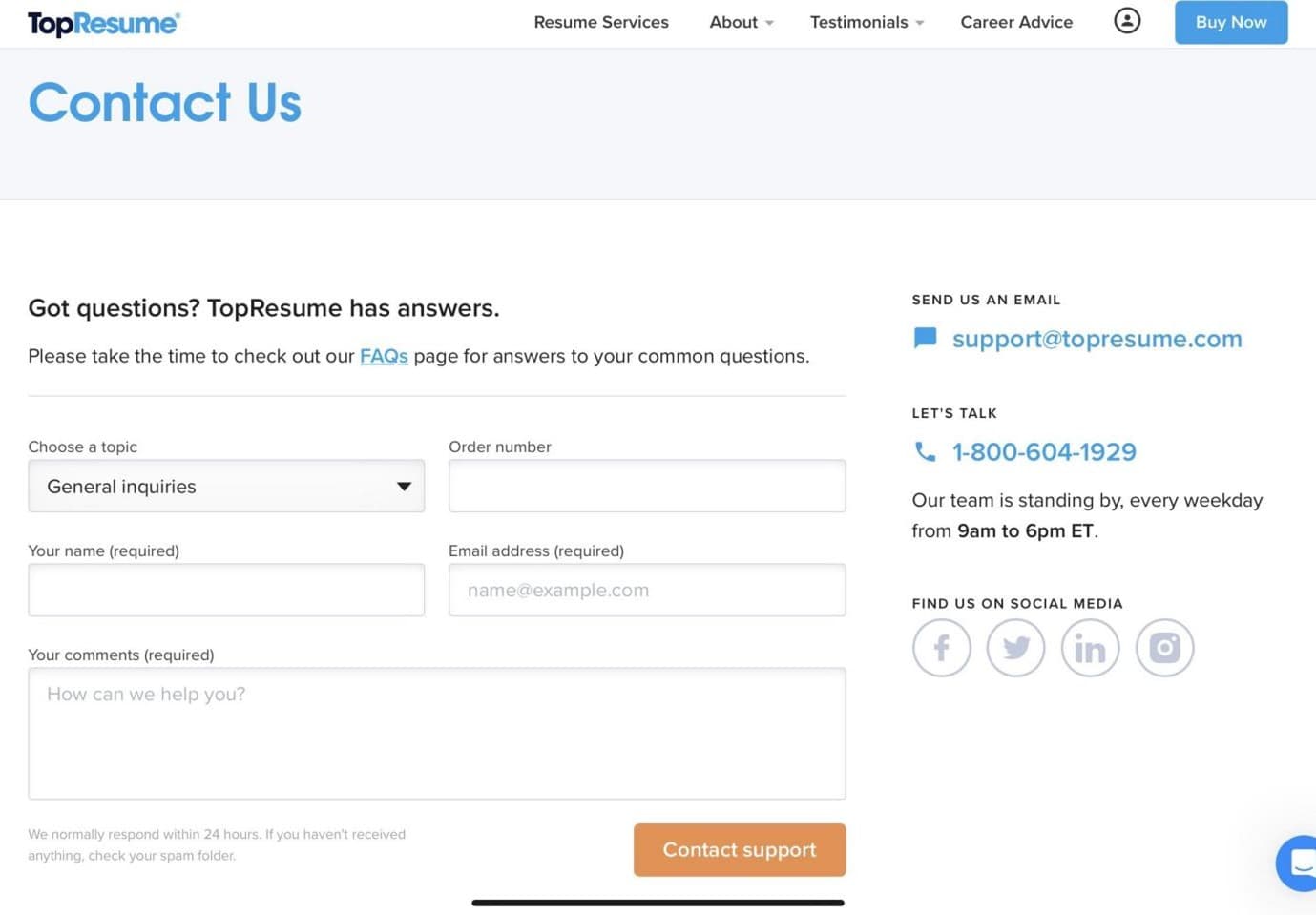 If you want to extend your options and compare TopResume and Resumeble to other related services, FindMyProfession would be a decent competitor to both due to its passionate and experienced approach tailored to each client. From a FindMyProfession.com review on our blog you'll find out everything the benefits and drawbacks of this writing service.
Pricing Comparison
Many applicants often have problems deciding if they should pick Resumeble or TopResume in terms of value to money ratio. No doubt, both services provide prominent results but their prices vary. Let's see what you're paying for!
Resumeble
Resumeble offers three packages that come along with qualified service options.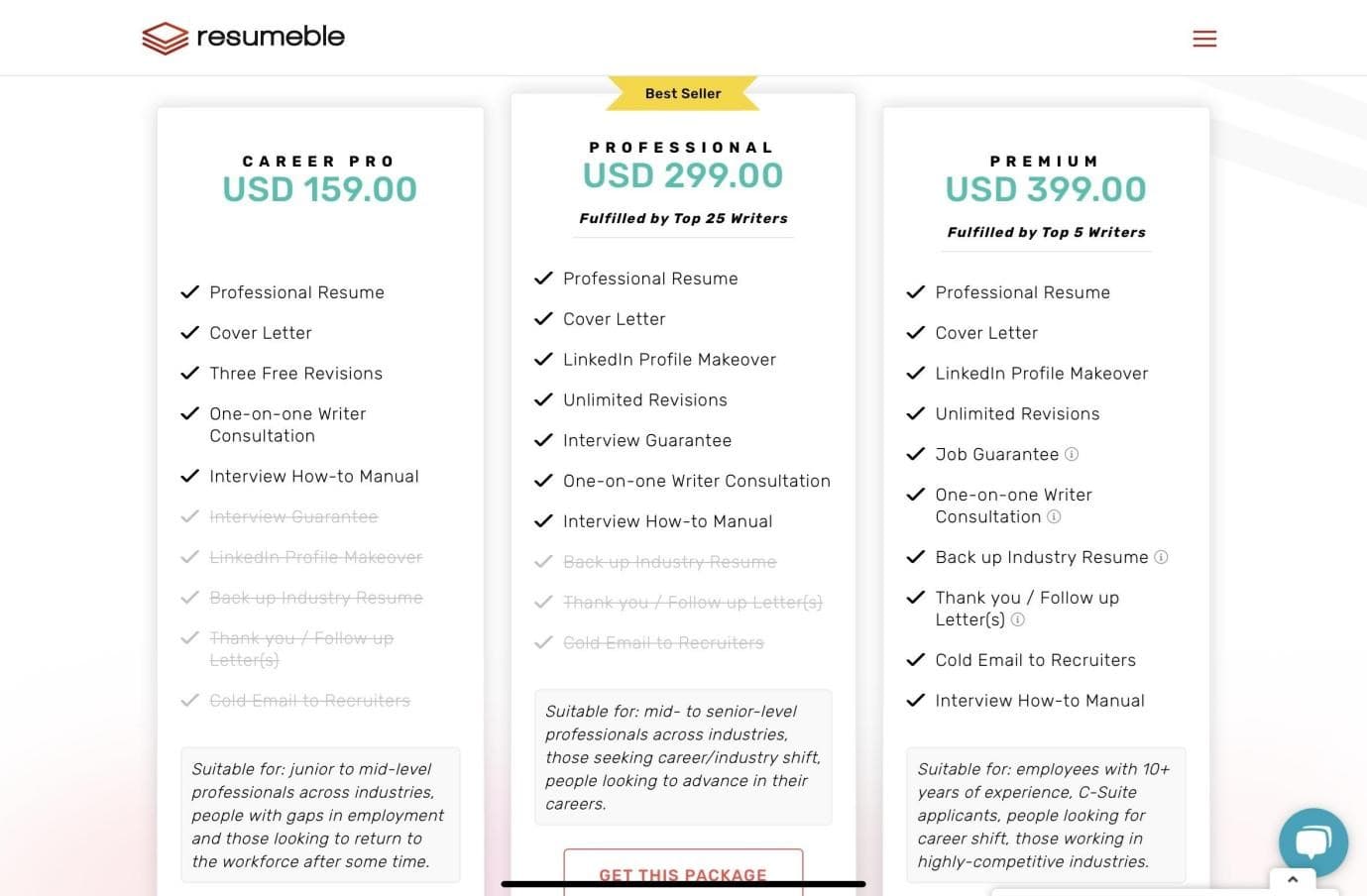 Career Pro — $159
This pricing plan is suitable for those who want to cover a career gap or get back to work after a long pause. It's just the right deal for juniors and mid-level pros across diverse fields of work.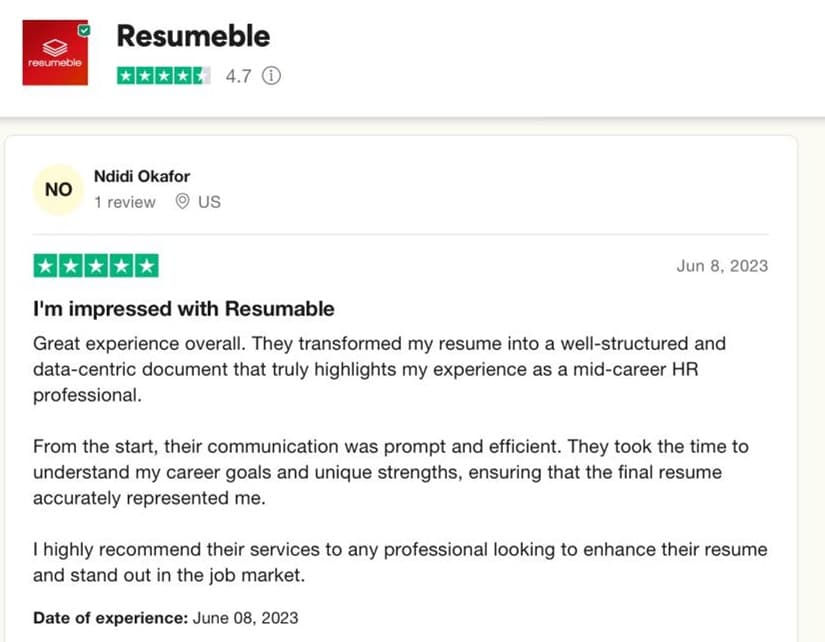 The Career Pro plan includes:
Expert accomplished resume
Customized cover letter
Three complimentary revisions
Personalized consultation with a writer
Interview preparation guide
Professional — $299
This plan is intended for mid- to senior-level pros who are looking for a career change or want to switch the industry. It also suits those who want to evolve in their field of work.
The package provides the Career Pro offers plus:
LinkedIn profile enhancement
Unlimited revisions
Interview guarantee
We know how important social media is these days. Moreover, many employees apply for new positions via, for example, LinkedIn. Therefore, having an optimized profile is a must. We at EduReviewer have prepared a useful article about the best LinkedIn profile makeover services that will help you to find the right expert for yourself. Don't waste any minute on the way to a new successful career path!
Premium — $399
The Premium plan offers unique and complete services. It suits chief officer applicants, those who are looking for a successful career change, and have over 10 years of work experience.
The higher price highlights the reliability of top writers and promises extraordinary results. After completing your resume with this package, there's no way but up the career ladder!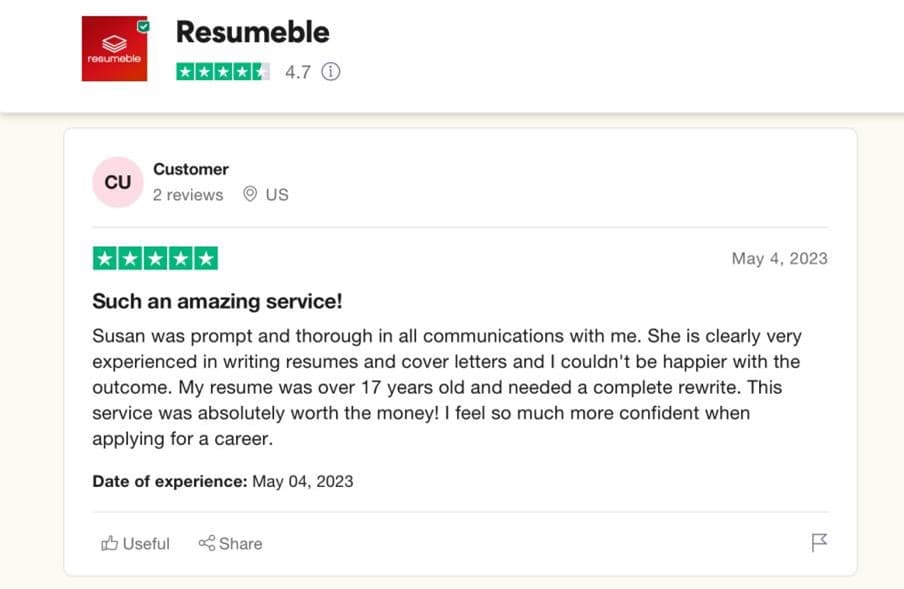 By purchasing Premium, you'll obtain what Professional package offers plus:
Job guarantee
Comprehensive Industry Resume Backup
Thank you / Follow-up Letter(s)
Cold Outreach Emails to Recruiters
TopResume
TopResume provides three pricing plans with applicable services as well. Comparing these two, you can conclude which is better Resumeble vs TopResume, and start your career development straight away!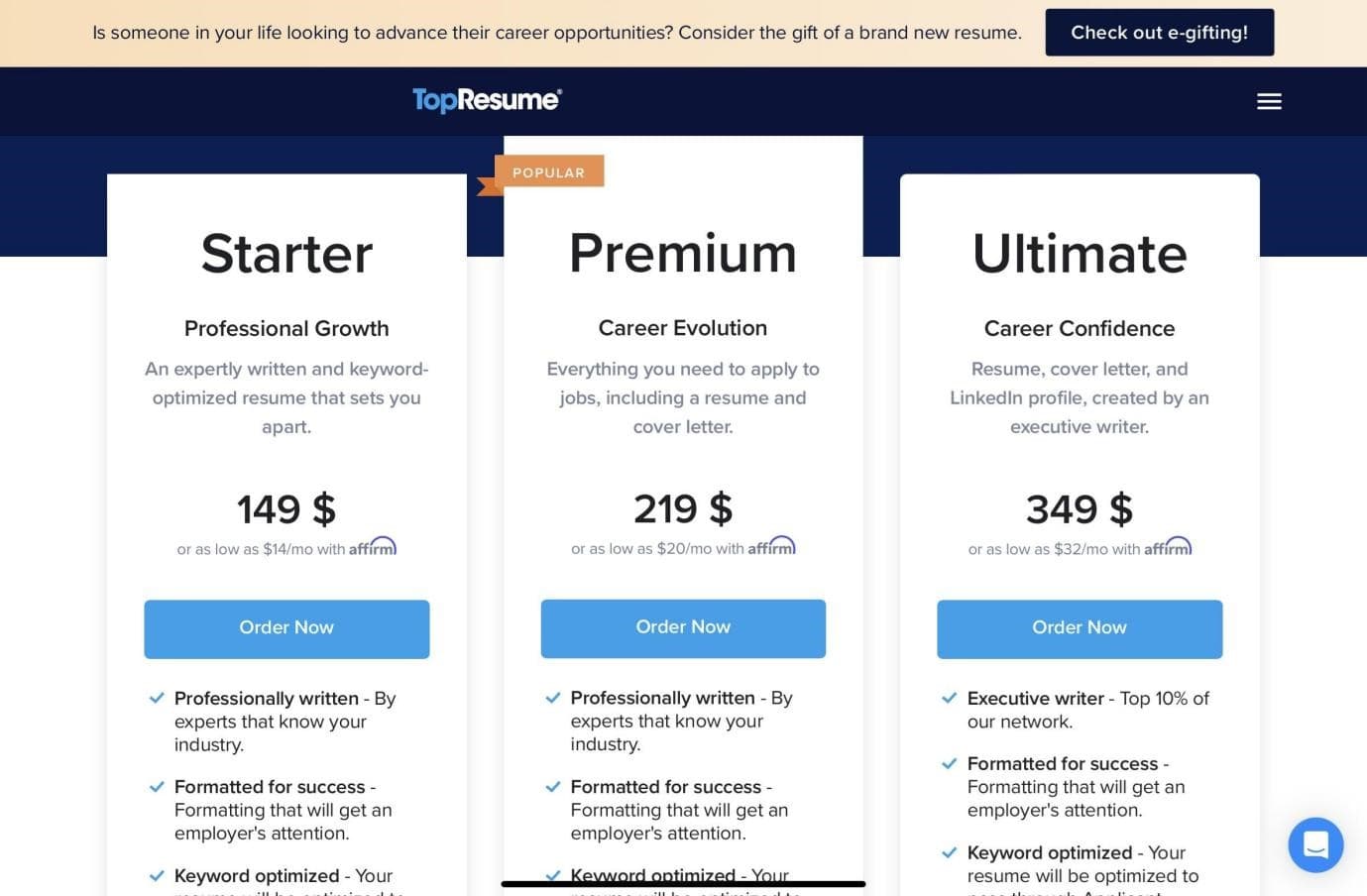 Professional Growth — $149
The plan is also called "Starter" which outlines the target group. It's a practical option for employees looking for their first job or haven't been employed for a while.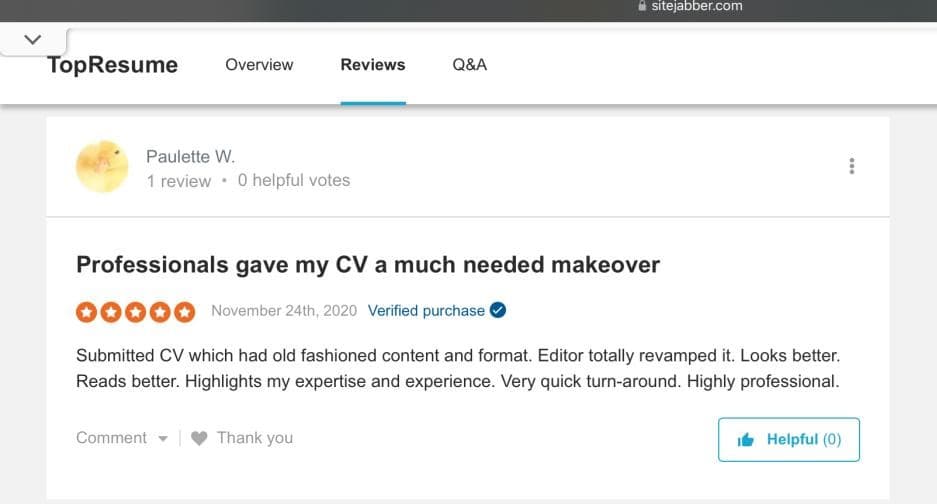 The plan consists of the following services:
Professionally written resume
Eye-catching formatting
Keywords optimization
Career Evolution — $219
The Premium plan includes everything you need to apply to jobs with additional perks. This plan matches perfectly those employees who want to get promoted or change their field of work.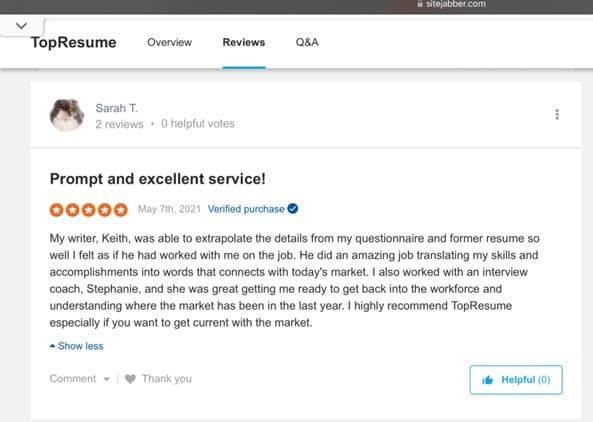 By purchasing this package, you'll receive Professional Growth constituents plus:
Cover letter that increases your chances by 40%
Interview guarantee for 60 days
Career Confidence — $349
The Ultimate plan ensures that getting a job will be inevitable — it consists of a wide range of useful and efficient services. The package suits employees with top job positions like CEO, people with imposing work experience, and those who want to drastically change the field of activity.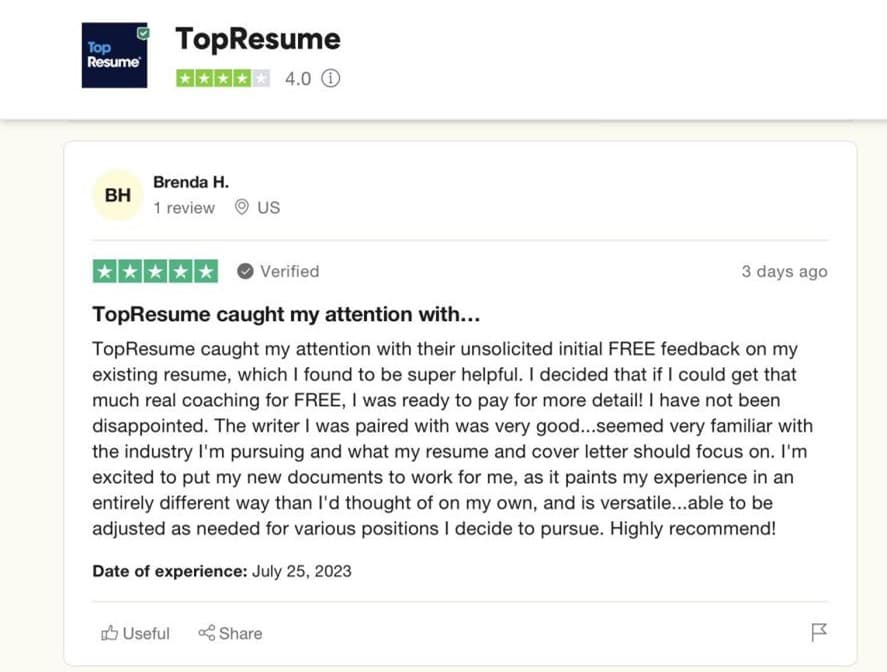 Here you'll find what Career Evolution offers plus:
LinkedIn profile enhancement.
Main Disadvantages of the Platforms
While everyone is looking at the benefits of resume writing services, it's important to be aware of their drawbacks as well. This way, you'll know what to expect from Resumeble vs. TopResume, and prevent yourself from abrupt disappointment.
I've examined every essential aspect of these 2 writing services to provide you with a clear view of what they are. In addition, we at EduReviewer research other resume writing services to be aware of the latest trends in the industry. Check out Zipjob.com review on our blog to find out all the perks and drawbacks of this platform.
Resumeble
Although Resumeble is a decent CV writing service, it's not as popular as TopResume. For sure, the website offers extraordinary support and helps applicants to get a job. Besides, there are several factors customers may find challenging:
Applicants have to purchase beforehand. It's not convenient for the clients to pay such an amount for work that isn't yet done.
Resumeble promises to do its best to create a perfect resume for you, although it doesn't offer many refund options.
Pricing is too expensive and unfortunately, not everyone can afford it.
Often, writers and clients aren't online at the same time, which makes communication difficult. There are cases when customers had to wait hours until the author would get back in touch.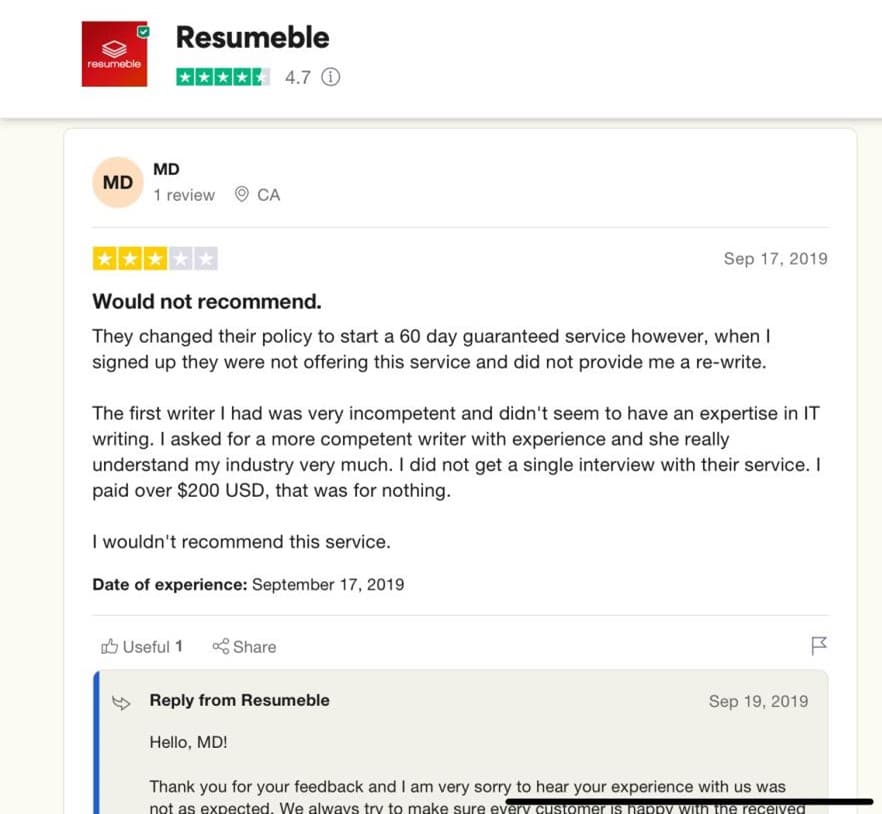 TopResume
TopResume has a great reputation among other writing services. It competes against such popular services as Zety and Novoresume. Yet, it has a few evident disadvantages:
The price is too high which may discourage customers.
Once you've submitted your task, you must wait up to 7 days. That's a pretty long tenure considering other services provide drafts within 3-5 days.
Clients get only two free revisions, which is not many, paying such pricing plans' sums.
TopResume writers work according to common business hours, meaning they're available only 8 hours a day. It may become inconvenient for customers from different time zones.