First, before you read a complete review, you can check the small video on Youtube:
You must have been looking for professional resume services reviews where you can find the top resume company and order your resume or any other type of person's reliable and high-quality portfolio.
What to Consider When Choosing a Writing Service?
When you choose an exemplary resume writing service, you need to consider several things, but you first think of two main things.
The first thing is the quality of writers, as you do not want to mess with the poor quality writers who have just started with the writing job.
Instead, you look for someone experienced, possibly specialized in a particular field that can provide extensive knowledge and expertise regarding a specific subject.
For example, if you work in the government, it would be best to look specifically for the top federal resume writing services online.
The second thing to consider is to see how long the company works. You want a distinguished and recognized company, as you do not have time to lose with poor-quality writing services.
At the moment, you may think that one such place is ResumeEdge which has many years of experience in this industry!
We will use the Resume Edge reviews to present this service's qualities. If you have any questions, please read this ResumeEdge review, here, we will provide you with all the answers.
Please, take a good look at what we have to say about this company and its services. Is it one of the best Career Addict reviews available?
ResumeEdge Overview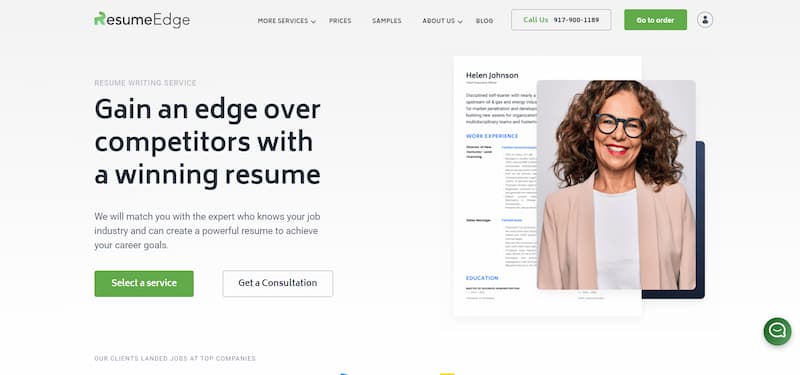 As this is a ResumeEdge review, we will start with a general company overview. This service offers resume writing, cover letters, a social profile, and a resume builder.
You can divide all the work into two categories: resumes and other additional services to make things more precise.
The first relates to resumes, while the second relates to cover letters, social profiles, and resume builders. We managed to pull out the survey, and it was found out that most people hired this company for resume writing.
This means that the additional services are primarily of excellent quality. Yet, the overall quality of the content received was below average.
Not the worst quality. The same we found in the ResumeEdge customer reviews online. It depends a lot on the resume writer you get, as some are specialized in a particular field.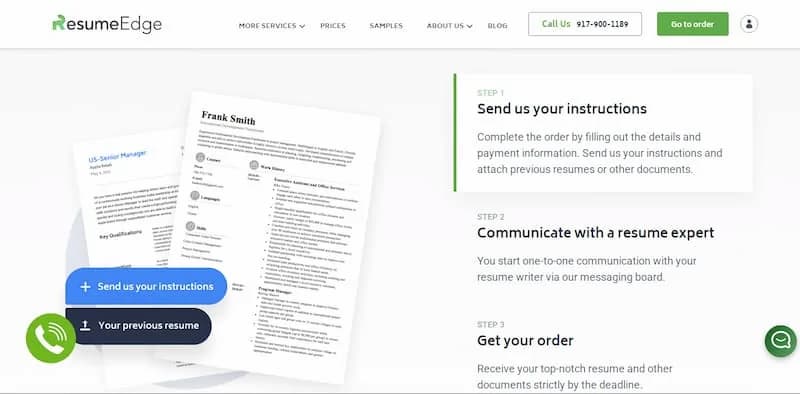 ResumeEdge Pricing
While the quality of the writing is exceptional, the prices are also higher than at other similar services. Depending on your career level and the deadline you pick, you can expect to pay between $110 and $260 for a resume + cover letter package. We found the lowest price for resume writing is $79 for an entry-level resume within 14 days of the deadline.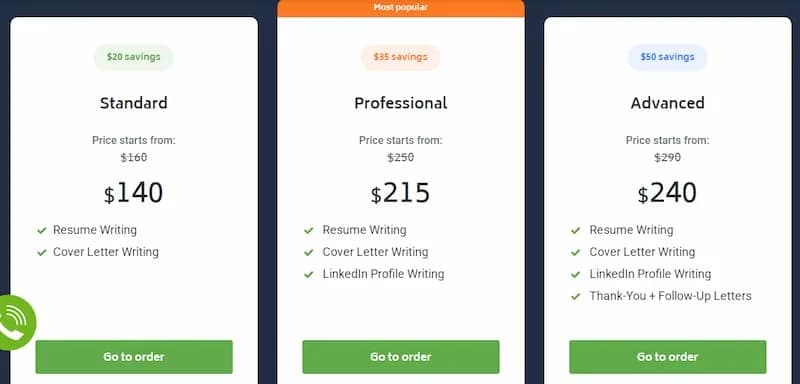 The resume we received was excellent and worth that price. And customers' ResumeEdge.com reviews align with what we think on this point.
There is no discount, though, but there is a chance that you can get discounted price by acquiring a package. Resume Edge will suit people on a budget, as the prices are below average on the market.

Resume Edge Payment
All ResumeEdge reviews must provide information about the payment methods, and this one is not an exception.
You can opt for credit card payments, PayPal, or Discover payment system as your primary payment method.

We recommend PayPal as you can count on money back if you are not satisfied with the work you receive. It is easier and faster to get your money back through PayPal than through any credit card.
Alternatively, you can contact customer support to see if they can offer you an alternative payment method.
Customer Service at ResumeEdge.com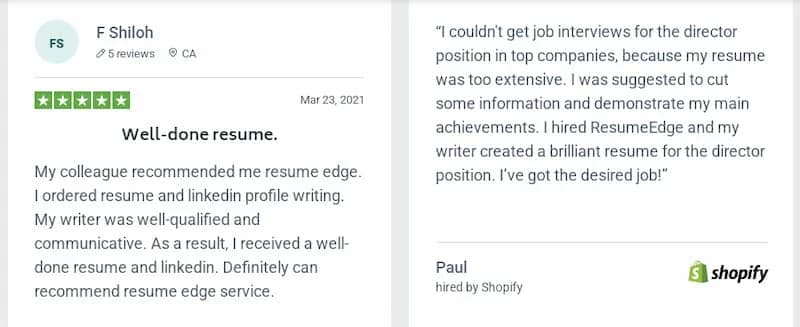 When it comes to customer service, you can be sure that you will receive polite agents. They are willing to devote time to each client to explain a specific problem and offer a solution.
You also may receive different information on a particular topic if you talk to various agents.
They know how things work rather than those new ones that are still learning. Apart from that,  we can say that their customer support is suitable for clients' service.
If you are hesitant about trying this service, it is good to avoid contacting support, which cannot address all your questions.
After reading our review of CraftResumes, you can compare them and determine that they are as different as chalk and cheese.
Resume Edge Quality
How Did We Evaluate This Resume Writing Service?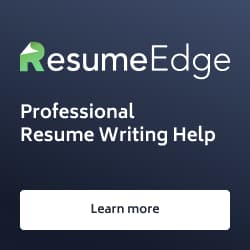 Once we started the evaluation, we decided to be fully transparent and sincere.
Using several references as a way to evaluate the service and see if it is suitable for your needs, we took into consideration things like:
The quality of writers;
The prices and discounts;
The overall quality of the website and usability;
The years of operating;
The payment methods;
Customer service.
All of these served as the reference for this service's final overview and final grade.
Having vast experience in reviewing the best engineering resume writing services, we are fully competent to talk and discuss the quality of such services.
After examining these facts, we concluded and presented the final opinion on this service.
What Quality of Writing Service Do You Get Here?
In this Resume Edge review, we explained everything you need to know about this company providing its service for some time.
This one offers you writing services of different kinds. You can get a resume, cover letter, CV, social media profiles, writings, and resume builder service.

Whatever you need, you can specify to the writers to produce it for you and format it just how you want it. If you have a special request for writing, you can email the service and get the answer so you can know whether they can handle it.
But the quality of all these services is way above average, considering the price and excellent customer experience we had with Resume Edge. We can estimate the quality of their resume, CV, and LinkedIn profile writing services up to 4.3!
Resume Edge Website Usability

The website utilizes a straightforward interface so everyone can order a resume without too many problems. It is designed well, with a simple-looking outline.
The navigation is easy, so you can find whatever you want without any effort. Well, there is not much to look for in the first place. Each service is listed separately, which leads you to the same screen.
One of the best websites regarding usability and quality is Find My Profession. We analyzed FindMyProfession.com reviews on our website, too. Check it out.
The order builder is there to make your ordering process a little easier and less complex than it has to be. It allows you to "break" the ordering process into small steps, so you do not miss any vital information.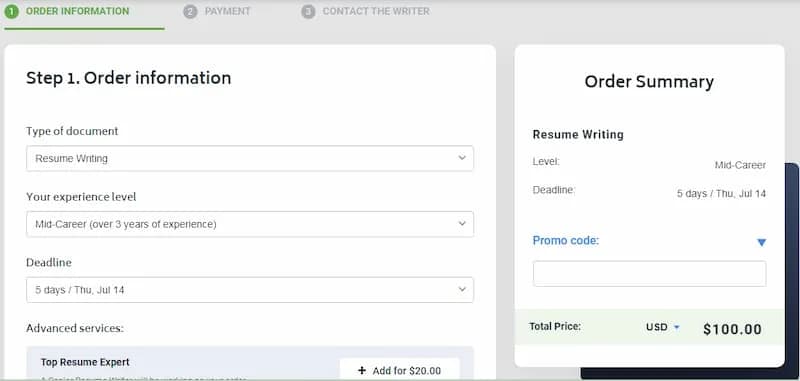 Your job is to enter the correct information and make sure that you include everything and every single note you had in your mind. It generally offers good performance.
There is also a section on the website to improve your job-seeking process and overall work progress. The blog section is updated with exciting and valuable tips to utilize for free and enhance your career.

Pros
Fast delivery.
Reliable service.
Recognized and known service.
Appealing look and easy-to-follow design.
Quick communication with customer support.
Ability to order custom-tailored paper of all kinds.
Cons
The builder stops working sometimes.
You need to contact support if you want a refund.