Writing a brilliant resume is no longer a matter of a few hours. Today, to get a good job in the competitive world, it is not enough to copy-paste your experience and skills into a standard template. Standard CV's just get lost in huge piles of similar ones.
Therefore, today, your resume has to impress and draw the attention of prospective employers, and writing such a document is a real art that not everyone can master.
What to do if you can't do it on your own? Earlier it would mean that you have barely any chances over other candidates. However, now there is a smarter and easier way to obtain a brilliant CV and get a great job – a reliable CV writing service is the solution you need!
As you now know, having a good CV writer is one of the key elements in the recipe for success. However, don't rush to look up such companies on the Internet and order a brand new CV right away because finding a good assistant is never simple.
There are many nuances to keep in mind. That is why EduReviewer.com is here – to help you make the right choice easily and with a minimum waste of time! Our team has done many resume writing service reviews. This time we are going to present you with our Resumes Planet review.
What criteria do we use to evaluate each service? We understand the needs and goals of job seekers, which is why we take a holistic approach to review and evaluate each service because only such an approach can help us find the truth. Thus, we pay attention to a whole range of things. Some of the main criteria we consider are:
Company's background;
The ratio of quality and price;
Customers' feedback;
Qualifications and experience of writers;
Safety and guarantees;
Convenience;
Customer service;
Website's design and usability;
Pros and cons, etc.
These and many other things are important to consider. However, what really makes a resume writing service good? There is no one specific answer because it depends solely on the purpose and needs of each particular client has.
There are many options available. There are couching, writing, and editing services – all may be good, but they are not suitable for each and every person. Therefore, it is important to make a smart choice.
There are also many different options for resume writing, which you have to consider to decide which format and style suits you the most.
How to choose the appropriate CV format?
Let's see what options you have:
Functional – this type focuses on the job seeker's skills and experience and is a good option if you lack working experience or are changing careers.
Chronological starts with your working experience listed in reverse chronological order (from the most recent one). This is a suitable option if you have a solid work history.
Infographic – this is a great choice if you are a creative person. Unlike the traditional resume, it uses graphics (designs, colour, icons, fonts, etc.) to organize the content.
Combination – this type is good to show your strengths and highlight what features make you a good match for a specific position. It is a mix of functional and chronological types, focusing on your decent experience and strong professional skills.
Resume with profile – this is a traditional resume that includes comprehensive information about the candidate. However, it also assumes including a profile section.
Targeted – this type is suitable only for a specific job or company as it focuses solely on what a specific position requires. It won't suit people who have not yet determined what kind of job they are seeking.
Nontraditional – this is a more personal type of resume that allows including visuals. It can be presented in video form as well. This type aims to make a candidate stand out from the crowd.
Therefore, it is a good choice for you if you apply to a position or company with high competition.
Based on this information, you should easily identify what services you need, and our Resume Planet reviews will help you find the best performer!
Our main goal at EduReviewer is to make your life easier by showing you the Monster reviews on the market today.
ResumesPlanet.com Overview

Today, Resume Planet is a solid contender for the place in the market of online CV writing help, but a bad representative of a professional and dedicated team.
The company has not worked hard and gone a long way to enhance, develop, and gain the bad reputation it has now, according to ResumePlanet.com reviews.
Many professionals and those who are just starting their careers should not choose this service to order Cover Letters, CVs, and other documents important for landing the desired job. This is not without reason.
The service claims that all writers employed here are CPRW certified, which is one of the key things people are looking for when choosing a reliable writing service. But in reality, there are no real certified resume writers there.
There you can find a whole range of services. This is not a company that focuses only on writing resumes. Instead, they offer help preparing all kinds of documents required for employment, including follow-up letters, cover letters, and even LinkedIn profiles tailored to customers' individual needs.

In the general ResumesPlanet.com review, it is important to mention that this company seems to be legit; they appear to be an average service that does not always keep its promises and easily complies with deadlines and requirements.
The company does not understand the needs of job seekers. This is one of the main reasons that explain the negativity around it.
ResumesPlanet Story
Before writing our own impartial Resume Planet review, our team has carefully studied the background and history of the company to provide our readers with full and comprehensive information on it.
Although the company is quite new to this sphere, as abovementioned, it has already gained an average reputation and affection of a few of its loyal customers.
Over quite a short time, Resume Planet has successfully helped some customers. They have also reached quite an unimpressive customer satisfaction rate. Such success may seem to be quite odd for a new company like this.
However, it seems possible, considering the time, dedication, and hard work the whole team contributed to this.

ResumesPlanet Pricing
When it comes to pricing, many of us think that high-quality help should be costly, and Resume Planet is not that affordable. They are not the cheapest service you can find.
However, this is a bad deal if you consider the low quality they deliver, the guarantees they don't keep, and loads of negative customers' Resumes Planet reviews.
Here are some examples of the prices they have:
LinkedIn profile created in 5 days will cost you $79-$129 for entry-level, $99-$149 for Professional and Military, $109-$159 for Federal and Career Change, and $119-$169 for Executive.
Resume and Cover letter can be ordered in one package: Entry level is $135-$219, Military and Professional are $169-$255, Federal and Career change are $195-$279 (check federal resume writing services list), Career change is $199-$289, and Executive is $255-$315.
A full package that includes a Cover Letter, Resume, and Thank-you & Follow-up Letters costs $169 up to $335.
The highest prices on the website are for the packages that include a CV, Cover Letter, and LinkedIn Profile, all done within 24 hours – from $245 to $335.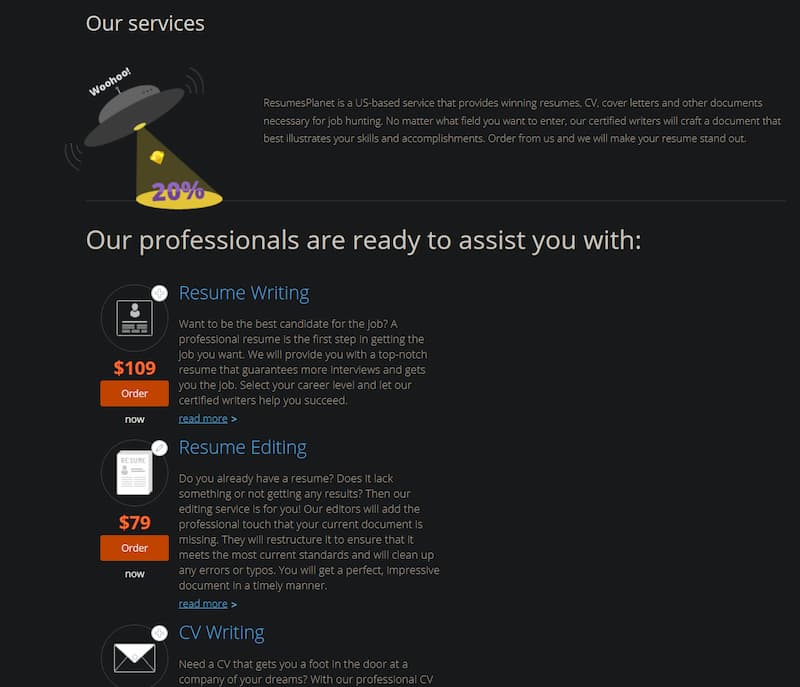 Sounds not too bad, right? The worst is yet to come because Planet Resume also stopped offering its customers many discounts and special offers that are not updated anymore in addition to fairly high prices.
Check our list of top executive resume writers to find yourself the best executive resume writing service online.
However, this company gives each customer some cool extras.
Thus, everyone, who orders CVs, cover letters, or other documents at this website, also receives an exclusive list of top 10 job sites, a list of the best international recruiting agencies, and some effective interview tips absolutely for free!
Nowhere else you can get so much useful information at one price.
ResumesPlanet.com Payment
While most such services accept only standard credit cards (Visa and MasterCard), this company offers you quite a few different payment methods to choose from.
If you are using the services of this company, you can pay for them with your MasterCard, Visa, or Maestro credit card, use American Express and Discover or make a wire transfer. This adds this service more credibility.
Not only you can use your favourite payment method, but you can also be assured that all your transactions are completely safe.
The payment is made right when you are placing your order. This is quite convenient because you fill in all the necessary payment information, and the website automatically redirects you to the relevant page.

Some may think that upfront payments are not safe enough, but in this case, the company gives its customers a money-back guarantee if they remain dissatisfied with the delivered services.
ResumesPlanet.com Quality
A new user can instantly check out the quality of the documents provided by this platform in the Samples section on their website.
There are collected many basic examples. If you look at these samples, you can see that, in general, the quality they provide is quite average.
Unfortunately, you can also spot many grammar or syntax mistakes in the texts from time to time, but this shouldn't be a problem since the company provides unlimited revisions for free.
As for the style and originality of their CVs, they seem like a template.

What guarantees are given?
It is impossible to talk about the service's quality without mentioning the basic guarantees it gives to the customers.
Here's what Resume Planet has to offer:
Good extras. One of the main distinctive characteristics of this website is that they provide you with some great add-ons, special offers, discounts, etc.
Free unlimited revisions. This is a good point that protects you from getting a document with some mistakes. If you are dissatisfied with the quality, you can claim free revision anytime within 30 days.
Direct communication with the writer. You have the possibility to stay connected to your writer via a convenient messaging system, which prevents misunderstandings and makes the writing process more productive.
On-time performance. This is one of the basic things you are probably looking at when choosing a writing website, but we could see that Resume Planet sometimes violates this guarantee, delivering the order a bit later than required.
Around-the-clock support. Tthey keep this guarantee, and we have to admit that customer service at this platform works great.
Professional certified writers. The company states that its writers are all well-qualified, certified, and experienced.
ResumesPlanet.com Customer Service
What really catches a user's attention at this service is its bad customer support service compared to many other resume writing services out there.
Resume Planet has two toll-free phone lines, one for the UK and the other one for the US customers, and they also have an email address for contact.

However, the most convenient way to reach them is an online chat. Via the live chat, any user can address their questions directly to the customer support team and get an immediate response in less than a minute.
But we tried to reach them out many times and received no answers whatsoever.
Compared to many services from our previous reviews, Resumes Planet really takes no decent care of its customers, ensuring their discomfort 24/7! This is something that does not make this company stand out.
We found not just one ResumesPlanet.com review that relates to customer support, and that says that they really have a problem with that.
There is also an FAQ section. In our opinion, the FAQ section still has to be improved – it is not as helpful as you expect it to be, there are too many general answers, and instead of making it clear and straight to the point, they made it more promotional.
ResumesPlanet.com Website Usability
We liked the website layout. It is intuitive and straightforward, making it possible to easily surf its pages and quickly find the answers to your questions.
The design looks quite old, though. We liked this website because all information is structured well and supported with stylish but straightforward graphics.
This allows you to pick up the most critical information about the company without wasting hours reading everything written on their website. The sections with relevant information are all located on the top of the page and are easily reachable.
All features also seem to work correctly. We liked that the company decided to keep everything as simple as possible. Even the order procedure is quick and straightforward – it takes only a few minutes to fill in a short form and make a payment, so you save lots of time here.
We also liked that their website is not overloaded with information. Everything is straight to the point and concise, which is essential for a modern person. One more excellent website interface example is CraftResumes.com for internet users. Learn more about them in the CraftResume reviews by their clients.
Another great feature of the website is its News section – here, a customer can find many interesting and helpful articles on various topics.
In their blogs, Resume Planet tells us everything we should know about choosing a job, writing a great CV, behaving during the interview, as well as many tips.

One thing that left us disappointed during our ResumesPlanet review is the lack of customers' feedback. There are only a few presented on the homepage, and even those look a bit fake.
This is a significant disadvantage because you always want to know what other people think of a particular company when ordering some services online.
However, it is possible to find many negative ResumesPlanet.com reviews on other websites.
Pros
Pocket-friendly price compared to many other companies.
Neat and functional website's design and intuitiveness in use.
Good around-the-clock customer support.
Extra bonuses are provided with every order for free.
Many special offers and discounts both for new and loyal customers.
Separate chat for communication with the writer who performs your order.
Cons
Incompliance with some guarantees.
Lack of real ResumesPlanet reviews on the company's website.
Basic packages are disadvantageous, and as you place your order, the site automatically offers you to purchase a bunch of extra services.
The overall quality of resumes is good, but they seem template.
Lack of individual approach from the writer.
Weak FAQ section that contains mostly general phrases and extols the service.