Overview
If you've been looking for an efficient way to begin your career, you should start with a good resume. And not to waste your time and money, turning to a professional resume writing service may be the best solution.
We have reviewed over fifty different resume-writing services and compiled a list of the best services (including federal, legal, military, Information Technologies, and nursing resume-writing services).
JobStars.com review looks through the services, prices, and offers on the site, supporting articles, and blogs providing helpful information for potential customers as well as customer feedback and analytics available on the Internet. After our research, we can undoubtedly recommend JobStars as a reasonable option.
We choose and assess the resume-writing services according to the following criteria:
Quality,
Features,
Prices,
Website Usability,
Value for Money,
Jobseekers' Feedback.
The variety of terms and options, including money-back guarantee, privacy, etc., and other minor factors influencing clients' experience make cooperation with the company efficient and enjoyable.
Our Job Stars review is highly graded according to all of the abovementioned factors. You will find further detailed information alongside with JobStars reviews of other customers.
Short Story of JobStars USA
The situation happened "right place, right time" as the founder, who was about to lose his job, started working for a resume-writing service and gained the necessary experience in the industry.
The path of JobStars began in 2010 in Illinois as a single-member business entity, and it was January 2013 when they came online. The founder has already had the experience of working for a company that helps recruiters find employees in the newly emerging Internet landscape. The degree in history enabled him to build the holistic vision of his own company.
After starting to work as a career services practice, the site has already helped over five hundred highly valued customers.
Review of the Services
JobStars.com is an Internet site to assist you in the overwhelming job search and application process. Now, when there are multiple ways and methods to search for a job, marketing yourself and communicating your message becomes even more critical.
The services JobStars.com provides include writing a resume, professional biography, and cover letter, resume distribution, LinkedIn profile upgrade, and coaching programs for individual job seekers from entry-level to executive positions.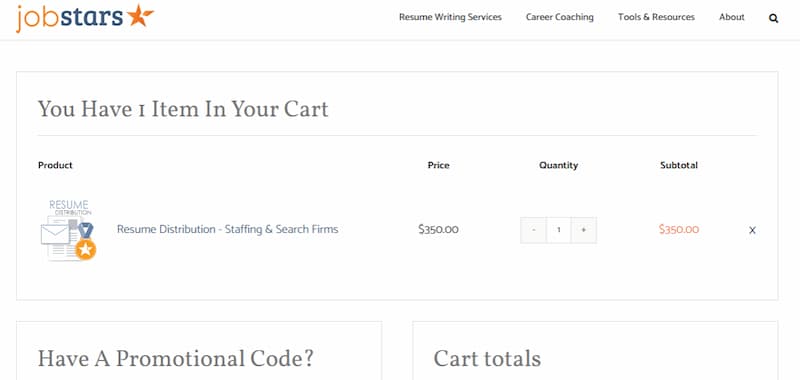 It gives an overview of offers and options you can order and compares them to some other popular service providers in the industry of job search assistance.
The Variety of JobStars Services
The company delivers a wide range of services for successful and stressless career building. They do their work precisely and promptly. For most orders, you get the first draft within five business days after intake, and you have the option of unlimited revisions and corrections during the thirty days.
As a user, you will be satisfied with all the service's usability and prices. They do the work with great attention to detail and provide you with a finished product as soon as possible.
When preparing a resume, you shouldn't underestimate the proper wording according to your functional role. The professional team will give your resume the appropriate structure and make it easy for a reader to understand information.
The common mistake of job seekers is making their resume overstaffed with information, as they consider it the only source of professional data on them and forget about other options. Meanwhile, HR managers and recruiters widely use LinkedIn as a source of relevant information on the employee.
The company looks at all assets for a job search in complex, considering resumes, cover letters, and LinkedIn profiles.
In addition to written products, JobStars.com forwards career coaching and supportive services like assistance in making a career change, interview preparation, and A La Carte Sessions.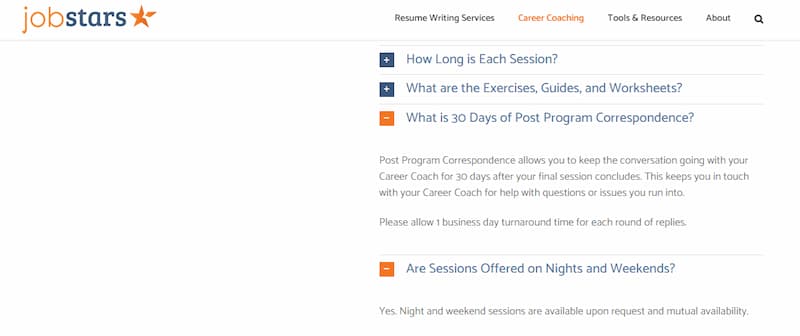 In the table below, you can observe the variety of offers and possibilities on the site.
Resume writing services
Career Coaching
Tools and Resources
Cover Letter
A La Carte Sessions
Job Seekers Blog
LinkedIn Optimization
Conferences and Events
Professional Bio
Employment Agencies
Resume Distribution
Professional Associations
Resume Packages
Coaching Programs
Resume Refresh
Professional Designations
Returning Customers
Jobs Search
Specialty Resumes
A Deep Dive Into The Packages
Let us describe in detail some options you can get here:
You can order one of three Resume Packages
Bronze Package
Silver Package
Gold Package
They include a professionally written resume, ATS-friendly documents, thirty days of unlimited revisions, and a range of optional services from resume distribution to LinkedIn profile optimization and in-depth intake consultations.
In addition, the company offers Resume Refresh, Resume Rework, or Second Focus Resume if you don't need to create your resume from scratch.
Curriculum Vitae in the context of JobStars services isn't used as an absolute synonym for resume, but rather a resume in the academic sphere.
If you already have a strong resume and need help with a specific vacancy, you can order a Cover Letter. It can be prepared as an adjustable document for multiple job applications or aimed at one particular job up to your choice.
LinkedIn profile optimization is a great way to emphasize your professional achievements and give extra information on your projects. LinkedIn profile optimization is included in the two Resume Packages, but you can also order it independently. It has two main options – DIY and PRO. In the DIY option, you get the prepared content and insert it into your LinkedIn profile yourself, while in the PRO option, the company team updates your profile for you. They require temporary access to it and guarantee the confidentiality and safety of your personal data.
You can order a professional bio that depicts your personality from a professional point of view, including your traits, life purpose, industry expertise, and work experience. It can be written in the first or third person and is usually published on companies' or personal websites. This service implicates written correspondence and phone consultation to cover your needs fully.
JobStars career blog gives tips and advice to assist jobseekers in their job search and enhance their efforts' efficiency.
The privacy of customers' personal data is provided through a dedicated client portal. It is a digital platform on which the exchange and sharing of information, as well as other interactions with the customer, takes place. It is private, safe, and secure.
When you become the company's client, you also get access to plenty of valuable resources to download – such as Guides to Salary Negotiation or Behavioral Interviewing.
The calendar of upcoming professional conferences and events can be a beneficial resource. Visiting the events allows you to keep track of industry news and innovations and keep in touch with peers.
You can also list the visited conferences on your LinkedIn profile to ensure the potential employer that you are aware of emerging trends and patterns in your occupation. Don't forget that many events require an attendance fee.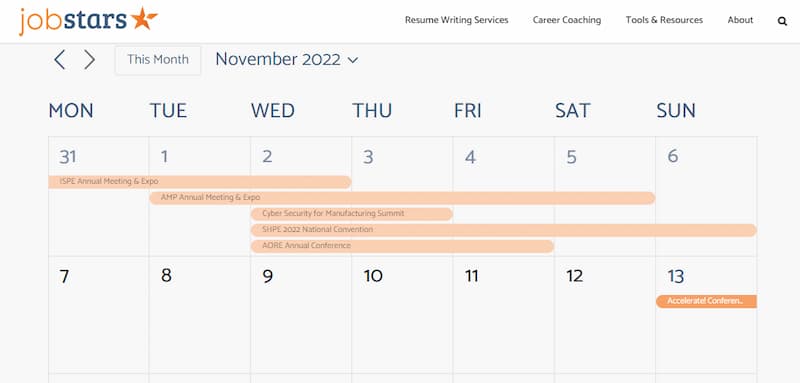 The company is not a recruitment agency; it mainly assists job seekers through resume writing. Together with resume distribution services, a list of employment agencies, and career coaching, it can be considered JobStars Staffing Agency.
Pricing of the Services
How much does JobStars cost? The rates vary due to your experience and career profile. You can find various options to meet your needs – the price for a Bronze Resume Package starts from $495, and you can get the Gold Resume Package for up to $1650.
LinkedIn Profile Optimization cost varies from $250 to $495. The JobStars prices also depend on how complex and time-consuming the project is.
The price for Curriculum Vitae starts from $695. This service may interest lawyers, scientists, professors, and representatives of other academic professions.
The professional LinkedIn profile optimization costs extra money compared to the DIY option, but it is worth it as it saves your time and ensures the highest quality.
The price for a Professional biography starts from $150.
Career coaching costs $495 for a Mock Interview Preparation or $150 for a single A La Carte session. Compared to other similar services, JobStars offers cost-effective and time-efficient programs for motivated individuals dealing with complex issues along their career path.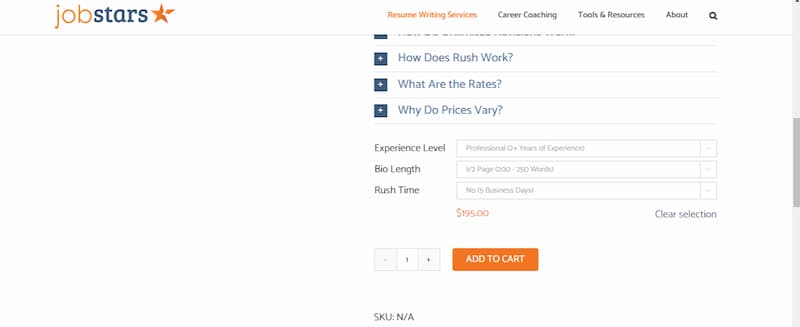 Quality of Services
The result depends on multiple factors and criteria, but you can be sure it is of a high level and appropriate quality.
You get a professionally written product (resume, cover letter, or professional bio), the opportunity to adjust it to your needs, personalized and complemented to your needs and requirements, and your confidentiality is guaranteed.
The resume writers and coaches in the company team are certified professionals from the USA; you can find their credentials and information on education on the site.
The customers' feedback has a hundred percent positive sentiment, both on the site JobStars.com and other relevant platforms. They describe the work done as professional and efficient. Many clients appreciate a personal approach and attention to detail.
Here is an example of their work that we could find. My resume-writing colleagues say that it is pretty decent and high quality, especially for a public sample.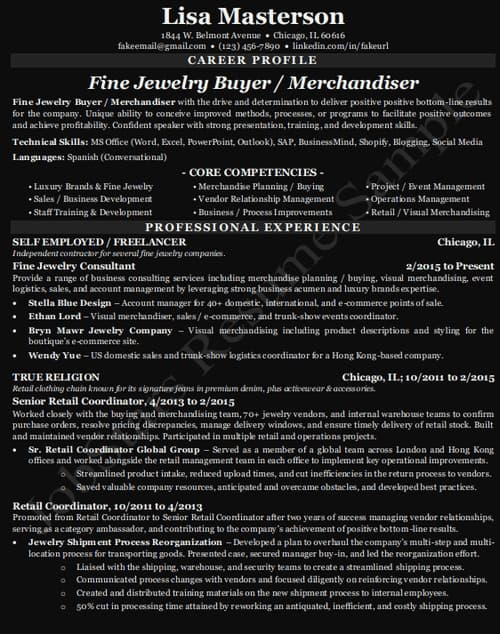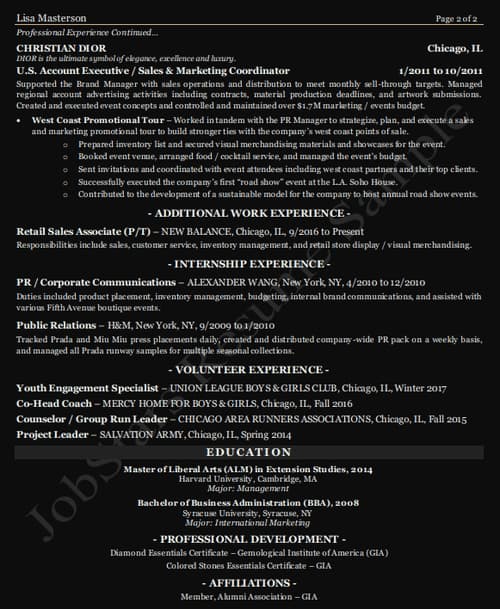 Value for Money
your skills and abilities. The first step is to increase your competitiveness as a future employee and give you the best chance to display your professional preparation and strengths. JobStars is your reliable partner in positioning yourself on the job market.
The assistance of qualified professionals is worth its price. For your money you:
get a professionally prepared written product with no need to study the whole process,
eliminate the stress from the overwhelming process of a job search,
get professional support,
save time for other tasks.
Moreover, JobStars experts will provide an ATS-optimized paper. The use of applicant tracking systems by many companies makes it difficult for some job seekers to get to the job interview regardless of their qualifications only because their resume is not ATS-compatible. JobStars do everything to help potential employees achieve their job search goals.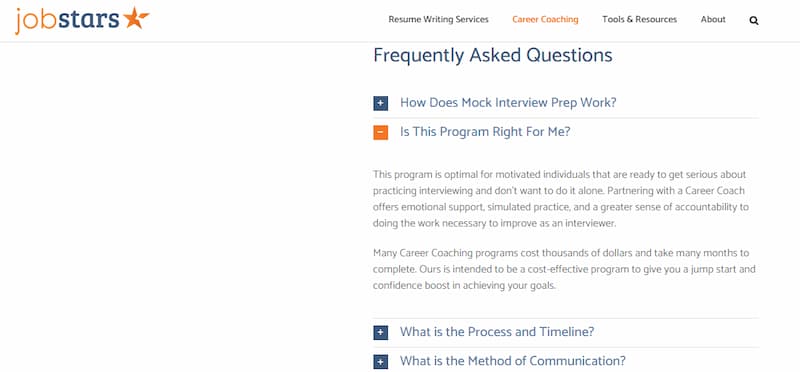 As you can see, JobStars reviews from the customers prove that you get a confidentiality guarantee, direct contact with the writer, and a professionally written resume that increases your marketability.
Below you can read the table featuring some popular resume-writing services according to essential criteria. Even if JobStars prices are somewhat higher than average, you will definitely obtain more for your money than you can imagine.
| | | | | |
| --- | --- | --- | --- | --- |
| | JobStars | Zipjob | FindMyProfession | ResumeSpice |
| Quality | Professional, only minor quirks. | Positive feedback seems unstable. | Proved by lots of long-time users. | Appreciated by users, but it takes forever to get approved. |
| Price | Starts from $495 for the Bronze Resume Package | Starts from $139 for the Launch Package | Starts from $395 for the Entry-Level Resume Package | Starts from $409 for the Entry-Level Resume |
| Feedback | 100% positive | 77% positive | 99% positive | 95% positive |
| Value for Money | Perfect, you get plenty of supporting services. | Not worth the money; many disappointed customers. | Good, professional quality and support. | The Premium version is not worth its price. |
Customer Service and Feedback
The company's staff – both from our experience and according to other JobStars.com reviews – shows courtesy and readiness to support. You can contact them through a particular contact form, email ([email protected]), or phone number (1-888-307-0010).
The company also has its profile on the most popular social media Facebook, Twitter, Instagram, and LinkedIn. Their team knows their job.
It's worth mentioning that according to TrustAnalitica, JobStars in Chicago is considered the best resume-writing service in the city.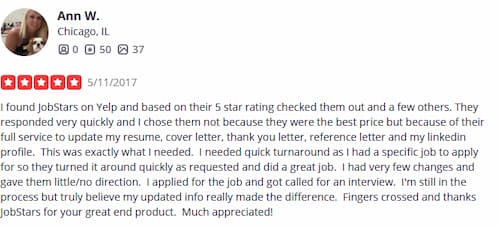 The customers who shared their reviews believed that ordering the JobStars services was crucial for obtaining their desired position. They find the staff's attitude friendly and attentive and the experience of cooperation pleasant and satisfying overall. Many clients emphasize a personal approach and professionally done work.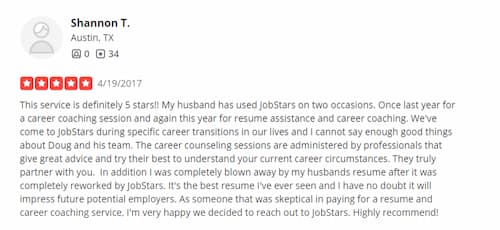 Pros
The work is done professionally and promptly.
The company provides a confidentiality guarantee.
The usability and navigation are very user-friendly.
The thirty-day period for adjustments and corrections is beneficial.
The company is owned and operated by a Certified Resume Writer.
Cons
The company does not execute multiple formats of files in most options.
The JobStars prices are slightly higher than the average.