The process of presenting yourself to a prospective employer begins the moment you decide to apply for a particular job advertisement. The first thing you do to "get to know" a potential employer is to introduce yourself through a CV.
The reason why you should have a well-written CV lies in the fact that, in most cases, you will have a lot of competition in the job competition, so the purpose of a well-written CV is to set you apart from other (numerous) candidates and take you one step higher, that is, at a job interview. The better you present yourself and the more your CV meets the needs and requirements of the employer, the better the chances that it will invite you for an interview.
The biography should present you in the best light, in a concise and beautifully structured way. There are many ways you can write a CV and you can take advantage of this fact and be as original as possible.
Sometimes, still, you need a professional approach to make a better impression and open new doors, just like Marian Faux wrote in her book. This is where the BrandResumes steps in as a professional CV resume writing and review service targeting both entry-level graduates and full-time employees in an array of industries.
Prospective customers considering this service are welcome to read our Brand Resumes review and discover all those small factors that differ a quality from an average provider. Thanks to our experience in more than 50 various resume services and the ongoing list of the best providers, including federal, legal, military, IT, and nursing resume writing services, you will get a real-people expert opinion.
Moreover, a review compiled this way brings light to aspects any customer needs to know, such as quality, prices, value for money, overall service usability, mobile-friendliness, and customer support. Keep reading to learn them all.
Short Story of Brand Resumes
Catering to both recent graduates and accomplished business professionals ready for the next move, BrandResumes is a mixture of online and offline resume writing and career advancement services.
As BrandResumes reviews also say, the service provider is specialized in high-demand industries, including Project Management, Marketing, Information Technology, Human Resources, and Healthcare. The entire job is done not by robots or artificial intelligence but by real humans with decades of experience in this demanding niche.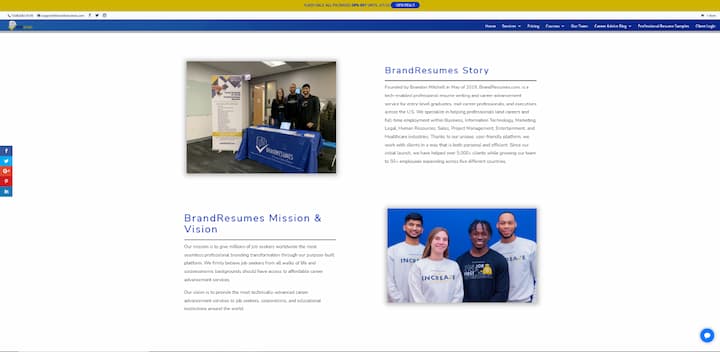 The company was founded in 2019 by Brandon Mitchel, who designed a user-friendly platform and implemented a blend of both personal and efficient approaches to each client.
So far, they have helped more than 5,000 people from all five continents to settle, while the team of one grew into a sustainable business, now generating a steady income for 50+ full-time employees and associates.
Services
Everything starts with professional resume writing where Brand Resumes wants to meet professionals of all experience levels regardless of if they're applying for a full-time or part-time position. Grad school is also accepted when in need of a resume with precise grammar, modern formatting, and an updated layout.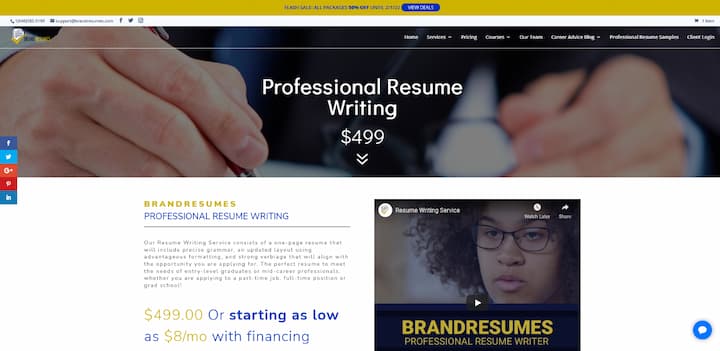 LinkedIn profile development is another featured service for job seekers who need recruiter-friendly and keyword-optimized review.
While certain Brand Resumes reviews expected much more, other customers were quite satisfied to get an error-free resume since absolutely no one could guarantee that recruiters will actually hire them.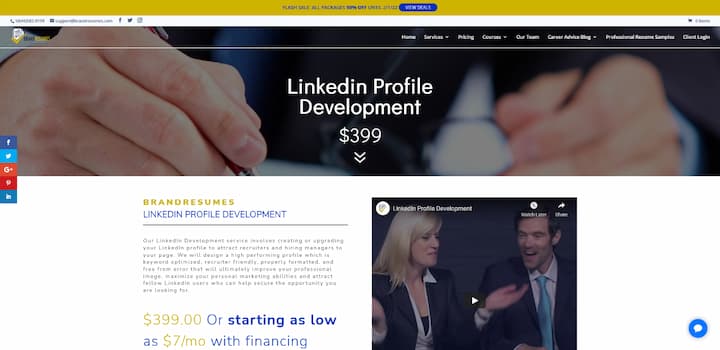 Targeted Job Booster is a trademarked and award-winning service where Brand Resumes comes with 50 targeted job applications distributed to major US job-search platforms. Customers will get a tailored resume where the provider bases things on the client's geographical preference, job title, and desired salary.
Other noteworthy services include Military Transition Resume Writing to meet the growing needs of former military personnel now seeking corporate jobs or simply transitioning to civilian. Federal Resume Writing is reserved for professionals who would like to get a federal agency job.
Like receiving a CV wasn't enough, some employers prefer a 1-on-1 approach and are more than willing to set up an interview. If that's your case, BrandResumes offers two personalized interview coaching sessions. You can take them at NYC or Wisconsin offices or using a virtual platform.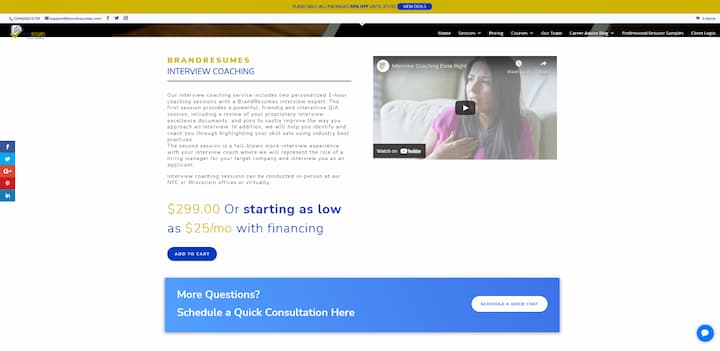 Even though job seekers are the primary audience, BrandResumes is also attentive to employers. They can get targeted career transition services for their employees that include job offer evaluation and negotiation, along with things we already covered here. The package also addresses job application management, HR analytics, and reporting. This is a customizable service, and you are advised to schedule a demo or request a brochure to get the proper quote.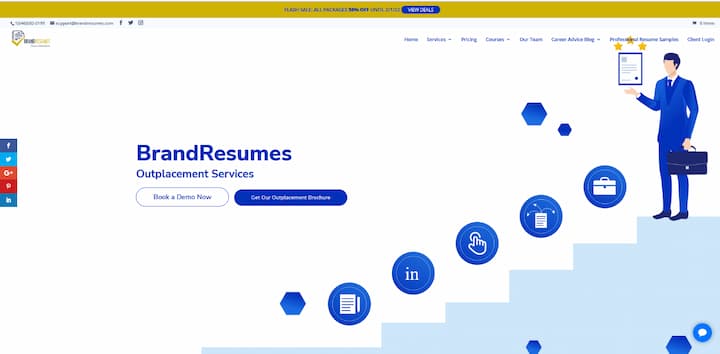 Finally, the so-called BrandResumes University is a place to attend two courses we found at the time of writing this review. Launch a Resume Business Writing course promises people to generate up to $4,000 per month after starting their own trade in this niche.
Course instructors Brandon and Noelle have more than 15 years of combined experience in this industry and can provide 9 masterclasses in a total value of $8,561. The other course is for job seekers teaching them to take 8 crucial steps and appear at recruiters as job-search ready.
When feeling ready enough to make such an investment, you can use the built-in calendar to schedule a free call. This would look like an interview between you and the service provider's representative during which he/she will review your resume, present available packages, and eventually discuss next possible steps.
It is also possible to get a free expert resume review by uploading a corresponding file and leaving basic details later to connect with BrandResumes.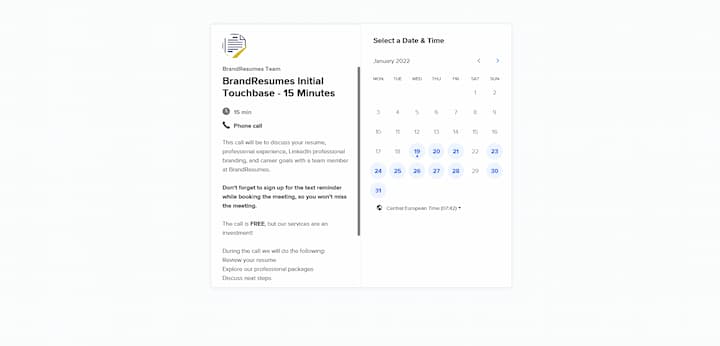 What's also more than interesting is that not all things have a price tag, and the provider is willing to share knowledge with those in need.
With that in mind, you can read well-written blog posts to discover the latest job market trends, find out how to make your resume stand out in different industries, or compare the advantages of becoming a resume writer.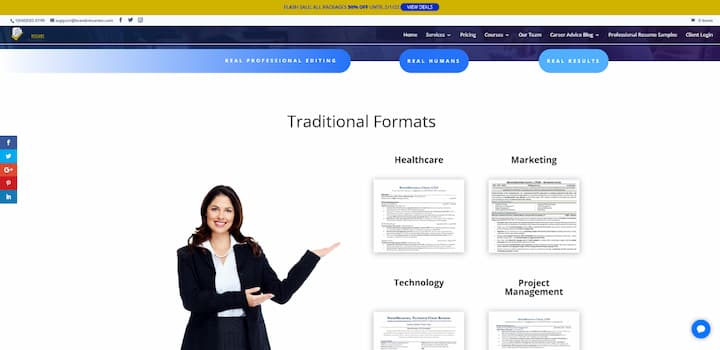 Another freebie is in the Professional Resume Samples where all interested parties can download CVs in formats adjusted to a particular field of work. For example, there are healthcare, marketing, technology, project management, legal, and human resources resume samples at your disposal.
Pricing of the Services
The price range depends on the package you'd like to apply for, so we will briefly explain how much does BrandResumes cost? For professionals, BrandResumes offers three different options, including Career Ready, Career Jumpstart, and Career Revamp, respectively charged $699, $499, and $999.
On selected occasions, the provider organizes flash sales and applies a 50% discount on all packages, so you can check their website every now and then to be among the lucky few.
The basic service implies a professionally written resume formatted for interviews and keyword optimized along with a cover letter, LinkedIn revamp, and a thank you letter. Higher-priced packages additionally include resume distribution, career coaching, targeted job site booster, and a follow-up email template.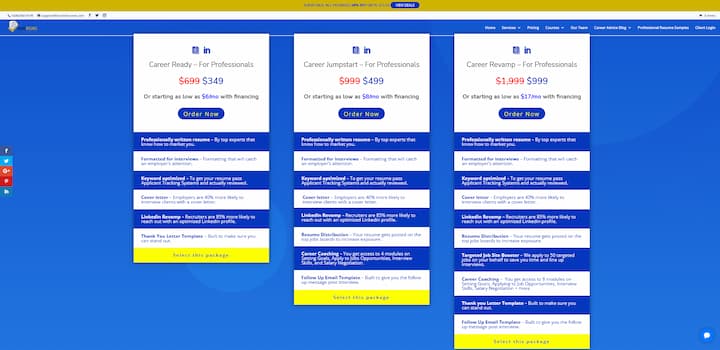 Specific services are also emphasized, meaning you can order only one of the mentioned and pay $499, $399, $199, or $999 for professional resume writing, LinkedIn profile development, time-saving resume distribution, or targeted job site booster, respectively again.
Interview coaching and strategic interview coaching cost $299 and $499. It is also possible to pay a monthly fee instead of a lump sum if you opt for financing, which can make the Brand Resumes prices more affordable to a wider audience.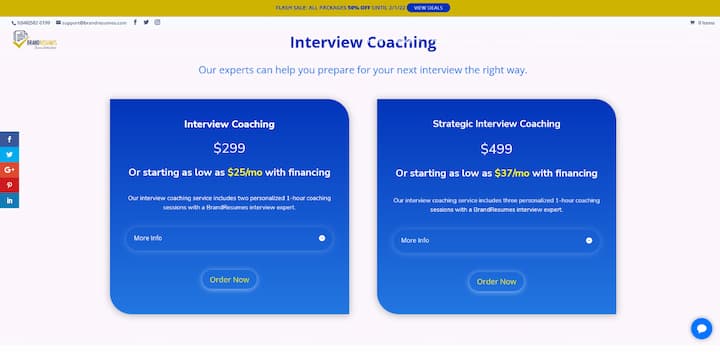 After choosing the appropriate package, you will be taken to a classic online shopping bag and asked to enter personal details, address, phone, and email address.
At this point, clients can add another product to the bag or review it before finalizing the deal. This is done by choosing the most suitable payment method among credit cards, PayPal, and Klarna. Make sure to read and understand all terms and conditions before placing an order to avoid any misunderstanding.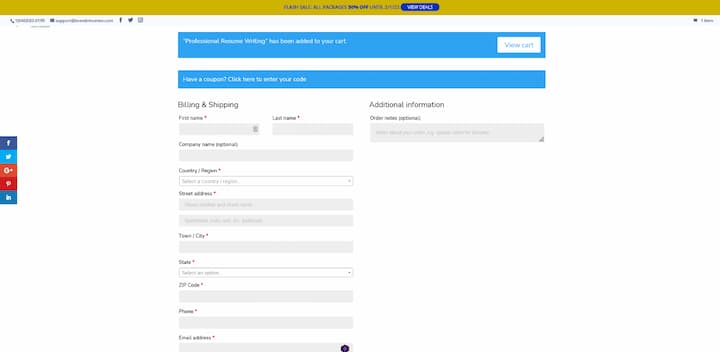 *BrandResumes price after a 50% discount applied.
Quality
Led by above-mentioned Brandon Mitchell, who both presides and serves as a chief resume writer, the company is also managed by professionals in fields of sales, strategy, technology, and HR.
So, if you want a sneak peek on your future LinkedIn profile, a smart move would be to check these guys' and girls' pages. The core team is made by mid-level professionals, while the most interesting part deals with expert resume writers and coaches.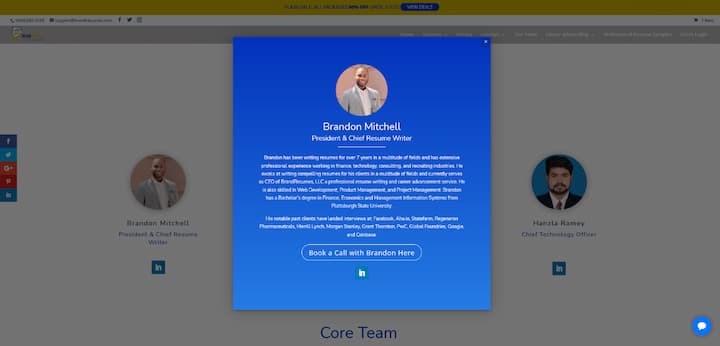 Each one has a transparent profile page with fields of expertise clearly stated. When you get to read BrandResumes reviews, most customers address them by name, so it's easy to figure out which member of the team performs better or which one is more focused to provide exactly what you need.
If you're considering TopResume as part of your job search strategy, our in-depth review can provide clarity. We've explored various facets of their services to help you decide if Top Resume is legit and can meet your career objectives.
Still, we couldn't locate any certificates or diplomas uploaded along with the profile description, yet you will see each writer's educational level, languages spoken, and a brief list of most significant and current accomplishments.
Customer Service
The moment you arrive on the platform is when the Drift-powered chatbot asks you to provide any further questions about the service. They will also ask you to provide an email address to continue chatting if connection is eventually lost.
Now, we tested the bot asking a question about payment methods and had to wait for a couple of minutes to get a proper answer.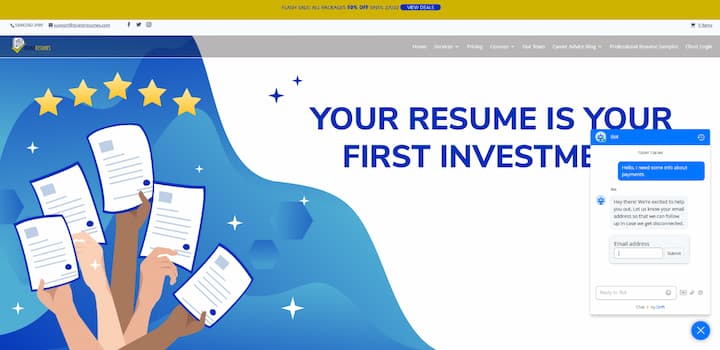 You can also use phone line and email to solve any outstanding issue. Some advice would be to check the FAQ page as they definitely offer ready solutions to technical, financial, and questions regarding the service's functionality.
Complement your resume with a compelling cover letter. Our review of the best cover letter writing services offers insight into providers who create customized, persuasive letters that complement your resume and professional persona.
Trustworthy BrandResumes.com reviews praise this part of the service addressing agents as patient, kind, and open-minded. Just remember that assistance by phone is offered between 9:00 AM and 6:00 PM, which can be tricky if your time zone doesn't really match.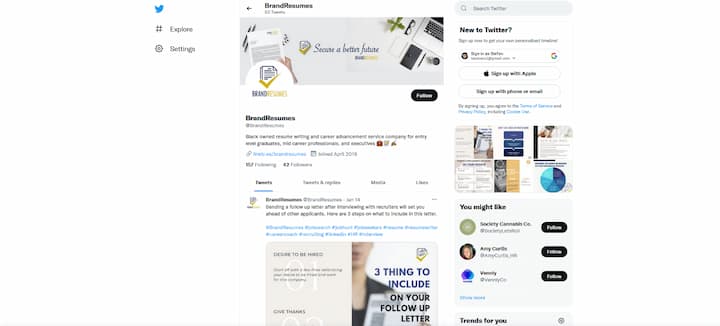 The provider has a proclaimed strong presence on multiple social networks including Facebook, Twitter, and Instagram. Still, one could argue about freshness on their activity feeds, but the truth is, all important news and updates are posted regularly.
Pros
Unique features such as Time Saving Resume Distribution and Targeted Job Site Booster.
Adjustable packages with discounts and both flat-rate and payment in installments.
Well-educated and dedicated team of professionals.
Feature-rich service that covers all job seeker's needs.
Professional resume samples free of charge.
Cons
Writers sometimes take a longer time to fulfill a demand.
A bit higher price compared to the competitors.
Chatbot instead of live chat support.
Phone assistance is not offered 24/7.