As a job seeker, you're already aware that it is tough competition out there. No matter your certifications, you will always find other job applicants who have the same things, or even better.
By now, you are aware that what you need is a great CV that can help outline your qualifications and experience in a way that helps you stand out. Maybe that's how you heard of ResumeCorner, and now you're wondering: can they do it for me? Can they write the CV that will land me my dream job?
You're in luck! So here's the deal:
This is a ResumeCorner review that would give you a detailed analysis of this platform and answer all your pending questions on whether they can give you the resume of your choice.
Our expert Edureviewer team has reviewed over fifty different services ranging from federal, legal, military, IT, and nursing resume writing services, and we have made a compilation of only the best platforms for you.
A well-crafted cover letter can make a significant difference in your job application. Check out our review of the best cover letter writing services to find experts who can design a letter that perfectly aligns with your resume.
Here are our criteria for review:
Prices
Quality
Value for Money
Customer Service/Support
Guarantees
Read further for more information.
An Overview of ResumeCorner
Since it first hit the market in 2000, ResumeCorner has helped thousands of people land jobs in their respective career fields. As a professional service, there will always be competition in the virtual market, but this platform has managed to hold its own.
If you're targeting the UK job market, a customized CV is essential. Our review of the best CV writing service in the UK provides a comprehensive list of providers who understand the nuances of the local job scene.
If you're a job seeker looking to land your first gig in fields like IT, finance, engineering, teaching, health science, and so on, this platform has just the right shine to make your CV irresistible. You can take advantage of this service today by signing up immediately. To know more about the service they offer, let's get started:
What to Expect from ResumeCorner
During our Resume Corner review, our team was fully immersed in all the services provided by this platform, and here's what we found. While this platform might be a major pro at writing CVs for job seekers, they offer many business assistance.
Let's check them out:
Resume Writing
LinkedIn Profile remodeling
Resume optimization
If you're wondering what all this means, read further to learn more.
Resume Writing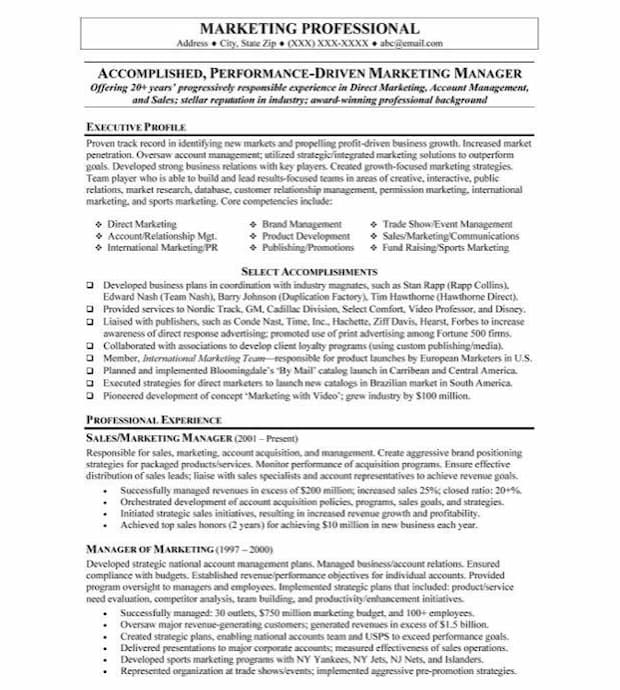 It is the major arm of the platform and the main body of this ResumeCorner.com review.
Here are the types of CV services you will find here:
Professional CV
IT CVs
Executive CVs
Entry Level CVs
They have trained personnel to help you craft this using the detailed information provided. Usually, a member of the team would engage you in a call for about thirty minutes to one hour straight. This call would be like an interview where personal and career questions would be asked. All the answers would be used to craft your CV.
To land your dream job, your resume must be nothing short of perfect. We've compiled a list of the best resume editing services that can refine and optimize your resume, ensuring it stands out in the competitive job market.
LinkedIn Profile Remodeling
With many candidates and subscribers on LinkedIn, it might be hard to stand out from the crowd. With the help of this service, your qualifications and certifications will be spelled out on your profile in a way that gets you noticed. Everyone needs this magic touch, so take advantage of this service today!
Resume Optimization
Gone are those days when recruiters sort through hundreds of job applications just to get the right fit. Today, Applicants Tracking Systems (ATS) does most of the work. This electronic software would sift through these applications and scan them based on qualifications and whether the description fits the position.
You know the worst part? Most applicants get screened out at this stage just because their CVs didn't pass the screening test. But guess what? Several ResumeCorner reviews are testimony to this section of their service.
They have professionals who will help you tailor your resume to the job description in a way that helps you rank higher during the ATS screening.
In the sea of resume services, TopResume stands out, but does it live up to the hype? We dive deep into its offerings, assessing the quality, customer service, and pricing, helping you discern if TopResume is any good for your career needs.
Based on personal experience, we also don't recommend this service because after ResumeCorner worked on our CV, we did not get called for an interview. That being said, you should not check out this service.
Some Unique Features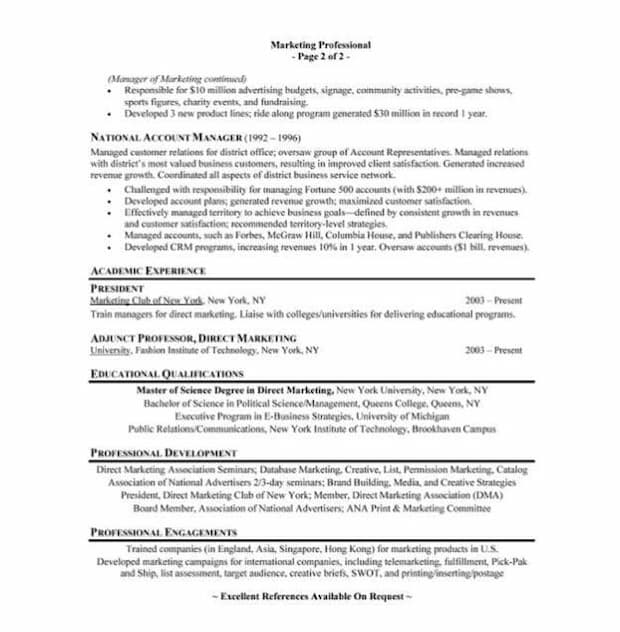 There are some features of this platform that sets them apart from other resume writing services.
To find out more about these, let's move on to the next paragraphs:
This has been tested and trusted, and we are impressed by it. By the other Resume corner reviews online, many other people found this helpful too.
In case you can't afford an expert resume writer yet, or you simply need the advice of a professional, send your resume to [email protected] for expert analysis now!
By doing this, a professional would tell you exactly what is wrong with your CV and how to step it up. The best part? This exceptional service is for free!
This is another great way to help those who aren't willing or can't afford to hire an expert writer yet. On the ResumeCorner site, you will find some sample resumes.
These industry-specific crafted samples were written by some of the best and had an excellent organization. All you have to do is follow the format. It's also for free. This is what one of the samples looks like:
Resume Corner Prices
For those asking: How much does ResumeCorner cost? Check this out. This platform offers three standard packages to their clients. However, regardless of the package you choose, you get free bonus offers worth so much more than you paid.
These bonuses are three different resume presentation formats (PDF, Word, ASCII), a thank you letter, a reference list, and a phone interview with an expert. Sounds good? Why don't you claim these by signing up?
Before signing up, let's tell you a little something about the packages they offer:
A resume — $149
A resume plus cover letter — $179
A resume, cover letter, and LinkedIn profile remodeling — $259

Note: Returning customers are always eligible for a discount, so you just have to give them a call to know how much of a discount you have.
Let's Compare ResumeCorner packages to some of the other similar services available:
| | | | |
| --- | --- | --- | --- |
| ResumeCorner | FindMyProfession | ZipJob | ResumeSpice |
| Resume alone — $149 | Professional Resume Package — $695 | Launch — $139 | Entry Level Resume — $349 |
| Resume + Cover Letter — $179 | Premium Package (Resume + Cover Letter) — $795 | Fast Track (Resume + Cover Letter) — $189 | Professional Resume — $459 |
| Resume + Cover Letter + LinkedIn profile remodeling — $269 | VIP Gold Package (Resume + Cover Letter + LinkedIn Profile Remodeling) — $1095 | Premium (Resume + Cover Letter + LinkedIn remodeling) — $299 | Executive Resume — $569 |
From the above table, you can already tell that ResumeCorner offers the most affordable resume writing service to clients right now!
Quality of their Services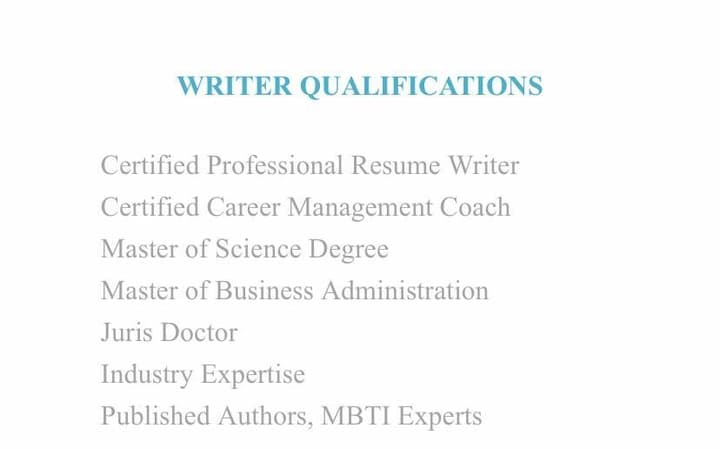 The qualifications of all the writers on this platform are top-notch. The least degree anyone has is a Master's in their field, followed by other extra certifications that make them suitable for the job.
Plus, these writers keep a close relationship with you for the entire process.
Due to their writers' tight and rigorous expectations, it is only expected that they give you the best. The quality of their service is excellent, and there are several ResumeCorner.com reviews to back this up.
Here's one from the site itself: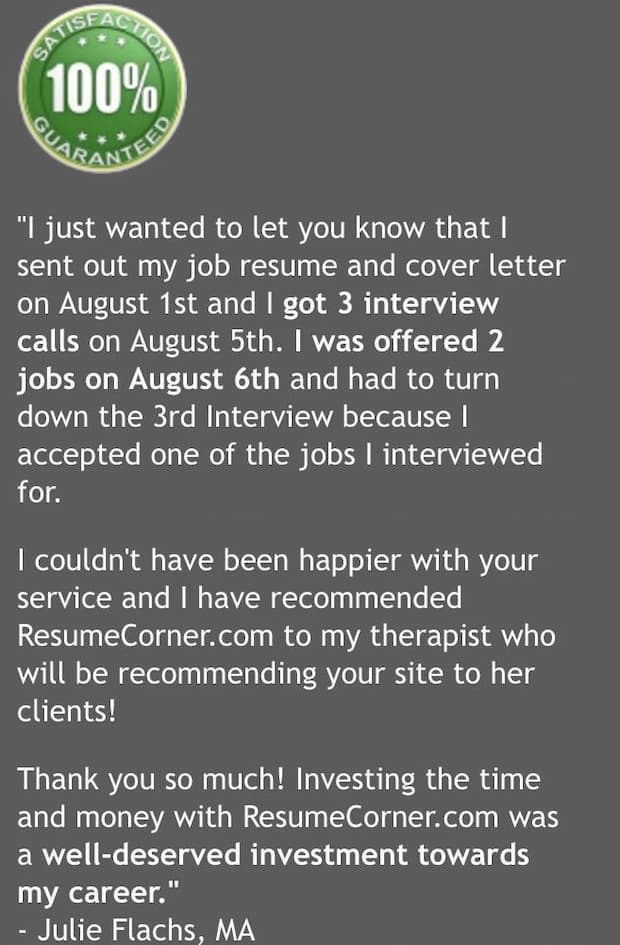 Here are some of the reviews left by some clients on Google: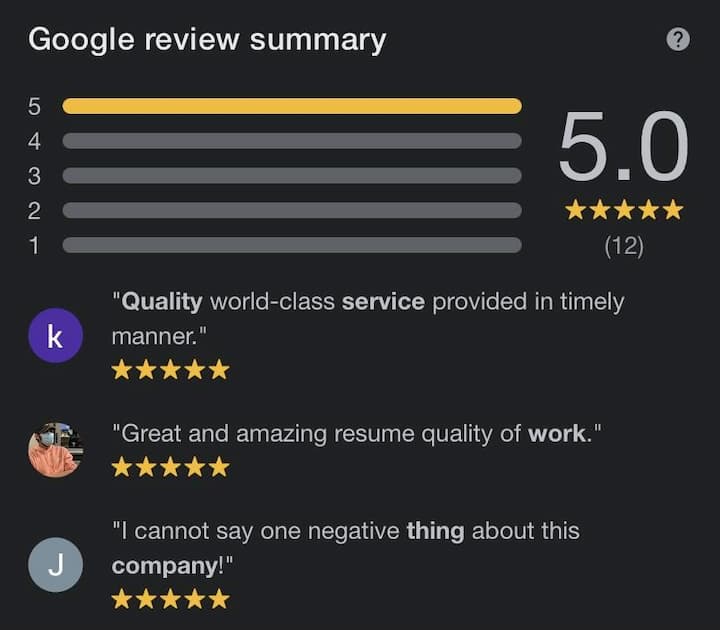 Customer Support
Their customer support might not be available 24/7, but the representatives get to you as quickly as they can. Their responses are well executed, polite, and knowledgeable. You can call them for free consultation at either: 1-888-873-7863 or 1-718-539-7771.
They also have a mail: [email protected], where you can send your resume for free consultation or ask any questions you might have concerning their services. You can give them a call right now.
While exploring different resume-building tools, you may question whether Kickresume holds value. Our thorough review dissects its offerings, examining ease-of-use, templates, and customer support to help you gauge if Kickresume is worth it.
Pros
Professional writers who are certified to do the job.
Resumes are sent in three different formats.
Unlimited revisions for about 30 days.
Great value for your money.
Free sample resumes.
Phone interviews.