The global economic downturn has made it extremely challenging for job seekers. To secure a good job, you must have every possible advantage in your arsenal. A good resume is one of the greatest advantages and can give you an edge over your competitors. Even if writing a compelling CV can be difficult, many services help you build a good one.
Having a good resume is super important and it's not just a paper: it's like a tool to show off our skills and achievements. With a well-made CV, we can stand out and impress the recruiters. I want to share about the service I used to help you evaluate whether it's a platform you should consider.
One of the most popular platforms for getting a professional resume is Fuller CV. Now, you must be wondering if it is worth it. Let me help you with making the right decision.
Evaluating a platform like Fuller CV and its online resume writing services can be daunting. To make an informed decision, you need to consider multiple factors. In this review of Fuller CV, I will delve into crucial aspects such as service quality, value for money, customer reviews and feedback, website functionality, and any guarantees provided.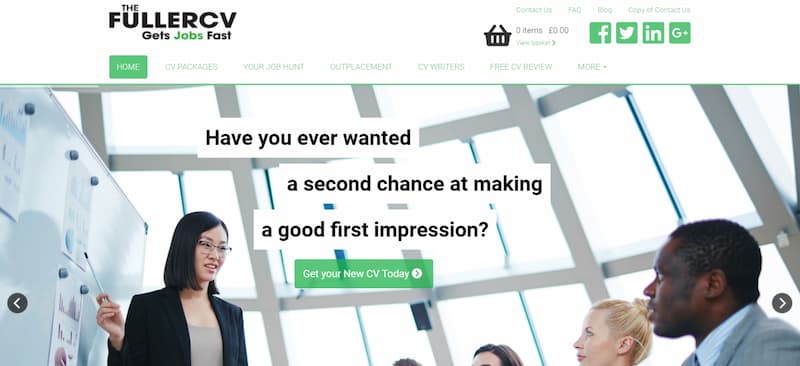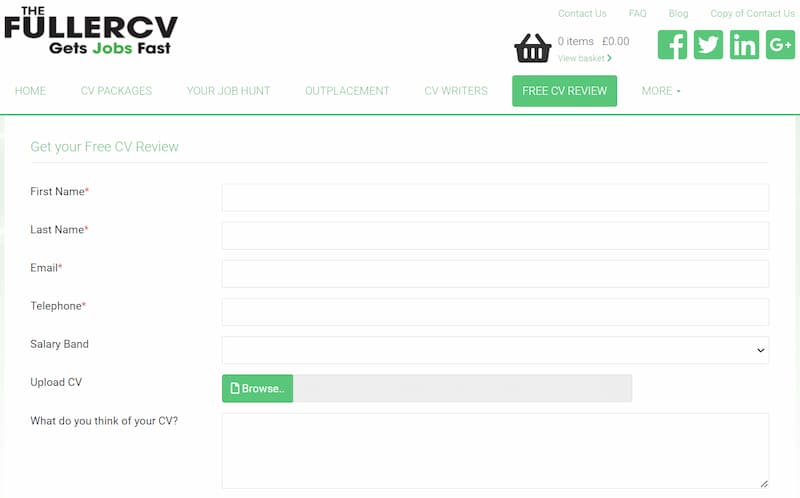 Let's dive in and explore the details.
Fuller CV Features
I will start by describing all the features I found at Fuller CV that would make it easier for you to understand how the service works and what you can expect.

There are several different services and features that the platform offers, some of which are useful, in my opinion, are discussed below as a Fuller CV review:
Flexibility
Fuller CV is a place that claims to be suitable for all job seekers. It's a resource if you are a fresh graduate looking to enter the job market, a seasoned professional looking for a better opportunity, switching careers, or needing an updated CV.
They offer several different options to you which you can choose from as per your requirements. This includes packages that are questionnaire-based and packages that are based on consultation. It was a bit confusing, as I could not decide which one of the options should be used.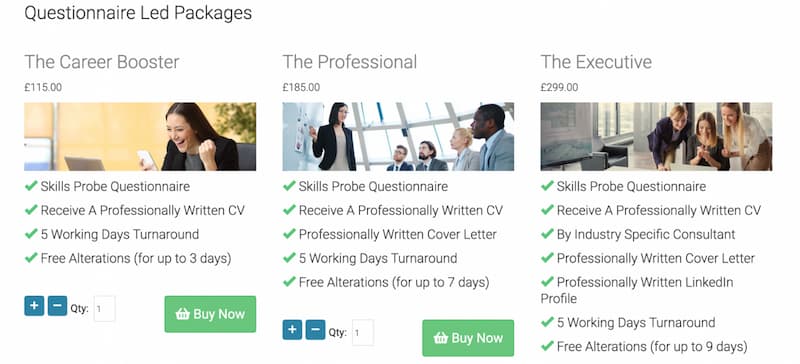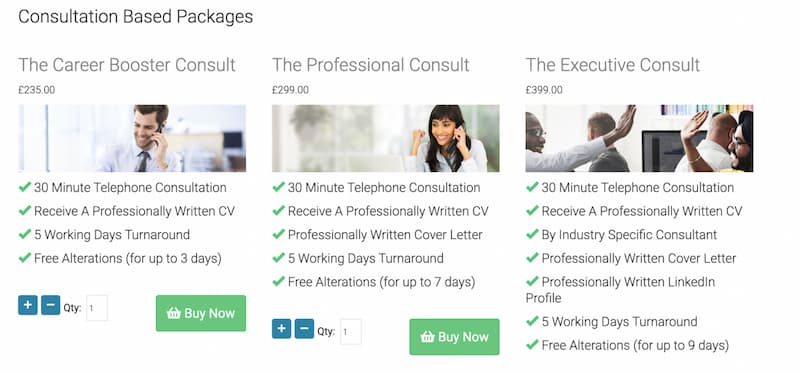 The consultation-based packages include working with a Fuller CV coach.
Personalized CV
The website could have a better interface, but the copy and the design were relevant enough. The interface can be improved and be more clear. They have a step-by-step guide to ensure you get all the crucial details, work experience, and qualifications. They don't use any pre-designed templates, which is a standout feature.
Review and Feedback
If you already have made a resume and are wondering if it's up to the standards, you must get it reviewed by a professional. Fuller CV offered a valuable service for those with existing resumes. I opted for a professional review and their expert feedback. The feedback I received was generic, and it did not seem they went through my CV personally for their assessment.

A Custom Cover Letter
Fuller CV's assistance with creating custom cover letters was a feature that attracted me. Crafting tailored cover letters for different job applications used to be frustrating, but now it could be effortless. This feature allowed me to create a cover letter, but I still had to tweak it slightly.
This meant I had to highlight my unique qualifications to make my resume shine and increase my chances of getting interviews. Nevertheless, it did help me a bit with the basic layout.
Keyword Optimisation
Did you know that most big organizations use Application Tracking System (ATS) to sift through resumes? The platform, Fuller CV, integrates keyword optimization tools to help enhance CVs' chances of being selected by applicant tracking systems (ATS).
This should ensure that your CV reaches the eyes of potential employers and increases your visibility in the job application process. Still, in my case, they could have done a better job with the keywords.
Fuller CV - Quality Overview
Now that we've explored all the notable features of Fuller CV, let's assess its true value. In this detailed overview, I'll address all your questions about the platform's quality.
My experience with Fuller CV's services was okay but could have been more exceptional. Despite the convenient and seamless process, their end product could have been better.
They claim that their team of writers consists of professionals and experts with valuable insights into the current job market. This ensures that your resume is tailored perfectly to meet industry demands. In my experience, I found little difference between what I had already written and what the professional writers wrote for me.
Fuller CV claims to have an outstanding team of writers with lots of experience, creating impressive resumes. They promise unparalleled guidance and support to make your resume stand out.
Based on my experience, the final result only partially lived up to the high expectations they set. The resume was good, but they claimed they could have been better.
Here are some results that the professional CV writers at Fuller CV claim to achieve for their customers.

Guarantees
For any online service we purchase, the first step after reviewing their service is to check if the platform offers any guarantees. At Fuller CV, I tried to find any claims or promises. This was also mentioned in the Fuller CV reviews that I read online.
If you're dissatisfied with the final product, you can file a complaint, and they will resolve your issue within seven business days.
How Is Fuller CV Different From Other Platforms?
Some aspects made the platform stand out from its competition. Fuller CV distinguishes itself in the following ways:
Personalized Approach: Unlike other platforms that rely on templates, Fuller CV claims to take a customized approach to craft your CV. If done properly, this approach can ensure that the CV is unique and tailored to your qualifications and experiences.
Step-by-Step CV Building: With Fuller CV, you play an active role in the resume building process. They value your input and guide you through each step to create a comprehensive and compelling resume.
Customer Data and Privacy: I respect the fact that Fuller CV prioritizes the security and confidentiality of customer data. This claim is important to protect your personal information throughout the CV creation journey.
I compared their services with two other companies, such as Purple CV and Top CV, so you can decide if Fuller CV is right for you.
| | | | |
| --- | --- | --- | --- |
| Features | Fuller CV | PurpleCV | TopCV |
| Prices | Reasonably Competitive | Affordable | Expensive |
| Value | Customized Experience | Standard Templates | Personalized Service |
| Quality | Expert CV Writers | Limited Customization | Professional Writers |
PurpleCV and TopCV seem to be better options than Fuller CV. PurpleCV offers a rather standard service but at lower prices. TopCV justifies its costs with high-quality deliveries.
However, FullerCV claims to offer personalized assistance from expert writers, but the final result still needs to fully showcase my qualifications as promised. This leaves me hesitant to recommend them as a standout choice among these platforms.
Pricing of the Resume Services
My experience with FullerCV's pricing could have been more satisfactory. They do offer competitive rates for their services and different packages to choose from.
However, the actual cost can vary depending on the level of assistance and additional features you opt for.
Although they provide transparent pricing information on their website, I found it challenging to find a package that perfectly aligned with my needs and budget. The price spectrum goes from 115£ to 699£.
For example, you'd be charged 115£ for a career booster CV with free alterations for up to 3 days. On the other hand, if you need a professional executive resume writing service, then "The Executive" package is 299£, which also includes a professionally written cover letter and a LinkedIn profile.
For those of you looking for their Linkedin profile to be checked and optimized, see our list of the best Linkedin profile writing services online.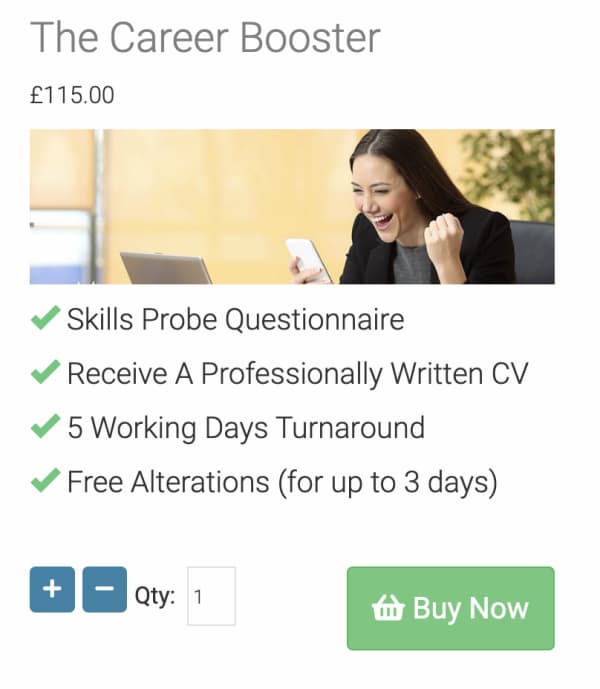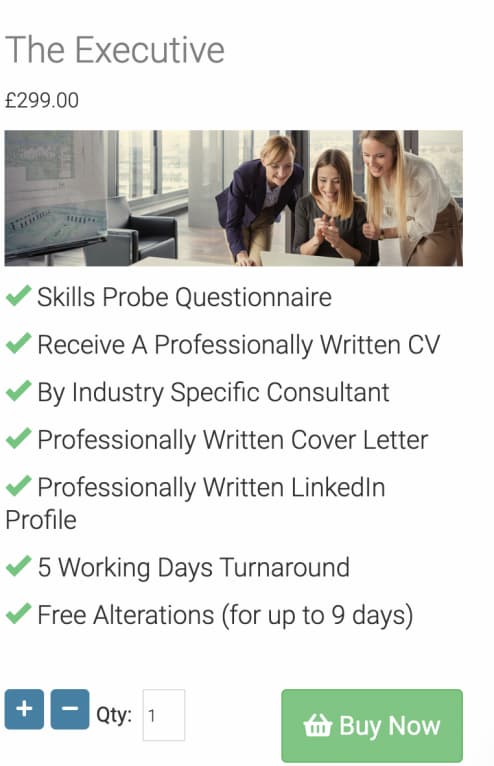 Similarly, there are consultation-based packages that start from 235£. But it's difficult to understand how a 30-minute call is worth 100£ more than the basic service.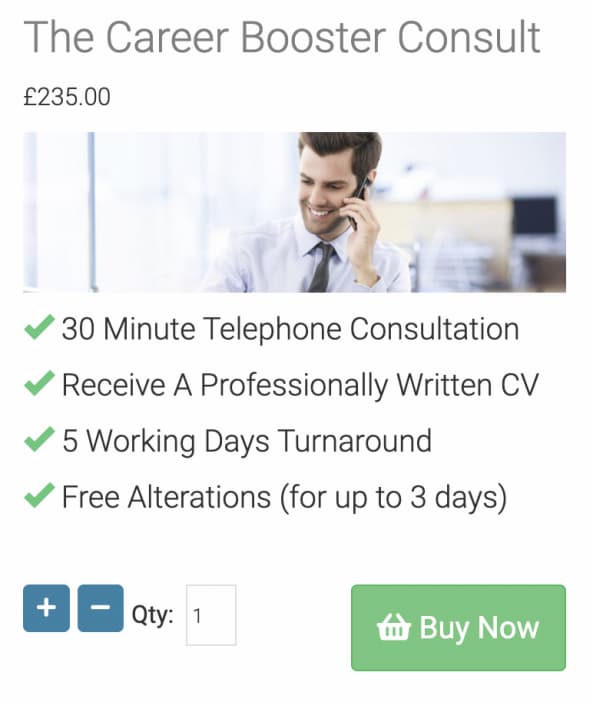 Payment Options
As for payment options, FullerCV offers various convenient methods to facilitate your transaction. You can typically make payments using major credit cards, debit cards, and secure online payment platforms. They aim to provide a seamless and hassle-free payment process to ensure a smooth experience for their customers.
Value for Money: Do They Worth It?
When it comes down to it, my experience with Fuller CV does not justify its value for money. While they claim to offer personalized and comprehensive CVs, the result lacks impact and originality.
Despite their promises, the service still needed to meet expectations, leaving me uncertain about its value. While a well-crafted resume can benefit job seekers, I did not feel Fuller CV delivered on its promises to showcase my qualifications effectively. As such, I cannot see how their resume will increase the chances of getting a job.
Clients' Feedback and Reputation Online
My experience with FullerCV's support staff was great. They are polite, considerate, and helpful; I found them responsive and accommodating. They promptly address my queries or provide valuable guidance during the CV creation process.
FullerCV's support staff has received positive feedback from some of the job seekers. However, my interactions with them reflected a different professionalism and attentiveness for CV writing. As such, I cannot confidently vouch for their cover letter writing services based on my experience.
Here are some FullerCV.com reviews I found online that you can use to make an informed decision. Check these concerning reviews before opting for Fuller CV.
Another one: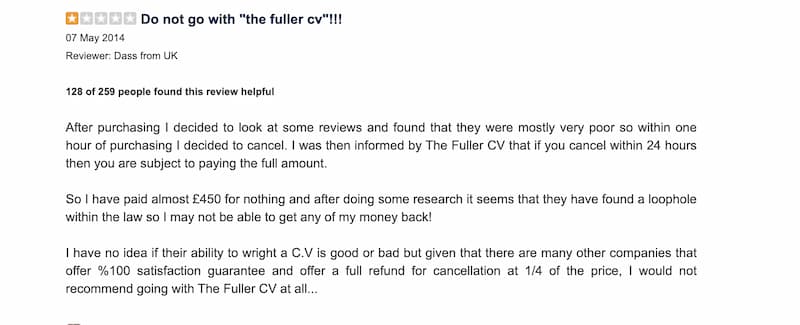 Here are some reviews I found on TrustPilot.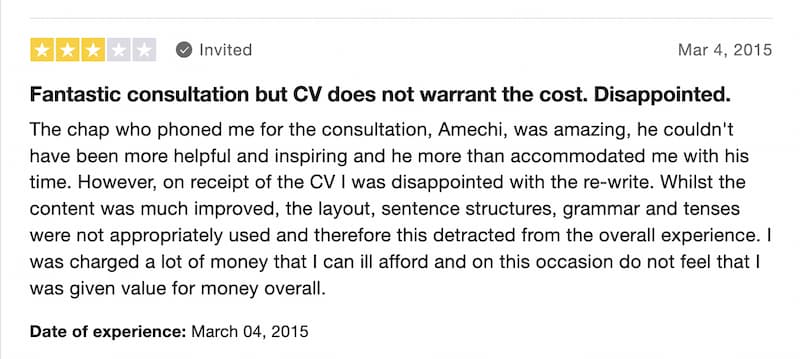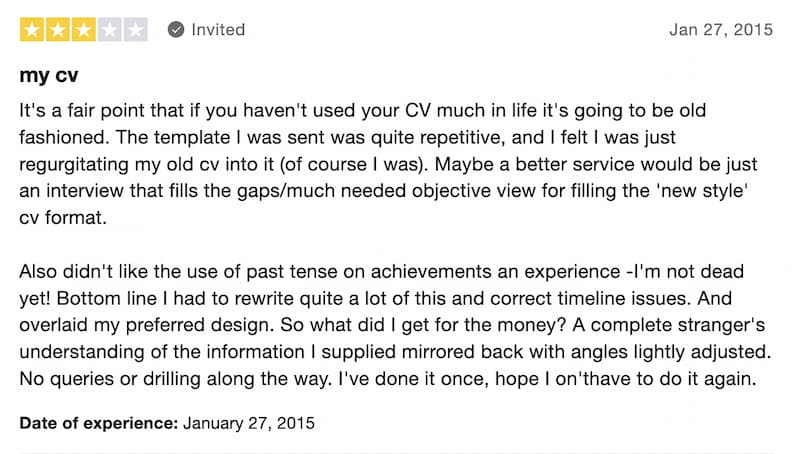 However, there are also some customers who were completely satisfied as per this FullerCV.com review: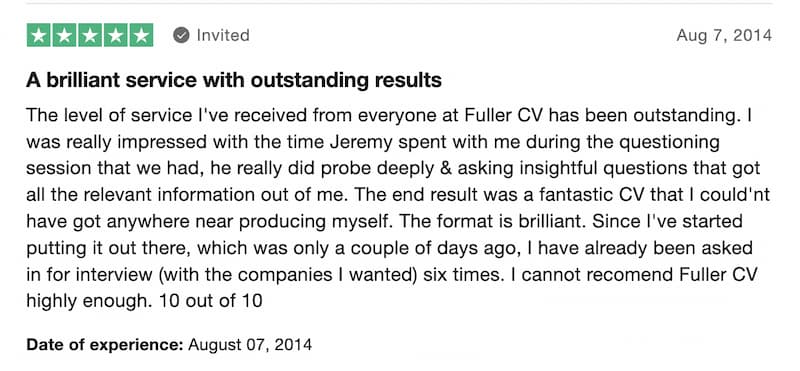 Pros
Personalized CV creation.
Transparent pricing and value for money.
Cons
They have limited template options for CV design.
Some customers experienced slight delays in service delivery.
Few customers reported difficulty accessing certain website features.
FAQ
Is Fuller CV really good?
Fuller CV has received some positive reviews and is known for its professional services, but I didn't find the experience satisfactory.
Is Fuller CV worth it?
Whether Fuller CV is worth it depends on individual needs and career goals. In my experience, there are better options.
How much does Fuller CV cost?
Fuller CV's pricing may vary based on the specific services and packages you choose. Prices go from 115£ to 699£.