Overview
You can find many of the customer Rosetta Stone Spanish reviews online. However, sometimes it is useful to compare this feedback to the expert evaluation. Our review is prepared by experts who specialize in checking language learning apps.
Therefore, this Rosetta Stone Spanish review is not just a mere description of the service. It includes all aspects that are important from the user's side.
We have checked the platform's pricing policy, its correlation with quality, and monitored security and refund guarantees.
In addition, we paid attention to usability and design. We did not skip such an important segment as client feedback, because this is the real experience of live users.
Therefore, after reading this article, you can easily decide whether this program will be suitable for your learning needs.
Rosetta Stone course is one of the most well-known names in the language learning resources. Almost every student has heard of it.
The program is one of the most inventive, research-backed solutions in the linguistic sector for many years. Many users are still impressed by its approach to using the importance of intuition over explicit syntax.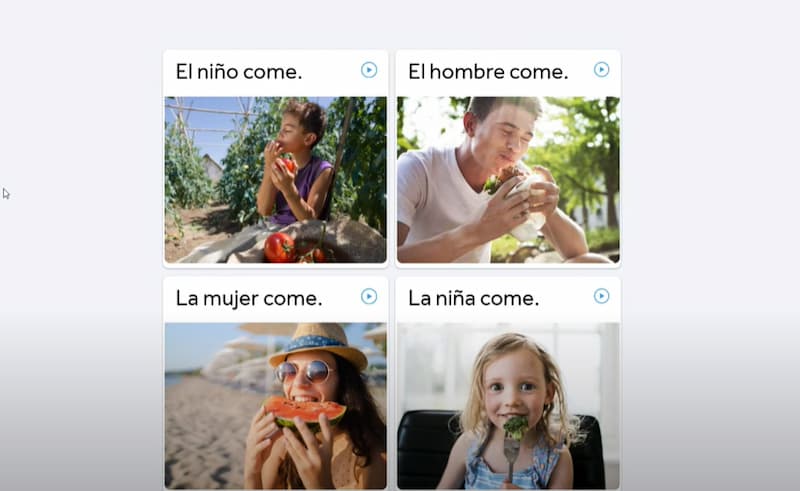 Despite some flaws, the Rosetta Stone program is a one-of-a-kind course and a highly successful instrument that has been in use for many years.
We have prepared a balanced and fair review on Rosetta Stone Spanish since one of the most commonly asked topics in learning forums is whether Rosetta Stone is worth the cost.
But if you need cheaper online tutoring, choose Gritty Spanish review. Read more about their tutors there.
What is Rosetta Stone Course?
Rosetta Stone is a software product designed to learn foreign languages ​​using a computer. Learning a language with this paid offline program is a lot like learning your language.
There is no goal here to parse a certain grammatical topic, as this is done in different comprehensive schools, and do a hundred exercises to reinforce.
During our Rosetta stone Spanish review, we've established that the course is suitable for those who want to learn the language easily and effectively. The program uses a non-standard approach to learning. There will be no typical grammar exercises and boring memorization of new words.
There is no need to translate the exercises with a dictionary. Language is studied through sensation and perception. The speaker's speech is perceived by ear and the pronunciation is polished. The program uses dynamic recognition to learn and simulate it in ordinary life conversation.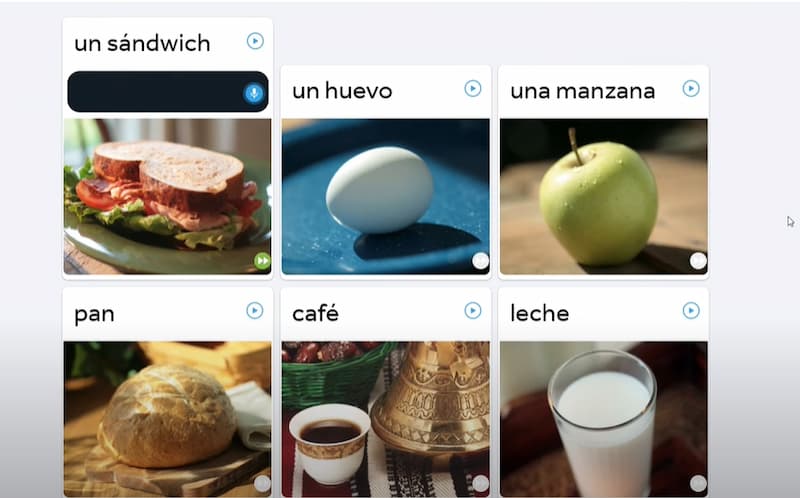 The creators of the Rosetta Stone learning course take us back to childhood when the first language was learned on an automatic level using an associative series and constant repetitions of the same words. The program will teach you not only to understand but also to think in the target language.
In any case, Allen Stoltzfus, the Founder of the Rosetta Stone course, promises so and in our review, we will try to prove it.
How Does It Work?
Rosetta Stone software is an intriguing and different philosophy. From the start, the whole idea is that it solely employs your target language to learn Spanish.
Rosetta Stone course will never utilize your first language to learn a new one. Rosetta Stone lessons were claimed that they had been formed by people who valued immersion learning. These entrepreneurs had studied languages in immersion resources overseas. They intended to replicate this learning experience as closely as possible.
Thanks to the program, you can learn more than thirty languages. The learning tasks are available at all five levels of difficulty. Words are learned first, then sentences are built.
The most effective exercise is to find a picture that matches the sentence you listened to.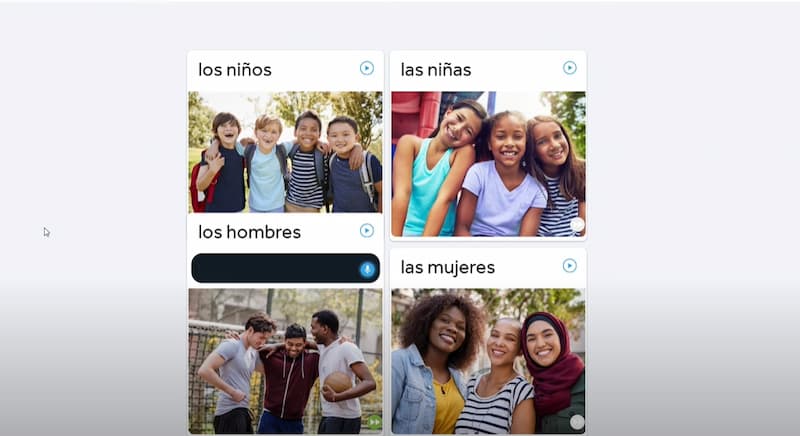 For example, in the English version, we have different photographs: the man is selling watches, the woman is explaining something, a woman is showing a painting, etc.
The announcer says: "Which painting is yours?" The student must connect the statement with the associative picture.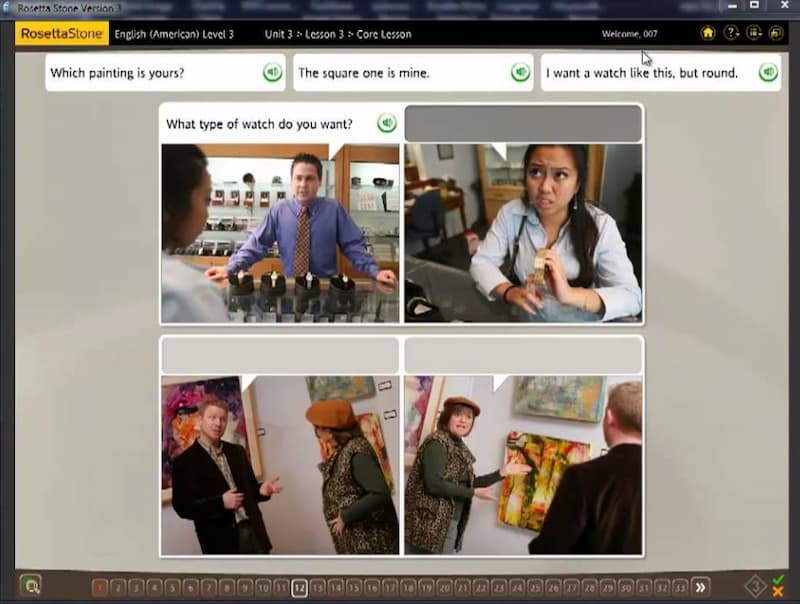 Why is Rosetta Stone good here, if compared to other resources? Learners should not aim at understanding everything, they need to understand their recognition and the general idea of ​​the sentence.
The Best Features of the Lessons
Have you ever heard of the Rosetta Stone that helped linguists decipher one of the oldest languages, Egyptian? It is a massive piece of black granite that dates back over 2,000 years and was found in Egypt in 1799.
It was a noteworthy discovery since it included inscriptions that taught researchers how to interpret previously indecipherable hieroglyphs. Today it is also associated with one of the ways to learn languages ​​- the Rosetta Stone method. Fancy learning more?
The training is divided into thematic sections, so the student can structurally approach the desired theme. The curriculum is made up of 20 learning units, each of which covers a distinct topic or area.
For example, one unit may focus on welcomes and introductions, while another on occupations and interests. The learner may choose either Latin American Spanish or the traditional Spanish version.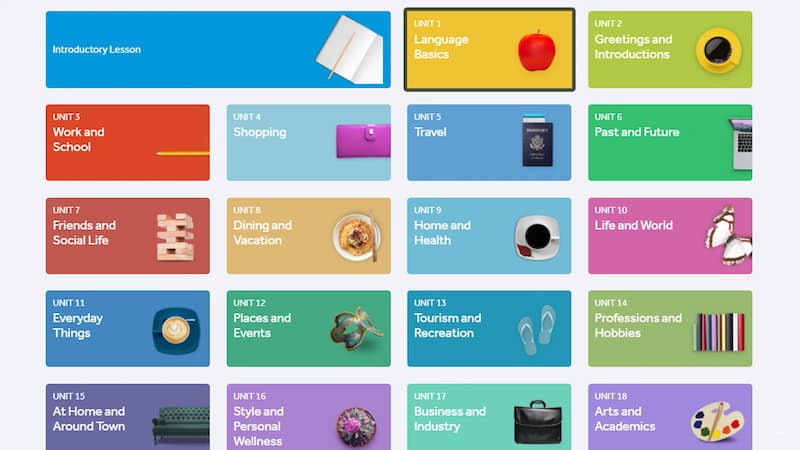 There are four core lessons inside each section. Each session includes one 30-min learning module and three to fifteen additional exercises ranging in duration from between five and ten minutes.
They include topics like listening, pronunciation, grammar, and writing. So, if you sat at the table, learned, and wanted to finish a full session, it would take you around an hour.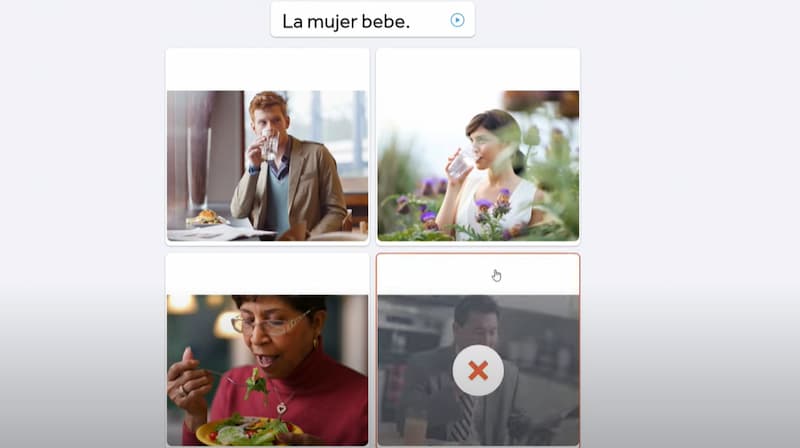 Rosetta Stone is quite excellent for vocabulary acquisition, gender, plurals, and basic verb conjugations, but it is less beneficial for learning intricate grammar, subtlety, or cultural context.
It has been enhanced in various ways, including allowing learners to go straight into information that is most relevant to them, such as the previously stated specific subjects of Travel, Business, Family, and Basic and Beyond.
In the more advanced classes, you may also hunt for specific exercises. There are courses in English for conveying emergency circumstances, commerce and industry, eating and vacation, and so on.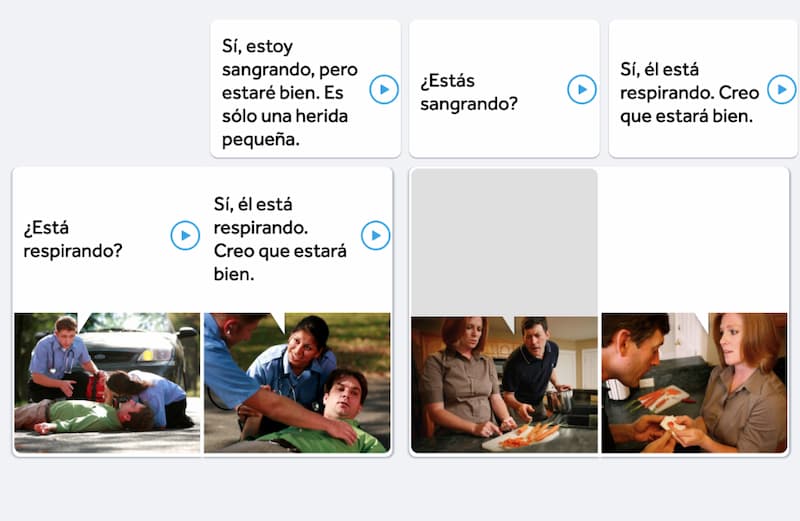 The first impression of the program may alert, why are the same words repeated in the lessons several dozen times?
But if at first, these repetitions seem like a primitive way to learn Spanish, then over time, as the tasks become more complex and vocabulary expands, the lessons will no longer seem simple and obvious.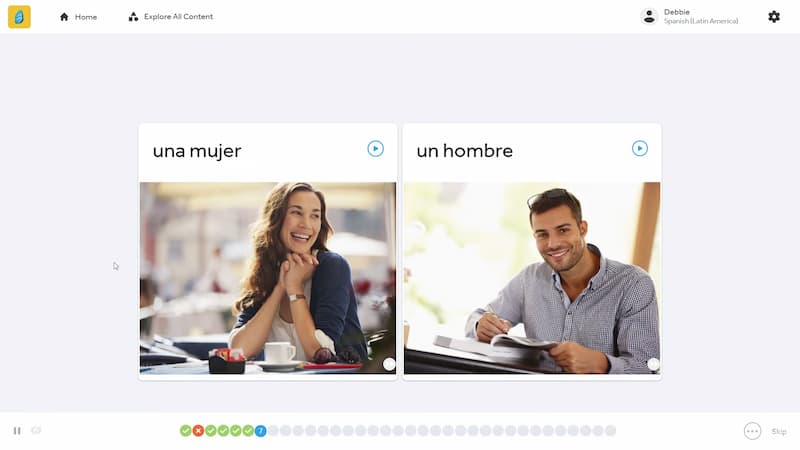 The method of multiple repetitions works flawlessly: even if the brain strongly resists, it will still remember the proposed words and constructions.
Moreover, throughout the course, there is a system of repetitions when you will constantly return to what you have already studied to consolidate the material.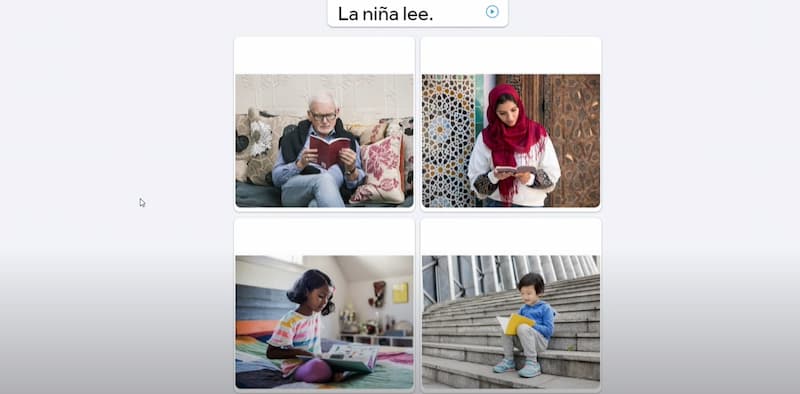 After studying each section, there is a review. This is a brief recap of what has been learned. It is better to return to it after you pass a whole unit to learn and consolidate the results.
There are also very useful speaking lessons where you will hone your pronunciation with a microphone.
The functionality of the program is very impressive. All possible means for learning Spanish are supported in Rosetta Stone lessons.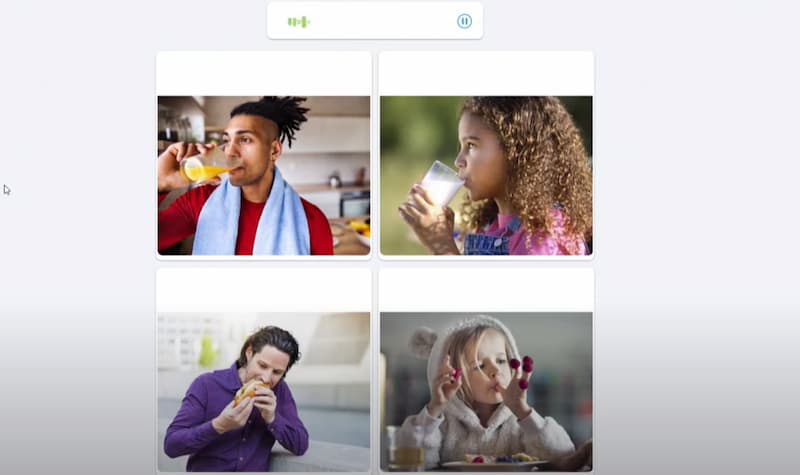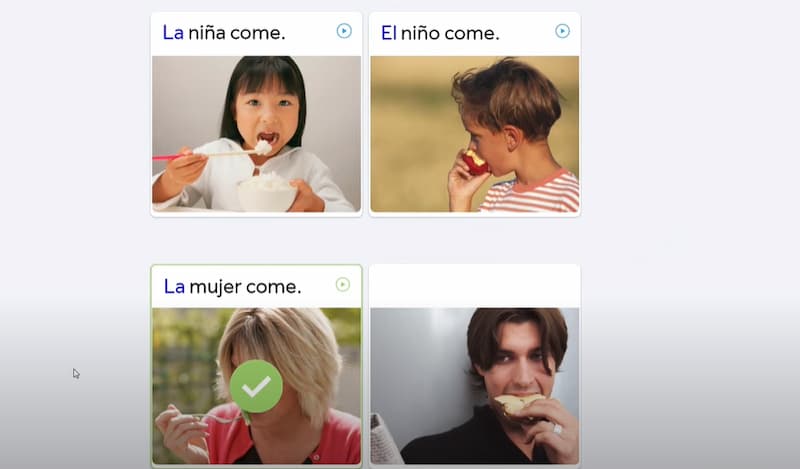 The only drawback is the lack of training resources in the program as such. On the one hand, this is beneficial not to have trivial learning exercises.
But on the other hand, in the process of learning, you will come across a situation where you will lack understanding, for example, how forms of a verb or other grammatical skills are made up.
Therefore, if you want to thoroughly engage in language learning, the companies like Rosetta Stone must be accompanied by additional educational material.
Still, it will not be possible to completely isolate yourself from the boring educational process.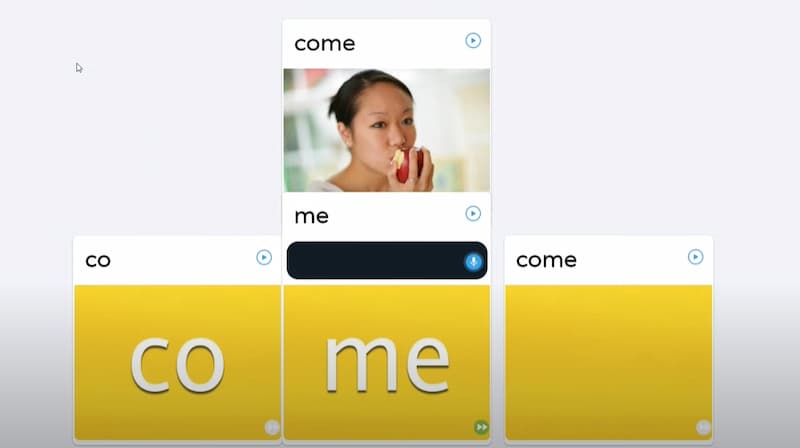 Additionally, the learning platform offers several tasks especially for practicing correct pronunciation. A recording is played, which must be repeated, and the system shows how correct you sounded.
TruAccent speech recognition technology was designed by Rosetta Stone specifically for non-natives. The system is entirely based on Rosetta Stone's original research.
When you talk, it analyzes your recording and either accepts it or asks you to try again depending on how you performed.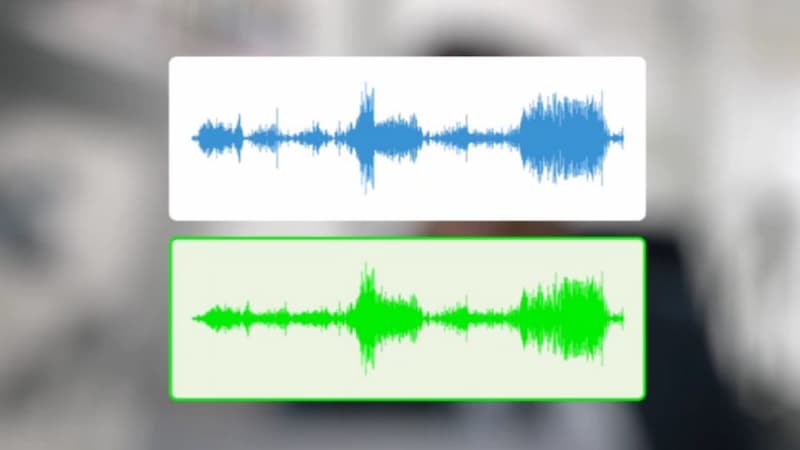 For intermediate control in the process of mastering a foreign language, there is a Milestone section – a kind of generalization of everything passed in 4 units.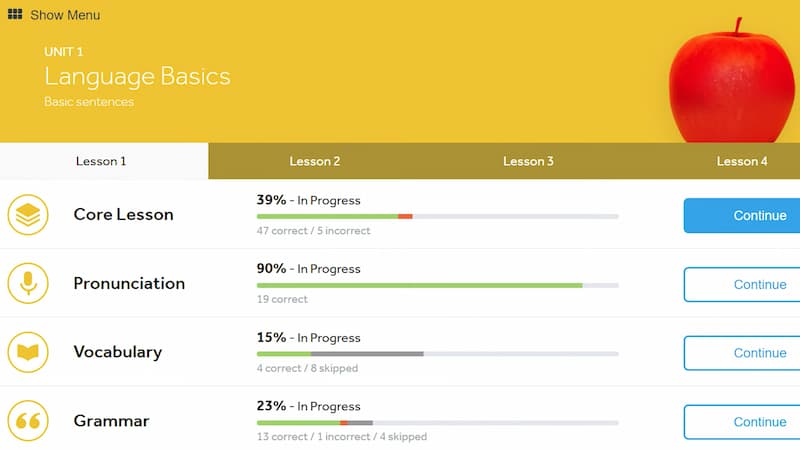 Who Will Find This Platform Especially Helpful?
We must admit that many other students learn a lot using their native language, e.g. English. This is done by increasing their vocabulary with cards, reading grammatical lectures in English-Spanish, and so forth.
Thinking in English slows down learning at times. The program skillfully avoids this correlation. Rosetta Stone might be beneficial to people who believe in the "learn like a baby" philosophy.
The program is functional and convenient. The resources are suitable even for those who can hardly cope with memorizing new words and phrases. The training takes place in an easy interactive mode, you will not even notice how you will learn the Spanish language step by step.
Therefore, we can safely conclude that Rosetta Stone is an ideal program for learning Spanish while driving or at home. Yes, the method may seem very specific, but its main advantages, namely simplicity, and efficiency, cannot be disputed.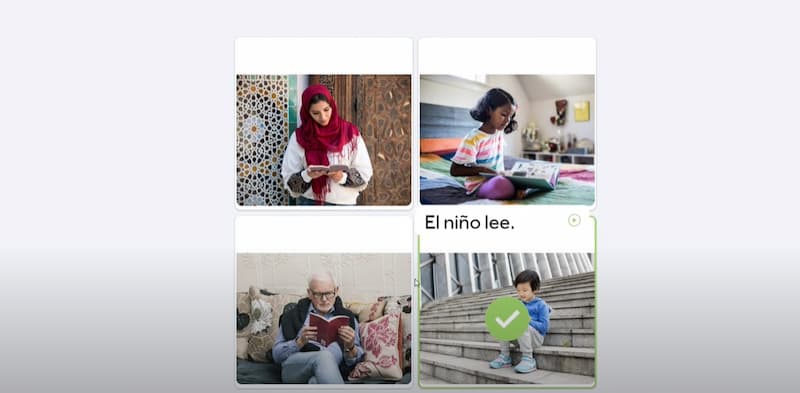 Please note that the program will help you learn a really formal language, with perfectly set pronunciation and without slang.
If you go to practice such a language abroad, then you will be able to speak it and feel comfortable in official circles rather than in private conversations.
In general, the application is aimed at independent learning of the language by the student. It can be recommended to learners as additional practice. Rosetta Stone is a perfect boost, especially for those who study with a teacher regularly.
How to Pick the Best Tutor?
You may practice your language abilities with a live human instructor throughout the tutoring session. These lessons are delivered via one-way video chats and can be taken alone or in small groups. Your audio is turned on so that you may answer the instructor's questions.
To register for a tutorial class, you must first complete a program milestone. Each tutoring session corresponds to a topic, and what you learn in class is roughly identical to what you studied in the lessons thus far.
There are several classes available. It's not difficult to find an available space, regardless of your time zone.
If you're new to a language and want to learn a solid foundation of vocabulary and syntax, it's recommended to opt for a live tutor.
It's well-organized, concise, and goes at a methodical pace. If you learn at RosettaStone consistently for a few months, you will be competent to speak, write, read, and understand basic phrases and words.
Live Rosetta Stone Tutoring sessions are centered on what you are learning in the course. The tutor can observe how far you've progressed via the learning software.
They will teach you and ask you questions and invite you into the conversation regarding the terminology and phrases from that unit since they understand which unit you are exactly studying.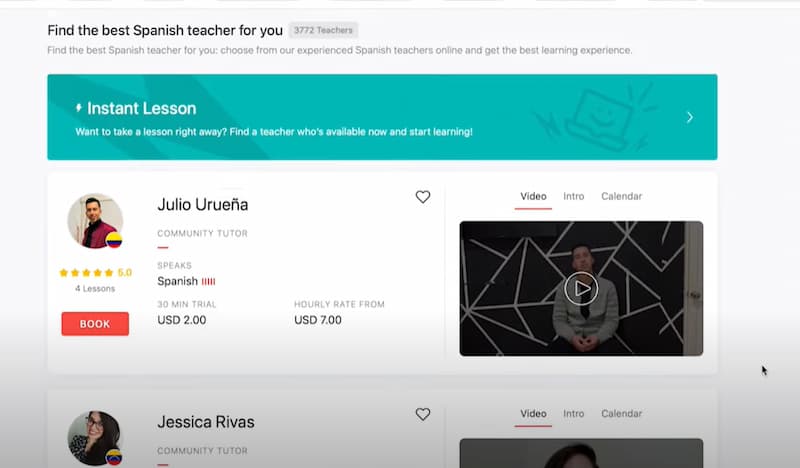 It's a communicative lesson, but it takes place within the setting of a unit's material, so you understand what you're going to talk about and get the opportunity to learn and master your new skills with a native speaker.
In the list, you can find a large number of tutors sorted by rating. The website has a photo and a brief description of the person. You can watch the introductory video to hear the tutor speak. If not sure, check this article's list of the best tutors online.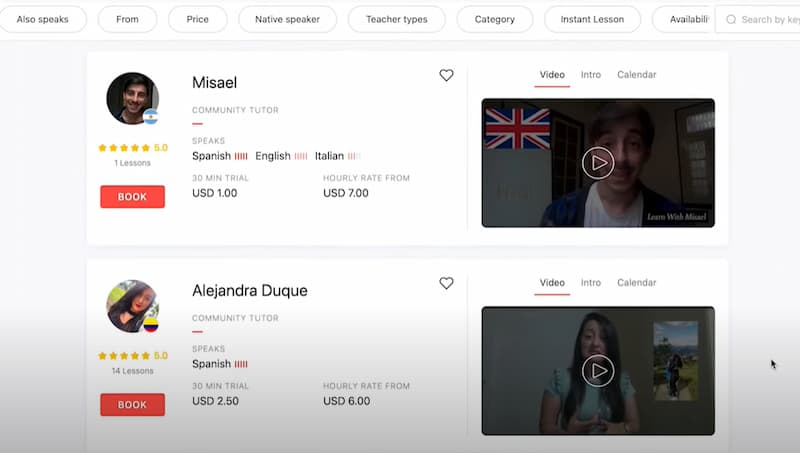 In the menu, you will see the hourly rate and the price options for a 30-min test lesson. In addition to Spanish, tutors mostly know other languages.
For convenience, there is a filter at the top of the menu that will help you, sort tutors, by price, category, and available dates.
Pricing Details
When it comes to pricing, Rosetta Stone lessons offer several subscription packages, and deciding on the best one might be difficult.
Rosetta Stone course is costlier than other popular language learning applications such as Mondly.
However, Rosetta Stone's price is still less expensive than other options such as FluentU and Pimsleur.
If you join online, you may test the Rosetta Stone course in a free trial for three days. You may learn the first lesson of any teaching program for free if you sign up on the app.
The subsequent days of the Rosetta Stone software course are not available for a free trial.
The subscription begins at $11.99 per month. It's worth giving it a shot for free before committing to a membership.
It's a good suggestion to break down the Rosetta Stone cost every month if you want a better picture of how much you spend for a Rosetta Stone membership. The table below displays the monthly Rosetta Stone membership prices for online lessons and the app version. Check our complete review of Rosetta Stone's app right here.
| | | |
| --- | --- | --- |
| Period | Web-version / Month | The App / Month |
| 3 months | $11.99 | $15.00 |
| 12 months | $11.99 | $9.17 |
If you want to learn at Rosetta Stone for a long time or wish to learn numerous languages, you might consider upgrading from a free trial to lifelong unlimited access. The Rosetta Stone unlimited pricing is $299.99 if purchased before the website or $199.99 if purchased through the app.
For $299.99, you can also get the Lifetime Plus subscription on the app that includes unlimited access to Rosetta Stone Live for the initial 12 months.
For a cheaper option, you can consider Memrise. We have a one-to-one comparison of Memrise and Rosetta Stone, so check it out if you are interested.
Rosetta Stone features specials and deals every year around big shopping holidays such as Black Friday and Cyber Monday. These promotions are the greatest way to acquire inexpensive Rosetta Stone access, so check their website all year.
Other websites, such as Groupon, also provide coupons for Rosetta Stone. However, not all are always trustworthy. Some sites are simply Rosetta Stone partners that receive a commission when you follow the Rosetta Stone promo code and purchase a membership.
The additional discount features are available all the time for various groups. Here is a collection of selected categories:
Student Discount: College students from the United States and Canada can receive a 10% discount.
Military/Veteran Discount: The service also provides active and veteran military personnel with a 10% discount on the subscription.
Quality of the Application
If you have a problem with Rosetta Stone, you can email their Support Team with your registered mobile number or email ID, as well as your feedback/complaint/issue with Rosetta Stone and any relevant screenshots. A Rosetta Stone customer service specialist will contact you to assist you in resolving the issue.
You are entitled to a money-back guarantee whether you purchase Personal Edition or Homeschool Edition goods. The deal is for Online Subscription at RosettaStone.com or by phone. You have 30 days to return the money.
Please contact Rosetta Stone's Customer Care Department to start a product return or exchange by visiting the support page and completing a support request.
Apart from Rosetta Stone, Babbel and Pimsleur are commonly regarded as the world's top (if not the best) online or non-classroom language learning tools.
Check our detailed comparison of RosettaStone and Pimsleur if you want to earn more about these platforms and their differences.
Babbel provides an excellent range of advanced learning features, including listening, speaking (with recognition technology that corrects your pronunciation), reading, and writing, as well as section review sessions.
You may also download a podcast to include extra language study in your day.
Pimsleur offers several methods to access their course content, including CDs for listening and audio learning at home or while driving, a web log-in through your laptop, and mobile learning via their app.
Here is a short review of three learning resources.
| | | | |
| --- | --- | --- | --- |
| | Babbel | Pimsleur | Rosetta Stone |
| Platforms supported by the resources | SaaS, iPhone, iPad, Android | SaaS | SaaS, iPhone, iPad, Android |
| Audience | Organizations | Any learner | Anyone who wants to learn a language |
| Support | Business hours | – | Business hours, 24/7, online |
| Categories | Learn language | Learn language | Learn language, training |
| Monthly subscription cost | $14.00 | $14.99 | $11.99 |
Also read: RosettaStone vs RocketLanguages
Is Rosetta Stone Good for Learning Spanish for its Cost?
Before, while purchasing Rosetta Stone, you could only learn and select one language. When you purchase a one-year, two-year, or lifetime membership, you now receive all of the languages in the catalog. That is a far better bargain.
Rosetta Stone provides an unlimited membership in addition to a specific language course. This enables you to access all languages for a single fee. If you like Rosetta Stone's teaching style, the limitless language resources are an obvious choice.
There are many drill-and-kill listening exercises. Get prepared to interact with a fresh term as soon as it becomes a part of your lexicon. In multiple choice questions, you learn it, hear it, speak it, write it, and select it from a list of features.
You may hire teachers to obtain online classes for a lot less money elsewhere. However, it would be difficult to locate people who are so deeply embedded in such a complicated system. Each spoken session is quite beneficial to us. This is the most positive point of the application and what students appreciate the most.
The platform can be a good choice for beginners who want to learn a new language. It leads to better job and career prospects. Rosetta Stone learners work all over the world, frequently in areas where they must learn a foreign language.
Student Feedback & Reputation
Rosetta Stone Spanish Latin America reviews claim that the training exercises are focused on acquiring confidence in communicating, listening, and applying your language expertise. Immersion in a language entails conducting discussions straight away as if you were a resident.
Consider the following Rosetta Stone Spanish 1-4 review to assure yourself that the app is worth having a try.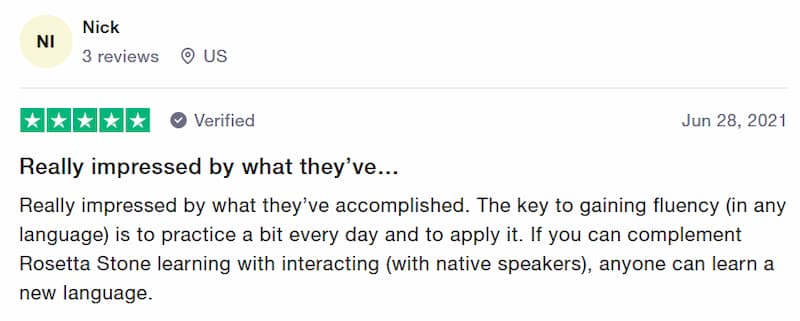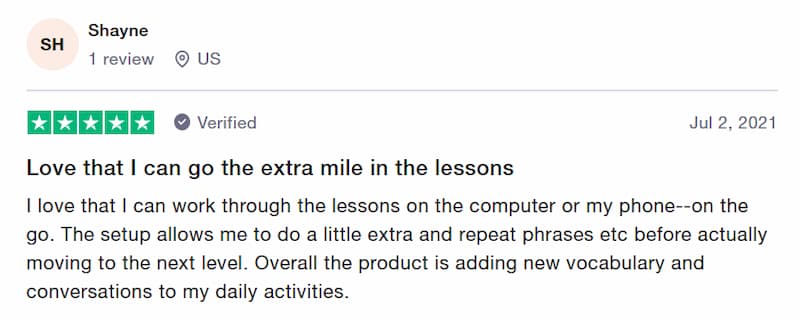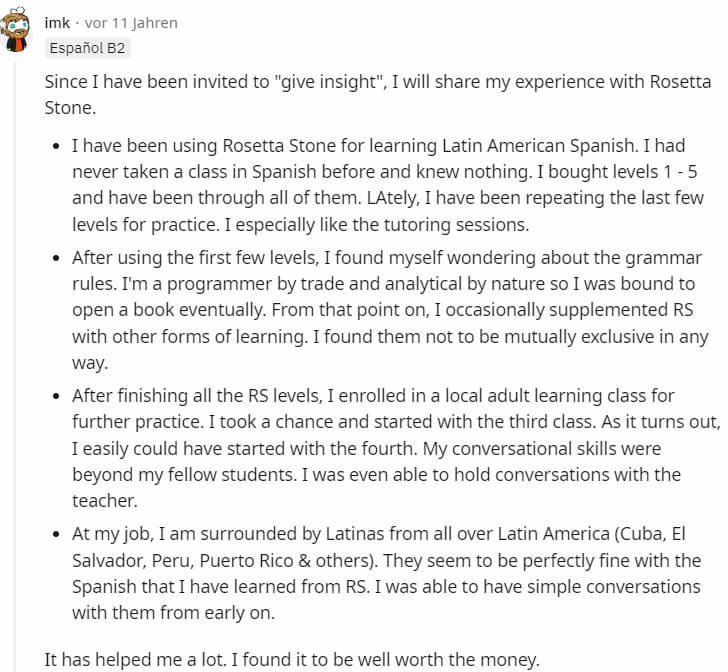 The main complaint in reviews for Rosetta Stone Spanish is the lack of specific explanations or translations.
Rosetta Stone takes itself in being an immersive tool that never employs mother tongue resources, making the user learn purely on intuition while progressively gaining the linguistic information required for the next level.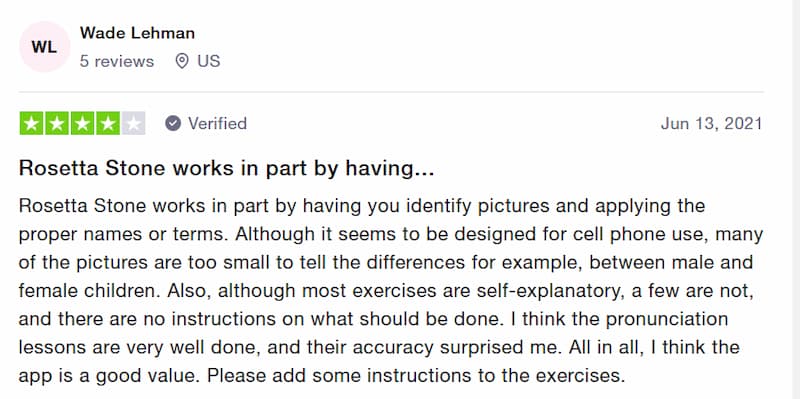 Because the tutors exclusively speak the language being taught, students must learn features to express themselves using the terminology they know rather than requesting grammar or translation.
But if you don't know the exact term, you utilize what you do know to get around the difficulty and get your message through. It's a positive aspect to using what you know learning a lot and then being too afraid to use it.

Customer service is at the highest level. During our research, we directed several questions to the support team and received clear and quick answers.
Of course, the technical process sometimes needs additional explanations, but the company always tries to solve the customer's problems qualitatively.


Pros
A really original and one-of-a-kind course with a unique and elaborated approach to learning a language.
The lessons allow you to learn Spanish comprehensively: grammar, writing, listening comprehension, as well as vocabulary replenishment.
There are no boring theoretical grammar rules and lessons.
The whole program is accompanied by colorful pictures and interesting dialogues.
Rosetta Stone has two separate courses: Spanish and Latin American, you can learn the features that suit you.
Voice recognition with a self-developed TruAccent technology to master your pronunciation.
The development was accompanied by thorough language research with PhDs, cognitive scientists, neuroscientists, and others.
When studying a new chapter, you will revise the material already covered.
You will use the microphone during the lesson, which means you will practice speaking.
The grading system will allow you to return to unlearned material if necessary.
Cons
Some lessons have the inappropriate grammar formality.
There appear images that are culturally irrelevant to the Spanish version.
Some learners may be bothered by the lack of explanations.
The app doesn't go far beyond a beginner's understanding.