"Communication is a skill that you can learn. It's like riding a bicycle or typing. If you're willing to work at it, you can rapidly improve the quality of every part of your life." — Brian Tracy
Learning a new language opens your eyes to the possibility of a whole new world waiting for you to storm. You can explore new cultures, words, phrases, lifestyles, etc., even without being there presently. I found it fun, but you don't have to take my word for it because experience is the best teacher.
There are many possibilities you can explore in terms of choosing the best platform to learn the language of your choice. This is one reason I'll be reviewing Rocket Languages vs Rosetta Stone language platforms to show you what they offer and why you can trust them.
Here are some of the things you stand to gain from these popular language-learning companies.
Unlike Rocket Languages, Rosetta Stone teaches you your target language via sights, sounds, and word-picture association, which takes away the element of translation.
Compared to Rocket Languages auditory lessons, you similarly learn a new language to how you learned your native language as a kid in Rosetta Stone.
Rocket Languages uses a more familiar learning strategy in comparison to Rosetta Stone's immersion method.
While Rocket utilizes the difficulty level as the distinguishing point for the different payment plans, Rosetta Stone is based on the language pricing policy.
Let's dive into the review proper for more detailed information.
Main Features of the Platforms
While it is true that both Rocket Languages and Rosetta Stone are language learning platforms, they don't share much in common. They help you learn new languages using different working techniques that let you become more versatile.
Best Language Learning Apps: Both are one of the best language learning apps with paid programs and use native speaker audio.
Transparency: Rosetta Languages vs Rocket Languages offer transparent payment policies where users can easily access the payment plans and get a refund in case of a change of mind or duplicate payment.
One-time Payment Plans: Rosetta Stone and Rocket Languages offer the lifetime payment option where users get to pay once and get unlimited access without restrictions to different language courses available for as long as they are interested.
Multiple Languages: There are many languages available for learning on both platforms, and you can choose whatever as long as you make the necessary subscriptions.
Read on to discover the amazing features of these individual platforms.
Rocket Languages: Why Is It Better than Rosetta Stone?
Rocket Languages is quite popular and is a typical example of what you will expect from an online language learning app. It encompasses an interactive course, mostly audio lessons, in addition to some textbook-style grammar lessons.
The language of instruction is English, and you will find fourteen different language courses you can opt for there.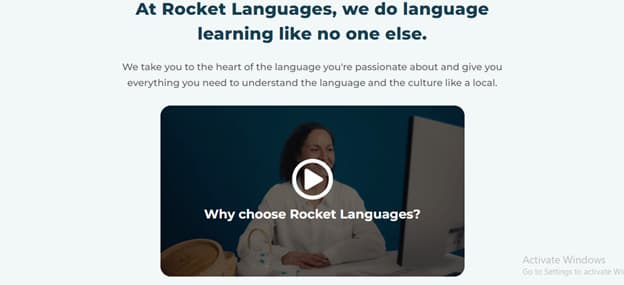 Various Learning Levels
In Rocket Languages, there are three direct levels of progress learners can attain. They are Level 1 Beginner, Level 2 Intermediate, and Level 3 Advanced. They vary per the course you select, and only half of the courses here offer all of these three levels. These levels help you move beyond the exploration stage into a more in-depth learning realm for proficiency.
So, you can be guaranteed a spot on this app regardless of your knowledge level in your preferred language. Rocket Languages is accessible on your computer and mobile devices, which is great.
The content of the courses offered here is split into three segments:
Interactive Audio Course (up to 98 lessons with 370 hours of audio)
Language and Culture (up to 87 lessons)
Survival Kit (3 kits worth $149.95).
Writing Section
In addition, there is a segment for writing for languages with non-Latin scripts like Mandarin and Russian and video lessons that contain how to learn the alphabet system easily.
While the Interactive Audio Course takes up most content, the Language and Cultures aspects cover the grammar and culture lessons.
Survival Kit
Also, the Survival Kit helps in daily situations and is super good for travelers. While the Survival Kit and Interactive Audio Course use text formats and audio, the Language and Culture lessons are purely in text forms.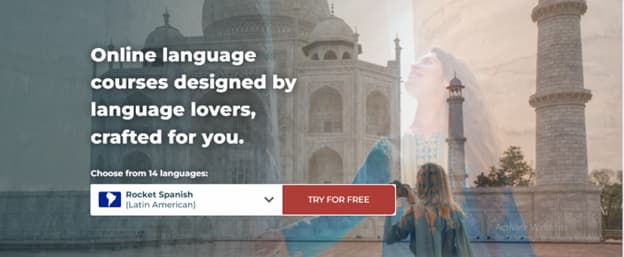 Assessment Exercise
After each lesson, an assessment exercise helps to retain and test your language skills on what you've learned. They utilize language learning tools like Quizzes, FlashCards, Write It!, Hear It! Say It! etc.
There is also voice recording software that lets you record and compares your answers to a native speaker's pronunciation. Other features include:
Most Rocket Language's features are built into the lessons, but there are a couple of extras.
You can create custom flashcards or view public sets and your word lists.
A public forum is available where users can communicate with each other.
Rosetta Stone: Why Is It Better than Rocket Languages?
Rosetta Stone offers twenty-five languages, which is much more than Rocket Languages offer. While the web app offers a better user experience, you can still use it on desktops, tablets, and smartphones.
Users are eligible for three different accounts, which are patterned differently to suit the style of individual users, and they are Personal, K-12, Work/Higher Ed.
Various Learning Levels
The learning of these languages is split into five levels: Levels 1-2 are for fundamentals and connection, Levels 3-4 are for exploration and clarity, and Level 5 is for conversation.
Most languages extend to the five levels but stop at level three. It is important to note that each of these five levels comprises four units with a single course ranging from about twelve to twenty.
Then, each unit is split into four main lessons and a Milestone Review. The core lessons are in bits, taking about ten minutes of the thirty minutes or more you have to spend on the entire lesson and exercises.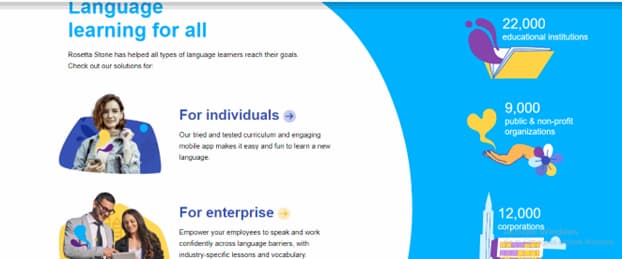 Visual Learning
The major part of the lesson is the picture-word association, followed by pronunciation, grammar, reading, and writing exercises.
A great advantage of this platform is that all the exercises provided are equipped with a speech recognition technology known as the TruAccent speech engine, which lets you compare your recordings to a native speaker's.
Rosetta Stone centers on building conversational skills, so grammar takes the bench in this program, only coming into the game during grammar lessons to point-out relatable sentence structures.
Listening and Speaking Practice
Although Rosetta Stone does not have the conventional audio language feature Rocket Languages use for their lessons, the former still offers lots of listening and speaking practices with other language skills (reading, writing, listening, and speaking).
Other features include:
There is a segment for extended learning tools for language enrichment.
A Phrasebook is available on this platform, where you can practice everyday phrases in different fields. Note that this feature is only available for certain languages, not all.
It includes an Audio Companion, which allows you to download any course audio content to practice your pronunciation or new phrases anywhere and anytime.
You can download Stories (a compilation of short literature and other texts) on your phone for additional practice.
There is a Seek & Speak AR game section for practicing vocabulary with everyday objects.
Live tutoring will give you access to a native-speaking professional.
Pricing Comparison
Learning new languages on Rocket Languages or Rosetta Stone does not come free. A monetary commitment is required to ensure that you get access to the useful learning tools and materials each platform offers.
Continue reading to discover the price ranges required for studying these apps.
Rocket Languages

Level 1: $149,95
Levels 1 and 2: $299,90
Levels 3: $449,85
Rocket Languages take the free trial experience to the next level. It is so because they offer access to three to four lessons with reinforcement exercises for free rather than giving a time limit.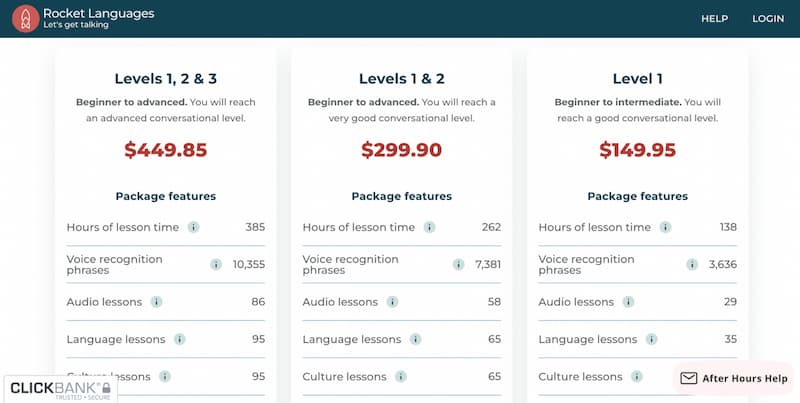 This learning platform is known for its high price and upfront cost rather than the chance to subscribe. It deduces how sure they are of the value they offer if you know what I mean.


Level 1 — $149.95


Levels 1-2 — $299.90


Levels 3 — $449.85


In addition, you get the chance to go for a six-month payment plan if you sign up for the entire three levels of the courses.
Also, note that the free Survival Kits are equivalent to the level you buy.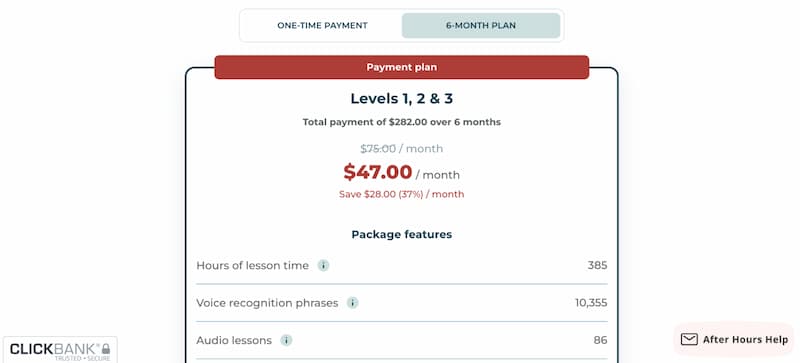 For instance, if you buy three levels, you get three kits for free. There is a 60-day money-back guarantee, which ensures you get a full refund if you are no longer interested in the program you signed up for.
What I love so much about Rocket Languages Pricing, which ranges from $99.95 to $449.85, is their transparency in this area. They offer various price ranges based on the level of difficulty or popularity of the courses available.
Some languages there don't have multiple levels, like Rocket English and ASL. Many promotions and coupon codes are available throughout the year at strategic times for a reduction in course prices.
So, it is necessary to be on the lookout for some of them to utilize them.
Rosetta Stone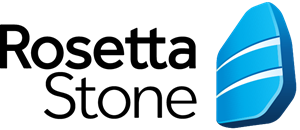 A three-month subscription plan costs $35.97
a yearly subscription costs $143.88.
Lifetime plan where you get to pay $299 in a one-time payment.
60-day money-back guarantee.
The subscription plans available for this learning platform are just three months and a year's worth. A three-month subscription plan costs $35.97, and a yearly subscription costs $143.88.
There is also the chance of getting access to a lifetime plan where you get to pay $299 in a one-time payment. They offer a 30-day money-back guarantee for a full refund for players no longer interested in the program.
There is an additional cost for Live tutoring different from the formerly lite prices, which range from $14 to $19 per session. Compared to
other tutoring companies online
, this is way cheaper. Don't you think so?

This is the first price package offered to users of Rosetta Stone. The plan indicates that you wish to pay for one language for three months of use.
Depending on your learning speed, you can either learn the language (s) you intend for this duration or extend it to a later time.
The 12-month package costs $299 and gives you access to every language available on Rosetta Stone with no limits or restrictions.
Since you are buying in bulk, you are provided with a better payment plan compared to the three-month payment plan. You get an additional discount for paying at once too.
This way, you pay less for accessing the entire language courses on this platform without limits for an entire year.
Another payment plan Rosetta Stone offers is lifetime access to all languages at a whopping price of $299 for as long as you are interested.
Subscribing to this payment plan allows you to use the app whenever you want with no extra or additional charges.
Like Rocket Languages, Rosetta Stone also utilizes transparent and consistent price policies to delight its users. They use the bulk sales/purchase approaches, which indicates that the more months you subscribe for, the less you have to pay each month.
Quality of Learning and Value for Money
"It is astonishing how much enjoyment one can get out of a language that one understands imperfectly." — Basil Lanneau Gildersleeve
Since you have subscribed to the plan you prefer, the next thing is to get the expected value from the user-generated courses available on the platforms. This begs the question of how valuable the lessons Rosetta Stone vs Rocket Languages offer interested users.
I bet you are curious about the things you stand to gain from this platform, right? Let's dive into some of them.
Rocket Languages
Most courses on Rocket Languages are divided into three levels, which brushes up your skills to an intermediate level.
These levels have about six to eight modules, each containing three types of lessons – Audio, Language and Culture, and Survival Kit. In total, there are more than two hundred lessons available.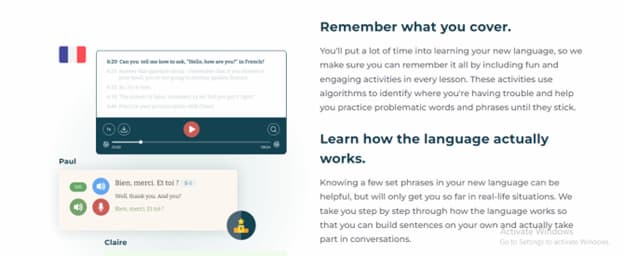 The way things work here is that each class begins by reviewing the previous lesson. Then, you first have to pass through an interactive audio lesson which takes about the first twenty to thirty minutes.
Are you following? Check out the learning techniques adopted by this learning platform below.
Interactive Audio Lesson
The audio class is a played conversation between two native speakers on related topics, which will be discussed all through this session. This class requires speaking out loud, and there are two hosts at the first level — the instructor who speaks English and the other who speaks the target language throughout the class.
By the second and third levels, the hosts increase to three, with two speaking in the target native language and one being the English moderator. Many grammar and cultural comments are made throughout the audio lessons, so be prepared for them.
Rocket Reinforcement
The completion of the audio lessons lead to a review class known as Rocket Reinforcement.
Here, different activities are done to ensure that the lesson of the day sticks. Hence, there are a couple of language learning tools used like Quizzes, FlashCards, Hear it! Say it! and Know it!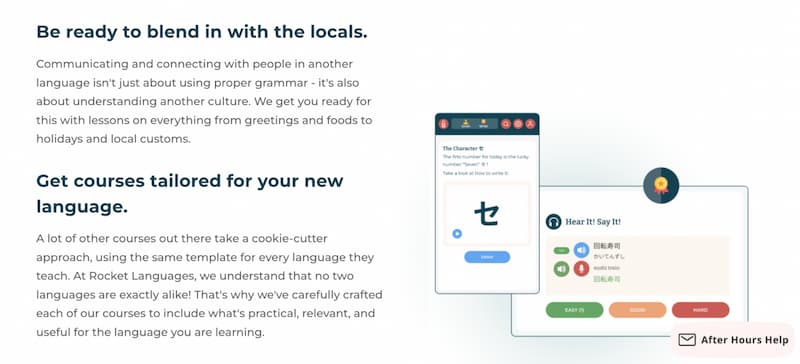 Culture and Language Lesson
The second lesson type is based on the Culture and Language lesson. This section is based on a written textbook shown on the screen concentrating on important grammatical information.
This section is as simple and easy to understand as the audio session, so don't worry too much. The end of each Language and Culture lesson also paves the way to a Rocket Reinforcement activity as earlier.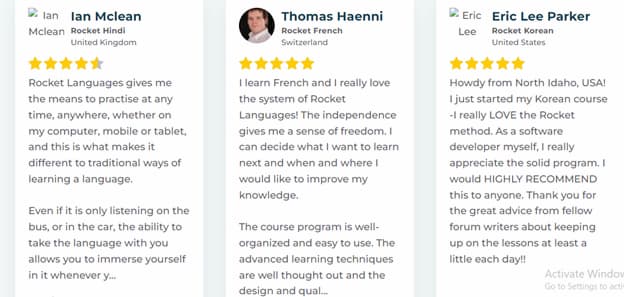 Survival Kit Lessons
Furthermore, the Survival Kit lessons help you learn useful words and phrases without context. Similar features are utilized in previous lessons, like word recordings, recording yourself speaking, and reinforcement activities to help you remember all you have learned.
Rosetta Stone
At Rosetta Stone, a lot of material is offered to learners with few units. For instance, the Spanish course they offer has twenty units. The units develop gradually and provide many opportunities to learn more all the time and practice many language skills.

Core Lesson
Each of these units starts with a major lesson which takes up to an hour, and the first unit in the first level major lesson helps you pair basic words and phrases with pictures. In addition, these words are read aloud for clarity of their pronunciation.
The essence of the core lesson is to offer and teach new vocabulary, and the exercises are usually tricky (like changing the pictures around and making the words suddenly disappear) to ensure that you are paying good attention.
At the end of each lesson, a pop-up screen lets you know your performance in the just concluded lesson.
Pronunciation Practice
After the basic section, you can then proceed to the pronunciation level.
Here, words are divided into syllables, and you will be asked to repeat them; therein lies your assessment for this level. This is where speech recognition technology comes in, and it seems to function quite well, even though it isn't perfect.
Grammar Lessons
The next section is grammar practice which is also an important aspect. Exercises here require that you choose the right indefinite articles and sentences to match the photo on display. This way, you also get to learn some of the plurals of these words and phrases and match them correctly. The next section is attempting to read.
Here, phrases are read out loud, and you are required to repeat them back to test your pronunciation skills.
Writing Practice
Lastly, there is the writing practice, where you will be asked to write what you hear and see using the keyboard provided. In a nutshell, the lessons offered on Rosetta Stone are quite structured and well-thought.
The courses depend on visual learning to help understand the meaning behind the words and sentences. I am very grateful for this, as I could easily match the pictures to sentences after some minutes of practice.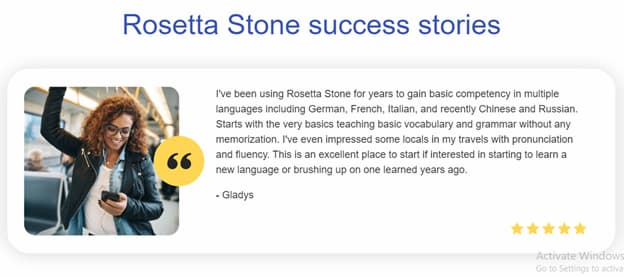 Main Disadvantages of the Platforms
Although there are lots of benefits when using Rosetta Stone or Rocket Languages, they are not without their downsides.
Although these disadvantages don't majorly affect the process of learning, it is important to list them out so that you can choose the platform you feel has fewer downsides that you may be mindful of.
Rocket Languages
There are times when progress doesn't get saved because of bug issues.
The lessons take up to an hour and can become boring sometimes because of their length.
There is a lot of repetition during the lessons on various levels.
Few of the tasks become hard in time, and this may make learners lose interest.
The speaking practice provided on this platform is not as much as most users expect.
Overall Comparison Details
Rocket Languages is a learning platform that relies on audio lessons for language learning, but the app does not have so many speaking classes that users can engage in.
On the other hand, Rosetta Stone has a nice development of courses and pronunciation practice for better and fluent language learning. Both platforms offer a great avenue to learn languages with various approaches.
Read on for a summary of the entire Rocket Languages vs. Rosetta Stone review.
 
Pros
Cons
Price
Rocket Languages
●      Lots of courses.

●      Interactive audio lessons.

●      Rocket Reinforcements for retentiveness.

●      The reinforcement section relies too much on routined memorization.

●      The shortest subscription available is three months.

At least $99.95
Rosetta Stone
●      Easy-to-navigate interface.

●      Additional features for practice.

●      Lessons progress nicely as the course develops.

●      It uses only the target language.

●      Frequent repetition.

●      Inadequate information in the materials provided.

At least $35.97
FAQs
Is Rocket Languages Better Than Rosetta Stone?
Rocket Languages help to push you beyond the basics in a well-rounded manner compared to Rosetta Stone. Those who want a more conversational and advanced practice can also select Rocket Languages.
Is RocketLanguages Cheaper than Rosetta Stone?
When comparing the prices of both platforms, I've concluded that Rocket Languages is more expensive than Rosetta Stone, and the proof is right there in the review above.
Can You Become Fluent With Rocket Languages?
Rocket Languages will help you build a strong foundation, but it doesn't guarantee to become fluent. However, the courses help you improve all aspects of communication, like listening, reading, speaking, and writing.