Overview of the Babbel Language Platform
What better way is there to learn than in your comfort zone and under no pressure? Over the years, the educational sector has realized this and moved swiftly to take massive advantage of the internet to get more students to learn effectively.
Skill acquisition courses, exam prep courses, and language learning applications have been made available for students to learn from their comfort zones.
Speaking of the latter, the online space is filled with a lot of language applications, that it has become increasingly difficult to discern the ones that are good.
Hence, here is a Babbel Spanish review, but this time we have put together this Babbel Language App review. Read through our reviews on each language application to see the best fit for you!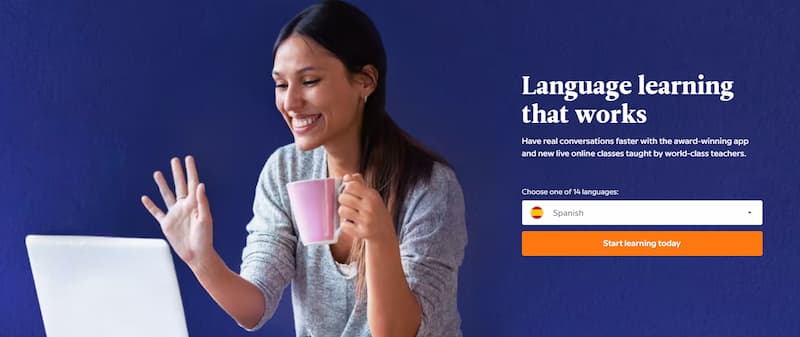 In this Babbel App review, we will analyze the Babbel app based on its quality, features, prices, website usability, value for money, students feedback, pros, and cons.
You'll soon be able to see if Babbel is truly a good application for learning a new language!
Check HelloTalk app review on our website and find yourself a top platform with the best courses on various topics, from photography to writing.
What is Babbel App?
Babbel is an e-learning language application that was officially established in 2008 by Babbel GmbH. It is the best-selling language learning app despite being the oldest in the world.
In a bid to provide optimal language learning and certification at cheaper rates for students, the Babbel app partners with legit learning companies like Cambridge English. So, the courses are polished to meet the standards of CEFR (Common European Framework of Reference).
The courses on the Babbel app are aimed to make you proficient in all the language skills. You can learn how to write, speak, read, and understand a new language. This makes the Babbel App a well-rounded language application.
The Working Structure of Babbel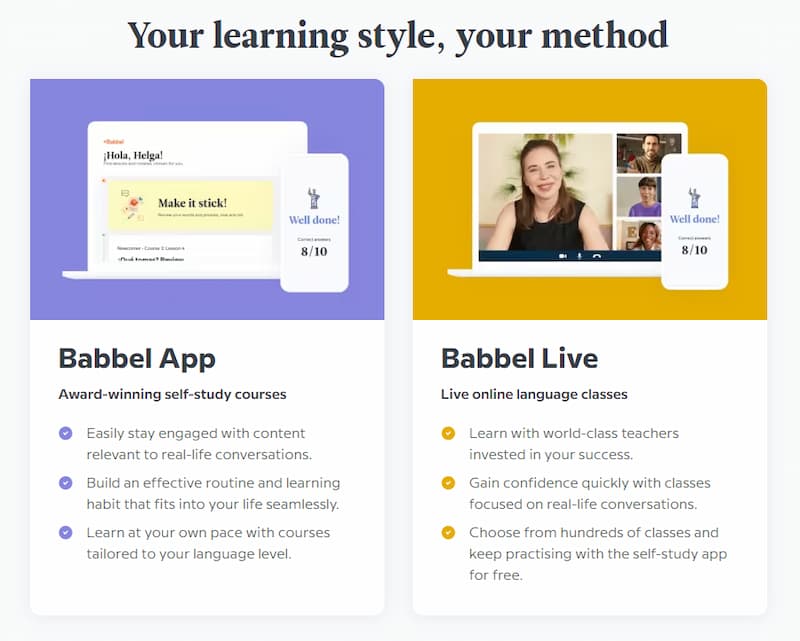 The Babbel App is tailored to meet the needs of everyone. Once you open the app, you'd be made to take a survey so that the app can assess your skills and determine the lessons that would work best for you.
The survey will come in two different categories and will contain questions centered around your intent with the language you have chosen and your level of proficiency in it.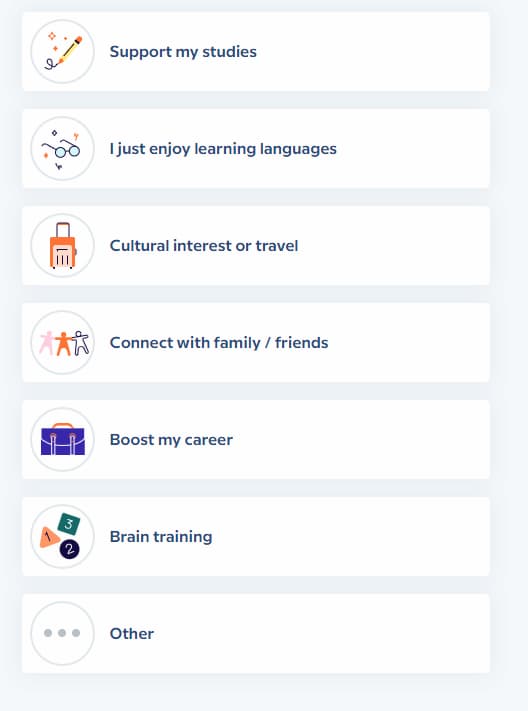 If you are already familiar with the language and seek to further your skills through advanced language training, the application will ask you to take a simple test that will only take three minutes. The test is to ascertain the strength of your skills.
Judging by the answers you give, you could fall in any of the following categories:
The Beginner 1; consists of four courses with 40 lessons
The Beginner 2; consists of four courses with 47 lessons
The Pre-intermediate; consists of two courses with 18 lessons
The Intermediate; consists of four lessons with 36 lessons
The Advanced; which consists of 1 course with 9 lessons.
The categories exist for all the languages that Babbel offers. Meanwhile, if you're a beginner, you won't need to go through all that. You would simply begin in the newcomer category, consisting of three courses with 35 lessons. Each lesson is well-made and will slowly groom you to become proficient in your chosen language.
The lessons all follow the same format, you'll learn a couple of words/phrases, then practice using them via writing and reading.
You'll also learn how to pronounce the new words using Babbel's speech recognition technology ingrained in the app.
The app is designed to train your brain to learn constantly through the Babbel Method. The Babbel Method consists of cognitive techniques that have proven to help new vocabulary scale through the brain's six memory stages and store in long-term memory. The vocabulary becomes engraved in the brain permanently!
One of the techniques is the spaced repetition method, which involves the appearance of certain information over and over again. This means that the app will continue to show you a word or phrase that you have learned in a bid to refresh your memory.
Although this method can be repetitive and boring, Babbel utilizes all sorts of activities, like quizzes, to suppress the mundane feeling. Sometimes you may be asked to answer multiple choice questions, fill in the blanks, or match words.
Other times it may be to spell or rearrange words/phrases. The important thing is that it follows the endorsed EFL assessment methods.
Overall, the structure of Babbel is simple. It is built in a way that learners are introduced to the courses bit by bit, so they're not overwhelmed.
The Selling-points of Babbel App
When you look at the unique features that the Babbel app has to offer, you'd understand why the app is recommended by reputable organizations and renowned researchers around the globe.
The features that sell Babbel to people are:
Unique courses for each language;
Accurate voice recognition technology;
Limited interruptions;
A Gamified but effective learning environment.
And you know the interesting part?
Babbel offers beautiful additional features for learners to solidify themselves in their new language. Read on to fully understand these unique features!
The Babbel App Features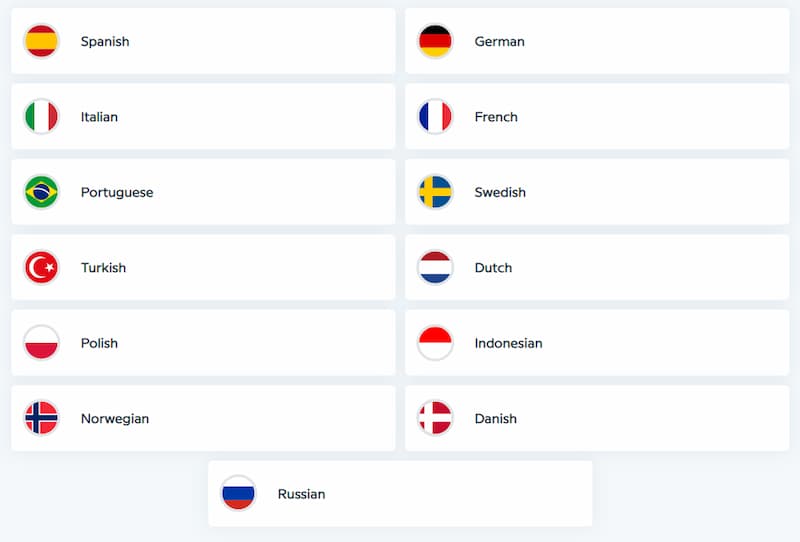 Currently, Babbel offers 14 languages, including English which you can learn only if you're a native speaker of French, German, Swedish, Italian, Spanish, Portuguese, and Polish.
Check our list of the best apps to learn the Spanish language while driving.
As an English speaker, below is the list of languages you can learn on the Babbel app:
German
Danish
Dutch
Spanish (Latin America/Spain)
French
Italian
Norwegian
Polish
Ukrainian
Portuguese
Indonesian
Swedish
Turkish
When you opt to learn any of these languages on the Babbel App, you get the following features.
Unique Course for Each Language
Babbel believes no two languages are the same, so they create each language course separately. This is unlike most of the other language apps that offer the same content for all the language courses.
All the Babbel language courses are curated with your native language in mind. You'll be able to strike a balance between the language you already know and the language you're trying to understand so that nothing gets muddled at any point.
Also, when you learn a language on Babbel, you are sure to get actual words and phrases that the Native speakers use, not just translated words and sentences.
Accurate Voice Recognition Technology
Babbel offers you a high-rated speech recognition technology to help refine your pronunciation while practicing your new language. The voice tech of some other language applications marks you right even when you say something wrong and vice versa. It is not like that for the Babbel app!
The voice recognition software is almost perfect and gives accurate ratings. Constant practice with the Babbel speech-recognition tech will accustom you to the proper pronunciations in the new language. This ensures you'd be understood by native speakers when you speak, no matter your accent.
Limited Interruptions
One thing that discourages people from the use of a lot of apps is the constant interruptions that come from ads and random pop-ups.
Babbel sides with the consumers in the belief that ads are distractions that will interrupt the flow of learners in their target language. The App works smoothly for every user without unnecessary interruptions.
Effective Learning Environment
Babbel offers a learning environment that is comfortable, interesting, and at the same time, thorough and effective. It is quite easy to forget your aim of language learning while enjoying the games that a lot of apps have to offer.
Babbel maintains a balance between the two. There are games to play and prevent yourself from getting bored, but these games are based on scientific techniques that have proven to be effective in helping students learn. You'd have a blast playing with words and sentences while acquiring knowledge and boosting your vocabulary in your target language.
The Culture Bites
The culture bite is one of the additional features of Babbel. The idea is to provide students with an avenue to learn about the culture of the language they're learning. Concepts like greetings, celebrations, art, and historical events are covered briefly.
You'd get to know how the native speakers of the language think and behave. Culture is an important aspect of language, and it is quite commendable that Babbel provides a feature for it.
Stories
This is an additional feature of the Babbel App that is available for some languages. It comprises short stories targeted to teach you a specific set of phrases that are bolded within the stories. The stories last for two minutes, and you'd learn a new vocabulary from each. The stories are usually in your native language to enable you to understand.
However, the bolded phrases are written in the target language, which makes it confusing at times. We feel this particular feature needs a bit of improvement.
Babbel Podcasts
This feature is also only available in some languages, like Spanish and Italian. The podcasts are made by Native speakers, so you're sure to get the correct pronunciation of each word, phrase, or sentence. The good thing is you can listen to them on the go while you busy yourself with other activities!
Nothing beats actual conversations with fluent speakers. This is probably the reason Babbel created a separate platform from the app called Babbel live, where you can receive classes from top-notch and experienced language teachers.
For now, It is available in French, German, and Spanish. The good thing is that the live classes cover various topics. It offers interesting topics such as relationships or even shopping.
So if you've been curious about a particular aspect of language, you can join the 60-minute live lecture on the topic!
Who Will Find the App Helpful?
Babbel is ideal for anyone who'd like to learn a new language. It doesn't matter if you're learning for academics, travel, or work. Whatever your purpose is for learning the language, Babbel will ensure you're understood when conversing with native speakers.
If you want to learn English or you intend to take a preparatory course for official certification in English, then Babbel is great for you. The lessons are approved by Cambridge English, and you'd be able to improve your vocabulary.
Whether you learn by reading and writing or you learn by listening and repeating, you can trust the Babbel app to help you!
How is it Different From Other Apps?
Babbel is different from other language apps because it implores EFL testing strategies to ensure students learn as they use the games in the app.
Also, Babbel has a voice recognition technology that works and is more accurate than a lot of other apps.
Pricing of Babbel App
While Babbel offers free language lessons, the best way to get optimal learning is to opt for a subscription. Luckily, Babbel offers discounts that range from 30%-50% once you're buying a subscription for more than a month. The subscription comes in different plans.
You can pay a one-time fee of $249 for the Babbel lifetime subscription, which gives you access to all the languages on Babbel.
You can also pay to learn a language for:
One month which comes at $14.95;
Three months, which comes at $37.95($12.65 per month);
Six months, which comes at $66.90($11.15 per month);
12 months, which is the best value and comes at $89.40($7.45 per month).
All transactions are processed over an SSL-encrypted connection, so you have nothing to worry about.
In addition to the normal discounts, Babbel offers discounts to students in the US. You can get a three-month subscription for $14.99 if you sign up with your student email.
Babbel also discounts military personnel and their family members, health workers, and educators. These individuals can get a six-month subscription at $35.
If you look at the above price list and weigh them with the remarkable services you get on the Babbel App, you'd see that the prices are standard.
The Babbel app is also not expensive compared with other language apps. Check one of these comparisons to be sure:
Babbel App Reviews on Quality
When it comes to quality, the Babbel app is top-notch. Seeing as the app has over 150 experts working to ensure that students get the best learning experience, this is no surprise!
The amazing thing is that the Babbel subscriptions come with a 20-day money-back guarantee, so if you're not satisfied with the courses, you can get a refund.
Distinguishing Qualities
When you use the Babbel app, you are sure to get an uninterrupted learning experience, which is something that other platforms fail to give with their annoying ads and pop-ups.
The Babbel app is also rid of the distracting kid-like mascots and conflicting colors that are rampant with many language apps. The design is simple and classy. Whether you decide to use the app in light mode or dark mode, you'd be able to navigate the functions with ease.
You can see how Babbel differs from other language apps in the clear comparison table below.
| | | | | | | | |
| --- | --- | --- | --- | --- | --- | --- | --- |
| Language Apps | Teaching Method | Curriculum | Value for money | Skills | Grammar | Cultural inputs | Voice recognition tech |
| Babbel | Audio-visual | The Babbel Method with authentic immersion | Free trials/guarantees | All skills | Good | Average | Good |
| Pimsleur | Audio-verbal | The Pimsleur Method of listening and repeating | Free trials/guarantees | Listening and speaking alone | Excellent | Good | None |
| Rosetta Stone | Audio- visual | Complete Immersion | Free trials/guarantee | All skills | Good | Excellent | Fair |
| Memrise | Audio-visual | Neuroscience | Free trials | Listening and speaking | Good | Good | None |
| Duolingo | Audio-visual | Gamified learning | Totally free | All skills | Few tips | Poor | None |
Value For Money
What we love about the Babbel App is that you get absolute value for your money. Once you utilize the app to become conversational in your new language, you'd find that the price is worth it.
In return for the money paid, you'd get:
A sleek and user-friendly interface;
A language course made just for you;
A Complete Immersion that makes you conversational in the new language as soon as you begin;
A speech-recognition tech to help you perfect your pronunciations;
Culture lessons;
Creative games and language learning activities.
At the end of the whole experience, you'll find that you have garnered a broad vocabulary in the new language which may be valuable in your academics, career, or even holiday trips.
How happy you would be when you're able to communicate with the natives and create new friendships!
Student Feedback And Reviews
Babbel application has over 10 million subscribers. This goes to show how effective the app is for learning a new language. A lot of students testify that the app is useful in building a broad vocabulary in a new language.
However, several reviews of Babbel language app noted that some of the taught phrases are unnecessary since they won't be useful in regular conversations.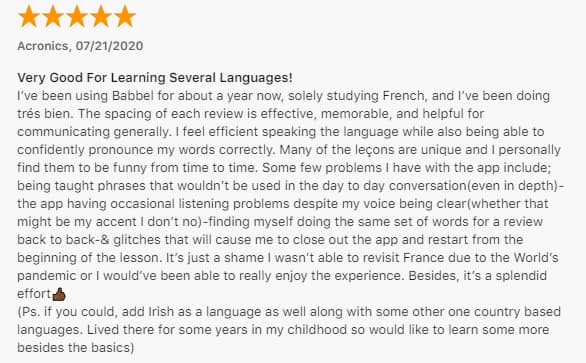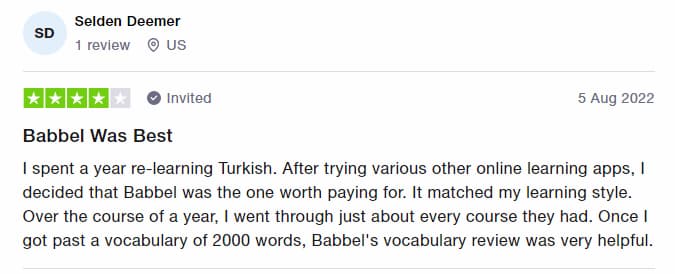 Pros
There are little to no interruptions while using the app.
It is affordable.
The app is easy to use.
The language courses have a high standard.
It offers good grammar and vocabulary lessons.
Cons
It offers a limited number of languages.
The less popular language courses lack some features.
There isn't enough motivation.
The microphone tends to act up sometimes. It can leave you stuck at a point in the lesson.
The customer service is not prompt.
Frequently Asked Questions
How much does the Babbel app cost?
Babbel app offers subscriptions ranging from $13.95 to $249.
Is the Babbel app really free?
Registration on the Babbel app is free, and you get free lessons on all the language courses. However, if you really want to learn a language, you better opt for one of the subscription plans.
Is Rosetta Stone better than Babbel?
No, Rosetta Stone is not better than Babbel. Not only does Babbel offer you grammar lessons, but Babbel's speech recognition technology works better than that of Rosetta.
Is the Babbel app any good?
Yes, the Babbel app is good. It works well to give learners a seamless study experience.