Overview
Language apps have gained prominence for their affordable, convenient, and simple approach to teaching new languages.
While it is true that most people cannot achieve fluency with one language app, it is a good starting point. This fact is one of the core philosophies of the language app we will review in this article – Memrise.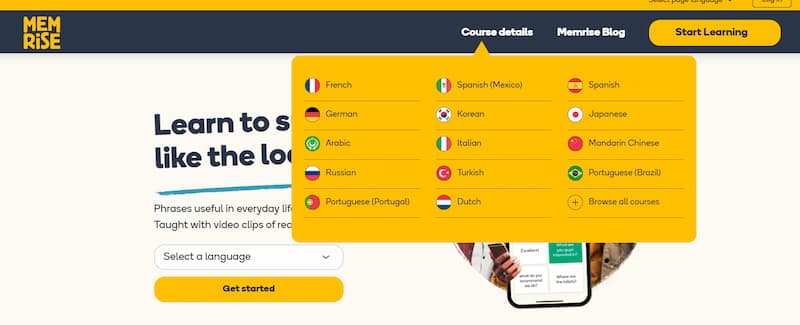 Memrise is a flashcard application focused on teaching people languages online. The vocabulary learning tool uses spaced repetition, mnemonics, and target phrases to teach more than 200 languages.
But this is not surprising since hundreds of applications are doing the same. But is Memrise good?
Most language apps are absolute garbage, while only a few are great. Check our list of the best Spanish learning apps for driving. Our Memrise app review evaluates criteria like website usability, prices, features, quality, student feedback, guarantees, and value for money to prove its worth.
Let us dive into the pros and cons of the language provider in this Memrise review.
Check Rocket Languages vs Pimsleur, MosaLingua review and Duolingo vs Mosanligua on our website and find yourself a top platform with the best courses on various topics, from photography to writing.
Memrise Review: Benefits for Free Users, Disappointments for Subscribers
Last updated on 24 Jan 2023 If you have a passion for learning languages, you probably know about MEMRIS.
Memrise is now widely viewed as the most popular online language learning tool. Some might have learned about Memrise through articles and reviews or maybe a polyglot YouTuber mentions that it played part in the learning process for him/her.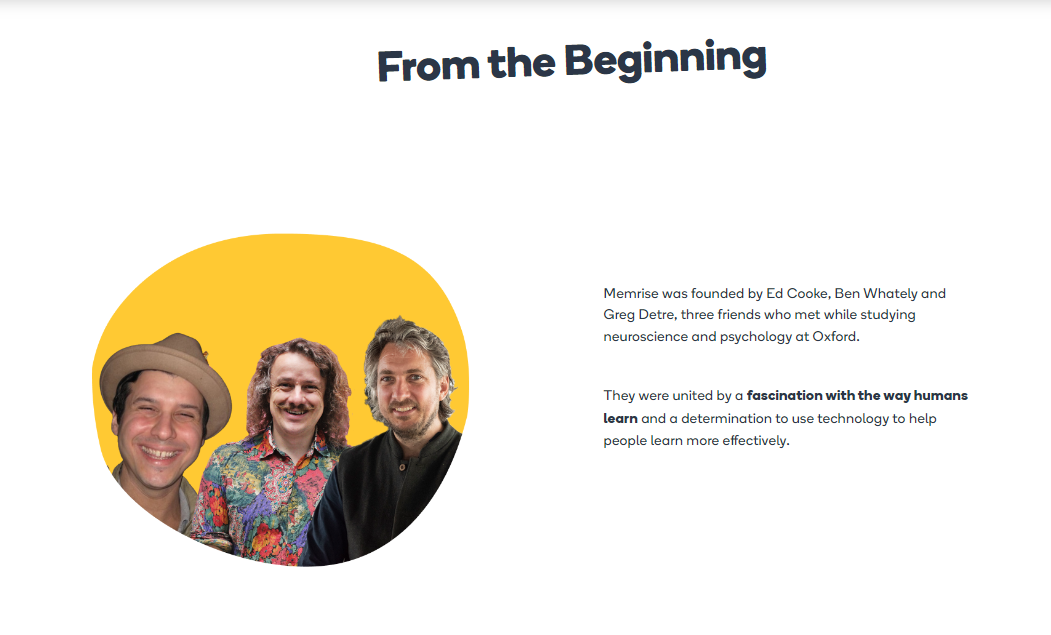 Memrise was found as the easiest method for learning vocabulary and expression. Its lack of depth is compensated with extensive language learning and scientific memorization techniques.
Real Native Content
Memrise provides native material for a more effective voice training. In its courses Memrise offers excellent Audio and Videos.
Customisable learning plan: flexible learning is certainly an advantage. It's also amazing how lessons break down words into easily readable chunks for learning – usually 20-30 words in lessons.
The Memrise App gives you unlimited learning time for the app. Memrise software can also provide you with a platform to learn a language independently from other software.
What is Memrise?
Memrise was founded by Ben Whately and Ed Cook, who attempted to transform the general perception that learning a language is hard, dry, and painful because people are bad at it. The founders decided to teach language using funny, imaginative, outrageous, and shocking ideas.

Memrise teaches language through immersion. It uses natural rhythms, idioms, native speakers, body language, emotional tone, and cultural habits to teach students.
How Does It Work?
Memrise is similar to other language app signup processes. Registration is free, and there is a comprehensive FAQ section for clarifying any doubt.
Visitors will select the language option on the signup page and the language they wish to learn. Then, you will proceed to choose your level and create an account.
Memrise has an intuitive website and app interface. It's not like other online tutoring companies out there. You only need a few minutes on the app to create an account.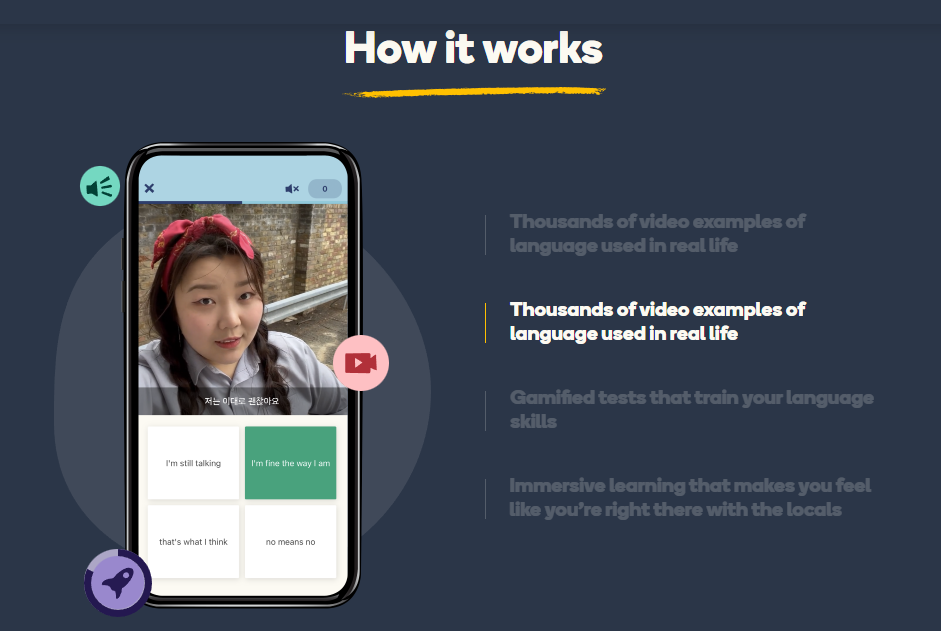 Although both channels offer varying features, there are only slight differences. This straightaway puts the argument of Memrise app vs. website to rest.
There are officially two courses available on Memrise – the user-created content and the official curated program.
The user-created content on Memrise is a product of Memrise community members from all over the world. In other words, almost anybody can create and teach a course on the platform.
On the other hand, the official curated programs are solely by the Memrise staff.

There are only about 22 official programs and more than 180 user-created content. This takes the number of courses offered by Memrise to over 200.
Memrise produces content for learners with a diverse combination of target and native languages. As we mentioned earlier, there are slight differences between the app and web versions. For example, not all community courses are visible within the app, even with the search function.
Therefore, you need to browse to see the full range of available modules and programs.
The Best Memrise Features
The courses on Memrise are in levels. Each level is further divided into several small-size lessons that focus on specific topics.
When you start a lesson, the system automatically locks other lessons. As a result, you cannot abandon it and jump to the next. This feature helps to instill discipline in learners.
However, although you leave a lesson unfinished for a new one within the same model, you can check out other languages you want to learn.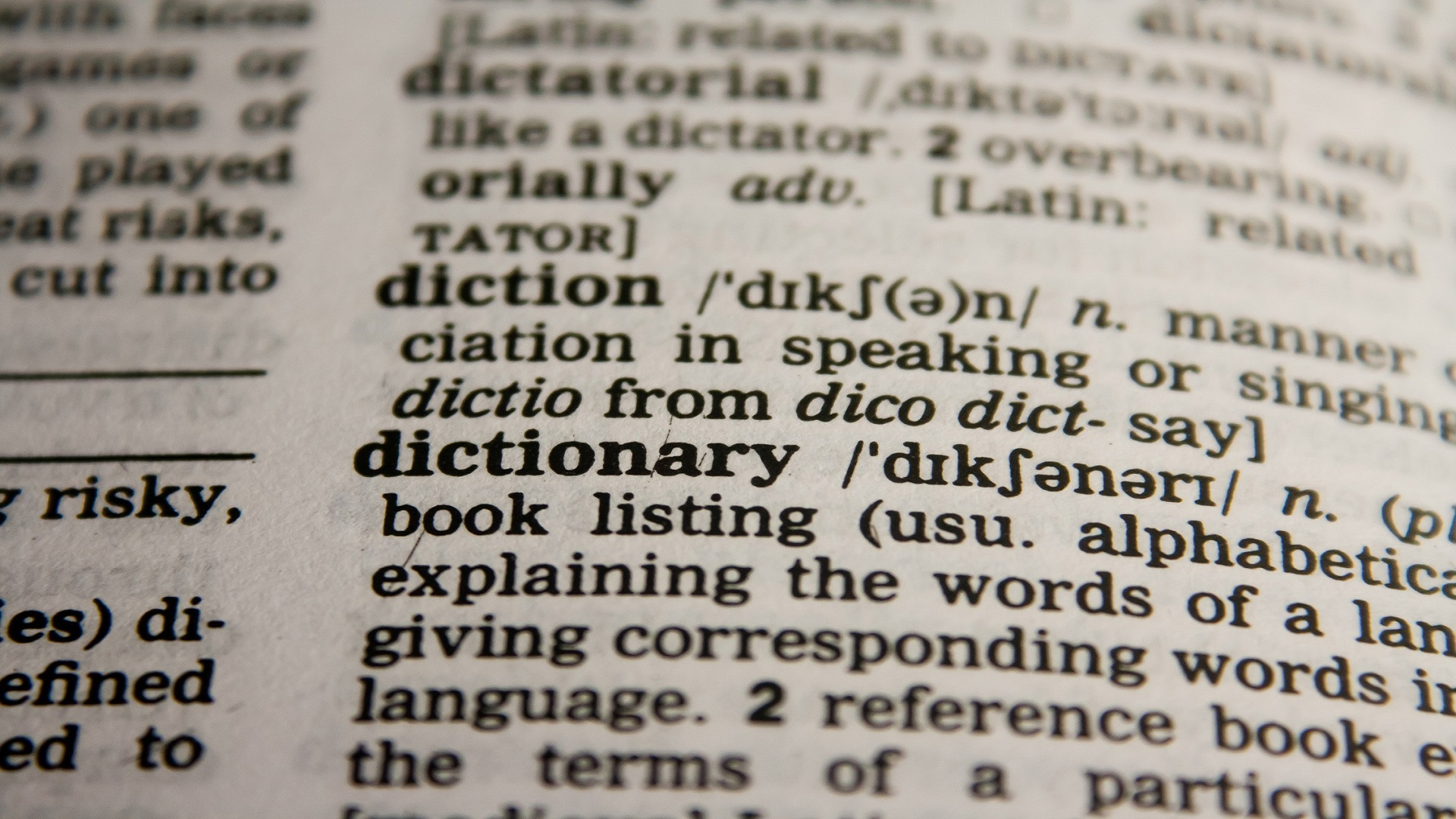 Not all paid Memrise features are available on user-generated courses. For example, grammar and learning with locals are only available in selected created lessons. Speed review and pronunciation are also available only in official classes.
Lastly, learning skills are available on community-created courses whose creator enabled the mode and that have audio files.

As we mentioned, Memrise officially offers 22 languages. The popular ones are Korean, French, Spanish, German, Italian, Ukrainian, Arabic, and Japanese. The list of languages for user-generated courses is endless. The layout of each program is basic since all you need to do is search for a lesson you like.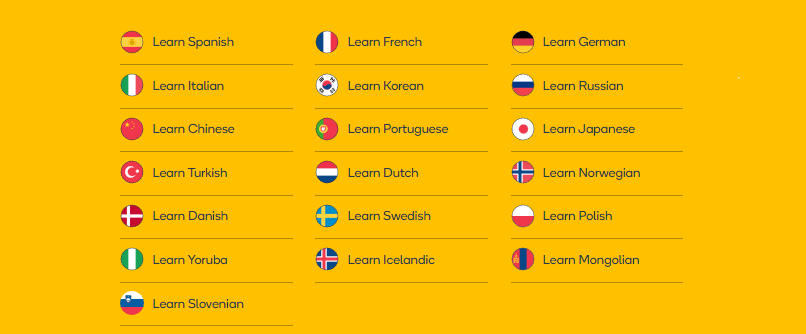 Students can also view the number of people that have attempted the course in the past and the number of hours required to pass each lesson. We will take more on this later below.
To be honest, the quality of courses on Memrise varies significantly. The reason for the discrepancy is the difference between user-created and official Memrise content. Most of the user-created content does not have audio.
As a result, they are almost useless to someone interested in learning the pronunciation. Apart from this, there are reports of collections of words that did not have much coherence.
Since the course creation is out of Memrise's jurisdiction, there is little control over the quality. Now, that is not to say that all user-created contents are trash. Some contents are specific and useful.
On the other hand, the official Memrise courses are always worthwhile. The instructions are available in different languages, so non-native English speakers can also benefit.
Memrise courses have intuitive and logical flows. The learner will start from the basic stage and steadily advance.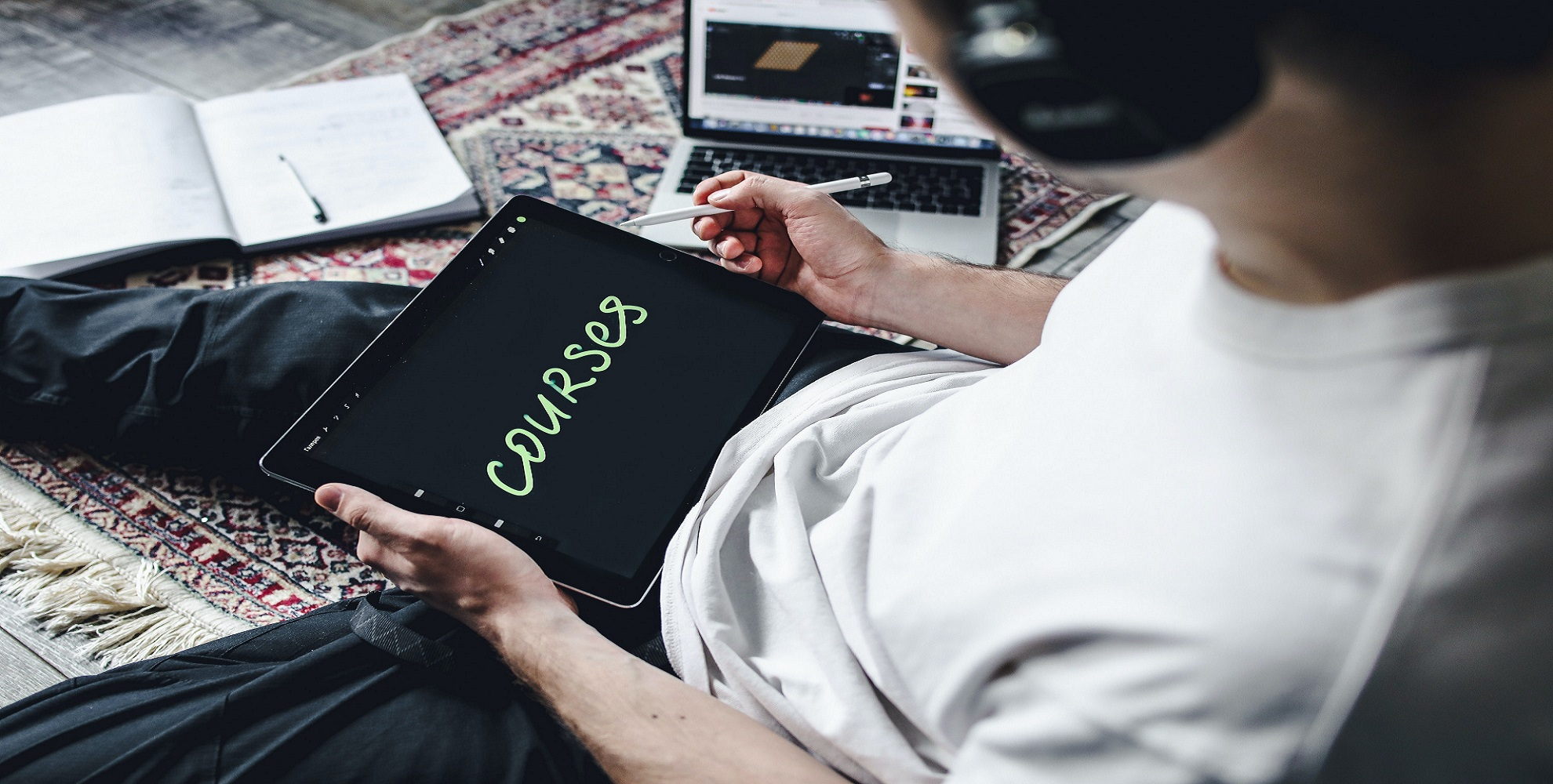 For example, there are short grammar lessons throughout the course and tests. In the beginning, you will learn vocabulary and translations from short videos of natives saying the phrase or words. Memrise provides a literal translation of all words.
Therefore, when you see a new word, you will first identify its form and meaning.
Memrise uses various tests and quizzes to check student improvement and performance. There are four different types of evaluations in the app. They include:
Tapping tests: this test is also referred to as scrambled words. Here, the user must tap individual words and arrange them in the correct order. You can deactivate this test in the learning and sound setting.
Typing test: here, the student must tap individual letters in the correct order to spell the translation of a given phrase or word.
Multiple choice: this test requires you to choose the correct translation from 4 options.
Listening skills: This test consists of various audio review activities. In this lesson, you must select audio that matches the English word or type what you hear. There is also an option to drag and drop what you hear in the correct orders. Unlike the speed review, listening skills do not have a time limit. The voices are also available in male and female voices.
There are seven different types of lessons on Memrise. They include:
As you can expect, the goal of this lesson is to teach new words. It starts with a video of a native speaker saying a word. Our Memrise Spanish review has revealed that if you want to learn Spanish, you will listen to the pronunciation and find the Spanish match.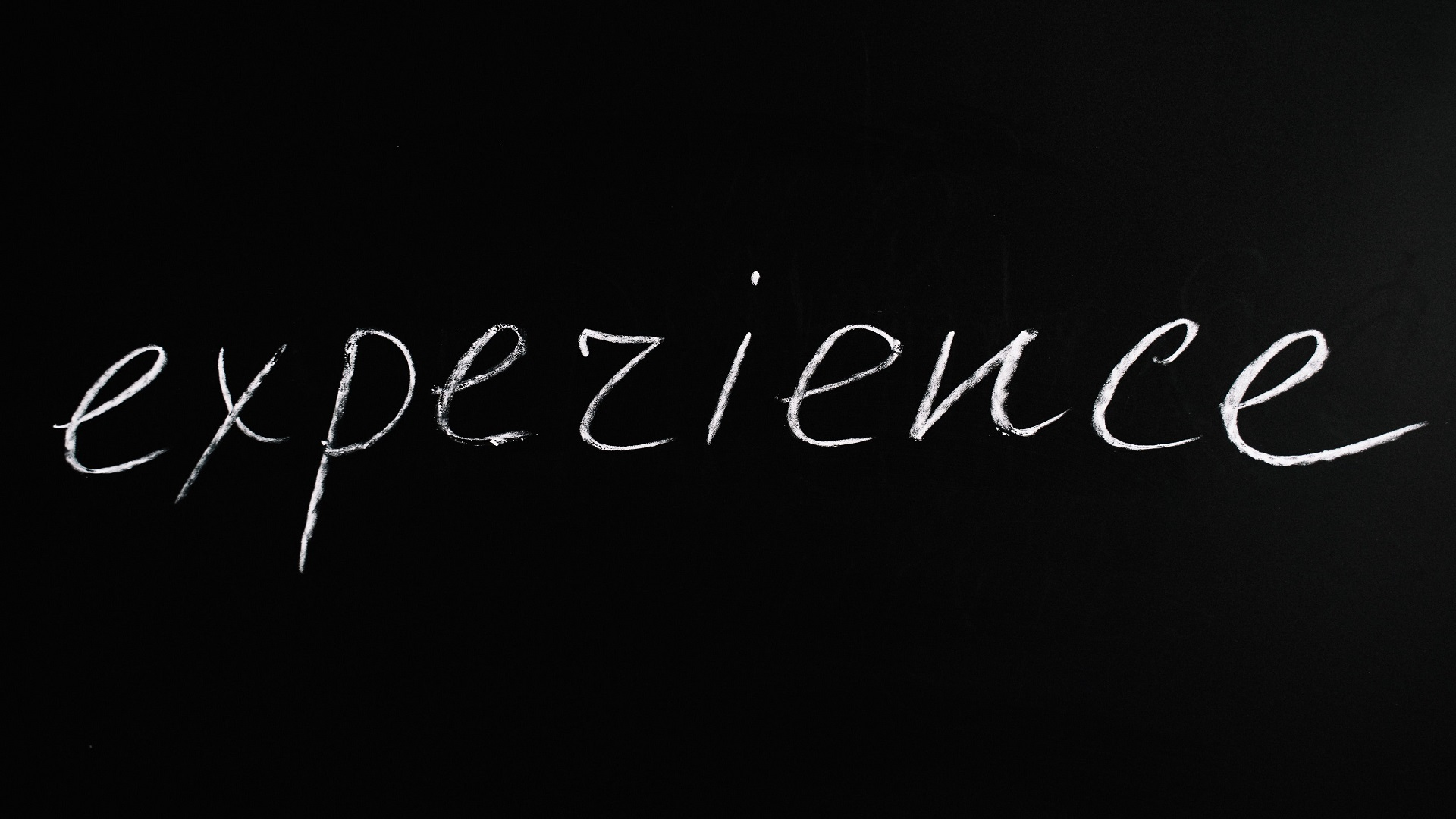 Next, you will see the English translation, and you can add it to a unique class or category. This lesson is engaging and interesting since you are watching the speaker and not just listening to an audio clip.
Another type of lesson uses mnemonics to help students remember a language. Mems are personalized flashcards and are user-created. In other words, you can create your meme if you cannot find any that appeal to you.
The process is easy as Memrise offers plenty of instructions on creating a good mem. The steps include association, imagination, and visualization.
First, you must associate a word with what it sounds like and create an image that captures the thought.
The classic review consists of practice activities to help students practice phrases and vocabulary. It offers enough opportunities to read, write, and listen to a language you have learned.
This includes various fast-paced, multiple-choice quizzes on the phrases or words you have learned. The quiz structure is fun and requires you to answer the question as fast as possible, as faster answers produce higher points.
This lesson feature is not available on the free plan. Although signing up for Memrise is free, there is a free and paid plans users can choose from.
Difficult words are a group of words that either you or the system has identified as challenging. When you select the exercise, it prompts a review of the words so that you can become more familiar with them.
The "learn with local" feature is only available on official courses. It is a group of exercises that includes watching videos of locals pronouncing words. The videos complement the audio and are engaging, as you can watch their body language and gestures.
These two features are also not available on the free plan. The chatbot is like a chat, including the emoji features. You will choose what to say from a list of options to engage in conversations.
Unlike the chatbot, the Grammarbot focuses more on grammar. Users must put sentences together and communicate with the bot through grammar points.
App Features
Features iOS app and Android app
Memrise is a charming linguistic ally that finds its home on both iOS and Android devices. It's a treasure chest filled with a plethora of languages like English, Spanish, French, and many more, just waiting for you to discover.
At its core, Memrise applies the time-tested strategy of spaced repetition. Functioning much like a digital mentor, it keeps revisiting past lessons at increasing intervals.
This unique feature, specially designed for mobile learning, gently reinforces your memory, guiding you gradually towards language proficiency.
| | | |
| --- | --- | --- |
| Features | iOS app | Android app |
| Learn new words | Available | Available |
| Grammar | Available on selected language pair | Available on selected language pair |
| Review | Available | Classic review is available |
| Explore | Available | Not available |
| Speed review | Available | Available |
| Difficult words | Available | Available |
| Listening skills | Available | Available |
| Learn with locals | Available on selected courses | Available on selected courses |
| Pronunciation | Available | Available on selected courses |
| Offline mode | Available | Available |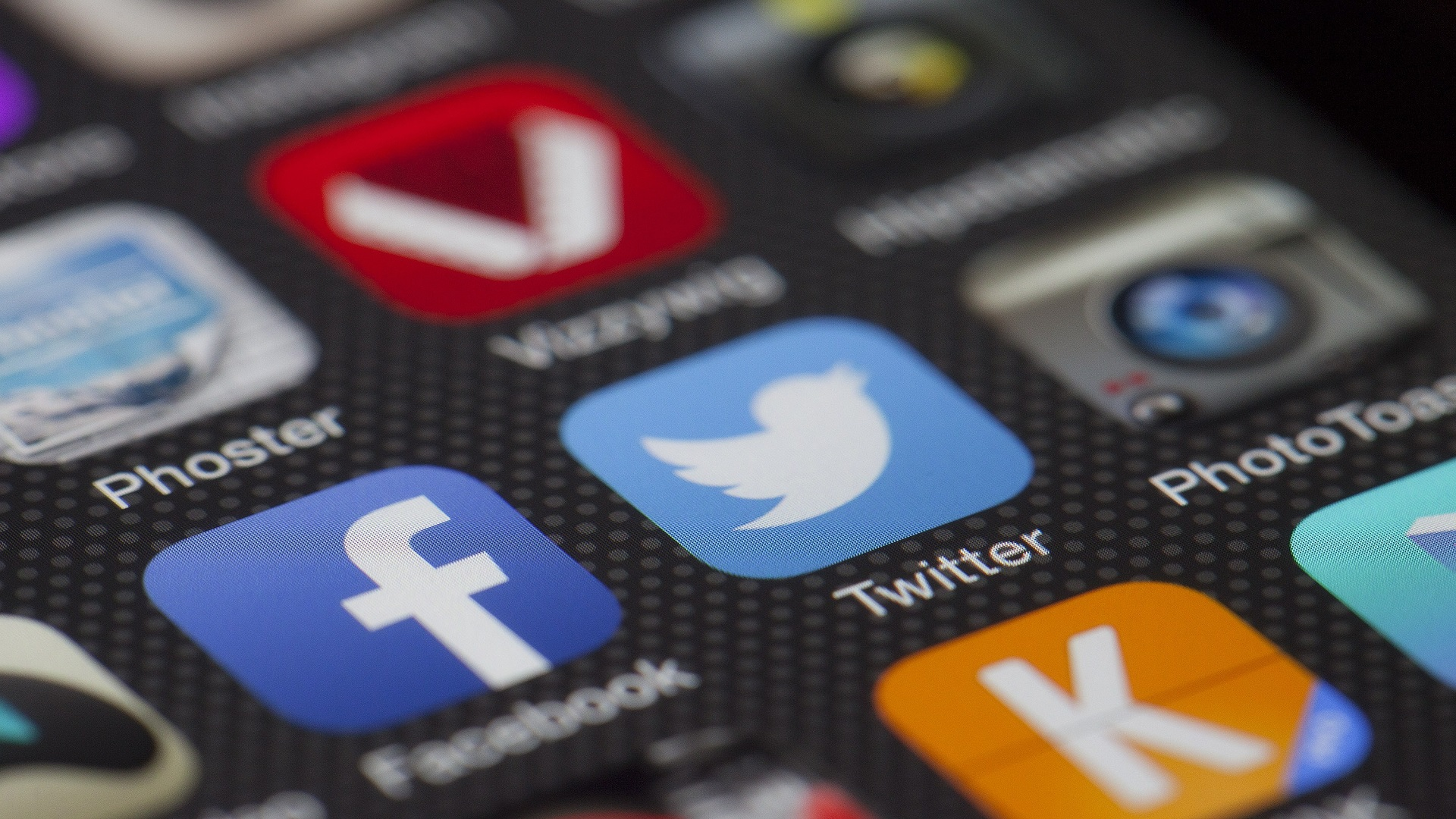 What truly makes Memrise stand out, especially for on-the-go learners using iOS or Android, is its repository of video clips from native speakers.
Think of it as having a native French speaker in your pocket, or a Spanish maestro at your fingertips, offering you real-world pronunciation and contextual understanding, right from your smartphone.
In the spirit of true mobile personalization, Memrise embraces your individual learning curve.
It molds the learning experience to suit your pace and proficiency, serving personalized reviews based on your performance.
This intelligent feature ensures that your learning path remains yours alone, adaptable and unique, whether you're using an iPhone in New York or an Android tablet in Tokyo.
Grammar and learning with locals are only available on selected created courses. Also, the pronunciation mode is only available in official lessons except for Slovenian.
Who will find this platform helpful?
Let us put up that only a beginner will find Memrise helpful. Anybody that wants to learn a new language, provided it is available on the website, can use it. A user can sign up for as many languages as possible, and popular languages are highlighted to help hesitant people decide.
If you need help with improving your writing skills, check our list of the best writing tutors.
How to Get the Most Out of The App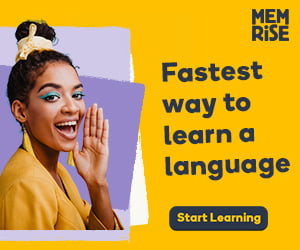 It costs nothing to set up a Memrise account. You can also choose whether to download the app or use only a web browser to access the lesson. The free account grants access to a wide range of content.
However, the only way to enjoy additional features, including offline access, is to pay. We should mention that the application does not contain any ads.
Memrise uses adaptive learning technology to teach based on your performance. Some statistics show your footprint. When you start the first lesson, all other lessons will remain locked until you finish the one.
Therefore, you must always complete a class before moving to the next. Here are a few pointers to how you can get the most from the app:
You can sign up or log in to Memrise on the web or app
You can check the course leaderboard by tapping on the trophy icon at the end of the learning session. The leaderboard shows the points for all learners enrolled in the same course and is useful in judging performance.
You can access and learn multiple languages at the same time. Tap the menu icon to switch between courses or on 'learn another course' at the bottom of the page to start a new class.
Although the app automatically detects your device language setting and uses it as a default language, you can still change it manually. Click on the language and tap 'browse more courses' to learn from a different source language.
Memrise courses consist of a series of 7 parts that represent the difficulty level. Courses 1-3 equate to an A1 level for beginners, and courses 4-5 equate to an A2 level for intermediates.
Lastly, courses 6-7 equate to the B1 level for upper-intermediate. You can scroll to the previous lesson to retake it if you are not satisfied with your performance.
Pricing at Memrise.com
How much does Memrise cost? Memrise offers four subscription plans: lifetime, annual, quarterly, and months.
The cost breakdown is as follows:
$8.49 per month;
$29.99 per year ($2.50 per month);
$119.99 one-time payment for lifetime access.
What payment options are available?
Memrise accepts payment through credit and debit cards. Accepted cards include American Express, Via, And Mastercard.
You can also make payments with PayPal on the website or through in-app purchases on mobile (Google Play Store and Apple App Store).
Is Any Promo Code Available?
Yes, there are promo codes you can use to secure a certain percentage off the original price. The discount codes are usually attached to specific languages, not the general courses.
Therefore, we recommend you check out the lessons to know the applicable promo codes.
Quality of Learning at Memrise
Who will help you on this platform? Pretty much everything on Memrise is automated. Students learn primarily through videos of native speakers, audio, quizzes, and assignments.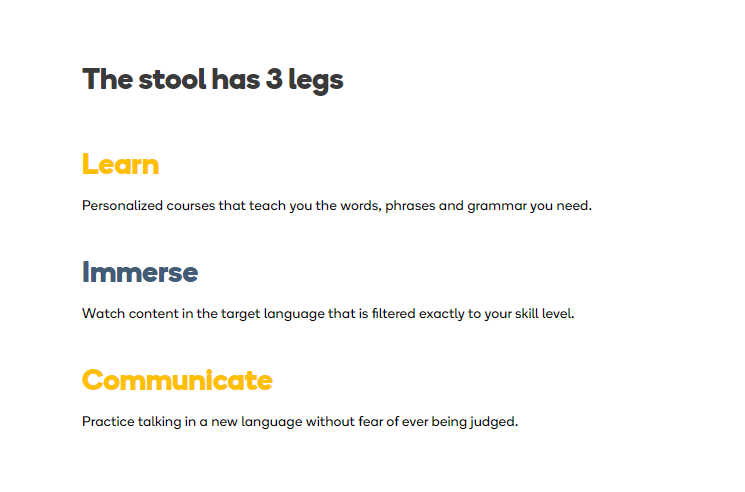 The Memrise community is a good place to ask questions and ask for clarification on crucial matters. Apart from this, there is a FAQ and inquiry section with straightforward answers to popular questions.
Any Guarantees Available?
Is Memrise safe? Various Memrise reviews guarantee that students won't lose their progress if they cancel their subscriptions, log out or uninstall their application. None of these activities will erase your progress nor deactivate your pro membership.
Does Memrise cost money? Yes. However, it has a 30-day money-back guarantee if you cancel your subscription. You can request a refund by visiting the refund page on the web browser or with Apple Direct for a subscription through Apple App Store or iTunes.
How Is It Different From Other Apps?
Memrise uses spaced repetition just like Anki to help students focus more on words they have a tough time with. It also uses mnemonics like Fluent Forever to aid in remembering languages more efficiently.
On cost, a Memrise subscription costs $5-$8 per month. This makes it more affordable than competitors like Pimsleur and Rosetta Stone. Duolingo costs $12.99 per month, while Rosetta Stone costs around $200 per year. Learn more in our Memrise vs Rosetta Stone article.
Memrise does not have a strict schedule. Unlike apps like Duolingo, students are free to decide which lessons they want to take.
But since learning is largely restricted to listening and repeating words, there is little room for spontaneous language usage as you have with Rocket Languages and Pimsleur.
Value for Money: Is It Worth the Price?
Is Memrise a good app? Yes, Memrise is definitely worth the price of around $8 per month for its wide range of available content. Its spaced repetition software aids memorization and is more interactive than other flashcard apps.
Memrise offers discounts throughout the year, which saves money in the long run. You really cannot complain much about insufficient features when you are paying as low as $5 a month to learn any language you want.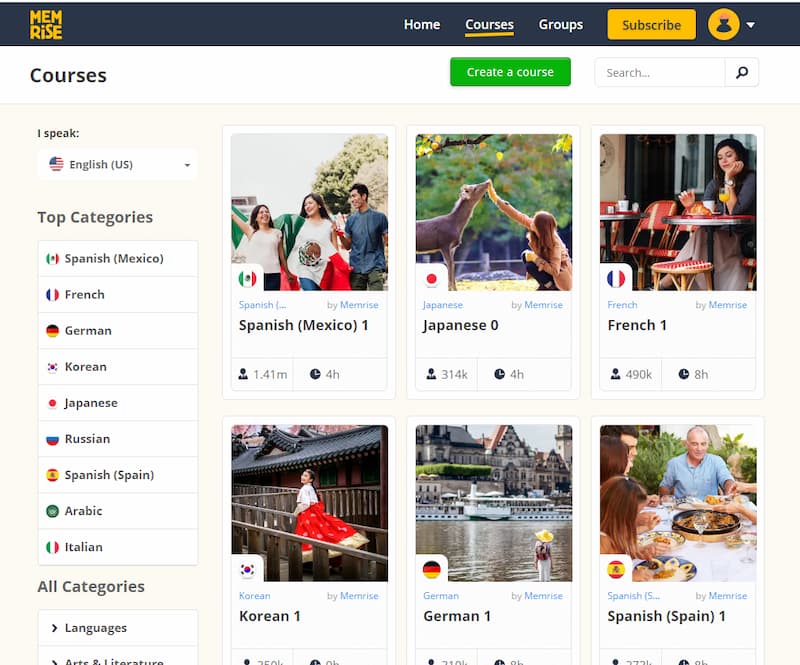 What Do You Get for the Money Paid?
Any subscription grants access to all contents and languages available on Memrise. This includes audio, videos, quizzes, tests, and other perks that are only available on the pro subscription, as revealed by our Memrise pro review.
How Valuable Is This App?
Memrise has content for English speakers and other languages. As we explained earlier, the best it will do is provide a foundation for understanding another language.
In other words, it won't make you a professional speaker. As a result, only beginners will get the absolute best from using Memrise.
Is It Helpful for Your Career?
Memrise does not offer certification upon completion of a course. As a result, it won't help your career as far as a tangible certificate is concerned.
However, it will prove valuable in areas where you need to speak or understand another language – even if it is the basics.
Memrise Free vs. Paid
There is often a lot of argument about Memrise free vs. paid plan. However, there is not so much benefit in subscribing to a paid Memrise plan.
Put differently, there is little difference between the free and paid version, with the exceptions of the offline mode and a few helpful stats.
Also, check our Memrise comparison with Mondly, you'll learn more interesting facts about both of these platforms and which one is better to learn a new language.
Memrise App vs. Website
There is a difference between what is available on the website and the app. For example, the Grammarbot and chatbot functions are only available on the website.
Also, pricing on the mobile app and the web are not the same. However, Memrise allows users to sync courses across platforms. Therefore, you can always switch between the web and mobile versions.
Also read: Memrise vs Babbel
Student Feedback and Reputation of Memrise.com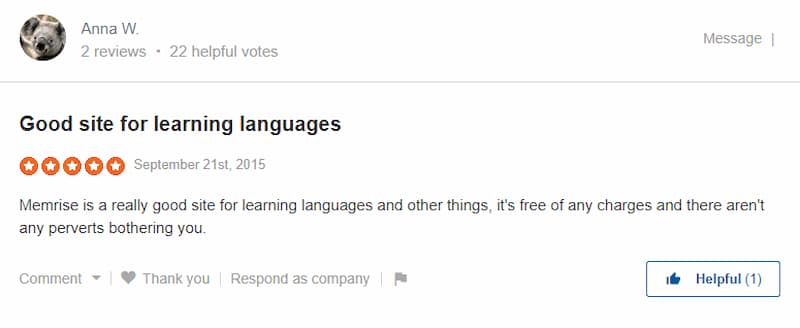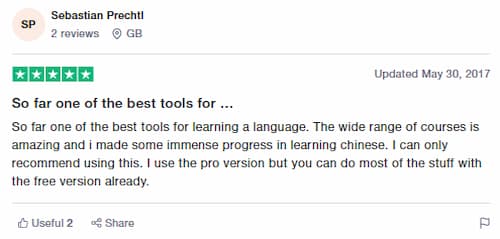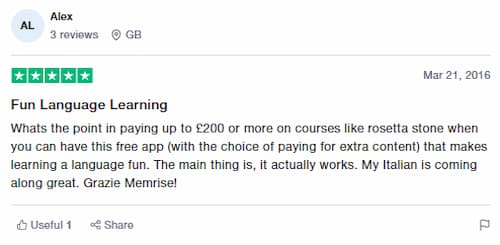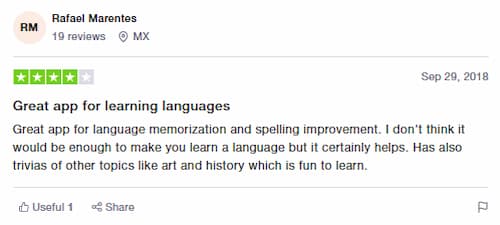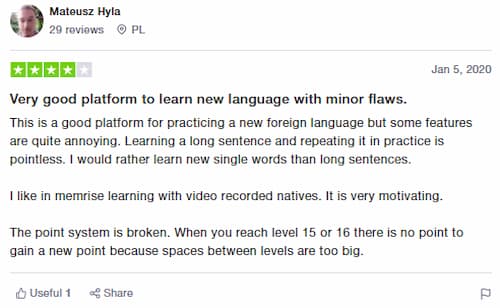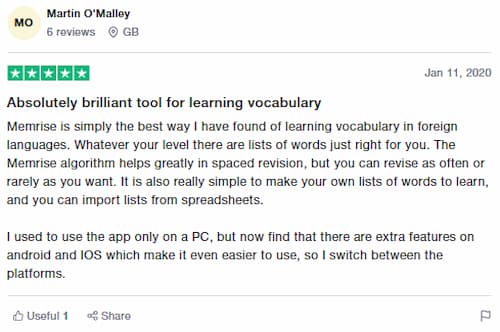 Pros
Interesting and engaging videos of native speakers.
The learning framework uses a spaced repetition system to facilitate learning and memorizing vocabulary.
User-generated courses grants exposure to different topics.
Users can customize the length of their lessons and sessions.
Users earn points with learning, and you can compare your performance and progress against other Memrise users.
Memrise has a community that members can benefit from.
The free version offers everything you need to go by.
Numerous programs, languages, and levels.
Cons
The free account is restricted, as you cannot download lessons to learn offline or access all learning materials.
There is no real opportunity for conversational practice as it is focused primarily on vocabulary.
Not ideal for advanced learners.
The quality of user-generated courses varies significantly.
User experience varies by device.
Verdict
Memrise uses flashcards, videos, audio, tests, and quizzes to teach more than 200 languages. Although the platform offers only 22 official languages, there are tons of user-generated languages you can learn from.
As a result, the language app is effective for learning a new program. It offers free and pro-subscription plans, and the Memrise price is just a little above $5 per month.
Memrise does not issue a certificate of completion at the end of the course. Regardless, it is a worthwhile app for beginners that want to learn basic vocabulary and new characters.
We recommend Memrise to any beginner looking to build up basic ability in any foreign language.