First, before you read a review, you can view the small review on the Youtube:

The number of companies that offer resume writing services grows each day, the same as the amount of our professional resume writing service reviews. Many people nowadays are interested in hiring such experts to write their resumes to boost their chances of getting a dream job interview.
With an increase in demand for such services, one particular site recently caught our attention: Zipjob.com.
When you first visit the website, it looks like any other site that offers the same services. The design is simple, easy to use, professional, and high-quality.
But is the website just a façade, or does it really offer great services? Is it one of the best resume-writing services on the web? How can you truly know if their work is really worth it?
We have decided to compile all the Zipjob reviews from multiple websites, where people get to express their real, unfiltered opinions. Our goal is to give you an honest Zipjob free resume review and whether or not it is worth it.
What we cover in this review:
Overview: What Is Zipjob?
How Did We Rate Zipjob?
Types of Services Zipjob Provides
Resume Packages Pricing Rates and Discounts
ZipJob Payment Plans
ZipJob Quality Service: What to Expect?
Customer Service
Website Usability
Zipjob vs TopResume
ResumeWritingGroup vs Zipjob Review
Is Zipjob a Scam?
Does Zipjob Offer Any Unique Features?
So, Is Zipjob.com Worth It?
Important Things You Should Consider When Choosing a Writing Service
Conclusion
Zip Jobs Reviews from Customers
For other creative writing course, check Monster resume reviews on our website.
Overview: What Is Zipjob?
Zipjob is an online resume writing service that guarantees top-quality work. They are confident in their writing skills and promise to get you 2 or 3 times more interviews than you would normally get if you send a typical resume.
How Did We Rate Zipjob?
We have selected the most important elements of this website to make a solid review of Zipjob services. This will make it much easier for you to decide whether this writing service has everything you need.
When we rate a writing service, we consider these things first:
Zipjob resume service reviews from customers;
The quality of service they offer;
How much they charge for their service;
Types of services they provide;
Customer service availability;
Website design.
When a customer pays for services, especially costly ones, they expect excellent-quality work. The most important factor when rating any business or service is customer reviews.
However, there are plenty of other websites where you can get an unbiased opinion of the work an online business provides. We read their statements on how they felt about the finished product. We judge the quality of service a business delivers and compare it to the prices they charge. We evaluate their methodology of composing documents and assess their finished products. Ultimately, we analyze all the pros and cons of their service.
We also take a look at their customer service and how readily available they are. Can you contact them when you want, do they respond quickly, know their work, etc.?
Lastly, we analyzed their website design, its intuitiveness, accessibility, and general outlook.
Types of Services Zipjob Provides
Zipjob provides three main services:
Launch resume package (offers private communication with your writer, resume writing, as many revisions as necessary, and keyword optimization).
Fast-track resume package (offers resume writing, interview guaranteed 60-day revision, launch package features, and cover letter writing).
Premium resume package (offers quick 3-day delivery, all the above features, update on LinkedIn profile, further resume updates, and ensures you are working with the best-qualified writers).
They can format anything from keywords to the writing style to complete an ATS-optimized piece. They can edit and rework your current resume to give it a unique touch so that you will have a better chance of landing a job.
When you decide to hire Zipjob, they will assign a writer for you. You can use the ZipJob dashboard to stay in contact with your writer while they work on your resume. The writer offers fully optimized resumes and unique work.
Resume Packages Pricing Rates and Discounts
General resume writing services cost $100 and above. Anything lower than that is considered a cheap service and should be avoided.
Zipjob resume cost depends on the package you select. The first package starts at $139. This package includes keyword optimization, unlimited revisions, and direct communications with the assigned writer. The same company will complete the work in 4 to 6 days.
The second package is $189, including all of that, along with a cover paper and LinkedIn profile summary.
Finally, the Premium one is the most expensive, coming in at $299, offering expedited delivery of 3 days, the chance to work with their most experienced resume writers, and top-quality results.
Zipjob is not cheap, but it is relatively affordable. In general, people are satisfied with the current price, some saying the service doesn't need a discount since it's moderately priced.
You also get a Zipjob resume review service for free if you notice any spelling mistakes that need to be edited or if you're not satisfied with the final version.
Even though many people are interested in loyalty programs, coupon codes, or discounts, such features haven't been implemented yet. There are no discounts available unless they have been announced on their official website.
ZipJob Payment Plans
This legit service offers a split payment plan for every package. If they can't bill you from your credit card, they will use personal information to contact you. They don't provide any partial or full refunds.
ZipJob Quality Service: What to Expect From a Resume Writer?
Zipjob has a decent number of reviews. Most of their clients are extremely satisfied with their work, claiming to have obtained top-quality resumes that eased their job search. They rate their services 10/10 for their quality, professional writers, and quick delivery.
Many have shared positive Zipjob professionally written resume judgments. The majority of their customers seem to be satisfied with the government resume writers that have worked on their resumes.
Order Process
First of all, you should complete the payment process.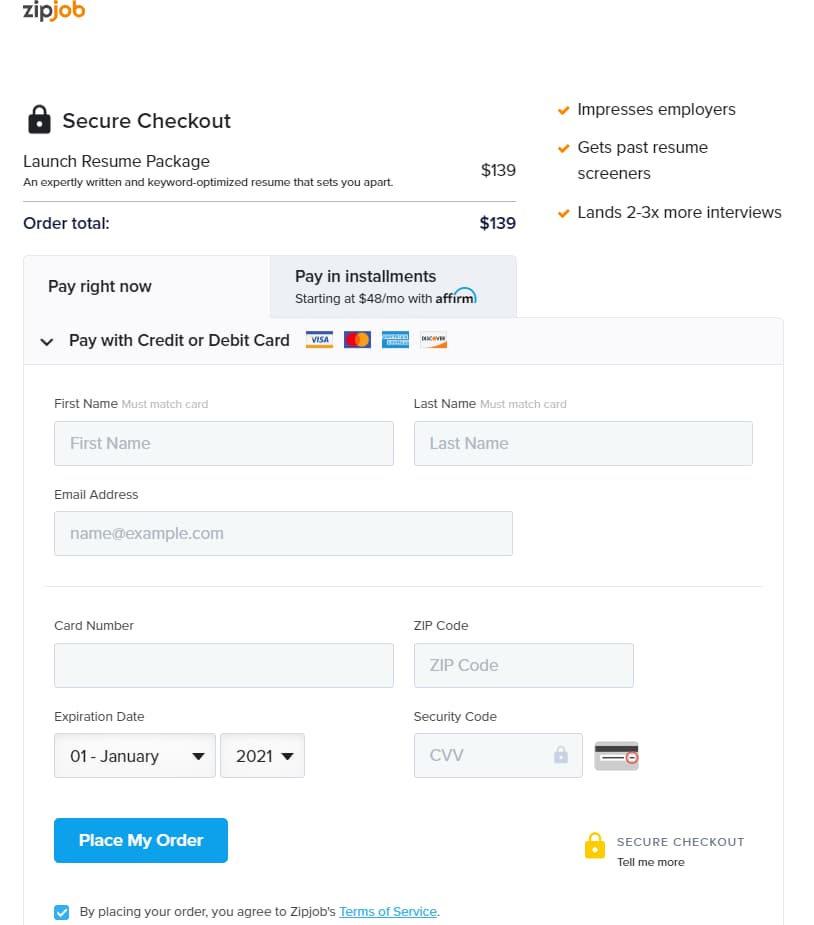 Once the payment is processed, you'll receive two emails: the confirmation email and another email, including the full description of the entire process.
The first thing Zipjob requires is to fill out the questionnaire about yourself for the resume writer.
Below, you can see the screenshots of the questions that were filled out by one of our remote junior digital marketers: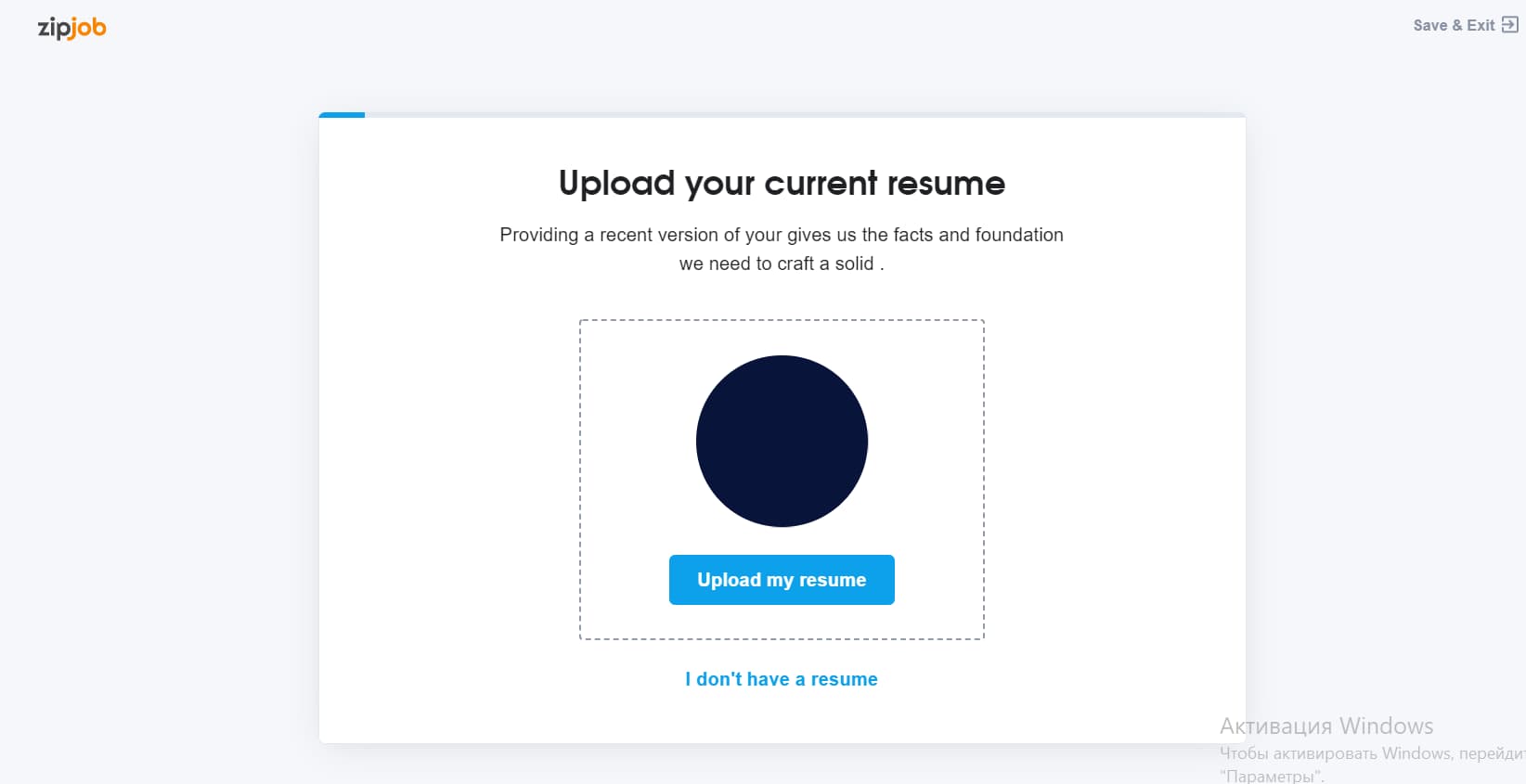 First, you get the option to upload your current resume. If you don't have one, you can ignore this step.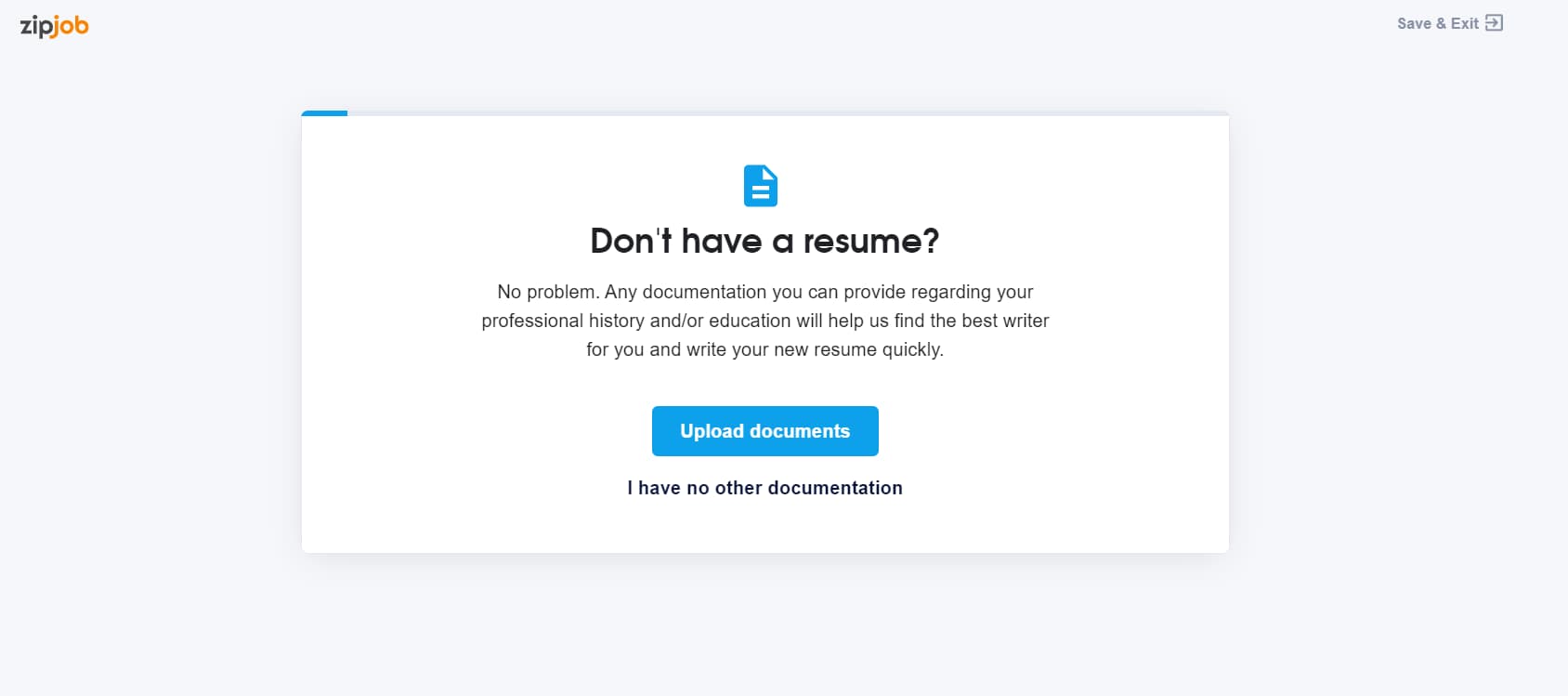 Then, you can include any other documents that may help the resume writer learn more about you.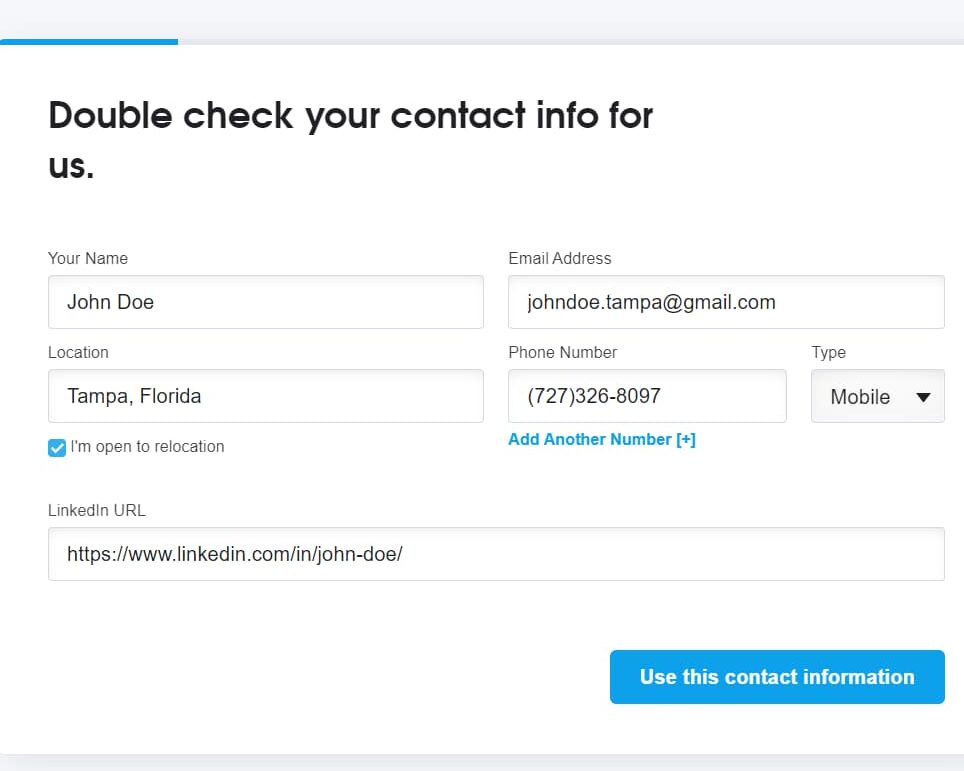 At the next point, you should write your contact information for the new professional resume.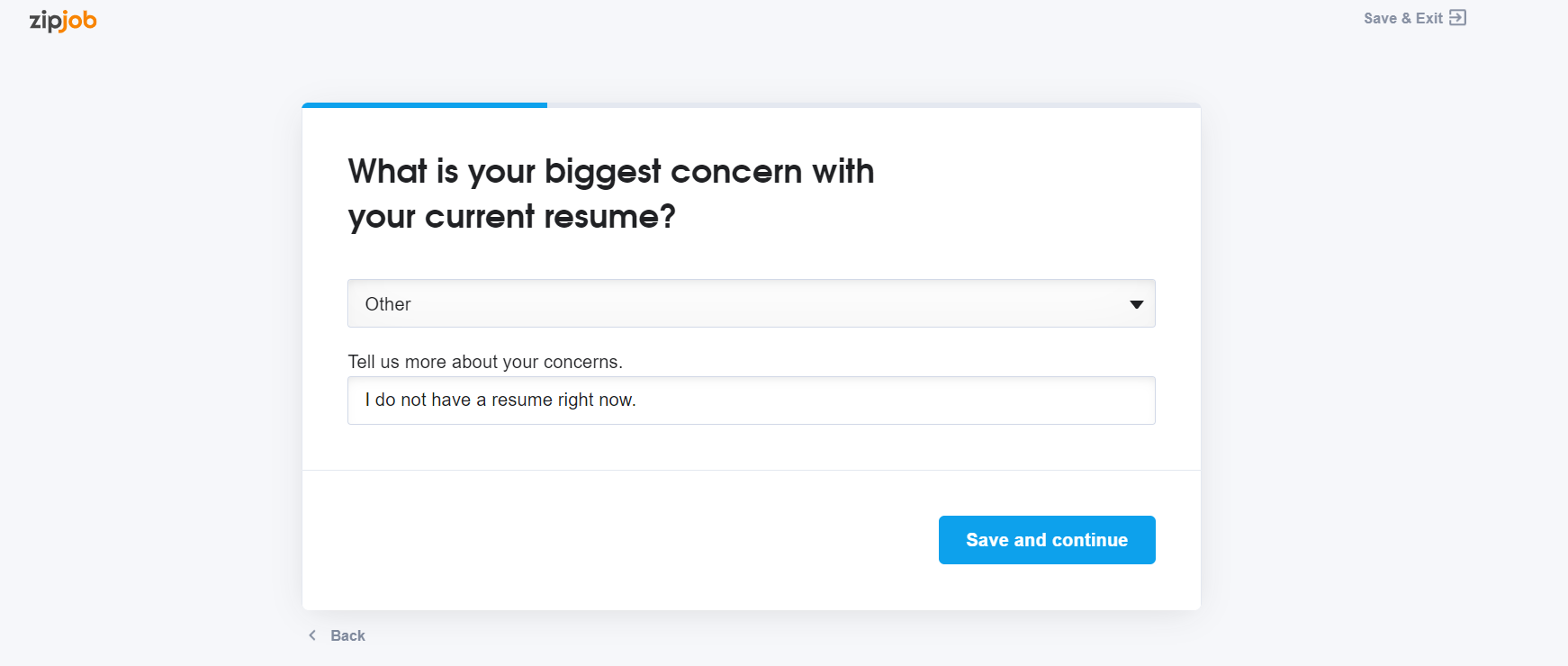 In the next step, you can mention what exactly you do not like about your existing resume. If you don't have one, you can just mention that there.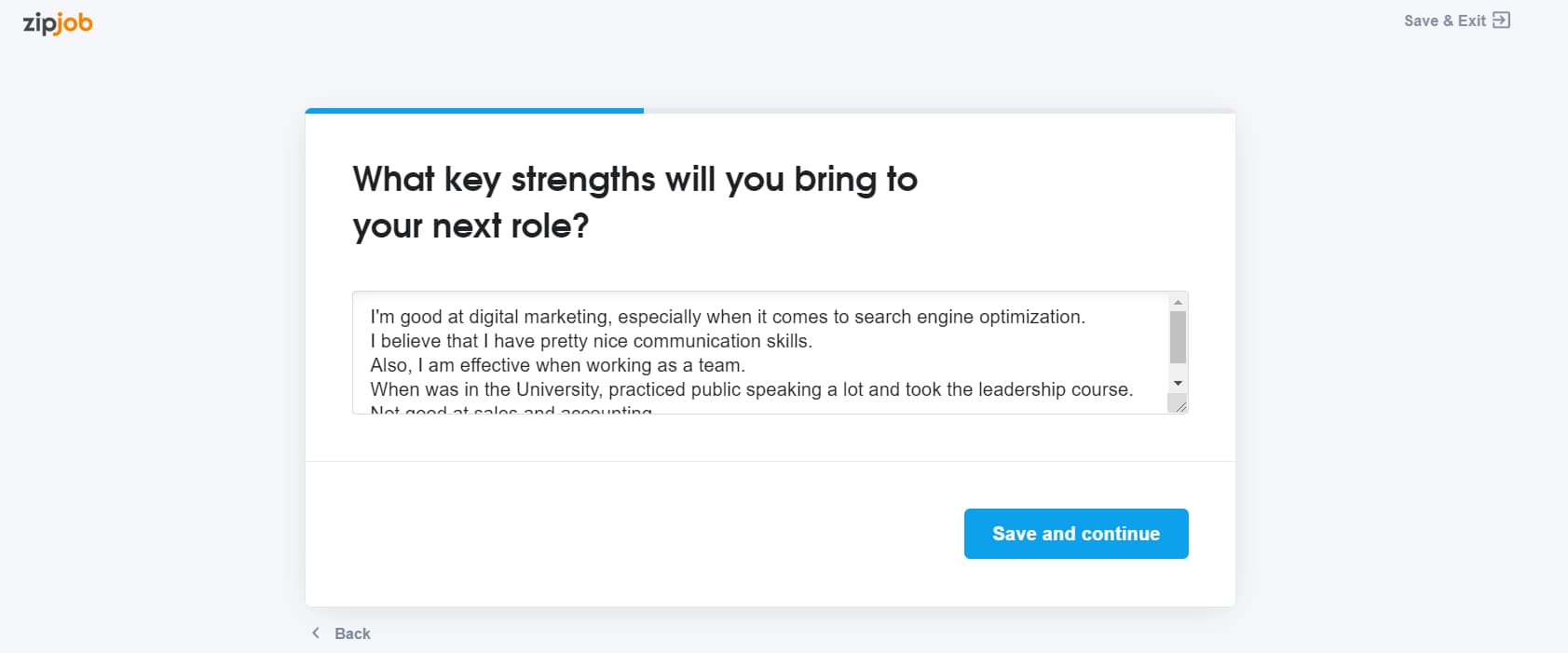 You should then explain why you believe that you are a perfect candidate and your main skills and traits.
All this information is vital for their resume writers because they know what recruiters are looking for in applicant tracking systems.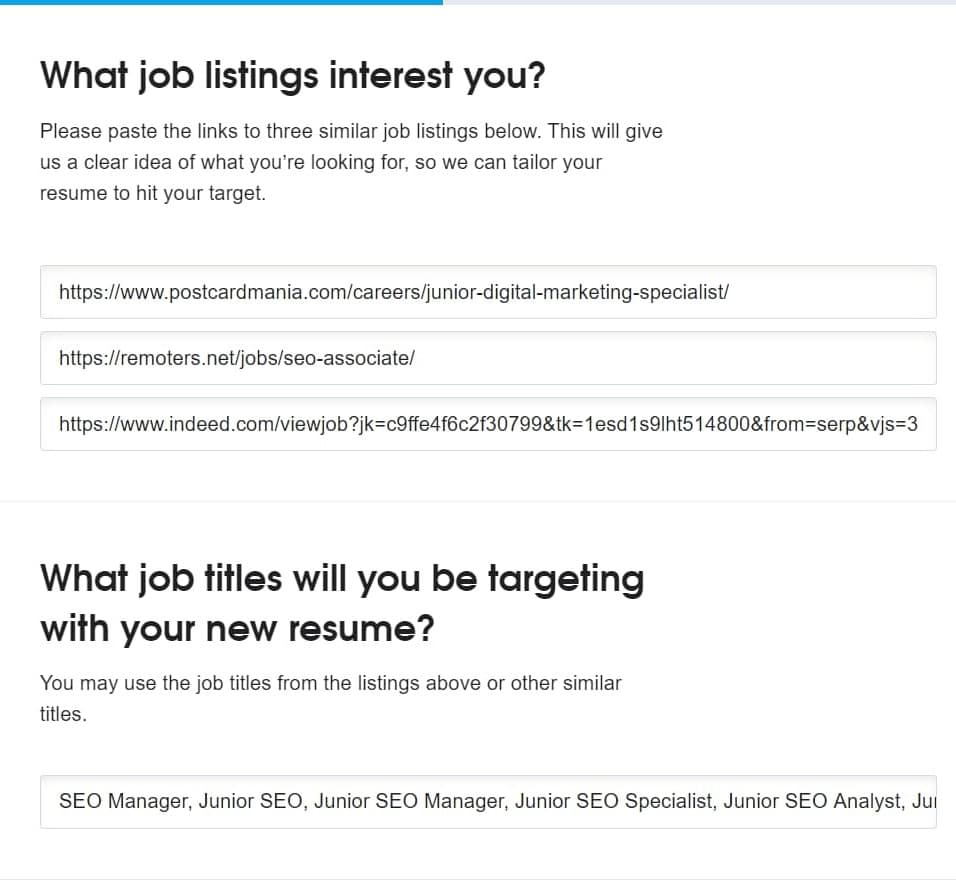 Add links to three vacancies that you would like to apply for. Also, write all the titles that your job currently has.


Then, pick the industry in which you are working or would like to work. There are many options to choose from, so read carefully to find what you need.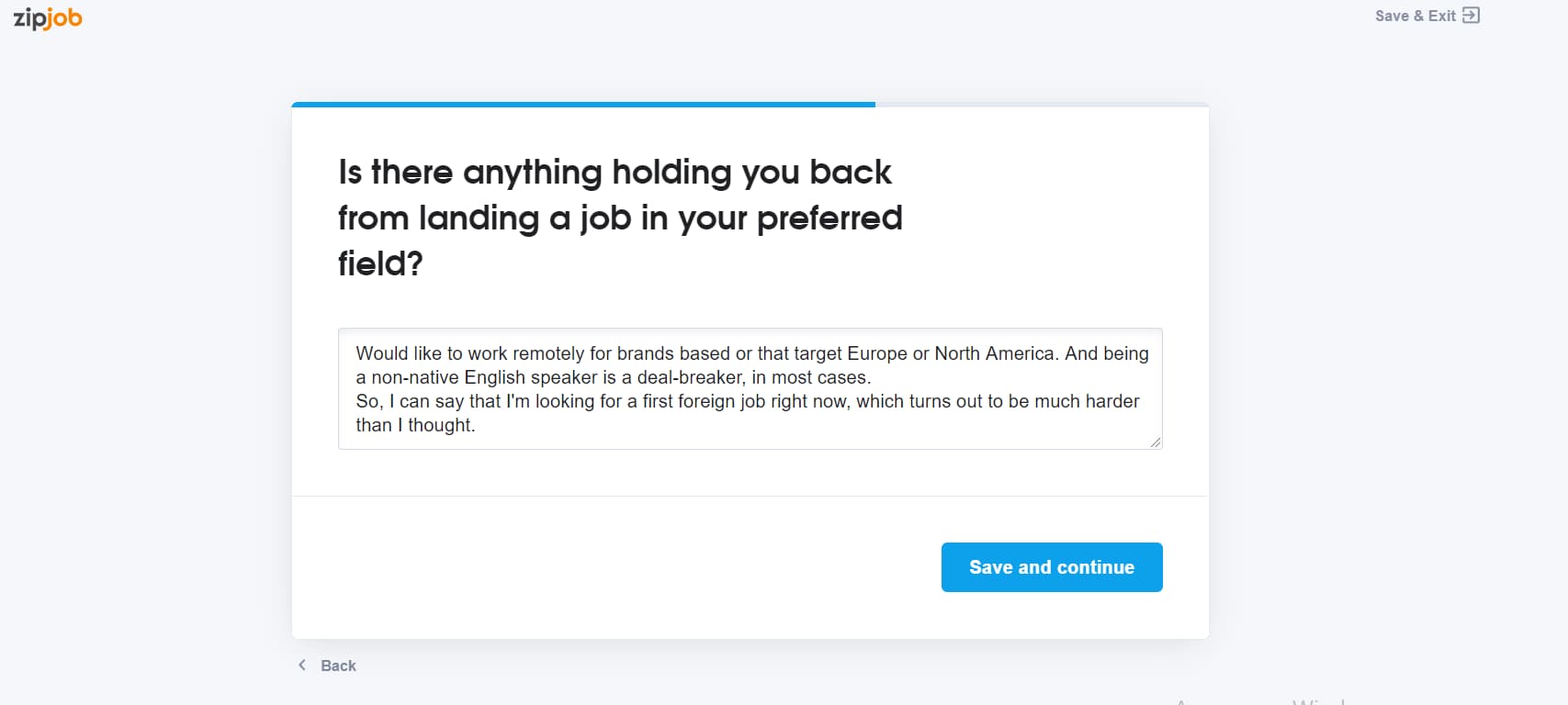 At this point, write everything that you believe is preventing you from getting the job of your dreams. Be descriptive and write out all your thoughts; don't worry that any resume expert may use them against you.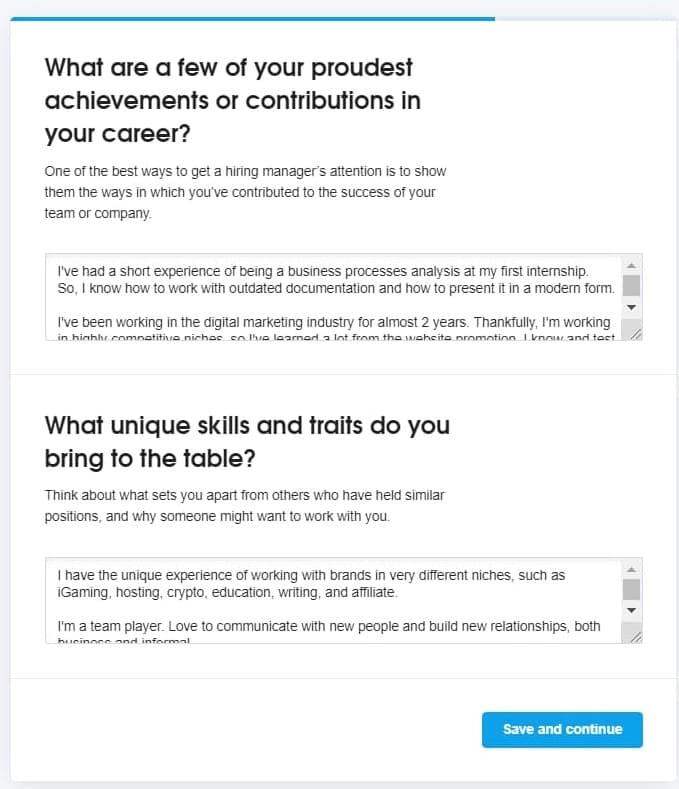 Write everything that you think will convince the person reading your resume that you are the perfect fit for the position.
Add as many achievements as possible and positions as you can. Recruiters like to see the numbers, so if you have any quantifiable results, send them over to Zipjob's resume writers.
Also, the second block is about your skills and traits. Describe what you have learned so far and what you can do that others can't. Make sure you do not lie because when you are invited to the interview, they will get to see the true you.

Here is an additional opportunity to write more information about yourself. Maybe there were situations in your life that made you stronger and that your employer should know about.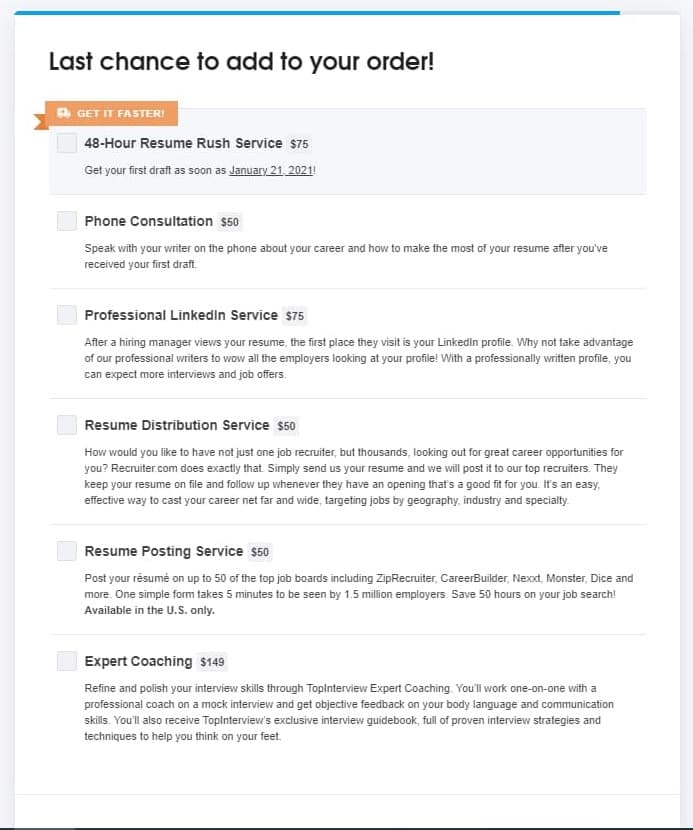 If you want, you can add one of the additional service range that Zipjob provides, like a cover letter and LinkedIn profile creation or phone consultation.


That's the final step of the questionnaire. You should receive a confirmation email and get connected with your resume expert.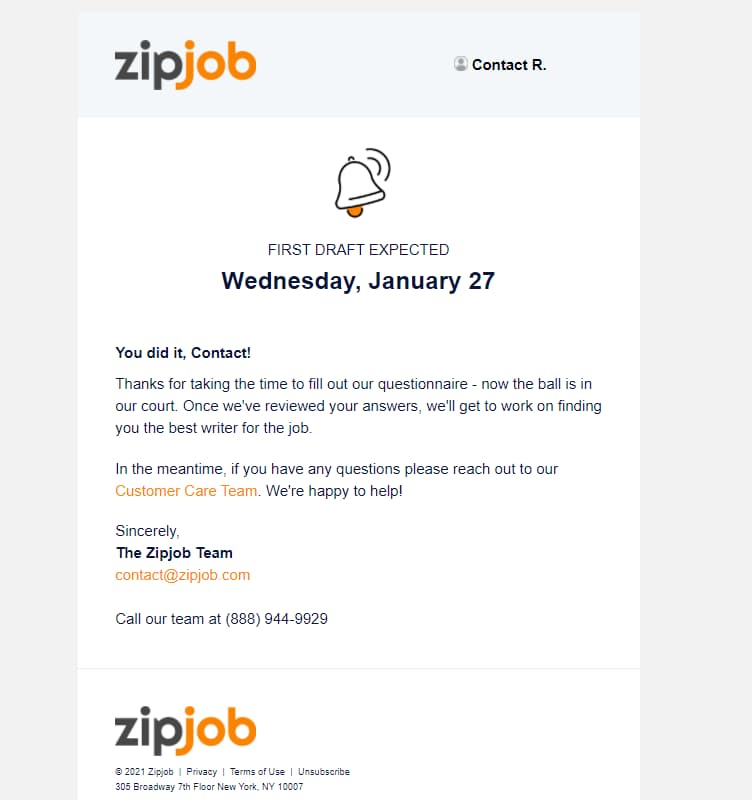 Once your order is assigned to the professional resume writer, you'll receive an email confirming that a person was hired and your new resume is in the process.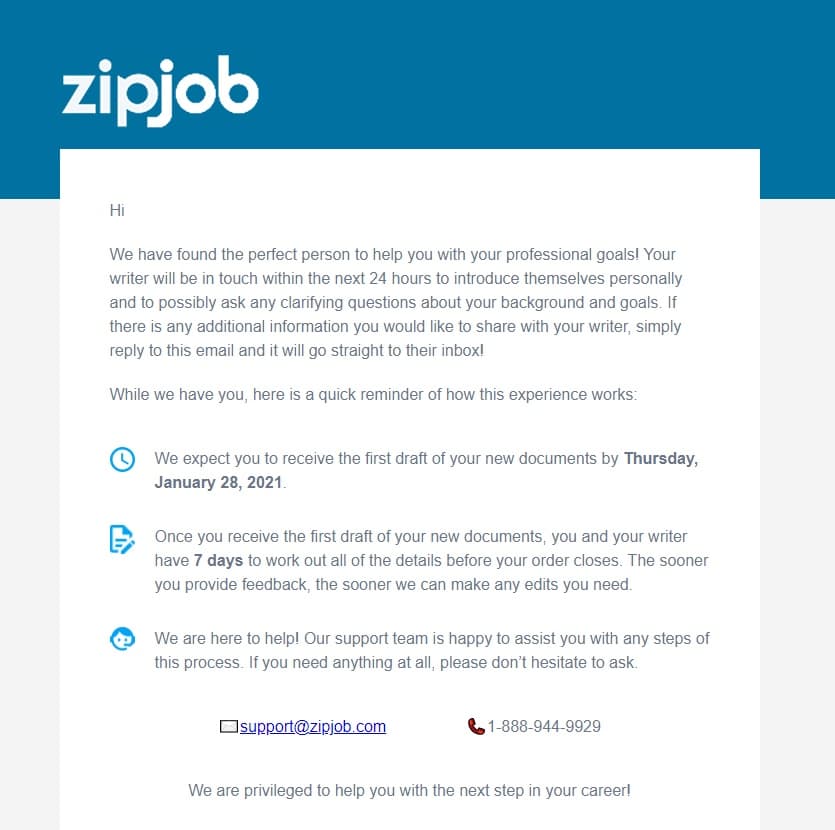 In our case, the previous resume was not uploaded to the questionnaire, so they asked us again for any additional documents that may help the writer.
So, the old resume was sent with the note that it is ancient, outdated, and contains no valuable information about our colleague's current skills.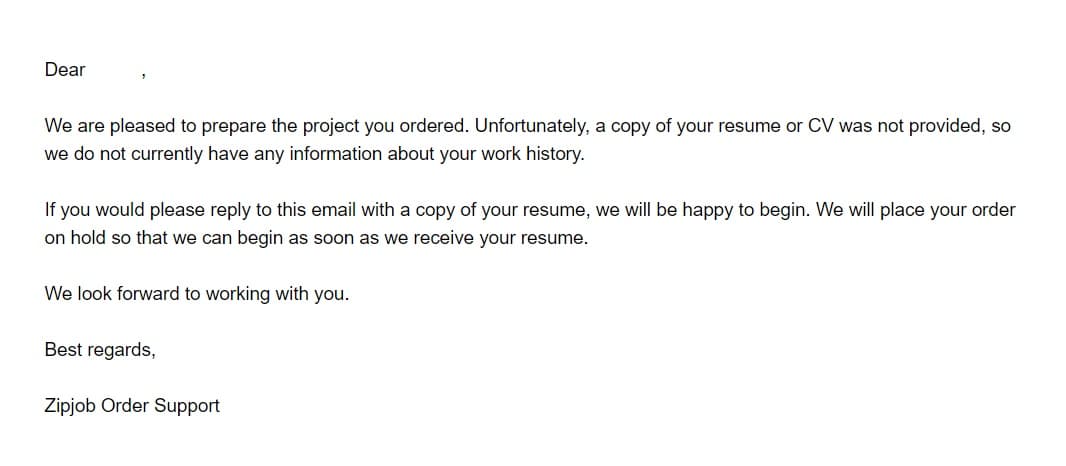 Anyways, we sent the old resume on the 20th of January and received the first draft of the resume and covering letter within 24 hours, even though we didn't ask for a quick turnaround!
The writer sent us the resume and the letter with everything we needed. Besides the achievements, he asked us to provide him with more accomplishments and real numbers. We sent them the required cases with the correct numbers to include in the resume.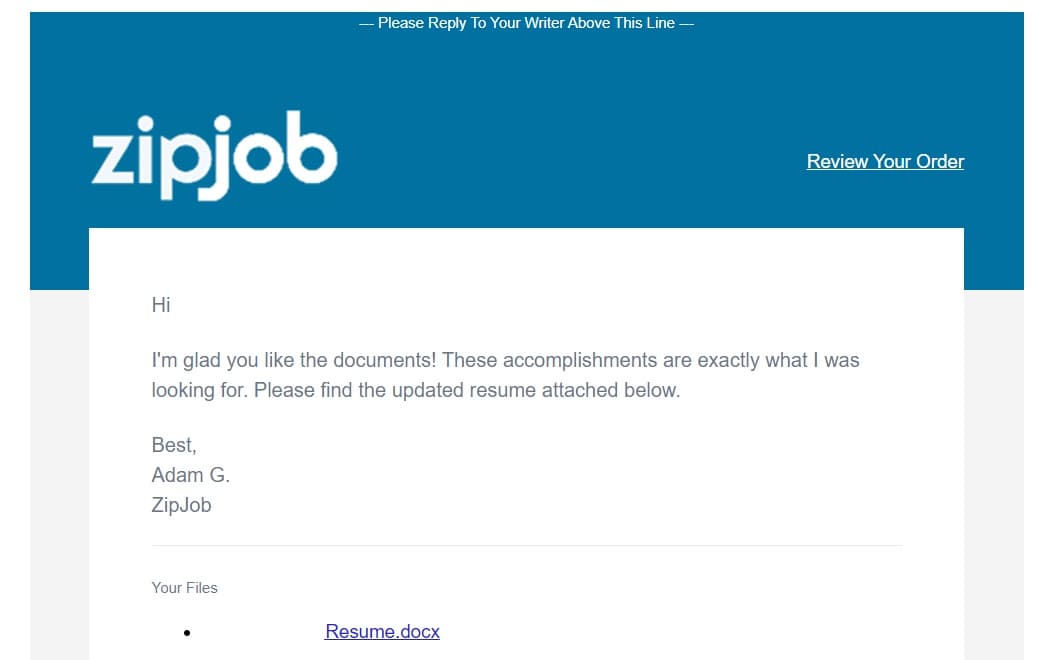 The day after we sent the accomplishments, the final resume and covering letter were ready. We discussed the final documents with all experts we know in resume writing and recruiting and concluded that the resume looked great.
You can check yourself. Below are the resume written and cover letter composed: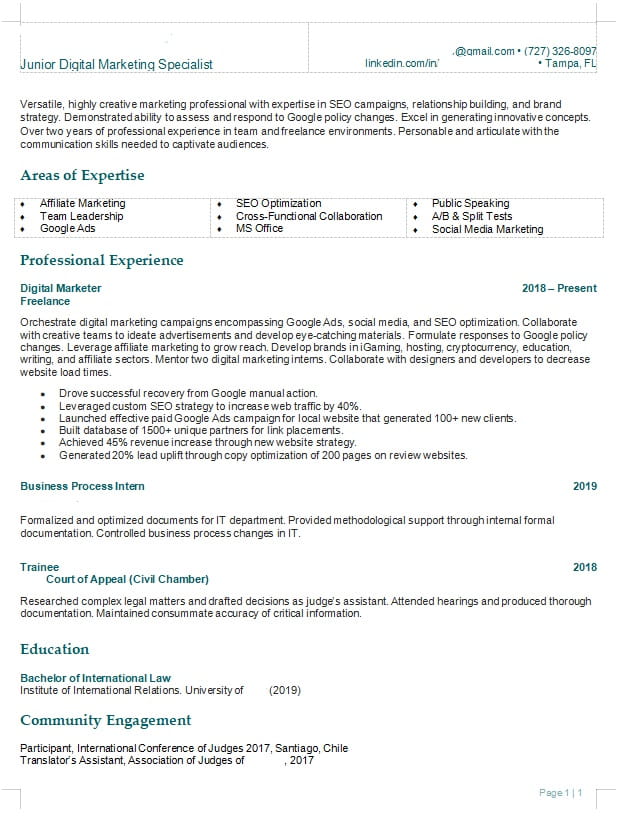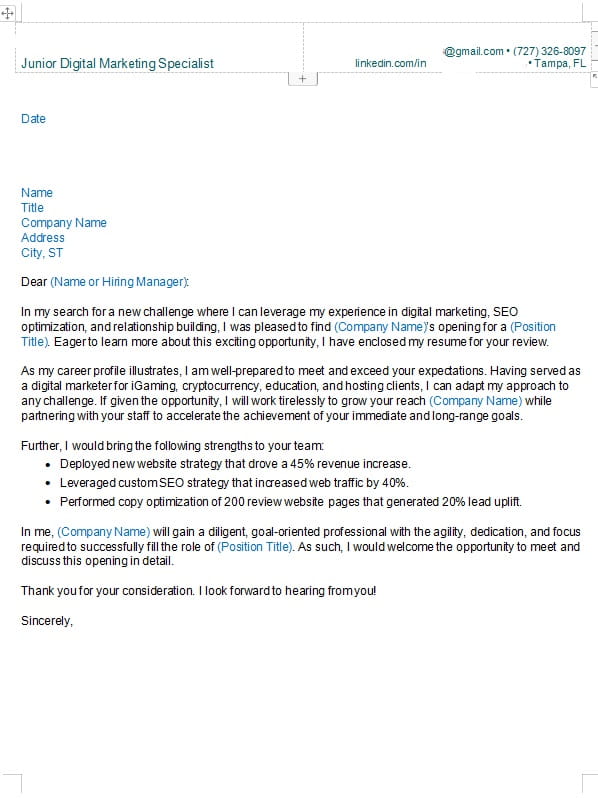 After this process, we received a couple of emails asking us to provide feedback about their work. Also, during this process, Zipjob sent us a few emails with proposals to order additional services at reduced prices. These were not aggressive like some of the other resume services when they have your email.
Zipjob Customer Service
One of the major setbacks is their support team. Unfortunately, we found doing this Zip Jobs review that they can only be reached from 9:00 AM to 6:00 PM EST since these are their working hours. So, communicating with them through phone consultation if you are not from that time zone can be challenging.
Most of the Zipjob feedback was positive about customer support, though. There are not many Zipjob negative reviews online overall.
In our case, we received all answers promptly. Sometimes they even tried to hurry us to provide feedback about the first draft so that they could finish the updated resume.
Website Usability
While doing these Zipjob.com reviews, we have to state that their website quality is excellent. Their site is intuitive, easy to use, and quick to get used to. The process of purchasing any package, be it the premium or the cheapest package, is straightforward and efficient.
All the prices and offers are stated clearly, and you can choose your preferred package when you are ready.
Pros
Affordable prices.
Offer ATS screening.
60-day interview guarantee.
User-friendly and modern website design.
The payment system is easy to work with.
Unlimited revisions.
Cons
Sometimes unresponsive customer service.
No discounts or coupons are available.
Possible delays (we found that in some Zipjob complaints).
Possible to encounter non-responsive writers.
Does Zipjob Offer Any Unique Features?
Zipjob doesn't offer too many special features, but they do have some that can be useful. We looked through many Zip Job reviews online and found nothing extra there. While they don't guarantee you will get a new job, they do offer better chances of landing an interview.
They claim to use the ATS scanning test to make sure your resume passes the selection process.
But you will most likely have to rely on the 60-day review revision to get the finished product. This option is part of the Fast-track offer and Premium package.
What about its competitors? Are they better or worse than them?
Zipjob Comparisons
Zipjob vs TopResume
When you want to compare Zipjob vs TopResume services, Zipjob is the clear winner. They offer ATS checks, while TopResume doesn't. Also, Zipjob's resume service is rated slightly better. Zipjob cost ratio is also lower than TopResume's. Overall, at Zipjob, the quality is much better. Find more about Top Resume in the comprehensive review of Top Resume.
Also, here is a detailed TopResume and Zipjob comparison.
ResumeWritingGroup vs Zipjob Review
When comparing ResumeWritingGroup and Zipjob, there is one thing that first comes to mind: the website. It's designed to be easy, usable, and simple. So, in this case, Zipjob would be a winner. See more in our ResumeWritingGroup review if you are not sure why it is not better than Zipjob.
Is Zipjob a Scam?
According to Zipjob writing reviews, scam reports have not been recorded yet. This site is legit; however, from the poor Zipjob service reviews, we have seen that some people are disappointed with their work and strongly criticize their effectiveness and quality.
So, Is Zipjob Worth It?
Overall, Zipjob has positive reviews. Their quality is one of the best, and plenty of people are satisfied with their work. But, when it comes to an Internet service such as this one, customer service should be available as much as possible. With the limited amount of support and no phone calls offered, it isn't easy to contact any of their representatives.
Is Zipjob legit? When judging the quality, prices, and website usability all in one, the Zipjob ratings would be a 9/10. It has to make some updates before it can be a 10/10, but it's one of the best electrical engineering resume writing services you can come across.
Important Things to Consider Choosing a Resume Writing Service
Since you are planning to pay for service, you need to make sure they can deliver what you need. Be concise and let them know everything that you want to see in your finished resume presentation.
But, before you choose this service, here are a couple of crucial things you should consider as a job seeker:
Ask about the writer assigned to work on your resume.
Be specific about the time frame.
Pick the resume packages that match your budget (Fast Track, Premium, or Launch package).
Ask for a sample if you are not too confident in the resume writers.
Communicate openly with your professional resume writer.