Udemy Review
Udemy is one of the most popular online learning platforms. Developed in 2010, the website has registered more than 712 million course enrollments from 196k programs and 68k instructors. The lectures are available in 75 languages, and it offers tailored solutions for businesses and enterprises. However, you don't need Udemy user reviews to know all these.
Individuals looking to develop a certain skill or write a professional examination can use Udemy. Not only this, but the solution is available for businesses to train their staff on specific skills without spending too much. Also, instructors that are confident in their skills and ability to impart knowledge can do so and earn money in return.
Some of the most popular lectures categories on Udemy are:
Our Udemy review is going to look beyond the hype and evaluate every bit of the website to find out the good and the bad.
To stay objective, we will use various criteria to evaluate Udemy's service and quality. This includes website usability, value for money, privacy, money-back guarantees, prices, features, and qualities that make them stand out from the pack.
Udemy Courses 
Udemy currently offers 196k programs, with new additions every month. As a result, there are so many varieties we can't list them all. However, it cuts across IT and software, marketing, development, design, music, photography, business, and personal development.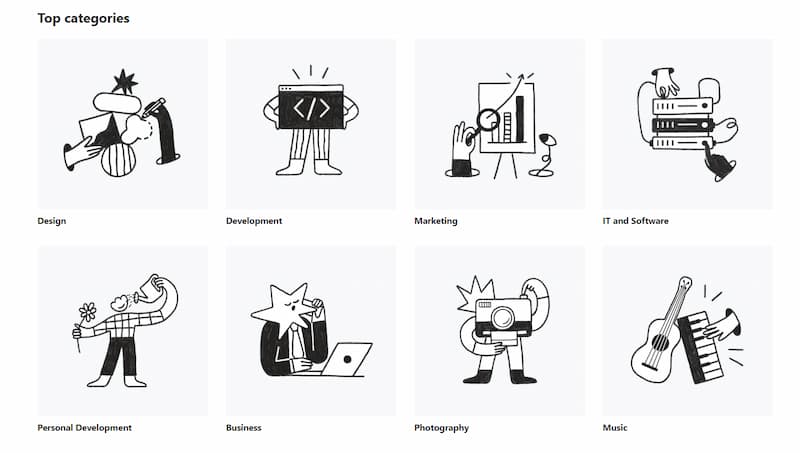 Each curriculum taught on Udemy is handled by industry professionals, some of whom can provide certification to the courses. Not only this, but some programs offer lifetime access. In essence, you can always go back after a break and complete the program.
All the courses on Udemy have standard features you will come to love. For example, they are broad and structured into categories that will facilitate easy learning. You will also have access to video, audio, and text lectures. Apart from this, most classes come with subtitles if the tutor allows them.
During the class, you will answer tons of questions and quizzes to ensure that you are at the same pace as the instructor. This is even more true if you are trying on a class to prepare you for professional certification. Some programs have tests and quizzes at the end of each chapter, ranging from a few hundred to thousands.
After going through some of the most popular curriculums, here are a few things that stood out:
Our review of Udemy revealed that the site has high standards that tutors must meet before they can publish on their website. For example, all courses must have at least 5 lectures or learning modules and 30 minutes of video content to ensure a great learning experience. Not only this but the lectures are subjected to a quality review process to ensure only the best.
Since Udemy is primarily a video-based website, tutors must, first of all, submit a test video of every lecture for recording quality evaluation. If your recording is not up to standard, you will need to improve it before you can publish it on the website.
Good sound and video quality
It is easy to hear and understand the tutors. Also, the video quality is great enough for students to see everything displayed on their screens.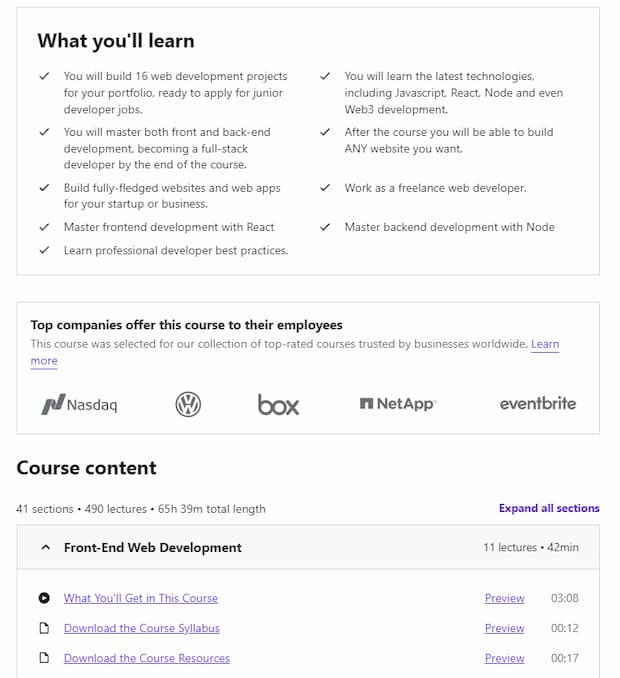 Udemy users can take any lecture at their pace, as tutors don't impose an unreasonable deadline within which you must complete a course. The only deadline applies to the money-back guarantee used to determine whether you will like the class and pay for it or not.
Each course is divided into sections, and each is covered within a reasonable amount of time. Students can also view their curriculum in advance to know what they will learn from their tutors and leave reviews on Udemy.
Expectations and clarifications
All tutors must state the requirements for their class in advance before students register. Not only this, but they must communicate who can take the program. For example, some programs are not for beginners. By clearly communicating all expectations, students can get value for their money. This will contribute positively to the Udemy course review students leave behind.
All lectures are available in English. However, some include up to 8 more languages just so students from all over the world can feel comfortable learning their respective languages.
Pricing of the Udemy's Courses
How much does the Udemy cost?
The price of Udemy courses varies greatly as observed by various Udemy training reviews. It ranges between $10 to $200. However, there are discounts, coupons, and offers that sometimes allow users to pay half of the price. Udemy prices are clearly stated on the website, and tutors can offer specific deals or discount codes for their programs.
Is there a money-back guarantee?
The money-back guarantee is one of the biggest advantages of using Udemy. It is one of the platform's ways of ensuring that students get value for all the classes they take on Udemy. Each c sale comes with a 30-day money-back guarantee, with a few exceptions. Some of them include:
You must not consume a significant portion of the course or download it before requesting a refund.
You must not request multiple refunds for the same class
You must not request excessive refunds on other lectures
You must have an account that has not been reported, disabled, or banned from violation of terms or trust and safety guidelines.
So, if you pay for a course and it is not what you thought it would be, you can ask for a refund before going any further. In cases where the transaction is not eligible for a cash refund, Udemy will process the refund with the Udemy Cards.
The following types of purchases are eligible for credit refunds:
Cash or bank transfers
iOS (Apple) payments
Udemy credits
Alfamart and Indomaret
Boleto Bancario and pix
How to request a refund
The entire process of requesting a refund is also fast and easy. All you need to do is navigate to your purchase history, locate the lecture you wish to refund, click "Request Refund" and select the refund method you want.
Then, give the reason you want a full or partial refund, and submit the form. We felt the need to include this in our Udemy academy reviews should you ever need to.
Udemy Business Plan
Team plan: Available to 5-20 users and costs $390 per user yearly.
Enterprise plan: available to 21 or more users. Contact sales for customized pricing.
Leadership development programs: contact sales.
What payment options are available?
Udemy supports various payment methods, depending on your location and account country. They include:
Udemy Mobile app (iOS and Android App), available for purchase through the platform's payment method and app store.
Boleto Bancario and Pix are available to students in Brazil.
Buy now, pay later is available for students in the United States.
Cash payment and bank transfers are available to several Latin American nations and some countries in Asia and Europe.
International Debit and Credit Cards: they include Visa, American Express, MasterCard, Discover, and JCB.
PayPal: this payment method is available in most countries.
Udemy Credits: Students with Udemy Credits in their account can use them to pay for their next course.
Quality of the Courses Provided on Udemy
Our review of Udemy courses shows that it is the largest online lecture marketplace. This fact already sets it apart from most platforms. Since there are more than 196k classes users can choose from, it does not limit anyone to a niche.
Who will help you on the platform?
Udemy does not charge anyone to publish their courses on the website. However, they make money by collecting a percentage of sales. This means that almost anyone can be a tutor on Udemy.
To sort for only the best and ensure positive Udemy courses' reviews, the platform conducts quality tests on lecture videos and materials to ensure that only the best offer their services. Some of the assessments will evaluate the quality of videos and recordings, course modules, and compliance with other rules and regulations.
Are the tutors qualified?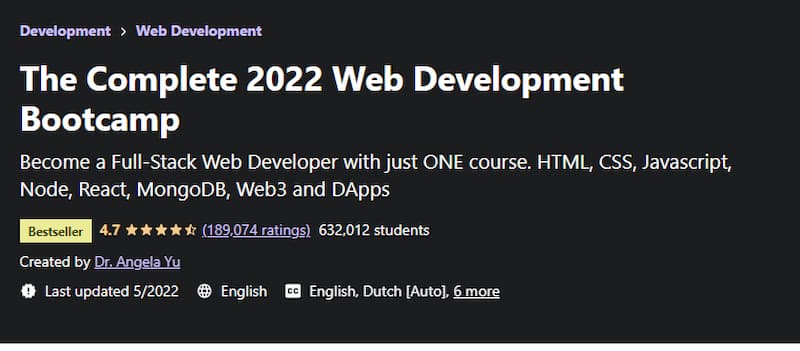 All the tutors on Udemy are qualified, with certifications to prove it. But we know that you can never judge anyone with their past performance. Udemy also knows this and has put measures in place to ensure the continued relevance of their tutors and positive reviews of Udemy.
When you search for a class you like, Udemy displays the number of students that have enrolled for the lass and a star rating based on the number of students that have rated the course. To ensure transparency, you can check through the Udemy reviews to see what past students think of the course.
Udemy has a profile page for each tutor. Therefore, you can click on a tutor, read their profile, and determine if they are qualified enough to teach you.
An example: "The 365 careers" team on Udemy is a best-selling provider of finance, data science, and business classes on Udemy. The company has registered 1,854,535 students and 541,754 Udemy classes reviews. They have also created 80 courses, and are still one of the best instructor partners.

A profile like this will help students know who the tutor is and what they stand to gain.
Any guarantees?
Certifications: Udemy certifications are not legally valid. However, it will make you stand out if you add it to your resume. All course instructors issue certifications at the end of their program.
Access on mobile and TV: You can access Udemy on mobile and Tv from any part of the World.
Full lifetime access: once you purchase a course on Udemy, you will continue to enjoy lifetime access, provided Udemy continues to have the license to the lecture and your account is in good standing. The same applies to subscription content.
Money-back guarantee: You can cancel your order and ask for a full or partial refund if you are not satisfied with the lecture content, provided you meet the criteria. Check the section about pricing to know about the money-back guarantee.
How is it different from other platforms?
Udemy is home to the largest number of courses, a third of which are free. The classes also cover various topics, and the classes are available as needed. This means that students can choose to commit to the topics they want and complete them at their pace.
Plus, the lectures are reasonably priced, and some discounts reduce the price you need to pay.
Is Udemy Worth It?
Everything we have covered so far in our Udemy academy review shows that Udemy is worth it. There are review ratings on individual courses, different offerings, experienced teachers, and helpful lecture materials.
Is it worth the price?
Udemy classes are worth the money for students, professionals, and the tutors themselves. The courses are informative and well-organized and are not costly. You can time your purchase to coincide with one of Udemy's frequent sales drops to join. At a discounted price, you can't go wrong with your purchase.
Udemy's money-back guarantee allows you to enjoy a risk-free lecture for a month. In other words, you can try out a class for a month and decide not to continue with the tutor for any reason – a feature that not too many platforms offer. As expected, there are terms and conditions attached to the guarantees.
What do you get for the money paid?
Udemy courses range from 2 to 35 hours of video content and more. You can check the length of each program before enrolling so you can know what to expect. Although each tutor determines the extra benefits they will include in the program, there are general benefits that all students enjoy.
They include:
Test, exams, and quizzes
A community of hundreds of students
Each video is marked with a blue check-mark when you complete it
You can view your overall percentage completion
You can input notes while watching a course video
Text, video, and audio lectures
Downloadable certificate of completion
You can read and post questions
How valuable are their courses?
Udemy courses are best for self-development and knowledge. For example, you can take a class to improve your skills, prepare for an exam, or scale your knowledge in a particular field. That said, employees don't consider Udemy certifications when hiring for a job. Although it shows you can learn, it does not communicate any real-life application.
But you must understand that educational credentials are different from skills. To gain credentials, you must pick up skills. So, while the programs themselves may not carry much weight, the dedication to take responsibility for your learning will ultimately increase your skills.
Udemy is an excellent platform for boosting your skills without paying so much. Even if you must include it in your resume, make sure to include other educational experiences first.
Is it helpful for your career?
Yes, Udemy certificates are helpful for your career in the area of skill development. Udemy is not accredited, so employers don't care about the certificate. However, it proves the following:
It proves that you can set a goal and achieve it.
It proves you have passion and interest in a field of study.
It shows you are self-driven and self-motivated to acquire a new skill.
So, for example, a tech company in Silicon Valley won't hire you because you completed an IT course on Udemy. However, they will hire you because of your proficiency in various programming languages.
Student Feedback and Reputation 
Udemy has dedicated customer support that students and instructors can turn to in distress. New users can use the frequently asked question section to find answers to their questions and even search for topics to help.
The online help platform has physical offices in Turkey, Ireland, California, Pennsylvania, and Colorado.
Here are a few reviews of Udemy courses by students online:
Anton De Swardt – TrustPilot
From a course consumption perspective, I have found it to be great. The lecture quality varies as you'd expect. The pricing is very competitive, which is no doubt what draws most learners like me to this platform. A great resource for me and used successfully by many of my colleagues in my company as well.
Shephard – TrustPilot
I have used Udemy for a couple of years, mostly to learn and improve computer programming.
I'm delighted by the possibility to see all the details, including preview videos and reviews of the program before purchasing them. This is fundamental to make sure you choose the right course since not all of them are good and up to date.
Unfortunately, the certificate you get after completing a course is not recognized. It is just a personal achievement but what matters is your actual knowledge. Another big advantage is the fact that you can buy just single course with no need to pay for an annual or monthly subscription.
Overall, I would recommend Udemy. I just advise you to check the curriculum well before buying them.
Greta Skikalite – TrustPilot
I had two accounts with different courses, free and paid, on them. Customer support has promptly solved my issue by merging accounts. Had no issues afterward.
1s44c – Reddit 
Udemy is totally legit. However, there is a lot of content on there of variable quality. The best-rated courses are usually excellent and worth many times the price Udemy charges.
Emagmind – Reddit
I used Udemy to study and pass 3 IT certifications which helped me score a job offer. If you're looking to gain a particular skill, checking out that community and seeing their Udemy recommendations will help alongside the reviews on the site.
Samantha W. – Sitejabber 
Their discounts are awesome! Choose your category, look for the sources with the highest rating and duration, and you'll definitely find something interesting and created by professionals in the niche. Last time I bought 3 courses each at 10 bucks. That was the new year's sale, but they have sales pretty often.
Johnny F – Sitejabber 
There is a whole bunch of tutorials on Udemy to choose from. Most are paid, and some are free but not always of good quality. It's possible to find coupons to get free or ridiculously discounted courses so you can always get what you want for a really small price. Solving issues during a class is pretty easy because other students can leave comments on every video and ask questions and solve problems together, and if it's really serious the instructor will help out too.
Chad Hilton – Playstore 
Overall Udemy is great, and no complaints about the content and features, but it can be a bit laggy buffering and loading. Feels clunky and unstable at times. Aspects to the glitchy video player that could be more intuitively designed. The title of the current section and video should be front and center as you are watching. It's frustrating having to scroll down through the entire list of sections for that course to find the title of the current video playing. Needs a better user interface.
Chad Hilton – Playstore
I love this app for watching and keeping track of my lectures but the reason I won't give the app 5 stars is that for whatever reason the course's individual lessons get disorganized. I'd understand if it was a one-off issue, but it's come up multiple times across multiple lectures. Ex. Individual Lessons are numbered My current course shows them in this order Section 1 1, 2, 3, 6, 4, 7, 5, 8 The sad part is even though they're separated by lessons numbers 6, 7, 8 are part of Section 2 originally.
Barthamos Delissen – TrustPilot
Super quality, no malfunctions in the tool, and no issues with payment. Did everything I needed. I tried the competitors as well, and this is by far the best.
Tom C – TrustPilot
I have a lot of different courses on Udemy. Most are really good. Some are lacking for some reason or another. But, overall, I found a great deal of great content. Most of the programs range around 15 dollars when they are on sale (which is most of the time). If the price is $200 just wait a week or so, it will go on sale. It's better than paying $60 on amazon for a way outdated book. Most people update their courses regularly. Plus, they have access to all the content on their site.
Helen M – Sitejabber 
I have become a habitual user of Udemy for all my basic educational and informational needs. Other than perhaps Amazon.com Kindle books, I tend towards Udemy's instructors for a recent drawing course, finance course, etc. Some information given here tends to be too generic to be dependable and useful.
But overall, I like Udemy's course offerings and the panel of instructors. The only concern I have with this site is the low prices they charge which may or may not be as scrupulous treatment of instructors as one can give a person who is educating others. The customer service here has improved significantly in terms of delay in response times to a support ticket and resolution of student issues in the last 2 years (since 2018), though I haven't utilized Udemy as an instructor so I cannot comment on the level of customer support shown for them.
Darren Jones – TrustPilot
I have found the Udemy program really helpful for some of my Azure training and certifications. Also, I like the fact that I bought a course and did not complete most of it for over a year, due to inertia on my part; and when I restarted, I found the content had been updated, excellent!
The prices are good, I've never needed/wanted to claim a refund, so I can't comment on that side as I see some other reviews have highlighted.
Pros
Free courses: Udemy offers a lot of free classes on various topics.
Affordable: the price of paid programs on Udemy range from $10-$200.
30-day money-back policy: You can ask for your money back before 30 days if you are not satisfied with the course.
Lifetime access: Udemy grants lifetime access to everyone that has purchased their lectures.
Certificate of completion: Udemy offers a certificate of complication on paid courses.
Variety of courses: There are more than 196k programs on Upwork.
Built-in payment processing: you don't need to use a separate platform to complete payment.
Cons
Non-accredited certificates: Udemy certificates are not accredited and recognized for official use.
Quality control issues: since tutors are responsible for creating their courses, quality control is fairly difficult.
Unresponsive instructors: There are reports of instructors that rarely respond to their students outside class hours.
Non-uniform price structure: instructors decide their price, so there can be variations between similar classes.
Final Thoughts
Before putting together this Udemy online courses review, we understood that many people were skeptical of Udemy, largely because of the cost and a few other negative Udemy course reviews online.
Understandably, a program that costs $10 does not appear to be the most legitimate. However, almost one billion people have demonstrated their trust, and there are hundreds of thousands of good reviews to prove it.
Udemy's marketplace attracts thousands of instructors that create new courses for students. Its website itself is part of a growing movement to empower experts to create curriculum on subjects they are passionate about. They have also established a standard of quality that tutors must uphold when delivering lectures to their students.
So, Udemy is the right platform if you want to learn a skill and broaden your mind. However, ensure you check reviews for Udemy courses on individual programs before choosing them. Also, you can share your skill as an instructor and publish a course of your own.