Overall Comparison of Udemy and Edureka!
If you are one of them who always thrives to upskill yourself to improve in different areas, formal education is not the only option you have. Not only the young generation, the adults also need some courses and training to sharpen their skills.
In any field, there is no full stop to learning. Learning new skills always helps your growth as an individual, brings new opportunities in your life and helps you in achieving the new goals you have set for yourself.
| | | |
| --- | --- | --- |
| Site | Edureka | Udemy |
| Course Focus | Primarily IT-related courses | Wide range of courses including business, IT, and arts |
| Pricing | Starts from $200; can go up to $1000 | Starts from $12; some courses available for free |
| Course Depth | In-depth and specialized courses | Varies; some courses are short and less detailed |
| Popular Courses | IT, Cybersecurity, Data science | Web/Mobile Development, Business, Personal Transformation |
| Support | 24/7 customer support | Standard customer support |
| User Interface | User-friendly interface | User-friendly interface |
| Access Duration | Lifetime access to purchased courses | Lifetime access to purchased courses |
| Refund Policy | Not explicitly mentioned | 30-day refund policy |
| Flexibility | Courses are well-structured and in-depth | More variety and flexibility in learning |
| Reviews | 4.7 out of 5 on Trustpilot | 3.1 out of 5 on review sites |
| Certifications | Offers certificates; validity may vary based on employers | Offers certificates; validity may vary based on employers |
| Support | More 1:1 support and a Learning Management System (LMS) | Wide variety, but less personalized support |
Online Platform or Traditional Education
After the pandemic, the online study system has taken a leap. The concept of World University is here. Through some lectures and practice, one can achieve mastery in a particular area and advance towards a better career. It just takes some effort and a learning mentality.
If you are one of them who does not have enough time to give to the classes, or travel to an institution to study- studying from home is the solution for you. Sometimes, while pursuing one job, students tend to find new courses to improve their CV. Many adults also do that while doing a job. Best Angular courses on Udemy… which is the best for you?
But a proper course in any subject needs a lot of money and many cannot afford it or do not want to spend that much on it.
Udemy and Edureka are one of those sites that will help you overcome these shortcomings. Through a simple process, you can unlock your guide to any course designed by professionals. Nowadays there are lots of courses available on these sites to teach you.
You do not need years of training, they assure to teach you a skill or a program within a particular period of time far lesser than traditional institutions. The payment is also much lower than regular courses.
Both websites have their advantages and disadvantages so in this article, we will compare the two sites and help you decide whether you should choose Udemy or Edureka for your education.
Why Edureka or Udemy?
They are the two online educational platforms/apps that are leading the market. They offer a plethora of skills to learn and offer certification as well.

Edureka provides you with high-quality IT-related courses designed by professionals and experts. Udemy does not stop in the IT field and provides a range of other courses as well.
There might be some gaps in the depth of Udemy's courses but they are comparably cheaper than Edureka. You can find some free courses on Udemy as well. Edureka also provides some free beginner courses.
What Are the Courses Available on the Two Sites?
If you are in the IT-related field, Edureka can provide you with 180 different courses. Their categories include the following sections under IT:
Cyber security
Data science
Mobile development
Software testing
Udemy provides you with a lot more options. They have 196,000 courses, and they cover the following fields:
Business
Creative Arts
IT
Music
Most Popular Courses in Edureka and Udemy
The most popular courses in Edureka are:
PGD in AI and Machine learning;
DevOps certification and training course;
AWS Solution Architect Certification Training Course;
Microsoft Power BI Certification Training Course.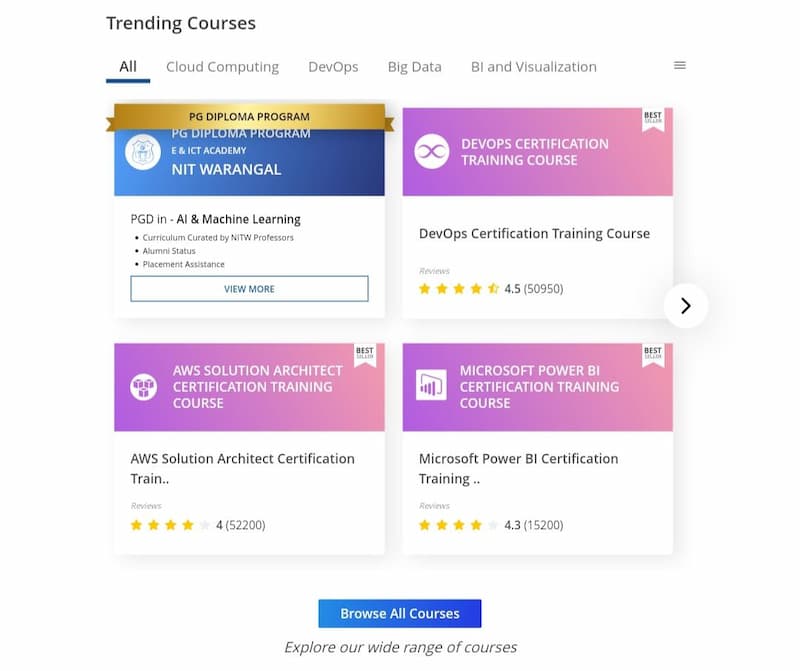 Udemy's most popular courses are:
Game development
Entrepreneurship
Business Analytics and Intelligence
Digital Marketing
IT certification
Personal transformation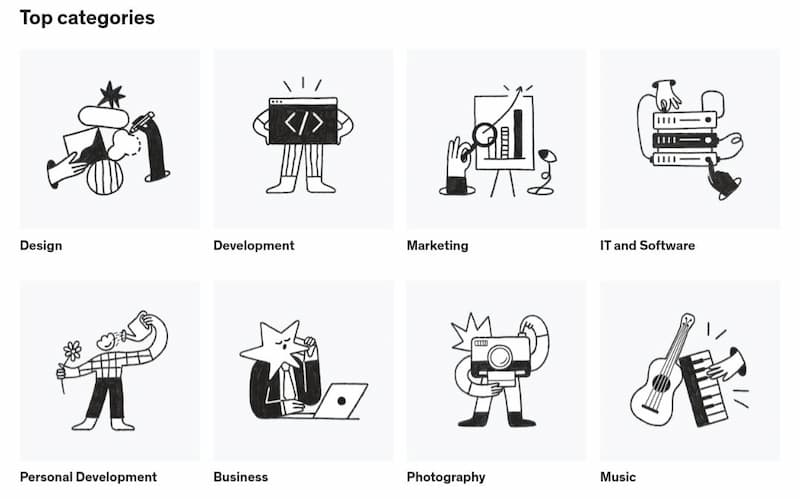 Let us now look at both companies to analyze their strategies.
Why Should You Choose Edureka?

Expert teachers
24/7 customer support
In-depth courses
Great UI
Lifetime courses


Expert and hardworking teachers:


Edureka equips highly qualified teachers who are experts in their field and helps them design courses to accommodate the needs of the students.
Edureka's educators are available anytime you need any academic assistance during the time of your course. The supporting staffs will also assist you further in case you need it.
Edureka's courses are developed in a way to give the students in-depth learning of a subject to master their skills. Since they only provide IT-related courses, they can offer general and specialist courses simultaneously.
The navigation is easy since the website is easy to operate and live support agents are available to guide you in case any problem arises.


No expiry date on your courses:


After paying for a course, you will get lifetime access to it. So you can come back in case you forget something.
Costs of the Courses
The cost of the courses in Edureka ranges from $300, but it can go up to $1000 as well. Check out the discounts also to get it for a cheaper price, they often have them going on.
Reviews of the Site
On the review site Trustpilot, Edureka has got 4.7 out of 5 and they have 80% of reviews call them excellent.
Customer reviews say that they are satisfied with the course and have learned relevant skills within a limited period of time. They also recounted that the professors were knowledgeable and helpful.
The customer service is also done efficiently, according to most of the reviewers. Though there are some negative reviews regarding their policy and customer service as well.
Overall, there are many customers who have recorded their good experiences with them.
Here are some reviews: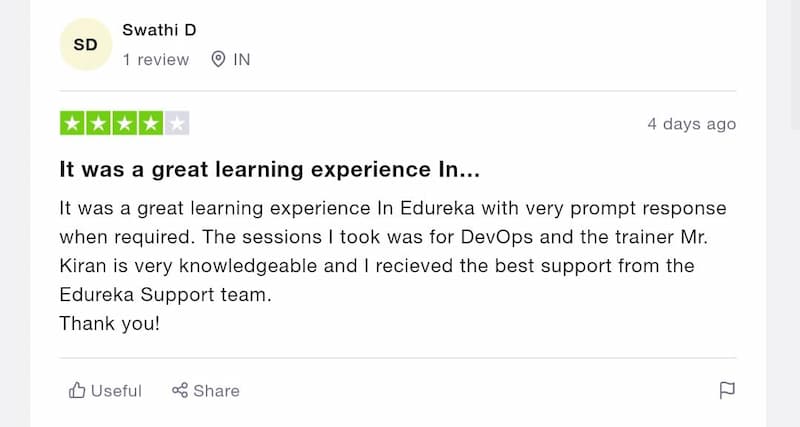 Additional Advantage of Edureka
They give more 1:1 support than what is normally given so that is a plus. So if you have any query you can ask directly to the instructors or the discussion forum as well.
There is a section in Edureka called LMS (Learning Management System). This is where all your learning materials are kept, and also here you can share your queries with your teacher and classmates and get your answer. You can also track your progress in the dashboard.
Why Should You Choose Udemy?

Affordable prices
Wide range of courses
Convenient using
Various types of courses
Less pressure
Pay one time, get lifetime access
Working refund policy
Their goal is that they want to connect to people through knowledge and make online learning accessible and economical. They offer courses in more than 65 languages and claim to cover any subject that anyone would want to know and have over 204,000 video courses taught by more than 18,000 instructors all over the world.
The courses are taught by real-life experts and the platform is one of the largest online education-based platforms in the world. Among the number of online courses being taken in the UK, Udemy has recorded a 104% increase in the number.
The top categories of their courses are:


Design


Development


Marketing



Personal development


Business


Photography


Music



Udemy is very affordable and offers various courses according to your needs. They have offers to go on several occasions, where you can get a $100 course in $10 even. Also, they offer free courses.
More than 20,4000 courses are offered by Udemy in 190 countries, with more being added frequently.
Udemy courses are very convenient since you can access the courses anytime, according to your schedule.


Various types of courses:


Udemy provides courses in not only academic subjects but also in subjects like personal transformation even. They focus on a wider audience from all fields and interests.
Udemy courses do not give you stress, they give a very casual learning experience so that you don't feel stressed to learn everything at once.


Pay one time, lifetime access:


Once you pay for a course, you can access the materials anytime without any extra charge.
If there is any course that did not turn out as you expected them to be, Udemy has a 30 days return policy for that.
Signing Up for Udemy
Scroll through the Udemy website to explore the various ranges of courses they offer you. You can find paid or unpaid courses on the site.
After signing up on the website and completing email confirmation, you can select the option of your course and pay the amount for it.
A General Overview of the Courses
The course is normally conducted via videos, presentations, text, or slide shows. Additional resources and practice activities are provided by the course instructors.
Costs of the Courses
While some of the Udemy courses are free, some require a hundred dollars or so. With discounts on their page, you can get it for a very cheap rate.
Some of the courses on Udemy even cover everything in 30 minutes or even less. Detailed courses can go up to 60 hours of video lectures. They are paid ones. A course can cost from $5 up to $100.
Like Edureka, Udemy also takes one-time payment for one course. So, there is no option for extra charges.
Reviews from Students
According to the reviews sites, Trustpilot and Mouthshut, Udemy has got 3.1 out of 5 from the reviewers.
Customers liked the wide range of courses they provide as well as their affordable prices, while some complained about the customer service.
Here are some reviews of the site: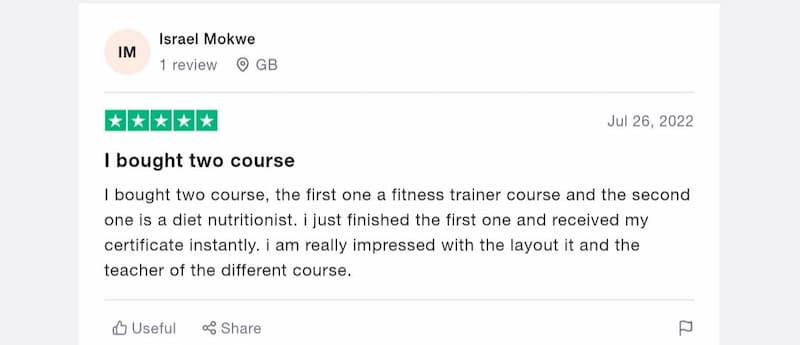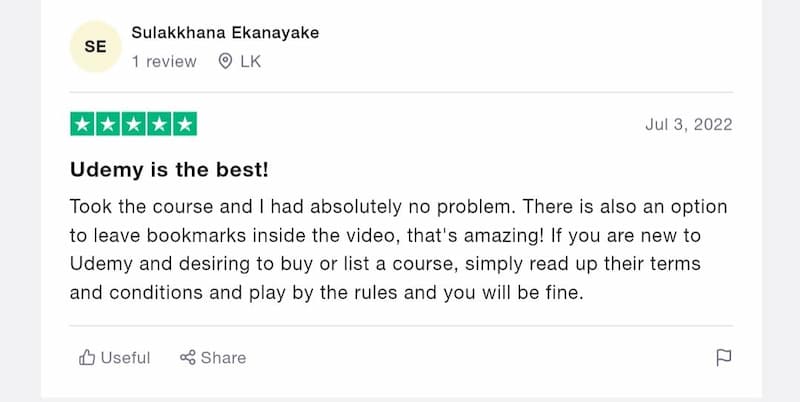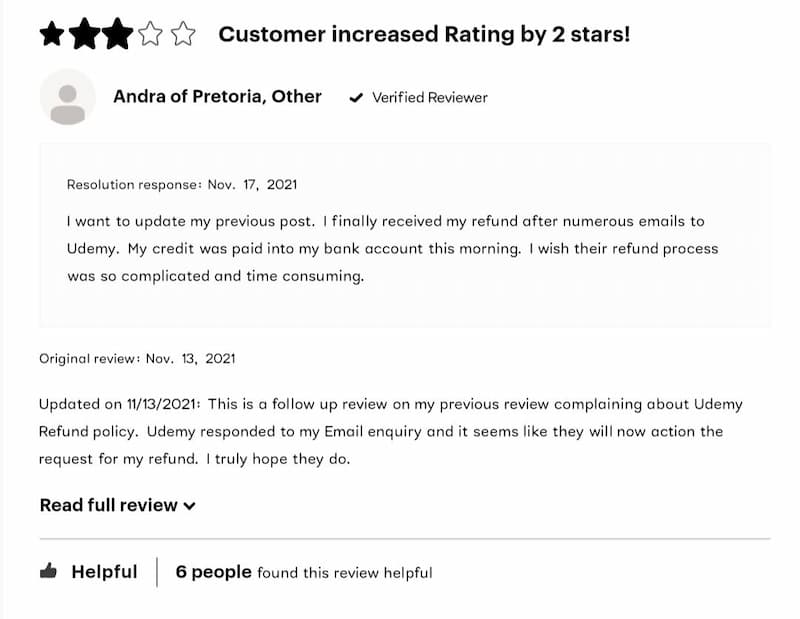 Are Courses on Udemy Worth It?
Udemy provides the most inexpensive rates for online courses among other course providers especially when there is a discount going on. Therefore, if you have a new skill to learn urgently or a new hobby and do not want to spend much, it will be great for you.
Also through the variety of options available, you can identify something new to learn even though you have never thought about it before.
Final Verdict
If you want to take online courses, both sites offer effective courses.
If you want to study deeper about a subject in the IT field, Edureka is the best choice. Also, the 1:1 guidance by teachers and the 24/7 support service is a plus. It will help you solve your queries faster.
If you don't have much of a budget but want to learn a new skill fast, Udemy is the best option for you.
Also if you cannot give a proper time to a course because of various reasons, you would like Udemy because they do not have any fixed schedule.
In IT-related courses, of course, Edureka is the best choice but Udemy's most popular course is Complete Python Bootcamp: Go from Zero to Hero in Python 3. So it is also worth the try.
Is Edureka Better than Udemy?
Both the sites have their advantages and disadvantages. So, choosing a website is totally up to you and your learning style. Both the platforms are excellent in their service.
Are the Certificates Valid?
Both Edureka and Udemy certificates do not hold the value of a traditional learning course certificate. But they will give you the certificates which, after pandemic, many places will acknowledge. You can add them to your CV as certifications. It depends on the place you are applying in, whether they take it as valid or not.
Udemy vs Edureka Spark Course
What is Spark?
Apache Spark is a unified analytics engine used for large-scale data processing.  It has high performance for streaming and batch data as it uses a DAG scheduler, physical execution engine and query optimizer. Getting started in Data Science? Check out our curated list of the 15 best Data Science course on Udemy
Sparks provides more than 80 high-level operators to use in Scala, R, Python and SQL shells. The engine powers a stack of libraries including DataFrames and SQL, GraphX, Spark Streaming and MLib for machine learning. Spark runs on Hadoop, Kubernetes, Standalone, Apache Mesos, or In the cloud.
Spark Course in Edureka
The Spark course Edureka offers is called Apache Spark and Scala Certification Training. They prepare you for the Spark Developer Certification Exam (CCA175) and Cloudera Hadoop. They have live classes so make sure to get admitted in time.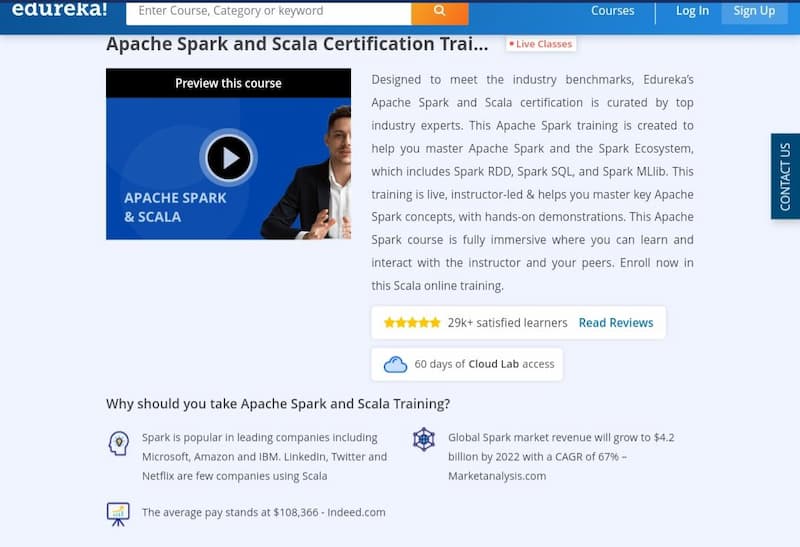 Spark Course in Udemy
One of Udemy's best courses in Spark is named Apache Spark with Scala – Hands-on with BigData. Here, will teach you to do coding in Amazon's Elastic MapReduce service and your device as well.
It includes 7.5 hours of video content. They have free courses available as well and a lot of smaller courses to choose from.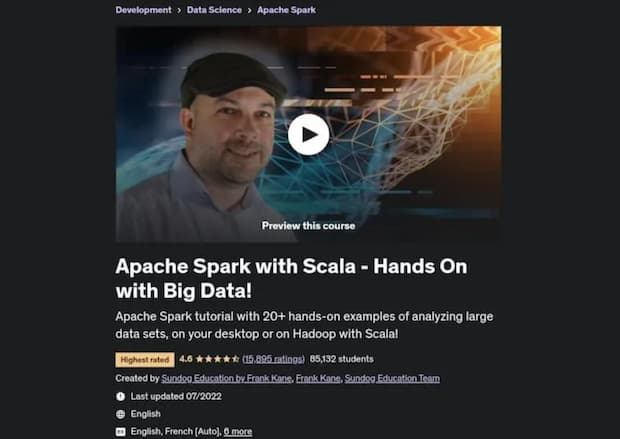 Udemy vs Edureka for AngularJS
AngularJS is a JavaScript-based free and open-source front-end framework predominant used for developing single-page web applications(SPAs) which offers reusable components for its users.
As of January 1, 2022, Google decided not to give updates of AngularJS to fix security, browser compatibility, or jQuery issues.
AngularJS in Edureka
Edureka offers aims to make you an efficient AngularJS developer by teaching the concepts of Angular 12. They have a lot of courses from which you can choose according to the level of proficiency you want.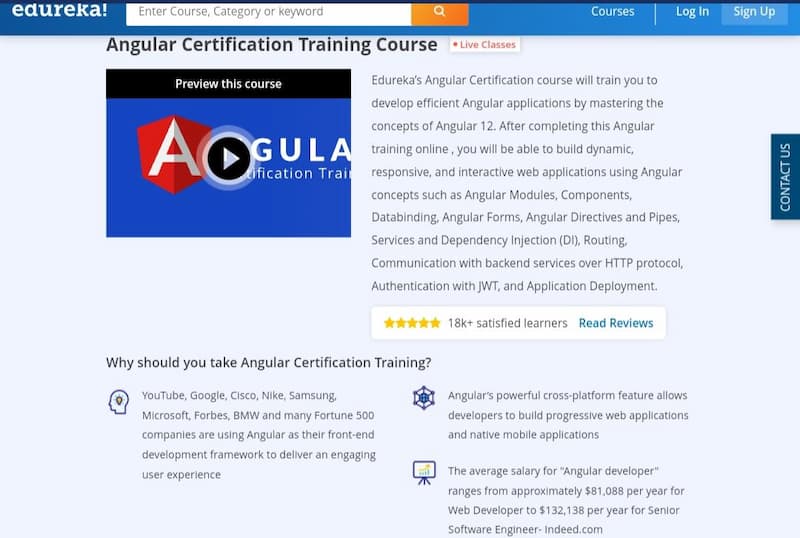 AngularJS in Udemy
Udemy also offers a lot of AngularJS courses at various prices. All have different components and the price depends on the instructors as well.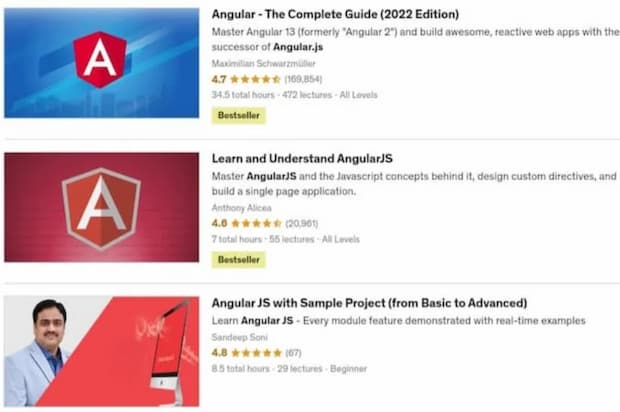 Spark and AngularJS Courses Price
As usual, Edureka is a bit on the expensive side as they provide an in-depth education in the subject. In Udemy you will get small segments so you can take your time to sign up for them according to your convenience and develop your skills.
The paid Spark course in Edureka costs around $275, while in Udemy, it starts from $10. AngularJS courses on Udemy are starting from $10 and in Edureka it is around $250.
You can check the reviews of each course and the instructors online for a better understanding of which course to take. It is highly recommended since the learners can give the best review of the course.
Payment Methods
Edureka accepts PayPal as well as all major credit and debit cards.
Udemy offers a buy now, pay later option but that is limited to US candidates only. Otherwise, they take cash payment, bank transfer, UPI, wallet, PayTM, Paypal, Udemy credits and International debit and credit cards. The options may vary according to regions.
Wrapping Up
Learning and being up-to-date with the current trends is relevant for everyone, and every skill comes to use somewhere in life.
Both Udemy and Edureka globalize and popularize the idea of online learning and acquisition of skills. They make learning very convenient, whether you want to do it for a job, or just as a hobby. There has been an increase of 32% in the number of students enrolling for an online course in 2020.
No matter which course you choose, it is worth it; because at the end of the day, you will learn something worthy of your money and time. So don't hesitate sign up for a course and upgrade yourself!