What better way to spend your days in isolation than signing up for some e-learning courses? Not only will you not fall down the spiral of depression and loneliness, but you will also gain knowledge, expertise, and skills!
Now comes the million-dollar question: Which e-learning platform is the best? There are a plethora of e-learning websites, and they offer a multitude of courses.
How good you become at something depends on the type of skills you have and the kind of teacher you get. If the person teaching you is an expert in their field, you are more likely to succeed and attain amazing skills.
MasterClass.com Overview
However, for most of us, it is hard to get one-on-one classes with people who are experts in their fields. Learning how to write from Dan Brown or get enrolled in a cooking class by Wolfgang Puck is something most of us could have only dreamt of.
It gets tough to choose one that not only caters to your intellectual needs but is perfect in other aspects such as content quality, qualification of the staff, affordability, availability, etc.
We have been hearing a lot about MasterClass, an e-learning platform where you'll be taught by the giants of their respective fields.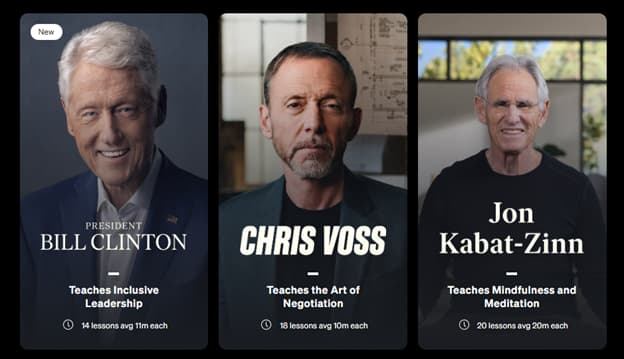 With MasterClass, the gap between these experts and us is no longer there since we can learn what we love from the best—thinking about improving basketball skills? Well, Steph Curry is there to teach you. Are you brushing up on your stand-up comedy skills? You can take the help of Steve Martin.
There are various courses such as sports, politics, cooking, writing, etc., and you get the opportunity to be taught by the masters of each field. Looking for some help with a particular craft? Searching for inspiration, or are you looking for advice from an expert? You should give MasterClass a look.
We saw not just one positive MasterClass writing review saying that the quality of these courses is excellent. If you are into writing, check Aaron Sorkin's MasterClass review or James Patterson's MasterClass reviews on our website and see if one of these courses is what you are looking for.
Now that you know what MasterClass is, there are bound to be many questions running through your mind. How much does MasterClass cost? What kind of courses are available? What kind of assignments and work will I have to do?
To save you time, energy, and effort, we have thoroughly searched the internet and put together this honest, realistic MasterClass review.
You will find all the information you need about the various courses, features, the things that we like, the things that we don't like, what the users have to say about the courses, and a lot more.
Let's take a look at our MasterClass.com review and see what MasterClass offers.

What is MasterClass?
It is an e-learning platform based in San Francisco and is designed uniquely and innovatively to cater to the needs of creative professionals. Instead of going all the way to San Francisco, you can get enrolled in a course and watch the MasterClass courses on your phone, PC, or laptop, right from the comfort of your home!
There are various courses that you can take and skills that you can learn, such as filmmaking from Martin Scorcese or Werner Herzog (see more in the Werner Herzog Master Class review), the art of writing thrillers from James Patterson, comedy classes from Steve Martin, acting from Helen Mirren and Samuel L. Jackson, dramatic writing from David Mamet, and a lot more!
This kind of learning experience would have been impossible if not for MasterClass!
How does MasterClass work?
Signing up for a MasterClass is very easy. The first thing you have to do is go to the website, click on the red button saying "get started," and create an account. Once you are logged in, the rest of the steps are clearly illustrated and easy to follow.
Most of the courses have approximately 20 to 25 video lectures, along with worksheets, assignments, tasks, etc., that will supplement your learning process.  The videos are short, to the point, and highly interesting to never get overwhelmed with the amount of information you are getting.
Unlike other education platforms online, you don't have to watch videos for a particular period; you can set your own pace and learn as slowly or quickly as you want.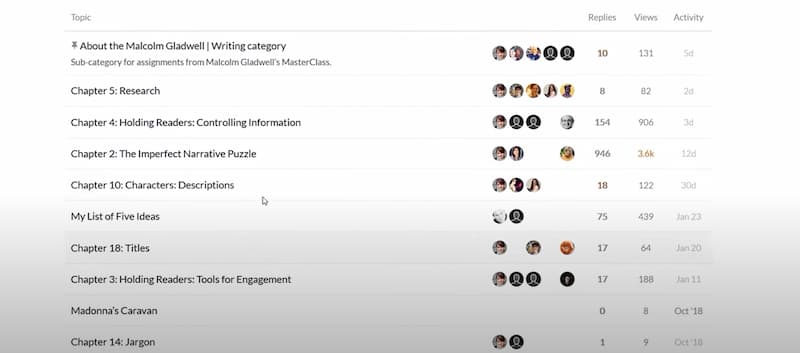 Is MasterClass any good?
The first thing that comes to your mind is that are the MasterClass online courses as good as they claim to be. Let's see.
At MasterClass, you are getting taught by brilliant people who know that there is no set pathway to success that you can follow. And there are many reviews on Master Class that say that these courses were effective for the work.
It is all about hard work, dedication, and the right kind of guidance. If you have the talent, and the passion, you need to hear these giants speak and teach to learn how you can hone your skills. It is not a BeginnersClass or a WikiHow Class; you will be getting expert knowledge from masters in their field.
If you are a novice in your field, you will be intrigued by the classes and the knowledge that you are getting. However, if you are a professional in your field, you would love the insight of the experts and would highly benefit from it.
Is MasterClass a scam? Is MasterClass a ripoff?
When it comes to getting anything online, be it groceries, household items, or in this case, education, we are always shy to take out our wallets and pay for something that can turn out to be a scam. Thousands of users have been scammed into paying for one thing and getting entirely another thing.
However, from many MasterClass opinions online, you can rest assured that MasterClass is truly safe, and it isn't a scam.
Even though it sounds too good to be true, learning from giants such as Gordon Ramsay, Judy Blume, and Dan Brown, you get exactly what you sign-up for: a truly amazing learning experience from fantastic instructors. So, we can't say that MasterClass is a ripoff.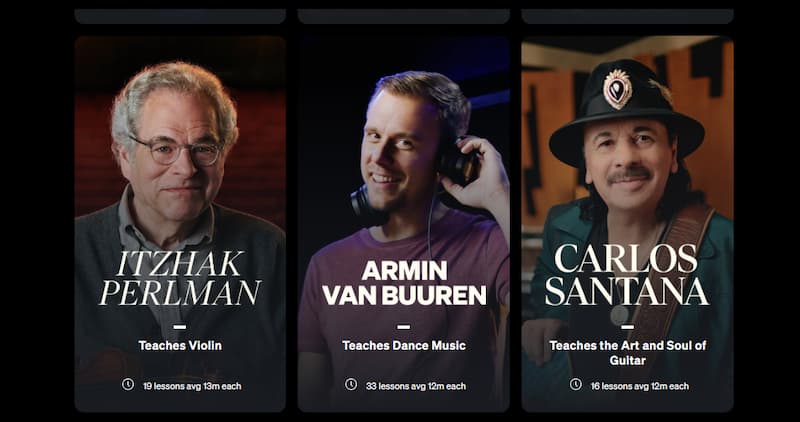 Does MasterClass have the best online classes out there?
There are various e-learning platforms offering loads of courses, but they lack focus, attention, and dedication. The lack of personal development skills and the instructors' quality of expertise make other online courses look bad in the light of MasterClass.
If you search for amazing video quality, personal development courses, and premium teachers, MasterClass should be your choice.
As a great MasterClass alternative, you can check CreativeLive. Find more about this platform and its courses in Creative Live courses review on our blog.
Or you can learn the differences between these two platforms by reading our comparison of MasterClass and Creative Live.
Story of the MasterClass.com
The MasterClass is a unique e-learning platform that uses renowned people and celebrities who are experts in their fields to impart knowledge and education to the masses. MasterClass was started by David Rogier in 2012, and he got the seed money from his childhood friend, a professor at Stanford University.
The co-founder and chief technology officer, Aaron Rasmussen, joined in 2014, they launched the website in 2015. Within a few months of its release, it had almost 30,000 sign ups! Over time and with an increase in funding, the platform has grown and offers multitudes of courses in various categories.
It went live with only three instructors, and with the help of a strong advertising campaign, the number of students kept on rising.
And if you want to create your own courses or classes online, there is an amazing platform for that called Teachable. Read more about it in the reviews of Udemy.com on our website today!
Classes of the Master Class
At MasterClass, you get video lessons that you can watch at your pace, as fast as you want, and as slow as you need to go to understand everything. In a typical MasterClass, you can expect to get the following:
Video lessons from a legendary teacher – Almost 20 to 25 videos are 2 to 5 hours long.
Course notes after each video that summarize the key points;
Additional reading resources;
Space where you can log down your notes;
Access to the MasterClass community where you can discuss, share, and connect!
You can get almost 85+ classes in 9 different categories. Various classes are available on MasterClass ranging from Music, Entertainment, Design, and Photography to Business, Politics, and Society.
Let's look at a few of the popular courses available on their website in our MasterClass com review.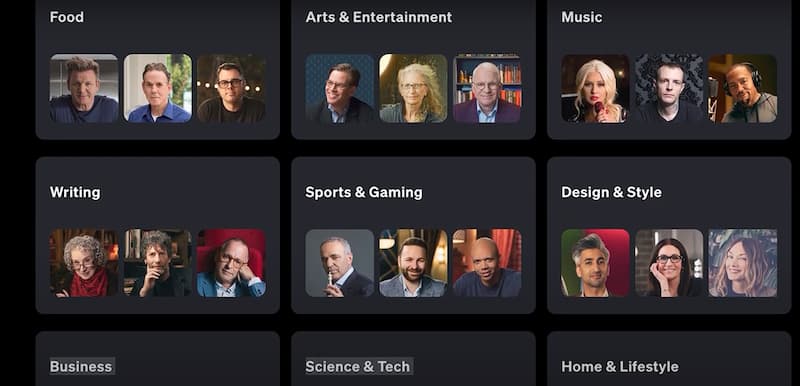 Cooking Techniques – Thomas Keller
What is the thing that says that a restaurant is top-notch? A Michelin star! Several of the restaurants of Chef Thomas Keller, such as the French Laundry, have been given prestigious Michelin stars, and you have to wait for months to get a reservation.
Thomas Keller's MasterClass tells the students about the basic cooking techniques, which make or break a meal, such as making stocks and braising meats. There is also a great cooking class by Gordon Ramsay! Check our Gordon Ramsay Masterclass review if you want to become a cook!
Photography – Annie Leibovitz
We all know how hard it is for women to make their mark in this world. So if someone is the first-ever female chief photographer at Rolling Stone, it shows how much hard work, dedication, and talent they must have.
Yes, we are talking about Annie Leibovitz. In her MasterClass, she sheds light on her philosophy regarding photography. Moreover, she teaches us how to make a great photo come to life with the help of simple rules.
Acting – Samuel L. Jackson
From Django Unchained to the Avengers, who hasn't seen Samuel L. Jackson working his magic on the screen? Would you believe it if we told you that he had a stutter growing up? And that he couldn't talk for almost a year?
In his MasterClass, you will be able to learn how he overcame his problems to become an Oscar nominee. Moreover, you will also learn various tips and tricks that will greatly affect your acting career.
Creative Writing – Margaret Atwood
How do you get the creative juices flowing? You can take the MasterClass of Margaret Atwood to help you with your writer's block and find some inspiration. The Man Booker prize-winning author delves into the details of structuring a novel, character development, point of view, and a lot more!
There is also a great MasterClass on creative writing by Neil Gaiman, you can check it out in our Neil Gaiman MasterClass review.

Tennis – Serena Williams
Practice makes a man perfect, and this is true about tennis as well. If you want to excel and become a professional, you have to practice hard and go through the same drills as professional players.
With the help of this MasterClass, you will get to experience the practice drills that Serena Williams runs every day. Moreover, you will learn how important mental strength is for you to become a pro player.
Business Strategy and Leadership – Bob Iger
Have you heard of Pixar, Lucasfilm, Marvel, and Walt Disney? Of course, you have! Bob Iger, the Executive Chairman of Walt Disney, was responsible for several important acquisitions for Walt Disney.
With more than 45 years in media under his belt, Iger knows a thing or two about media, business, and success.
In his MasterClass, he tells you everything about productivity, time management, business acumen, and a lot more!
To become successful in the business world, you need to follow some basic principles and rules, and with the help of Bob Iger, you will surely learn something that you can add to your daily routine!
Scientific Thinking and Communication – Neil deGrasse Tyson
Who would miss a chance to learn from the astrophysicist with Ivy League degrees, a Grammy award, and bestselling books? We would certainly not. In his MasterClass, Neil deGrasse Tyson will help you see how a scientific mind works and how you can develop the thinking skills that will help you in both your field and the world in general.
Interior Design – Kelly Wearstler
Ever browsed through the pages of Architectural Digest, wanting to make your place look exactly like it and yet giving off a hint of your personality? With the help of insights from Kelly Wearstler, you can achieve that!
She has designed plenty of boutique hotels and celebrity homes, and you will love the tips and tricks she will give you to redefine your space, choose colors for your rooms, how to make a space seem large, and a lot more!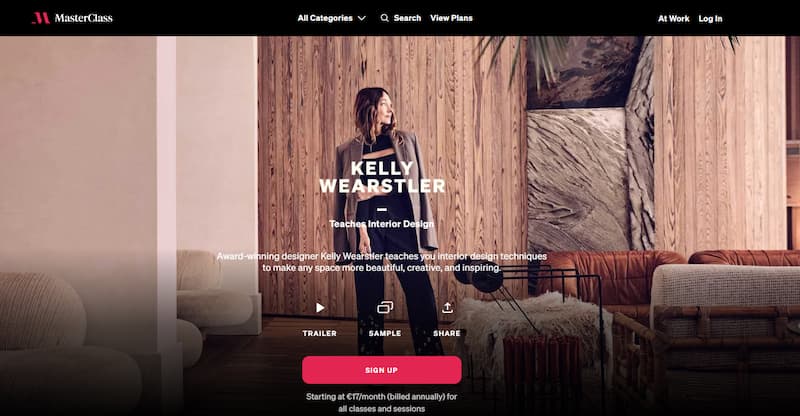 Art of Negotiation – Chris Voss
Your everyday business negotiations aren't as high stakes as the negotiations that the FBI hostage negotiator Chris Voss had to undertake, but they are equally important to you.
With the help of the strategies he teaches in his MasterClass, you can get one step closer to your desired outcomes.
Moreover, these negotiation skills are not only pertinent to your business dealings; whether it is a decision in your relationship or whether it is a promotion, there is something for everyone!
Singing – Christina Aguilera
It doesn't matter your musical skills; whether you are a professional looking for some tips on fine-tuning your craft or whether you have musical skills that allow you to sing a happy birthday song for your friends, this MasterClass has got a little bit of something for everyone.
The Grammy-award-winning artist Christina Aguilera will provide you with practical tips that will help you polish your voice and sound.
Moreover, her stories about her career will be a source of inspiration for all of us. If you are interested in other music classes, check our deadmau5 MasterClass review.
French Pastry Fundamentals – Dominique Ansel
Who amongst us doesn't have a sweet tooth? We all remember the famous Cronut, the croissant-doughnut hybrid, and the hours-long lines of people hoping to get one.
Well, the famous Dominique Ansel was the creator of this delicacy, along with various others.
In his MasterClass, you will learn the techniques which he uses to bake his delicious pastries. From chocolate cakes to fruit tarts, you will learn to make plenty of desserts!
Learning to play the guitar – Carlos Santana
This isn't a technical guitar class; you will not learn what the chords are and how to play the guitar from level one.
However, if you want to know what is the inspiration for the music of Carlos Santana, how he found his unique sound, and what the techniques he uses to approach his instrument are, you are going to love this class!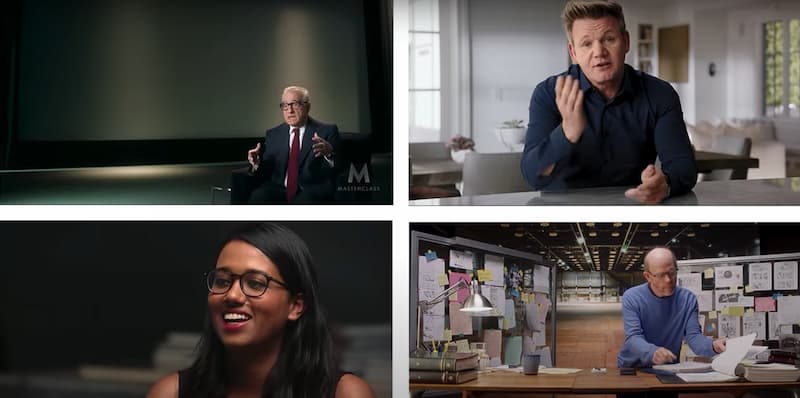 Playing Poker – Daniel Negreanu
Want to up your game and perfect your poker face? Well, who better to teach you than the six-time winner of the World Series of Poker? Yes, we are talking about Daniel Negreanu.
After doing the MasterClass poker review, we found that he will teach you about various poker concepts so that the next time you sit around a poker table, you will have a better grip on the game, and thus, a better chance at winning! Our Daniel Negreanu MasterClass review is positive and glowing as well!
Pricing of the Classes
Now that you have a brief idea about the kind of courses available at MasterClass, let's talk about the prices and see if they are affordable for the average person. An all-year access pass will cost you $180 for a year.
You will have access to the materials such as video lessons, workbooks, additional resources, etc., for that individual class. Considering the prices, it is better to buy the all-access pass instead of paying for class individually.
You will also get access to any new classes that will be added that year. Moreover, you get a 30-day money-back guarantee in case you are not satisfied.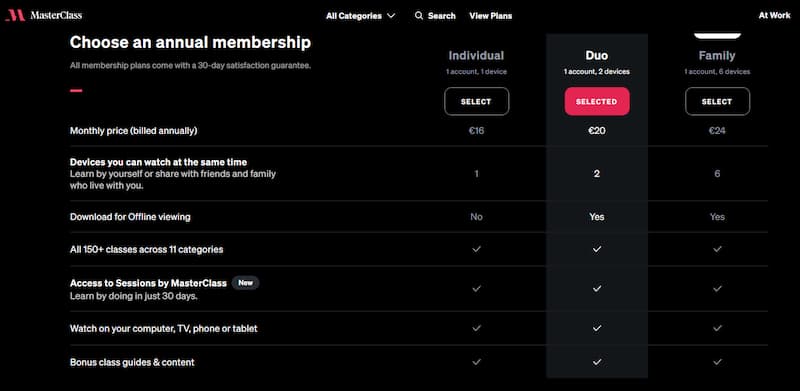 You can cancel your account renewal anytime you want. However, there will be no refunds in case of partially unused membership periods.
Quality of the Classes
With so many e-learning courses available online, what makes MasterClass different is its two main characteristics.
According to our MasterClass online classes review, the talent and expertise found on MasterClass aren't available anywhere else. A-listers are recruited ad instructors on MasterClass.
Want to learn comedy? You get Steve Martin. Want to learn acting? Natalie Portman is there for you. Interested in design and architecture? Learn from Frank Gehry. Multiple Master Class reviews from users tell us that hearing legends speak about their experiences is highly riveting.
Secondly, the course composition and the production value are pretty high as well. As you go through each course, you will see for yourself that a lot of effort, time, and energy have been put into creating these courses.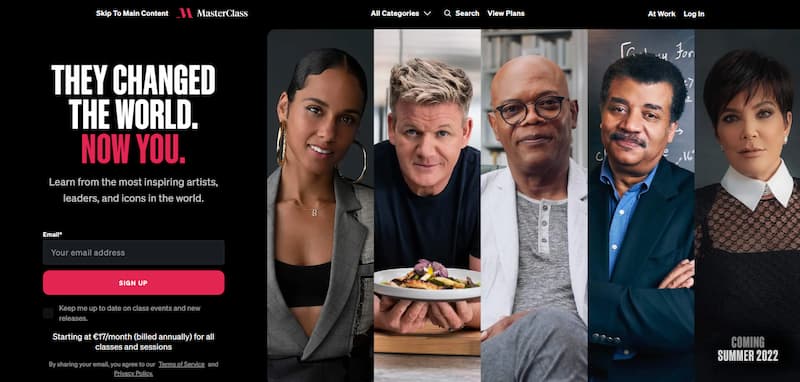 From the outline, the sequencing, and the content, everything is in perfect order. You get to learn how to blanch vegetables without knowing what tools are present in the kitchen, right? The concepts are built on one another, and you get the correct information at the perfect time!
Moreover, the lighting, the audio, the quality of the sets, everything is on point. For example, when Christina Aguilera teaches you how to use various microphones, you can hear everything perfectly.
Compared to other online learning websites, such as Skillshare, MasterClass has a limited range of topics and fewer courses.
However, the quality of content that is available on MasterClass is incomparable. For the review of MasterClass.com, we went through plenty of courses, and we were left awe-struck.
Customer Service at MasterClass.com
The quality of any organization is depicted by its customer service. MasterClass welcomes comments and feedback; therefore, you can contact them and let them know if you face any issues.
Whether to leave your MasterClass complaints, place an order, ask for a refund, or have general queries, you can send an email or submit a request describing your issue or problem. You can send emails 24/7, and you will get a response within a few hours.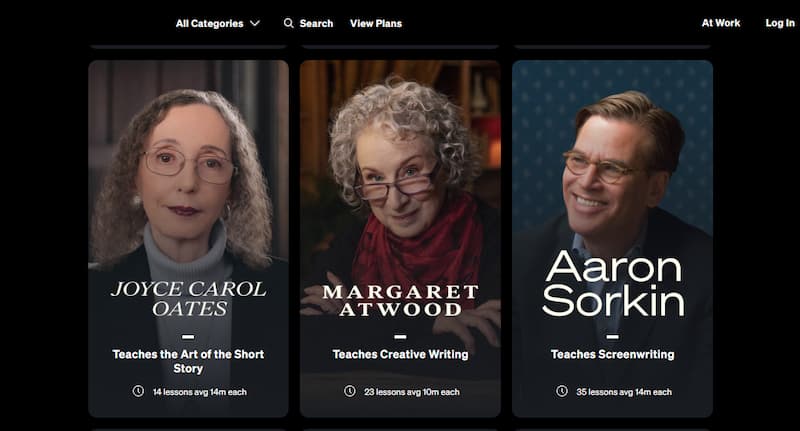 You can send a letter to 660 4th Street #443, San Francisco, CA 94107, or an email to [email protected] to report any violations of these Terms of Service. However, there is no phone support available.
There is a Facebook page and a Twitter account of MasterClass as well, where you can get your queries addressed and take part in the Ask Me Something sessions.
Website & Mobile App Usability
You can take the classes on MasterClass on the browser or through the app. The application is compatible with iPhone, Android, and Apple TV as well. The app feels pretty polished.
You get the option of speeding up or slowing down the videos so that you can go through the course at your own pace. The app supports subtitles or closed captioning. You also get the option of choosing whether you want to watch the video or listen to the audio only.
It is handy and easy to use, and you can find your way around the application with no help from anyone! You can take the classes no matter where you are, whether it is on your way to the office or in the comforts of your warm, cozy bed!

MasterClass FAQs
Can I take classes on MasterClass using my smartphone?
Yes, you can definitely take classes using your smartphone. There is a MasterClass application that you can use, which is compatible with both Android and iOS. Moreover, you can watch it on your TV as well.
Is there a time limit for the courses?
You can buy an all-access pass for one year. If you buy an individual course, you will have access to it for a year as well. If you don't discontinue your subscription, it will be renewed annually. So, the time limit on the courses is one year from the date of purchase.
What is the duration of the MasterClass courses?
The duration of each course on MasterClass varies. Usually, every course has 20 to 25 video lessons, and they are almost 2 to 5 hours in length. They are split up into small videos of 20 mins approximately to be easier for you to learn.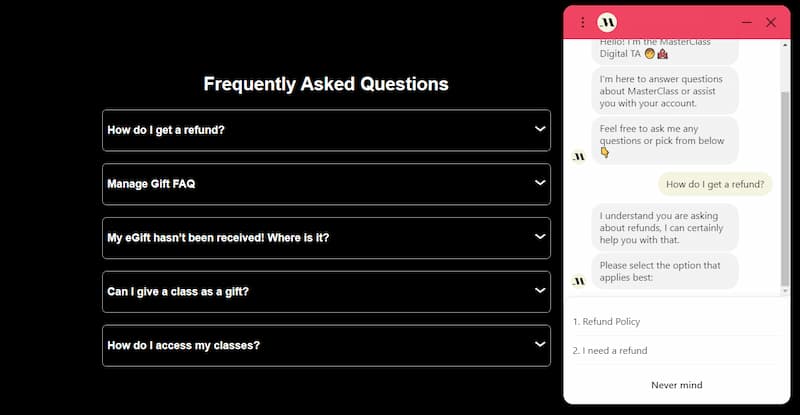 Can we interact with the instructors?
During our research for writing a review of MasterClass, we have heard accounts of a few students getting feedback from the instructors, but you shouldn't hold your breath.
Given their celebrity status, it can be tough for the instructors to give you feedback, and since the lectures are pre-recorded, the company doesn't promise you one-on-one interaction.
Community Gurus are available in the discussion rooms, and if you have any questions, you can discuss them within the community.
After reading the reviews of MasterClass, we find that most of the users are satisfied with the content quality, delivery, and instructors. And like everything else in the world, there are a few flaws in MasterClass as well.
We went through various MasterClass.com reviews and found that they had the following few common issues. Check all the pros and cons of MasterClass.com below.
Pros
Each class is unique to the methods and techniques of the instructor.
The MasterClass app is pretty handy.
An affordable option.
A-list Instructors.
Well-structured courses.
High-Quality videos.
Wide breadth of topics.
Cons
It is not a replacement for traditional education.
Pre-taped classes.
Skills learned are very practical in nature but are rather strategic.
Lack of one-on-one interaction.
Community discussions aren't very informative.
No certificates or degrees for the skills being taught.