MasterClass is making many waves in the online education industry. It is a unique platform offering inspiration to writers, with classes hosted by professional actors, authors, entertainers, chefs, directors, and so many others.
With a choice of classes, you will receive guidance from a variety of pros in a chosen field.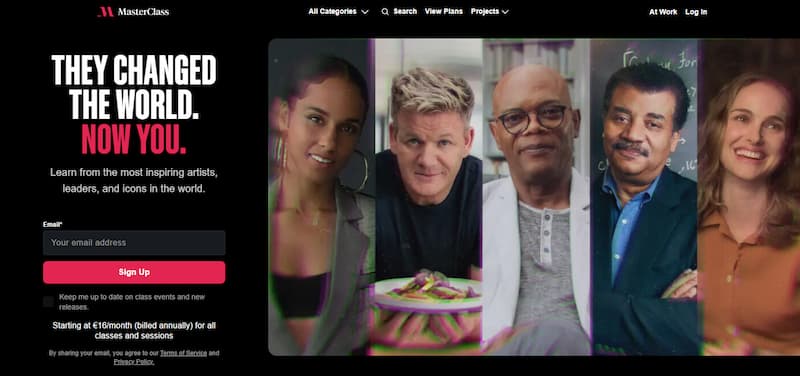 Our team of experts at EduReviewer has taken time to review many of the best MasterClass offerings available, and each class meets strict criteria. Check all of the reviews on different classes in our MasterClass online classes review.
We judge them based on the overall value of provided information, the presenter of such information, target audiences, and the overall quality of information offered.
These classes have become quite popular as they allow you to hone your skills at your own pace right from home, and you can also enjoy mobile access to classes.
There are two great features you will enjoy with MasterClass. You will benefit from legendary instructors as well as top quality videos.
Unlike other e-learning sites and platforms, MasterClass targets an audience of people who wish to learn while getting inspiration. This site offers multiple categories, and with an all-access yearly pass for a small fee, you can enjoy all supported courses.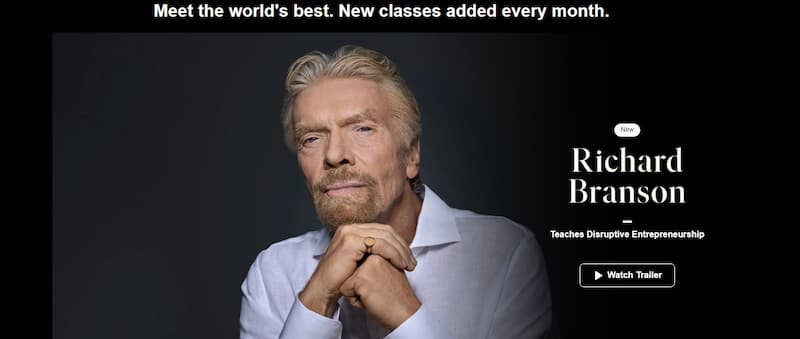 Check out our latest reviews to learn more about specific MasterClass lessons and find a class that focuses on your personal and professional needs.
We make sure to provide you with all relative and up to date information in all reviews, so you can trust these to guide you down the right path.
Great classes on writing can also be found on CreativeLive. What is Creative Live? Find out in the review.
Every tutoring service has differences. Find out in our reviews Skillshare vs MasterClass and CreativeLive vs Masterclass.
Neil Gaiman MasterClass Overview
Looking to learn all about the art of storytelling? Be sure to check out our Neil Gaiman MasterClass review right here to discover the amazing benefits this online class has to offer.

Who is Neil Gaiman and what is he famous for?
Neil Richard MacKinnon Gaiman is a successful British author and journalist who has a following of readers worldwide. He is best known for his works of The Graveyard Book, Coraline, and The Sandman.
Born in 1960 in England, Gaiman has been writing for most of his life, and many of his works have been adapted for television over the years.
What is Neil Gaiman's MasterClass about?
With 19 different lessons, Gaiman's MasterClass will cover all areas of writing, from character development to the use of humour.

How does this class work?
The class is broken into separate lessons that can be reviewed at any time. You will start with a basic class introduction.
You will then move on to writing fundamentals, case studies, preparing to write short fiction, exploring humour, descriptions, dialogue, and the writing process, including tips on how to deal with writer's block and time management.
This class is designed for writers of all levels, and there are tips for beginners and published authors.

Is Neil Gaiman's MasterClass as good as they say?
After our complete MasterClass Neil Gaiman review, we can highly recommend it and say it is definitely as good as people say.
You will enjoy the insight into the creative process of writing by one of the most successful British authors. The class offers a great balance between inspiration and advice.
Is it the best online writing class out there? What do you get in Neil Gaiman's MasterClass?
This writing class is one of the best available, especially for fictional writers. It does focus on the fiction genre, though writers of all genres can surely pick up some useful tips and tricks to help them improve skills and readability. This class is motivating and inspires writers to write from the very first lesson.

There is another great masterclass on screenwriting from Aaron Sorkin. Please find more details in the Sorkin MasterClass review on our blog.
What Does Neil Gaiman's Class Consists of?
When you sign up for this amazing class, you will get tons of information to help you develop writing styles and become the writer you dream of. This MasterClass comprises 19 different video lessons, and there is a workbook of 94 pages offered.
The provided videos offer around 5 hours of learning time, and the overall production is superb. The benefit of these videos is that Gaiman will be speaking to you directly and will be providing professional writing tips and tricks that can help you become a better author.
If you prefer to learn by reading instead of using videos, the workbook will come in handy.
Here, you will get information on developing stories, how to deal with writer's block, creating fictional worlds, and so much more.
Even a novice author will learn how to create characters and conflict to write compelling stories.
Fictional authors will get the most value from this class, though it can be useful for anyone who wants to hone their skills.

Who is it for?
This class is designed for writers of all stages in their careers. It will provide useful tools and information to aspiring writers, young writers, or even those that have already written and published best-sellers.
During this class, Gaiman will discuss his career as a writer and help you see that writing is not simply a destination; it is a journey with no end.
This MasterClass is best suited for aspiring fiction writers looking for professional guidance, insight, and personal experiences to enhance writing styles.
Information provided may also be useful for experienced authors, though our Neil Gaiman storytelling masterclass review found the class geared more towards beginner authors.
What is the Price of the Class?
Now that you understand more about this class from our Neil Gaiman MasterClass review, you will want to consider the cost of this program to determine whether it is worth the money.
Based on the many popular reviews of Neil Gaiman MasterClass, you will find that the cost is a small price to pay for the wealth of knowledge that will be gained.

There are three options when it comes to MasterClass pricing. You have the option to pay $180, which will offer all-year access, not only offering access to Neil Gaiman's class but all others that are supported on the platform.
If you do not wish to have yearly access or only plan to use the supported services for a few hours, you can pay $15 per month.
Regardless of what pricing option you choose, you will have a 30-day money-back guarantee. This ensures you are always satisfied with the classes accessed.
If you are not quite ready to make a financial commitment, there is a trial basis that offers three days of access without paying anything upfront.
Overall Quality of the Class

The overall quality of this class is superb, and it is well worth the money and time invested. The class caters to the needs of budding authors and offers great information and advice on how to start being a great storyteller.
Those who have an interest in fictional writing will get the most from this class.
Still, there are also useful tips and great information from Gaiman's personal experiences that can aid writers of all levels, regardless of their genre choices.
If you are a fan of Neil Gaiman's work, you will surely find his class helpful. The way the videos are presented, you will actually feel like you are spending one-on-one time with the author to gain some great insight into his writing style.
Even for casual fans or writers looking to make improvements to how they write, this class will be effective and useful, so it can benefit just about any writer looking to enhance skills and learn some tips from a pro.
Some other amazing MasterClass classes for writers, including Margaret Atwood, who teaches the fundamentals of creative writing, and R.L Stine, focusing on authors catering to young audiences.
You can also find a class by Joyce Carol Oates called Art of the Short Story.
Each of these has differences from Neil Gaiman's class, though they all provide excellent bits of information, advice, and guidance.

With your MasterClass access, you will have the ability to enjoy classes from famous writers that have had successful careers over the years.
Some options include classes on mystery and thrillers by David Baldacci and Dan Brown, a humour writing class by David Sedaris, and even James Patterson (read full James Patterson Master Class review), Judy Bloom, and Malcolm Gladwell.
And if you are into filmmaking, check the MasterClass Werner Herzog review. He will teach you the basics of filmmaking in this masterclass.
Many successful authors have designed online classes to offer tools and share their experiences to help others who are striving to write compelling stories and great novels.
The main difference between these other classes and what you will find with Gaiman's class is that Neil focuses on how to tell stories, whereas others focus on how to absorb readers and develop characters.

Pros
Interactions with Other Writers – You can connect and chat with other writers taking this writing class to review information or get someone else's take on a certain lesson.
Super Video Quality – All videos are shot in HD and offer an appealing background.
Office Hours Option – This is a chance for you to ask Gaiman questions one-on-one via video chat.
Great for Beginners – The class covers all the fundamentals of writing short stories and fictional content, making this a great choice for any novice author.
Intriguing Contact – Gaiman has a unique way of presenting content, using personal experiences and stories to enhance each lesson.
Ease of Access – You can take this course at your own pace, review lessons multiple times, and even access the class on mobile devices.
Cons
Not a book writing class – This class focuses on writing concepts and the art of storytelling and will not help you start and finish a novel.
Much self-discipline needed – No grades and no one is hanging over you, so you must take time and put in the required effort to get the most from this class. There are homework assignments that will require an investment of time.
No specific rules – The information provided in this class is advice from Neil Gaiman, and there are no specific writing rules covered.
Familiar Information – Some of the information presented may feel familiar if you have already taken a writing class, as Gaiman does not present new info but puts it together in a way to make it effective.
Extensive Homework – The class uses many homework assignments that can be very time-consuming and difficult for new writers.
Required Reading – Part of Neil Gaiman's MasterClass is a reading list, so you must be willing to invest reading time in addition to writing to make the best of this class.