If you are seeking a user-friendly online learning system that provides courses and lessons designed for students and employees, be sure to check out the latest GoSkills reviews. By reading what others have experienced, you will learn more about what the service has to offer and consider past users' personal experiences. GoSkills reviews will provide you with much information, from available courses to pricing, and these are a great way to be sure that this site will meet your needs.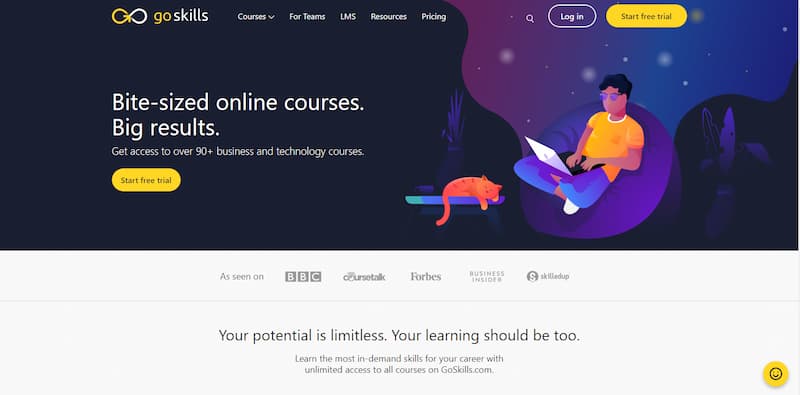 Aside from using the reviews of GoSkills from users, you can also trust the information our team of experts has to offer. We have taken the time to look at all of the services this site has to offer closely, and we provide complete assessments of all areas. For example, you can check our Edureka courses review, where we covered the main courses offered by them and compared them with other services online. You will find our GoSkills excel reviews, feedback on the project management services, information on photoshop classes, and more.
There are many things we look at when conducting our professional GoSkills review. Not only will you find out about the different courses offered and whether the site is legit, but we also make sure to provide you with information on the quality of these courses and pricing models in use. You can also find some details on the mobile access features and the support services you visit the site.
Overview of GoSkills
GoSkills is one of the trusted educational platforms that offer training courses. It has been designed to help those looking to improve or learn new skills to help them in their current job or when looking for new positions. Here, you will find the most useful courses, and they will all provide some great benefits. Users have reported great success after completing classes online and have earned certificates that have helped them with career advancement.
This service is completely safe and provides real courses and great results. After looking at the services offered and reading some of the top GoSkills project management reviews or reviews on other subjects, y will see that this site can offer some great training material at a low cost.

GoSkills.com Courses
If you are looking for some affordable courses that can be taken online, GoSkills is the place to be. This service provides a wide assortment of courses that can be used in business settings and can even benefit those still enrolled in a university. Anyone wondering is GoSkills good will see how the provided courses can be quite useful for developing business skills. The current selection of courses covers 10 categories, including:
Microsoft Excel;
Lean Six Sigma;
Microsoft Office;
Finance;
Project Management;
Office productivity;
Soft Skills;
Development;
Design;
Data Analysis.
Let's take a minute to check out the latest GoSkills excel course review. Excel is one of the most used programs globally and is often used heavily in accounting, sales, marketing, and real estate. Here, you will find basic and advances training courses, and both will help you learn and master Excel. When you complete the course, you will get an Excel certification.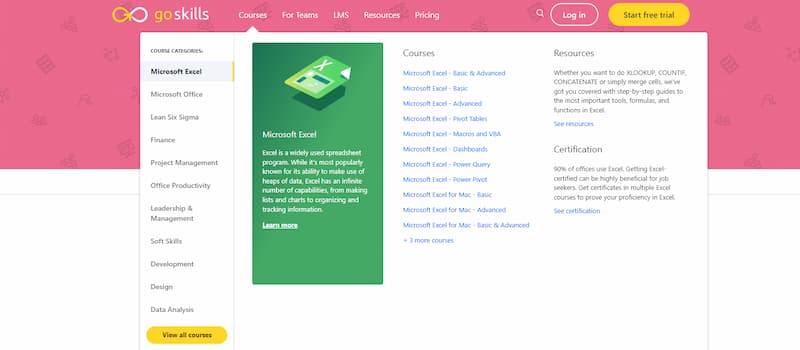 As you read through our GoSkills excel certification review, you will also find you can complete these courses from home using a PC or using your mobile device. Past users have reported an amazing experience from these courses and have left a positive GoSkills excel review on the site.
If you are a business owner or a project manager, you will definitely want to check out the GoSkills project management review and our Master of Project Academy PMP exam simulator review. The training you will receive from this course will offer you the skills in demand and help in becoming a Project Management Professional. We have performed a complete GoSkills review project management and found that the courses offered in this section will benefit beginners and current business owners.
Editing and design careers have become quite popular, especially in the digital world. If you are looking to enhance your career in these fields and pick up some skills, check out the GoSkills Photoshop course reviews. Here, you will learn two courses, one designed for beginners and the other for advanced users. With 58 lessons offered, you will master techniques such as background removal, quick selection, layer masks, and more.
GoSkills Pricing
The pricing at GoSkills is quite competitive, and there is a free version and a free trial. The free trial will allow you to take some time to get a review of GoSkills Excel course options and other top classes that can help with professional development and learning. The free trial is for business teams and offers course creation by linking to web content, goal tracking, social learning, reporting, and other perks.

With software add-ons, you can get additional services. This will add access to more than 80 on-demand courses and many of the best in-demand courses for business skills. After using the provided free trial to answer your question of is GoSkills a good course, you will be able to purchase a monthly or annual subscription. With a low monthly cost of $29 or a yearly fee of $199, you will have access to each and every course offered.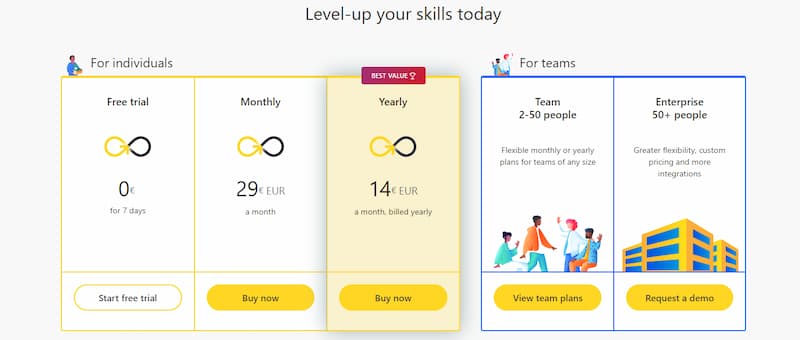 The features you will enjoy with a paid subscription include:
Online access;
Bite-sized lessons;
Certifications;
Social learning;
Mobile access;
Tests and quizzes;
Accredited courses.
GoSkills Quality
After you take some time to read through the positive GoSkills course reviews, you will learn that these courses offer high-quality content that can be used by many. Unlike other free platforms like YouTube and Skillshare, all of the content featured at GoSkills will be created by professional instructors. Every teacher or tutor who offers a course has been vetted by the company is an expert in their field and has top qualifications.
You will find hundreds of top-rated GoSkills training reviews and GoSkills excel reviews, both of which are popular areas of study. The courses here are presented using a simple model that allows for fast learning, and it can all be done at your own pace.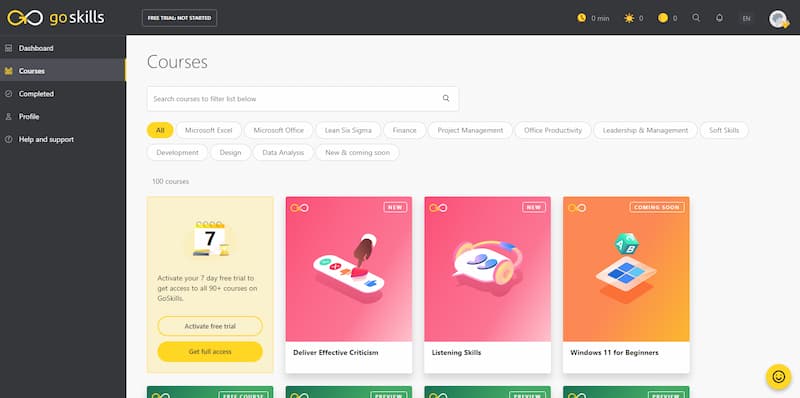 With affordable pricing options, you will find that this service offers great content worth the price. You will be able to watch tutorials on your PC or mobile device, and these courses are all designed to help improve skills that can lead to career advancement. One of the perks o sung the service is that certificates can be earned, which can look great on a resume. You may be wondering, Is a GoSkills certificate legit? Absolutely. You will receive your certificate after completing a course, and your employer can even verify the authenticity.
Guarantees and Return Policies
When you choose to take advantage of the great services offered at GoSkills, you will enjoy top-quality courses and affordable prices. With our GoSkills.com review, we learned that refunds are only offered to customers of the EU. If this is the case, you will have the option to apply for a refund within 14 days of placing your order. Only customers who have used Reed UK to complete payments or classes will be eligible for a refund. A complete refund will be offered in 30 days.

While you will find GoSkills legit, the site does not offer any guarantee. Unlike the Cudoo, a great platform with top-notch courses, see Cudoo reviews to learn more. When you choose a course, you will receive all materials required to complete that course. Still, there is no type of money-back guarantee or even a warranty that claims you will pass a course or be able to use that course to further your education or professional development.
Mobile App and Website Usability
When you take courses online, you want to make sure you always have safe and simple access. At GoSkills, you will benefit from instant access using a web browser. No apps or software will have to be downloaded, and you will find the same layout is used on the PC and mobile versions of the site.
This website is straightforward, and you can quickly find what you are looking for using the menu options. You can even read through the latest GoSkills excel review user posts, feedback, and any other comments that have been left by past or returning users. With instant access at any time, completing a course is no longer a daunting task.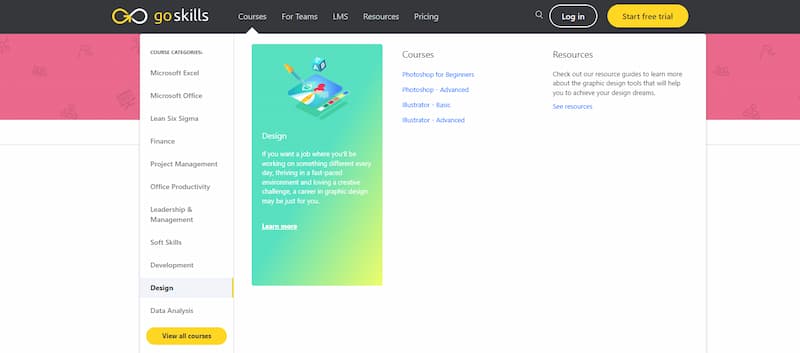 If you ever thought of creating your own courses, check the Skillshare.com reviews and see that it is the best platform for that.
FAQ About GoSkills
What is GoSkills.com?
GoSkills is a respected and reliable educational platform that offers business classes, training models, and content to help develop the skills needed for today's jobs.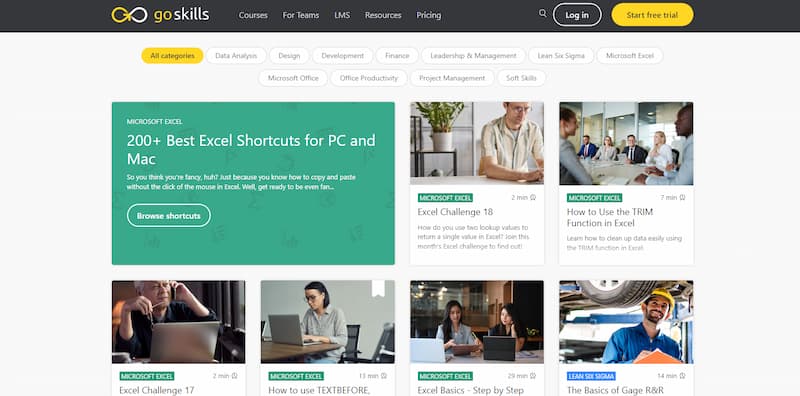 How does GoSkills work? How to use GoSkills?
To use the complete course offerings, you will have to purchase a monthly or yearly subscription. You can then log in, choose any of the listed courses, and start earning certificates and completing classes.
How much GoSkills costs?
You can test the site using a 7-day free trial, which will offer a preview of the courses and the features. Once satisfied, you can then purchase a monthly plan for $29 per month or an annual subscription for $199.
There are similar platforms like Ucode, Edureka, and Master of Project. All these companies are also worth noticing in case you are looking for a good course.
Pros
Free Learning – After we review GoSkills, we learned a free learning app that offers access to all lessons for free. But to take the final exam and get certified, you will need to upgrade.
Small Lessons – This is beneficial for young students, and small and short lessons can help students process information quickly.
Gamification in Use – With every completed course and achievement reached, students, will earn badges to encourage learning and goal achievement.
Cons
Courses Can Lack Interaction – Some sources are strictly lectures or presentations and do not offer the ability for students to interact.
No LinkedIn Placement – Your earned certificates will not automatically be added to your LinkedIn profile.
Limited Practice Questions – Many practice questions are offered to prepare for an exam, and the final exams often contain repetitive questions.
Typos Noted – Many papers have been reported to contain multiple typos.
Limited Certificate Programs – This service does not offer updates to programs as often as users would like.
No Mobile App – Mobile access is through a web browser only, which can cause slower loading times.