We provide you with detailed reviews of different learning institutions to help you value your learning investment.
We are not biased, and we are more focused on adding value to your search for skill enhancement. You can check our list of the best websites for English learning and see other great options.
Our Cudoo review will include important information that you look for when looking for a learning center. Some of the aspects we shall look into include:
Course pricing. We will look at the affordability of the courses provided, the ranges, and what is included in the price.  We will also look at whether the costs are categorized, whether they are acceptable means of payment, and whether it is something recurring.
Quality. It is essential to understand whether a course is marketable or not. We will provide information about whether you can use the skills learned from Cudoo to market yourself. When measuring the course quality, we will also look at customer feedback. Cudoo.com reviews available from reputable websites will be handy in this assessment.
Mobile App and website usability. We will review the ease of access on the Cudoo.com website and the mobile App. We will answer whether it is something you can navigate with basic computer skills or whether you need to be an expert to use their interface.
Customer service/support. We will be delighted to give you an honest review of their customer support. Is it something reliable, or does it leaves you feeling awful about the overall experience? We will look into how fast they respond to queries and complaints and whether they provide fulfilling solutions.
Guarantees. We will look into whether the institution provides any form of guarantee to its learners. If these are available, we will determine what qualifies one to receive them. Additionally, we will look into how guarantees are handled and whether you need any justification to receive them.
Cudoo Overview
Cudoo is an e-learning institution that caters to people that wants to improve their soft and hard skills. The institution offers courses in more than 160 languages.
There are over 1300 courses available, and Cudoo keeps advancing the courses with high market demand to ensure its students get the updated versions.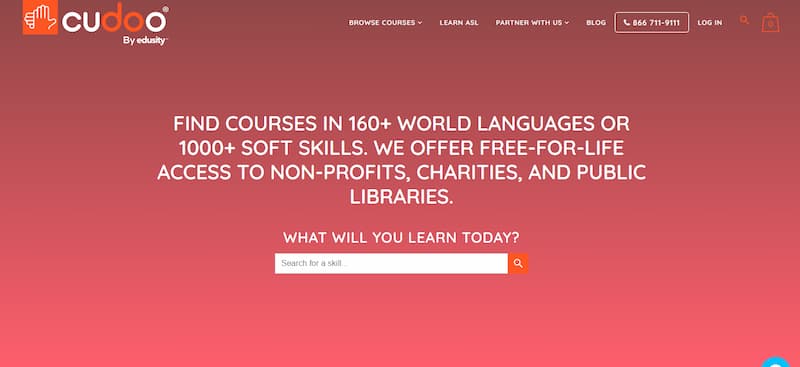 Does Cudoo Have Good Teachers?
Native instructors of your preferred language teach Cudoo courses to ensure you understand it better.
If, for example, you are taking an English language certification course, you are given a native tutor that is accessible 24/7.
It helps you understand the language in the native dialect and learn some common slang words to sound like a native.
If you take a development course, you are assigned an industry, qualified instructor. These instructors keep updating their training materials depending on the market trends.
Is Cudoo Legit? Is it Safe?
It is safe to take courses from Cudoo. The site has had so many successful courses completed by students globally.
Although all learning takes place online, you can trust the site's authenticity. It is connected to a TrustPilot account where learners leave their Cudoo reviews based on their learning experience.

You can also find the institute socially, connecting to broad audiences through regular engagements and sharing informative tips.
If you are on Facebook, YouTube, Pinterest, Instagram, Linked In, and Twitter, you will find them there. You can use these channels to follow what they are up to or even ask questions.
Cudoo Courses
Cudoo is a proud provider of various services for skill and career development. Their services include:
The institution is not limited to providing the most used language globally. It offers training services to the least in demand for those interested in learning them to have access.
However, the most in-demand languages at Cudoo are English, Italian, Spanish, French, German, Arabic, Portuguese, Korean, Ukrainian, and American Sign Language (ASL). Leave your Cudoo ASL reviews below if you tried this course.
TESOL and TEFL are accredited by CPD and aim at certifying learners to have their English teaching skills recognized internationally. The courses take 120 hours to be completed.
Compared to Uni-Prep, this is also a great option for TESOL and TEFL, but we recommend you read our Uni Prep TESOL reviews, compare yourself, and decide which one suits you most.
Accounting and Finance courses:
The courses are designed to equip learners with skills to handle their business accounts or personal finances. They are certified upon completion.
These courses are created for employees at all levels. They offer skills to basic employees to senior executives to ensure they sharpen their skills to enhance their chances of landing jobs, promotions, improving leadership skills, service delivery, or even in career transition.
Entrepreneurship courses.
These courses prepare learners to avoid the pitfalls most startups fall into, crushing their entrepreneurial dreams on the first trial.
You learn how to create your business plan and make it work, market your business, raise funds, and network with others in your field.



Health and safety courses. 
These courses aim at teaching companies how to go about the health and safety of their employees.



Health and wellness courses: 
They help you to diversify from being a workaholic. Health and wellness courses allow you to create a work-life balance to promote your mental and physical well-being.
Courses are developed for preparing professionals and business owners with skills relevant to talent acquisition.
They prepare new and experienced managers for their roles by providing skills that help them deal with people and manage businesses successfully.
And if you were looking for top project management courses, you should read a detailed GoSkills review and check their courses for PM.
Courses that help business owners and marketing professionals sharpen their skills to help them in brand positioning in the crazy market.
These train learners with valuable skills that help them close many deals and increase their sales quotas.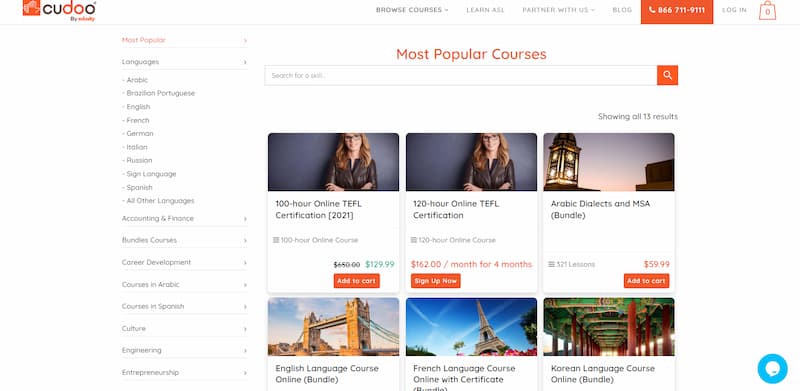 Pricing of the Courses
Learning languages from Cudoo starts from as low as $4.99 and goes to $240.00. However, you can take the exclusive bundles that are certified by CPD, such as:
Arabic Dialects and MSA Bundle
This option is currently valued at $59.99. It combines both online and offline modes of learning. The course provides in-depth training on modern and other Arabic popular dialects. This is what you get:
Certificate of completion;
321 lessons;
Lifetime access to the course;
Kind and experienced trainers.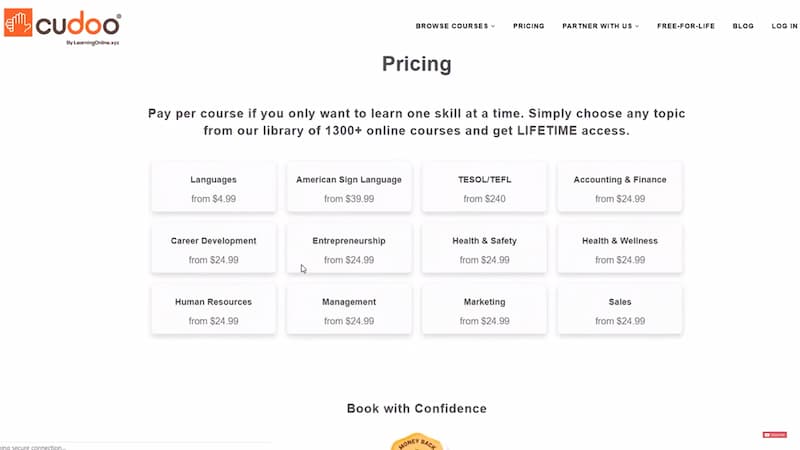 Learn American Sign Language Bundle
The bundle is available for $49.99. It prepares learners to communicate with people who cannot hear or speak. It starts from simple to advances so that learners can communicate comfortably with this group.
What you get:
75 hours of learning;
A certificate after course completion;
Fulltime course access;
24/7 tutor support.

Online TEFL Certification
It is offered to international students whose native languages are not English. The course is valued at $49.99 and is billed monthly.
What you get:
120 training hours;
Certificate after course completion;
Online teaching practice;
Fulltime course access.
Suppose you are looking for a place to hire an English tutor; check our website's best online English tutoring list. There you will only find the best tutors available online.
Quality of the Courses
The quality of courses offered by Cudoo is undoubtedly remarkable. According to Cudoo reviews from previous learners' experiences, most of them are happy about the quality of the courses.
However, a few have left negative criticism about the courses, most complaining about time exaggeration in course completion.

So, if you need to level up your English with top tutors, try hiring one of the teachers at Lingoda. There are many Lingoda opinions online, but we are sure that it is one of the best, especially in English tutoring.
Guarantees and Return Policy
Cudoo offers a 14-day money-back guarantee on all their courses. If you enroll in a class, and after 14 days, you feel like it is not delivering what you expected, you get a refund for your money.
A refund is requested through email, and after a few days or hours, you have your money. There is no trial period at Cudoo.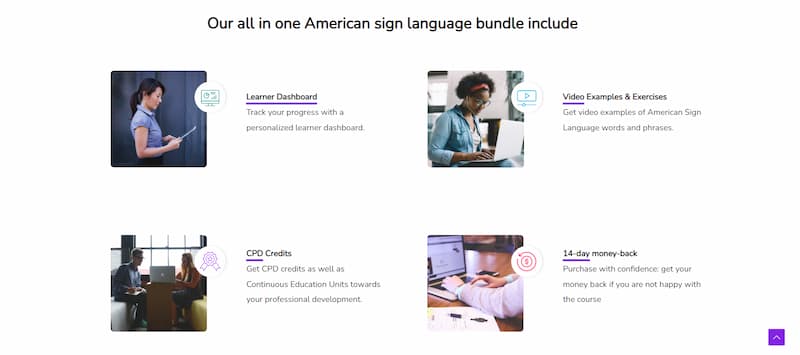 Mobile App and Website Usability
How well do you enjoy websites with user-friendly interfaces? Cudoo is one of those sites whose interfaces make learning fun. The e-learning institution has a simple mobile app compatible with iOS and Android devices.
You do not lose your tuition hours, scratching your head over the complexity of using the website. It is super easy to access for everyone.

FAQ About Cudoo
What is Cudoo.com?
Cudoo.com is a learning platform that offers courses for a cause. It is also a member of 1% for The Planet, a program dedicated to taking care of the environment.
The platform offers premium courses, and each class purchased is used to facilitate the unlimited accessibility of Cudoo's courses to libraries, charities, and non-profits worldwide.
If you have an institution like this that you think can benefit from the collaboration, email Cudoo the institution's name for consideration.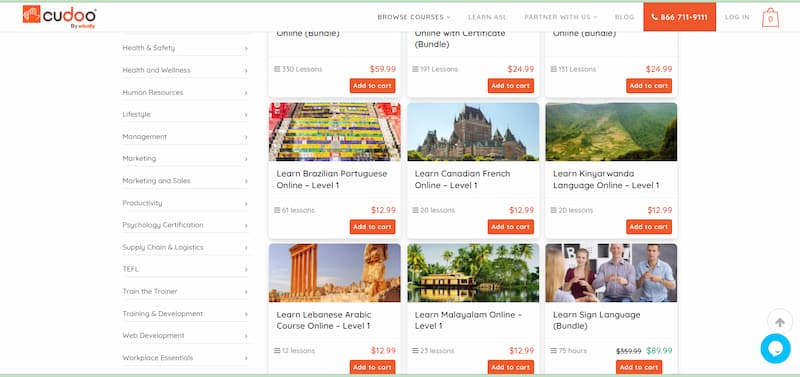 How Does Cudoo Work?
Only a few steps are included. Firstly, you have to sign up for a user account with Cudoo. After joining, select a course or bundle to study and add them to your cart.
Pay using the acceptable means Stripe, Apple Pay, PayPal, or internationally accepted credit/debit cards.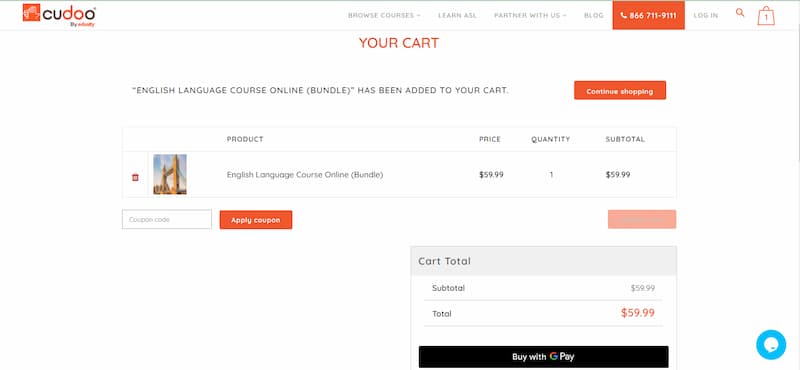 After you are done, you can start learning, and you have the privilege of setting your pace. After completing a course, you get a CDP-accredited certificate that you can use on your resume. The certificate is downloadable and printable.
How Much Does Cudoo Cost?
There is no specific amount that is used in costing Cudoo. It depends on the learning package you choose.

Pros
Available internationally.
The e-learning institution offers a money-back guarantee if you are not happy with its services.
Programs are self-paced.
Tutors are experienced and available throughout.
Complaints are handled swiftly and efficiently.
The packages are relatively affordable.
Cons
Some courses that are provided in unpopular languages have limited explanations.
The certificate of course completion does not indicate the course level.
Content is less engaging.
Fast learners can feel misguided about the time taken to complete each course.
Some learning materials have typos.
Quizzes are sometimes not that challenging.