Introduction
For a while now, commerce has gradually shifted to the online world. Goods are sold, services are rendered, contracts are signed, and business deals are transacted all on the internet. Then there's the prominence of online learning platforms where people learn and acquire new skills.
Despite all of this, many people are still skeptical about the genuineness of these online platforms. "Are they truly effective? How do they work? Which is better for me? Will I get my money's worth?" These are but a few of the many questions! This is why we have taken it upon ourselves to review and analyze each online learning platform.
From our research and trial of both platforms, Skillshare offers courses on just about any skill while MasterClass is more for lifelong learners who are looking to learn not-so-traditional skills like cooking and singing.
This review will center around MasterClass vs Skillshare. We'll look at each platform critically and observe its specific features, qualities, and value for money.
We'll also look at what you stand to gain from each platform and why you should consider using them. Then we'll go ahead to compare and contrast the two platforms based on their characteristics.
At the end of the day, you'll be able to choose the best online platform for yourself.  Let's begin the review! But first, we'll quickly describe each platform.
Brief Description of Both Platforms
MasterClass
This online platform has been long in the game as it was established in 2014 by Aaron Rasmussen and David Roggier. They have made a name for themselves since then and are now one of the frontrunners of online learning platforms. This is to say that the platform is legit and you need not fear being scammed.
MasterClass is an online streaming platform that enables people to learn from celebrities and industry experts around the world. It has its headquarters in San Francisco, California, and The United States. There they recruit well-known and recognized professionals to teach the skills they are admired for.
This is why it is no surprise to see that they have 43 investors including the prestigious Vershina Capital and Empede Capital.
Skillshare
Skillshare is another long-standing and legit online learning platform. It was founded in November 2010 by Malcolm Ong and Micheal Karnjanaprakorn. But unlike MasterClass, Skillshare is headquartered in New York.
On Skillshare, different skills are taught and shared by professionals who are enthusiastic about sharing their knowledge. The platform offers thousands of courses and you could learn just about anything. From a simple craft like knitting to a technical course like Web development, Skillshare gives you the chance to learn them all.
Key Features of Each Platform for Learners
All online platforms are a lot alike in so many ways but each platform has some key features that are particular to them and endears them to people. The same applies to MasterClass and Skillshare.
MasterClass
Most online learning platforms offers their members the chance to learn new professional skills like website design or Data science, but MasterClass chooses to cater to a different set of people – the lifelong learners!
The platform attracts people with its list of celebrities and hooks them with its cinematic videos and classes where you feel like you're having fun even while learning. It is no surprise that it is one of the most popular online learning platforms.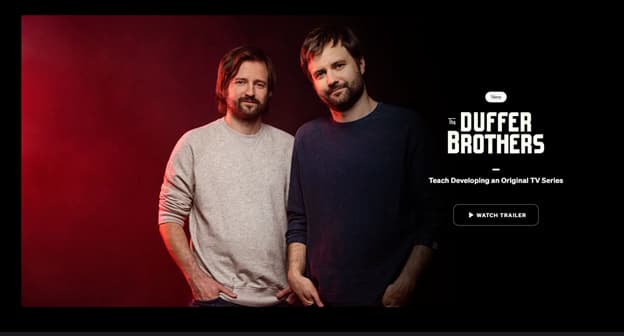 That leads us to another key feature of MasterClass. MasterClass gives people the chance to tap knowledge from the best of the best. You'll get the chance to learn from your favorite celebrities, and hear firsthand the principles that they follow in their crafts and lives. You might even be lucky to get one or two of their secrets to success.
However, a large amount of these star-studded courses will only serve to inspire you. You will not be able to get an in-depth knowledge of the skills.
So If you're only looking for a platform where you can learn unconventional skills like gardening or cooking from time to time, then this is the platform for you. Here are some examples of the courses offered on MasterClass:
Serena Williams teaches tennis;
Daniel Negreanu teaches poker;
Ron Finley teaches gardening;
Margaret Artwood teaches creative writing;
Chris Voss teaches the art of negotiations;
Dan Brown teaches writing thrillers;
Christina Aguilera teaches singing;
Nail Gaiman teaches the art of storytelling.
Also, MasterClass gives you the freedom to stream lecture videos whenever and wherever you desire. This can be done on your smart mobile phone, tablet, or personal computer. The video lessons are available on AppleTV and FireTV streaming players. You can even download your favorite videos and watch them later or perhaps show a friend.
And what's more, you have the option of listening to the lectures in an audio-only mode, although this doesn't apply to all the classes. With MasterClass, you are guaranteed your privacy in learning. You decide when, how and in what way you want to learn.
Skillshare

The best feature of Skillshare is its variety of classes. They offer thousands of classes on different topics, even the most unlikely ones. You can learn virtually everything on this platform. This is one feature that endears the platform to people because you can be sure of finding a course on the topic or skill you desire to learn.
All you need to do is type in a topic of your interest or a related keyword on the search bar and a suitable course will pop up. In addition to this, the classes offered on Skillshare are concise so you get to learn what you need in a short while without wasting valuable time on details that you do not need. The brevity of the courses makes it easy to navigate through the many courses that exist on the platform.
Skillshare offers courses on practical skills with projects that you can work on in most cases. Some of the instructors conduct workshops that encourage more active participation and community involvement.
Also, Skillshare is an excellent option for learning a skill that you can immediately use to make money like photo editing, coding, or Web development. They even offer financial courses like Digital Marketing, Business Analytics, and Entrepreneurship. It functions like a traditional learning institution and you get to learn these skills for way less than you would have otherwise spent in formal education.
Some of the most popular courses offered on Skillshare include:
Copywriting for beginners: how to write Web copy that sells without being cheesy;
Getting Started with Email Marketing;
Creative non-fiction: write truth with style;
The writer's toolkit: 6 steps to successful writing habit;
Hand lettering essentials for beginners;
Intro to UX: fundamentals of usability;
Novel writing: creating loveable characters in 5 easy steps;
iPhone photography: how to take pro photos on your phone;
Logo design with Draplin: Secrets of Shape, Type, and Colour.
There's also the amazing feature of Skillshare for teams. Here you can register your team or employees for training under Skillshare and at affordable prices. Employees can learn hard skills, soft skills, or even courses on work-life balance. Skillshare has well-trained and expert tutors who are ready to instill their expertise to your team.
They coach your staff to excellence and professionalism as testified by Paul Johnston, a global design manager at Dentons. "One thing we try to develop in our team is a more creative mindset. We tried everything — from face-to-face training to using LinkedIn Learning. But it wasn't until our team leveraged Skillshare, that we saw results quickly. It has transformed what we can offer, and has made our team more engaged and collaborative." He says.
Pricing of the Courses
These platforms offer their services at different costs. While Skillshare offers free courses once you've opened an account with them, for MasterClass you can't learn any course without subscribing to a membership plan. Below, we'll look at the pricing plan of each platform.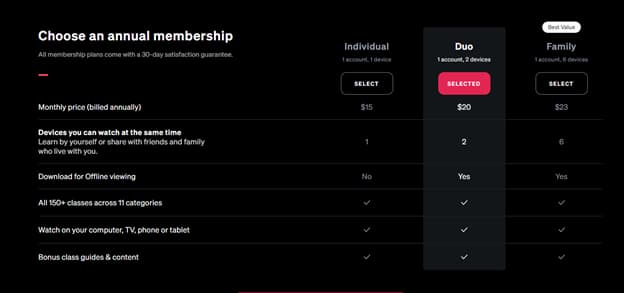 Masterclass comes in three different plans. All of which have a 30-day satisfaction guarantee. All the plans are billed annually and give you access to the classes and sessions along with bonus class guides and content.
The plans include:
The Individual Membership Plan: The individual membership plan is for just an account and allows for use on only one device at a time. Also, you cannot download videos for offline viewing on this plan. This plan costs $15 monthly and amounts to $180 a year.
The Duo Membership Plan: The duo membership plan allows for use on two devices simultaneously but only one account can be created with it. It costs $20 monthly(which equals $240 for a year), and classes are available for download and offline viewing.
The Family Membership Plan: This membership plan costs only $23 monthly and adds up to $276 annually. As far as value for money is concerned, this is the best plan as you get to save more. It allows for one account that can be utilized on six devices at once and you can download classes for offline viewing.
The good thing is that every plan can be used on a smartphone, tablet, TV, or computer.
Skillshare
Opening an account on Skillshare is free but to gain unlimited access to all the courses, and library of materials on Skillshare, you have to purchase a premium membership. The Skillshare premium membership comes at $15 per month and $99 per annum.
Meanwhile, Skillshare for teams is in three different plans and they are: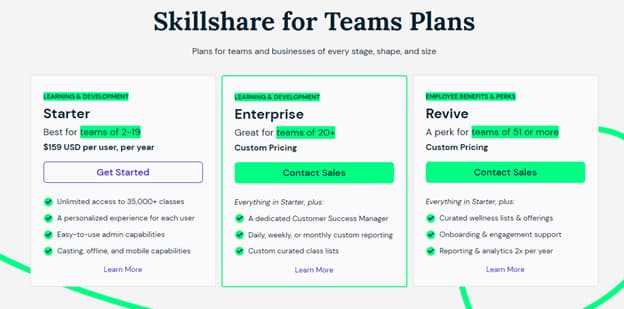 Starter Plan: The starter plan accommodates a team of 2 to 19 people and is charged annually at $159 per user. This plan gives your team unlimited access to over 35000 classes, a personalized experience for each user, and easy-to-use admin capabilities. Plus the lessons can be viewed on mobile or downloaded for offline viewing.
 Enterprise plan: This plan caters to teams with over 20 members and it comes with every offer on the starter plan plus custom-curated class lists; and a dedicated customer success manager.
Revive plan: The revive plan is open to teams with 50+ employees and in addition to the privileges and offers enjoyed on Skillshare for teams, it comes with perks and benefits for the registered employees.
Note that both the Enterprise and Revive plan of Skillshare for teams require Custom pricing. You have to contact the sales team to do this. We can say Skillshare is a better platform than MasterClass when it comes to cost since their services are offered at a cheaper price but then cost doesn't necessarily translate to value for money.
Quality and Value for Money
Skillshare
The quality of the courses on Skillshare varies and some might not be very good. This is because most of the courses are uploaded by independent instructors.
However, the courses that are produced in-house by Skillshare have high production qualities. These courses tend to have famous instructors. One thing that sets Skillshare apart from other platforms is that the classes are split into precise and shorter chunks. Hence you can complete them at your own pace and take breaks in between.
Also, it makes it easier if you're only looking to learn a particular aspect of a skill. For instance, if you're a photographer seeking to sharpen your skills in portraits, you can easily find a class for just that and learn it without having to take a whole course on photography.
Another notable quality of Skillshare is the ability to annotate the videos. This means that you can make your notes on the videos citing certain points or marking where you left off so you can pick up from there later. It makes it easier to navigate through the videos and find what you want.
Some courses on Skillshare offer projects to work on and upload while learning. The idea is to get feedback from your peers who are taking the same course as you. If you're lucky, the instructor might even comment but this is only on rare occasions.
Other courses offer downloadable study materials which you can seek references from later. Overall the interaction of students with the instructors and the online learning community as a whole is better on Skillshare than MasterClass.
MasterClass
The quality of the videos on MasterClass is spectacular. This is one aspect that MasterClass beats Skillshare. Every video lesson is carefully curated and made to be very appealing and engaging, to an extent that anyone could mistake one of the courses to be a glamorous movie. After all, it features celebrities and popular faces like Alicia Keys, Steve Martin, and Saint Vincent.

MasterClass offers over 150 classes across 11 different categories. These classes are pre-recorded by instructors who are all experts in their field.
Currently, there are over 100 instructors on MasterClass each for a different course. Some of the categories of classes that you can learn on MasterClass are
writing;
music and entertainment;
film and TV;
sports and games;
culinary arts;
business, politics, and society;
science and technology;
design, photography, and fashion;
Most of the classes range between 2 hours to 5 hours, with individual lessons that take 2-5minutes but it is possible to find a course that lasts as long as 20 hours. The classes consist of a pre-recorded video lesson by the instructor, a class workbook, interactive assignments, and sometimes community activities. Students may get the chance to submit work to instructors for feedback but this is not often.
Aside from the classes, Masterclass offers interactive sessions. These sessions are newly introduced and we must say, it is really helpful. In a session, you get to learn alongside professionals by working on a series of activities and projects based on a structured curriculum in 30 days. During these 30 days you'll be allowed to participate actively in the session with a community of your peers and get feedback from the trained teaching assistants, and what's more the session is not limited to any skill level. Although the session is structured for 30 days, the content is pre-recorded so you can still maintain access to all the session materials.
Overall, both MasterClass and Skillshare have a lot to offer and you get great quality and value in exchange for the money paid. However, MasterClass offers better quality of videos, more engaging classes, and additional learning resources. Skillshare offers a higher variety of classes, video annotations, and more interaction between students, their peers, and teachers.
Main Disadvantages
MasterClass
One downside to MasterClass is that there is little to no interaction between the students and instructors. This is mostly due to the caliber of instructors on the platforms. It is unrealistic to think that an A-list celebrity like Alicia Keys will have the time to give feedback on the work or assignments of students.
Also, you cannot communicate with other students taking the same course or lesson as you. MasterClass does not offer live classes but they have begun to improve in this aspect. It seems like they plan on organizing live shows from time to time, like the recent live broadcasted talk with Simon Biles, an Olympic Gymnast.
MasterClass offers neither a free trial nor free classes. So you cannot test-run the platform to see if it suits you or have a chance to see if a course is what you're looking for.
They however offer a 30-day satisfaction guarantee on every membership plan, and if you're not satisfied you can cancel and request a refund. You cannot learn a technical or professional skill on MasterClass. If you're looking to acquire a practical skill, it is advisable that you go for Skillshare.
The payment plan of MasterClass can only be enjoyed by avid learners. If you seek to learn just one topic, it is not ideal as you will not get the value for your money. Imagine paying $180 to only watch one video, that would not give you full value for your money.
Lastly, MasterClass does not offer a certificate for any course learned on the platform so apart from the additional resources given, there's no proof that you learned a course on the platform.
Skillshare
Like MasterClass, Skillshare offers no certificate and though you can acquire a new life skill here, you only have the knowledge you gained and the projects you worked on to show for it.
Skillshare doesn't have the caliber of instructors that MasterClass has. This is because, unlike MasterClass, anyone can teach on Skillshare which means that there are likely to be courses that are not of a good standard. Your experience on Skillshare especially if you're learning a free course gets interrupted by ads which are quite annoying.
There is no fixed standard for the quality of videos uploaded on Skillshare which expectedly means that some of the videos are of low quality. However several reviews from students have shown that a good number of the videos possess high quality.
There are no one-on-one classes on Skillshare because the platform focuses on creating a shared learning experience. This is not good for students who prefer to learn solo.
An Overall Comparison of Skillshare and MasterClass
| | | |
| --- | --- | --- |
| Criteria | MasterClass | Skillshare |
| Price per month | $15- $23 | $15 |
| Price per year | $180-$276 | $99 per annum |
| Guarantee | 30-day satisfaction guarantee | No guarantees |
| Trials | There are neither free classes nor trials | Free classes and a free trial of premium membership |
| Instructors | Renowned experts, A-list celebrities | Professionals |
| Learning resources | There are more additional resources | They do not offer many additional resources |
| Content | Limited amount of courses | A large variety of courses |
| Quality of videos | Impressive video quality | Video quality varies from course to course |
MasterClass vs Skillshare For Teachers
Having reviewed and compared MasterClass and Skillshare for students and what they stand to gain from both platforms, it is only fair that we look at the platforms from the teacher's perspective too.
Are the platforms worth it for teachers? What is it like working as a teacher on each platform? Which is better for teachers, Skillshare or MasterClass? Read on to find out!
MasterClass
Reports show that instructors at MasterClass get a one-time cut of at least $100000 per course. They are also entitled to 30% of the revenue generated. CEO David Rogier further clarified that contracts vary by individual and every instructor is paid differently based on several factors.
Mike Berliner – An employee at MasterClass testifies that MasterClass maintains a high standard for their employees. He also says that MasterClass is one of the best places to work, employees are paid well, and a comfortable working environment is provided.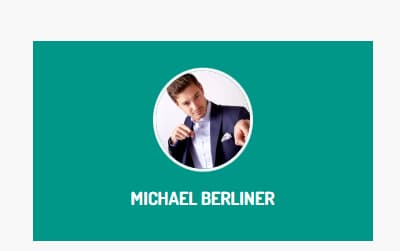 It is a sure fact that you would have fun teaching at MasterClass. But remember, instructors on MasterClass are mostly celebrities and big names in the industry. Not everyone can teach at MasterClass!
Skillshare
Unlike MasterClass, Skillshare accepts a wide range of teachers. As long as you're talented and very skilled in what you do, you can be accepted to be an instructor on Skillshare.
Also, if your class adheres to the Skillshare class guidelines, it can be published on Skillshare at no cost whatsoever. All you need to do is make a video of your class and upload it on the platform using the Skillshare easy class upload tool.
Top earning teachers at Skillshare make over $100000 a year. You'll receive royalties monthly for every student that watches your class. Another way of earning money on Skillshare is through a referral bonus anytime you refer a student to Skillshare. And the good thing is you don't need to promote your classes.
Since Skillshare has a membership plan, your class will have a large audience from the start.  Teachers on Skillshare can get resources from the platform to aid their teaching. This goes a long way to make your job easier. You also get the opportunity to grow your brand on Skillshare.
One of the teachers, Tabitha Park says, "Teaching on Skillshare gives me the financial flexibility to take on only the work I'm most passionate about."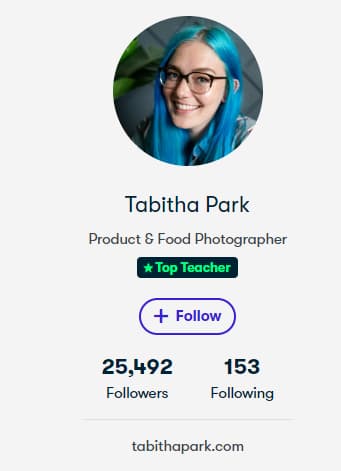 From the reviews, It is easy to see that teaching at Skillshare is worth it. However, if you're of a science background, Skillshare is not exactly a good option especially if you're a beginner. This is because these classes are not so popular on Skillshare. They appear at the bottom of curated lists hence they are less likely to be watched.
Also, you have no way of knowing if you're being paid the exact royalty that you deserve or if you're getting cheated.
Conclusion
At the end of the day, the better online platform depends entirely on you. As we have shown, both MasterClass and Skillshare are great online learning platforms that cater to different niches. As a student, choose MasterClass if you would love to learn from celebrities you've always admired. On the other hand, choose Skillshare if you seek to pick up a life skill. Meanwhile for teachers, you don't have much of a choice, you can only go for MasterClass if you're a celebrity. Otherwise, choose Skillshare.