Intro
Online learning platforms can be a great way to catch up on essential academic concepts, especially if you can identify the right course to help you out.
However, it can be a real challenge to identify an ideal online learning platform.
To settle on a final choice, you'll often have to compare various similar alternatives. In this review article, the two learning platforms that will be pitted against each other are Skillshare and CreativeLive.
Both platforms have flexible learning resources that students can use to improve their overall skill level. They also support learning at your own pace.
But which of them is the better alternative – Skillshare vs. CreativeLive – to boost your learning efforts and offer real value for money? Keep reading to find out.
In the realm of online learning platforms, Codecademy stands out for its unique approach to teaching coding. Get a clearer understanding of what it has to offer by checking out our in-depth Codecademy reviews.
Key Features of Platform For Students
To start this Creative Live vs Skillshare comparison, we'll need to compare the top features of each learning platform.
With numerous online learning platforms available today, legitimacy becomes a prime concern. To understand if Teachable.com is legit, we've conducted an exhaustive review analyzing its features, user experience, and course offerings.
Skillshare
Skillshare was established in 2010 by Malcolm Ong and Michael Karnjanaprakorn. Since this platform was created, more than 27,000 courses have been added to it.
There are also more than 2,000 courses for students to watch for free without having to pay or meet any requirements.
While these courses are created by random people with a fair amount of skill, you'll still find some options that were made by seasoned professionals. You should expect to come across content from:
Mark Ecko;
Seth Godin;
Yuki Shimizu;
Susan Orleans.
You need to note that Skillshare is broken into different niches. Each niche has hundreds of classes anchored by different instructors. You'll hardly ever get fed up with the learning process, and will learn from numerous tutors.
The classes on the platform range between 2 – 20 minutes, depending on the content you're supposed to assimilate. As a result, the content is fairly easy to grasp.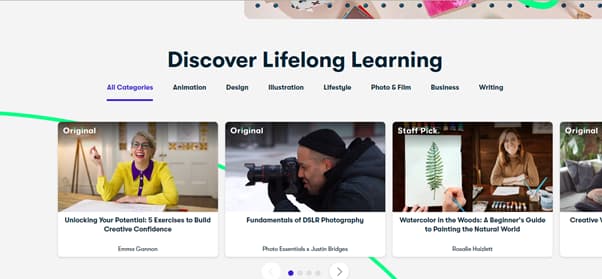 One of the most interesting features of SkillShare is its engagement forum – where students get to engage and interact with each other. Other learning platforms have struggled to make this feature work and it always features some form of lag.
On the engagement forum, users will be able to seek help from other students and instructors. You'll be surprised to find out that many people are always ready to help.
Who Should Use SkillShare?
Numerous courses focus on different categories on SkillShare. However, the most popular ones are writing, coding, and business. If you're interested in getting into the coding scene and don't know how to go about it, SkillShare is ideal for you.
This platform has beginner classes in coding languages, such as Python, HTML, and CSS.
Popular coding courses that you'll find on this platform are Coding for Beginners by Applause Interactive, and Coding 101: Python for Beginner by Alvin Wan. These coding classes may feel fairly lengthy, but they have been broken down into bite-sized chapters for easy assimilation.
However, you should also expect to find useful materials on creative writing, content writing, and copywriting. These classes are relatively shorter than coding classes, but they are packed with plenty of valuable information.
CreativeLive
It's also essential to note that CreativeLive was also founded in 2010 by Craig Swanson and Chase Jarvis. However, this learning platform focuses solely on helping students develop soft skills, including art, writing, and stress management.
When you navigate to the CreativeLive website, you can instantly notice that there are over 1,500 lessons on the website with more than 700 instructors. While this isn't the same amount of content as Skillshare, you have to keep in mind that CreativeLive focuses on other things asides from soft skills.
There are more than 10 million students currently learning and using the CreativeLive learning platform. Many of these students are interested in professions, such as blogging, entrepreneurship, copywriting, photography, and art.
An interesting to note about CreativeLive is that all their videos are professional and done to great standards. The quality of the videos uploaded on the platform is monitored by Chase Jarvis, co-founder of the learning platform.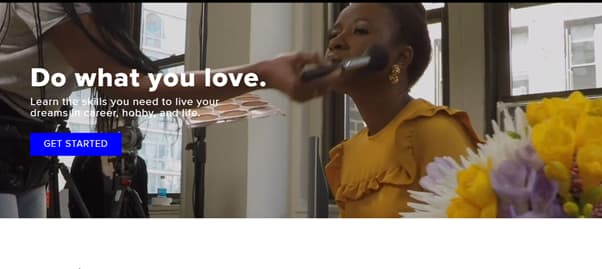 When you consider the style and approach that CreativeLive applies to its lessons, it's clear that this platform takes an alternative path to education.
All its classes are also engaging and will ensure that you're immersed in the content of its lessons.
Who Should Use CreativeLive?
It's quite clear that CreativeLive is designed for professionals who are interested in boosting their overall skill level in professions such as blogging, photography, and writing. This platform uses a unique interface to teach students and engage them.
By using an engaging approach, students can rest assured that they will easily assimilate everything they learn here.
What's more? If you sign up for a live class, you can ask questions directly from the instructor and get answers almost immediately.
This platform focuses on writers. Some of the best-selling classes that you'll find on CreativeLive include Blogging to Sell Your Products By Megan Auman, and Copywriters for Crafters by Lisa Jacobs.
Another profession that you'll find this platform focusing on is photography. This may be because one of its co-founders is a photographer. The photography courses that you'll find here are breathtaking, and you'll hardly get them elsewhere.
Some of the most popular courses in this category include 28 Days of Portrait Photography by Sue Bryce, Fundamentals of Photography by John Greeno, and The Art of Flower Photography by Kathleen Clemons.
Perhaps the most impressive category of lessons on this learning platform is those that are found in the mental health categories. The lessons here teach you how to ensure that you do not ignore your mental health and can constantly boost your productivity.
Pricing Comparison
Now, the next step in deciding between Skillshare or Creative Live involves comparing the pricing between both platforms. The pricing of either of these platforms will determine their accessibility to students.
Skillshare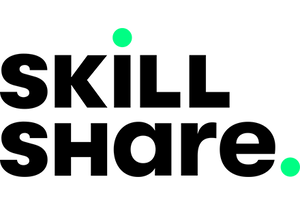 After you sign up on Skillshare and sign up for their monthly plan, you'll get a one-month trial.
The monthly subscription plan on this platform is quite pricey and costs $32/month.
Yearly membership on Skillshare costs $168, which is an average of $14 per month.
If you only intend to use this free trial, you're free to cancel this subscription plan before you are charged.
If you plan to use Skillshare to pick up a few soft skills, then it's essential to determine their pricing information. However, if you search for this platform's page, you're unlikely to come across any useful information.

While this platform is not so forthcoming with its pricing information, we've prepared some essential details about the cost of learning on this platform. There's a free membership period for new users.

After you sign up on Skillshare and sign up for their monthly plan, you'll get a one-month trial. If you only intend to use this free trial, you're free to cancel this subscription plan before you are charged. The monthly subscription plan on this platform is quite pricey and costs $32 per month.

However, if you want to save on your cost, you can subscribe to the yearly plan. Yearly membership on Skillshare costs $168, which is an average of $14 per month. This means you'll get to save up to $18 per month.
CreativeLive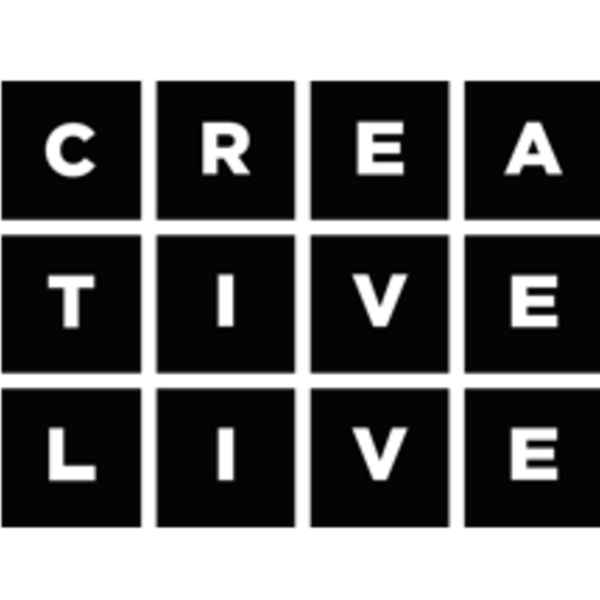 The subscription plans on this platform are; monthly subscription plan is $39 per month.
Annual subscription plan is $299 per year.
The prices of each course separately can range between $17 and $199.
It's also essential that you find out the pricing plan of CreativeLive. However, this platform has an unusual pricing plan. You may either choose a subscription plan or pay for each course. This platform offers flexible pricing and allows you to choose exactly what works for you.
The subscription plans on this platform are; a monthly subscription plan ($39/month) and an annual subscription plan ($299/year). By choosing the annual subscription, you'll save up to $15 per month. However, you may choose to a one-time purchase for a course. The prices of course range between $17 and $199.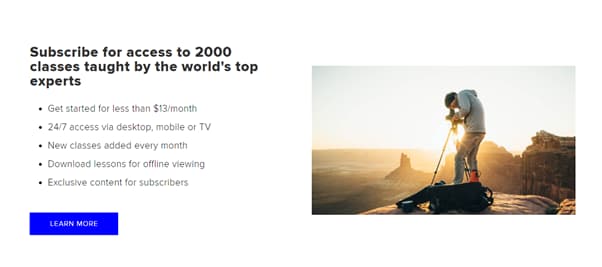 You'll be surprised to note that Skillshare and CreativeLive have similar pricing plans. While Skillshare is considerably cheaper, CreativeLive offers students more pricing options. By allowing students to purchase individual courses, CreativeLIve ensures that users don't have to commit to the learning platform unnecessarily.
Quality of Courses and Value for Money
The next step in comparing Skillshare and CreativeLive is to look at the quality of the courses on each platform. It also makes a lot of sense to consider the overall value that they offer.
Skillshare
When you compare Skillshare to most of the learning platforms in the same category, you'll realize that it's cost-effective and an excellent launching point to help people boost their career skills.
It's also a perfect place to learn new perks and develop new interests.
There are courses in almost every professional field that you can think of, including gaming, entrepreneurship, music, social media, advertising, writing and publishing, technology, design, etc.
It's interesting to note that Skillshare courses are structured like a traditional learning platform. However, it has some additional functionality too. To start with, the platform has video lessons.
Each lesson is organized and displayed towards the right of the playback screen (when accessing from a web browser). This display makes it easier for learners to toggle through different courses.
Under the video playback screen, you'll find different options to help you improve your learning – About, Transcripts, Discussions, Projects and Resources, and Reviews.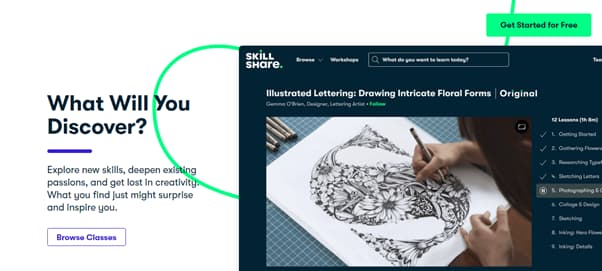 The About section will reveal the layout or summary of the source, including what you should expect to learn at the end of the course. For some courses, you'll also find information on who the course is meant for.
Also, the reviews section is a great way to help you learn essential information about a course before getting started. You'll find out about the previous experiences of past learners and if the lessons have met their expectations.
Moreover, the discussion section is useful for those who wish to post questions and learn from others. If you're lucky, you may get a response from the instructor.
Furthermore, the projects and resources section will display any useful recommendations that can help you improve your knowledge there'll also be a project for you to practice everything that you've learned. Students are usually encouraged to share pictures of their progress and project experience.
Finally, the transcript section is a great idea for anyone who would love to read through the details discussed during the lesson.
CreativeLive
When you look at everything that CreativeLive does well, you can't help but admire the quality of learning that this platform provides for users.
This learning platform has an amazing and easy-to-use interface. All its classes are engaging and instructors anchor their classes in front of a live audience.
Unlike other platforms that only allow students to learn, CreativeLive gives room for feedback. With the chatbox feature, it's possible to ask a question during a live class and get a positive response.
Furthermore, this platform allows students to learn from more than 2,000 lessons that are anchored by several instructors. To maintain the quality of knowledge that's offered on this platform, instructors are handpicked.
Today, there are up to 700 instructors in this program. Each of them covers different soft skills, including writing, blogging, art, entrepreneurship, and art.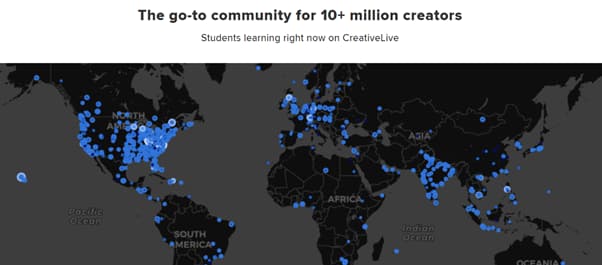 Also, CreativeLive has an ever-expanding library of courses. New classes are added every month to ensure that students stay up to date with the latest trend.
What's more? You can access all these lessons via mobile phones, desktops, or TV. These lessons can also be saved offline to offer users a chance to watch them at a later time. When dealing with CreativeLive, you shouldn't expect them to act like a formal educational institution.
Instead, they adopt a flexible approach to teaching. All of its contents are put together by experts in their respective fields. Therefore, you should expect them to cover topics that will intrigue you.
When comparing the quality of courses and the value for money that's gotten from these learning platforms, it's clear that both of them are impressive.
However, CreativeLive shines through with its live and engaging classes.
Main Disadvantages of the Platforms
When trying to choose between CreativeLive or Skillshare, it's easy to get carried away by their benefits and what they do well.
However, both of these learning platforms also have some disadvantages that every learner should be aware of before getting started with them.
Skillshare
The following are the disadvantages of Skillshare;
– No Certificates: 
This learning platform does not offer users any special type of reward when they complete a course. Instead, this platform is designed to support personal growth.
– Poor Quality Control:
It's difficult to deny that there are some low-standard courses on Skillshare. This is due to the poor quality control practices that the platform has put in place to checkmate instructors. Almost anyone can signup and create their course on this platform.
– Only Available In English: 
The content of Skillshare courses is predominantly in English. This reduces the number of people that can learn using its interface.
CreativeLive
These are the disadvantages of CreativeLive;
– No Certificates: 
CreativeLive doesn't offer learners any certificate or accreditation after they are done with their learning experience.
If you're looking to earn a certificate to show your experience, you may be better off working with another platform.
– Lesser Courses:
CreativeLive offers a smaller course library when compared to some of its competitors. However, this may be because this platform scrutinizes all those who wish to upload on the platform.
– Individual courses are expensive: 
There's an option to purchase individual courses on this platform.
However, the price of each course varies to a great extent. You may find yourself paying up to $150 for some courses.
Skillshare vs. CreativeLive: Overall Comparison
Now, we've spent some time comparing both learning platforms. So, Is Creative Live better than Skillshare? Take a look!
Factors
Skillshare
CreativeLive
Pricing
$32/month, $168/year with no individual pricing
$39/ month, $299/ year with individual pricing between $17 – $199
Quality of videos
Pre-recorded video lessons
Live video classes
Guarantee and trials
30-day money-back guarantee

Up to 2,000 Free classes

30-day money-back guarantee

Free classes

Number of classes
Up to 27,000 courses
Up to 2,000 classes
Instructors
An Unspecified number of instructors
About 700 professional and handpicked instructors.
Learning resources
No additional learning resources
Additional learning resources
Skillshare vs CreativeLive for Teachers
Now, let's compare Skillshare and CreativeLive from the teacher's perspective.
Many online learners wonder about the credibility of the platforms they choose. To address this concern, our detailed review examines if Udacity is accredited, analyzing the authenticity and value of its courses.
Skillshare
Skillshare is an ideal platform to inspire others through creativity. By teaching others what you're skilled at, you'll share your passion with them and equip them to take on the world.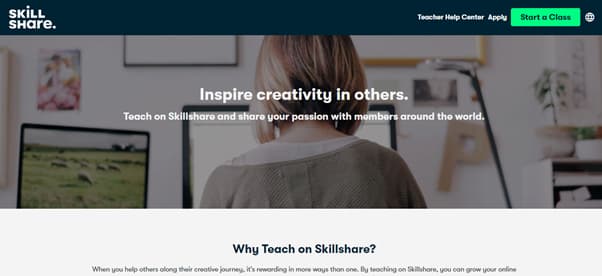 Asides from helping students achieve their potential, Skillshare is also a rewarding platform to help instructors earn from their experience.
On this platform, you can grow your followership and make a fair earning. The best teachers on Skillshare earn up to $100,000 each year. What's more? This platform allows everyone to register to become a teacher in a few easy steps.
CreativeLive
CreativeLive has developed a positive reputation to be a platform where industry experts and professionals interact with students from different parts of the world.
It's interesting to note that this platform pays a lot of attention to the process of choosing its instructors. However, if anyone qualifies to be a part of their ecosystem, they won't hesitate to let you in.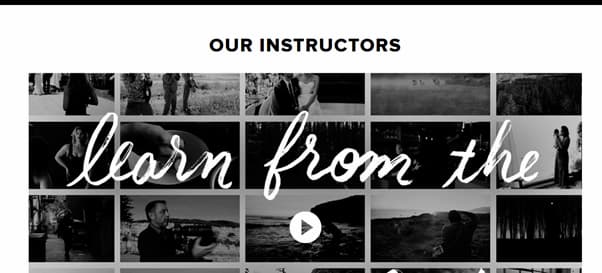 Conclusion
Finally, we've gotten to the end of this piece. We've spent some time comparing these effective learning platforms – CreativeLive and Skillshare. So, which of them is better? Well, that depends on what you're looking for.
For the blogging, photography, and writing types of courses, you may go with CreativeLive, but if you want to take writing, coding, and business-related courses then your choice is Skillshare.
Before settling on any of them, make sure you've gone through the features and benefits mentioned in this piece. You may also pay a visit to their official websites to learn more about them first-hand.