Intro
The modern world is replete with opportunities to learn, grow, and excel. The world of online education provides numerous avenues to acquire new skills and knowledge. However, not all learning platforms are created equal,  and hence, a detailed analysis of each is paramount.
Udacity enjoys a positive reputation in the realm of online learning platforms, particularly for its tech-focused Nanodegree programs. With an average rating of 4.7 from 2,547 users, it's clear that a majority of Udacity's users find their experience satisfactory.

Out of these reviews, an overwhelming 87% gave a full 5-star rating, indicating the high quality of Udacity's offerings, mentor support, and career services. A further 10% provided a 4-star rating, suggesting they were largely pleased with their learning experience but might have seen some areas for improvement.
This Udacity review aims to guide prospective students or learners in making an informed decision regarding their choice of online education platform.
We'll dissect Udacity based on quality, features, pricing, website usability, value for money, student feedback, and platform guarantees.
Udacity's CEO
Udacity's current CEO is Sebastian Thrun, who returned to the position following the departure of Gabe Dalporto in October 2022. Sebastian Thrun is not only the CEO but also serves as the President and Chairman of the Board at Udacity. As one of the co-founders, Thrun brings a wealth of knowledge and experience to the role.
The other co-founders, David Stavens and Mike Sokolsky, have shifted their focus to working on various artificial intelligence (A.I.) projects that are not directly related to Udacity. Despite these changes, Udacity continues to thrive under the leadership of Sebastian Thrun, who has played a significant role in shaping the company's vision and mission.
Standing Out from the Crowd
Udacity is a remarkable online learning platform. It has established a reputation for offering specialized courses referred to as "Nanodegrees" in today's most in-demand tech fields, such as Artificial Intelligence, Data Science, Cloud Computing, and many more.
From my experience, Udacity tends to attract learners who are looking for comprehensive, industry-relevant courses to upgrade their skills, or those wishing to shift their career path entirely.
It's important to ensure value for money when investing in an online course. If you're considering KodeKloud, exploring the question, is KodeKloud worth it, could provide insights into their course offerings and overall value.
Key Features of Udacity
Udacity's Nanodegree programs are designed to equip students with job-ready skills. These comprehensive programs, typically taking 3-6 months to complete, focus on in-demand fields like data science, machine learning, AI, cloud computing, and more.
One aspect I particularly appreciate about Udacity is its emphasis on hands-on learning. Each Nanodegree includes several projects that simulate real-world challenges, ensuring students gain practical experience.
Udacity collaborates with top tech companies like Google, IBM, Amazon, and more. This enables them to design courses that align with industry needs, ensuring the skills students learn are relevant and sought-after in the job market.
Students enrolled in Nanodegree programs receive personalized feedback and guidance from industry professionals. These mentors provide project reviews, answer questions, and offer valuable advice.
Udacity offers career assistance, including resume reviews, LinkedIn profile optimization, GitHub portfolio reviews, and even mock interviews. These services aim to help students showcase their new skills and secure job opportunities.
Courses on Udacity are self-paced, allowing students to learn whenever and wherever it's convenient for them. This flexibility is ideal for those who wish to study while working or managing other commitments.
Once you enroll in a Udacity course, you get lifetime access to the course content, allowing you to revisit and review the material even after course completion.
Udacity's learner community is a space where students can interact, collaborate, and share knowledge. It's a supportive environment that fosters learning and growth.
These features come together to provide a unique, well-rounded learning experience that is geared towards acquiring practical, job-ready skills. They certainly contribute to Udacity's reputation as a leading eLearning platform.
Intrigued to learn more about this unique platform? Continue reading our comprehensive Udacity review.
Udacity Pricing: A Closer Look
Udacity's pricing structure for their Nanodegree programs, while not the simplest, offers a degree of flexibility that may be appealing to many learners. Let's delve into the details.
These transformative courses offer cutting-edge training in high-demand fields starting at just $399 a month. And with programs ranging from 2 to 6 months (depending on the course), you can get the skills you need quickly without breaking the bank.
What's more, Udacity offers two easy-to-use payment methods specifically tailored to match your needs and budget. Opt for the Pay As You Go plan and be billed monthly, giving you the flexibility to extend or shorten the course duration as you see fit.
Or, for added convenience, choose the All Access plan, which lets you pay upfront for the estimated length of your Nanodegree — guaranteeing no surprise bills down the line.
Regardless of which plan you select, you can trust that Udacity's personalized approach to learning maximizes your chances of success in any field.
Let's look at Udacity nanodegree price for different program durations:
| | | |
| --- | --- | --- |
| Nanodegree Program | Monthly | One time |
| 2-month | $399 | $558 |
| 3-month | $399 | $1,017 |
| 4-month | $399 | $1,356 |
| 5-month | $399 | $1,695 |
| 6-month | $399 | $2,034 |
As evident, the Full Access Pay Upfront plan offers a slight discount compared to the total cost incurred through the Monthly Pay As You Go plan for the same duration.
Hence, learners who can commit to the full duration of the program and can afford the upfront payment might find the All Access option more cost-effective.
However, for those who prefer flexibility or are unsure about their commitment, the Pay As You Go option allows them to control their spending better.
To make an informed decision on where to host your online courses, consider reading a review of Teachable.com. This could provide insights into the platform's features, ease of use, and support for course creators.
Quality: What Differentiates Udacity?
Udacity, founded by two Stanford professors and a former Google engineer, has an impressive pedigree. The quality of their content, delivery, and support is generally high. Udacity's Nanodegree programs are project-based, where you work on practical tasks similar to what you would encounter in a real-world job.
Udacity stands out from other platforms like Coursera and Lynda by primarily focusing on tech industry courses. While Coursera provides a broader range of topics, and Lynda focuses on shorter, skill-based courses, Udacity offers intensive, job-focused programs in the tech industry.
| | | | |
| --- | --- | --- | --- |
| Parameters | Udacity | Coursera | Lynda |
| Pricing | Udacity's Nanodegree programs start from $399 per month. | Coursera offers individual courses for free, while specialized programs and degrees have varying costs. Monthly subscriptions for Coursera Plus is $59. | Lynda offers a monthly subscription of $29.99, providing access to all courses. |
| Quality | Udacity is known for its high-quality tech-oriented Nanodegree programs, with an emphasis on hands-on, project-based learning. | Coursera collaborates with top universities and organizations worldwide to provide a wide range of high-quality courses. | Lynda offers a wide variety of courses with a strong focus on software and business skills. |
| Value | Udacity provides substantial value, especially for learners focused on tech fields, with practical learning, mentor support, and career services. | Coursera delivers high value due to its vast range of courses, including free options and university-backed programs. | Lynda provides strong value for users looking to learn business and creative skills at their own pace with a single monthly subscription. |
Udacity offers a few guarantees to students to ensure a quality learning experience.
One of the key guarantees is the Access Guarantee. Once you enroll in a course or a Nanodegree program, you have access to the course content and resources even after the course ends. This allows you to revisit the materials and continue learning at your own pace.
Another assurance comes with the Udacity's Project Review Guarantee. This unique feature ensures that all projects submitted by students are reviewed by experienced professionals. They provide you with detailed and valuable feedback on your work, which is guaranteed to help you improve.
Udacity also maintains a high standard of course content. They work with industry leaders to ensure the material is up-to-date, relevant, and prepares students for real-world challenges. The platform guarantees that all courses are created and updated by subject matter experts.
Lastly, Udacity offers a 7-day trial period for its Nanodegree programs. During this period, if you feel the program isn't the right fit for you, you can cancel with no penalties.
In my experience, these guarantees reinforce Udacity's commitment to providing a quality, risk-free learning experience for all its students.
Value for Money: Worth the Investment?
The question "Are Udacity nanodegrees worth it?" is often posed by many potential Udacity students. However, when evaluating what Udacity offers, it indeed provides substantial value, especially in comparison to platforms like Udemy courses, which cater to a different audience.
When you invest in a Udacity nanodegree course, you're not just paying for a Udacity certificate. Here's the breakdown of the value:
Udacity online courses are tech-focused Nanodegree programs co-created with industry leaders, ensuring alignment with employer needs.
Project-based learning ensures students can simulate real-world challenges, allowing them to implement theoretical knowledge in practical scenarios.
Udacity instructors offer mentor support. These mentors guide students throughout the course, offering personalized feedback.
Udacity career services include resume reviews and LinkedIn profile optimization to bolster the job search. Additionally, Udacity support is always there for any technical or course-related queries.
And for those wondering about Udacity nanodegree pricing, considering the above benefits, it's evident that there's significant value packed into each program.
For those on a tight budget, Udacity scholarships are available, making it more accessible. There's also an array of Udacity free courses available for beginners or those who want to sample the platform before investing. Furthermore, once you enroll, managing courses is straightforward with your Udacity account or the Udacity app.
The platform's Udacity aims are clear – to provide a rigorous learning experience that's industry-relevant. They've consistently produced Udacity graduates who are well-prepared for the tech industry, whether it's in roles like a self-driving car engineer or diving deep into object-oriented programming.
Some of the popular nanodegrees like the digital marketing nanodegree or those focusing on computer vision are a testament to how Udacity teaches and Udacity produces results.
In essence, if you're aspiring for a career in tech and value real-world applications, Udacity, with its well-designed curriculum and plethora of offerings, is definitely worth considering. Not to forget, for those excited about the future, there are courses on topics like the self-driving car, which is rapidly transforming the automotive world.
As always, research thoroughly, compare with other offerings like Udemy courses, and make an informed decision. Remember, scholarship programs are there to help, ensuring that a Udacity accredited course is within reach for most aspiring learners.
The Most Popular Courses on Udacity
Udacity offers an array of top-tier courses, but there are a few that stand out due to their popularity and high student ratings. Let's take a look at some of the most well-regarded ones:
Data Scientist
This Udacity Data Science Nanodegree review reflects the course's real-world application. This program provides a comprehensive overview of data science techniques and tools. It covers data visualization, machine learning, deep learning, and more.
Students appreciate the hands-on projects that allow them to apply learned theories in real-life scenarios. They also praise the program's extensive coverage of essential data science topics.
What we particularly appreciate about this course is its practical approach to learning. By including projects based on real-world problems, the course ensures that students not only learn but understand how to apply their knowledge in a professional setting.
Tutorials Point offers a wide range of tech tutorials and resources. A Tutorials Point review could offer insights into the platform's course quality, the variety of subjects, and overall user experience.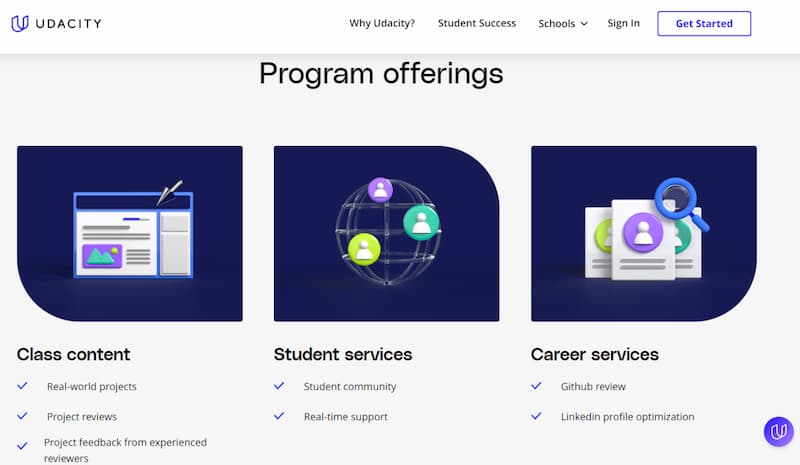 Machine Learning Engineer Nanodegree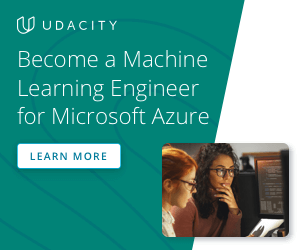 This program equips students with the skills to design and deploy machine learning models, a highly sought-after ability in today's tech industry.
Students have praised the clear and comprehensive course content, as well as the dedicated mentor support that helps them grasp complex concepts.
From designing to deploying machine learning models, the course covers the complete lifecycle, preparing learners for real-world tasks in machine learning roles.
Become an AI Product Manager
As I delved into this course, I realized it is a well-crafted program designed for individuals who wish to harness the power of AI without delving too deep into the technical intricacies of neural networks and machine learning models.
What makes this program stand out is its focus on the application of AI in business. It teaches you how to scope datasets, test machine learning models, and draft a proposal for a new product powered by AI. By the end of this course, you gain fluency in AI concepts and the ability to navigate the AI-powered business landscape effectively.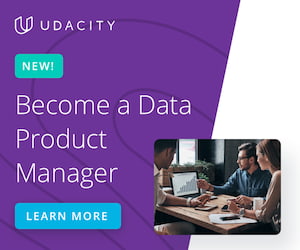 Speaking about job prospects, this course gears you up to take on roles as AI Product Managers. In an increasingly AI-driven world, such skills hold high value, allowing you to bring tangible benefits to any business leveraging AI.
Whether you are a practicing product manager looking to upscale your skills or someone interested in gaining a solid understanding of AI use cases, this course is well-suited. For those aiming to understand the process of building a dataset and evaluating machine learning models without coding, this program proves highly valuable.
In my experience, the "Become an AI Product Manager" course is a thoughtful offering from Udacity that bridges the gap between complex AI technologies and their practical business applications. It equips learners with the skills needed to compete and excel in the new AI-powered world.
Full Stack Web Developer
This program covers front-end and back-end development, providing a comprehensive understanding of full-stack web development. Students appreciate the course for its comprehensive coverage of full-stack development, and the project-based approach is highly praised for enhancing understanding.
We like how this course provides a holistic view of web development. By covering both front-end and back-end, students get a complete picture, making them more versatile and employable as developers.
This program covers front-end and back-end development, providing a comprehensive understanding of full-stack web development. Students appreciate the course for its comprehensive coverage of full-stack development, and the project-based approach is highly praised for enhancing understanding.
We like how this course provides a holistic view of web development. By covering both front-end and back-end, students get a complete picture, making them more versatile and employable as developers.

Learn C++ Nanodegree Program
With C++ being a high-performance language that fuels various high-tech engineering jobs worldwide, this course provides an invaluable learning opportunity. From self-driving cars and robotics to web browsers, media platforms, servers, and even video games, C++ has a wide-ranging application.
This program takes you on a 4-month journey (assuming you put in about 10 hours per week) into the world of this powerful language, giving you the chance to step into these exciting industries.
In terms of skills acquired, this program covers threading, heap memory, dynamic memory allocation, and control flow, among other key aspects. These skills are vital for writing efficient, high-performance C++ code.
Based on my analysis, the "Learn C++" course by Udacity is a well-structured program that provides a strong foundation in a language that powers some of the most innovative sectors in tech. It offers learners the chance to get a foothold in these industries and equip themselves with skills that are highly sought after.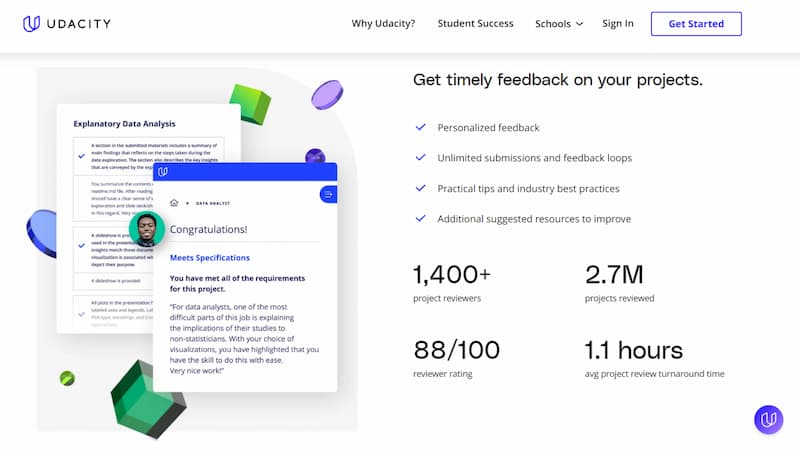 Udacity's Free Courses
Udacity offers a wide range of free courses that provide an opportunity for learners to explore various topics and gain valuable knowledge.
Here are some key details about Udacity's free courses:
Course Availability: There are close to 200 free courses available on the Udacity platform. These courses cover diverse subjects, including programming, data science, artificial intelligence, digital marketing, and more.
Course Structure: Free courses on Udacity are designed to introduce learners to specific topics or provide career-related content. They typically consist of video lessons, quizzes, and hands-on exercises to facilitate active learning.
Introduction to Nanodegree Topics: Many of the free courses offered by Udacity serve as introductions to topics covered in their paid Nanodegree programs. They allow learners to get a glimpse of the subject matter and decide if they want to pursue further studies in that area.
Career-Focused Content: In addition to technical topics, Udacity's free courses include career-centric content such as interview preparation, resume building, and soft skills development. These resources can be valuable for enhancing employability.
Limitations of Free Courses: While the free courses on Udacity provide valuable learning opportunities, there are some limitations to keep in mind. Learners who enroll in free courses may not receive a completion certificate upon finishing the course. Additionally, mentor support may not be available for free courses.
Flexibility and Accessibility: Free courses on Udacity offer flexibility in terms of access. Learners can start and complete the courses at their own pace, allowing for self-paced learning. The courses are available online, ensuring easy accessibility from anywhere with an internet connection.
Udacity's free courses are a great way to explore new subjects, gain introductory knowledge, and enhance your skill set without any financial commitment. They provide a valuable learning experience, though it's important to note the limitations regarding certificates and mentor support.
Detailed View of Udacity's Cancellation Policy
Udacity's cancellation policy offers some flexibility, allowing you to halt your participation in any course at any time, but the refund policy is tied to a specific time frame.
| | |
| --- | --- |
| Cancellation Policy | Details |
| Immediate Cancellation | Udacity allows for immediate cancellation of your course enrollment at any time. To cancel, go to your account settings and follow the prompts. |
| 2-Day Refund Window | If you cancel within the first 2 days of enrolling in a course, you are eligible for a full refund on your first month's subscription. This policy applies globally, except for EU members. |
| Cancellation of Automatic Subscription | Udacity operates on an automatic renewal basis, charging you for the next month unless canceled. You can cancel your subscription at any time during the month to avoid charges for the following month. |
It's important to note that refunds apply only to subscription fees. Any services rendered, like mentorship or project reviews, are non-refundable.
Be sure to carefully read and understand Udacity's cancellation policy before enrolling to avoid any confusion or issues later on.
In summary, these popular courses on Udacity are appreciated for their comprehensive coverage, practical learning approach, and industry-aligned curriculum. Our recognition stems from their emphasis on real-world, hands-on learning that effectively prepares students for the labor market.
Who Is Udacity For?
Udacity is designed for a variety of learners, catering to different needs and goals. Here's a snapshot of who might find Udacity a good fit:
Aspiring Tech Professionals:
With its Nanodegree programs in fields like data science, artificial intelligence, programming, and cloud computing, you can gain the in-demand skills that employers are looking for.
Career Shifters:
For those contemplating a career shift, especially into tech-related fields, Udacity offers an ideal platform. The practical, project-based nature of the courses can give you a solid foundation in your chosen new field.
Lifelong Learners:
Udacity's courses are perfect for individuals who have a passion for learning and strive to stay updated with the latest technology trends. The platform allows you to learn at your own pace and delve into a wide range of topics, helping you stay ahead of the curve.
Professionals Seeking Upgradation:
Working professionals who wish to upskill or reskill to stay relevant in their field would find Udacity's focused, industry-aligned Nanodegree programs valuable.
Students and Graduates:
For students or recent graduates, Udacity can complement formal education by offering hands-on, practical experience and exposure to real-world scenarios.
Entrepreneurs and Business Owners:
Entrepreneurs looking to incorporate new technologies into their business can benefit from Udacity's courses. Knowledge in areas like data analysis, digital marketing, or AI can prove valuable in growing and managing a business.
In a nutshell, Udacity is for anyone who wishes to acquire new tech skills, advance their career, transition into a new field, or simply learn more about the fascinating world of technology.
Student Feedback & Reputation at Udacity
Based on the feedback from previous students, it seems like there are mixed reviews about Udacity's support services. While some students have had positive experiences, others have expressed concerns.
It's important to note that student feedback can greatly vary based on individual experiences.
Nevertheless, some students have mentioned issues with Udacity's support responsiveness and handling of course extension requests.
For example, one student mentioned the issue of not getting a response within the promised 48 hours from the support team.
They also pointed out the difficulty in re-submitting projects for review once the course duration has ended, requiring payment for an extra month.
Another student shared a frustrating experience related to the subscription. After successfully paying for a Nanodegree, he accidentally canceled his subscription while trying to remove his credit card details. His attempts to rectify the issue were met with disappointment as he had to wait for a refund and repurchase the program a month later.
Despite these concerns, it's worth noting that many students have acknowledged the high quality of Udacity's content. The project-based, hands-on approach and comprehensive course materials have been appreciated by numerous students.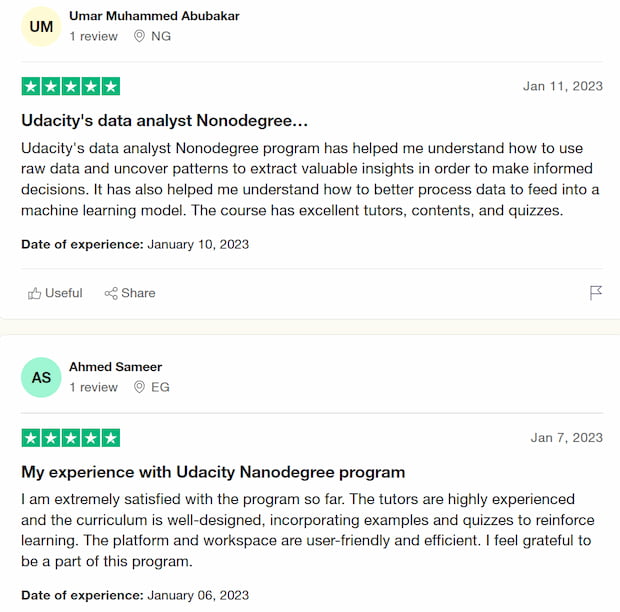 However, the feedback does indicate room for improvement in Udacity's support services, particularly in areas like responsiveness and handling of technical and subscription-related queries.
A robust and responsive support system is crucial in online learning platforms, and it's clear from this feedback that some students believe Udacity has work to do in this regard.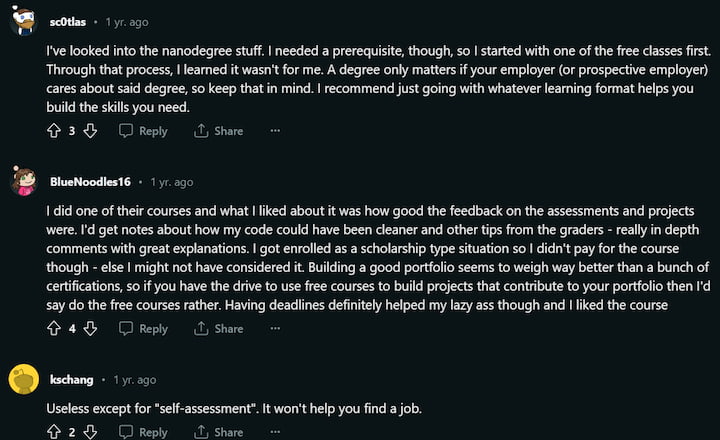 Pros
Udacity specializes in in-demand tech skills, keeping learners at the forefront of the industry.
The platform offers hands-on project experience, helping students apply their knowledge in real-world scenarios.
Udacity provides one-on-one mentorship and comprehensive career services, assisting learners beyond just course content.
Udacity's courses are designed in collaboration with top-tier tech companies, ensuring the curriculum stays relevant to industry needs.
The platform offers an extensive range of free courses, giving an opportunity for learners to explore subjects without a financial commitment.
The platform hosts an active community forum that encourages peer-to-peer learning and networking opportunities.
Cons
Udacity's pricing is relatively high compared to other online learning platforms, which might be a barrier for some learners.
The platform has a narrower selection of courses outside the tech field, limiting options for those interested in non-tech subjects.
Udacity does not offer accredited certification, which some learners might need for their professional or educational pursuits.
While the Udacity platform and its backend support multiple languages, the primary language for course materials is English.
FAQ
How much does Udacity cost?
The cost of Udacity courses varies depending on the program, with Nanodegree programs starting at $399 per month.
Is Udacity worth it?
Considering the depth of content and real-world applications, many students find Udacity Nanodegrees worth the investment.
Is Udacity legit?
Yes, Udacity is a legitimate and reputable online learning platform. It has partnerships with leading companies and institutions, and its courses are created by industry experts and professionals.