Intro
In recent years, improving skills and knowledge online has become something many people decided to try. In addition, businesses and organizations use these services, so their employees can improve their knowledge and level up their expertise.
There are various platforms dedicated to different fields where you can learn and improve your capabilities from the comfort of your home or even on the go.
When it comes to the field of IT, Learning Tree is the platform worth checking. It contains hundreds of courses that allow individuals to learn new skills and technologies.
Now, many people who want to improve their knowledge in the IT section are asking the same question:
Is Learning Tree any good? If you are wondering the same, keep reading this Learning Tree certification review, and you'll get all the details about the platform, from what it offers to costs.
When our team evaluates the service, it considers various points, including quality, features, prices, interface, value for money, student feedback, and guarantees. Find out about Flexible education courses at Your Pace Online reviews.
That said, you can jump right into the Learning Tree CSM review.
Learning Tree Features
Learning Tree is the world's leading training partner built for individuals eager to improve their IT skills and knowledge.
The platform is super rich as it offers hundreds of courses along with top-notch solutions, including coaching, team training, skills assessments, and more.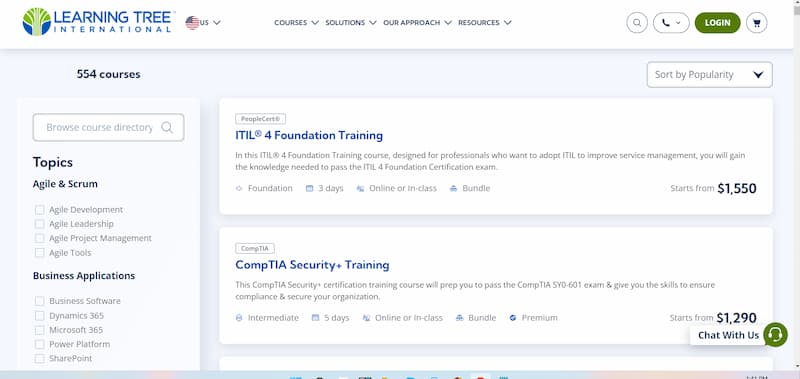 Let's focus on courses first. At the moment, Learning Tree has hundreds of courses. Everyone can agree it's an impressive number.
If you are working in the IT sector or want to step into that field any time soon, this provider could be your best bet. Check Learning Tree course reviews, and you'll see testimonials written by people who have already used the services and see how satisfied they are.
It can be a green light to start pursuing your dreams or finally take steps to become better and more knowledgeable.
The selection of courses is incredible, and you'll find Adobe courses, AWC, CMMC, Python, Data Science, SQL, Advanced SQL, Microsoft 365, SDOF training, and Cloud computing training, to name a few.
You can browse the courses in several ways. First, you can sort them by popularity, by highest or lowest price, or list the new ones first. To do that, click on Sort By Popularity in the upper-right part of the Courses page. Choose the option that suits you most.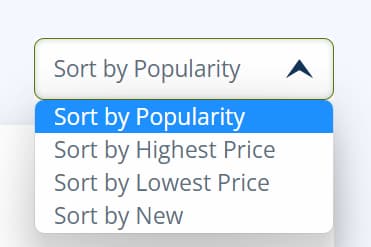 Next, you can browse the course directory by entering what you're interested in, in the desired field. You can browse them by topics, business applications, course level, duration, and more. There are plenty of options.
But, what thing is certain, you'll find what you need. When that happens, feel free to check the reviews first. For example, you're about to get a CISSP course. Ensure to read the reviews of Learning Tree CISSP course to see the experiences of those who already tried it.
When you find the course you want, click on it, and you'll see additional information about it, such as:
Price
Duration
Level
Training outline
You can choose whether you want to take the standard course, government, or team. The prices change accordingly. You can ask questions about the course if you have any and submit the query.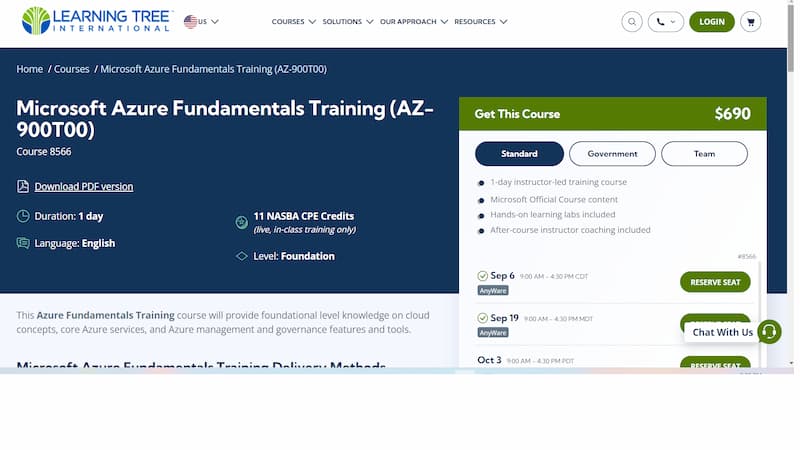 Finally, select the date that suits you, click Reserve seat, then choose to Proceed to checkout. Enter the necessary details, and make a payment. Done! You're ready for the course!
Pricing
The price is crucial for every student or individual who wants to improve their knowledge on online platforms such as Learning Tree.
How much does the course costs? As we mentioned already, you will find hundreds of courses on the website. The Learning Tree course cost varies.
The prices vary depending on the course, complexity, duration, level, etc. In other words, there's not one answer. In other words, Learning Tree courses cost are different. Some may be $99,  $200 or $300, while others can go up to $2500, $3000, or more.
On other platforms, you may get packages with subscriptions, but this service doesn't work in such a manner. You can browse courses; when you do that, the price will be shown right next to the course's name.
For example, The Learning Tree CDC price differs from the PMP boot camp Learning Tree cost. There are no packages. Every course comes with a unique price.
If you are looking for a reliable PMP courses provider, check Brain Sensei; we have a review about this company and their PMP courses too. Or there is also one more alternative called Master of Project.
When it comes to payment methods, you won't see many available options.
For now, Learning Tree is offering the following:
Purchasing the course with the credit card
Paying later using the invoice
Using the prepaid company voucher.
Unfortunately, no promo codes are available, at least not for now.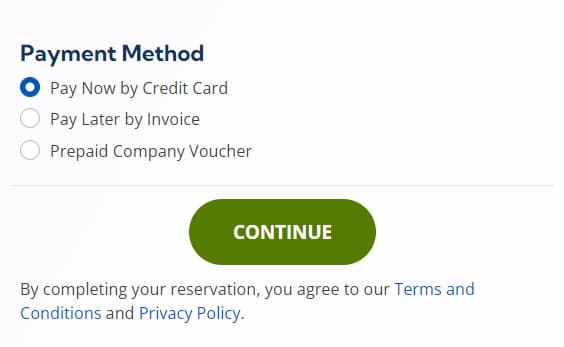 All transactions are safe and secure. If you have any questions or concerns, you can contact the support team via live chat, email: [email protected] and phone.
Quality
Before moving to the part about the quality of the service, let's discuss the website's usability first. It's where it all begins. The site is easy to navigate, and you can quickly find things you're interested in.
As we explained above, you can browse courses in different ways, which makes the whole process of finding the topics much easier and simpler. What's more, you can browse trending courses and trending certifications. On every page, you'll see a live chat option in the bottom-right corner.
So, if you need assistance from customer support or you have questions you would like to ask, the agents are just a click away.
The platform also has a blog where you can find helpful information on various topics. In addition, you can learn what's new in the IT world and get some tips for free.
Now, let's move to the quality of services. When it comes to courses, all of them are held by real-world practitioners. All instructors and coaches have 15+ years of experience. By checking out PMP boot camp Learning Tree reviews or Learning Tree CASP reviews, you'll see how impressed the clients and students are with advisors and couches.
The platform guarantees quality. Here's what it's all about. The guarantee providers the Learning Tree customers to attend any course they want and pay the price only if they are completely satisfied with what they've got.
If within 60 days from the course start, the client sends the written notice of satisfaction, the platform offers the following options:
Retaking the course for free
Choosing another course with prepaid tuition fees
Getting a full refund.
When comparing this platform with others, such as Lynda or Udemy, you'll first notice that the Learning Tree is more expensive. Other platforms offer package subscriptions and other options, which is not the case with the Learning Tree.
Here, you choose the course you are interested in and pay for it. Plus, this platform offers more comprehensive courses held by couches and trainers with years of experience in the particular field.
In addition, Learning Tree is a trusted partner of 65,000+ organizations, including non-profit and government organizations.
Value for Money
Is Learning Tree good for students? It's the question many in college have. Well, at the end of the day, it all comes down to your budget. The content on the platform is outstanding, but costs are nearly as ideal for students.
When checking out the price of courses, you'll see the cheapest ones cost $99. For most college students, that may not be as affordable. Several cost $145, $300, and then prices go over $600. It means the prices of courses are not so perfect for students.
Still, the value of money is not something to be questioned. Courses are designed in a way to provide the most to every individual. Also, consider that some last for several days.
In other words, paying several hundred dollars for courses or certifications is definitely worth it. It's a common practice for businesses and organizations to get vouchers for their employees to improve their skills and knowledge.
Student Feedback and Reputation
The Learning Tree support staff is very polite and helpful. When you send an email or contact them via live chat, you'll get the answers you need as soon as possible. Like every other professional and serious company, this one ensures its clients have excellent customer support to rely on in case of need.
On the company's site, you'll find many Learning Tree training reviews written by the customers who used the services and tried out the courses.
You can read PMP Learning Tree reviews and many others, including the ones for certificates, and see how it all went for other clients.

You'll see that people praise the platform, its content, instructions, and coaches, and especially the company's approach to its customers, their knowledge, skills, and their upgrade. You can learn a lot from these comments and see if the platform is your cup of tea or not.
To help you decide if Coursera Plus is the right choice for you, we have analyzed its offerings in our is Coursera plus good review.
Again, you may notice, even in the comments, that not many students left the comments. Most are people who are already employed, including the ones that got vouchers from companies and organizations.
Pros
Great selection of courses, certificates, and solutions.
The website has a great design, and it is easy to navigate.
The courses come in three options: standard, government, and team.
Instructors and couches are real-life practitioners with more than 15 years of experience in the particular field they are teaching.
The site visitors can reach customer support in three ways: Via email, live chat, and phone.
The company's customer service representatives are friendly and professional and will find a solution or answer you need as soon as possible.
Transactions on the site are safe and secure.
Cons
The prices on the platform are not tailored for college students.
Some courses and certifications cost several thousand dollars.
When it comes to payment options, you can play online using credit cards. Other options, sucre noh as popular digital wallets (Skrill, PayPal, Neteller, etc.), are available.