To advance in your career and earn proof of your skills and competence, preparatory and certification courses like the Master of Project academy can be the most helpful and comprehensive tool. However, the market is filled with dozens of businesses offering certification and prep courses to professionals in various industries. Due to their complexity, these courses are not exactly cheap. How to make sure you make a good investment and spend your money on a course that will give you a guaranteed high score? BrainSensei's PMP course is a complete guide for those seeking the PMP certification. Read honest and objective BrainSensei PMP review.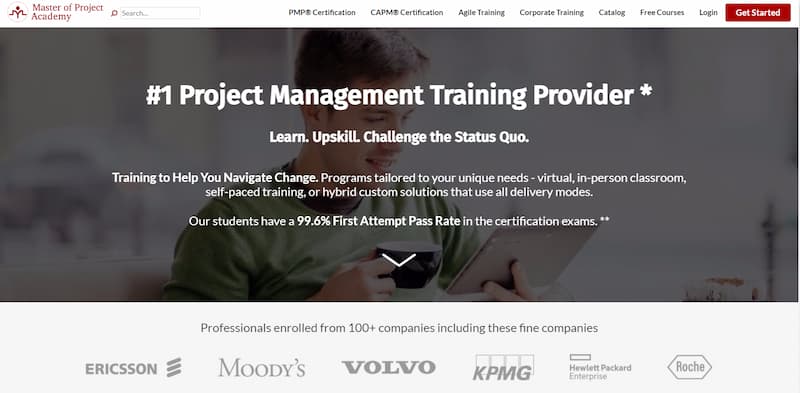 This is where we can help. EduReviewer is specialized in providing peer-reviewed accounts of popular educational products and services. Our reviews follow a strict ranking system based on direct customer experience. Who reviews MasterofProject.com? We have a team of expert reviewers who test the services directly and assess their quality. We consider criteria such as quality of instruction, pricing, quality of user interface, and customer support response rate to evaluate courses, among others.
Before providing you with a Master of Project academy review, we want to ensure that the prep course you're interested in exists in their course catalogue. There are various prep courses to choose from in the following fields and not only:
Project Management;
IT Certification;
IT Service Management;
CISCO Certification;
Microsoft Project;
Six Sigma;
Cyber Security;
Quality Management;
PRINCE.
The prep courses include online class virtual training, one-on-one online coaching, mock interviews, exam simulations, lectures, flashcards, downloadable templates, lab practices, and other educational formats. The offer, equivalent to a master of science in project management, is quite extensive to meet the learning needs of all kinds of professionals who would like to obtain certifications like PMP, ACR, CAPM, PRINCE2, CISCO, or CISA. The best thing is to have a look at their vast catalogue.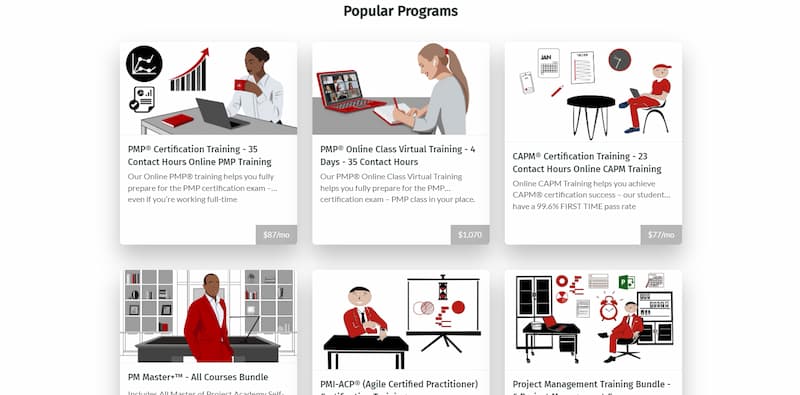 We conduct this in-depth review of the Master of Project Academy because we know that many people feel confused and overwhelmed when choosing an online course. Taking an online course is one of the most highly beneficial things you can do for your career because it can help you advance with confidence and gain a more satisfying and better-paid position.
Unlike traditional courses, online courses are flexible and less time-consuming as you can do them from anywhere, anytime you have some free minutes to spare. While a master of science in project management online can be useful, it does not follow the specific guidelines of certification exam institutions but provides a more general approach. An online course is much more specific.
The only thing to consider is choosing the right courses which fulfil your expectations of quality and engagement. You can achieve this by doing the following:
Read feedback by searching for reviews masterofproject.com.
Browse their course catalogue carefully.
Compare pricing and features between various services.
Check instruction formats.
Do you learn better with flashcards? Please make sure the course offers them.
Do you prefer live instruction? See who their tutors are.
Still not sure? Compare with Edureka reviews online.
To make things easier, the company allows free trials of their services and products. With all this information in mind, you will make the right decision for your career.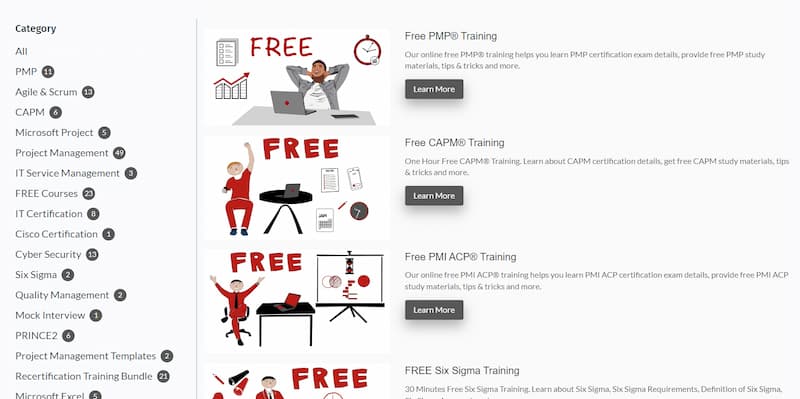 Master of Project Overview
In this section, we present all the information you need to know about the Master of Project to determine whether they're the best for your career needs. If you want an in-depth and objective Master of Project management review, read on. IAPCareerCollege offers world-class prep courses, including proctored practice exams and one-on-one tutoring. More info – on IAPCareerCollege review.
What is the Master of Project?
Master of Project is an online academy founded in 2012 by a professional project management training provider. Since then, the company has helped tens of thousands of professionals to pass important certification exams and succeed in their careers in project management, information technology, and many other fields. Visitors can find exam prep courses for certifications like PMI-ACP, PMP, CAPM, and many other non-PM certification courses.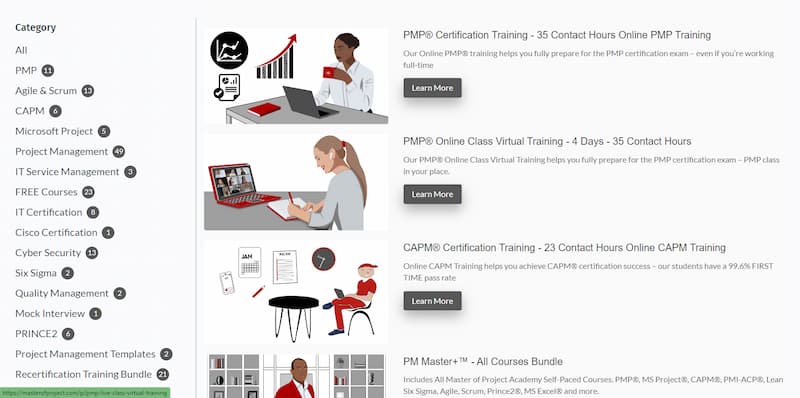 How does Master of Project work?
On your first visit to the Master of Project website, you will find an in-depth overview of the services and features they provide. After browsing their course catalogue, you can test some of the free courses to get an idea about how a course takes place. If you want to enrol in a paid online course, you need to register on the website.
In our Master of Project Academy project management course review, we discovered that the online PMP training includes 35+ contact hours and hundreds of practice questions and lectures along with supporting material. This means that if you enrol in the course, you can learn at self-pace whether you want and have some free time. When you complete all the course material, you can take a simulation test to check your score and how much you learned. If you're not happy with your evolution, you can use the 30-day money-back guarantee to get your money back.
Does the Master of Project guarantee a better score?
Because of their trust in their professional instructors and the quality of their courses, the company offers a 30-day money-back guarantee. If you're not satisfied with the course content, you can ask for a refund in the first 30 days. The company guarantees that you will get a better score, and to prove it, they have implemented an exam simulator to test yourself and see how your score changed directly on their platform.
Are MasterofProject courses as effective as they say?
If you like to learn in a structured and organized manner with material selected by experts in your field, then the preparatory courses from the Master of Project management program can be highly effective. These courses encompass all the information you need to pass the exam, along with real-life examples and practical solutions. Besides, you have access to information in many formats, including video and text.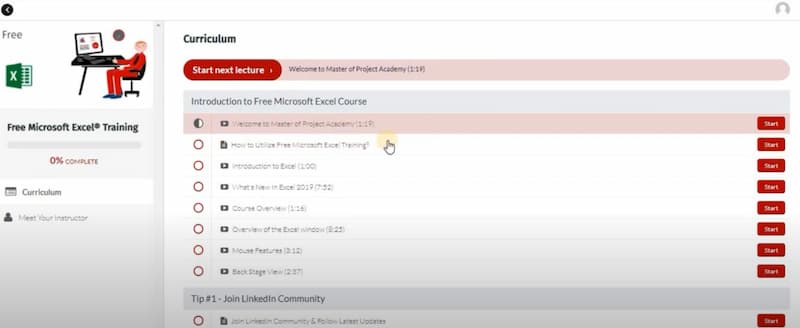 Is MasterofProject safe?
If you wonder, "Is Master of Project Academy PMP legit and safe?" the answer is yes. This is a reputable company with 8 years in online courses, which has helped thousands of customers. They are registered and approved by competent and relevant organizations and institutions, so it's impossible to find a Master of Project Academy scam. Their platform is also heavily secured, so all your personal and financial information is protected via encryption.
Does Master of Project have the best online courses out there?
We wanted to review the Master of Project academy because they are believed to be among the best on the market. In our opinion, the reputation holds as their quality of instructions and the comprehensive nature of their courses provide customers with an excellent study experience. Their information matches what you will find in a master of science project management or master of engineering project management degree. If you don't have time for a traditional master's degree in project management, these courses are the best and most cost-effective alternative.

Story of MasterofProject.com
The company was founded by Resit Gulec, an IT Project Management training provider with an MBA at the London School of Business and Finance and work experience in startups and Fortune 500 companies. In 2012, Gulec wanted to start a blog to share his expertise with fellow professionals in project management. His blog gained popularity quickly, so he started adding courses to form an engaged community, and thus, he created the Master of Project Academy. Rapidly, Master of Project Academy became a leading platform for PMP Training programs and online courses. Resit Gules is now the CEO of the Master of Project Academy.

Services at MasterofProject
In conducting the Master of Project academy reviews, the quality and range of services are the most important. Customers can choose whether they prefer online training, virtual online training, or one-to-one online coaching. From the Master of Project Academy PMP reviews, we found that all three modes have great quality.
The PMP online training has been the first package of courses on Master of Project Academy, and it's still the most developed product. The courses include live instruction and 35 hours of contact hours from expert trainers, one-to-one coaching, exam simulator, math questions, and 1,500 flashcards at some of the most affordable prices on the market.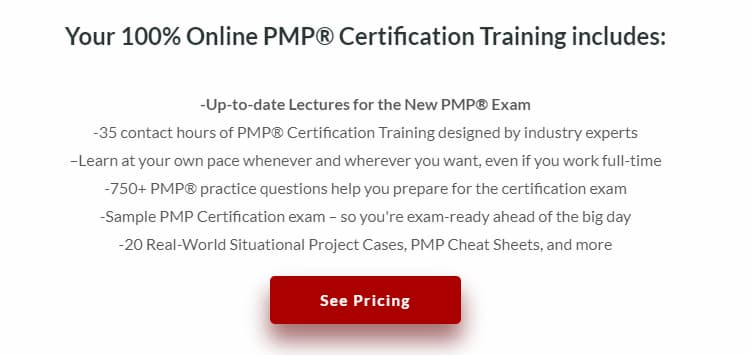 For professionals hoping to get an Agile or Agile & Scrum certification, the company can form a foundation of knowledge on Agile Project Management so you can pass the exam. The training includes 10+hours of instruction with materials designed by experts in the field. You also have access to dozens of practice questions and cheat study materials. Any master of project PMI-ACP review shows that the quality is impeccable.
To help you get the CAPM certification, the company offers 26 hours of contact hours online training designed and delivered by industry experts and hundreds of practice questions. There are math lectures and 7 practice exams to check if your score is high enough before the actual exam.

The master of project management online training is the largest and most detailed field covered by the company's courses. This niche includes over 500 hours and 3,000 lectures, not counting the thousands of practice questions, flashcards, and other supporting material.
You can find any master of project management abbreviations like PMI-ACP, PMP, CAPM, all with course bundles or separate training for each certification.
For affordable project management courses, you should check other alternatives. For example, read our Cudoo.com reviews and see that there you can find PM courses starting at $12,99.
If you want to pass your IT service management on your first try, you can learn all the necessary concepts and terminologies with 14 hours of online training, more than 100 lectures, practice questions, and two full sample exams to verify your skills.
For IT professionals who want to become a master of project management, the company offers several important IT certifications like CISSP, CISCO, CCENT, CISA, and CCNA. The courses include multiple hours of online training, lectures, lab practices, and sample exams to cover every aspect of the field in detail.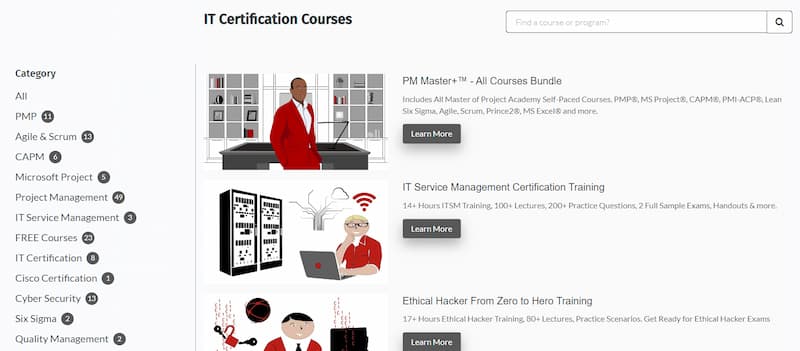 Pricing of the Courses
When it comes to affordability, the Master of Project Academy has different pricing options that consider that each client has different needs. If you decide to enrol in one of their online courses, you need to know the masterofproject.com cost for a course. You can choose from the following payment options:
Monthly Subscription for Self-Paced Online Courses – If you complete the course sooner, you pay less.
Yearly subscription for Self-Paced Online Courses – This comes with ample time to learn and complete the training, so you don't have to force your learning pace.
Lifetime Subscriptions for Self-Paced Online Courses – This is excellent for people who have a lot of knowledge to cover.
PMP Live Instruction online course.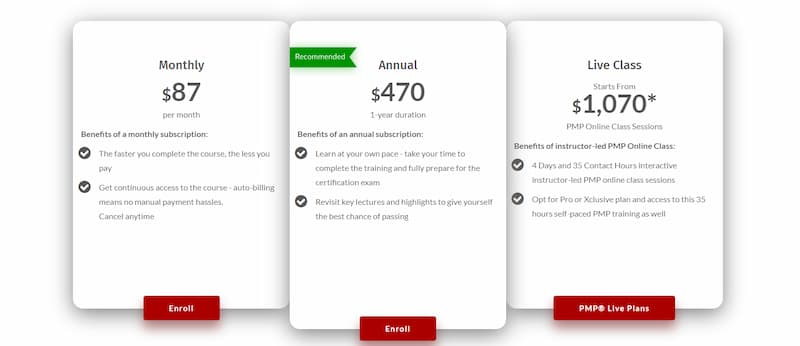 Interested customers can typically find a discount coupon on the website, which they can use to get a significant price reduction. These are the rates at the moment for the most popular courses:
PMP Certification Training – Monthly: $67, Yearly: $370, Live Instruction: Starts at $1070;
PMI-ACP Certification Training – Monthly: $67, Yearly: $357, Lifetime: $627;
One-on-one PMP Online Coaching: 30 Minutes: $87, 1H: $147, 3H: $397.
Quality of Courses
Customers care about the most when it comes to the Master of Project Management Academy reviews to find whether the quality matches the prices. They have a guaranteed chance to pass their exams and earn their certification. According to results from simulation exams and sample tests, the first-time pass rate is 99.6% after completing the Master of Project management online courses.

Their most successful and qualitative program is definitely PMP, followed by CAMP and general Project Management. If you also want to finish an Excel course, check the GoSkills project management review we made; they have great options for that. These areas include the most detailed materials and the most reputable instructors. However, Agile & Scrum, IT Service Management, and IT Certification also show great quality, even though they are not yet developed.
The effectiveness of the Master of Project Management UQ courses is proved by the high pass rate of their customers. The design of the courses includes multiple formats to ensure their students form a large foundation of knowledge so that no exam question could surprise them. The tutors are industry experts with degrees from top academic institutions and prestigious careers in successful startups and large multinational companies.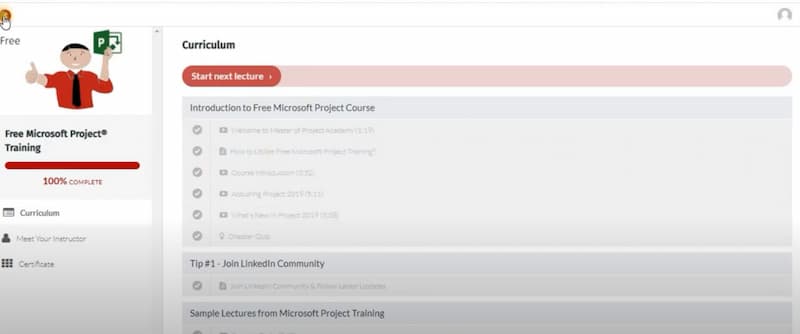 To test the effectiveness and quality of the courses, visitors can log in to the website and attend free lectures, take free tests, and have a closer look at study materials, practice questions, and other supporting content so they can assess whether they enjoy the instruction style.
For the high-quality courses on online business, writing, time management, marketing and sales, check our Creative Live review, where you can find all these types of classes.
Customer Service
Customers can contact the support staff via telephone and email. Many MasterofProject.com reviews suggest that the staff are polite, considerate, and helpful, which was our experience. We contacted support to ask a few questions about one of their courses, and we received a quick and detailed response. The company values relationships with customers considering how much care customer support responds to inquiries.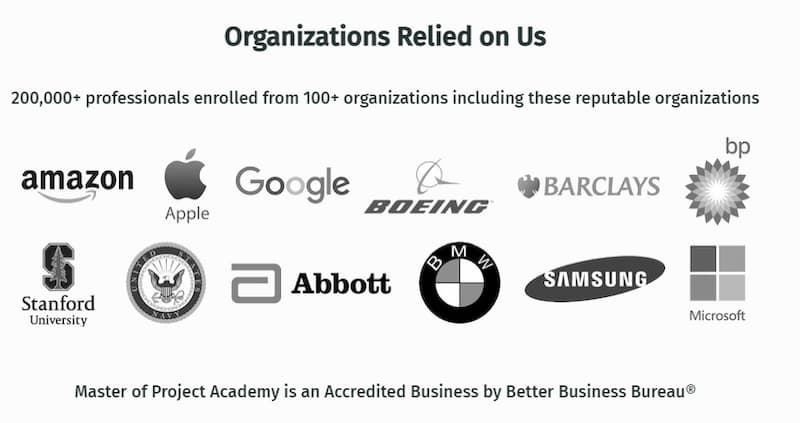 Website Usability
One of the most important elements that dictate your experience as a student in an online course is how friendly and intuitive is the interface you will work with. To craft our Master of Project Academy review, we tested the website's functionality and discovered that the company has a sleek designed website that's easy to navigate. All the information is clearly laid out and organized so the customer can easily access all the things that interest them.

A great plus is that you can access the website from any mobile device, such as smartphones or tablets. They don't have a dedicated app, but you can visit the address from your mobile device's browser and do the same things you would do on a computer.
Have you ever thought of creating your own online courses? There is one great platform for that. Read the edX.org review and see how it is unique and useful to craft personal classes.
Pros
High-Quality Platform. The company uses the latest eLearning software applications.
Free PMP Training. Visitors can check sample video lectures, free study materials, and videos.
Affordability. The courses are reasonable priced considering their quality and the offers of competitors.
In-Depth Content. The courses are very comprehensive and cover many topics presented with practical examples.
Expert Instructors. The instructors combine their expert knowledge with examples from their work experience, sharing important strategies and tips.
Different bundles are available. Apart from offering reasonable prices, they also allow choosing between options that suit you the most.
Cons
No Live Classroom. If you feel more motivated working in a classroom environment, you will not find this here, except for PMP.
Different Quality of Instruction. Some instructors are more motivated and passionate than others, so the engagement level varies.
Dry Content. Due to the technical nature of the courses, some content is not very engaging.
Expensive PMP simulator. While the courses are affordable, the PMP exam simulator is pricy.
No Mobile App. The platform does not include a dedicated mobile app.
No Live Chat. The website does not include a live chat for urgent communication.