Intro
In the vast sea of eLearning platforms, discerning the right choice can be an overwhelming task. This is where our Teachable review comes into play.
We provide an unbiased, in-depth analysis that considers essential factors such as quality, features, prices, website usability (interface), value for money, student feedback, and guarantees (money-back guarantee, privacy, etc.) to evaluate online platforms.
In my experience of utilizing various eLearning platforms, Teachable stood out for a host of reasons. My experiments have shown that its functionality and ease of use could be a game-changer for both seasoned educators and budding course creators.
I delved deep into the platform, experiencing first-hand its offerings, and also gathered real user feedback to present a well-rounded, comprehensive review.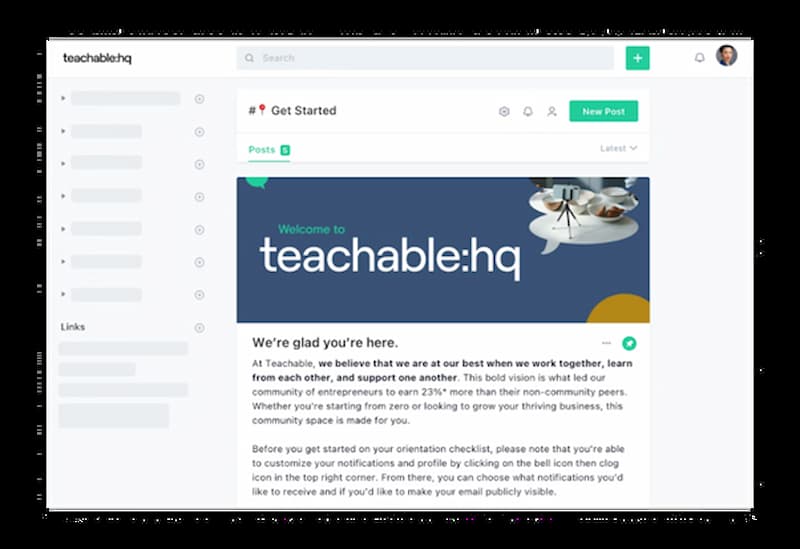 By considering this review, you'll gain insights that extend beyond the product's surface, enabling you to make an informed decision about whether Teachable is the best fit for your educational course business endeavors.
Let's dig into the details and uncover what Teachable truly has to offer!
Teachable Features That Stand Out From Other Platforms
Having personally used Teachable, I can attest to the diverse range of features and benefits this platform brings to the table.
Intuitive Course Builder:
Teachable boasts a comprehensive and intuitive online course creator and builder. The drag-and-drop editor simplifies the process of creating engaging, multimedia-rich courses.
As I navigated through the process of setting up my own website and a course website, I realized that even those with no coding experience can create professional-looking courses with ease.
This means less time grappling with technical complexities and more time focusing on crafting quality course content.
Effective Sales and Marketing Tools:
Teachable differentiates itself with its powerful sales and other marketing features and tools.
The platform offers a suite of tools to help you promote your course, manage affiliates, offer coupons, and bundle courses. You also get access to marketing features and a sales page template to showcase your course.
Having personally experimented with these tools, I can vouch for their effectiveness in not just reaching out to potential students but also in driving conversions.
Customization and Branding:
Unlike many platforms, Teachable allows you to fully brand your online school with a custom domain, logo, and theme.
In my experience, the ability to inject your own brand identity into your course pages is a significant advantage, as it adds a touch of professionalism and fosters trust among potential students.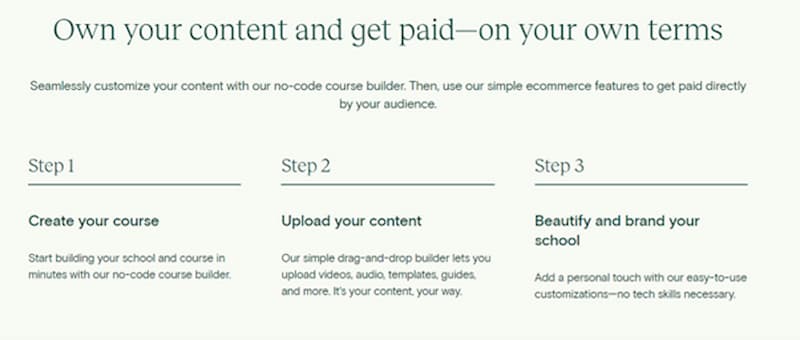 Robust Integration Options:
Teachable's integration capabilities are noteworthy. The platform supports integration with various third-party services like Zapier, Stripe, and Google Analytics, adding an extra layer of functionality and automation to your courses.
As I have discovered, these integrations can make managing your online school much smoother.
Student Engagement Tools:
Teachable equips instructors with tools to foster student engagement, such as quizzes, course completion certificates, and student feedback through course comments.
These features aid in creating an interactive learning experience and give you the means to assess your students' progress.
Seamless Payment and Checkout Process:
Teachable provides a secure and professional checkout experience. It supports multiple payment options, including credit cards, PayPal, and payment plans, catering to a global audience.
The platform also handles EU VAT, taking more than one course of less worry off your plate.
Comprehensive Learning Resources:
Teachable provides a wealth of learning resources, from webinars to blog posts, helping you to get the most out of the platform and your own online school too.
In my experience, Teachable is a well-rounded platform that caters to most, if not all, of an online instructor's needs.
It provides a single space to both create courses, market, create and sell courses yourself, and manage your online courses, eliminating the need to juggle multiple platforms and tools.
With the abundance of online education platforms, choosing the best e-learning platform can be a challenge. Look for in-depth comparisons and reviews that assess course variety, user experience, and cost-effectiveness.
Who Can Benefit from Teachable?
Teachable serves as a versatile platform, proving useful to a broad range of individuals and organizations aiming to share knowledge and earn from it.
Individual Educators and Entrepreneurs:
If you are an expert in your field and want a more teachable course or platform to share your knowledge, Teachable is a great platform. From crafting a teachable course to marketing and selling it, Teachable provides all the tools you need.
Small to Medium-sized Businesses:
Businesses looking to train their employees or customers can benefit from Teachable's comprehensive set of tools coaching services. You can create and customize courses, coaching services and even coaching sessions to fit your brand and business needs.
Educational Institutions:
Schools, colleges, and other educational institutions can leverage Teachable to create online versions of their curriculum. This more teachable platform is particularly beneficial in today's increasingly digital world.
Artists, musicians, writers, photographers, and other creatives can use Teachable to teach their craft to students worldwide. The platform's multimedia support is a major boon for creative instruction.
Fitness and Wellness Experts:
From yoga instructors to wellness coaches, professionals in this field can create and sell their fitness and wellness courses to a global audience using Teachable.
In my experience, the adaptability of Teachable to different teaching scenarios is commendable. Whether you are a seasoned online educator or just beginning your journey, Teachable provides a platform to reach and educate students in an efficient, impactful manner.
Stay tuned to discover more detailed insights about the functionalities of Teachable, as we delve into an in-depth analysis of its standout features, pricing structure, user experience, and more.
Trust me, there's a lot more to uncover!
If you're considering expanding your technical skills, it may be worth checking out KodeKloud reviews. This could provide insights into their course offerings, instructor and course material quality, and overall learning experience.
Teachable Prices
Teachable offers three primary pricing plans – Basic, Pro, and Business. These tiers are designed to accommodate different user needs, from beginners starting with their first course to established businesses looking to expand their eLearning offerings.
For those curious about the financial aspect, you may ask, "How much does it cost to use Teachable?" And this is a great question that we are going to answer together!
Basic Plan:
The Basic plan is a great entry point for those starting their online teaching journey. Priced at $39 per month or $468 if billed annually, it offers a range of foundational tools needed to build your first online course business.
Despite being the least expensive option, it includes unlimited students, course creation, and access to sales and marketing tools.
However, there's a 5% transaction fee on all sales. Based on my experience, I can say that this plan is an excellent starting point for newbies in the online teaching arena.
Pro Plan:
Teachable's Pro plan, priced at $119 per month or $1,428 if billed annually, is the platform's most popular plan.
It includes everything from the Basic plan and adds more advanced features, like graded quizzes and course completion certificates, to help you scale.
It also removes the transaction fees, making it more cost-effective if you anticipate a high volume of sales.
In my experience, this plan is perfect for those who have established their online business of course and are now looking to grow and expand.
Business Plan:
The Business plan, priced at $499 per month or $5,988 if billed annually, offers enterprise-level solutions. It offers everything from the Pro plan, and adds advanced customizations, custom user roles, bulk student imports, priority support, and more.
You can also have up to 20 admin-level users with this free plan too. In my experiments, I've found this free plan to be suitable for large organizations or successful, online business owners of course businesses that require advanced tools and customization options.
Here's a comprehensive table illustrating the features each plan offers and the corresponding transaction fees:
| | | | |
| --- | --- | --- | --- |
| Features/Criteria | Basic | Pro | Business |
| Transaction Fees on All Sales | 5% | 0% | 0% |
| Published Courses | 5 | Unlimited | Unlimited |
| Admin Level Users | 2 | 5 | 20 |
| Graded Quizzes | No | Yes | Yes |
| Course Completion Certificate | No | Yes | Yes |
| Course Compliance | No | Yes | Yes |
| Bulk Student Imports | No | No | Yes |
| Integrated Affiliate Program | No | Yes | Yes |
| Upsells | No | Yes | Yes |
| Live Chat Support | No | Yes | Yes |
| Priority Support | No | No | Yes |
| Advanced Developer Customizations | No | No | Yes |
| Custom User Roles | No | No | Yes |
| Zapier Actions | No | Yes | Yes |
| Public API | No | Yes | Yes |
As for the processing fees, Teachable charges the following rates:
S. credit & debit card sales: 2.9% + 30¢
International credit & debit card sales: 3.49% + 49¢
S. PayPal sales: 3.9% + 30¢
International PayPal sales: 4.99% + 49¢
And yes, Teachable does offer sales and promo codes from time to time, providing a great opportunity for users to get started on the platform at a discounted price. It's important to keep an eye on their website or subscribe to their mailing list to stay updated on these offers.
Having had the opportunity to try different Teachable pricing plans, I can attest that Teachable provides value for money at each tier.
The Basic plan is an excellent starting point for new online course platform creators, while the Pro and Business plans offer advanced features for scaling your online course platform or school.
Evaluating learning platforms like Udacity can help ensure you make the best choice for your educational goals. An unbiased Udacity review could shed light on their course quality, career services, and overall value.
Choosing the Right Plan for Your Needs
If you're unsure about which Teachable plan is the right fit for your business needs, Teachable has you covered. The site offers a user-friendly quiz, consisting of six questions, designed to help you determine the most optimal tariff.
Through this quiz, you'll answer a series of questions about your business and professional plan, such as the number of paid courses that you intend to launch, the features you require, and your business goals.
Based on your responses, the quiz will recommend the Teachable plan best suited to your professional plan and your specific needs.
In my experience, this feature is particularly helpful, especially for users who are new to online course platforms and unsure about what they need.
It eliminates guesswork and provides a personalized recommendation, making your decision-making process more straightforward.
Quality Assessment of Teachable
When choosing an online platform to host your courses, it's vital to ensure it ticks all the boxes in terms of quality.
Teachable, as an industry leader, is renowned for its high-quality service. This assessment of Teachable's quality is based on my personal experience with the platform and seeks to provide an unbiased view of its customer service team.
I've evaluated the quality of Teachable based on three crucial aspects: customer support, course offerings, and guarantees.
Each of these elements plays a significant role in the overall user experience and the successful deployment of online courses.
Customer ServiceDigging Deeper into Teachable Customer Support
Teachable offers extensive customer support, underlining their commitment to user satisfaction. From the moment you join the platform, you have access to resources designed to ease your journey. Let me break it down further:
Email Support:
Regardless of the plan you choose, you have access to email support ([email protected]). From resolving technical glitches to providing assistance with course creation, the email support team is prompt and efficient.
In my experiments with Teachable, I found the team to be knowledgeable and their responses were always comprehensive and easy to understand.
Priority Support:
The Business plan users enjoy priority support, which means their queries are pushed to the front of the queue. This allows for faster response times and quicker issue resolution, saving users precious time.
I haven't personally used this feature, but from what I gather, it's an invaluable resource for large-scale operations where resolving issues promptly is critical.
Knowledge Base:
Teachable provides an extensive Knowledge Base filled with articles and guides on every aspect of the platform.
Additionally, all users have access to TeachableU – an online learning center with free courses, on to creating courses, marketing, and even selling courses of your own courses.
From my experience, these resources are tremendously helpful in navigating the platform and maximizing its features.
In summary, Teachable's customer support is comprehensive and truly stands out. Their multi-tiered approach ensures that users at every level receive the assistance they need when they need it.
From my perspective, their customer support is a testament to their commitment to helping users succeed.
Popular Courses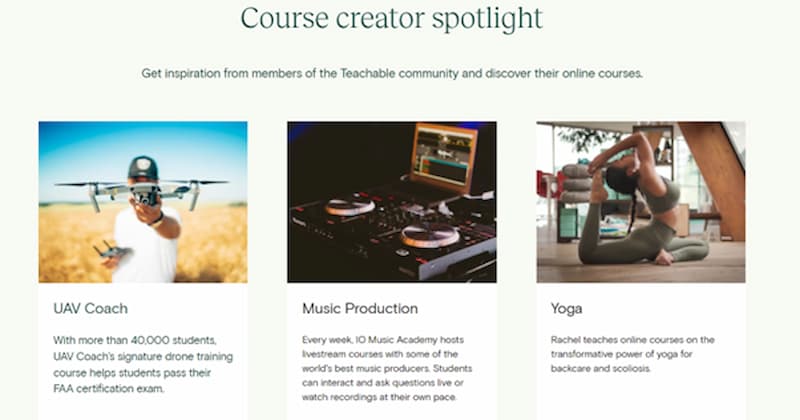 Teachable hosts a myriad of courses, allowing creators to teachable create courses, and share knowledge on just about any topic under the sun. The platform's versatile course creation tools and multimedia compatibility open the doors to endless possibilities.
Here are a few examples of popular courses hosted on Teachable, which can give you an idea of the breadth and depth of content offered on the platform:
The Web Developer Bootcamp: This course is a comprehensive guide to web development, designed for beginners. It covers HTML, CSS, JS, Node, and more.
The Business of Design by Emily Henderson: This course is aimed at interior designers and enthusiasts, covering business strategies, marketing, and practical tips to succeed in the interior design industry.
Sourdough U by Mike Greenfield: This course is for baking enthusiasts looking to perfect their sourdough bread. It offers step-by-step guides to making artisan sourdough at home.
Portrait Drawing – The Complete Online Course by Vitruvian Studio: This course offers in-depth instruction on realistic portrait drawing in pencil and charcoal.
iPhone Photography School: This course teaches you how to take incredible iPhone photos that everyone adores and that you'll be proud to look at years later.
These courses illustrate the diverse range of topics you can explore when creating your own course on Teachable. Your unique perspective and expertise can guide you in creating courses that appeal to all learning styles, helping you to reach a broad audience.
Whether your passion lies in tech, design, culinary arts, fine arts, or photography, Teachable provides the tools you need to share your wisdom with the world.
Guarantees
Teachable together with 14-day free trial, it also offers a 30-day money-back guarantee. This gives you the chance to explore the platform and its features risk-free for the first month.
If you're not satisfied with the service, you can request a refund within this period.
I personally think this shows Teachable's confidence in the quality of their platform and their commitment to user satisfaction.
Additionally, Teachable also takes care of the EU VAT and handles secure payment processing, ensuring that your transactions and data are safe. This speaks volumes about Teachable's reliability and trustworthiness.
Comparison with other platforms
Platform
Pricing
Quality
Value
Teachable
Offers three plans: Basic ($39/month), Pro ($119/month), and Business ($499/month). Transaction fees apply on the Basic plan.
High-quality platform with a strong reputation. User-friendly interface with robust features.
High value for money given the extensive features and support available, particularly for serious course creators who want to build a business.
Udemy
Course creators can publish courses for free, but Udemy takes a significant percentage of the course sales (50% for organic sales, 3% if sold to an instructor's students).
This high-quality platform is popular among students, but course creators have less control and flexibility.
Better value for students due to frequent discounts. For course creators, the value can be lower due to high commission rates and less control over pricing.
Thinkific
Offers a free plan and three paid plans: Basic ($36/month), Start ($74/month), and Grow ($149/month). No transaction fees on paid plans.
Comparable in quality to Teachable, with a similar feature set and ease of use.
Offers high value for money. The free plan is particularly appealing for course creators on a tight budget.
Podia
Three plans: Free

$0/mo, Mover ($33/month) and Shaker ($75/month). No transaction fees.

Known for its simple, clean interface. However, it may lack some advanced features compared to Teachable and Thinkific.
Good value for those seeking a simple solution for selling digital products, but might not meet the needs of those requiring more sophisticated course building tools.
High-quality platform with a strong reputation. User-friendly interface with robust features.High value for money given the extensive features and support available, particularly for serious course creators who want to build a business.
Udemy Course creators can publish courses for free, but Udemy takes a significant percentage of the course sales (50% for organic sales, 3% if sold to an instructor's students). This high-quality platform is popular among students, but course creators have less control and flexibility.Better value for students due to frequent discounts.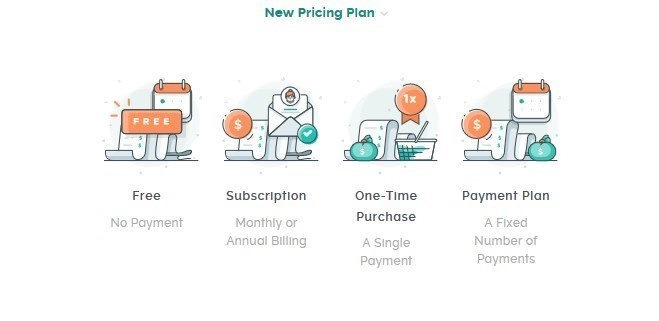 For course creators, the value can be lower due to high commission rates and less control over pricing.ThinkificOffers a free plan and three paid plans: Basic ($36/month), Start ($74/month), and Grow ($149/month).
No transaction fees on paid plans.Comparable in quality to Teachable, with a similar feature set and ease of use.Offers high value for money. The free plan is particularly appealing for course creators on a tight budget.PodiaThree plans: Free
$0/mo, Mover ($33/month) and Shaker ($75/month). No transaction fees.
Known for its simple, clean interface. However, it may lack some advanced features compared to Teachable and Thinkific.
Good value for those seeking a simple solution for selling and building courses, and digital products, but might not meet the needs of those requiring more sophisticated course building tools.
In my experience, Teachable provides high-quality service and takes care of its users. Whether you're just starting out or already an experienced online course creator, Teachable offers the features, customer support,, and guarantees to help you succeed.
Value for Money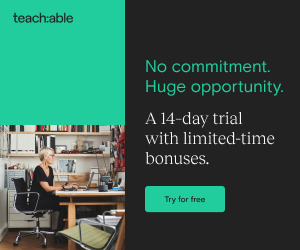 Teachable offers a range of professional and business plans suited to different budgets and needs, of course software but the real question is whether it provides value for your investment.
Based on my experience and research, here's an assessment of Teachable's value proposition.
What You Get for the Money
For the cost, Teachable offers a comprehensive suite of tools to create, market, and sell online courses. Depending on the plan, these include:
| | |
| --- | --- |
| Unlimited students and courses | Regardless of the plan you choose, you can host unlimited students and create as many courses as you like. |
| Course design templates | You don't need to be a design expert to create visually appealing courses. |
| Integrated payment processing | Teachable handles all transactions, ensuring a seamless checkout experience for your students. |
| Marketing tools | Features such as coupon codes, affiliate marketing, and email marketing help you effectively promote your courses |
| Customization | Teachable offers a great deal of customization, including options for CSS snippets and custom domains. |
| Integrations | Teachable can be integrated with other software, expanding its functionality. |
Is It Worth the Price?
The value of Teachable really comes down to how much you utilize its features. For those who are planning to both create multiple courses and sell multiple courses, the array of features and the ease of use that Teachable offers can certainly justify the cost.
The platform provides all the essentials you need to create online courses, create and sell courses, sell online courses to, and manage your online courses under one roof. This can save you significant time and effort compared to cobbling together different services, which in itself is a form of savings.
The comprehensive support and resources, such as TeachableU, are also significant contributors to the platform's value.
Having immediate access to help and educational content can significantly speed up your course creation process and enhance the quality of your output.
Also, if you're wondering, "Is Teachable legit?" rest assured that Teachable is a trusted and reputable platform, empowering countless course creators to share their knowledge and earn income through online classes.
The value of Teachable extends beyond its price tag and features. The platform's true worth lies in its ability to simplify the process of creating and selling an online course, ultimately helping you turn your knowledge into a profitable business.
The Efficacy of Teachable in Course Setup
Based on my experience and evaluations, Teachable is not just helpful, it's exceptionally powerful when it comes to setting up an online course.
It simplifies the process, making it a seamless experience even for individuals with no prior, technical knowledge or design skills.
Teachable provides an intuitive, user-friendly interface first course itself, simplifying the first course and setup process.
Its dashboard is straightforward and neatly organized, enabling you to navigate your way around the platform effortlessly.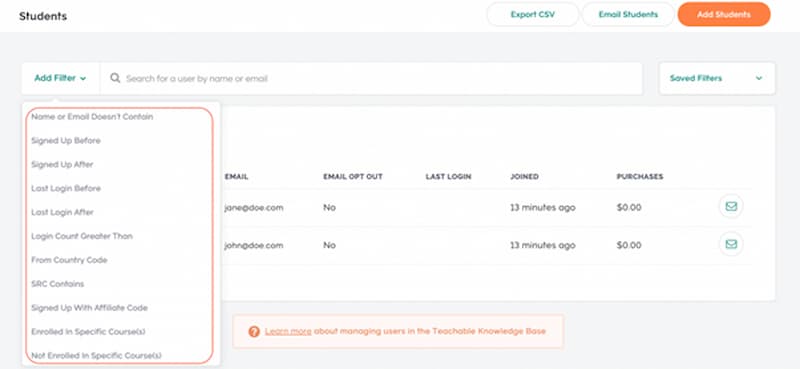 One of the standout features of Teachable is its drag-and-drop course builder. This function allows you to easily construct your course structure, upload course materials, and arrange them as you see fit.
The ability to include multimedia content like video, audio, images, and text within your courses ensures that you can cater to various learning styles.
Teachable offers customizable course pages, allowing you to align your course page design with your brand. You can use CSS to customize your course pages further, ensuring your course looks exactly how you want it to when it's launched.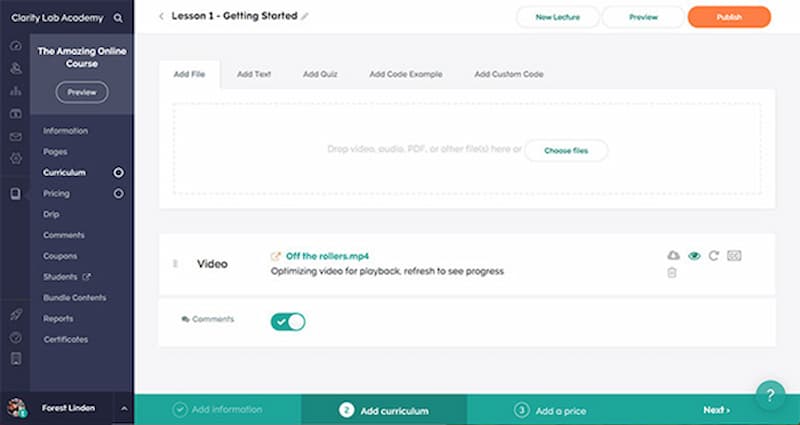 Overall, Teachable does offer considerable value for money, especially for serious course creators who plan to make full use of its features.
The platform's ease of use, coupled with its powerful features and robust support, make it a worthwhile investment for many educators.
Student Feedback and Reputation of Teachable.com
Overall Feedback:
In general, Teachable seems to enjoy a solid reputation among its users. Both course creators and students appreciate its easy-to-navigate user interface, robust set of features, and responsive customer support.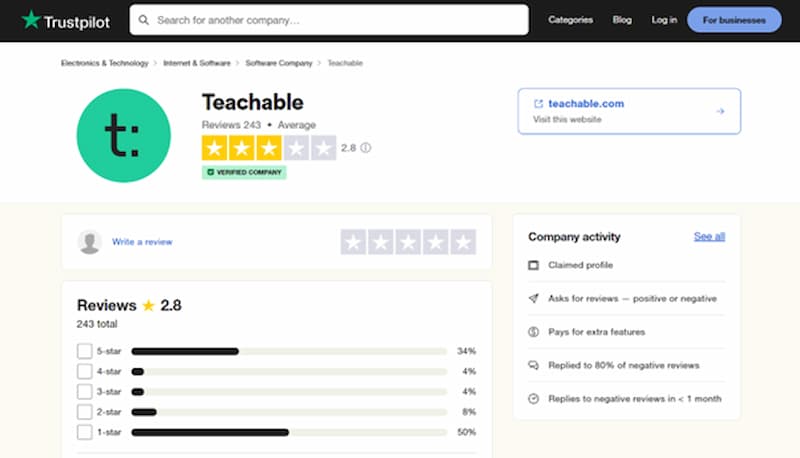 Positive Feedback:
Many users appreciate the ease of setting up and customizing courses on Teachable. They highlight the drag-and-drop course builder as an exceptionally useful feature that simplifies the process of creating an engaging and professional-looking course.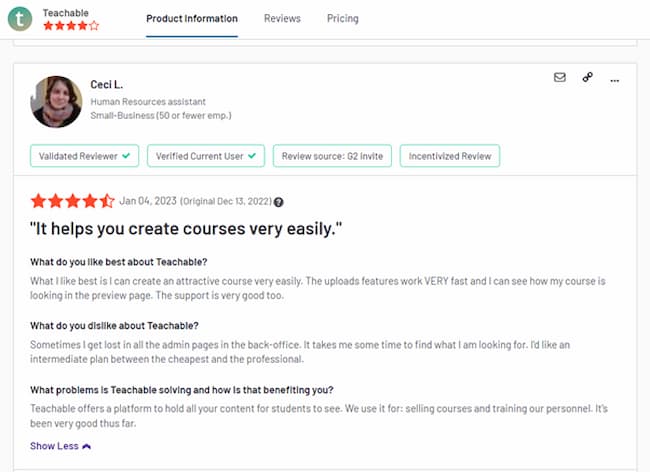 Students, in particular, often comment positively on the user-friendly learning environment. They note that courses are easy to navigate, content is displayed in an organized manner, and the platform functions smoothly across various devices.
Course creators frequently mention the convenience of having integrated sales and marketing tools at their disposal. They appreciate the flexibility offered in terms of payment plans and pricing options, which aids in attracting a broader student base.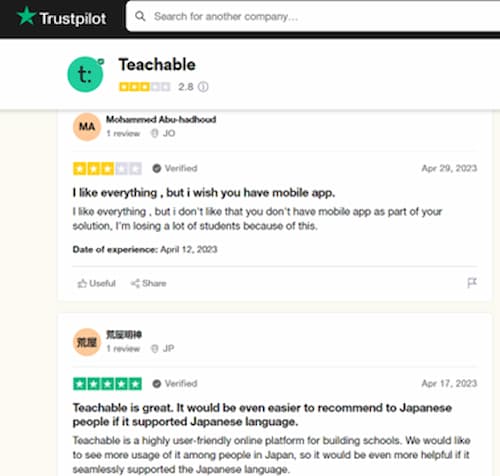 Constructive Feedback:
While the majority of the feedback is positive, there are areas where users believe Teachable could improve. For instance, some users would like to see more built-in integrations with third-party apps and services.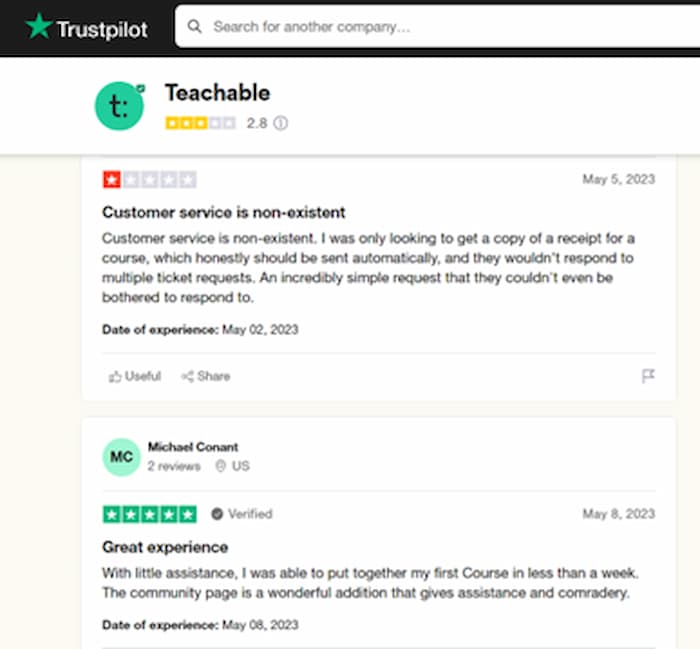 The platform's customization capabilities have also been a topic of discussion. Although Teachable does provide options for customization, some users express the desire for even more design flexibility.
Additionally, a few users mention that the more advanced features are only available on the pricier plans. They suggest that providing some of these features in the lower-tier plans would add more value for users on a tighter budget.
Teachable Review 2023 - Is This Online Course Platform Right for You?
Online education is a great idea and can be taught anywhere. Since it was launched online learners have grown by 900% worldwide.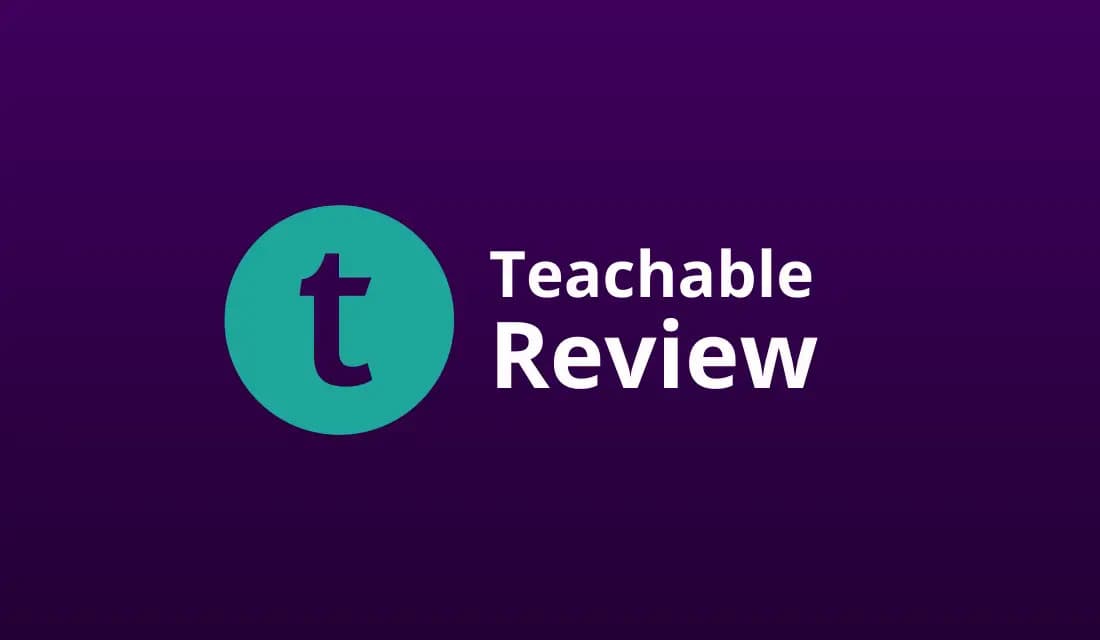 Increasingly people use the Internet for learning are becoming the main driver in the online learning industry. This website provides teaching materials. This is based on a software platform which helps businesses build online courses by promoting and selling courses and the courses.
Teachable Is Easy to Use
Teachable prides itself on being among the easiest ways for beginners to earn money online. There are simple steps that will help you complete the initial training.
Follow the instructions on creating / developing your courses and landing pages and creating the sales funnel. you will earn money. This software provides users with an easily accessible interface and an intuitive administrator panel which helps you create and sell an effective course compared to Kajabi.
It's comparatively easy for people wishing for a more interactive platform than just to build one.
Teachable Review: Key Features
Please take a look at some of the important Teachable feature details for you, this will give you the basics about a website to start building a course from scratch.
Drip Course Content
Teachable offers the drip course content feature, which enables you to provide content at a specific time and date, rather than publishing it all on its own. If there are lessons to learn, a notification will be sent to your dashboard.
Teachable Mobile App
Teachable's new course is now available on the app and can be used by students. These are major milestones as there are currently only a few online courses to do so. This gives Teachable a new feature that separates it from its competitors.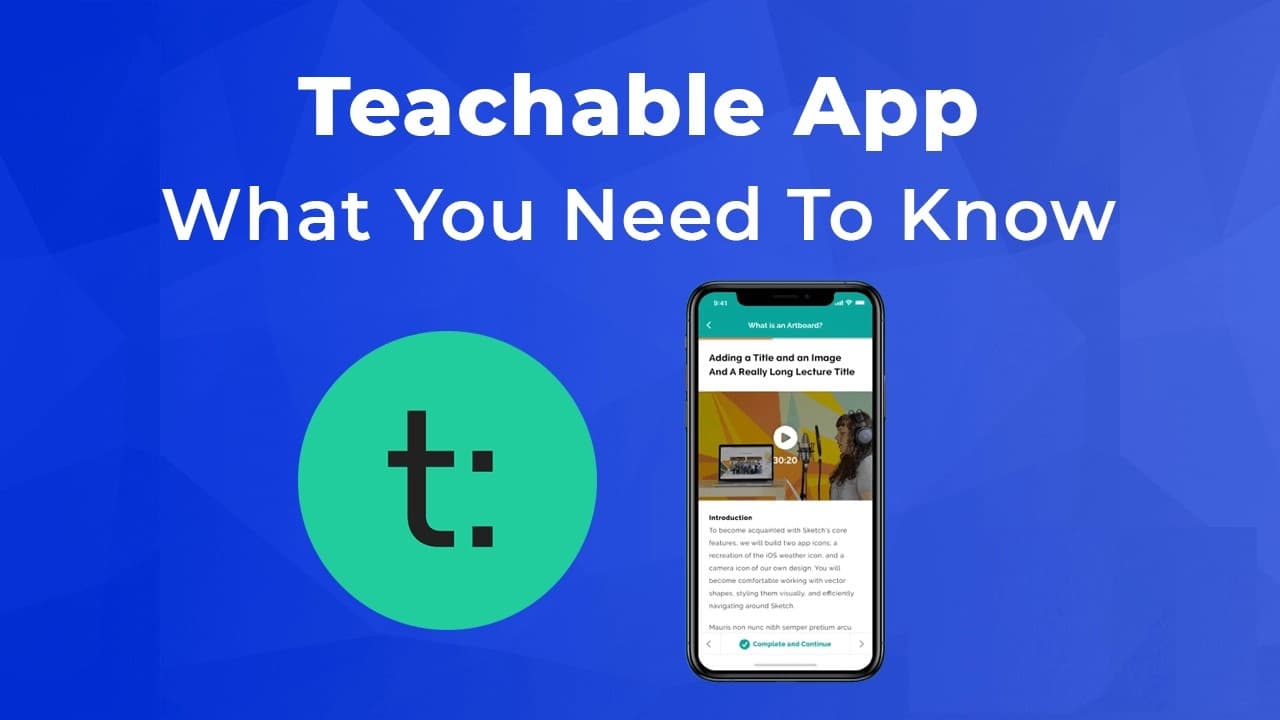 It provides creators with greater flexibility and greater reach. Students can easily take the courses by phone or tablets. This is of great benefit both to creators of new media as well as students. Teachable currently only works with iPhones.
Pros
Reviews all agree that it is easy to use, which is especially beneficial to beginners who may need to improve at navigating a website and the Internet as a whole.
It gives many payment and currency options, including two of the most popular, PayPal and Stripe.
The free plan is a definite advantage while you can upgrade from monthly to annual plans once you have satisfied yourself with services being the one for you.
Teachable integrates well with 3rd party software, so there are times when you do not have to start from scratch.
Adding new courses is simple, and overall, once you know what you want, you can start teaching online soon after joining up.
Helpful information and tips are a regular email feature.
They are designed to be suitable for mobile, tablet, and laptop as well.
Cons
The learning languages Teachable review posts point to the relative weakness of this platform in the field of languages.
The service takes a sales fee even for those paying the top rates for use.
There is limited integration; those not using Zapier or Mailchimp will find it impossible to integrate with your email.
Greater emphasis on Teachable seems to be directed at marketing rather than teaching.
The quizzes are very basic, so it should be fine to make them more attractive.
Some reviews on Teachable query the costs involved in signing up to it even though there is a free trial starter.
FAQ
Do people really make money on Teachable?
Yes, many people have successfully made money on Teachable by creating and selling their online courses.
Is teaching on Teachable worth it?
Teaching on Teachable can be worth it, as it provides a user-friendly platform with sales and marketing tools to help you monetize your expertise.
Is Teachable a legit site?
Yes, Teachable is a legitimate site trusted by thousands of course creators and learners worldwide. It provides a reliable platform for creating, hosting, and selling online courses.
What is the advantage of Teachable?
The advantage of Teachable lies in its intuitive online course and creation tools, integrated sales and marketing features, and the ability to customize your online course business.
Which is better: Udemy or Teachable?
Udemy and Teachable serve different needs. Udemy offers online lessons and a marketplace with a wide student base, while Teachable provides a platform for course creators to build their own brand and business.
Is it free to teach on Teachable?
Teachable offers a free plan with limited features. However, to access more advanced features and customization options, paid plans are available starting at $39/month.
Does Teachable host your videos?
Yes, Teachable can host your videos, providing unlimited bandwidth for smooth video streaming to your course participants.
Is Teachable a US company?
Yes, Teachable is a US-based company headquartered in New York City, making it a homegrown platform with a strong presence in the American eLearning market.
Do I need a website if I have Teachable?
While not mandatory, having a website can complement your Teachable school and help with marketing and branding efforts.
Can I use Teachable as my own website name?
Yes, Teachable can serve as your website for hosting and selling your online training courses, offering a professional and dedicated platform for your educational content and teachable courses.