The logic behind Teachable, from its launch until today, has been to make education accessible to all through its online platform. With easy accessibility comes a broader audience recognized in Teachable reviews.
The Platform has lots of scope for integration with other software and can be personalized to suit the individual. More courses are added regularly; there is something for everyone.
When selecting a website in this sector, these aspects demonstrate that Teachable is aware of the need for even better content to stay at the head of the field.
When looking at the most popular courses on this platform, there is a wide range of prices for those that have sold in volume.
The top six are courses on building apps and developing good habits that cost no more than pocket money. Their two best sellers provide insight into how to use the Internet better.
If you are looking for English tutors, you'd better check one of these top English tutoring online companies on our list.
''Email Marketing Magic'' provides help with producing effective emails rather than just ones with little direction and even less success. ''How to Crush It on Twitter'' is a valuable tool for those needing to improve their success without necessarily having any marketing experience.
A severe course of permanently changing your habits to improve your life, career, and fitness is well supported: ''The Habits Academy''. Fourth on the list before those two ''pocket money'' courses will teach you how to make Sourdough Bread, ''Sourdough U''!
So, let's proceed with a detailed Teachable.com review.
Teachable Overview
What is Teachable?
The name says it all; every subject is teachable, and the wide range of topics that this platform offers is one of the things that an appraisal of Teachable inevitably includes is that very fact.
It is a relatively simple platform, easy to customize, and designed to suit all devices, computers, tablets, and smartphones.
Users can set up their schools very quickly. After you send me personal details, including your email address and school name, you are ready to get on with the point of the building.
There is a tutorial to help, which is extremely useful for those who need to become more familiar with modern technology but are aware of its opportunity. The 5-minute video is easy to understand, and then you are ready to go with a template to help if needed.
How Teachable Works
It acts as an educator, a host, and a manager, an ideal platform for those with a message they wish to convey and looking for a platform to do it.
Users can create their online content with Teachable as their host, their means of selling and marketing their expertise, and a payment processing facility.
While there is no vetting process for the quality of the content that users market, Teachable will guarantee that no content that fails the standards of legality and honesty will be allowed.
Logically, it is not a platform that would have been so successful, as all Teachable website opinion agrees, if its content and courses were not of the highest quality.
Is  Teachable Online Platform Useful?
Teachable site appraisals are done by those who have used the platform and can therefore judge the effectiveness and accuracy of its lessons.
There is no reason to doubt that the platform opinion expressed online is inaccurate and that opinion regularly talks of its effectiveness.
Is Teachable Safe, or Is it a Scam?
Everyone who has joined Teachable can read and understand the terms and conditions that the company follows before they enter.
Scams are increasingly rare, and secure payment gateways have become ever more sophisticated to create barriers between hosts and anyone looking for illicit access.
Likewise, personal information is entirely secure from those wanting access for less than honorable reasons.
Reviews of Teachable.com all accept the prominent position that this platform holds in this sector. It would not be possible not to deliver the content that would satisfy even the most critical inspection.
Story of the Company
They were initially called Fedora when it was launched five years ago by Ankur Nagpal, who rebranded it as Teachable in 2016.
Nagpal's frustration at being unable to contact students effectively resulted in the developing of his platform.
However, its early growth was restricted by its inability to host multiple courses.
That resulted in a project to rebuild the system, and Ankur and his partner Conrad set about that with enthusiasm, relaunching effectively as Teachable once the job was completed. Teachable learning platform reviews recognize that their work has been a success.
Services
Teachable's expansion has offered courses in a wide range of subjects, from art and business to food & drink and health and fitness to design, photography, and writing, in a relatively short period.
Teachable website reviews identify the most popular courses related to marketing in social media and email, food & drink, and productivity.
Limited-time courses also examine marketing and productivity, but a ''crash course'' on writing is exciting.
Free courses are available as well, with the most popular looking at careers, writing, art, and the category of ''tech and programming.''
Teachable.com Pricing
The service does have a free option that is mentioned in all Teachable reviews, and the features it provides are excellent.
The downside is the high transaction fee, with the cost being $1 and a commission rate of 10% on courses you sell.
The other Teachable prices are as follows, and clients can switch between them at any time:
Basic is $29 per month with saving if taken annually: $348 per year.
Professional comes at $99 per month and $1,188 per year.
Business is $249 per month and $2,988 per year.
If you are looking for a place to provide language lessons, then VIPKid might be a great alternative. Please take a look at the VIPKid review to learn more about this platform. It is also good in terms of pricing.
Quality of the Lessons
There is no doubt that the overall quality of this platform, concluding that reviews on the company Teachable all reach. Subscribers to this service can use the service without proving their level of expertise.
However, the ongoing success that those offering their courses through this platform, those who review Teachable online practices, and Teachable student reviews all suggest that they agree.
Customer Service
The four pricing plans have separate customer support staff, with the Business Plan getting priority. That is not surprising and not held against this platform in any of the reviews of Teachable.com.
There is a live chat option and a system of tickets whereby you can ask a question in each case.
However, you must follow a series of pages before that option is available. Unfortunately, there is no phone option available right now.
There are weekly live workshops, tips, and blogs offering plenty of advice with courses and tutorials as examples of the things you may want to sell yourself.
Website and Mobile App Usability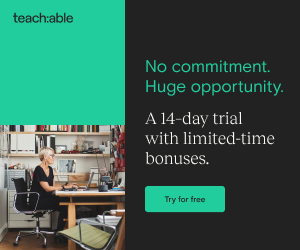 Anyone interested in Teachable can get a free trial on its App for Android to judge its performance.
If you have enrolled in their school, you can access content by downloading the App.
It is OK to use just a smartphone to complete a course.
Their platform could not be more mobile user-friendly, which is regularly mentioned in appraisals of their school.
Pros
Reviews all agree that it is easy to use, which is especially beneficial to beginners who may need to improve at navigating a website and the Internet as a whole.
It gives many payment and currency options, including two of the most popular, PayPal and Stripe.
The free plan is a definite advantage while you can upgrade from monthly to annual plans once you have satisfied yourself with services being the one for you.
Teachable integrates well with 3rd party software, so there are times when you do not have to start from scratch.
Adding new courses is simple, and overall, once you know what you want, you can start teaching online soon after joining up.
Helpful information and tips are a regular email feature.
They are designed to be suitable for mobile, tablet, and laptop as well.
Cons
The learning languages Teachable review posts point to the relative weakness of this platform in the field of languages.
The service takes a sales fee even for those paying the top rates for use.
There is limited integration; those not using Zapier or Mailchimp will find it impossible to integrate with your email.
Greater emphasis on Teachable seems to be directed at marketing rather than teaching.
The quizzes are very basic, so it should be fine to make them more attractive.
Some reviews on Teachable query the costs involved in signing up to it even though there is a free trial starter.