Lynda and CreativeLive: Comparison for Students
Over the course of time, we have successfully migrated and got accustomed to online learning. Needless to say, the latest global pandemic has been a massive driving force in this matter. To evaluate your options, we have a Lynda vs. CreativeLive battle today.
Although our discussion won't cover online learning platforms holistically, it's going to give you an idea of what you can expect when you finally enter the paradigm. Both Lynda and CreativeLive are distinguished fellows in the online learning community. In fact, Lynda is one of the veterans operating since 1995!
In 2019, Lynda.com merged with LinkedIn Learning, one of the latest additions to the online learning paradigm. CreativeLive is still going strong on its own platform.
Throughout this page, we're going to go back and forth on various features and components of both businesses. We're going to put them in different contexts and see how each of them performs for different use cases.
Evaluating online coding platforms? Read about user experiences and learn, is KodeKloud good? in our detailed review.
If we have to take a leap of faith and decide which one is the better online learning platform, we have to go with CreativeLive. Why? Well, you'll have to read our reviews to know that.
Overall Comparison: Linkedin Learning or CreativeLive
| | | |
| --- | --- | --- |
| Platform | CreativeLive | Lynda/LinkedIn Learning |
| Pricing | Affordable | Moderately Expensive |
| Production Quality | Excellent | Decent |
| Number of Courses | 2,000+ | 18,000+ |
| Customizable Course Length | Yes | Yes |
| Free Version/Trial | No | Yes |
| Course Area Coverage | Moderate | Massive |
| Avg. Course Length | 5-20 minutes | A few minutes to over an hour |
Lynda nd Creative Live Features
CreativeLive or Lynda with LinkedIn Learning, whatever platform you go for, you'll get a set of benefits and drawbacks. Now, each of the learners will interpret features in their own way.
So, we're taking a holistic approach to both and list the most important features for the learners.
Those in pursuit of creative online courses might benefit from our comprehensive Skillshare review.
Lynda
Lynda.com or Lynda is the older between the two. There's no doubt that it has more experience under its belt and the courses are very impactful because the company only works with verified professionals who're considered the best in their fields.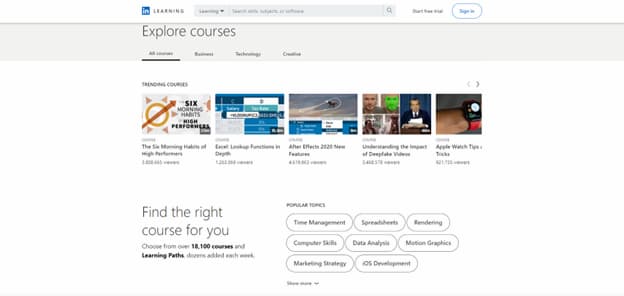 And as you already know, Lynda has now completely moved to LinkedIn Learning so the interface is pretty different from what you're used to. Let's go over the most important features quickly.
Just like LinkedIn for jobs, the LinkedIn Learning platform offers a free version for learners. Well, it's a free trial to be precise. You get access to all of the courses for a month and we believe it's an excellent way of onboarding new learners. It's simply because the learners are getting the chance to learn about the services and courses without having to commit a good chunk of money.
When Lynda was a standalone platform, it was mostly known for its design-oriented courses. But it always had a good selection of courses for other creative fields like video production, 3D modelling, 3D animation, Music, illustration, and whatnot.
All of that is still true for the CreativeLive vs LinkedIn Learning debate too. In fact, the coverage of topics increased by a huge margin. You can now find courses on rendering, motion graphics, keying, project management, construction management, programming, data visualization, entrepreneurship courses, and lots of others.
At the time of writing, there are more than 18,000 courses, an insane number indeed!
Apart from individual courses, you can also get courses that are designed for entire teams! If you're a business owner, you can benefit from these courses a lot because they let you create a workforce that can tackle anything. Just go on the LinkedIn Learning platform and choose "Buy for my team" to see what happens.
One of the biggest advantages of Lynda or Creative Live is that you can learn in your own time. LinkedIn Learning has taken the paradigm to the next level where you only get bite-sized videos. It surely means more videos per course but you don't have to sit through hour-long courses anymore!
Real-Time Popularity Tracking
When you're trying to get an online service, it's important that you know what other users think of it. And the number of total viewers can give you a pretty good idea of what you can expect, just like the view count on YouTube videos. It goes for our Lynda and CreativeLive apps too.
On LinkedIn Learning, you can see the number of viewers in real-time. It's safe to assume that videos with a higher view count are better.
Delve into the nuances of e-learning platforms with authentic reviews of Teachable.com shared by users.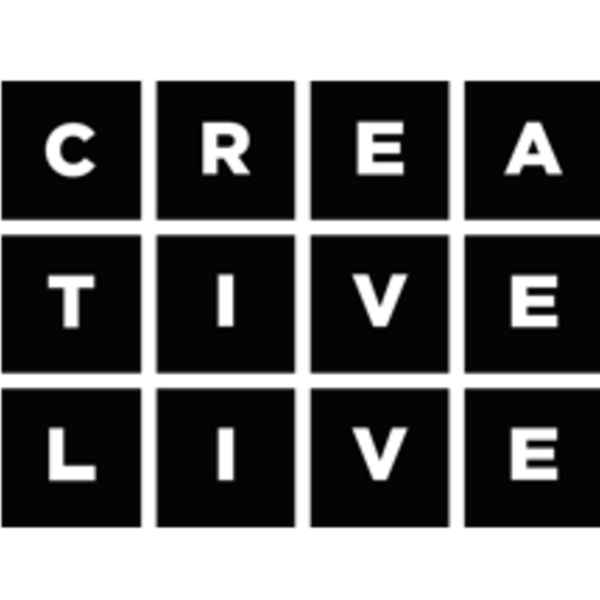 Excellent Site Design
Course Areas
Affordable Prices
Legendary Instructors
The primary purpose of our post today is to resolve the CreativeLive or Lynda debate forever. We've already presented the case for Lynda. Now, it's CreativeLive's turn. It's a standalone platform operating since 2010. In comparison to Lynda with LinkedIn Learning, this one is a newcomer in the industry.

Let's see what this relatively young online learning platform brings to the table for you and all the other potential learners/students.
We know this shouldn't be a ranking criterion because the app's design of an online learning platform is irrelevant in most cases. But for the discussion of LinkedIn Learning vs Creative Live, we have to walk that path. The CreativeLive platform is currently way better than LinkedIn Learning, no matter how you look at it. It has better categorization of courses, it has better optimization, and it's overall more intuitive.
It would be foolish to claim that CreativeLive has more courses than LinkedIn Learning because that's not the case. However, this website is designed in a way that it feels like it has more courses. If you want to play with numbers, CreativeLive has just over 2,000 courses. But the areas expand to photo & video, money & life, art & design, craft & maker, and music & audio.
While it doesn't look like much, you have to remember that each of these categories has plenty of subcategories under them. For example, photo & video classes include topics like the business of photography, fundamentals of lighting, software guides on all Adobe components, classes based on photography genre, and whatnot.
Ultimately, what we're trying to establish is that CreativeLive has done a phenomenal job of structuring the website.
Although CreativeLive doesn't have a free trial like LinkedIn Learning/Lynda, it's more affordable, to begin with. You can get your monthly subscription for as low as $12.42 for a month.
One of the things we like the most about CreativeLive's approach is that it has over 700 of the most iconic professionals from around the world. Whether it's photography, videography, design, music theory, or anything else, you'll learn under the supervision of the legends from their respective fields.
Pricing Comparison
It's only normal for anyone to think about the pricing of any product or service before making the final purchase decision. It goes just as much for online learning apps. In the Lynda vs CreativeLive discussion, the price will play a major role for a lot of people.
There are valid reasons for that. First of all, you have to consider what kind, of course, you're going for and the estimated time it'll take for you to learn. As both LinkedIn Learning and CreativeLive follow a subscription modality, it makes sense not to pay more than you have to.
It's because subscription models are designed in a way where your "per month" costs come down when you go for a long-term commitment. There is a psychological catch to it. Most people think as they're getting a deal for the yearly plan, they go for it.
But what if you're done learning within a month or two? Unless you have ongoing plans to learn new stuff, the rest of your subscription is going to waste.
Now that you have an idea of how the pricing for online learning platforms works, it's time to get to the real deal.
Explore user-based experiences and discover, whether Udacity is worth it in our comprehensive review.
Lynda & LinkedIn Learning
In terms of industry credibility, the number of available courses, and overall acceptance among learners, LinkedIn Learning is the superior force over CreativeLive. Hence, the pricing range is higher for this platform.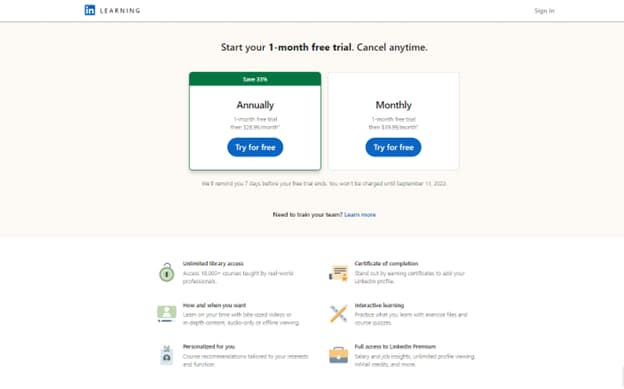 If you sign for one month only, it'll cost you $39.99. Pretty expensive, right? In retrospect, the annual package looks more lucrative with only a $26.99/month price tag.
However, you'll have to pay $324 instead of the $40. The good thing is that both packages come with a 1-month free trial. If you cancel before the first month is up, you're not charged for anything.
CreativeLive
If you compare the monthly deal only, Lynda or CreativeLive are pretty much the same. You'll need to pay $39 flat for 1 month of service. However, things start to look up when you go for the annual commitment.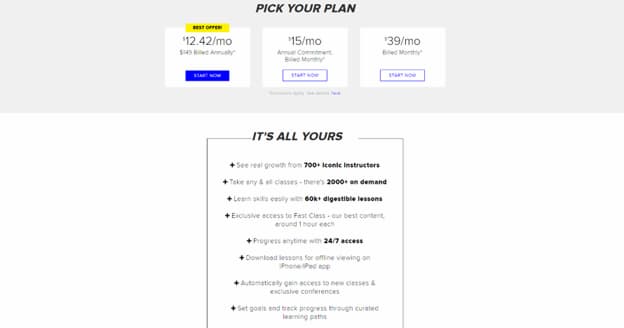 If you pay for the entire year upfront, your per month cost comes down to $12.42 only. And if you go for the annual plan but want to pay monthly, the cost is $15/month.
In both cases, it's a more feasible deal for new learners. Sure, the total number of courses is lower on CreativeLive. But as long as you find the courses you want to learn, it doesn't matter.
Quality of Courses and Value for Money
So, whether you go for CreativeLive or Lynda, you're paying a substantial amount of money. What are you getting in return? How good is the quality of the lessons? Let's find out.
Lynda
Lynda or LinkedIn Learning, whatever you want to call it, has more experience making education content for an online audience. There's no way CreativeLive can surpass Lynda on that. Needless to say, this vast experience plays a role in how the platform designs each of the courses.
One of the things we like the most about Lynda is that there is no fixed video length that you have to stick to. There are 10-minute lessons and there are lessons that easily go over an hour. Also, lessons on the same skills are available from multiple creators and teachers, following the adaptive timeframe model.
So, you have an insane amount of control over how you want to approach a course. You can become a pro within a week or you can take it slow and steady. It's completely up to you.
Also, the collection of lessons is just insane on this platform. We've already mentioned that there are more than 18,000 courses at the time of writing. It might be even more when you're reading this piece!
But the challenge is finding the right course at the right time. The sorting mechanism on the website is a big backdated. So, you may have to dig around for a while before you land on the perfect video lesson.
After you're done learning a particular course, LinkedIn Learning will provide the necessary certificate. You can also integrate those certificates into whatever apps accept them. Linking a certificate has always been one of the prime areas on how you land a new job. It's the same process for individual learners as well as enterprise-grade corporate clients.
CreativeLive
CreativeLive's strength is in its production quality. As it's a standalone platform, the creators have a baseline for how the quality of the lessons should be. It focuses more on quality than quantity. That's why you can only through around 2,000 courses on CreativeLive.
It's almost more affordable. Essentially, you're getting higher quality lessons from iconic teachers at a reduced cost compared to Lynda. Does that make CreativeLive better than Lynda? Not necessarily.
Although CreativeLive has been in operation for almost 12 years now, it's still tinkering with new techniques and new trends. The current site design is proof of constant improvements. Every time you visit the site, you may find a few additional courses for each of the categories.
Just like Lynda, CreativeLive covers all difficulty levels too. You can find theoretical lectures where you only learn about the fundamentals of the skills. And under the same page, you'll find advanced classes where you learn how to implement those fundamentals into practice.
If you happen to be an iOS user, CreativeLive offers a nice little perk. You can download the video lessons on your iPhone or iPad for offline viewing. Unfortunately, Android users cannot benefit from this feature just yet.
Weak Sides of the Platforms
Both of the online learning sites on this guide have some amazing features. It's easy to lose sight of what's actually at stake if you're always looking for the good stuff. But that's not how we do things. So, let's go over the major disadvantages of both apps before we put wrap around the guide.
Lynda
If you have previous skills with Lynda.com before the merger with LinkedIn, you'll be disappointed with the overall usability. There are thousands of courses but all scatter around. You'll have to be an expert on keywords if you want to land the right course at the right time. Also, the overall web interface is very cluttered and confusing.
LinkedIn is often considered the social media for corporations. That goes without saying for the Learning platform as well. It's a drawback because back in the day, Lynda.com was all about individual learners.
Inconsistent Course Quality
Another noticeable drawback of the current Lynda platform is the quality of the courses. You'll find amazing designed ones surrounded by very mediocre ones. It's confusing, frustrating, and sometimes just not worth it.
CreativeLive
Providing certificates to the learners once a course is completed has been a longstanding tradition in the virtual learning scene. But CreativeLive doesn't seem to bother with that. You can access very advanced courses for a very high price, but you won't get any certifications after you're done.
Although there are many short-duration classes, none of them is actually bite-sized. The average course length is around 30 minutes which is quite long if you have a very busy schedule.
Out of the regular subscription model, you can go for individual courses that are targeted to an advanced audience. Those courses are quite expensive and it's often not possible for first-time learners to afford those.
Limited Number of Courses
Don't think that there are not enough courses to cover all major industries in CreativeLive. There are. However, when you put the number beside LinkedIn Learning's it's just not enough.
Verdict
After considering all the aspects, it's not fair to declare any one of the learning apps as the winner. Both of them have amazing features that might cater to different levels of learners. If you're a beginner, you can start with CreativeLive as it has a better interface and sorting. It'll help you find the course faster. Also, it's more affordable.
On the contrary, if you have previous experience with online learning and you know exactly what you're looking for, LinkedIn Learning would be a better choice for you. It has way more courses but in a scattered pattern.
FAQ
Which is better Creative Live or Lynda?
Both are good in their own aspects. Lynda offers more industry experience and a massive collection of courses to pick from. CreativeLive, on the other hand, offers somewhat limited courses but with better production quality. If we have to choose, we'll go for CreativeLive, considering we can find the course we're looking for.
Which is cheaper Lynda or Creative Live?
In a broader spectrum, CreativeLive is cheaper. But if you're going for the 1-month package, you have to pay pretty much the same.