"Tell me, and I forget, teach me, and I may remember, involve me, and I learn." – B. Franklin
Thanks to how technology has been made to favor faster and easier learning, we couldn't be happier while learning. Online learning platforms are on the rise, and while technology has played a significant role in their popularity, the willingness of students to learn and the dedication of the tutors are more commendable.
LinkedIn tops the world's professional and career network. The website functions mainly online, and it connects companies with individuals with the needed skill set and work experience.
However, with LinkedIn learning, you will get training courses that enhance easier professional networking.
On the other hand, if you are keen on making creativity a stepping stone to success, Skillshare is your best online platform. Skillshare trains participants in digital creativity; photography, creative writing, graphics designing, fashion, filmmaking, animation, and other creative categories.
Without a detailed review, how well would you know which learning platform to choose?
However, for an unbiased comparison, I have, for your pleasure, detailed reviews for both LinkedIn Learning and Skillshare.
Lynda offers a more structured learning process compared to Skillshare.
Skillshare is cost-effective compared to LinkedIn Learning.
While the courses on LinkedIn Learning target corporate clients and are taught as such, Skillshare runs courses mostly on a creative learning process.
Compared to LinkedIn Learning, Skillshare offers less standard on the quality of their instructors.
Keep reading the Skillshare vs Lynda review to know which suits your taste for quality learning and, most importantly, which suits your pocket.
Key Features of Platforms for Learners
What more could be relevant in this digital age than professional skills? Improving your professional skills is needed in the digital world we now find ourselves in today.
As regards this review, the two online platforms have unique features where you can learn professional skills.
Lots of Courses: Both platforms offer tons of creative courses you will definitely be interested in and enjoy.
Categorization of Courses: Both LinkedIn Learning and Skillshare have summed up their courses under three major categories. For Skillshare, they have; Create, Build, and LinkedIn Learning categorizes their courses into Subjects, Software, and Learning Paths categories of learning.
Free Trials: These online learning apps offer free trials with limited time and courses users can access.
Regular Upgrade of Courses: LinkedIn Learning and Skillshares regularly upgrade their courses and curriculum, which you can access as long as your subscription remains intact.
Below are the essential features of each tutor for a balanced Lynda vs Skillshare review in detail.
LinkedIn Learning (Lynda)
The reputation of LinkedIn as a professional network precedes it. Everyone worldwide seeks a LinkedIn profile to get business networks or jobs. The good news is that LinkedIn provides all sorts of jobs, from business connections to company jobs and even freelancing.
Who wouldn't hate learning at LinkedIn? Indeed not corporate professionals.
The realization that learning needs to be improved for professional knowledge was probably a deciding factor when LinkedIn purchased Lynda, one of the online learning platform apps.
This led to the birth of LinkedIn Learning, an online learning platform that allows users to learn crucial skills, especially those needed in the workplace. Lynda has come to expand their grounds to accommodate technological training, web development training, and even create space.

Regardless of your specialization, you can find a training course on Lynda. Ten thousand courses is a large number if you ask me. These courses are handled by experts that meet their standards alone. This is because members are mostly government agencies, academic institutions, lecturers, and other alums from Lynda.
There's nothing as great as knowing that you can have something to show for your months of training, and LinkedIn Learning is no exception. You will get a certificate of completion when you have taken your assessment.
Obviously, they understand that learning online, especially watching a video for too long, can somewhat be very boring. Each section has a mixture of videos, notes, and transcripts.
Nothing feels better than knowing you are not alone in your training. Lynda offers a community and membership room for a minimum of five people. This encourages interactions and teamwork.
It has a more structured learning process. They simply take after University and formal education, following a rigid curriculum. LinkedIn Learning and Skillshares practice regular upgrades of courses and curriculum, which are exclusive to you as long as your subscription remains intact.

In the working space, LinkedIn is well respected around the world. What's nicer than having your resumé filled with courses from the best online learning platform?
Skillshare
Creatives are increasing daily, and 29,000 creative courses are more than enough for learners. Skillshare is quite free for both tutors and learners.
While learners have platforms to learn, tutors have access to more jobs as there is no scrutiny before you can start teaching. You don't need a known qualification before you can start tutoring.
Skillshare employs just anyone on their tutor list. This feature devalues its professionalism because it reduces the quality of material and content you can get from the platform.
It is crucial that before you start a course with an instructor, you can look up the profile of the instructor and ensure that they are competent.
Better still, you can watch a few trial videos and ensure that the instructor has all the knowledge you need. Students on Skillshares or LinkedIn learning can easily get tired of learning. These learning platforms have ten minutes to several hours of video format.
Choosing between KodeKloud's offerings? Our comparison of KodeKloud pro vs standard may help you make a more informed decision.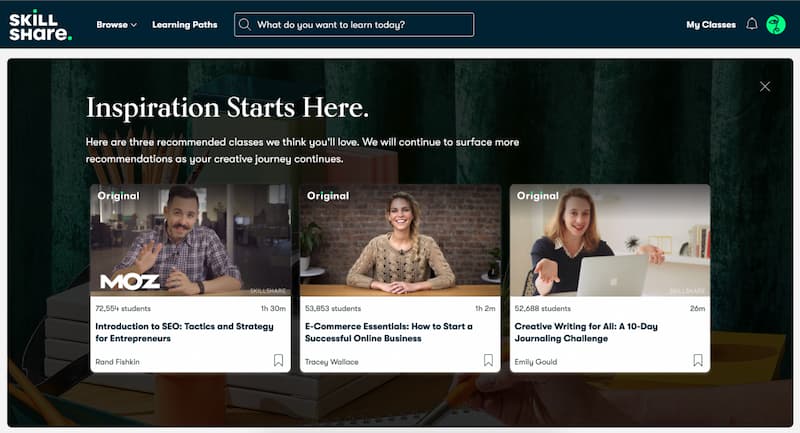 Ultimately, we all want a video format that does not get interrupted by ads when we watch. That is what skillshare videos offer you. Most importantly, users can download the lesson apps on their PCs, tablets, or mobile devices.
Compared to Lynda, Skillshare is not so structured or professional. However, the instructors are often experienced people willing to put you on the path they had once threaded. If, then, you want to have a creative training platform, skillshare ticks all boxes.
A minimum of ten minutes per day is enough to give you all the knowledge you need. If you prefer a more flexible learning process, Skillshare should be your next option.
Pricing Comparison
"Dreams and freedom are the same. In order for them to be, they come with a price." – Criss Jami, Killosophy
When we realize that there is a price to be said for everything, we will pay more attention to every value that comes our way. Online learning platforms also have a price to pay. This price may cost zero dollars or a million dollars. After going around courses of your choice, you might want to know if the price suits your pocket.
For those leaning towards online teaching platforms, our comprehensive reviews on Teachable.com are a treasure trove of insights. Discover firsthand experiences of users, the platform's ease-of-use, and the depth and breadth of course offerings that Teachable brings to the table.
Therefore, the need to have a thorough price comparison to choose between Skillshare or LinkedIn Learning apps. Never forget that the prices on each platform are based on the quality of the program and available learning materials; this includes Skillshare and Lynda apps.
Lynda
Everyone loves a free trial, a chance to know what they are about to get into. Without comparing the costs, you could still be of doubt by wondering; is skillshares better than Lynda?
Your answer comes in handy with the cost comparison. Unlike many online learning platforms, Lynda offers a maximum of 30 days free trial and a choice to pick between the basic and premium membership. For a basic membership, there are two packages:
The Basic Annual Package
For you are required to pay $19.99 per month. This membership package gives you access to quality videos and unlimited course content. Annually, the membership costs $240. This package offers unlimited content that lasts for the year, video playlist, certification, and video transcript searches.
Alongside is your experience with other students in the community. Most importantly, you can get offline downloaded videos and modules for personal studying.
Basic Monthly Subscription
This subscription lasts for only a month, costing $25. This package gives subscribers access to all video content, completion certificates, video transcripts, and offline learning.
However, this only lasts for a month, and you can renew as pleased.
Annual Premium Subscription
However, for the premium membership and unlimited access to all course content, you will pay up to $29.99 per month and $360 annually. The package includes videos, lectures, modules, assessments, and other necessary packages such as offline studying.
Lynda offers you certification for professional recognition. The certification is recognized on LinkedIn and aids quick consideration by employers.
Premium Monthly
This feature also gets you unlimited permits to all tutorial videos. Not only that, the working tools, video playlists, bookmarks, certification, and video transcripts.
You can also get the downloadable version of the material, and they are mobile-enhanced to take you through personal practice.
Skillshare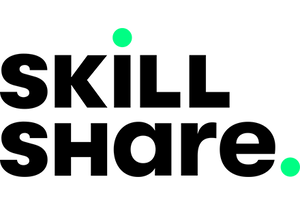 Experience the one-month free subscription;
Premium monthly and annual subscriptions with the access to over 30,000 courses on the platform.
And get offline downloadable version of each class's material.
The Skillshares vs LinkedIn learning is incomplete without knowing which platform needs more financial commitment.

You need to understand the pricing of this platform and how much you can purchase courses to grow your needed skills. This section covers every doubt and uncertainty you may have with pricing.
Free Trial
Free trials are everyone's favorite part of online learning. The Skillshare trial offers a one-month free subscription where you can experience every bit of the training, and it allows you to know what you are getting into before paying
Premium Annual Subscription
The annual subscription for Skillshare is a whopping $167.88 per year, and the monthly package offers $13.99/month. When you have the premium membership, you will get access to over 30,000 courses on the platform.
Not only that, everyone loves a platform for ultimate communication where users can network and interact with one another. Another benefit is the offline downloadable version of each class's materials.
Quality of Courses and Value for Money
So, is LinkedIn Learning worth the fee? What do Skillshare vs LinkedIn Learning have to offer? What values can you get for your money? What is the quality of their courses, how extensive are the topics, and how knowledgeable are their instructors? How long does the free trial take?
I have carefully analyzed each and have the answers to these questions.
Lynda
It is not unusual for online courses to cost between hundreds to a few thousand of dollars, but the quality of the course often varies.
Although the price is a bit higher than competitors, LinkedIn Learning delivers a great value for money and an adherence to a strict privacy policy.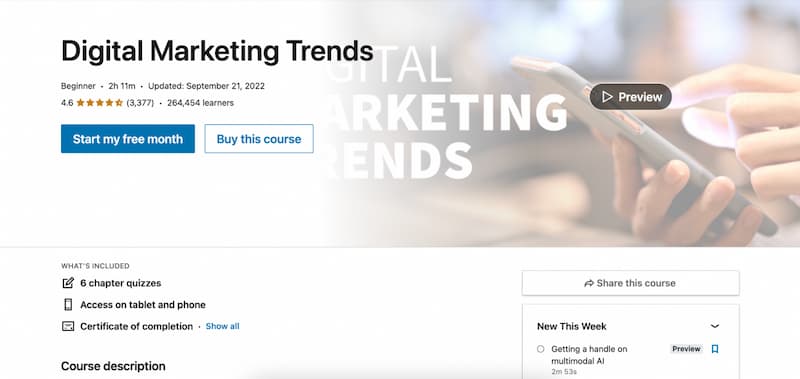 Before you begin, you are asked a series of short questions to determine the courses that are better suited to you. You can explore the categories and select any course if you are not okay with the recommended content.
Courses in LinkedIn Learning are divided into three major categories:
Subjects
Software
and Learning Paths.
These three divisions encompass over 27,000 courses that paid users can select from. It is always advisable to choose a course that syncs with your career path or something to boost your professional outlook.
These courses have been broken down into several video classes of up to 30 minutes each, with some courses being as long as ten videos. You can set a learning goal and get weekly progress reports.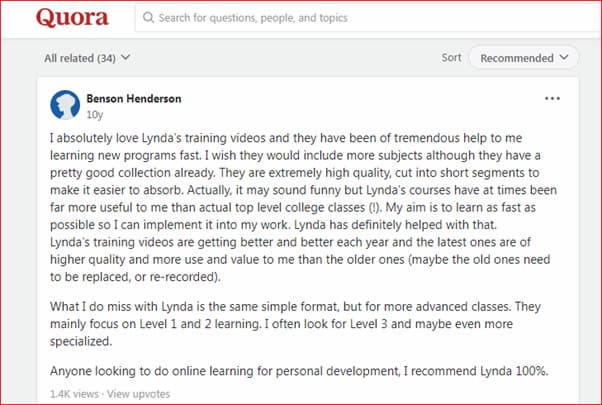 From an instant perspective, a lot has gone into the production of the videos. The quality of the video classes at LinkedIn Learning is top-notch. The video is great, and likewise, the sound. The presentations in some classes further help explain concepts by providing great visuals.
I signed up for classes on coding, and I must confess that the instructors were quite skilled. They know what they are teaching.
They explained debugging in a way that even a 5-year-old would understand, which got them extra marks from me. It's always so great to be taught by someone with a solid grasp of the subject matter.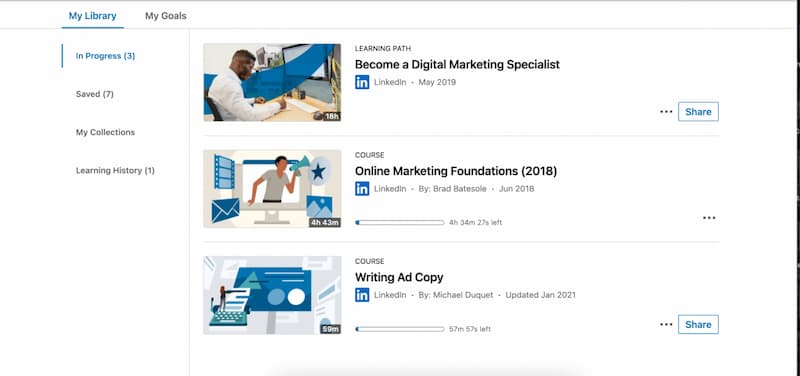 I was honestly surprised that they had certificates of completion. Don't get me wrong; it was great to add to my list of certificates. It's just that you could doze through half the courses and still get the certificate.
Plus, there are no projects to test your understanding of what you've learned. I doubt if the certificates are generally accepted to be worth it.
Skillshare
Now let's look at what Skillshare has to offer. Like LinkedIn Learning, Skillshare has summed up its courses under three major categories. They are: Create, Build, and Thrive.
If you are a content creator or passionate about creatives, then Create is the right segment for you. There are many courses for animators, artists, designers, photographers, and creative writers. The design category goes further to teach UI/UX for app creation.

The Build category is better suited to entrepreneurs, business analysts, or anyone in leadership and management.
Thrive, the third category has courses on lifestyle and productivity.
Video classes range from a minute or two to about 15 minutes each, and different courses have varying amounts of videos. I was given assignments at the end of my initial classes here, but I soon discovered that not all classes end in an assignment.
Some of the teachers at Skillshare go the extra mile and answer any questions you may have and also give feedback on work done.
Now guess something exciting I discovered about Skillshare?
I realized that some of their courses were taken by celebrity instructors. These classes are also referred to as Skillshare Originals.
Such videos are exceptionally high quality and often about 8 – 10 minutes long. They are also clearly labeled, so you can't miss them.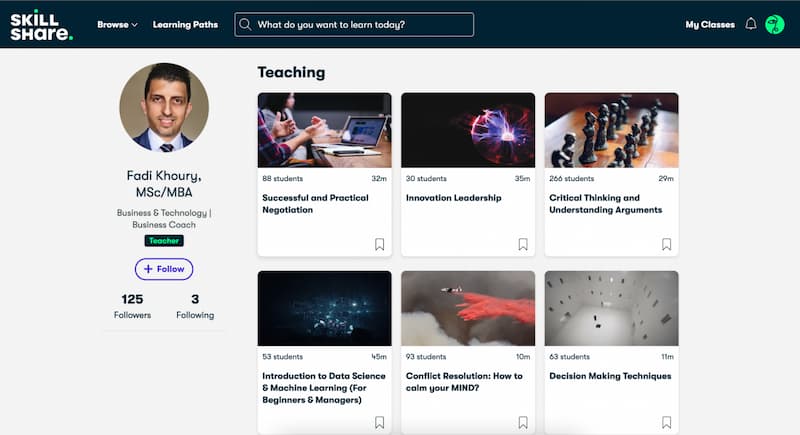 There are also regular classes created by random individuals willing to adhere to Skillshare's guidelines.
Literally, anyone can take lessons as long as they meet the following criteria:
Teach on a permitted topic
Meet minimum standards for length
Include an introduction video
Include a class project
Include well-organized content
Meet standards for audio & video quality
Vary visual presentation
Limit self-promotion
Foster genuine learning
Share unique educational value
Meet the minimum engagement requirements
Adhere to other community guidelines and teaching policies
Main Disadvantages of the Platforms
As great as Lynda or Skillshare are, they are not without some drawbacks.
Lynda
These are some of the shortcomings of LinkedIn Learning (Lynda)
There is no free version. Once your 30-day trial window is over, you either have to pick up a subscription or are kicked out.
The mobile application and the desktop version do not always sync your progress accurately.
You cannot increase the playback speed on videos.
It is almost impossible to leave feedback. Unless you want to write to the corporate email, there's no feedback mechanism
There are no projects to sharpen your skills with. This makes the bulk of the teaching abstract as there's no structure to practice what you've learned.
Unless you know the exact title of a course, it can be pretty hectic to locate a particular course. They sure can do better with their indexing.
The classes are mostly targeted at corporate clients and are taught as such.
Skillshare
Skillshare has also got its fair share of downsides. They include:
Training material is not standardized. This is one of the disadvantages of being an open platform; almost any Tom, Dick, and Harry can set up a class.
While there is a free version, it is limiting. You need to sign up for a subscription to get the best out of this platform.
Free users have a ton of annoying ads to deal with. You can barely make it through two pages without an ad.
The quality of videos can be much better. Some classes look like they were shot before man landed on the moon.
There is no closed captioning on their videos. Non-native English speakers might struggle to comprehend what is being taught.
There are no standards on the quality of instructors. Some of the class instructors rather need to sit down and be taught.
There is less focus on business and more focus on creativity.
Overall Comparison
You may ask, are there clear-cut differences between LinkedIn Learning (Lynda) and Skillshare?
Well, there are. Although both are platforms that enhance education, they are optimized differently. Below are the numerous ways they differ.
| | |
| --- | --- |
| LinkedIn LEARNING | Skillshare |
| Monthly subscription from $29.99 | Monthly subscription from $15/month |
| Certifications look better on your resume | No certifications |
| It is not entirely suitable for entrepreneurs or creatives as it is targeted more at corporate execs. | Learning is more creative with tons of craft-based examples. |
| Over 10,000 courses | Over 29,000 courses |
| Classes are taught by certified experts in the field. | Classes are taught by both professionals and laypeople. |
| No range of course difficulty. | A varied range of course difficulties |
| Classes are taught in 17 languages. | Classes are taught only in English, except for language courses. |
| Over 17 million users | Over 5 million users |
| 200 courses are available through the free trial. | 27,000 courses are accessible through the free trial. |
| There are no projects to help with learning. | Tons of projects to facilitate learning. |
Verdict
Skillshare is a learning platform where you can learn relevant skills at affordable costs. The site gives you access to professional instructors and subject enthusiasts who have set up classes. They run an open platform that is very much appealing to creators, and users have a good number of projects to try their hands on.
Skillshare can do better with setting a baseline of qualifications or certifications required to take a course. It is also fair if they provide learning certificates to their users, especially those who complete projects.
LinkedIn Learning is a platform where you can learn many professional skills with a caveat. It does not come cheap. The subscription on LinkedIn Learning (Lynda) can be a bit pricey, but users would always get a commensurate value for their money.
Perhaps incorporating feedback would help them when reviewing courses and improve their guidelines when generating fresh courses.
While considering which to opt for between LinkedIn Learning vs Skillshare, it is important to weigh the downsides and be sure they are acceptable. These two platforms should be your top two contenders in your choice of a learning platform.
Regardless of whichever you opt for, you are always guaranteed a swell time of learning.
FAQ
Which is better, Skillshare or Lynda?
Is Skillshare better than Lynda? The choice of which is better is purely individual-based. Both Lynda and Skillshare have unique selling points.
Lynda is more suitable for corporate professionals, while Skillshare might appeal more to creators who want projects to practice with.
Which is cheaper, LinkedIn Learning or Skillshare?
Skillshare is much cheaper than LinkedIn Learning. Monthly subscriptions on Skillshare can be as cheap as $8.15, while it does not get cheaper than $19.99 per month on LinkedIn Learning.
Skillshare also has a free version where you can access a handful of classes for