Before you jump into a class being offered at MasterClass, take some time to learn why our Gordon Ramsay MasterClass review will prove to be beneficial.
Our team of experts has taken hours to review the classes offered, wrote various reviews of MasterClass, and everything you find at MasterClass will offer a positive experience for beginner and casual cooks.
Even the novice cook can pick up some great tips and tricks to advance their skills and become a good cook with the Gordon Ramsay class.
We make sure to review each class based on strict criteria. This includes the overall quality of the information, the learning experience, communication skills of the instructor, workbook assignments, and the core value of the overall class.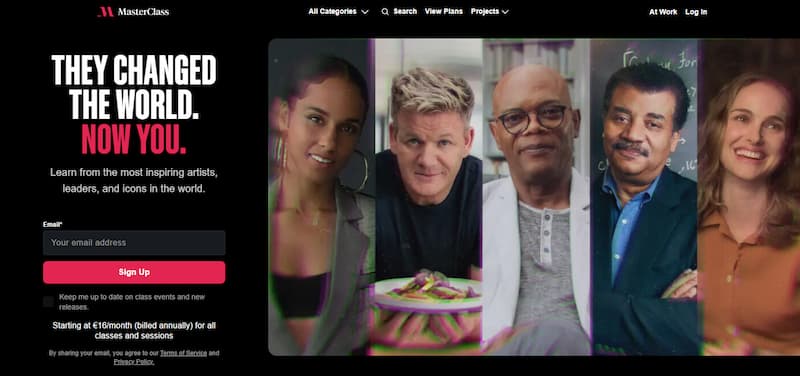 Classes featured at MasterClass are designed for beginners and professionals, and there are hundreds of courses to enjoy based on your own level of expertise.
These classes have become very popular since they can be enjoyed at your own pace from the comfort of home.
They can also be accessed on mobile devices, so you will never miss any class or discussion. MasterClass classes are not designed to be a complete educational experience.
Instead, they are used as a guide to offer students instructions and tips from professionals in a chosen field. The incredible quality of lessons and the affordable all-access pass are two main things that make these classes so popular.
There are some things to consider when looking for the best class. First, you need to identify your current level of experience to find a class that will meet your needs.
Instead of focusing on standard techniques, choose a more advanced class to help you develop new skills or learn new techniques.
You will also want to consider the instructor and know their background and what they are known for.
Finally, you should have a general idea of what you expect to get from the class.

If you love food and like to spend time in the kitchen, taking a cooking class at MasterClass is a great option. You can learn how to prepare different dishes from the pros and even learn how to create restaurant-worthy entrees.
Even if you are a casual cooker or a novice, the classes offered can provide a wealth of information that can assist you in becoming a better cook while learning proper techniques along the way.
If you are looking for even more great classes, check a platform called Creative Live. Are CreativeLive classes good? Yes, they are. See more in our review.
Every tutoring service has differences. Find out in our review Skillshare vs MasterClass.
Gordon Ramsey MasterClass Overview
If you are a fan of cooking and want to hone your skills, you will benefit from the information we provide with this complete Gordon Ramsay MasterClass review.

Here, you can see just what Ramsay offers throughout lessons, and you can even pick up more tips and practice by using a workbook.
This class is a great option for anyone who loves working in the kitchen, and after reading our MasterClass review Gordon Ramsay, you will see why this masterclass has become a top choice for aspiring chefs worldwide.
Who is Gordon Ramsay and What is he Famous for?
Gordon Ramsay is a world-class chef and a television personality that has made his way into homes around the world. He first started working in small restaurants and decided to study French cuisine to advance his career.
After working for Albert Roux at Le Gavroche, Ramsay mastered French and Italian cuisine, which started his successful career as a Head Chef.
Ramsay now owns many restaurants all over the world, with many receiving Michelin stars and prestigious awards. He is best known as a television personality, hosting various shows, including Hell's Kitchen and Kitchen Nightmares.

What is Gordon Ramsay's MasterClass about?
In this MasterClass by Gordon Ramsay, casual and beginner cooks can pick up some skills and useful tips to use in the kitchen to advance their craft. You will also find great recipes to refer to after completing the class!
Get ready to enter the entertaining and tasteful world of cooking after checking out our MasterClass Gordon Ramsay review.
Enjoy cooking with Ramsay as he takes you right into his home kitchen to deliver lessons on kitchen setup, how to buy the best ingredients, and how to create the most unforgettable dishes.
How Does This Class Work?
With this class, you will have access to 20 amazing lessons, each offering information on kitchen skills, tips for combining flavours, and the offering of some great recipes created by Chef Ramsay.
The class starts with a simple introduction and then takes you on a compelling journey through the kitchen with many lessons to follow. You can go through these at your own pace and can review any previous lesson at any time.
This MasterClass is made for any cook who wants to take things to the next level but focuses on beginners and intermediate chefs.
It is a perfect option for any Ramsay fan that wants to take their current cooking to a new level and learn some amazing recipes along the way.

Does Gordon Ramsay MasterClass Worth It?
Ramsay's class is even better than what many reviews say. After completing the first class, you can enjoy even more tips, skills, and recipes with Gordon's second course, Gordon Ramsay Teaches Cooking 2: Restaurant Recipes at Home. Both courses will leave your mouth watering and will help you advance as a cook.
With lessons from the most basic ways to make eggs to mastering complex recipes, this class is one of the best for anyone looking to give their cooking skills a boost.
Learn from one of the best in the industry and even get some background details on Ramsay as he incorporates his own past experiences into the provided lessons.

Is it the Best Online Cooking Class out There?
Based on our Gordon Ramsay Master Class review, we can say it is one of the best cooking classes out there.
While it may not be suitable for experienced chefs, anyone learning their way around a kitchen or has basic skills will surely benefit from taking this class.
Even if you feel it is not the best cooking class out there, there is no way you can argue that there is no lack of entertainment. Ramsay provides intriguing lessons, and his personality alone makes this a perfect class for any cook.

What do you get in Gordon Ramsay's MasterClass?
If you are looking for a basic cooking class, this is not it. With this class, Ramsay will not only provide steps to follow but will provide you with professional knowledge and understanding that will follow you as you advance in the kitchen long after completing this course.
Chef Ramsay gives practical advice throughout the course, and the workbook included will offer even more tips and tricks to be used.
You will also benefit from sections that focus on alternative ingredients to satisfy specific dietary needs or restrictions.
This is seldom offered with other cooking classes, so this is definitely one of the highlights we found during our MasterClass Gordon Ramsay review. Use this to alter recipes without sacrificing any quality or taste.
Features of the Class
When you sign up for this amazing cooking class, you will get hours of entertainment and the best tips from one of the top chefs in the world. The first class consists of 20 different lessons, starting with a unique introduction.
Each lesson will run for around 25 minutes, allowing you to review any part of the lesson after you have finished and learn at your own pace.

Every lesson offered will also come with a workbook section. These workbooks are used to summarize key points from each lesson and to provide reference points. There will also be assignments to undertake.
With this class, you will also get a lesson discussion session. During this, all students can hear comments or insights they have gained from each lesson provided.
This is a great opportunity to connect with other students with similar interests and get their feedback or unique ideas.
The content found in each lesson will go over everything to do with cooking, from what tools to use to how to slice vegetables ad how long to cook meat.
Since each lesson is just 25 minutes, the class goes by rather quickly and is packed with useful information for the aspiring cook.

The lessons are broken into sections to provide you with all you need to know to master each lesson. These include:
Getting to Know Gordon Ramsay;
Mastering the Kitchen;
Mastering Vegetables and Herbs;
Elevating Eggs;
Developing Knife Skills;
Mastering Meat: Chicken. Beef, Lamb, and Pork;
Mastering Seafood: Fish and Shellfish;
Making the Perfect Pasta;
Recipes.
Who is it for?
If you are ready to kick it up a notch in the kitchen, this cooking class is a great option. We have reviewed all lessons and the workbook and find this class to be one of the best being offered anywhere online.
Ramsay will explain basic cooking principles throughout the course and go over some fundamentals, but if you have never cooked before, this is definitely not the right class for you.

This MasterClass has been designed for fans of Gordon Ramsay and anyone who wishes to understand the cooking principles better to feel more confident.
Looking to wow friends and family? Be sure to check out the second course offered by Ramsay and learn all about restaurant cooking and pick up some stellar recipes.
Any cook seeking to get out of a routine and spice things up a bit will benefit from this course. Overall, it is designed for casual cooks who have some basic skills and knowledge already. It is not a course that will enhance any professional career.
Masterclass Gordon Ramsay Price
After reading through our Gordon Ramsay MasterClass review, you will want to know all about pricing plans. There were two different options for making a purchase, and you can choose which will meet your needs.
Before this MasterClass Gordon Ramsay review, the site offered a single class cost of $90. That was eliminated in May 2020, and now, the site only offers a full access pass.

The annual subscription to MasterClass will run $180, which comes down to just $15 per month.
With this, you have access to all courses, so if you plan to take Gordon's second class, you will benefit from the all-access pass. The annual pass will offer unlimited access to any course that is listed at MasterClass.
The all-access pass also offers the ability to use Quick Lists, which will let you explore various video lessons from different instructors to preview classes before ordering.
It also allows you to avoid taking a class from start to finish, as you can jump between instructors based on topics being covered.
If you are looking for a free trial for this MasterClass course, you will be out of luck. The site does not offer any free passes or trials.
However, you will benefit from a money-back guarantee that is valid for 30 days. If you are not happy with any course, lessons, or the overall value of this Gordon Ramsay MasterClass, you can request a refund within 30 days.
Quality of the Class

The overall quality of this class is superb, and you will find a nice mix of practical and theory of cooking. As for the quality of the videos, it doesn't get any better than this.
The camera work is stellar, and there is also an on-screen glossary that will explain any technical terms used, which is perfect for beginner cooks.
Anyone seeking to improve skills in the kitchen and learn new tips and techniques will find this class quite helpful and informative.
Other MasterClass Classes on Cooking: Who Made Them? What are the Differences?
While the Gordon Ramsay MasterClass review focuses on this specific class, you will find you can enjoy many other cooking classes with your all-access pass.
MasterClass features lessons and classes from some top-rated chefs worldwide, so there are a variety of options.
Of course, each instructor will have a different way of teaching and presenting information, and honestly, none will be as entertaining as Gordon.

Some of the other cooking classes you can find on MasterClass include:
Thomas Keller: Teaches Cooking Techniques;
Aaron Franklin: Teaches Texas Style BBQ;
Massimo Bottura: Teaches Modern Italian Cooking;
Gabriela Camara: Teaches Mexican Cooking.
You will find some major differences in coursework with these other classes. For example, the Aaron Franklin class focuses on decadent BBQ recipes instead of focusing on basics and fundamentals.
The class from Thomas Keller is more suited for beginners as it offers a technique-oriented lesson plan. This course starts with basic necessities and then moves on to useful techniques.
If you want to check more reviews on MasterClass classes, read one of our complete reviews here:
Pros
Hands-on tips – Get the best tips and tricks in the kitchen right from Gordon Ramsay himself.
Focuses on Theory of Cooking – With great insight from this master chef, you will learn all about the theory behind cooking, as Ramsay explains all in detail.
Creative Thinking – This class encourages creative thinking and has you using unexpected ingredients to create dishes.
Useful Workbook Sections – Find alternative ingredient lists in the workbook that can customise recipes to fit dietary restrictions or needs.
Learn Skill – This class covers basic kitchen skills, focusing on knife skills alone.
Explore Ingredients – Learn about flavour profiles of common herbs and spices used in recipes and how these interact with each other to create unique flavours.
Cons
Premade Components Used – Some recipes make use of premade items that are not previously covered in lessons.
Hard to find Ingredients – Not all of Gordon's ingredients can be found at local markets.
Foul Language – This class presents Ramsay's true character and uses foul language at times.
Basic Skills Needed – You will need to have simple and fundamental kitchen skills to benefit from the lessons.
Limited Recipes – One would expect high end and multiple recipes to be presented by Ramsay, but this class has a small offering of recipes to work with.
Not Great for Advanced Cooks – Anyone with experience in the kitchen or the industry may not learn much from these lessons, and they are designed for casual cookers or beginner chefs.