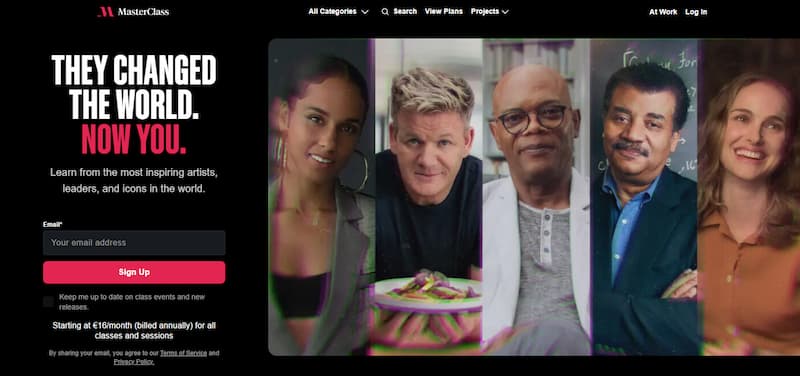 The MasterClass is a top-rated and trusted online educational platform that delivers amazing classes covering a wide variety of topics.
Before starting with our Master Class Daniel Negreanu review, you should understand how we perform our reviews and what criteria to complete our review process.
Using our review, you will get updated information on what each class has to offer and will even benefit from feedback from past students who have completed this class. Our MasterClass.com reviews are packed with useful information that will help you determine whether the online class will meet your needs.
When we evaluate classes, we consider a variety of factors. First is the core value of the class and what we believe students will get from the lessons provided.
We also review each lesson offered as well as workbook assignments that are included. We take time to learn about the instructor and deliver understandable content while providing the tools needed for your success after class completion.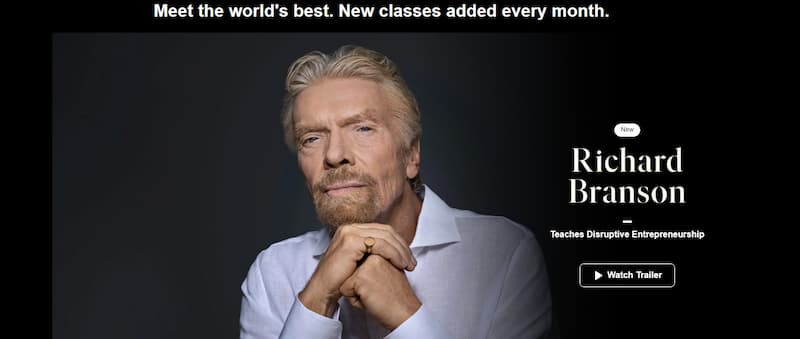 The classes at MasterClass have become a top choice for online learners as they allow you to study at your own pace, and you can review information at any time. These classes are quite popular with beginners and experts, and they contain many useful tips and techniques that can be immediately used.
You will also find that the all-access pass for the year offers tremendous value as it allows you to take as many classes as you want for one set fee!
If you are looking for even more different courses, check CreativeLive reviews and CreativeLive and Lynda on our website. Customers of this platform are pleased about their courses.
Overview of Daniel Negreanu MasterClass
When choosing an online class such as the Daniel Negreanu MasterClass review offered here, you will want to ensure that lessons provide you with the relevant information you are seeing. You also want to make sure the class can be completed promptly and offers a great overall value.
If you are a fan of online poker or have played poker at any casino, you will benefit from this class. With tips and tricks offered by Daniel Negreanu, you will get high-quality information from one of the top players in the world.
This poker class is designed to enhance your game and provide you with useful knowledge and strategies that can help you win more as you engage in the classic game of poker.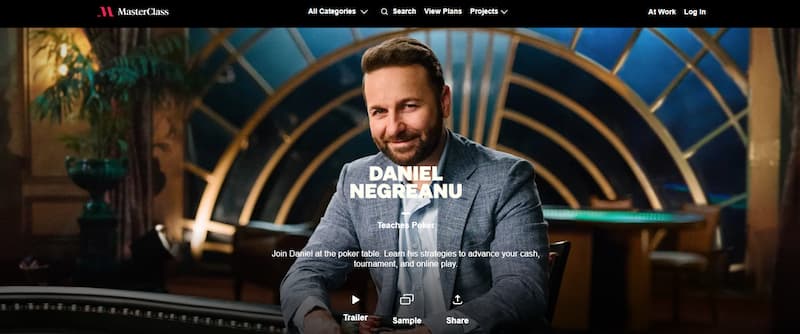 For a great writing master class, check our MasterClass James Patterson review, where you can find all the details about his course.
Who is Daniel Negreanu and What is he Famous for?
Daniel Negreanu is perhaps one of the most famous professional poker players in the world. He has many accomplishments over the years and has won over $40 million in live poker tournaments.
As one of the most famous poker players ever, you will find the information provided in this MasterClass useful and quite beneficial if you are a real money poker player.
What is Daniel Negreanu's MasterClass about?
With this poker education program, you will learn from the best player and learn how to think like the pros. Since poker is a game of wits and you will have to out-think your opponents, Daniel provides key tips on successfully producing the best results at the poker tables.
Check out our complete Daniel Negreanu MasterClass reviews right here to see exactly what you will get from this online class.

If you are into EDM music, you should go with the deadmau5 class. Not sure? Read more in the deadmaus MasterClass review on our website.
How Does This Class Work?
With this online class, you will enjoy multiple lessons covering poker playing techniques, betting strategies, and other tips that can enhance your game.
The class is not designed to make anyone a professional poker player overnight. It is more for keeping students from being a so-so players and making the same mistakes when playing the game.
Overall, this MasterClass will help you start to think about the game in different ways and assist in working through various scenarios encountered while playing.

If you are a casual poker player with a general idea of the game and how to wager, this course will definitely be quite beneficial and will quickly pay for itself!
Is Daniel Negreanu's MasterClass Good?
As we performed our Daniel Negreanu MasterClass review, we found it much better than many reviews say. It is packed with useful information for any beginner player as well as experienced poker players. It is an engaging program that is also entertaining, and you will learn the skills needed to become a good poker player.
By learning from an expert, you will discover how to enhance your game and start earning more profits, so be sure to check out our Daniel Negreanu Master Class reviews right here to see just what you will get.

Is it the best online poker class out there?
What do you get in Daniel Negreanu's MasterClass? We believe this MasterClass is one of the best out there for aspiring players. While it will not enhance the game of experienced poker players, it is a great starting point for casual gamblers looking to boost their game and start to win more at the tables.
This class offers 38 different lessons that range in time from a few minutes to over 30 minutes long. The lessons will touch on a variety of topics, from mere basics to complex betting situations.
What the Class Consists of?
Not only will you get access to 38 amazing lessons with this class, but you will get some added extras as well. When you choose to take this course after reading our Daniel Negreanu MasterClass review, you will get access to an office hours feature.
With this, you can upload a video of a poker hand or ask questions directly to Daniel. He, or other class members, will provide guidance and feedback.
The class also offers a handy workbook that can be downloaded, and it goes along with all lessons included. This allows you to study material at any time and make progress at your own pace.
As for information presented throughout lessons, you will learn all about game fundamentals, handle different game situations, learn about live tells, and get personal training from one of the best poker players ever.
Who would like this class?
This class and the series of lessons offered will best be suited for beginner players and just starting. The lessons cover many fundamentals, so they offer great information for any new player.
As for those that are a bit more advanced, the class can be beneficial in some ways if you are transitioning from playing online poker to live play.
If you are into cooking and you have access to MasterClass, check the MasterClass Gordon Ramsay review. You will find great tips from him in this course.
Price of the Class
In the past, MasterClass offered two pricing plans that would allow you to purchase a single class or a pass for all supported classes. At the time of our Daniel Negreanu Master Class reviews, this single class offer is no longer available.
To enjoy the lessons and great information offered, you will have to purchase an all-access pass offered at MasterClass. This is an annual pass that will provide access to every class that is offered.

For a cost of $180 a year or $15 a month, you will be able to jump right in and start learning great skills and techniques to become a better poker player.
You will also be able to use your pass to take various other classes to improve your game or provide students with information on other gambling topics and games.
Quality of the Class
The quality of this class is exceptional, and you will get professional tips directly from Daniel. Any player looking to kick up their game and start enjoying the thrills or of live play or interested in entering poker tournaments will find this class to be of great value.
The cost of the class is a small price to pay, considering what can be won once you master lessons and a variety of techniques that are taught. The workbook is of great quality and serves as a perfect reference tool to complement all lessons offered.

These lessons are very effective, and this course will surely be a huge benefit to any new player.
Even those with some experience playing online or in land casinos will benefit from the features of this class and will walk away with some new knowledge on how to become a better player.
What are the Other MasterClass Classes on Poker?
Aside from the great Daniel Negreanu MasterClass on poker, you will also be able to enjoy a class presented by Phil Ivey with your all-access pass.
As we have learned from this Master Class Daniel Negreanu review, this course offers basics and also goes a bit deeper into the strategies used when playing.

What are the differences? With Phil Ivey's class, you will learn even more about using strategy to up your game. The poker legend offers personal experiences to enhance lessons and sheds light on useful strategies that can be used.
The course from Ivey is also quite a bit shorter, offering just 11 lessons, but is designed for players who have more experience.
Pros
Easy to understand information for a beginner player.
Extensive lessons and enhanced poker material.
Shorter lessons that make it easier to learn and focus on different techniques.
Great feedback from other students available.
The workbook is superadditional and is a useful tool for reviewing lessons.
High-quality videos help with the presentation of information.
Cons
The class lacks exclusive content and sole intellectual property.
The price may be too steep for beginner players who will still lose when playing.
Content is generalized and can be found with basic internet searches.
The shorter lessons that last just a few minutes are not informative.
The length of the course is too long for beginners and may cause students to lose interest.
Information not overly useful for experienced live players.