Access to quality education is everyone's right. But it's hardly ever like that in real life. The financial cost of education is the major reason why a lot of willing students are unable to get it.
To get a typical college counseling package, for instance, students have to pay a top advisor tens of thousands of dollars.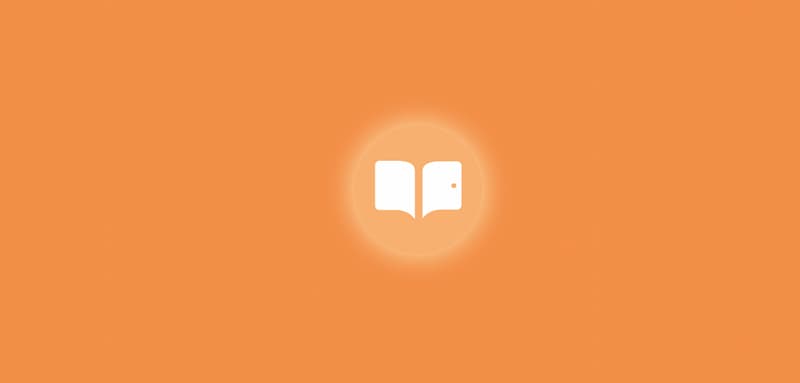 Of course, not every student has this kind of money, and this can make it difficult for them to get the advisory services they need to find the right schools and ace their college application process.
The Classroom Door Platform was created to solve this problem. This e-learning app makes quality tutoring for all levels of education and transparent college counseling available to everyone at an affordable cost.
The platform offers expertly crafted customized content and education consulting services that would have been otherwise reserved for privileged students.
In this Classroom Door review, we will examine the features, tutoring services, pricing plan, and overall quality of the TCD platform to help you get familiar with the app and determine if it is the right choice for you.
Every tutoring service has differences. Find out in our reviews PlainMath review and Learner Tutoring review.
Classroom Door Overview
What is a Classroom Door?
The Classroom Door is an e-learning platform designed to deliver powerful in-person teaching and educational consulting services at an affordable price for students. The app leverages smart, collaborative features that make it possible for tutors to teach, collaborate in real-time and deliver quality online learning to students.
In addition to this, The Classroom Door offers educational consulting and advisory services to students at various levels of learning.
On the platform, there are several carefully selected certified teachers, tutors, and academic advisors offering their services to students. A good number of these tutors and advisers are bright minds from various world-renowned universities.
How does it work?
The Classroom Door was created to democratize the elite tutoring and college application process, making expert consultation services available for everyone. The TCD mobile app is a tutoring marketplace and an education consultation platform.
It gives users access to certified teachers, world-class tutors, and college counseling content. These are the three main things that users can get from using this platform.
Certified teachers
On TCD, users can find certified teachers with practical classroom expertise that will teach them various subjects based on a personalized curriculum created to improve their knowledge and help them pass tests.
There are teachers in various subjects including Maths, science, various languages, arts and so on.
There are also different teachers for various standardized prep, executive functioning coaches, reading specialists, and so on. The app makes use of Zoom integration to make remote learning and virtual classes possible.
Find Tutors and Advisors

Students on TCD can get matched with one of the expert tutors from one of TCD's partner schools.
There are more than 1500 vetted tutors from top universities like Harvard, MIT, Stanford, Oxford, Princeton, and so on. To get matched to a tutor, students simply have to create an account and verify it.
After signing in to their account, they'll be able to find an instructor and book a session with them. TCD tutors and advisors offer expert tutoring and college advising services to students. The cost for an hour of consultation starts from $15 an hour but varies from one tutor to the other.
Students looking to get admitted to their dream college program, Master's or Ph.D., can also find an Advisor on TCD that will put them through all the various aspects of their admission process.
To book a session with a tutor or advisor, students simply have to search through the TCD database to find an instructor that matches what they want.
There is a detailed profile of each instructor, and the search can be filtered based on the subject you're interested in.
Is the Classroom Door good?
TCD provides a much-needed service, especially for those in need of help with their college admission process. By democratizing the college application process, the platform makes advisory services available to everyone at an affordable price.
With this platform, students can easily find competent college counselors and education experts that can help them through various stages of their academic study.
In addition to these, the platform also gives access to proprietary counseling content curated by one of the best college advisory teams in the world, which they can access and study at their own pace.
What makes this platform even better is the affordable cost of these expert services. Not only are the rates low, but students also get to choose what works best for them based on their budget.
In all, you have a platform that makes it possible to connect with professional educational consultants and expert tutors quite easily, gives you a plethora of options, and all at an affordable rate.
Short Story of the TheClassroomDoor.com
The Classroom Door was Founded by Nikki Geulaa. She is a pioneer in the college consulting industry with more than 25 years of experience running her consulting firm, Arete Educational Consulting. The firm is one of the first college advising and tutoring companies in the world.
Since her education consulting company was created more than two decades ago, Geulaa and her team of tutors and advisors have been helping students gain entry into various world-renowned institutions like Yale, Harvard, Stanford, MIT, Oxford, University of Pennsylvania, and so on.
Having recognized the gap in quality tutoring and expert college counseling services for those who couldn't avoid it, Guela decided to create The Classroom Door to provide quality, transparent, and most of all, affordable educational consulting and tutoring services for everyone.
Tutoring Services

The Classroom Door offers one on one tutoring as well as group classes for students at all academic levels. There are classes for kindergarten enrichment all the way up to prep classes for standardized tests like SAT, ACT, GRE, MCAT, GMAT, and so on.
The platform also has tutors that teach STEM subjects, language learning classes, and tutoring for various subjects all the way up to graduate school.
Recorded Video Lessons
Tutors and advisors can create video lessons and upload them on their profiles on the TCD platform. In addition to attending virtual classes, students can explore these video courses to improve their knowledge of various subjects and their college admission process.
Virtual Classroom
The TCD platform uses Zoom integration which means tutors can teach their students through high-definition audio and visuals to deliver a virtual classroom experience that is as close to in-person learning as possible.
Users have access to Zoom's virtual classroom functionalities such as a virtual whiteboard, screen sharing capabilities, messaging portal, and several other tools and resources that make their learning experienced tutors.
Collaborate Seamlessly Online with TCD's EpicBoard™
Another feature on the platform that makes learning even more seamless is TCD's EpicBoard™. This highly interactive multimedia whiteboard has various tools and features that tutors can use to simulate the classroom experience and work together with students from their devices. They can easily share voice and video content with the students in the course of their classes.
College Counseling Lessons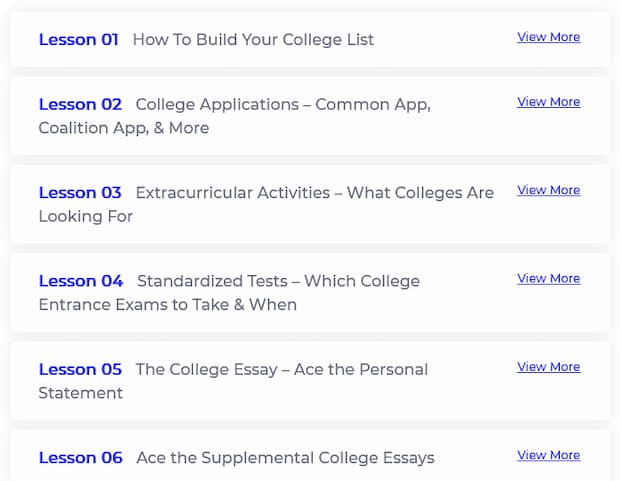 This is one of TCD's core features. In partnership with Arete Educational consulting (one of the leading college counseling firms in the world), The Classroom Door provides various tools to help students get into their dream school.
On TCD, students can access one-on-one counseling sessions that would normally cost tens of thousands of dollars at a much more affordable price.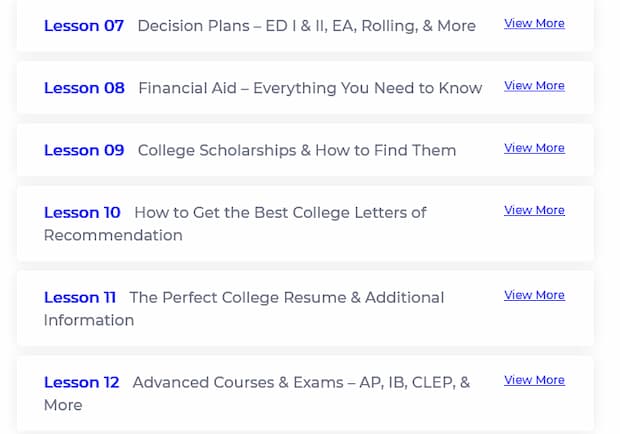 TCS uses a subscription model that is equivalent to less than $1/day to provide access to lessons curated specifically for college applicants. The lessons were compiled in collaboration with top advisors and counselors with proven college counseling experience.
The video lessons cover the core aspects of the college admissions process, which include:
How to write perfect college essays
How to build your ideal college list
How to apply on the Common Application
How to get into an Ivy League school or HBCU
Financial Aid and Scholarships
Passing  Standardized Tests
What college admissions advisors are looking for
and so much more.
College organizer
Students on TCD's subscription plan also get full access to the platform's College Organizer feature. As the name implies, the college organizer helps students to keep all the helpful information they need for their college application in one place.
This includes notes, essay drafts, application due dates, appointment calendars, and so on. The college organizer can be customized to every student's needs depending on the school they're trying to get into.
Find an Academic Advisor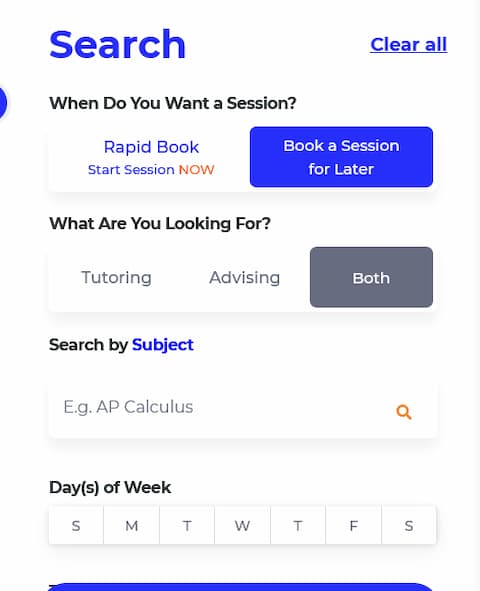 In addition to providing a full library of college information, students can also get direct one-on-one advice from a college advisor on how to get accepted to their dream school.
This does not just apply to higher institutions of learning. Parents can get help for their children for nursery school through high school applications.
Of course, the advisors on TCD also provide customized support for college and graduate school admissions. Some advisors also have specialties in athletic recruitment, international application, financial aid, and so on.
TCD education consultants specialize in assisting students with personal statements, letters of recommendation, financial aid, and finding engaging activities that aid academic pursuit, college lists, and supplements.
They are certified professionals with at least one year of full proven expertise in their respective fields, which makes them fully qualified for the job.
Pricing and Subscription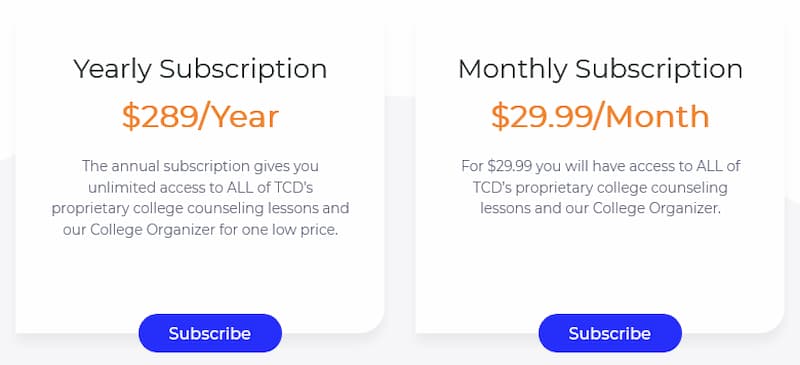 TCD uses a subscription for the platform's self-guided college application lessons. For a subscription that can be billed monthly or annually, students get access to a customized collection of college counseling lessons that works them through the application process and everything they need to know.
They also get access to the college organizer.
So how much is a Classroom Door subscription? The subscription costs $29.99 monthly or $189.00 annually. This is quite affordable considering the fact that college counseling packages like this may cost up to 10,000 or more with top advisors in the field.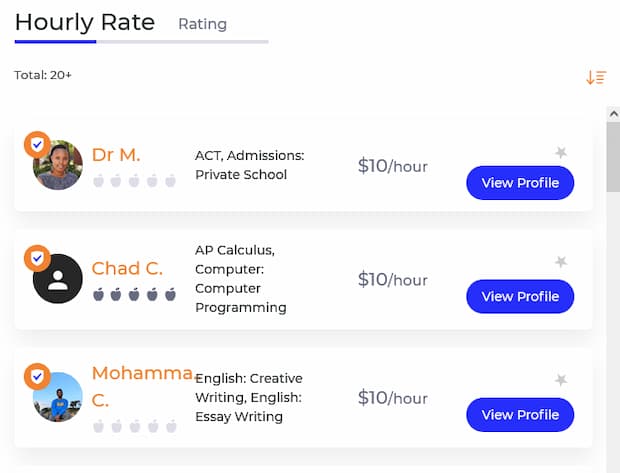 Alternatively, students can book a session with one of the platform's instructors or advisors offering 1-1 tutoring and advisory services and pay at an hourly rate.
The average cost of a Classroom Door Tutoring session starts at $15/hour. Undergrad tutors in various subjects cannot charge more than $35/hour. However, certified teachers and advisors can set their own rates.
Quality of Tutors & Tutoring Sessions
The Classroom Door has more than 1500 elite tutors and advisors on its network providing tutoring and college advisory services for students on the platform. The tutors are certified teachers, graduates or graduate students, as well as undergraduates from some of the top schools.
The educational consultant and college advisors are certified members of various international bodies such as the IIECA, ACCIS, CANNY, and NACAC, and they're expected to have at least one year of full-time expertise in the field.
Although TCD does not offer any direct guarantees, up to 98% of students who have applied to colleges through Arete Education Consulting get admission into one of their top 3 colleges, with many of them receiving merit scholarships. This is a good indication of the quality of services you're likely to get from TCD.
So is Classroom Door legit, and is it worth your money? From the few ClassroomDoor reviews available, it seems many of those who have used the platform have been getting their money's worth.
It is not an expensive platform, and you can be confident you'll be getting value for your money whether you're paying for the subscription or booking a session with a tutor.
Student Feedback and Reputation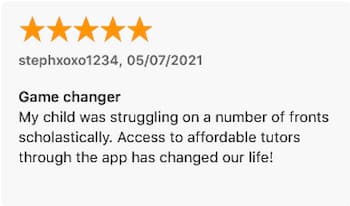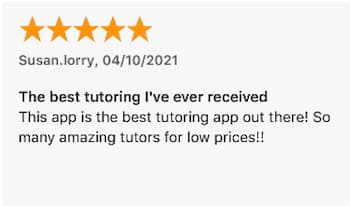 The Classroom Door is a relatively new platform, so there aren't a lot of user reviews yet.
However, from the few TheClassroomDoor reviews from users that have downloaded the app on AppStore, it seems most of the users are satisfied. The app has an average rating of 5.0 on Appstore.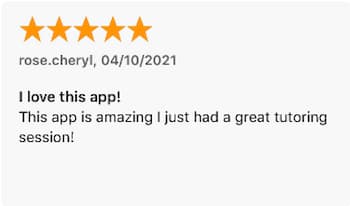 Website and Mobile App Usability
TCD has a browser-based platform which means anyone can access the site and all the resources it offers from their mobile device or computer from anywhere in the world.
The interface is easy to use and intuitive. There's also a mobile app, but this is only available for Apple users.
Pros
Self-guided lessons covering all you need to know about the college admissions process.
Customized educational consulting.
Affordable and quality tutoring.
Licensed and qualified tutors.
Simple and easy to use app.
Cons
Relatively new platform.
Not many Classroom Door coupons.
Mobile app not available for Android users.
Conclusion
At the end of this ClassroomDoor review, here's a summary of all you need to know about this platform.
Top-quality curated lessons that cover various aspects of the college admissions process. Qualified teachers and advisors from ivy league schools. Intuitive web app and mobile application. Impressive technology with virtual classes, interactive whiteboards, and so on.
Is Classroom Door worth it? Yes, TCD provides affordable access to world-class educational consulting services. Simple subscription plan billed annually or monthly. The Classroom Door reviews are limited since the platform is relatively new.