Are you looking to get admission into a Law school?
It is important to get prepped up so you can score high and gain admission into the Law school of your dreams. Singlehandedly preparing for the LSAT might be quite a challenging task. It can be stressful and time-consuming. The most reliable way to get prepped is through the prep courses.
As challenging as prepping might seem, finding the perfect prep course that would help you get a better score is almost more difficult. There are quite a several options nowadays, and that is where the difficulty emerges. But wait, let me tell you something! Let me tell you something! Sorry, I've watched too much of TikTok.
For those aspiring to excel in the LSAT, exploring the benefits of reputable Princeton Review LSAT courses can be a game-changing step towards achieving a top score.
Our team dove into deep research, reviewing materials from many sources to ascertain the qualities of two of the most popular and patronized prep courses now available: the Princeton Review and Blueprint. These LSAT prep courses are aimed at reducing the stress of studying without a plan and direction.

The Law School Admission Test (LSAT) is the test required to get into an ABA law school. What does this mean for you? These Blueprint LSAT vs. Princeton Review bring to light the structure and quality of the course provided by these companies. This will help you easily choose which one best suit your educational need at the moment since selecting the right course plays a vital role in getting you into law school.
Considering the Princeton Review vs. Blueprint vs LSAT stand, if you want an engaging learning experience, it is easy to say that Blueprint is the best option for you.
However, if you are almost self-sufficient and want a very personal and extensive learning experience, then the best LAST prep course for you is the Princeton Review.
Overall Comparison: Princeton Review vs Blueprint LSAT
| | | |
| --- | --- | --- |
| LSAT test prep provider | Blueprint LSAT | Princeton Review |
| Supplemental instruction hours | 88+ | 180+ |
| 165+ score Guarantee | Not guaranteed | Guaranteed |
| Video lectures | Available | Available |
| LSAT Practice Questions | 8000+ | 8000+ |
| Textbooks | Available | Available |
| Live online lectures | Available | Available |
| Digital flashcards | Unavailable | Available |
| Mobile application | Unavailable | Unavailable |
| LSAT Practice Tests | Available | Available |
| Free trial | Available | Unavailable |
| Last Prep Plus | Available | Available |
| Cost | $299 – $5174 | $799 – $1799 |
Features for Students to Know About
And the good news? Our team has outlined some of the key features Blueprint LSAT review course, or Princeton lsat Review it has. This will give you a deeper understanding of the working of these courses. Blueprint lsat review knowledge and Princeton lsat review course provides the following unique features.
When comparing LSAT prep options, an in-depth analysis of the features and advantages of Blueprint vs Princeton Review LSAT courses can help you make an informed decision for your test success.

Planning your college admissions can be overwhelming. The Princeton Review college admissions assistance reviews on our site offer a comprehensive assessment of their services, including personal guidance, application support, and essay review.
When seeking effective LSAT preparation, consider the comprehensive resources and proven strategies offered by the Blueprint LSAT Course to maximize your test performance.
Blueprint LSAT: Why is it better than Princeton Review?
Custom Study Planner
It turns out Blueprint LSAT took the whole custom study planner feature to the next level, as most platforms already have this feature in the store.
Before commencing the course, you will be asked some questions, which may include which days you plan on studying and the number of hours you would want to commit to studying.
You can choose to create a schedule immediately using the scheduling technology provided by the platform. The custom schedule is very easy to follow and keep up with. This means you have the luxury of making a plan that fits your learning demands more adequately.
The plan is mostly very elaborate and encompasses all you need, from your study material and materials to lessons and modules you are expected to cover in a day.
You can choose to mark lessons complete, but the algorithm will do that for you even if you forget.
The schedule is flexible, meaning you can edit it however you want. You can easily drag and drop lessons on calendar dates most suited to you.

Choosing between Kaplan or LSATMax for your LSAT prep? Our in-depth comparison provides an extensive evaluation of both services, from study materials to student support, ensuring you make the most informed choice for your prep journey.
Dashboard
Many students and users spend a lot of time on the dashboard; it is very interactive and user-friendly. The dashboard somewhat summarizes the overall details of the course. The dashboard is quite simple to understand and navigate.
The dashboard allows you to explore all aspects of the course easily. You can also follow your progress and get information on upcoming events and class activities.

Learning Materials
Learning materials play the most important role in prepping for any exams. Our review takes a keen interest in learning materials as it makes up a major part of the course, apart from video instruction from experts breaking down the content for easy consumption.
In the self-paced course, Blueprint offers 90+ video lessons. The videos are included in other course options, which are not limited to the self-paced course.
The videos are of very decent quality and highly interactive. The videos are not too lengthy, and this technique helps retain the students' attention; this helps avoid boredom that would make most students slack off.
If the video lessons are insufficient, you can try hard-copy books as another alternative.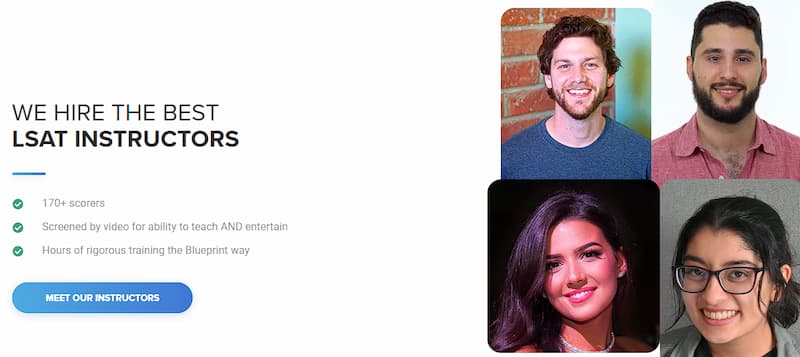 Practice Tests and Exams
In my own experience, practice makes perfect; the Blueprint LSAT prep course amply provides students with numerous ways to get some practice in. you can choose to complete the modules as each module has a practice package at the end. The package includes practice questions, quizzes, and so on.
On the other hand, if you want more practice, you can visit the question bank to customize practice questions.
Students have the luxury of making the custom practice question suitable for them as they can tweak the question difficulty and type. They can even use filters to alter different concepts and so on.
There are about 85+ full-length practice exams in the course, and the exam are very LSAT-esque.

Analytics and Feedback
Our team was quite impressed by the analytics and reports Blueprint has made available. The reports are quite textured and extensive.
Various metrics are used to ascertain your performance on practice exams. You get to see how you performed concerning time. You also get to see how you performed on different sections and particular questions.
This helps you channel your energy to aspects you are lacking. This will help you improve fast and more effectively. Blueprint and Princeton have the best feedback system a student can ask for.
To make an informed choice between LSAT preparation options, it's essential to conduct a thorough comparison of the features and benefits offered by Blueprint vs. Princeton Review LSAT courses.
You might be wondering which is better, Blueprint or Princeton Review. Well, if it comes to quality videos and effective reports, Blueprint is unparalleled. The idea of the custom schedule is also a no-brainer.

Princeton Review: Why is it better than Blueprint LSAT?
Coursework
Students get to access their study materials from the coursework tab. The course is mostly spread through units. The course comprises 24 units. You can also choose to organize the course based on subjects if that suits you best.

The subjects of self study are:
Arguments
Reading comprehension
Games
Global strategies
Videos are allocated to every unit to assist students in understanding ideas that are complex or difficult. Each unit also has practice questions; you get feedback after every test. John Ross has the view that "Princeton Review is a test prep heavyweight and its coursework is anchored by some of the best live classes and prep books in the business" This further validates the stands that the course already has.
Course Content
The course content plays a vital role in every prep course. Princeton offers students different options when it comes to learning. You can choose to learn through online lessons; this is a mash of videos, games, and interactive slides.

Princeton Review also suggests textbooks to give students access through the mail. The textbooks are integrated within the course, so you will be instructed when and how to read them.
As if that's not enough, you can mark it complete when you are done reading a text. This is quite a neat feature as it allows you to keep track of your progress and learning.
The course content is so sure that you get a money-back guarantee if your score does not improve.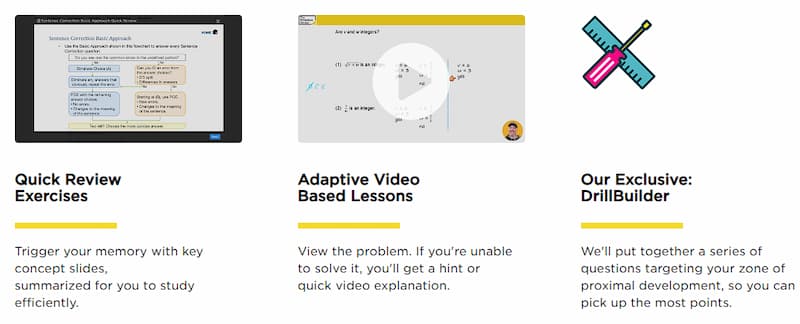 Practice Questions And Exams
Numerous practice questions are spread throughout every unit of the course. At the end of practice test for every unit, a special token (practice questions) awaits you, and this helps reinforce what you have learned in the unit. If you might be asking yourself, the questions are similar to those in the actual LSAT course.

You will also find logic games, and other similar, logical reasoning and intentional activities. If you take full-length practice exams, you will feel similar to taking the actual exams.
Answer explanations are online materials also available to students. These will help you better understand the question and equip you to attempt it better next time.

User Interface
The user interface is not only simple but very easy to use. The interface is not excessively modern, but its simplicity is its charm. You can easily navigate through the course content and find where you are meant to be within the course.

The navigation bar will direct you to the right places in no time. The smooth and neat organization of the course further makes it very simple and easy to follow.
You can also explore statistics on your performance on the dashboard.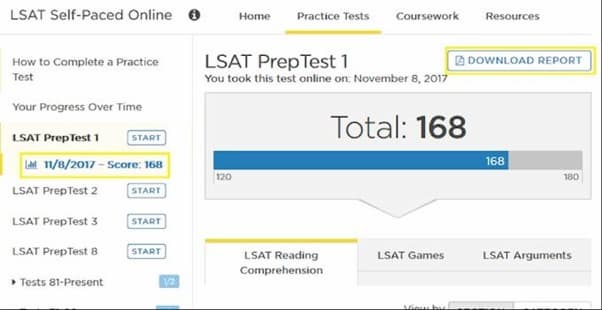 When going about the Blueprint of the LSAT review course versus Princeton review, we have to give Princeton a golden star for having such interactive and ready content. Suggesting textbooks as part of the course also adds to the general allure of the course.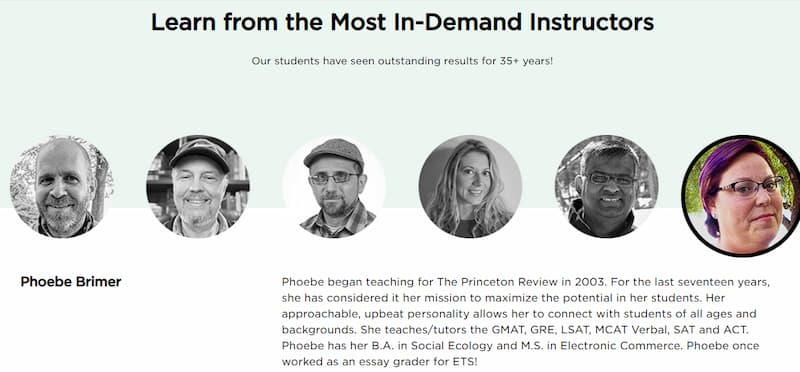 Pricing Comparison
Well, it is not about having a top-notch course with interactive content and flexible schedules. The most important thing to consider is how costly the course.
The price of the course will give you a standard which you can use to judge the value of the course. Here is a simple breakdown of both Blueprint LSAT prep courses and Princeton Review package prices.
Blueprint LSAT
Self-paced
This is the most affordable package one can go for. The package is set for $299 monthly, $799 for 3 months, or $1199 for 6 months.
You get 90+ lessons, and you do not get to enjoy the live online video sessions, but you can tap from the live office hours that are offered. Students are offered 8500+ practice questions, which is an excellent way to prep for the LSAT.
Sadly, you will not have access to instructors, but the package is very much effective.

Live Online Course
Compared with the self-paced plan, this is a little pricey. This means that it has more perks than the self-paced plan. For five months, the course costs $1199. The course has over 90 lessons.
Students get to see law students learn from instructors for a few hours after 37+ hours live and 100+ hours of live review sessions.
Students also get 8500+ practice questions and more than 85 practice tests.
Tutoring Package
Well, this package is categorized further into:
Crash course – $2399
Comprehensive – $3329
Intensive – $5174
This package is the most expensive and effective, with over 90 lessons and 8500+ practice questions. You get instructors that will help you develop strategies that will equip you to perform best in the LSAT.
Books are also included, and 85+ of practice materials and tests are there to help you acquire a more material experience.

Plans
Expectation
Price
Self-paced
• 90+ video lessons
• Score reports
• Advanced Analytics
• Live office hour sessions
• 85+ practice tests
• 8500+ practice questions
$299 – $1199
Live Online Course
• Over 85 LSAT prep tests
• More than 90 video lessons
• Online-contents
• Access to live instructions
$1199 for 5 months
Flashcards
Yes
Yes
Tutoring package
•8500+ LSAT structure activities and questions
•16 to 40 hours of tutoring from instructors
$2399 -$5174
As much as this course is effective, David Evangelisti points out that the course is not recommended for people who want something very simple
Princeton Review

Self-paced
This is the most affordable package Princeton review has, and it comes for $799. This payment is made upfront, and do not be mistaken to take the plan as less effective just because it is the cheapest.
The plan is quite sufficient. The module is broken down into the easiest form to help students assimilate faster.
The only downside is that you will have limited access to an instructor. This means that you will get to be in contact with an instructor but don't expect it frequently.
You will have 200+ materials at your fingertips, and videos are available.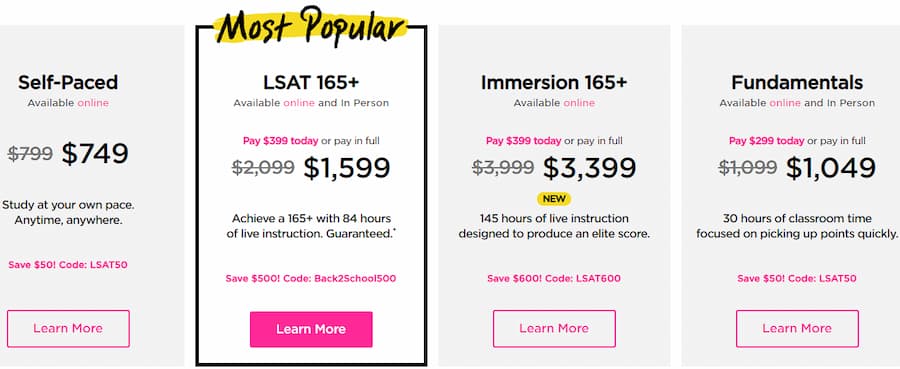 The Fundamentals
This plan is more complete, comprehensive, and detailed than the self-paced one, making it more expensive but affordable. This course goes for about $1099. There are discounts now and then for this package.
The plan offers you 30 hours of full classroom instruction time, focusing on picking points up without friction.
The plan comes in two, and the difference is not in the course curriculum or syllabus but in the teaching method. You can easily go for the one that best fits you.

LSAT 165+
This is the most expensive package on the list relative to the other packages.
This package is set at $1999; if you compare this package with other packages such as the Kaplan LAST and prep course, which is about $1799, and $3999 for intensive training for four weeks, you will see that this course is by far the best value for your money.
The name of the package explains a lot already. It suggests that the course through the course content and activities will help you score 165 and above. This can get you into law school easily.

A solid guarantee is that you will score in the top percentile after completing the course. This is because the course is structured in a way that will help you achieve that with ease.
With eight-four hours written lessons aimed at teaching, over 8000+ practice questions, 150 hours of other online classes and exercises, and numerous simulated tests, the plan is sure to be effective. You also get suggestions for hard-copy books and other materials.

Private Tutoring
This is quite personalized and private. If you do not enjoy studying in a group and want to be independent of the pressure that comes with competition, then this is an excellent package for you.
This is far from the self-paced plan because here, even though you are going at your own pace, a tutor would be in charge of developing strategies and ways to influence your learning outcome positively.
For $167/hr. You get a comprehensive explanation of every module of the previous LSAT exam. This should last for 24 hours.
For $180/hr. You get LSAT prep that deals with specific areas in which the students face problems. This lasts for 10hrs.

Plans
Expectation
Price
Self-paced
• Recorded videos and additional online resources and content
• Study materials (about 1800+ pages)
• Past questions
• 70 LSAT simulation tests
$799
Fundamentals
• Over 70 LSAT prep tests
• More than 150 video lessons
• Online contents
• Access to tutors outside the teaching space
$1099
LSAT 165+
• Guaranteed score of 165+
• 150+ hours of online exercises and lessons
• 8000+ LSAT structure activities and questions
• 84+ hours of tutoring from experts
$1799
Private tutor
• Study materials
• Expert instructors
$167 – $180 per hour
Quality of Learning & Value for Money
The quality of learning is the end product of any learning process. When you have experts breaking down ideas and concepts, it is expected that the quality of such learning should be good and high.
We shall consider the quality of learning that Princeton Review and Blueprint produce.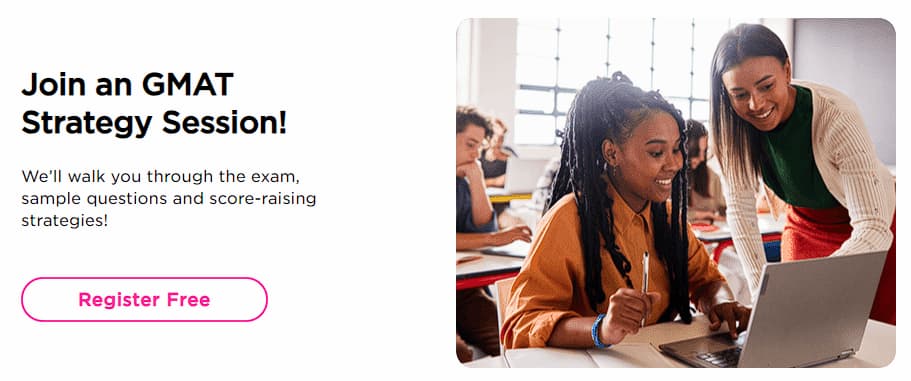 Blueprint LSAT

The learning process is fun and engaging.
The content is broken down into the easiest and simplest forms.
The platform is interactive and responsive.
Personalized plans.
Positive reviews from students.
Regarding material quality and learning strategies, Blueprint is a prep company stacked with the best materials to equip you for the LSAT. The company holds to heart its main idea of making the preparation process fun and engaging.

The arrangement of the content and length of the videos does good work in ensuring that boredom is effaced. Instead of being lengthy, the contents are broken down into the easiest and simplest forms.
Explanations are given to the smallest things, and details are given to every specific area. They make dry and complex concepts more approachable to almost everybody.
The dashboard keeps you pace and ensures you get all the required materials. Since the platform is interactive and responsive, it does a good job of training your ability to work under time pressure and other conditions.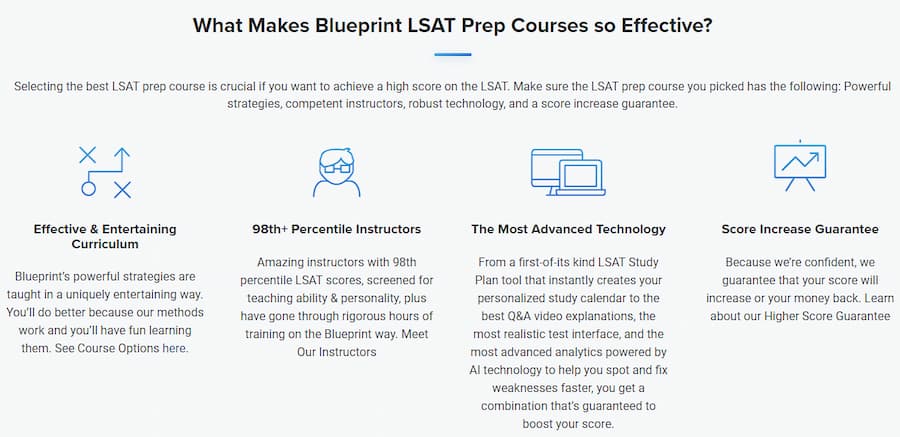 The video lessons are complete, making sure that every topic is explained above and beyond confusion. Reviews point out that it is the best way to learn a language as the videos are very interactive and engaging.
The personalized plan also allows you to make plans that best suit you, and this should improve the quality of your learning.
Princeton Review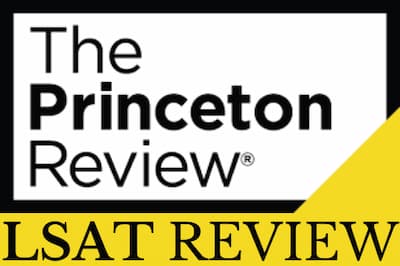 Top-notch learning experience.
The most experienced and qualified LSAT tutors.
One of the oldest companies in the test prep industry.
Thousands of happy students.
It is a necessary criterion that tutors must have scored competitive score of 160+ in their last LSAT score before they can be part of the platform. The tutors must also be equipped with classroom experience in a class of at least 100 students.
They must have also tutored for thousands of hours in online courses. This is important to the quality of learning. Tutors with such qualifications are sure to provide a top-notch learning experience.

From various reviews online, we see students who took the course and passed with flying colors praise the platform. The quality of Princeton is further exemplified by the content available to students.
With many exercises and practice tests, students taking this course seriously are bound to pass excellently.

Main Disadvantages of the Platforms
Now, the main demerits of these platforms will be highlighted simply below:
Blueprint LSAT
No mobile application. So, you can access the course when you are online anytime only.
Prices are quite high in comparison to the other course.
Availability of class is limited.
Study materials are often much.
Princeton Review
No avenue for students to connect and socialize.
No mobile application.
Quite expensive compared to other courses. However, you can choose one that fits your budget best with different plans.
FAQ
Which is better, Blueprint or Princeton Review?
Concerning the facts and reviews we have analyzed, Princeton Review has an edge when it comes to better preparation and materials at an affordable cost. Blueprint, however, is excellent for people who enjoy studying on the go. So, the question of which is better depends on your learning need and style.
Which is cheaper, Blueprint LSAT or Princeton Review?
Even though Blueprint has a plan that costs $5174, it also has a cheaper self-paced plan, which makes it cheaper