"Literacy is a bridge from misery to hope." – Kofi Annan
Taking a GMAT exam is a great leap to getting your desired career. Sitting for the exam is one thing, passing narrowly is another, and passing with good grades is the best thing to ever happen to students. That is why you shouldn't take your GMAT exams lightly.
However, to get your desired grades on the GMAT exam, you need extra study hours on top GMAT Prep courses, good materials, and experienced tutors.
When comparing GMAT test prep options, many students wonder about the differences between Manhattan Prep vs Princeton Review GMAT courses.
Several online tutor platforms give you the best GMAT prep courses and raise your chances of getting good grades. Princeton Review and Manhattan Prep top these online tutor platforms.
Choosing between GMAT preparation options can be a tough decision, with considerations ranging from Kaplan and Manhattan Prep course reviews to study materials and practice tests.
Due to their balanced teaching methods and a whole load of other features, there is a Manhattan Prep vs Princeton Review comparison.
Let's begin with the main comparison below:
Princeton Review is cheaper to afford, while Manhattan Prep is on the high side.
Manhattan offers six months of access to all online content, while Princeton Review only offers four-month access.
Princeton Review offers an improvement guarantee to its students, but Manhattan does offer any guarantee.
Princeton Review does not have a mobile app for use, while Manhattan Prep has a mobile App for continuous studying.
You might want to get comfortable in your seat as we take you through other features of these two online tutors. Hence, you get to choose which will give you the best GMAT score and, of course, help you size your pocket.
Check our Magoosh GMAT review before picking any service. Yet, how reliable are they? Is it legal to use them, and do they help get things done affordably?
Overall Comparison Table
These companies have years of experience to give you access to a good grade. They both have similar services as regards GMAT exams Prep and overview target test prep; however, there are huge differences between them.
Before you choose either Manhattan Prep or Princeton review, the table below will give you a hang of what to expect from the two tutors for those who are interested in the services they offer.
Manhattan Prep vs Princeton Review GMAT
Manhattan GMAT
Princeton Review GMAT
Courses Offered
●       Live Online GMAT classes

●       On-demand

●       Boot Camp

●       Advance Course

●       Executive assessment

●       One-on-one Tutoring

●       Princeton Review GMAT Fundamentals Targeted Live Online Tutoring

●       Princeton Review GMAT 700+.

●       GMAT self-paced.

●       Private Tutoring.

Price
Starting $2,450
Starting from $1,299
Video Classes
Over 30 hours
Over 30 hours
Live Classes
27 hours
27 hours
Practice Tests
6
 10
Practice Questions
Over 3000
Over 4,000
Key Features of Platforms for Students
"Learning is a treasure that will follow its owner everywhere." — Chinese Proverb
Below are the specific or unique features we can find in these two online tutors. Of course, it hints at which is better and which offers more practice, Princeton Review or Manhattan Prep?
Manhattan Prep is one platform that values intense learning. Thus, the creation of a mobile app for mobile studying. This means that students don't have to wait till they have access to their computers before they can learn. Learning, assessments, and tutoring can be done anytime and anywhere.
The Princeton Review is a tutoring platform that has been around for a few decades. We don't expect anything but professionalism and high-quality service from them. Interestingly, that's what they bring to students.
Tutors on this platform are experts in the field with years of experience. These tutors are there to guide you in making the best grade and to encourage you.
Manhattan Prep has a more comprehensive course selection among platforms that offer GMAT. Although the price is higher than others, the money paid is worth every service rendered.
You will get the live selection, self-study, private tutoring, gmat prep course, advanced course, executive assessment, boot camp, and so on. Manhattan, gmat Prep courses has the broadest curriculum on GMAT.
The Princeton Review makes their classes more personal. They realize that studying is not a one-way ticket. That is why the instructors are very available for questions and other support.
The self-paced courses are not an exemption to support. Your instructors are available for questioning and quick response.
Not only can you watch your instructors' live instruction, but you can also get the live instruction recording for personal additional studying. In addition to the recordings are the e-books and exam guides.
Manhattan Prep is one online tutor that values good tutoring. Instructors in Manhattan Prep are instructors that have been duly examined. These instructors have taken the GMAT exams and passed with good grades.
Best GMAT Prep Courses
Princeton Review: Why is it Better than Manhattan Prep?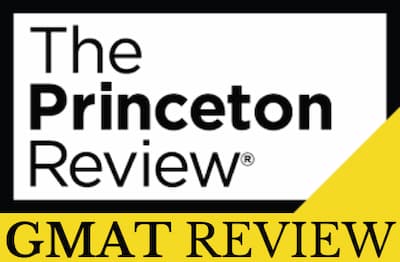 Updated curriculum.
10 full practice tests.
Many years of experience.
Interactive learning methods
Score improvement guarantee.
In the Princeton Review versus Manhattan Prep, you will find out that when it comes to years of experience and a solid curriculum, Princeton Review vs manhattan prep is nothing compared to the rest. The curriculum followed at Princeton is deep and well-structured.

However, this curriculum is frequently updated to accommodate changes in the test takers' GMAT exams. Not only is this curriculum great, but it has also given proven results from previous learners.
Princeton Review gives you a whopping 10 full practice tests that are designed like the test takers real GMAT. These tests are potent tests that experts in the field compiled. The 10 practice test is one of the highest you can get around.

We have previously mentioned how Princeton's years of experience are one of the oldest tutors in history. They have dealt with several students and have adapted a series of ways to encourage students. This allows them to ensure detailed lessons and practical questions that are understandable
Princeton Review has interactive learning methods. They give room for questions from students. Even self-paced learners can ask questions from their instructors and get a reply.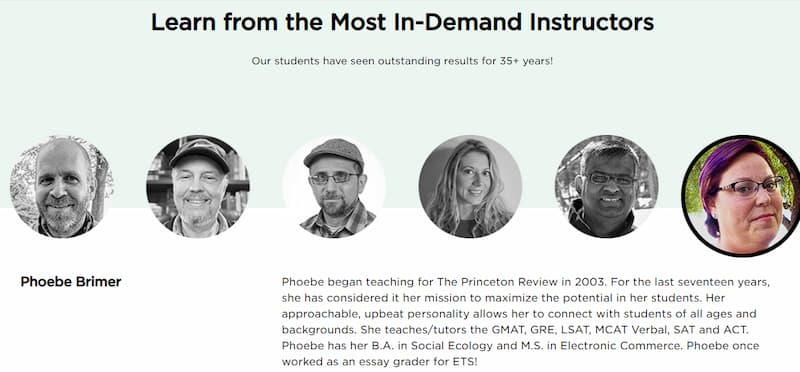 Ultimately, while Princeton guarantees quick study time and exam success, there is a score Better feature/Refund Policy. This feature guarantees that your money will be refunded if you don't get your desired score at the end of the class. However, you can have a second chance, and your account will be reactivated without paying a dime.

There is a refund policy for Princeton's GMAT classes. If you are unsatisfied with the content after seven days of taking the course, you can request a full refund. However, you wouldn't need a refund because Princeton is the best you can get.
Manhattan Prep: Why is it Better than Princeton Review?

Thousands of practice questions.
700 hours of prep content
1,000 flashcards in the mobile app.
3-day money back guarantee.
Manhattan is dedicated to giving high-quality tutoring services. These services include quality video lessons with clear graphics and audio, useful content, and practice tests.

Princeton Review and Manhattan: Prep books have both ticked lots of boxes. However, when it comes to practice questions, the Manhattan review has loads of practice questions. Over 3000 practice questions are more than enough for exam preparation. These questions have been duly filtered to accommodate only necessary ones.
While other tutors are limited to online copies of their own Prep books for classes, Manhattan has online textbooks and offline prep books also available. Both the online and offline materials are worth more than 700 hours of content.
Another amazing feature of Manhattan Prep is the availability of Mobile App learning. This is interesting for students as they are not limited to their computers before they can study.
On this mobile app, up to 1,000 flashcards enhance memorization. The app has a performance tracker that shows how far you have studied. Trust me; you can't get quick studying material like Manhattan Prep.

The refunding policy in Manhattan comes in various percentages. They give you an ultimatum of 3 days to know if your course is worth the money. If you don't find your course worthy enough, you can ask for a refund three days after enrollment, and you will be given a full refund.
However, if your complaint of distastefulness comes 4-7 days after enrollment, you will be refunded 75% of your enrollment fee.
Pricing Comparison
While education is invaluable, it comes with a value. This value is simply the price. Before you can have either Manhattan Prep or Princeton Review, you might consider the pricing for these two tutors.
To support your college application journey, the Princeton Review Consulting reviews on our site offer insights into their college counseling program. Discover what real users think about their guidance, support, and overall effectiveness.
Princeton Review
Manhattan Prep versus Princeton Review as regards pricing is essential. The bundles and packages on GMAT will be duly started here to avoid confusion.
GMAT Self-paced Course ($699):
This package comes with an online service only. It includes 10 practice tests, over 80 drills, live video lessons, and a mixed-up question of 3,000. This package comes with videos, allowing students to learn anywhere and anytime.
GMAT Fundamental Course ($1,299):
The fundamental course gives you 27 hours of the live section, alongside recorded video lessons that can be watched after the classes. There are also ten practice tests and up to 60 drills.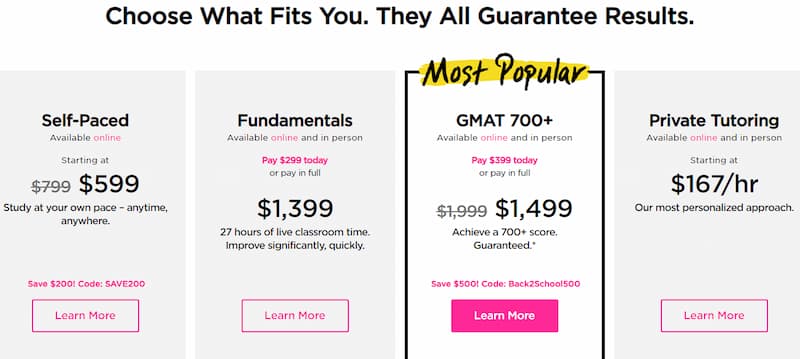 Princeton Review GMAT 700+ ($1,649):
This includes 47 hours of live instruction and up to 4,000 practice questions. The ten practice tests are included. 10 hours of verbal/maths questions are also included in this package, plus over 2,000 drills.
Princeton Review Private Tutoring ($167/hour):
Princeton Review's Private tutoring is a personalized one. This package gives you one-on-one interaction with your instructor. However, it costs $167 per hour, which is high.
A detailed Varsity Tutors GMAT review on our blog provides a thorough critique of their GMAT course offerings here. It's a must-read for anyone considering this tutoring service for their GMAT preparation.
Manhattan Prep
Manhattan Prep is very popular for its interactive live section. This is available in both an online class and the physical class.
This package includes a 27 hours live section, recorded videos, 6 full-length practice exams, video lessons, one-on-one assessment before and after your practice exams, Guide sets for Verbal and Math, a 7-hour math workshop, PDFs, and a test simulation pamphlet.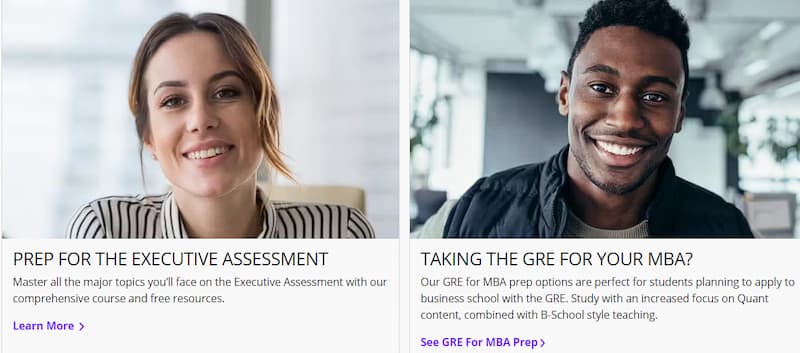 This package includes 35 hours of interactive video lessons, 7 hours of basic GMAT workshop, 6 full-length practice GMAT exams, GMAT Strategy Guide Set, Math, and Verbal Guides, Advanced Quant e-book, and Test simulation booklet
The boot camp, which lasts 2-3 weeks, includes loads of packages. This includes 35 hours of video lessons, 6 full-length practice GMAT exams, Passage to on-demand and interactive video lessons, GMAT practice tests, pre- and post-exam assessment, 7-hour basic GMAT Math Workshop, Strategy Guide Set on GMAT, GMAT verbal and math guides, GMAT Advanced Quant eBook and the infamous Test simulation booklet.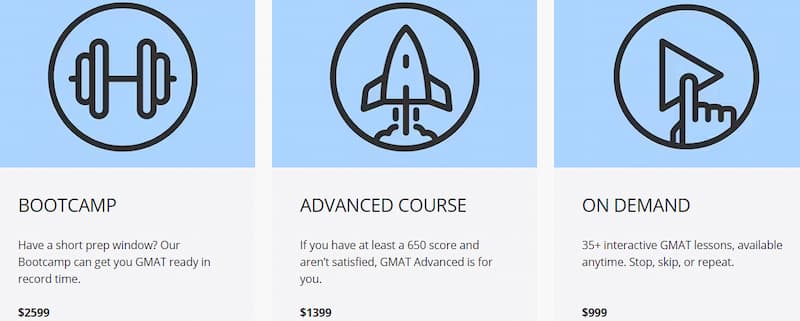 The advanced course is available for students with a minimum of 650 on the GMAT. This package includes advanced lessons on GMAT.
A 6 full-length practice GMAT exams, recorded video lessons, Test simulation booklet, GMAT Official Advanced Questions, GMAT Strategy Guide Set, GMAT Navigator practice tracker, Manhattan Prep GMAT mobile app, One-on-one pre-, and post-exam assessments, and the Official Guide for GMAT Review.
Tutoring (Starts at $2,450)
This is the most expensive of the GMAT package. It's not just expensive; the content is worth every dollar. This package includes One-on-one personalized instruction.
Aside from the exclusive tutoring students get, they also have access to 10 hours content packages.

Executive assessment ($1,499)
Finally, the executive assessment package. Here, you will find the all strategy guide for both math and verbal, 300 official Executive assessment practice problems, 4 official EA practice tests, Foundations of Math and Foundations of Verbal Guides, Six sessions/15 hours of classroom instruction, 2 hours of personalized EA exam prep and the Strategy Guide.

Quality of Learning and Value for Money
Now that you've paid a subscription fee are you curious about what you will get for the money you pay? We all know that learning can be a bit stressful and difficult at first.
Looking at the varying features available on Manhattan Prep and Princeton Review, it is perfectly worth it to evaluate their similarities and differences, especially the overall quality of learning.
Princeton Review
Are you wondering why many students rely on Princeton Review for decades to help them get high scores on the GMAT? I know you want an answer to this question. Elon Musk once said, "Any product that needs a manual to work is broken." With the Princeton Review app and other offers available, the answer is "Yes, it's worth it."
It is important to look at the various prep courses and the value you get for the price you pay. That's where I come in! I've taken a close look at the Princeton Review prep courses and will help you make the right call.

Being worried about what Princeton Review GMAT can offer you is understandable. Let's dig a little deeper into what you can benefit from this platform without wasting time. Princeton Review has a lot in store for its users. It offers three GMAT prep packages for students to choose from. They include Self-Paced, Fundamentals, and GMAT 700+.
Whichever package you choose, Princeton Review offers some of the most trusted study materials on the market, along with experienced instructors that have been at it for years.
One of the greatest features you will notice about the Princeton review online content is the nature and depth of its coursework. The course curriculum is broken out among exam strategies, integrated, quantitative, and verbal reasoning.

While you get a quality product practice, you also have a wide quantity to choose from. Princeton provides over 3,000 practice problems, each with its own accompanying text explanation. You will barely get this somewhere else, and it's one of the reasons Princeton Review is at the top of the tier.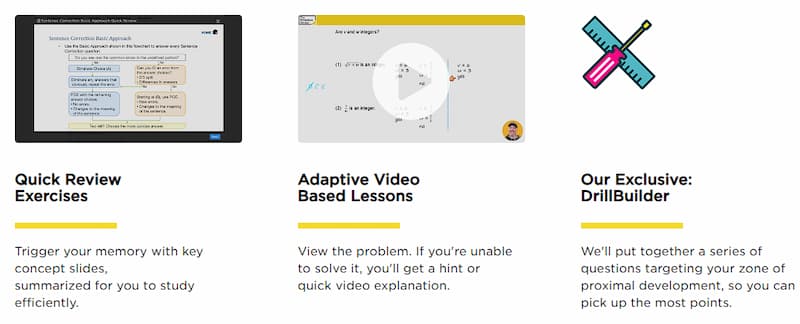 Manhattan Prep
First, you need to know that what stands a learning app out is more than the price you procure it. The best way to analyze an educational platform is the value you get for the price you pay.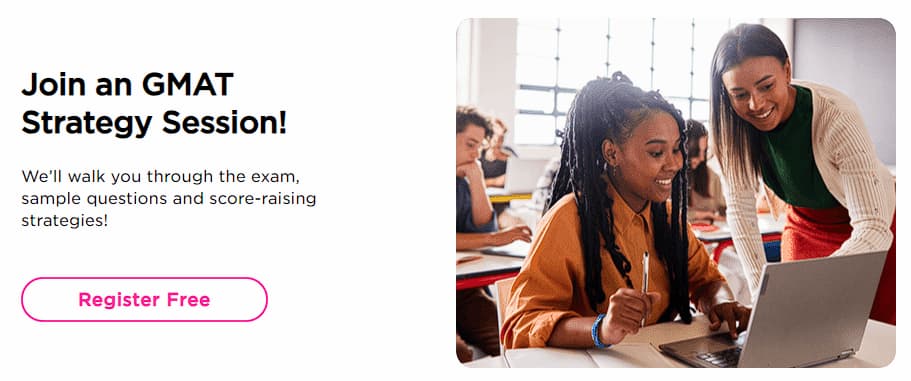 It is common for online GMAT prep courses to cost between hundreds to a few thousand dollars. It is the first component students consider.
Although the price is a bit higher than its counterparts, Manhattan Prep provides great value for money and strict adherence to the privacy policy. It offers students three prep options varying in cost, format, and intensity.
The three prep packages include;
Interact GMAT Course
Live GMAT Course
GMAT Boot Camp
When you consider what stands Manhattan Prep out from other test prep platforms, think of its video-based lessons.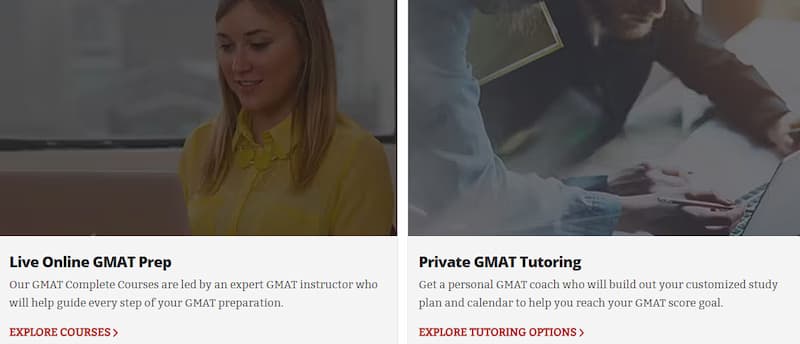 From an instant perspective, a lot has gone into the production of the videos. It delivers an unequaled quality of online video instruction.
The over 35 lessons across all of Manhattan Prep's online platforms are well-designed, cool, interactive, and adaptive. It starts, stops, asks you questions, and adapts to your knowledge of a subject.
Not just the video learning that makes this platform unique. Accessing Manhattan via its mobile app is genuinely helpful. It offers 1,100+ practice questions as well as 15 quizzes, progress trackers, 1,500+ flashcards, and strategy video lessons.

Main Disadvantages
Numerous factors contributed to the success of these platforms; however, their advantages can not be exaggerated, and some places can make use of adjustments.
Concerning Princeton Review and Manhattan Prep, there are still some things that users still complain about.
Princeton Review's Cons
Here are some of the disadvantages of the Princeton Review GMAT course.
The cost of TPR's GMAT classes is quite expensive when compared to a lot of other competitors, especially when you opt for private tutoring. The minimum number of hours you have to purchase makes it quite costly.
Princeton Review surprisingly does not have a mobile application, despite the excellent quality of their classes.
Although students can still log into their classes from the web browsers of their mobile devices, they still have to rely solely on the desktop version.
The short length of access:
When you subscribe to their GMAT prep course, you only have access to classes and study materials online for just 4 months. This means you must squeeze all you're learning into a short four months or cough up another subscription fee.
Manhattan Prep's Cons
Manhattan Prep, likewise, is not without drawbacks. These are some of the shortcomings of Manhattan Prep:
It is not out of place to expect some guarantees of improved scores if you have to spend over a thousand dollars on some online course.
Unfortunately, Manhattan Prep does not provide this assurance. Students who opt for their classes just have to hope for the best.
Although Manhattan Prep offers students up to 6 months of access to their learning portal once subscribed, they can do better. Many other options give access for up to 1 year.
Generally, the assumption is the longer you have access to study materials, the more flexible you can be with your time.
Well, this means you need to double up on your study periods if you want to make the best out of your subscription to Manhattan Prep.
Verdict
Whether evaluating your GMAT score, engaging with GMAT practice tests, comparing providers like Princeton Review vs Manhattan, or exploring online GMAT prep and affordable GMAT prep options, the journey to GMAT success is multifaceted. It requires a blend of the right GMAT study materials, potentially seeking a GMAT tutor, and understanding your unique needs and goals.
From well-known providers like Target Test Prep to specific offerings from the Princeton Review GMAT course, the possibilities are vast and capable of meeting diverse needs. The process may seem complex, but with careful consideration and planning, you can find the path that aligns with your ambitions and leads you to your desired business school.
Princeton Review GMAT is a learning platform that students rely on for decades to help them get high GMAT scores at affordable costs. The platform gives you access to professional instructors and subject enthusiasts who have set up classes.

Manhattan Prep is a platform where you can learn many courses to help you prepare for your GMAT. However, like Princeton Review, it does not come cheap. The Manhattan Prep subscription can be expensive, but you will always get an equivalent value for the money.
From selecting the appropriate GMAT study materials to finding a skilled GMAT tutor, many aspects contribute to successful GMAT preparation. Whether opting for affordable GMAT prep or investing in comprehensive packages from renowned GMAT prep companies, the resources are vast.
Considering your individual needs and leveraging offerings such as GMAT prep books, Kaplan GMAT, and Princeton Review's GMAT courses can pave the way to a successful GMAT journey. Always look for quality GMAT instructors and consider options with a higher score guarantee to maximize your potential for success.
FAQs
Is the Princeton Review Good for GMAT?
Yes, Princeton Review is a great companion in your GMAT studying. Though it may take a while to get through this fundamental GMAT Quant content, it is worth it.
It can be a difference maker in your score and is a huge bonus with the course.
Also, it provides you access to its Test Taking Tips and Practice Test Schedule resources.
Is Manhattan Prep good for GMAT?
Yes, it is good for the GMAT. Manhattan Prep is thorough compared to the other strategy guides out there.
Many students testify to how it helps them boost their verbal and math scores, and the tips for the essays were helpful to come test time. Manhattan GMAT is well worth the cost. I always recommend it.
Is Manhattan GMAT harder than the actual GMAT?
Manhattan Prep GMAT is harder compared to the Official test. You better not focus on such score differences but rather focus on weak areas. You can consider such a test to improve your pacing & stamina.
What GMAT prep is the best?
GMAT prep, and business school in general, is well worth the cost. There are numerous prep courses, though not as polished as Manhattan Prep and Princeton Review.
They deliver highly effective instruction and actionable strategies in a flexible format suitable for many students.