You would agree that preparing for a GMAT is difficult as it tests you in basic arithmetic, algebra, multi-source data analysis, geometry, and grammar. Choosing the tools and materials to use to gain a good score might be difficult.
Marc Stalk points out that the most popular and renowned of these GMAT courses are the Magoosh and Target Test Prep; they have produced the best results. These two companies have dominated the GMAT industry and are still on top of their game. These GMAT prep courses are readily available on demand.
These target test prep courses do not require you to pay for anything unnecessary, just the necessary stuff that will adequately equip you for your GMAT. Now the question is which should you choose, the Target Test Prep course or Magoosh?
Navigating the multitude of GMAT prep options becomes easier with the comprehensive insights and recommendations provided by the best GMAT Prep Courses guide, ensuring you choose the most effective study resources for achieving your desired score.
Target Test Prep and Magoosh have added value to their users and are held in suitable regard for good reason, and you will soon find out why.
Just hang in a bit, I'll present you with the features and workings of these test prep courses. This will give you a better understanding of which test prep one is better for practice tests, Target Test Prep or Magoosh, and from thereon, you can make your decision easier.
Key Features of Platforms for Students
There is no better way to understand a product than knowing its features. Since our responsibility is to present accurate information to ease your decision-making process, it is only right to bring to light the features of these companies.
Target Test Prep GMAT

3000+ GMAT practice questions;
Advanced analytics and reports;
800+ GMAT lesson videos;
Guaranteed score increase;
GMAT Practice Engine;
500+ Personal lessons;
Live support.
Choosing the right GMAT prep course is paramount to success in the exam. Each test-taker has unique needs and preferences, and the right course will align with those.

First, I would give you an amuse-bouche of all the features above and then shed whole light on the key features of the TTP course.

Score Guarantee

Most times, we want to be sure that whatsoever we are purchasing guarantees a particular problem of ours is solved. The TTP is one of those courses that guarantee video solution to your success in business school.
The course is so confident that if students take the course adequately and appropriately and do not have a score increase, they will be refunded their money. Cool right? You might be wondering how the platform will know if the score increases or not; that's quite easy.
Several of these providers, including Target Test Prep and Princeton Review, offer a higher score guarantee. This guarantee reflects the confidence these providers have in their methods and materials, adding an extra layer of assurance for students.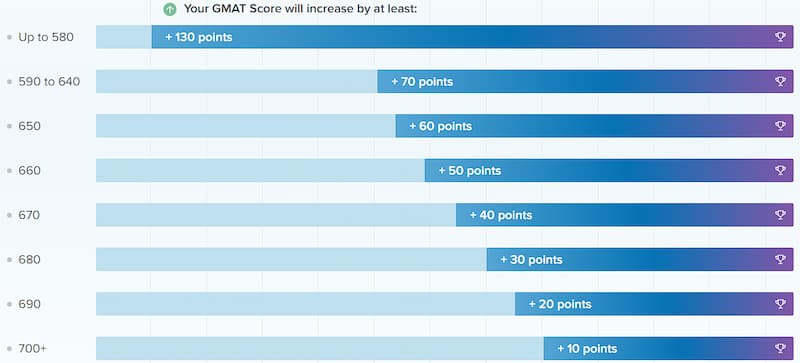 To qualify gmat course, you must first email a copy of your previous GMAT score to the customer care unit within two weeks of registering for the exam day of the gmat prep course. After the GMAT is taken again, the new score is expected to be submitted within two weeks.
Also, ensure that you have completed all the course modules before taking the GMAT, don't forget the various practice tests, test prep,, reading materials, examples, and video lessons.
With access starting at only $149 per month, the TTP GMAT is one of the low priced options on the market, especially when compared to GMAT courses from other more established prep companies like Kaplan.

Personal Tutoring
If you enjoy learning in private and shying away from the class competition is your thing, the Target Prep Test course has a special package that allows you to hire a personal tutor. This will cost you some $300/hour, and know that there is no refund when you pay for this.
The learning process is carried out through a video conferencing platform. It the maximum learning is done in private and in real time. If you require specific tutoring details, the customer care service is always ready to help you.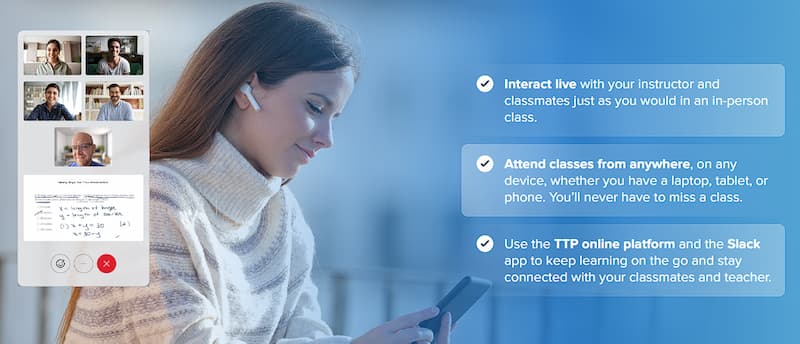 Strong Choice
If you know anybody who has finished the course, all the person might be talking about is how great the course is. They have a lot to say about their results, which is great. There is good pricing flexibility, which depends on how you want the course.
This means that the pricing depends on how long you want to access the course and other factors. This is for those who do not want to spend a lot but put in immense work. It offers more than an opportunity to learn and pass in a month.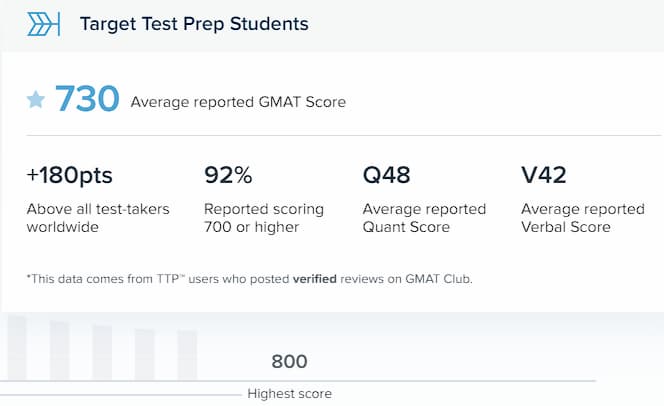 4000+ Practice Questions
The course gives you access to more practice questions than most courses would offer you. These practice questions are very GMAT-esque. The questions are made to simulate actual GMAT exam questions.
So it is realistic without the consequence of actually failing or passing. This will help you gain a better insight into the real exam.

Smart Analytics
The algorithm tracks your every progress and points out areas of weakness. The error trackers work towards turning weaknesses into strengths. This helps you see the battlefield. It also gives you an insight into how your performance compares with your peers.
So, in a nutshell, smart analytics helps you:
Easily spot what's hindering you from your goal
Comprehend your behavioral dispositions
Increase your accuracy and precisions
Become a more ready test-taker
Live Support
The support team has your back each step of the way. From the baby steps in registering to when you are running through practice questions. The live support allows you to:
Reach out to the platform with concerns, inquiries, and suggestions
Get an expert opinion with regards to your overall study plan
Get answers from experts about the course
Get help on questions you do not fully understand.
Sydney, a customer, scored a whopping 700, a great improvement from the previous exam, where she scored 540. She believes that TTP was the most helpful resource in getting her quant into the 40s. She is not the only one though Dhriti and Lawrence have the same experience, and this is plastered on the website where you can see it.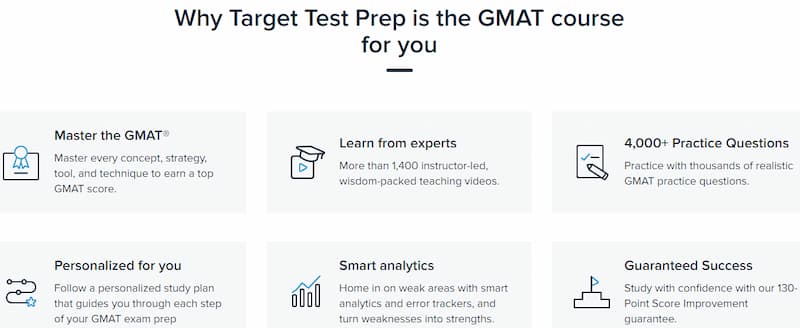 This shows that the course is quite satisfactory. This is ensured by the custom practice sets, intelligent analytics, 1200+ Quant and Verbal lesson videos, 3000+ quant practice tests and practice problems, and 1000+ Verbal practice tests and other practice problems and GMAT questions.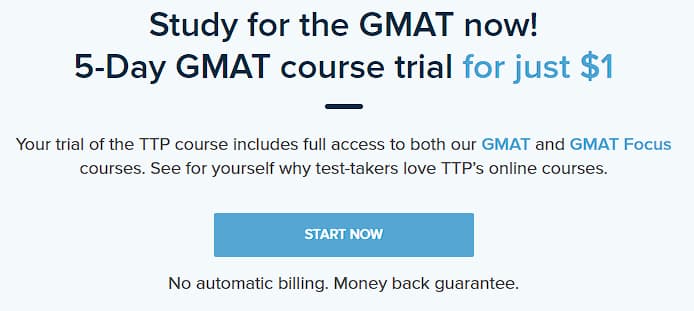 Magoosh vs Target Test Prep

Content-Based Video Lessons;
High-Quality Live Classes;
Handy Mobile App;
Score Guarantee;
Refund Policy;
Bonus Tools.
Content-Based Video Lessons
Both Magoosh's GMAT and GRE offerings are known for flexibility and affordability. Magoosh deserves two gold stars for having such adequate video lessons, which is remarkable. Magoosh offers hundreds of content-driven videos, and this is amazing for visual learners. This adds value to the company.
Even though the delivery is not unique, the content is just on point, which compensates a lot.

Live Classes
Magoosh live classes are nothing short of amazing. The instructions are solid, and with live online classes you will be provided with insightful hacks and strategies for attempting the GMAT. You can easily improve the accountability and structure of your learning with recurring live lessons and assigned activities and homework.
The live lesson option is excellent and engaging. If you get cold feet at the prospect of self-study, this live online classes will give you good motivation and keep you on your toes.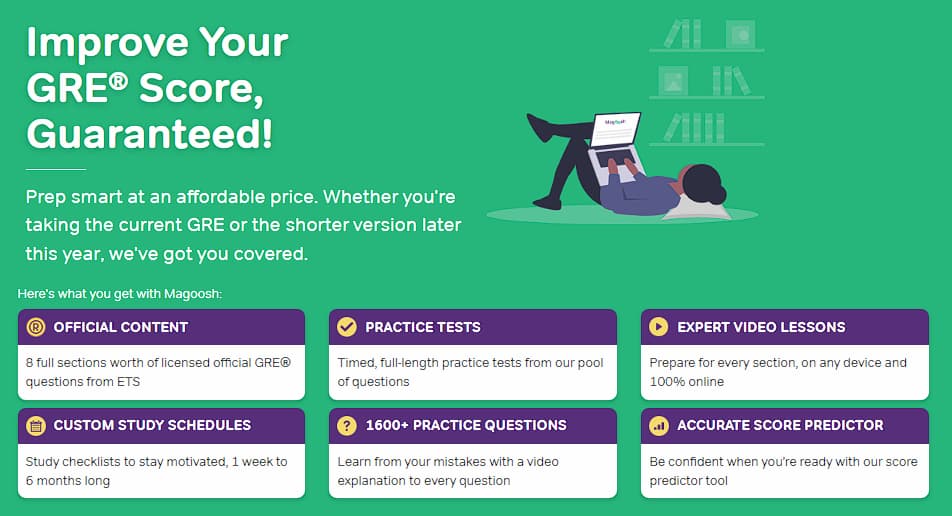 Magoosh Mobile App
Nothing pleases this present generation like applications. People want the luxury of being able to pull out their phones and access their course right away, and an dedicated mobile app provides that.
You could say an a dedicated mobile app, is the most lightweight medium of study available. Magoosh allows you to access their materials on your phone through their mobile application. The mobile application is compatible with Android and iOS, and it serves to complement its main digital platform.
The application is not as abundant as the online platform, but you can handle tasks like practice problems, text explanations, etc. It offers you more practice space than anything else.

You can also access 200+ of the video lessons on your mobile device. Well, you can say the application makes it easy to access a portion of your course material, and that's a nice thing.
Many competitors in the industry only offer applications that give you some flashcards; some throw in two or three videos. In comparison to that, the Magoosh app is remarkable and adequate.

Score Guarantee
This course assures you a 50+ points increase in your score. Most competitors cut their coats small and set a score guarantee increase of 10 points at most. It's a go big or go home mentality. That's a big motivation on its own.
If you take the courses duly and you still do not get a 50+ point increase, you will get a refund. Well, if the company is so sure about the course, we guess no one ever gets a refund because everyone gains a score increase of 50+ points.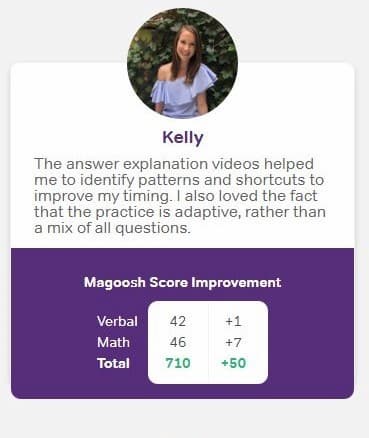 Refund Policy
If for any reason you are unsatisfied with the Magoosh course within the first 7 days after purchasing, just email them, and you'll surely get a refund. It is as simple as A, B, and C. This policy is just sleek and classy.
It shows the company knows the worth of the course and cannot force you into gaining some valuable and engaging tutoring. It is also an assurance policy for initially skeptical students.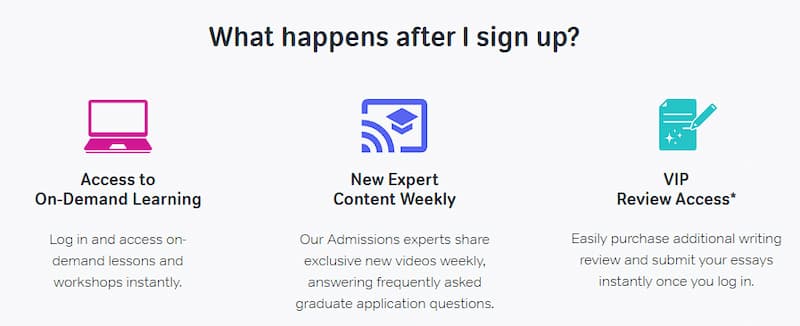 Magoosh Bonus Tools
There are bonus tools and other free resources for students, and this feature is unique and unavailable from most other online course providers. Some of these resources are:
Digital flashcards;
Score predictor;
Email support;
Student forum;
Progress tracker;
Helpful Blogs;
Suggested study schedule.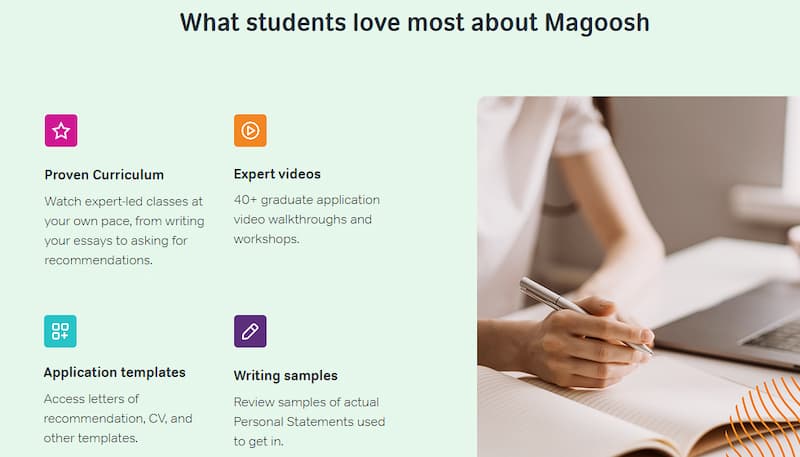 Pricing Comparison
The pricing system will give you an idea of how much to save up if you have your eyes on the GMAT and target test prep offers and courses. It is usually going to be a Target Test Prep, magoosh vs target test prep gmat, anyway. Magoosh vs target test prep battle.
So, I'll provide you with the price for different packages and the value of those packages as well.

Target Test Prep Prices

A combined 1200+ instructor-led video lessons in quant and verbal;
Elaborate explanations of each quant topic;
Smart analytics and error analysis system;
Simple and engaging verbal lessons;
A good score increase guarantee;
Flexible verbal test structure;
Live Expert support;
Custom study plans.
Flexible Preparation
To have full and unrestricted access to this package, you would have to pay $149 monthly. The course is comprised of GMAT quant and verbal courses. The course has a monthly recurring bill, but the good thing is you can cancel anytime.

Dedicated Study
This allows you full access for four months for about $449. There is a discount at the moment the course is usually $549. The billing is at once, which means there is no recurring payment. You get GMAT quant and verbal courses.

Maximum Learning
For $499, you can enjoy 6 months of learning materials and content that are just amazing and top-notch. You get adequate and effective strategies and content.
You would agree that the price list is somewhat just right with all these features. The value is worth the pay, and that's a good thing.

Magoosh Prices

Access to AWA, IR, Verbal, and Math contents;
Deep and detailed video explanations;
340+ tutor-led video lessons;
1300+ practice questions;
2 diagnostic tests at least.
Self-study
This plan combines Math and IR and tackles them with so much ease. The premium course costs $219, but you can get discounts now and then. The course offers you access to Math and IR materials and content.
The course also comprises 175 instructor-led video explanations and lessons. You also get to enjoy 720 practice questions. The schedule is also flexible, so flexible that it is customizable. The video explanations are detailed and in-depth.
With that payment, you get to enjoy 1-year access and a +3 math score increase, and when you are lost, you can ask an expert. Whenever you are satisfied, you can pause your plan.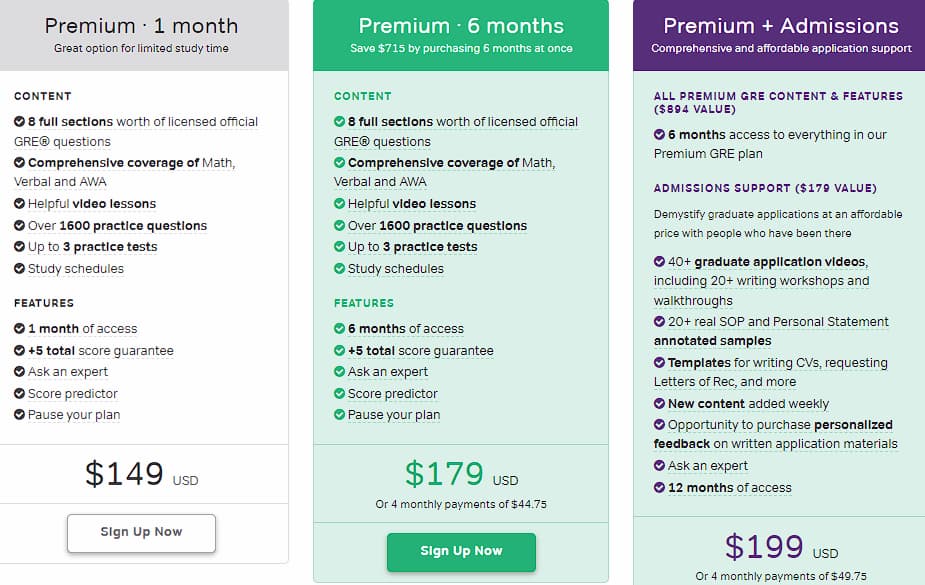 Premium
This package feels like a giveaway if you compare the cost with the value. The course has the following features:


A full one-year access


50+ guaranteed score improvement


You can ask an expert whenever you need clarity


Score predictor


When you need a break, pause the plan and pick it up whenever you are ready.

Live + premium
Since this is the most expensive package, you know it is packed with amazing features and value, and here are some of the benefits of the package:


The instructors are of the 99th percentile


16 hours live class option


Customized and flexible homework to reinforce and evaluate the concepts learned in class.


Video explanation


Target assignments


The site shows that their students are not only sure to pass the GMAT but also get into the top business schools.

Quality of Learning (Value for Money)
If you are paying for a prep course, getting value for the money is only right. We shall review the quality of learners as produced by the prep courses.
Target Test Prep
While discussing top-rated prep courses, it's essential to highlight Target Test Prep's GMAT offerings. They have become well-known for GMAT specific courses, providing a targeted approach to the challenges of this specific exam.
The target test prep course offers exhaustive GMAT lessons through some 47 easy-to-understand modules and practice tests. The practice target test prep's, and questions are very practical, with high-quality video and text answers and solutions.
The analytics and report system also does good work in pointing out aspects that you require putting more effort into. The volume of the practice materials is also a huge factor that fosters the learning experience.
The learning process is very engaging and interactive, so a positive learning outcome is mostly expected.

Magoosh
If you want an in-depth learning experience on quant and verbal, Magoosh has solid materials stacked against each other, waiting for you to explore them. You get to enjoy practice questions and learning content that is intentional about helping you get a better GMAT score.
The smart diagnostic tools help you identify strengths and weaknesses. This makes your study more purposeful, and you will have sufficient practice and motivation dedicated study more.

Main Disadvantages of the Platforms
For the Magoosh course, some of the disadvantages or, better put, some of the cons include:
Videos are efficient content-wise but lack good production value
Study materials are not sufficient in comparison to other courses.
For the TTP course, we have the following demerits:
Few content-based video lessons
Students who need structure in their learning cannot gain much value as there are no live classes.
Verdict
Whether you're aiming for a top-tier MBA program or looking to boost your career with a strong GMAT score, selecting the appropriate test prep option is crucial. With offerings from Target Test Prep's GMAT courses to Manhattan Prep, Magoosh, and Princeton Review, there are numerous quality options available.
Their different courses stack well against each other, providing potential students with a range of choices to find the preparation strategy that best fits their goals and learning style. By considering factors like the higher score guarantee, students can make an informed decision that sets them on the path to success.
After researching and analyzing the good and quality content from reliable sources, including the platform themselves, we can easily supply an answer to the very difficult question, "which is better, Target Test Prep or Magoosh?"
In this Magoosh Versus Target Test Prep review, the editor makes a smart suggestion as thus:
Target Test Prep should be your choice if:
You only want a month's course
You are putting energy on Quant and Verbal
Your exams are coming up in six months or even less
Practice questions are an efficient study tool for you
You are only assured by a big score increase guarantee

Choose Magoosh if:
Your exams are some six months from the present
You want to hire a private tutor or enjoy a live class
You are always on the go and need to study with your phone as there is a mobile application
A wide prep on all the exam areas.

GMAT Prep Courses
The journey to selecting the right GMAT prep course can be complex, but understanding your unique needs and what each provider offers can simplify the process.
Whether it's the comprehensive support of Manhattan Prep, the versatile offerings of Princeton Review, or the adaptability and affordability of both Magoosh GMAT and GRE courses, the market is filled with quality options. Research, consider trial offers, and seek advice from those who have been through the process to make an informed decision that aligns with your goals, budget, and learning style.
Overall Comparison Table
| | Magoosh | Target Test Prep |
| --- | --- | --- |
| Supplemental instruction | 100 – 170 hours | 150 hours |
| score Guarantee | 50+ guaranteed | 110+ Guaranteed |
| Video lectures | Available | Available |
| Live online lectures | Available | Unavailable |
| Free resources | Available | Available |
| Mobile application | Available | Unavailable |
| GMAT Practice Tests | Available | Available |
| Free trial | Available | Available for $1 |
| GMAT Prep Plus | Available | Available |
| Cost | $219 – $799 | $179 – $599 |
FAQs
Which is better for GMAT, Magoosh, or Target Test Prep?
If we are being very objective, we would say Magoosh is better because of some essential features and perks. The overall experience offered by Magoosh is exact, precise, and complete.
Is Target test prep good for verbal?
The verbal program is not as effective as the Quant program, so we do not think this is the best option for verbal.
Is Magoosh GMAT prep good?
Magoosh, GMAT test and prep course option is quite good. The course content is engaging and interactive, and highly trained and skilled tutors ensure that you learn worthwhile concepts and ideas that will help you score higher on the GMAT.
Which GRE course is cheaper, Target Test Prep or Magoosh?
Well, since you are paying about $149 for one-month access to study materials and content in the Target Test Prep and $219 for one-year access to the whole Magoosh vs target test prep course, the whole of Magoosh vs target test prep the course is cheaper then.