Though these platforms look similar at first glance, there are some differences to consider. In this article, we'll show you how you can tailor the video lessons for the desired result. We will also compare the two sites from both student and teacher perspectives.
So whether you want to rehearse English conversation skills, prepare for a specific grammar exam, or become a successful language tutor, let's start by comparing these two popular platforms! Should you use iTalki or Cambly as a student and a teacher?
Cambly offers a wide range of courses that include gaining conversational confidence for complete beginners in English, preparing for public speaking, or getting ready for an IELTS exam. Each of these courses includes a number of lessons that need to be pre-booked by the student.
There is also an option to find a tutor to speak with at your convenient time by simply logging in online and calling an available teacher. The tutors don't need a professional teaching certificate but nonetheless are asked to provide evidence of their suitability for tutoring. On Cambly, be ready to work with fixed prices that vary whether you're tutoring adults or kids. Cambly is a fun and interactive language learning app that is like having a real tutor in your pocket. Read Cambly app reviews for more details!
A big difference with iTalki is that they actually offer 150 different languages to learn and practice. The list includes all major European, Arabian, Asian, Oceanian, and African languages. This platform offers two different types of teachers: community and professional level.
There are over ten thousand teachers to choose from to fit your expectations and budget. iTalki allows teachers to set their own prices and takes a 15% commission from each class.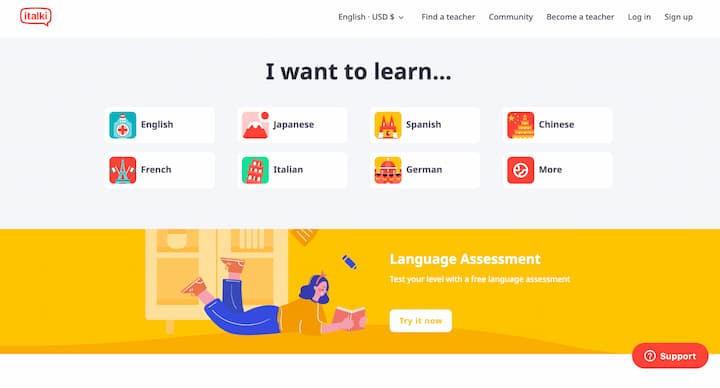 The main differences between these two online language learning programs are that on Cambly, you can only practice English. In contrast, iTalki offers 150 languages, and tutors on Cambly don't need a specific professional teaching background, whereas iTalki offers lessons with community and professional teachers.
Earning options for tutors differ by Cambly's fixed price policy and iTalki's 15% commission on all classes. What's similar is that both platforms offer instant video chats 24/7 and pre-booked lessons. And both of these platforms are reachable from a mobile app and a laptop.
Key Features for Students
"Language learning platforms are great support for learning a language. Even some of my students use these services to gain confidence for developing conversations," says Ryley Barnes, a professor at Wisconsin University. The professor also brings out, that at the time he went to university, he could only dream of mediums like iTalki or Cambly.
Cambly

Great mobile app.
Affordable prices for their subscriptions.
Highly qualified tutors.
You can get some discounts: 10% if you get a 3 months subscription and 25% for a 1-year subscription.
Cambly is focused on providing a native online English learning platform. In our honest opinion, one of the key features of this service is the possibility to choose between the desired dialect. International students might be learning English because they will be traveling or moving to a specific country.
So it's great that the students can choose between American, British, Australian, and Canadian tutors since all these dialects have different pronunciations and even slight grammar differences.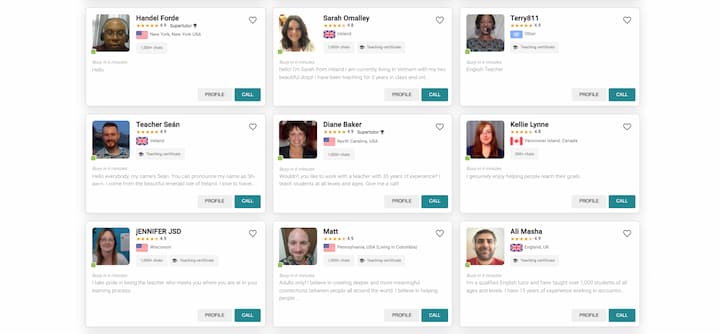 italki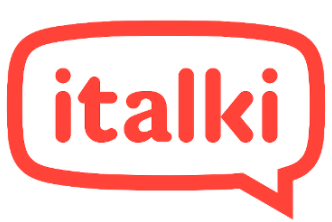 The site offers free lesson trials.
The site manages a convenient booking system.
The expansion of language filters includes dialects and regional variety.
italki is a great platform because it combines 150 different languages to choose from. And since it's a truly international project, you can be sure to find a tutor that meets your educational needs. For example, a member from our reviewing team had a video chat with an Argentinian tutor in Spanish.

They talked about Latin-American street food since Alina, our writer, loves their cuisine and is familiar with the vocabulary. She studied Spanish during her university years but uses it rarely now. The tutor was very supportive, and Alina didn't feel shy or embarrassed because of her weak speaking skills.
Tutoring Pricing Comparison
Cambly
Cambly pays the tutor 0.17 cents per minute of chatting or $10.20 per hour. Cambly, kids pay a slightly higher rate of 0.20 cents per minute and $12 per hour. Currently, the only payment method in use is PayPal. No worries if you don't have a PayPal account yet. The truth is that PayPal is easy to set up and convenient.
The payments are made once a week, every Monday. As long as your Cambly earnings are $20, the payment will be made. Alternatively, the tutor will need to wait until the earnings build up to $20 and then get paid the following Monday.
There are options for some bonuses and extra money. Firstly, there is a tutor referral program. It's possible to make up to $30 by referring other people to teach or study with Cambly. For YouTubers, it's possible to earn an extra $50 by becoming an ambassador and making videos about Cambly on their channel. This sounds pretty tempting, doesn't it? To answer any questions about the pricing or extra earning tips, turn to the tutor helping desk to get friendly advice on everything related.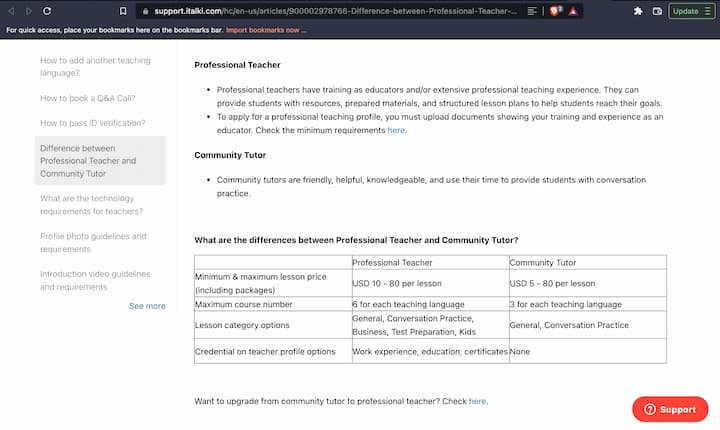 Italki
iTalki platform recruits two types of teachers: community and professional. Professional tutors need to have prior teaching experience and certification. On the other hand, community tutors don't need specific certifications. Nonetheless, both positions require thorough proof of their language skills and an introduction to their teaching method.
That said, professional teachers make more money than community tutors. iTalki lets the tutor choose their price and takes a 15% commission on every class, so it's wise to calculate the commission as part of your price. For example – if a community tutor's hour-long class costs $10, the tutor will earn $8.50. Again, the earnings from your iTalki account can be transferred to PayPal or a few other money services provided.
The average community tutor pay on iTalki is $9-10 per hour. Many new tutors offer a lower price to attract students and start their teaching career on iTalki. As a student, it's smart to watch out for these new and promising tutors, but also be aware that professional teachers will be applying more elaborate curriculums to achieve the desired results. This, of course, reflects on the price – high-ranking tutors could ask for $80 per hour. So it's up to the student to choose the right tutor for their educational needs and budget.
In fact, we're currently offering a promotion for iTalki that will give our readers a $5 discount. Go ahead and use the promo code: edureviewer5
Quality of Tutors
From our experience in using these two online language practice programs, there is a specific audience for both of these sites. Let us explain how: if a student is after a serious language learning class, we would recommend choosing a professional tutor from iTalki. But if the student simply wants to chat and gain confidence for conversations in a foreign language, Cambly is more affordable.
Cambly
Since Cambly is an English language program, we chose to have video chats and lessons on complex topics like Academic English for research and business English. Our writer Alina is not overall familiar with the vocabulary of these topics, but she admits she enjoyed conversations with the tutors.
So the conclusion is that if a student needs to simply polish their conversational skills, we'd recommend Cambly over iTalki, simply because similar quality service is cheaper on Cambly.
Sarah Lopez, a co-author of the popular magazine Mental Floss, highlights that it's super helpful that the tutors aren't able to interact with their peers in their native language. This pushes the beginners to try and express their thought no matter what.
"You're destined to learn English once you're unable to make yourself understood in your mother language. Cambly is great!," says a former Cambly student Lopez.
italki
As previously mentioned, our reviewer Alina went to a Spanish class at the university and worked in a Spanish collective for two years. Her Spanish used to be very good at speaking and writing, but since she hasn't practiced it for years, the knowledge has faded.
That's why she took Spanish lessons on iTalki with both a community and professional tutor. The professional tutor reminded Alina of her language classes in the university – systematic and sophisticated.
Experience with the community tutor was similar to Cambly – the woman we spoke with was very easy-going and friendly. So our recommendation would be to go with iTalki if one needs to really focus on learning a language or getting ready for exams.
But if a student simply wants to practice conversation, Cambly is better because it's cheaper. But of course – if you're after any other language than English, then your choice can only be iTalki because they offer to learn and practice over 150 languages.
Main Disadvantages of the Platforms
Cambly
Probably the main disadvantage of the Cambly app is that you need to pay for a subscription before you can take any classes. Of course, once you've subscribed, you can browse between all the different tutors and package classes that are available for different level students.
But you can't really take a look at the app before you subscribe and make a payment of the daily, weekly, or monthly hours you will want to use the app.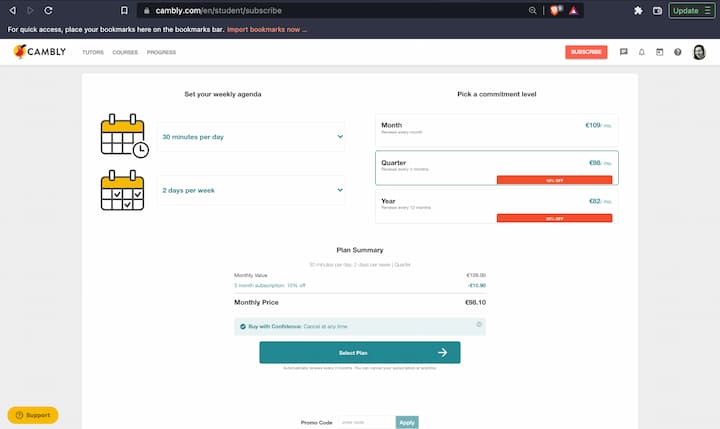 iTalki
Not all iTalki teachers are native speakers, and it can be hard to determine this before committing to a class. This is something we didn't come across ourselves but read from other students' comments. Let us explain how this can happen! Let's say you would like to practice or learn German and you found a teacher from Berlin who speaks German amongst other languages.
It may very well be that the teacher is a digital nomad from Scandinavia and happens to speak multiple languages. His German is great at a conversational level. Still, if the student is after some professional guidance, he cannot provide it, and the student has wasted money on a class.
This can be avoided by really carefully reading through the tutor's profile to determine their native language and, therefore, the expertise they're able to provide.
Overall Comparison Between Cambly vs italki
| | | |
| --- | --- | --- |
| | Cambly | iTalki |
| Class Size | 1-on-1 Video Chat | 1-on-1 Video Chat |
| Lessons | Cambly's Platform | Skype / VOIP |
| Flexible Timetable | Log in and Talk | Book in Advance |
| Userfriendly Interface | Perfect | Could improve |
| Learner/Teacher Support | Good | Good |
| 1h Pay for Tutors | Approx. $12 | Approx. $10-80 |
| Available Languages | English | 150+ Languages |
| Experience Needed to Teach | None | None/Certified |
iTalki vs Cambly for Tutors
These two platforms are a great way for professional and community tutors to earn an extra living and share their knowledge with students worldwide. But because it's done online, teachers have to consider that all their classes are public. There are a lot of Youtubers whose channel consists of Cambly or iTalki recorded lessons.
If you're not ready for that kind of attention and public appearance, this way of teaching might not suit you. On the other hand, this public appearance can highlight teachers' great characteristics and bring more students to these programs. So let's take a look at iTalki vs. Cambly as a tutor!
iTalki
There are currently over 10,000 tutors available on iTalki. It surely makes you feel confident as a student to choose the right tutors for your needs. But how would a competition as big as this make you feel if you were another teacher among these 10,000? It can seem intimidating at the beginning to start teaching and connect with first peers in such a large pool of other great teachers. Some teachers will do a great job and make this an influential part of their income, but some could also be left behind.
Nevertheless, if you are a skilled language teacher, give this platform a go, and don't give up too early! A strong tutor profile takes time to build up!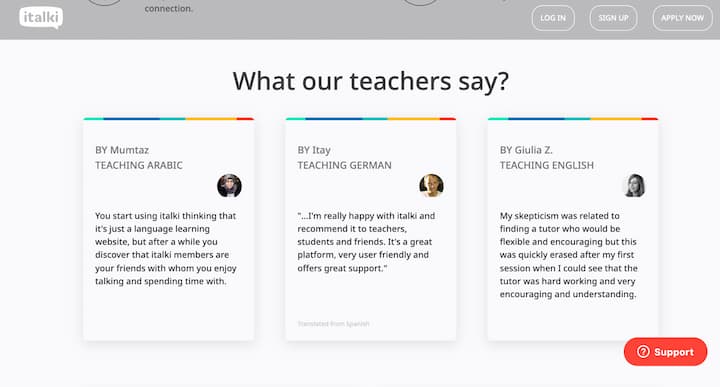 Cambly
In our unbiased opinion, Cambly is a great platform for people who are becoming language teachers or enjoy talking to people and helping foreigners achieve their goals. Since Cambly doesn't require a professional certificate, we find it a great platform to be earning extra bucks as a side hustle.
In fact, many university students teach on Cambly and enjoy talking to language learners from around the world.
"I'm an exchange student from the States and currently live in France. Cambly is great for letting me work online and also expand on my studies since I'm doing my master is Education," says Tiffany on Trustpilot.
It is also a great way to discover if teaching is something they are drawn toward and would like to commit further. Language learners worldwide benefit from being able to connect with native speakers and improve their knowledge.