Have you ever wondered how language experts learn different languages while doing their other full-time jobs? In this age of globalization, learning a new language not only broadens one's horizon but also opens new doors of opportunities.
As the famous Chinese proverb goes on, "To learn a language is to have one more window from which to look at the world".
However, this can be a daunting task if physically attending language coaching is next to impossible for you.
So, multiple platforms offer online tutoring for language learning. But choosing the best platform for this learning can be challenging.
Big News: two noteworthy platforms surface in search results whenever there is a debate about the best language learning platforms.
So, we have come up with a new comparison today between two hot talks of the town i.e., Amazing Talker vs italki. To effectively put our thoughts in the article, we enrolled ourselves in the 1-on-1 language lessons by both service providers.
We have a detailed review of both Amazing Talker and italki for our readers, which provides valuable information regarding the quality of service provided by both platforms.
After a careful analysis of the service provided, we can confidently say that there is a stand-alone champion in this tug-of-war.
So, if you are still worried about whether to choose Amazing Talker or italki then there is a simple answer to this question, which you will find out by the end of the article.
In this article, we will provide a detailed review and distinguishing features of both platforms. We will also provide a comparative analysis of italki vs Amazing Talker as a tutor for language learning.
Overall Comparison of Italki vs. Amazing Talker
| | |
| --- | --- |
| italki | Amazing Talker |
| More flexibility in schedule selection | Flexible in course selection |
| More than 1500 1-1 language lessons | Offers all famous language courses |
| Effective for long-term learning | Good for short-term learning |
| Easy app interface with more filters for meeting requirements | Has an easy interface, especially for students? |
| Best choice for students and teachers | Good choice for students with short-term goals |
Italki vs Amazing Talker: Which one is Better for Teachers?
While both platforms have their peculiarities in offering language services to students, one important aspect imperative to discuss is which one among both platforms is better for teachers.
Italki has a better teacher satisfaction rate than Amazing Talker when online feedback by teachers from both platforms is analyzed. Regarding teachers' deductions, Italki takes 15% of all the transactions between students and teachers.
On Amazing Talkers, this rate varies depending on courses and language type, so sometimes, it reaches more than 15%.
Overview of Amazing Talker and italki
Deep down, you are now desiring to know about both Amazing Talker and Italki. They are online language learning platforms that provide students/learners with the luxury of learning a new language without physically attending classes.
Both Amazing Talker and Italki provide a series of options to choose the tutor of one's choice in a specific language course. To choose a tutor in a specific language at Italki, a list of teachers appears for a specific language course.
There is separate profiling of each tutor with a short introductory presentation video, 30-minute trial rate, hourly rate, intro, and calendar for classes availability.
Similarly, at Amazing Talker, the profiling of tutors contains a brief intro, rating, reviews, introductory video, and the option of fee for a trial lesson and 25min lecture. So, both platforms provide a brief overview of tutors to the students for a better understanding of their expertise.
While both Amazing Talker and iTalki offer comprehensive language lessons, those focusing on Spanish might find more tailored resources in my review of the best conversational Spanish app.
How lessons are taught on both platforms?
On both Italki and Amazing Talker, the method of teaching language lessons is through private teachers. The student first chooses the teacher from the available lists of tutors as per his requirement and payment range.
Then schedule of time and date from available slots is selected by students. Finally, the 1-1 lessons and learning start. The teachers give online lessons through various video conferencing.
On italki, the teacher assesses the level of English of students and then develops a personalized study plan according to that level and learning goals. The teachers then provide real-time situations to the student to provide the experience of practical language.
The teacher then assesses the problematic areas of students in language and then modifies the pace and lessons as per requirement. A similar method of teaching is also adopted by Amazing Talker as well.
As an alternative, consider my detailed comparison Memrise vs Mosalingua to explore more language learning platforms.
Let me explain how both platforms contest each other in terms of quality and services.
Features of italki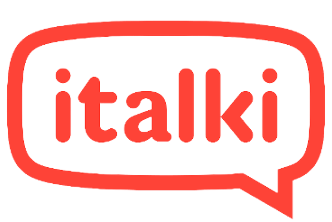 Professional tutors.
Flexibility schedule.
Conversational language.
Feel free to choose the platform of learning.
Find language partners.
Pay less, learn more.
Italki is currently reaching the heights of client satisfaction due to its unmatched characteristics are features. Students like italki for numerous reasons, which are explained below.


Very competent tutors


Italki has a wide range of best tutors available for different language courses than Amazing Talker. There is also the availability of more professional tutors, but it's up to the students since such tutors have higher charging rates than others.
Besides, there are also community teachers available to facilitate the students.
Our experience with one of the English tutors at Italki was so great that she never even hesitated in answering the basics of the English grammar questions related to prepositions. Those were the most beneficial $12 I had ever spent on learning something.
Furthermore, the Italki team of tutors is very friendly and accommodating and their teachers try to engage the students in a very cordial manner.


Flexibility in schedule


One of the distinguishing features of Italki is the flexibility it offers to the students. Be it in payment of fees or class schedule, Italki surely takes the lead. Italki offers the students to pay for a single class instead of advance payment for a whole month.
This offers great flexibility since one might have an important meeting at work or an unplanned engagement with family. You pay whenever you want to take the lesson.
Most italki reviews given by users are positive and encouraging, which authenticates the quality of service provided by this platform.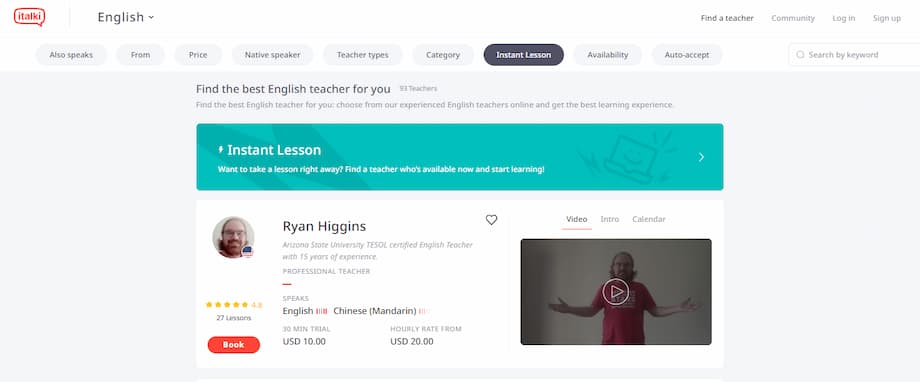 Conversational language


Another great feature of Italki is its offering conversational language courses to the clients. The distinction between academic and conversational English is very stark and both serve different purposes as per the requirement of clients.
So, Italki understands the difference between general conversational language and academic language and allows you to choose the one for your need.



Liberty of choosing platform of learning


Italki also provides the liberty of choosing the desired platform of the lesson to its students. It offers great freedom to its clients to choose Zoom, Skype, WeChat, Facetime, etc., maintaining the ease of students.
Conversely, it also allows users to choose Italki classrooms where they can simply log in to their account and enter the classroom online to attend the lecture. This is remarkable since the majority of students might not be using a particular platform so offering them alternatives again shows the flexible nature of Italki.


Finding language partners


While being present in the italki classroom, there are bright chances you can encounter a fellow course mate to that particular teacher. This means you can both interact and can have discussions on your learnings.
Finding a buddy for practicing the language is again very fruitful in learning it at the speed of light. This is again Italki's best offering to its clients, which creates bonding between its students.


Pay less, learn more


Italki provides its student to choose the tutor of their choice within their price range. The pricing for trial lessons ranges from $1 to $15, whereas the hourly rate ranges up to $30. While there are hundreds of teachers available for a single language, each tutor has a different charging rate and students have the liberty to choose anyone matching his criteria. There are two types of teachers offering their services at Italki: Professional Teachers and Community tutors.
While Professional teachers are the ones who have attained the required qualifications related to their job, community tutors are native language speakers with great command of language and teach you according to the dynamics of local linguistics.
So, both offer value for money since professional teachers have higher rates compared to community tutors but have more professional experience. Whereas community tutors have lesser rates than professional teachers and help others learn a new language.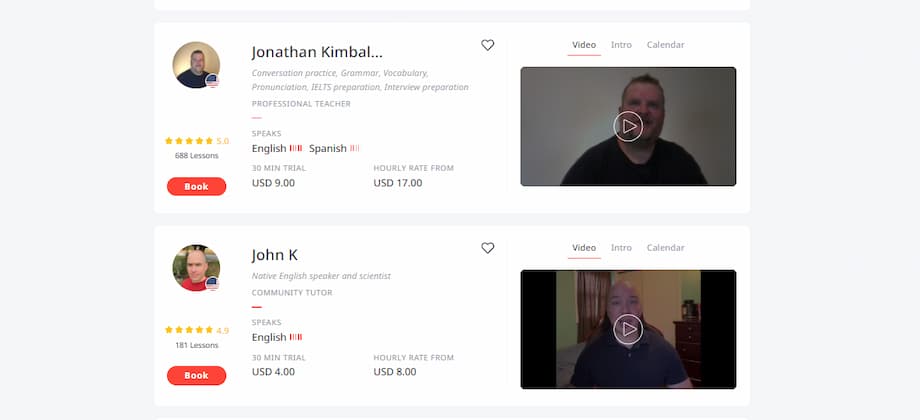 But if you are looking for professional teachers and cost is the aspect that is still bothering you, then here's the deal: we have a unique promo code that will get users $5 off on Italki. Just type in '
edureviewer5' in the promo section and enjoy a $5 discount on Italki.
Disadvantages of italki
Following are some of the disadvantages observed for italki:
Nearly all teachers at italki have 5-star ratings. This may be due to the majority of positive feedback being given by students. However, it becomes difficult sometimes to identify the best match according to students' needs.
Italki mobile app is available on iOS and Android and not on unpopular mobile platforms like Windows mobile. Though both iOS and Android are currently the most used platforms in the world and Italki accommodates them both greatly
Once a credit purchase is made, there cannot be refunds to the clients.
Features of Amazing Talker

Good tutors.
Timetable flexibility.
Cost of lessons.


Good tutors


Amazing Talker has a range of good tutors who offer their services to the clients but are still not up to par with Italki. This is due to the reason that Italki has a stern tutor acceptance method in place and the feedback of clients for its services is also very great compared to Amazing Talker tutors.


Timetable flexibility


Amazing Talker provides the student with flexibility in the schedule of classes. It presents the students with the available slots of tutors, and students then choose and contact their teachers for attending the lecture.


Cost of lessons


Amazing Talker offers affordable rates for its language lessons ranging from $11 to $30 depending on the qualification and experience of tutors. Their maximum number of tutors are indulged in teaching English language courses.
However, there are mixed reviews by users regarding the quality and professionalism of their tutors.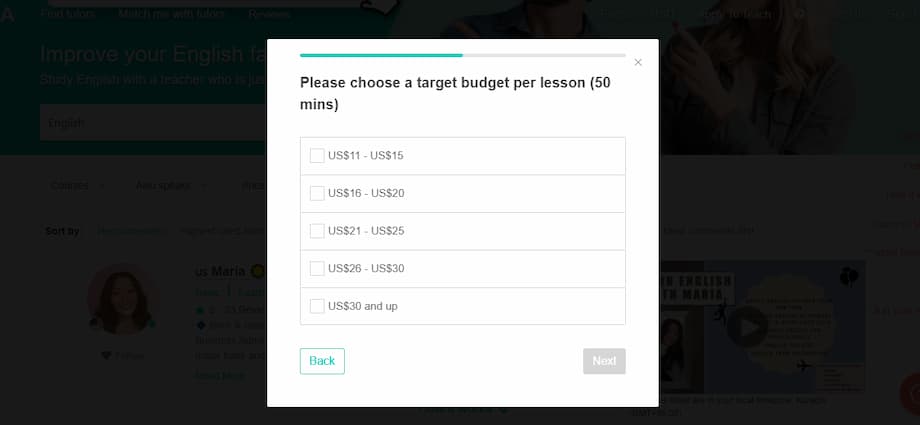 Disadvantages of Amazing Talker
Amazing Talker has been criticized by many users due to a couple of reasons.
Some of the main disadvantages of Amazing Talker are:
There is an ambiguous price regulation system of Amazing Talker, and they are accused of increasing the rate without prior notice in some cases.
Some of the former teachers have accused the Amazing Talker on various online forums complaining about their price irregularities and alleged them as scams. However, it is affirmed that they are a registered company and have been offering services since 2016.
Class Schedules are not much flexible compared to Italki.
Some customers have complained about poor customer support and the occasional inability of customer service providers to understand languages.
It is a relatively new company, founded in 2016, so it will take some time to gain customer confidence.
Price Comparison of Italki and Amazing Talker
While both platforms offer their 1-1 lessons with the flexibility of schedules, however pricing factor is the one that is kept in consideration by the majority of students for opting service.
The price range of italki hourly rates varies from $5 to $30, whereas, on Amazing Talker, a lesson price ranges from $11 to $30.
However, there is also a trial lesson offering on italki, which ranges from $1 to $15.
After detailed analysis, it was found that students on italki gave generally positive reviews of price satisfaction after course completions as compared to Amazing Talker's clients. So, italki offers better value for money compared to Amazing Talker.
Final Verdict
The main difference between Amazing Talker and italki is that the latter is a much better option in terms of quality, value for money, and support. If you are to decide between Italki or Amazing Talker, then the answer is simple.
It is always Italki due to its numerous advantages and unparallel features, which give it an extra advantage over Amazing Talker. Italki is surely the best option if you are looking for long-term learning and the best student-teacher connection.
The quality of learning offered at Italki is way ahead of Amazing Talker; that's why the former is still the number one choice for many students seeking to learn a new language.
For adult learners who find a focus on Spanish necessary, be sure to visit my guide on the best Spanish learning app for adults for personalized recommendations.
Which platform is best in terms of tutors?
Italki has more professional tutors and also provides engaging activities like storytelling in the respective language, counter-questioning as well as detailed discussions in the language.
Which one has better pricing?
Italki has better pricing options and provides more value for money as compared to Amazing Talker. Don't forget to use promo edureviewer5 to get an extra $5 discount on Italki.
Which offers more flexibility to clients?
Italki provides more flexibility in terms of rescheduling, and available slots as well as more liberty in class selection.