Learning a foreign language is a complex process, but today we have more opportunities than ever to learn a language from native speakers.
With the global use of the Internet, we have access to several online learning services, which offer a variety of content, but also contact with tutors with whom you can practice conversation.
They say that if you study something for an hour every day, in three years, you will become an expert in that field. If you are not an expert, then your knowledge will surely be at an enviable level, as Dr. Paul Pimsleur correctly observed. You will admit, such a thing requires a strong desire, dedication, and a dose of stubbornness.
Seminars, training, courses, exchanges, internships, trips… finding and creating opportunities for improvement is now an absolute must. True, there is less and less free time, and courses are expensive. But, as in everything, the Internet offers us a solution – available foreign language courses.
With that in mind, our experts have reviewed italki and Preply, two popular online language learning platforms that can help students improve their skills in demand.
The main difference between italki and Preply is that as italki is longer on the market, it comes with a larger selection of tutors and is generally more affordable than other services.
On the other hand, tutors at Preply offer an array of additional subjects along with language courses. Pricing differences aside, students can experience an assortment of languages, topics, and classes enjoying maximum flexibility.
Our main goal at EduReviewer is to make your life easier by showing you the Magoosh.com IELTS review on the market today.
Key Features of Platforms for Students
Let's briefly present the main aspects so you can see whether Italki or Preply offers what you have expected to get for the money.
If you're wondering, if Lingoda is legit, we've got you covered. Our comprehensive review analyzes Lingoda's course offerings, user experience, and overall effectiveness, providing a clear picture of this platform's credibility and value.
Italki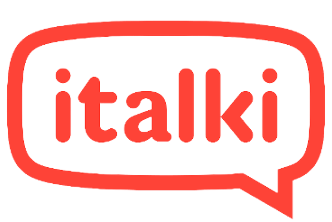 One of the largest bases of students and language teachers.
Amazing mobile app.
Provide high quality tutors for hire in more than 150 languages.
Launched in 2007, Italki offers an online language learning platform that connects students with qualified lecturers via video chat. Through individual lessons, students can learn their chosen foreign language, and teachers, who must be over 18, can earn money as freelancers. This way, you can take 1-on-1 lessons going all beyond the classroom and become fluent in more than 150 languages, including English, French, Japanese, Spanish, and German.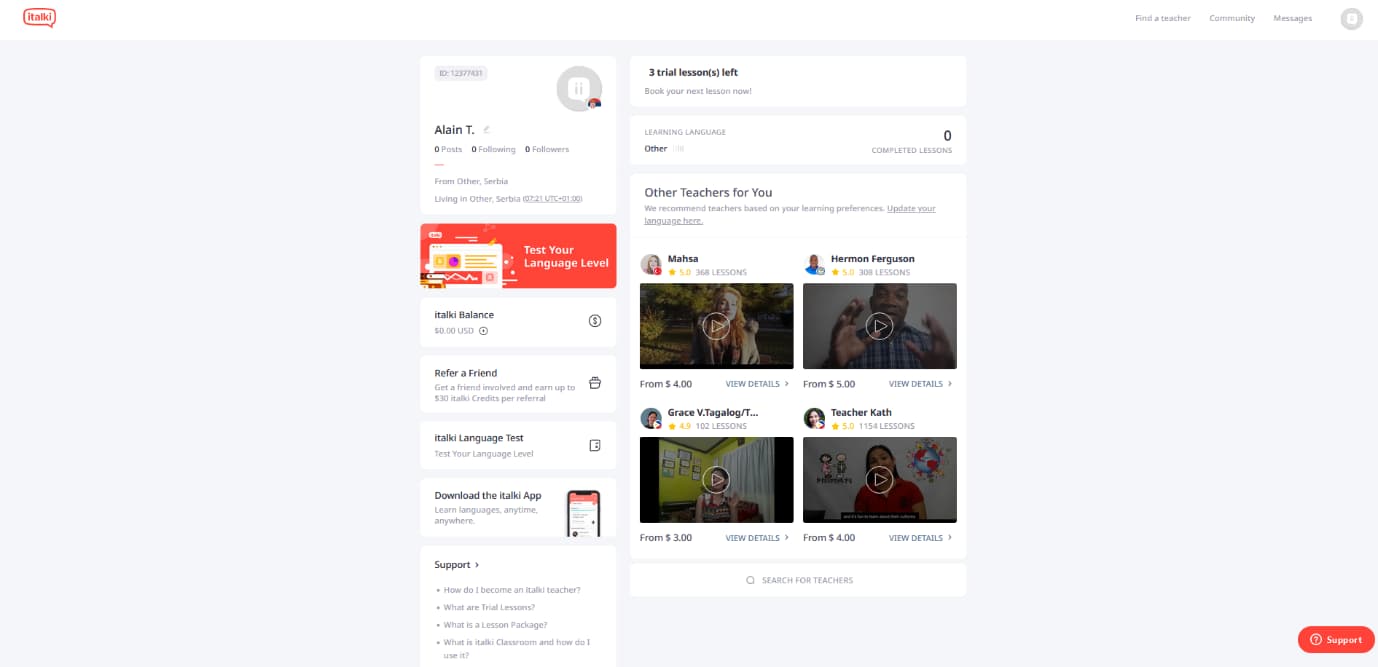 Students are free from rigid schedules that work in offline education centers and can study at their own pace, where a built-in calendar is more than helpful. In most cases, the class lasts 45 minutes, and the base that the lecturers receive is usually three dollars per registered student.
In addition, they get a bonus depending on the grades that Italki students give them. So, it sometimes happens that a lecturer on Italian platforms, for 45 minutes earns about $25, and this is just an example. The lecturers decide when to hold the class, and the material is received an hour in advance.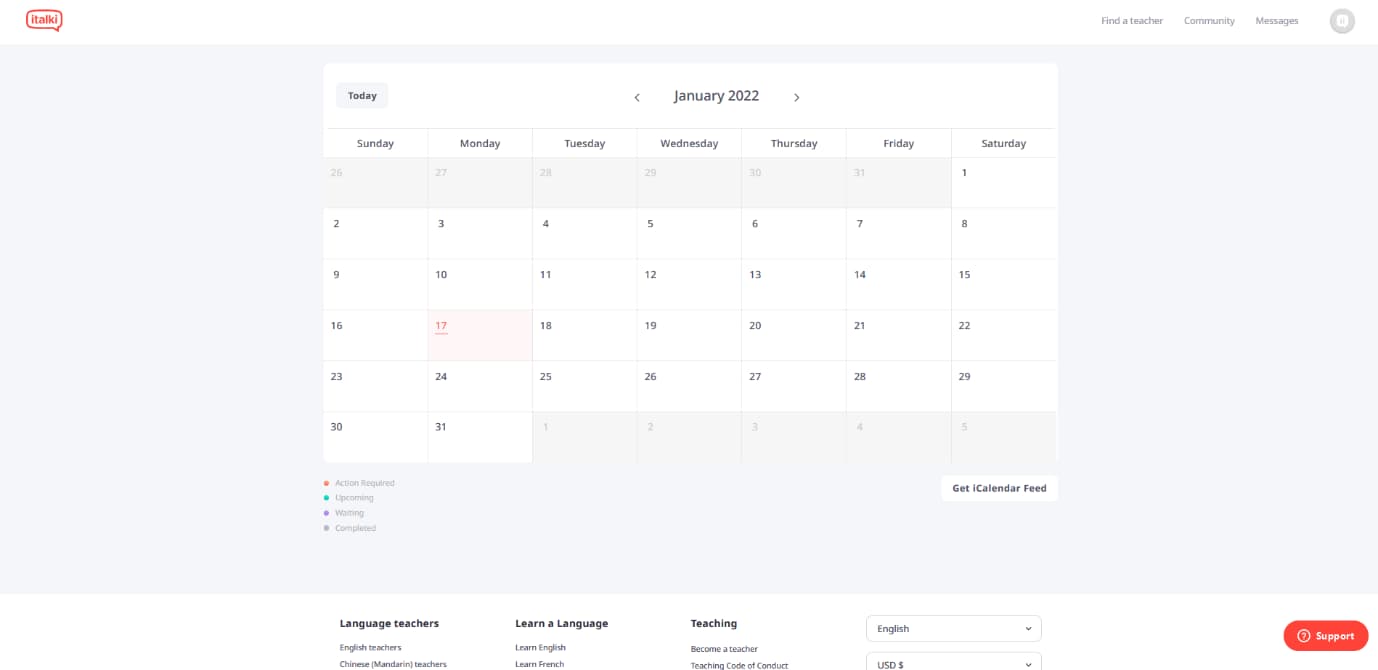 To sum it all, Italki is currently one of the largest bases of students and language teachers. Currently, Italki has about 93,000 followers on Facebook. The increase in followers from week to week is measurable in the hundreds, where a chance to practice and develop language skills for free is certainly one of the most attractive features. In fact, millions of learners from 190+ countries around the globe are waiting for your contact and feedback.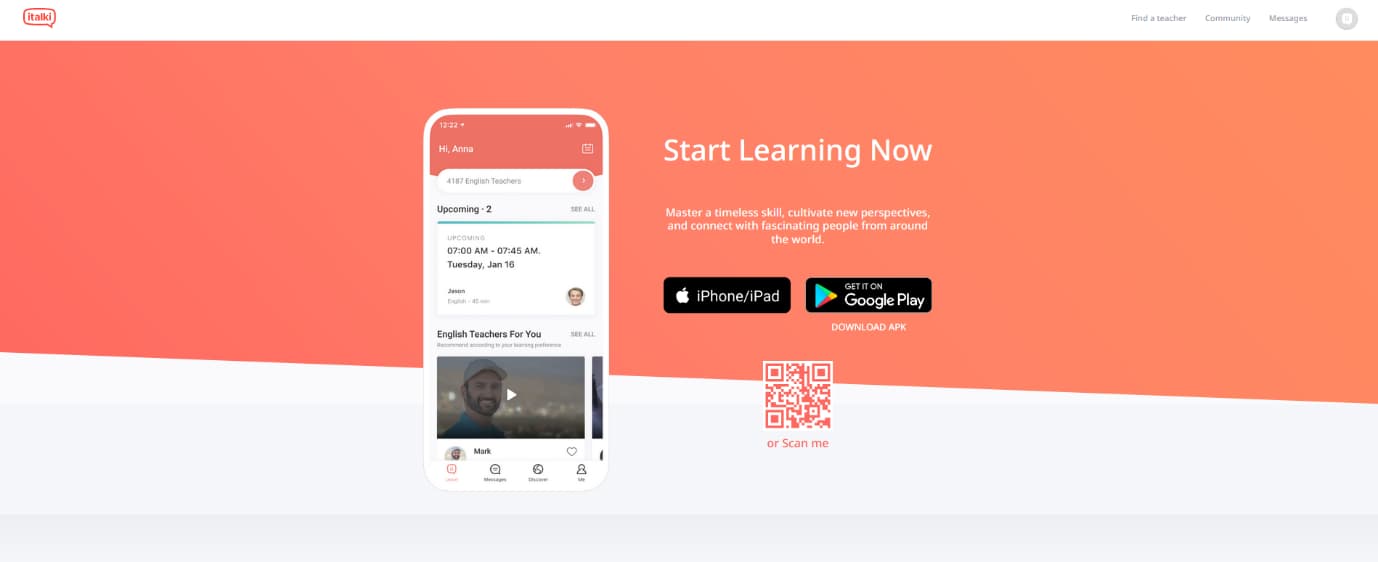 Remember we said they go beyond the classroom? This is enabled via the downloadable Italki app, and you can install versions for iPad or iPhone, get it on Google Play, download the .apk file, or scan the QR code.
Preply

Perfect option for both language learning and test prep.
Find qualified tutors for Business, Conversational, or Intensive course, language lessons for beginners, traveling, studying abroad, literature, and more.
100% Money-back guarantee.
Going a step beyond for language learning, Preply is about to mingle tutors and students to transfer and receive different pieces of knowledge, including other subjects and hobbies including math, art classes, data science, business modeling, product management, and accounting.
As an addition, Preply also offers quality tutoring services for preparation of entry exams such as IELTS, SAT, ACT, and others via proprietary video classroom tools. The platform is also available via downloadable iOS and Android app.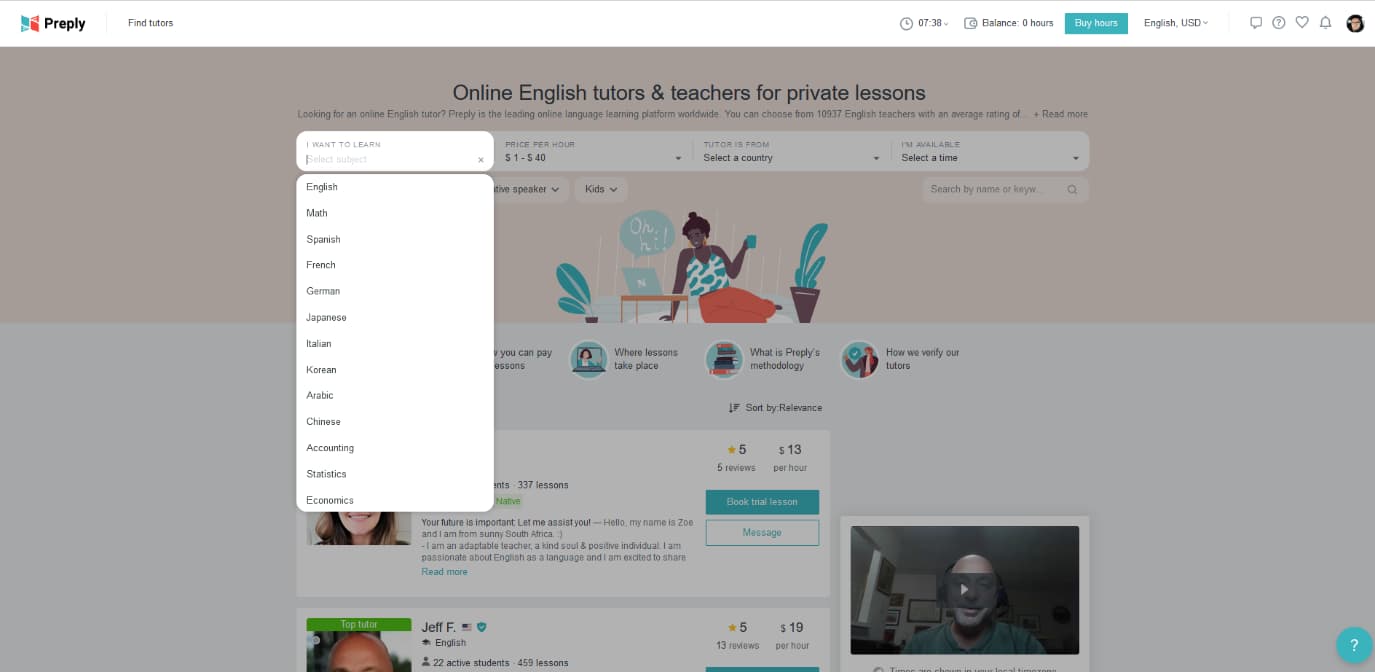 For a student, joining the community that grows by 10.000 new members monthly is free. You can sign up with an existing Facebook and Apple account or using your Google credentials. Using a one-click form, you will become a member instantly and enjoy free study help from an expert tutor, react to answers, and ultimately get tutoring at an affordable price.
Just remember to confirm the registered email address to validate the account.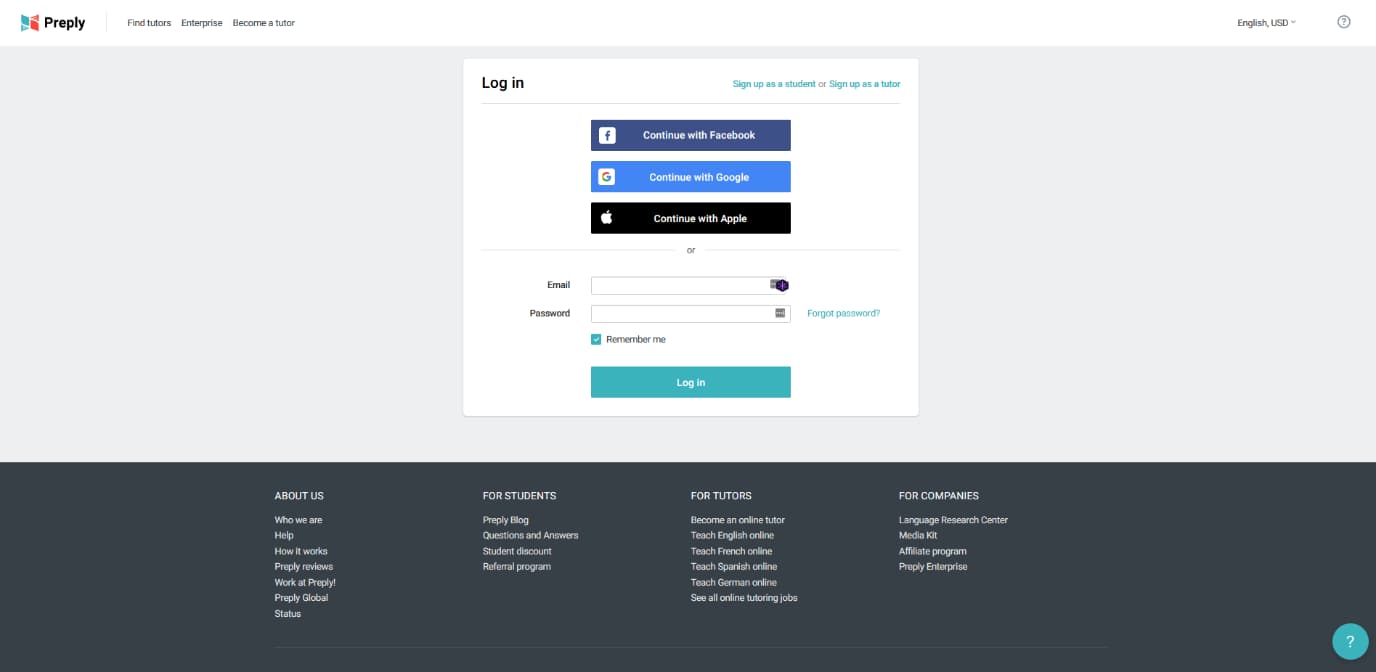 Using a customizable form, students can check which language they want to learn, set a price per hour between $1 and $40, select a tutor from a specific country, and set availability for lessons.
Other options include specialties such as Business, Conversational, or Intensive course, language lessons for beginners, traveling, studying abroad, literature, and more. You can find a tutor that also speaks another language or is a native speaker of the one you'd like to learn.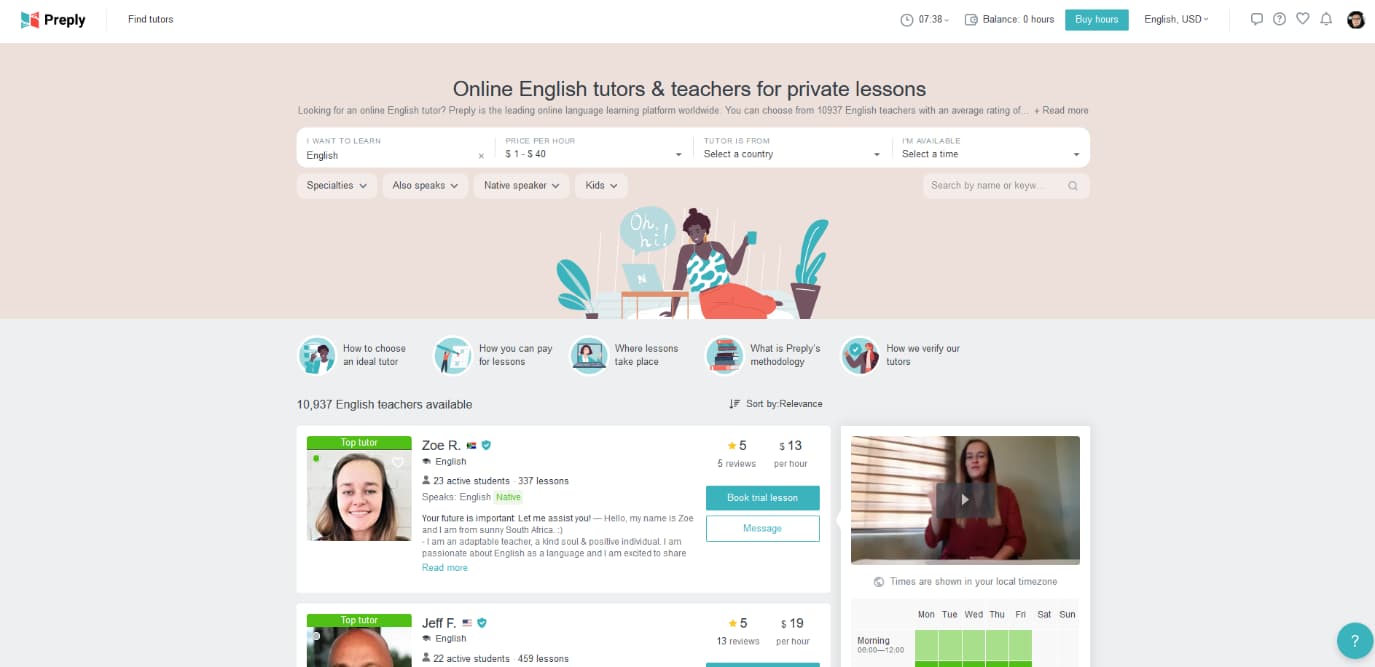 Private lessons are set as a default option, but this doesn't mean the platform leaves group lessons unanswered. Before asking for such lessons, you need to indicate the current level between A0/A1 and C1.
Eventually, interested parties can take a recommended lesson starting from $5.5 per hour or take a free trial. Those who are not satisfied are entitled to a free replacement with another tutor. Thanks to the 100% guarantee, a money refund is also an option.
Tutoring Pricing Comparison
Italki
To purchase lessons or test, or engage in different activities and Language Challenges, students must have enough Italki Credits. This is a kind of virtual currency used on the platform that you can buy via credit card, PayPal, or another method based on your billing country or region.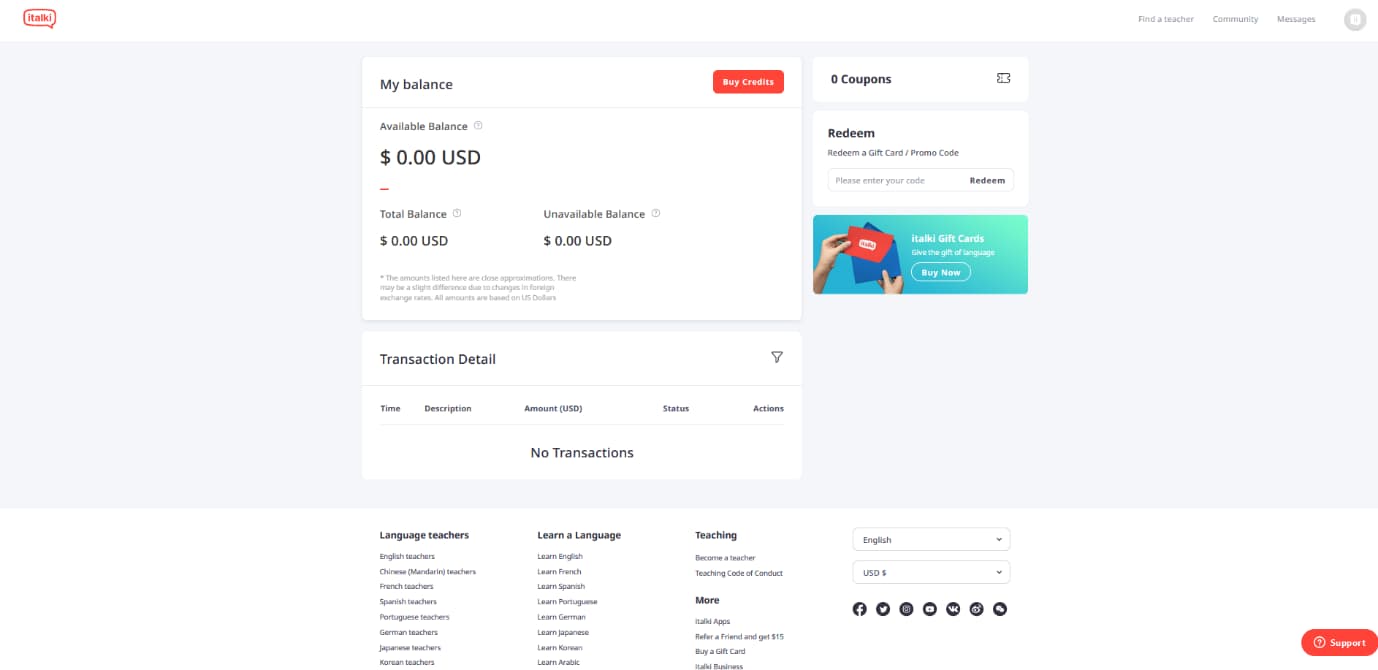 All final payments are made in USD, and you can buy credits worth $20, $30, $50, $100, $200, $500, or more. Remember that purchases above $1.000 must be solved via bank transfers. Also, Italki does not charge any processing fee, but it only depends on a chosen payment method. With our unique promo code "edureviewer5", you can get a $5 discount and get a course at a more affordable price.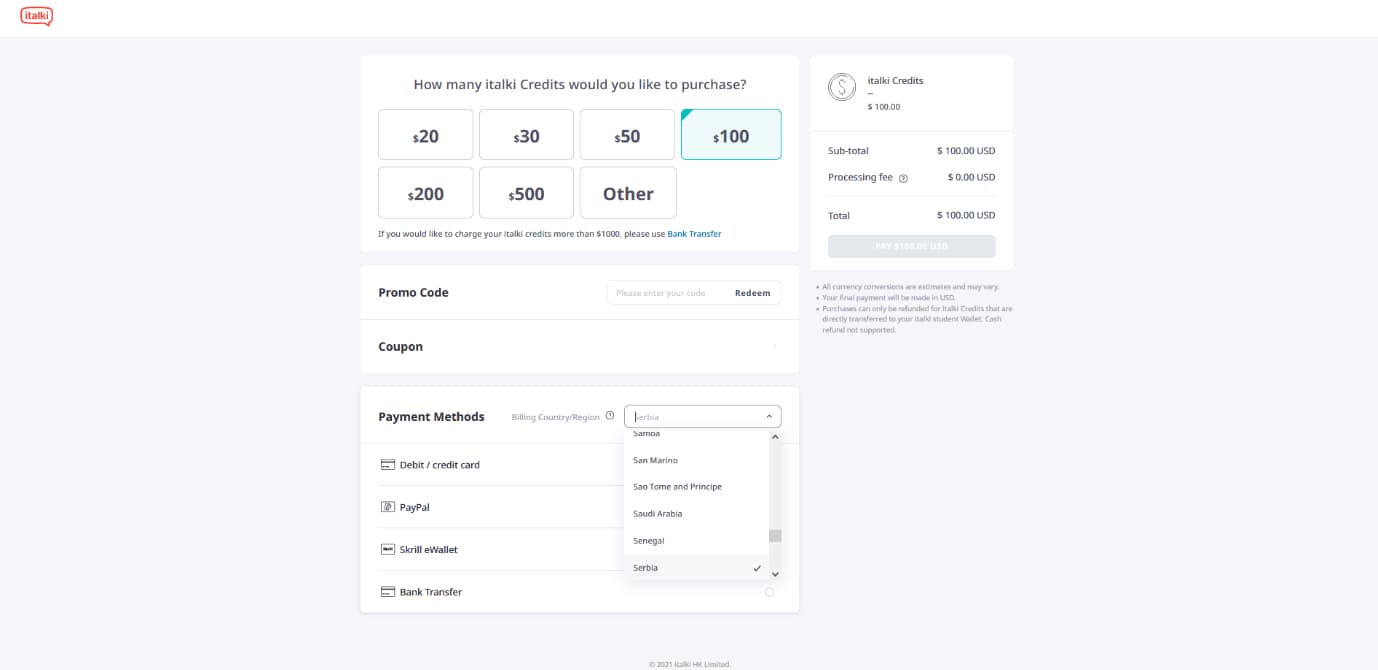 Being more than an individual student, and by that, we mean a small or large business owner who'd like an entire team to learn the language, you can sign up for a Business Account. The basic option is free of charge, but 86% of users go for a Standard Account that allows an unlimited number of learners, employee management tool, reports, and study certificates. This requires $200 as a one-time setup, a monthly bill of $9.99 per user.
The service also comes with a Premium Account with a dedicated manager and customized teacher allocation. The price is negotiable with the Italki management.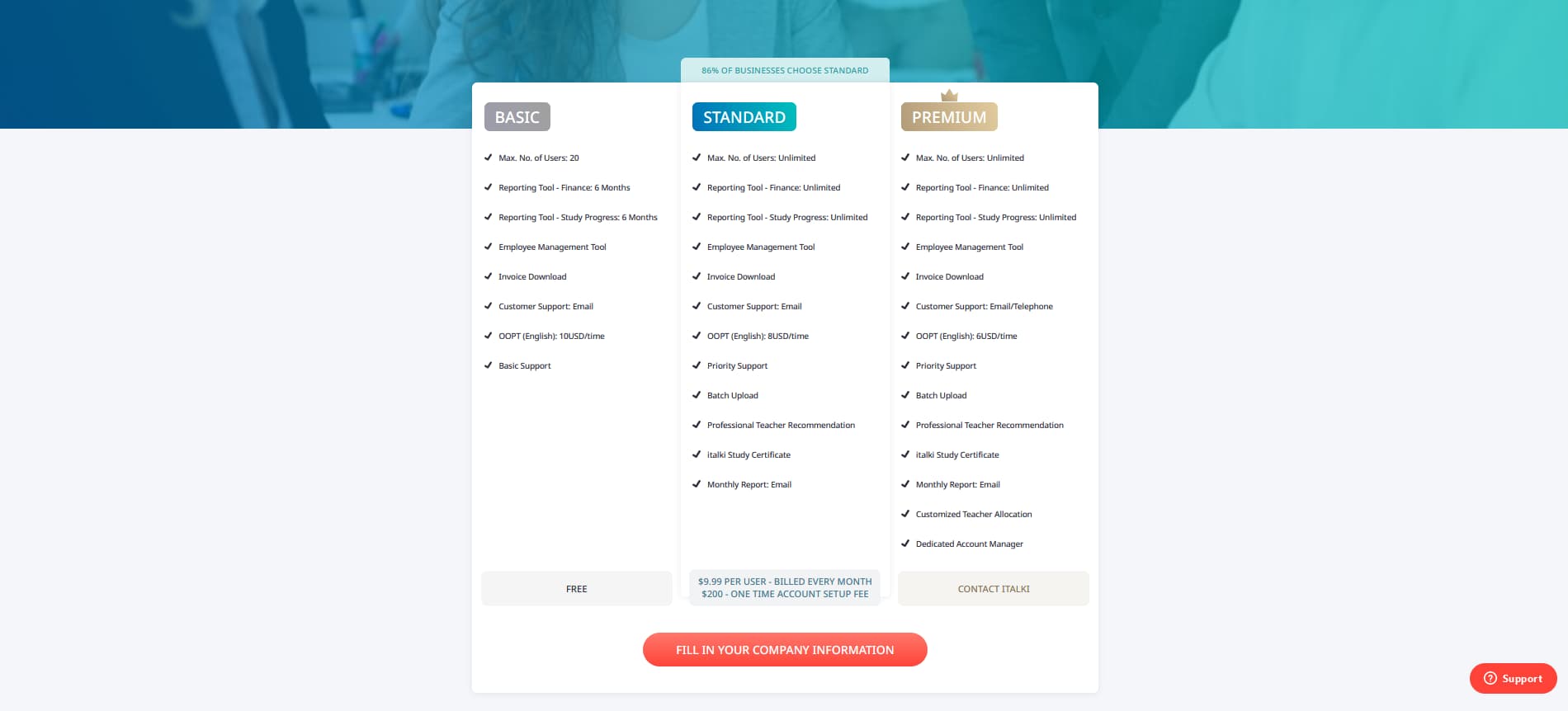 Finally, students who purchase Packages are eligible to special discounts. For a 5 or 10-lesson package, you will get 5-8% lower fees, while a 20-lesson package comes with discounts between 6% and 9%.
Preply
Booking a trial or a proper lesson requires you to buy hours. Once contacted the tutor and checked rates per hour, you need to transfer the corresponding amount of money via secure online channels. Available payment options include Visa, MasterCard, American Express, Discover, Payoneer, PayPal, and Apple Pay.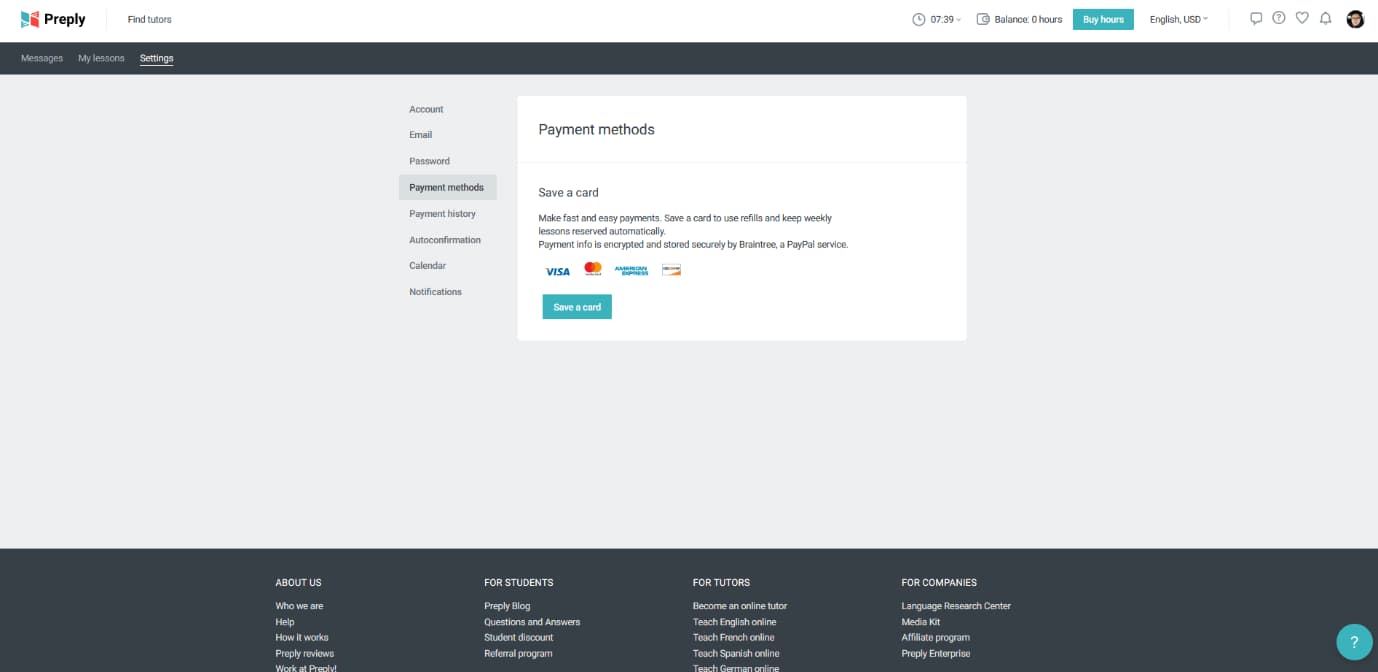 Once the payment is approved, you will get the tutor's contact details to communicate about the class further. The same principle works for packages, weekly lessons, and other services. There are no discounts except after you refer a friend.
Quality of Tutors
For a student, finding a proper teacher means much more than just paying for services, as stated in Effective Personal Tutoring by Dave Lochtie, Emily McIntosh, Andrew Stork, and Ben W Walker. Both Preply Italki platforms have a bit different way for prospective customers to check the quality.
italki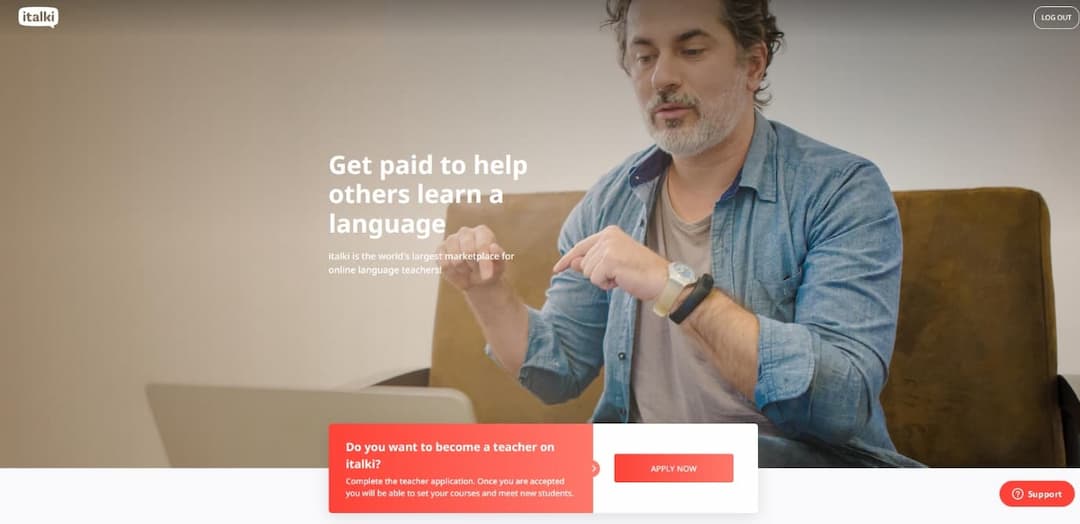 Regardless of whether he/she is fit for learning foreign languages, anyone can become a lecturer, respecting the set criteria. You will have to meet the Italki Teacher Code that implies cultural sensitivity, professionalism, empathy, and to attend all classes implying arrivals on time.
The Code also promotes bannable offenses such as false or misleading information, engagements in spamming, or promotion of competing language services.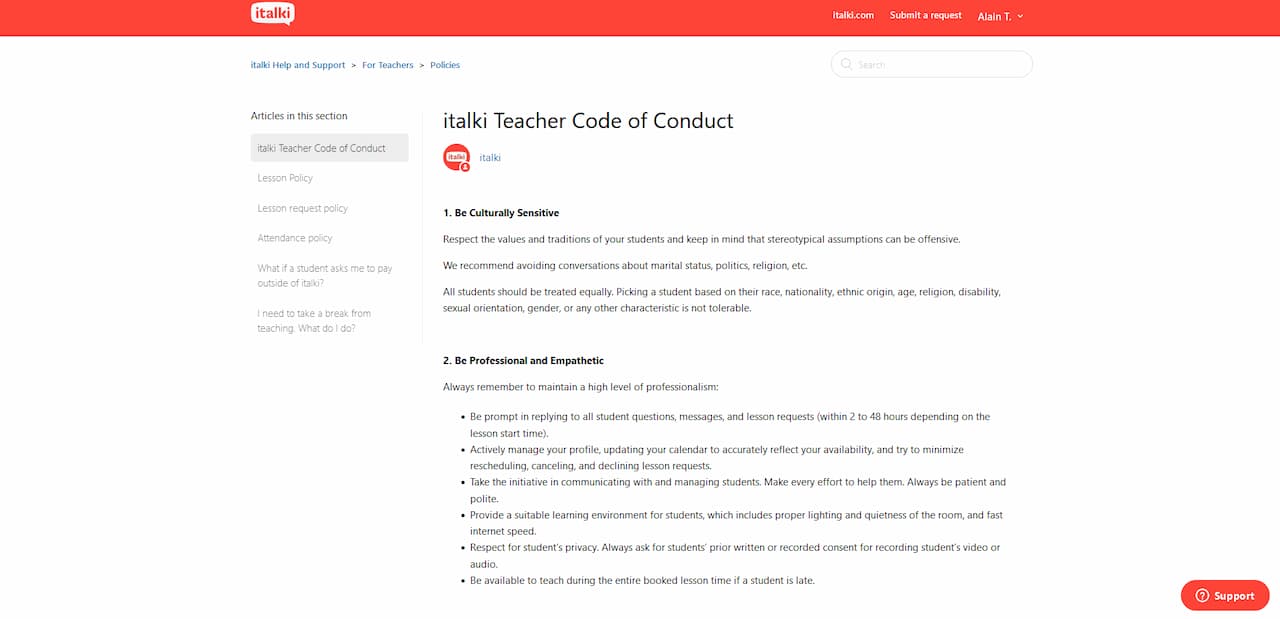 There are two types of lecturers in italki: Community Tutors and Professional Teachers.
The Community Tutor may teach their mother tongue without adequate professional training, while the Professional Teacher is obliged to enclose documents proving the qualification to teach their mother tongue or foreign language in the application process.
Also, a professional must have credentials on a teacher profile that include work experience and education.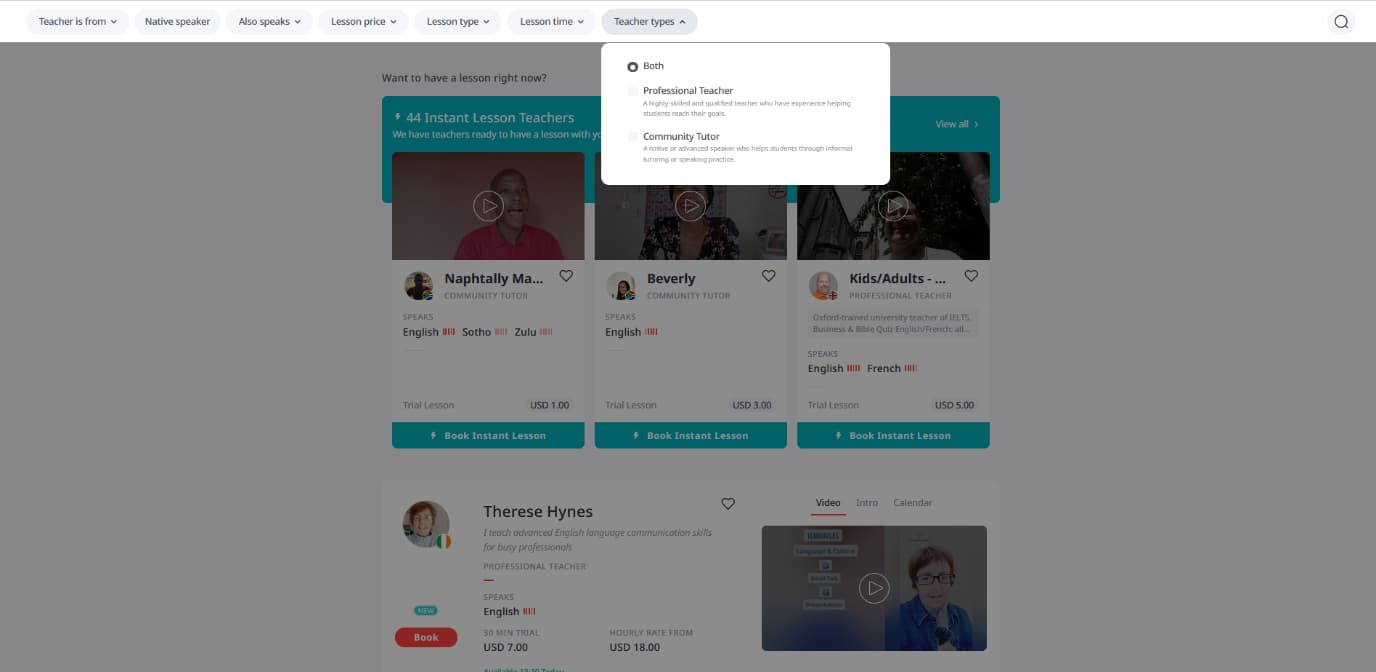 Like that wasn't enough, the Italki platform requires an extra dose of professionalism from its lecturers, going more than asking for proof of knowledge of a certain language in the form of diplomas and official certificates. The teacher must teach from a room that does not have colorful walls so as not to distract the students.
In the process of application, the platform organizes tests of language proficiency, and connection quality, but also cameras of the future lecturer.
Finally, a student who completed the course can post on the Italki review page to help others find a suitable tutor.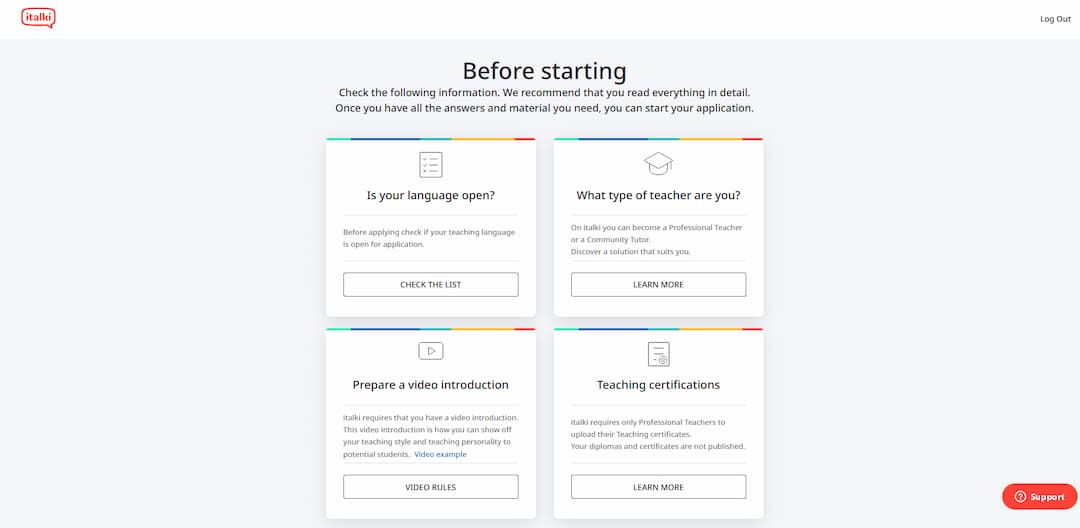 Preply
After refining your search using predefined criteria, you will get a list of matching and available tutors. Now, when judging which one meets your demands, we suggest reading reviews from previous students.
Only registered members who used the teacher's services are enabled to post a review, which should sound professional and reliable enough to get the first impression.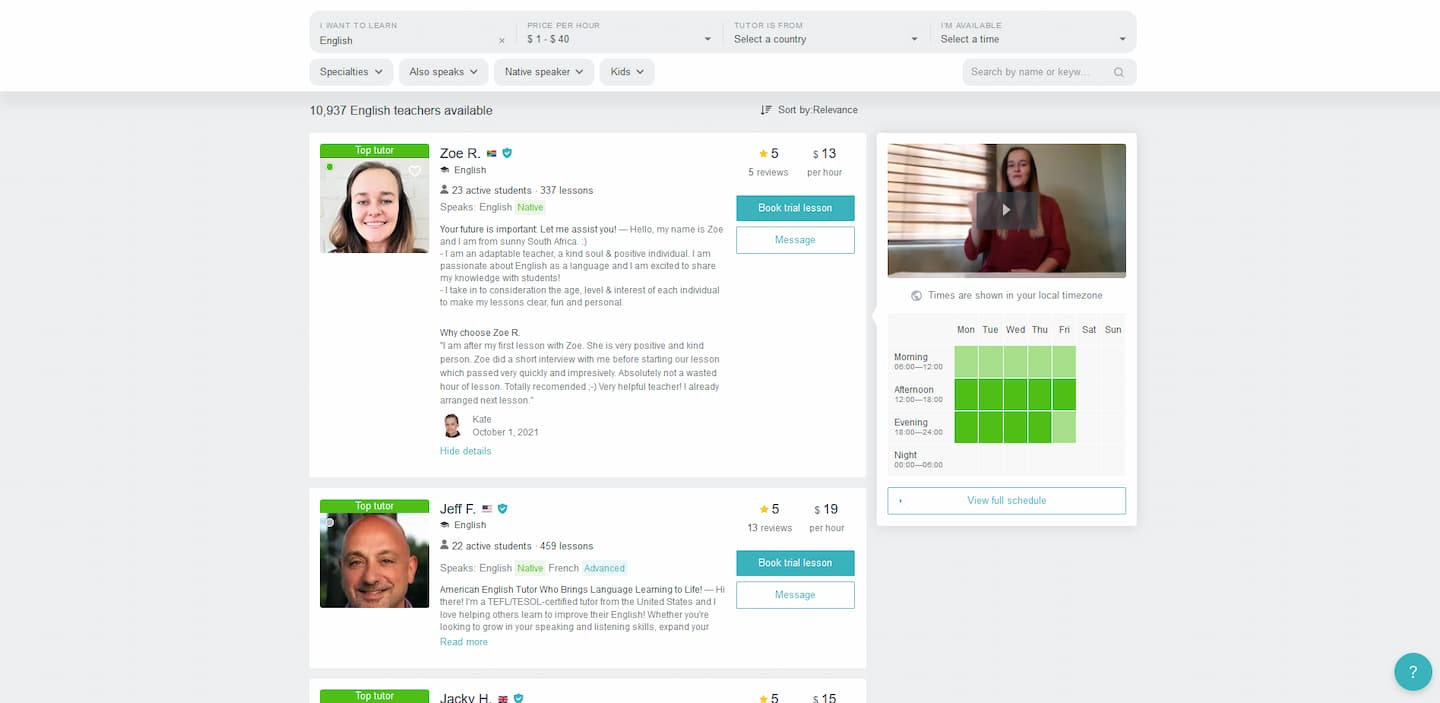 Another way to see with whom a student will collaborate during lessons is to book a trial lesson. Both parties should confirm the proposed time and date to complete this action.
Badges such as Super Popular for a teacher who gets contacted by many students and the number of lessons booked in the last 48 hours can help too.
Also, you will see the average response time as well as the average price per hour.
When considering Preply or Italki, prospective customers will be pleased to see this relatively young platform was already featured in The Wall Street Journal and Forbes.
Along with penalties for unscrupulous tutors, it looks rather promising to judge the quality of their language teachers.
Main Disadvantages of the Platforms
So far, we lead you through the most convenient corners of Italky and Preply language learning platforms. Before making a final decision, you should also consider some possible drawbacks.
Italki
Although it enables the connection of people interested in languages and cultures, Italki does not have integrated tools for online teaching. Teachers must use other application software to communicate with students.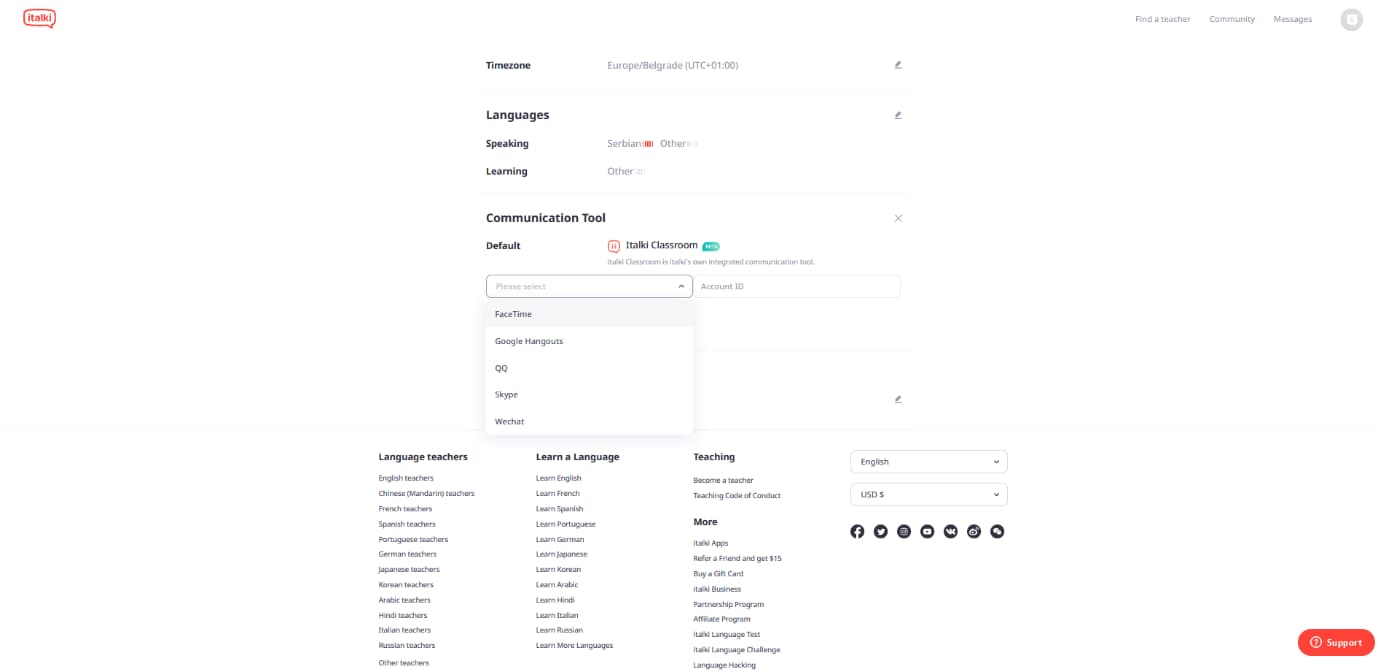 This can include a video communication-only Italki Classroom as well as now standardized tools such as Skype, Zoom, Google Hangouts, Facetime, WeChat, or QQ.
Preply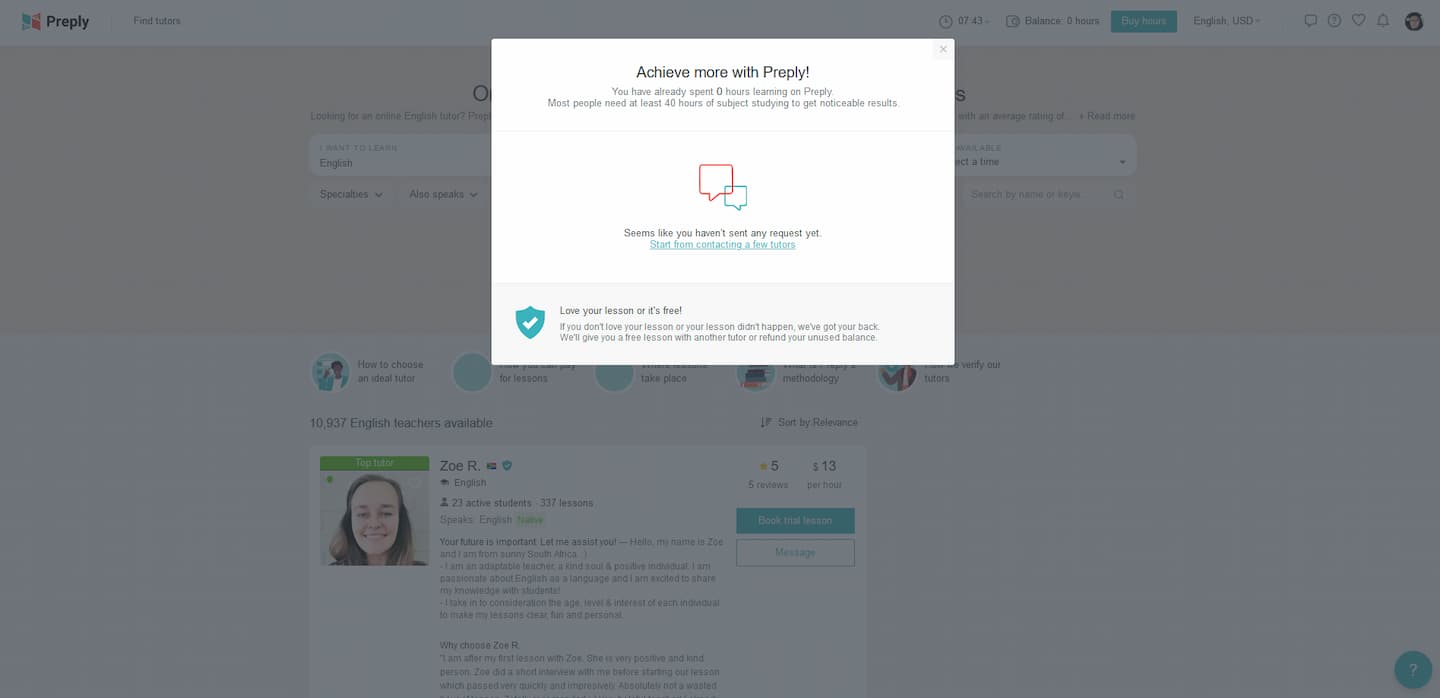 Bank transfers are not enabled, which can discourage some students from certain countries or regions.
Also, there are no discounts, and the refund option becomes unavailable after the 90-day period upon payments for all unscheduled lessons.
Overall Comparison
| | | |
| --- | --- | --- |
| | Italki | Preply |
| Number of Languages | 150+ | 30+ |
| Additional Courses | Sign Languages | Hobbies, other subjects, exam preparations |
| Tutor's Earnings Per Hour | $5 to $80 | $15 to $25 |
| Trial Classes | Yes, commission free | Yes, but with a 100% commission to the platform |
| Proprietary Platform | Italki Classroom | Video Classroom |
| Referral Program | Yes, including a special promo code | Yes |
| Payment Methods | Credit Cards, e-wallets, Bank Transfer | Credit Cards, e-wallets |
| Discounts | 5% to 9% | No |
| Commission | 15% | 33% to 18% under T&C |
Italki vs Preply for Teachers
When talking about the way to become a teacher, the battle between Italky vs Preply as a tutor considers ease of registration, the usability of dashboards, and possible earnings. Things work differently, even though some aspects are shared.
Italki
Signing up as an Italki teacher is a straightforward action and prospective tutors can simply press the "Sign Up" button placed in the right-hand corner. It is possible to use existing credentials from other social networks as well as your Google profile.
To finish, confirm the email address and create a password. The process is completed after you indicate the language you'd like to teach others, your native tongue, and your current location.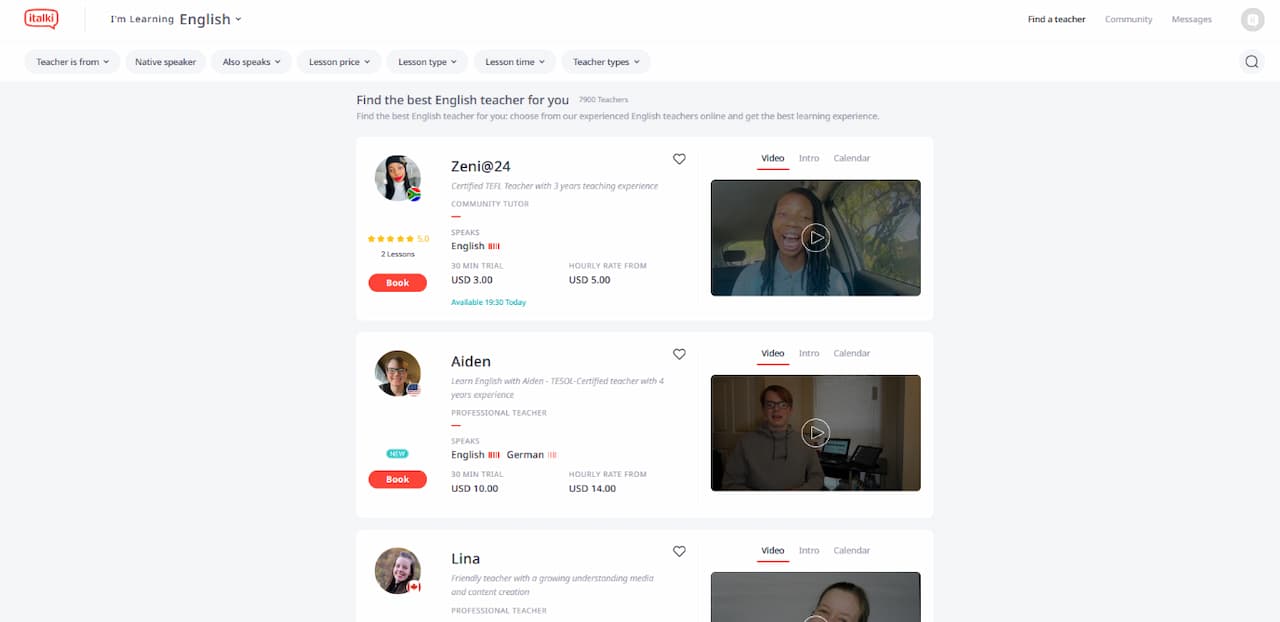 There are differences between teachers and their categories. For example, a Professional Teacher can tale between $10 and $80 per lesson and have up to 6 courses per teaching language. Lesson category options include General, Kids, Business, Conversation Practice, and Test Preparation.
For a Community Tutor, General and Conversation Practice are the only options available. As such, you can earn as low as $5 and a maximum of $80 per lesson and teach no more than 3 courses per language.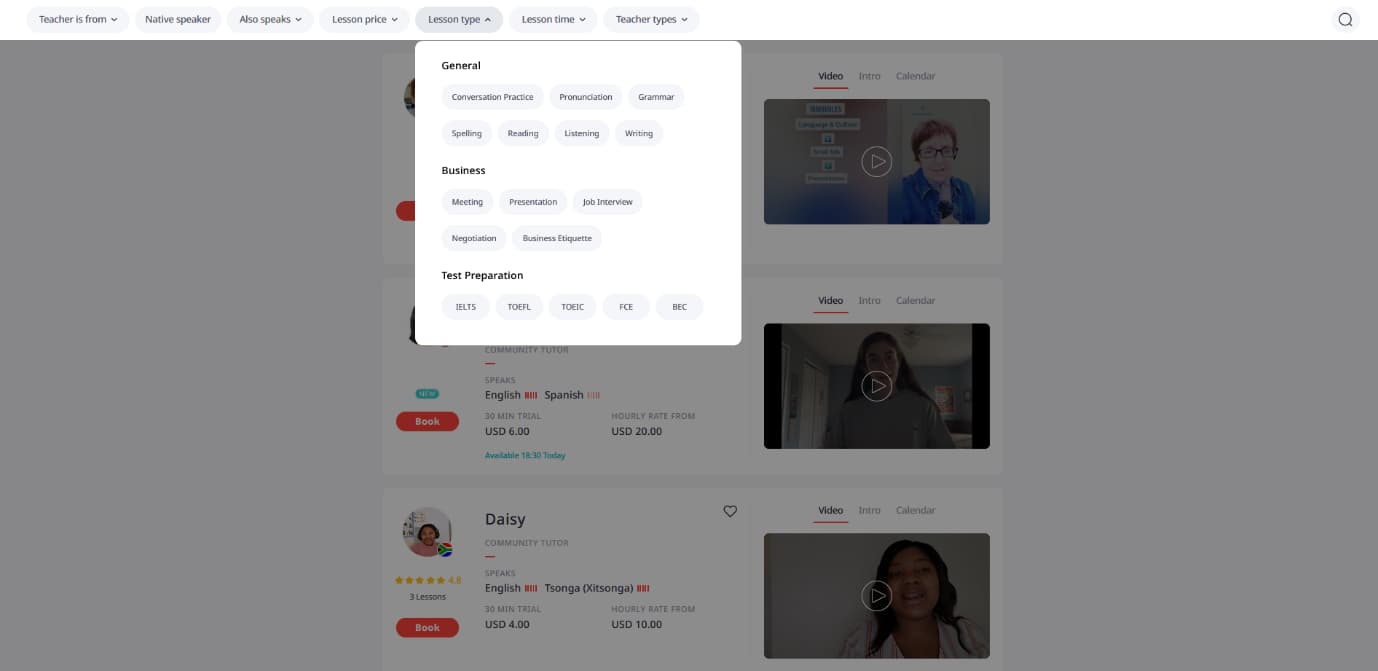 When using Italki for teachers, you can also search for students with so-called Trial Lessons. They usually cost less than regulars, but Arabic, Portuguese, and Italian language teachers can take $3 to $5 per class.
On the other hand, Japanese, French, and Korean lessons go between $5 and $7, while German trialists charge up to $8 per class. While trial hours are commission-free, lessons or packages are charged 15% of the teacher's listed price.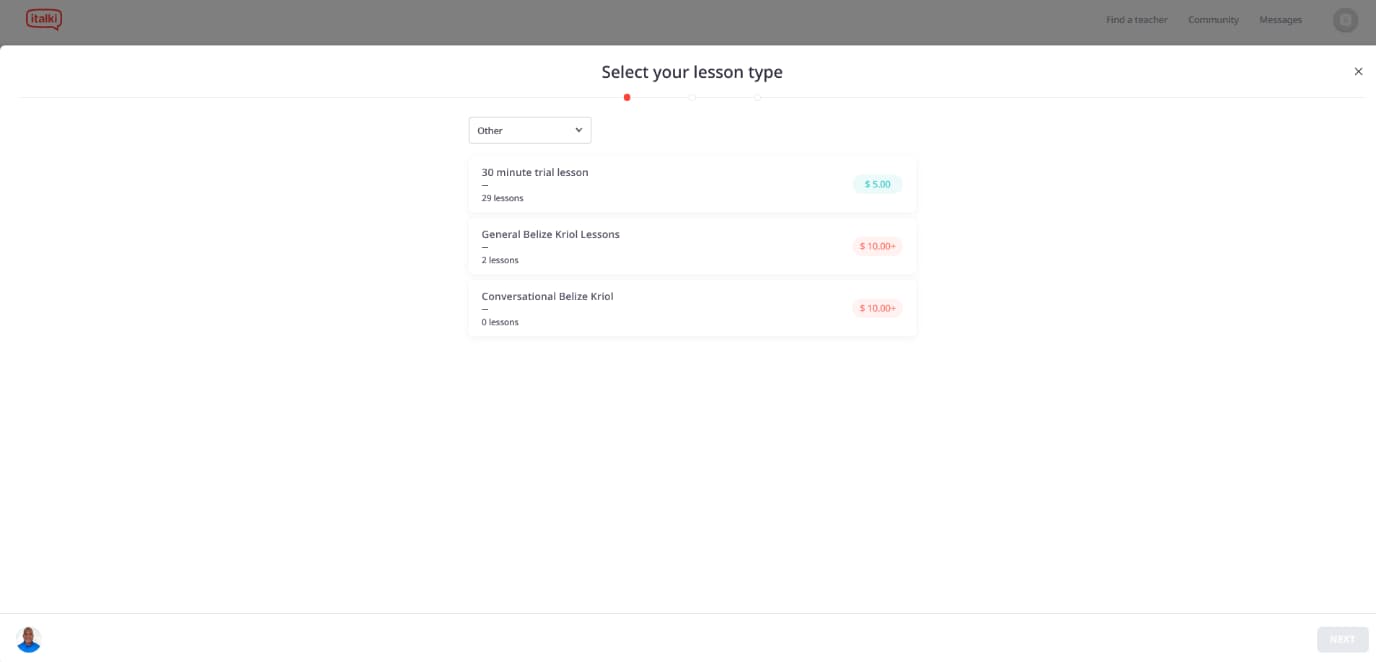 The site protects lecturers from possible scams. Payments are made by transferring the loan from the student's personal account to the lecturer's personal account. Then, the lecturer withdraws money to a personal Skrill, PayPal, Alipay, Apple Pay, or Webmoney account.
Again, while Italki won't charge you, payment providers will certainly do. Fees range from a $3 Payoneer flat fee to 2% for PayPal withdrawals. Before posting a withdrawal request, you need to have at least $30 Italki credits in the wallet.
Preply
Again, straightforwardness is the main point when arguing about ways to sign up as a tutor. The form offers three-way registration – via email, with Facebook, or with a Google account. Tutors have maximum flexibility to determine rates, schedules, and more.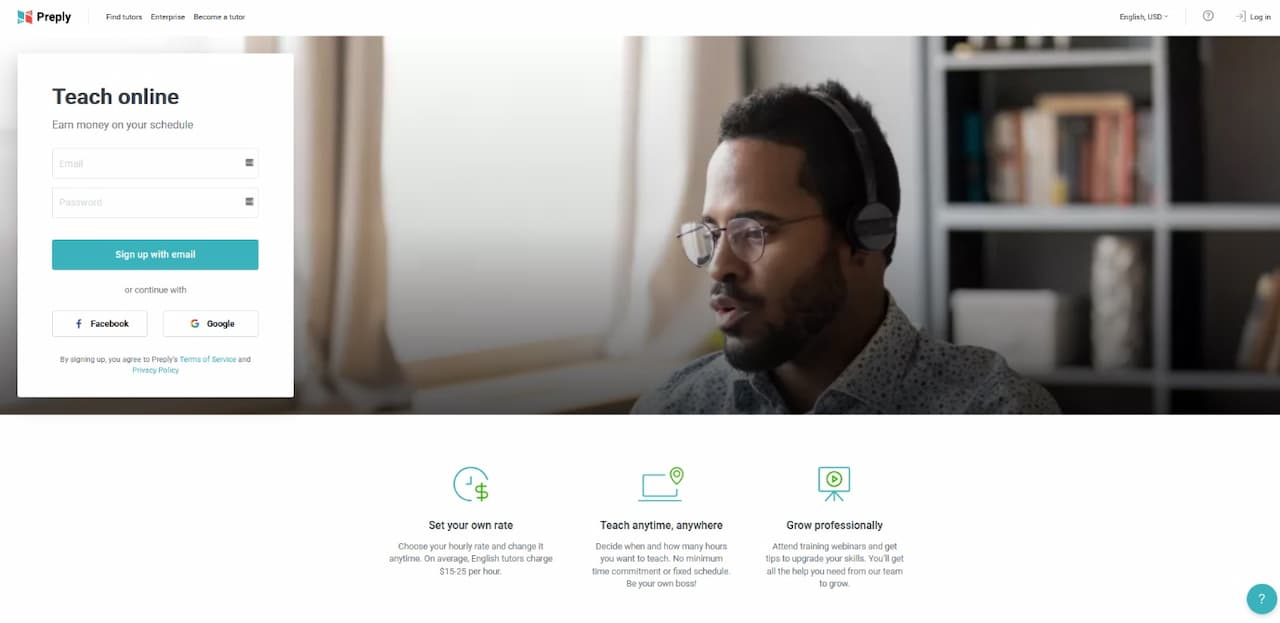 On average, an English tutor can earn between $15 and $25 per hour. The platform's functionality allows tutors to decide on their own when and how many hours they will dedicate to lessons.
Another useful option is to attend ongoing seminars and webinars, so you can grow professionally while offering services at the same time.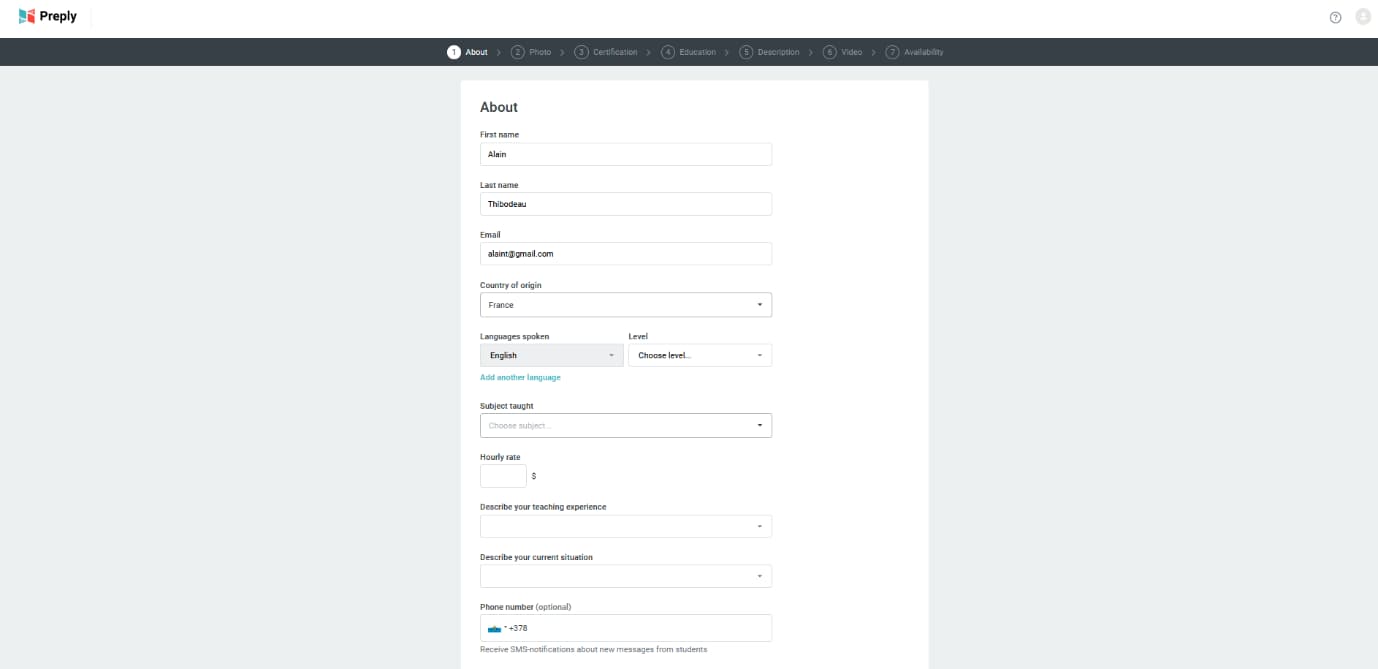 Up to this date, about 49.000 Preply tutors served more than 800.000 students from over 180 countries. To help them do the main purpose of being there, the site promises a steady stream of newcomers and a supportive tutor community.
As a teacher, you will benefit from a smart calendar, an interactive classroom, and an array of payment methods. Tutors can also improve their profile by entering required and additional information to help them position better on search and statistics pages.
While creating an account is free, teachers still must pay commission for the lessons they have taught. A trial lesson commission when you have a new student is 100%, while fees are smaller for all subsequent lessons. They start at 33% to eventually decrease to 18%, so the narrative is that the more hours you teach, the lower fees to the platform you'd have to pay.
Basically, for 0 to 20 hours, you'll be charged 33%, 21 to 50 hours have a fee of 28%, 51 to 200 have a 25% commission, 201 to 400 are 22%, while those with 400+ hours enjoy the smallest fee of 18%. According to our research, top tutors can take up to $550 per week.