In today's day and age, learning a new language is easier than ever thanks to the internet. There are so many online programs and platforms available that users are often confused about which one to go for. That is where comparisons like this one come into play as they help you find the best language learning app out there.
Today, we will compare HelloTalk and italki after using both platforms. Both of these enable people to learn a new language from the comfort of their homes. We have independent reviews of both HelloTalk and italki, if you want to find out more about each of these resources.
If you're weighing up language learning platforms, you may find the Memrise vs Mosalingua comparison insightful for a more in-depth understanding.
However, for this comparison, we will go over everything from the pricing to the teaching style of both to help you decide which one to choose. For those looking for a quick answer, HelloTalk helps you learn a new language by pairing you up with a native speaker of that language while italki connects language tutors with learners online.
Let's get into some detail about HelloTalk vs italki now.
Key Features of Platforms for Learning
HelloTalk
HelloTalk takes language learning in a new direction by pairing up native speakers who want to learn each other's language. This idea of having language exchange partners makes HelloTalk quite an exciting way to learn. You will be able to not only speak with other people but also make friends with them over time.
Another thing we found very helpful with HelloTalk is that there is no commitment. You are free to visit the app whenever you feel like it instead of sticking to a strict schedule. Learn whenever you want, wherever you want. This is one of the biggest points of difference when talking about italki vs HelloTalk.
To help students talk with one another, HelloTalk also uses built-in tools that can help translate. We found this to be very helpful when talking with partners with whom we did not have much of a language overlap.
So, the main premise of HelloTalk is that students can talk to each other in their native tongues and learn in a flexible manner without any tutoring.
italki
italki is very different from HelloTalk. It pairs students with teachers based on what the learners are looking for. There are plenty of teachers to choose from, whether you want someone young with low rates or a seasoned professional who charges more. This kind of variety lets students find exactly the kind of help they need.
The platform has teachers even for uncommon languages. Even though this app offers more structured lessons than HelloTalk, there is still a level of flexibility for the learners to schedule their lessons based on their free time. If your teacher cannot accommodate your schedule, you can always look for another one who is available when you are.
italki also has some Community Features that make learning languages easier. These provide access to various exercises and questions. You can ask questions and get important feedback from others using the platform. There are even free exchange partners who can help you practice.
Pricing Comparison
Pricing is an important factor to consider when choosing between HelloTalk or italki. While one offers an optional subscription, the other offers wildly variable pricing simply because of how it's structured.
HelloTalk
If you stick with its basic features, HelloTalk is free. This puts it in a different category than italki right away. There are limitations when you use the app for free though, like how many language partners you can connect with per day and how many translations you can get. You can also access the platform's audio lessons for free during a trial period. Once the period ends, you will have to pay.
To completely unlock the app, you can get a VIP subscription. This will let you connect with a maximum of 25 new language partners that you can filter by gender and other aspects. You will also get rid of all the ads and get access to unlimited translations. HelloTalk's VIP subscription costs $4.99 per month.
If you commit to a full year, you will pay $2.17 per year which is very affordable. And if you don't want to mess around with subscriptions, there's also a lifetime access option that can be purchased for $124.99.
italki
Since italki has individual tutors available that you can essentially hire, the prices on the platform vary a lot. You may find a tutor willing to teach you for $4 an hour to one that charges around $60 an hour. You can pick and choose who you wish to study with depending on a variety of factors like experience and teaching style.
On average though, you can expect to pay around $10 per hour. For our avid readers, we have a unique promo code for this app that will knock $5 off of your price. Use the code edureviewer5 when checking out to get your special discount.
Quality of Tutors and Value for Money
Choosing between italki or HelloTalk is highly dependent on what kind of teaching you actually get for the money paid. Is it better to learn from native speakers by interacting with them or from experienced tutors?
HelloTalk
The experience of using HelloTalk for language learning depends almost entirely on what kind of a partner you find. If you connect with someone who is patient, helpful, and enthusiastic, you will likely have great time. That's because you will just be talking to them and learning the language as you go.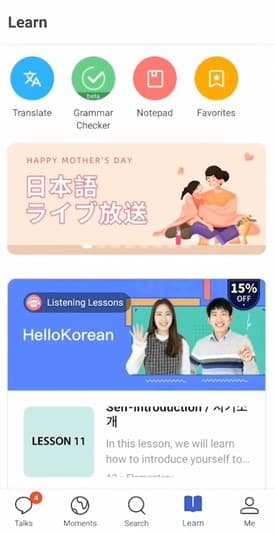 The application has four different sections. These are labeled Search, Talks, Moments, and Learn. Once you search for a speaker, you can start talking with them in the Talks section. This looks like an instant messenger with various tools built-in to help you communicate in an unknown language.
Learners can long-press on a message to access a toolbar which can help them translate their partner's message or hear an audio of the message. If you are talking in the role of the tutor, you also have the ability to edit the learner's messages if they make a mistake. This is pretty much how the app works, so it relies a lot on who you connect with.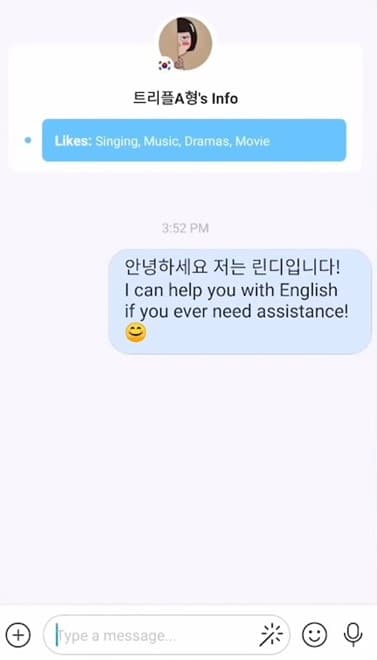 The Learn category of the app has audio lessons in 10 languages. You can try these lessons for free and then pay for them if you want to unlock them further. All these are different in their structure as they were developed by partners of HelloTalk.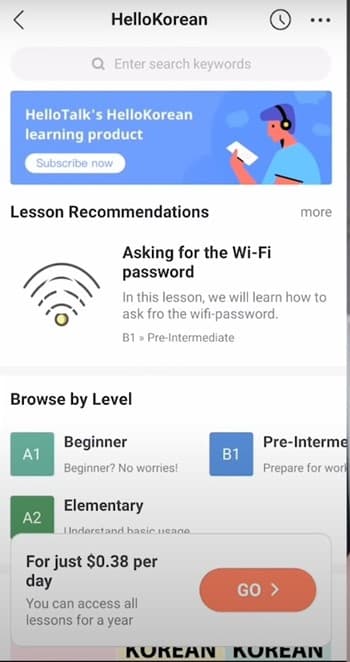 As for value for money, the free version of the app is very good value since you can practice as much as you want. The audio lessons might not be worth it, though. The main use of HelloTalk should be to practice with native speakers while you use alternatives to get some practical lessons for your chosen language.
Italki
italki lets you take classes with tutors from all over the world. It hosts tutors of over 100 languages so you can learn both common languages and uncommon ones. The first step with italki is to search for a tutor who fits your needs.
You can filter them based on their country, age range, and more. There are two kinds of teachers on italki. These are Professional Teachers and Community Tutors.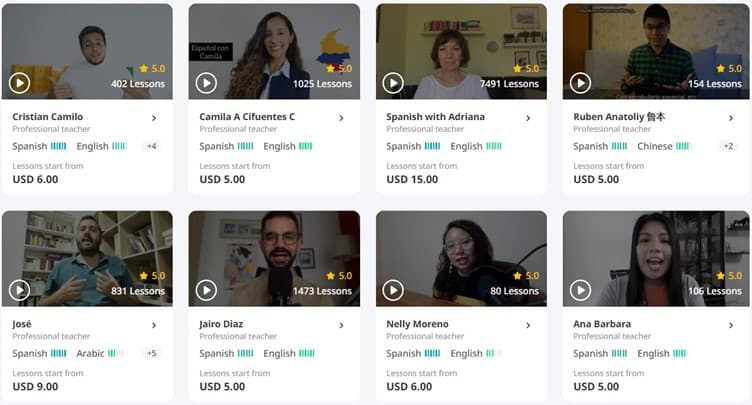 Professional teachers are verified by italki while community teachers are not. Professional tutors either possess a higher degree in education or have professional experience in teaching. Community tutors, on the other hand, may be native speakers or know your chosen language at an advanced level.
No matter which kind of tutor you go for, italki lets you see their background, availability, and the number of lessons they've taught previously. You can even see a written or a video introduction from them.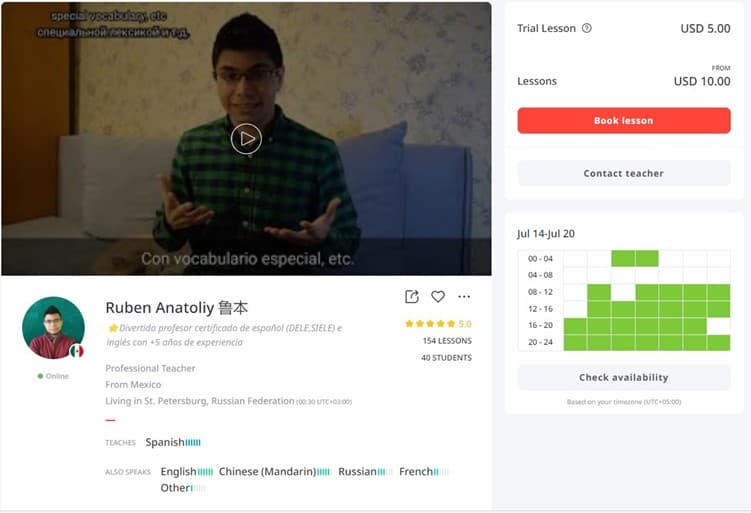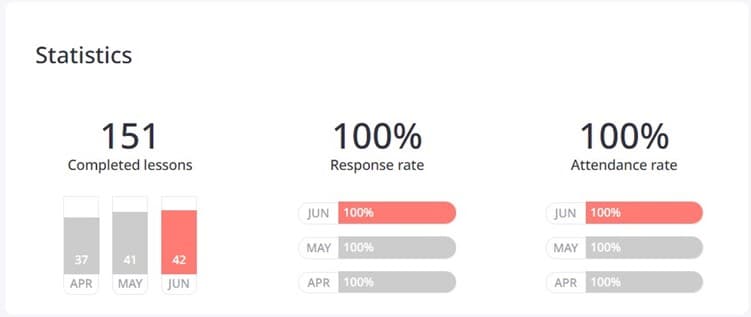 As for the method of teaching, it can vary a lot from teacher to teacher. Some may be very flexible while others may prefer a structured approach. This is something you can discuss with your tutor before hiring them.
Overall, italki provides very good value for money because the teachers you find here are usually much less expensive than those you'd find in physical schools.
To ensure you choose the right platform for learning a language, reading through Outschool reviews can provide insights into the platform's course offerings, tutor quality, and student experiences.
You might also find someone very experience and highly qualified who doesn't charge too much. And since the classes take place online, you don't have any additional charges associated with commuting, etc. either.
Main Disadvantages of the Platforms
Any good italki vs HelloTalk review should lay out both pros and cons of each platform. We have already talked about what makes them both great at what they do. Now, let's talk about what could be better in each.
HelloTalk

Since it relies so much on natural language exchange, your experience will depend almost entirely on what kind of partners you are able to find. Some can be impatient while others can be unhelpful.
The audio lessons don't provide very good value for money so it might be better to skip spending money on them.
The built-in translations can often feel robotic and unnatural. On top of that, learners can make a habit of relying too much on them instead of putting real effort into learning a language.
italki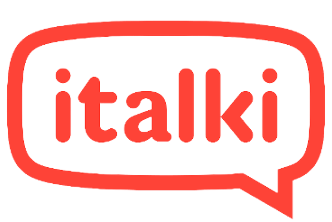 Pricing can be all over the place, making it confusing to figure out which tutor is offering good value for money.
Not every teacher will fit your style of learning. This means that you'll have to spend some time trying different tutors out before finding the one who fits your preferences.
The classes are scheduled individually which makes the experience more tiring than it needs to be.
Overall Comparison Table
HelloTalk
italki
Mode of Learning
·         Highly flexible

·         Via social interaction with native speakers of the language you wish to learn.

·         Mostly structured

·         Via tutors who are experienced in teaching languages.

Additional Resources
·         Translation Tools

·         Audio Lessons

·         Community Tools like exercises and questions

·         Free Exchange Partners

Type of Tutors
Native English speakers who may or may not have any professional experience.
Professional tutors with professional experience or community tutors with native or very advanced language skills.
Quality Guarantee
None, since the people you will be paired with, will likely be like yourself.
Professional tutors are all verified by the platform.
Pricing
Free or VIP subscription from $2.17 per month.
Variable but averaging around $10 per hour.
italki vs HelloTalk for Teachers
Now that we've gone over italki vs HelloTalk from a student's point of view, what about italki vs HelloTalk as a tutor?
Italki
Since italki connects independent teachers with students, the teachers get to set their own rates. They can charge way too much or way too little depending on what they want. In this way, it is a very flexible and open platform where you can charge whatever you want. Going by teacher reviews who use the platform, it is very easy to use.
The website charges teachers 15% of what they make which is quite good when compared to other alternatives. Teachers also have the freedom to offer cheap trial classes that usually last for about 30 minutes. They can also use a 24-hour cancellation policy in which a student can cancel a class if they don't feel it's the right one for them.


The most common complaints by teachers on italki are:
There aren't enough students on the platform and there are too many teachers. Therefore, it is hard to make a decent wage. Because of this, you probably shouldn't consider italki as your main source of income.
Many students try to get out of making payments even with cancellation policies in place. The good thing here is that italki seems to care enough about the teachers to ensure they get paid.
HelloTalk
Because there are no professional teachers being hired on HelloTalk, essentially everyone using the app can be a tutor. The app is also free for basic use so there are no charges for teaching someone how to speak your language.
The overall user reviews are quite positive for the app though. Users report the app as being very easy to use. Likeminded exchange partners are found easily too and the experience of learning a language on HelloTalk is described as fun and challenging.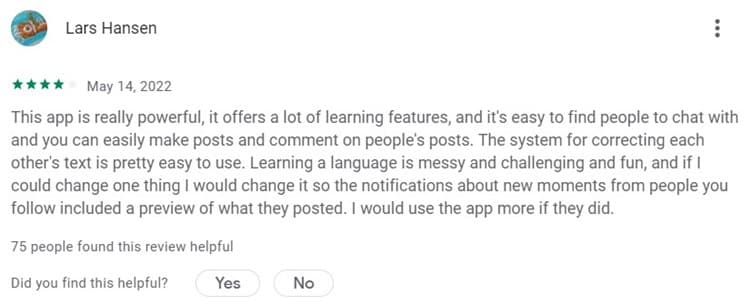 So, all in all, when it comes down to finding the best language learning app out there, either of HelloTalk or italki will do the job for you. You just need to decide which of the two appeals to you in terms of how language is taught/learned.
For complete flexibility and a very casual experience, go with HelloTalk. For a much more structured and formal experience for a small price, go with italki.