I have had lots of experience using learning web platforms as an online student. For this reason, I can say that reviewing one would be easy as I'll know what to look out for.
More importantly, I have had to engage kids for long periods. It was during this time that I first encountered Outschool.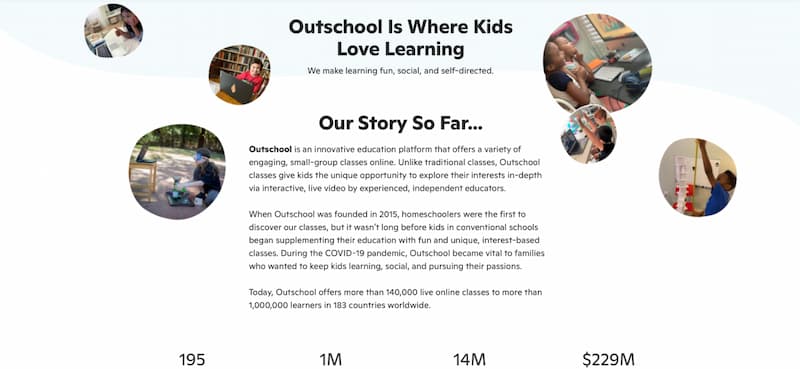 In trying to review any online learning site properly, there are several criteria I consider. They include:
Quality: I look into the learning process on the platform. Are the teachers qualified? Are the lessons on par with expectations? What is the coaching style?
Features: I consider the services learners can access on Outschool. These include live classes, one-on-one lessons, and recorded lessons. What is the class size on this platform? Is the website user-friendly?
Value for money: Prices are often high on online learning platforms. I would look into the payment range. Are Outschool.com prices affordable? Do students get value compared to the price points? Is the investment worth it?
Feedback: I consider users' feedback and testimonials on their Outschool experiences. Were they satisfied with the service?
I would review all these features to ensure every reader gets a good view of what learning on Outschool entails.
Outschool Features that Make Them Stand Out
Outschool is a great option for most kids because the lessons and learning paths are accommodating. There are a ton of tutorial sites that cater to youngsters. So, what sets Outschool apart? Why should you go for this learning platform over others?
Outschool began operations in 2015, but users skyrocketed in 2020. Since then, the platform has transformed lives, keeping kids busy learning. Outschool is an incredible addition to learning whether your kid is homeschooled. In this section of my Outschool review, I'll detail the most significant features Outschool offers.
Personalized Learning
Outschool mainly uses a live model for its classes. This means that students can get complete attention from their tutors and receive assistance once needed. The learning platform also considers class sizes.
It can be very difficult to manage a big class physically, so why do tutors think they can handle huge online classes? Their attention to class sizes might be my favourite feature yet. The most number of learners I found in any class was fifteen for their fun time, pre-K classes.

On average, learners are about 3 to 6, which is my sweet spot. Kids can get a personalized learning experience while interacting and engaging with their peers. There are also options for one-on-one classes for those who need private tutoring.
Accessibility
Parents looking to engage all their kids would find what they require at Outschool. When my nieces and nephews spent time with me, Outschool came to the rescue. It would have otherwise been difficult to manage a full-time remote job with two tweens and a teenager.
I found classes that suited them and aligned with their interests easily! Darla, who was eight years old then, even discovered a love for crocheting, and she's been honing her skills with Outschool. I also convinced my 15-year-old nephew to take coding classes which he loved.

One interesting thing from my experience is that finding these classes wasn't difficult. I wasn't about to waste money going through different classes to find what they would enjoy.
Here's what I did instead:
I looked through the popular classes based on their ages and noted the ones that offered some longevity.
I found short classes on YouTube and put them up to watch them. If you wonder why I didn't stick with YouTube, the answer is simple. I needed personalized tutoring. I wanted someone to hold their hands and guide them through the learning process, and I got that with Outschool.
Then, I looked through the ratings for several classes and picked the ones with the best reviews of Outschool. You should know that it took more than one try. But at $8 per week, I felt it was a steal.
Quality
Outschool stands out to me compared to all the other learning platforms I tried. They take pride in providing a remarkable experience for all learners on their site. With over 10,000 teachers and at least 140,000 classes, I have no reason to discredit this claim.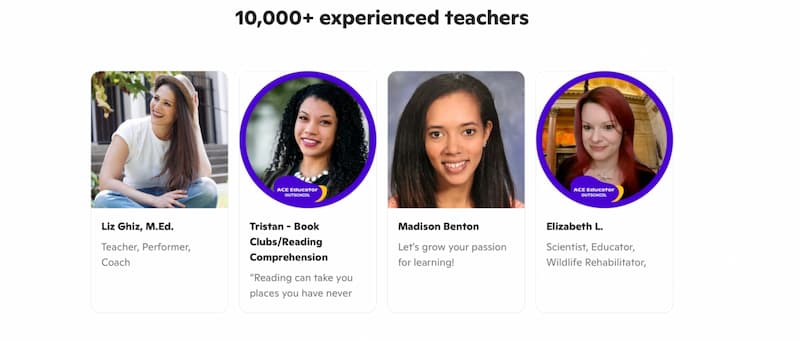 The tutors on this platform are not necessarily degree or diploma holders. Yet, they are thoroughly vetted before being accepted to tutor learners. Before you get flustered about the lack of degrees, I'll point out a few things. Outschool supports tutorials of all kinds.
So, you'll find lessons from STEM-related topics to arts and crafts or social constructs. You will likely find at least one lesson on any topic you need. I don't know about you, but I'd rather put my kids up to broaden their horizons this way.
Now, let me go into the factors that shove how high-quality this platform is in my face.
Tailors Experiences
At Outschool, the focus is on delivering personalized learning experiences. The platform boasts a team of passionate and knowledgeable educators dedicated to creating engaging classes catering to different learning styles and interests.
These experts come from a variety of backgrounds and possess extensive subject knowledge. With their guidance, you can rest assured that your kids receive high-quality instruction tailored to their learning needs.
Customer Centric
With Outschool, your satisfaction matters. The platform puts its customers at the forefront by adopting a customer-centric approach. They understand the importance of providing a seamless and satisfactory learning experience.
If you encounter any issues or have questions, Outschool's support team can assist you. Their friendly responses ensure that you feel supported throughout your learning journey, further enhancing the overall quality of your experience.
Ease of Access
One of the standout features of Outschool is its user-friendly interface, making it easy for students and parents to navigate the platform. With just a few clicks, you can browse the wide array of classes and select the ones that pique your interest.
Outschool is accessible on PC and mobile. Incredibly, their website has no downtimes or lags, irrespective of the device you use. The platform's intuitive design ensures a smooth and hassle-free learning experience, allowing you to focus on the content and engage fully in the class.
Compared to Outschool alternatives, the platform excels in delivering quality learning experiences tailored to every learner's needs. With a team of experts, a customer-centric approach, and a user-friendly platform, Outschool ensures an exceptional educational journey.
Check out the table below for a comparison with other websites like Outschool.
| | | | |
| --- | --- | --- | --- |
| Platform | Prices | Quality | Value |
| Outschool | Competitive prices are as low as $4, depending on the tutor and course. Prices are per lesson. | Lessons are from experienced tutors who are experts who enjoy their subject. | Unique classes that are personified. |
| Wyzant | Tutors charge an average of $35 to $80 hourly. There is also a 9% service fee. | Tutors are vetted before being accepted on the platform. | Personified learning in subject areas. |
| Varsity Tutors | Affordable prices with a monthly subscription model. | A diverse pool of experienced tutors. | Impressive value with access to lots of material. |
| Tutor.com | Flexible pricing options based on student level. | Expert tutors and exceptional support for learners. | Access to a huge library of learning materials. |
Pricing of the Classes
The first thing to note is that Outschool does not have a fixed price point. This may be a top reason why it is preferred among parents. Teachers can set their preferred Outschool cost allowing learners to find classes within their range. Classes typically range from $4 to about $100, depending on the class type and other factors.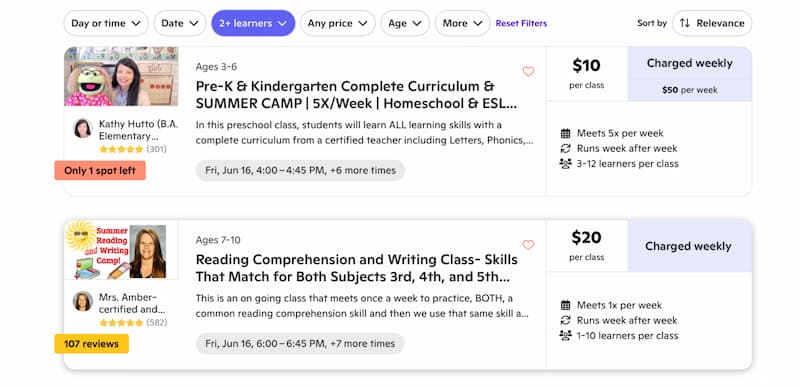 Payment Options
Outschool is a predominantly American company; classes are priced in USD. If you are outside the US, you can view prices in GBP, EUR, CAD, JPY, KRW, or AUD. Head to your profile, update your regional settings, and change your currency. I told you they try to make the experience amazing!
Payments on this site are processed through a payment provider, Stripe. This provider accepts major credit and debit cards. MacOS and iOS users can also opt to use Apple Pay to complete their payments.
Refund Policy
Outschool is committed to satisfaction. As such, the platform offers refunds. Their refund policy is somewhat complex, but you will often get your money back if your case is eligible. Here's what you need to know:
100% satisfaction guarantee: High-quality classes are paramount for this learning company. You can reach out to customer support if you encounter any issues. It may take up to a week to get a response, though.
Eligibility for refunds: Refunds are available for most classes, subject to certain conditions. These conditions may include timely cancellation and adherence to class-specific refund policies.
Cancellation and rescheduling: If a class is canceled or rescheduled by the instructor or Outschool, you will be eligible for a full refund or the option to reschedule.
Easy refund process: Requesting a refund is simple. Reach out to the support team, provide the necessary details, and they will guide you on how to get your money back.
Value for Money
I understand how crucial it is to find quality education that doesn't break the bank. I can say Outschool helped me save tons of money I would have spent keeping the kids entertained on my own. Trust me, this is where the magic happens!
It is Worth the Price
Outschool offers exceptional value for the money invested. You will get more than classes on this platform; your kids will unlock a world of learning opportunities.
Outschool prices are competitive, so families can access quality education accessible across different budgets. Your kids can also choose from many classes covering various subjects and interests. Whether it's art and crafts, science and maths, or languages, you'll find options that align with your child's passions and learning goals.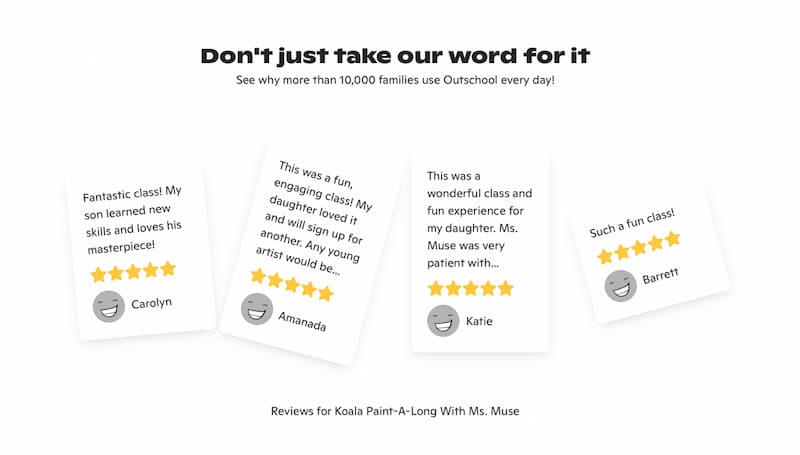 The classes are taught by experienced instructors who are passionate about their subjects. My favourite part is the small student-to-teacher ratio, ensuring personalized attention. Kids would also be able to foster meaningful connections with their peers.
It is Incredibly Valuable and Helpful
Outschool's value extends beyond the price tag. This learning platform truly provides numerous benefits for your child's educational journey.
The classes are designed to cater to individual interests, learning styles, and abilities. Your child can explore their passions, delve deeper into subjects they love, and discover new areas of interest. Outschool's classes impart knowledge and foster invaluable skills that lay the foundation for lifelong learning.
Most importantly, the classes are designed to be fun and engaging. Tutors use interactive methods such as discussions, hands-on activities, and multimedia resources. This keeps your child actively involved in the learning process.
I love that they aid personal growth by fostering independence, confidence, and self-expression. Your child will be able to collaborate with peers, express their ideas, and gain a sense of accomplishment.
I have witnessed kids flourish and grow through their Outschool classes. The interactive and engaging nature of the courses keeps them excited about learning. They're not just gaining knowledge; they're developing essential skills such as critical thinking, problem-solving, and communication.
Student Feedback & Reputation
When searching for a platform to keep the kids busy, I found that Outschool reviews by users were a great place to start. Others who have used Outschool's service had exciting stuff to say.
For starters, I must point out that their support staff always respond to Outschool.com reviews on Trustpilot.
However, this takes at least a week. With this, I recommend Outschool looks into their customer service.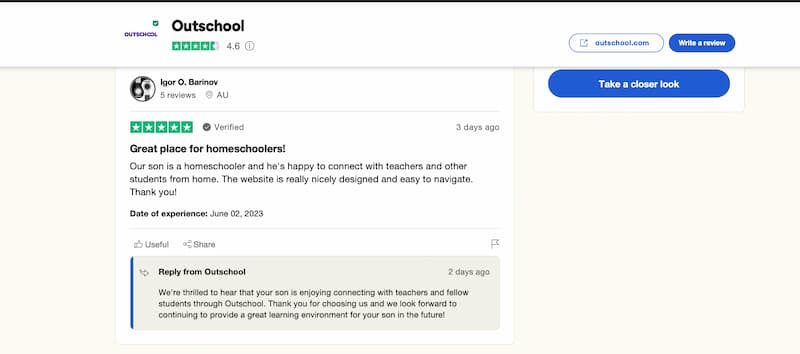 Most of the reviews I came across on TrustPilot were positive. Parents praised the learning experiences their kids had. Some even gushed about their kids' excitement following the classes.
This shows that Outschool is a trustworthy platform for online out-of-school learning. The brand has 4.6 out of 5 stars on TrustPilot. This rating is based on about 2,100 reviews.
Parents were particularly impressed by the teachers' attention to detail and ability to carry the classes. They loved the small class sizes because it ensured their kids would not be ignored. Reviews mention easily accessed refunds, and rules were followed to the T.
Parents also loved that they could communicate with the teachers when needed. The feedback was specially tailored to extracurricular activities.
For the TrustPilot reviews, 86% of reviewers rated Outschool 5 stars. This feedback shows just how well the company has impressed its users. The testimonials show that Outschool is a great resource for home learners.
The main features that stood out in these reviews were the small class sizes and the ease of learning due to the teachers' style.
The Recap: Is Outschool Good?
Outschool is an excellent company for learning online. What I love most about this brand is its attention to detail.
We all know how difficult it is to keep kids entertained for long periods, but they seem to have hacked it. The lessons on the site not only act as distractions; they also impart knowledge and skills.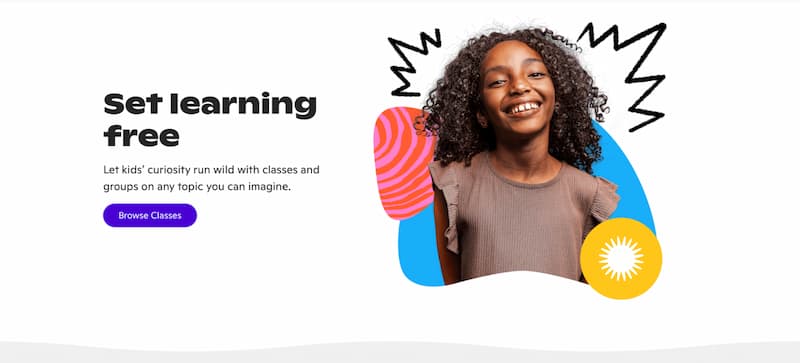 I've found immense value in the convenience and flexibility of Outschool's online platform. No more rushing to physical locations or juggling hectic schedules.
Outschool brings the learning directly to your home, giving your child the freedom to explore their passions and interests in a safe and comfortable environment. You can trust that I put my sister onto this platform when her kids left my home.
Below is a comprehensive conclusion to my Outschool.com review to help you understand why I recommend this platform.
Pros
Huge library: Outschool offers many online classes for kids.
Tailored classes: The classes available on the site are categorized beautifully.
Large teaching base: This site has over 10,000 vetted teachers, so you can switch lessons if you prefer a different teaching style.
Easy navigation: The platform is structured so that everything sits in the right place.
Filters: You can search for lessons with several filters, which makes searches even easier than you will find on most platforms.
Money-back guarantee: You can get a refund if necessary, but I doubt it'll be necessary.
Accessible reviews: Lesson reviews are available for learners to view on the site.
Cons
Not all teachers on the site are stellar. You may encounter lessons that aren't up to par or do not meet your expectations.
There are a few complaints about Outschool's customer service. You may not encounter any problems, but the replies might be slow if you do.
The classes are priced differently by teachers. The price filter uses a $10 range ($10 or less, $20 or less).
FAQ
1. Is Outschool saturated?
No. Outschool is extremely popular, and the company continues to expand its reach. They offer a diverse range of unique, common, and specialized classes.
2. Is Outschool an American company?
Yes, Outschool is an American brand with headquarters in San Fransico, California. It is co-founded and managed by Amir Nathoo. The company caters to international markets, including Asia, Australia, and the United Kingdom.
3. What classes are popular at Outschool?
This depends on the age range of the child in question. I found that younger kids aged 3 to 9 are all for reading, language, and spelling classes. Older kids between ages 10 and 18 are more into coding, STEM, creative, and social skills lessons.
4. What are the benefits of Outschool?
Learners at Outschool can enjoy several benefits. They include access to a wide selection of classes taken by excellent qualified tutors. There is also flexible scheduling and the chance to explore niche or specialized subjects.
5. How much is Outschool worth?
Outschool's model allows users to sign up for free. But from my experience and other user reviews, I've noted that their classes go as low as $4. On average, lessons on Outschool.com cost about $10.