It can be difficult to keep our kids engaged, especially with the rising need to sift through the content available on the internet. But what if I told you that technological advancements have made this easier?
From the lockdown till now, I have been able to engage my kids without worrying about their intellectual and cognitive progress. Let me put you onto one of my favorite platforms for growing kids in the toddler to adolescent age group.
ABCya is a superb platform that provides educational games and activities designed to enhance pre-K to sixth graders. On this platform, parents and teachers will find resources covering Math, English, and the basic sciences. That's not all! You will have access to Printables and fun games that boost different aspects of a kid's abilities.
In this ABCya review, I aim to cover all areas concerning this platform, including how it can help develop a child. To put it in perspective, I'll share my experiences with the application.
For better understanding, I will use certain criteria to evaluate this online learning service. They include:
Features;
Quality;
Prices;
Website Usability;
Value for Money;
Students' Feedback;
Guarantees.
You can navigate through these points on all of our reviews using the bar above with the table of contents.
Basic Feature on the ABCya Online Learning Platform
My review of this online learning service will be structured in bits to help my readers get the best glimpse of an experience on the platform. The first section would be the features of this platform.
I'll describe my experience, pinpointing the specifics that stood out and kept me a paying subscriber and my kids active users. Let me take you over the registration process.
Creating an ABCya Account
To use the ABCya platform, you'll first have to create an account. I found registering for this learning service relatively easy. Using my PC, I visited the website on my Google Chrome browser. I tapped the login button at the far right and found the option to register a new account.
First, I had to pick a subscription option; I'll advise you to opt for "free subscriber" while you get the hang of the website. I only needed to enter a little information, including my full name, email address, and password. It was also necessary to enter my date of birth towards the end.
Navigating the Platform
After creating an account, I could search for games on the platform or find activities based on three options: Standards, Games, and Printables. Using Standards, activities are separated into levels. The levels are categorized as follows;
Grade K.
Grade 1.
Grade 2.
Grade 3.
Grade 4.
Grade 5.
Grade 6.
Each level is further categorized into the following, with some having all three and others having two;
English Language Arts.
Mathematics.
Next Generation Science Standards.
Under each sub-category, you'll find more and more categories properly arranged to help you get the best experience.
Sorting by Games, you'll find exciting titles with the user levels indicated below. Most games have different levels you can select from, increasing the difficulty for your older kids.
From Printables, parents can download instructional materials for their kids, all differentiated by user level. The Printables are differentiated into;
Coloring Pages.
Activity Pages.
Worksheets.
Teacher Resources.
Parents and teachers can also search for specific Printables. However, most options under the feature are available to premium account users.
Is ABCya a Good Educational Tool?
Many of the games and activities on ABCya align with several Common Core Standards. With this feature, the platform is a great resource to supplement a standards-aligned program. Many homeschoolers and kids in the right grades would benefit from the program. The activities are not tasking or drilling; they are fun and enjoyable.
Through practice, kids could hone their skills on ABCya and still have fun. Kids who enjoy video games would love the gamification features of this online tutoring service. The site is effective and self-paced, and it has a smooth interface and instructional features that make it easy for kids to use without serious bouts of supervision.
Quality of Learning
In 2018, IXL Learning acquired ABCya and has since led the platform forward to develop exciting games and English learning apps that foster integrated learning for kids. ABCya stands out with impressive features like gamified learning and printable worksheets. One feature I don't like about this platform is the lack of real-time help.
There are no online tutors or properly structured plans for kids to follow, but I guess for the price point, the deal is still relatively fair. You must guide your kids on using the app or website on a desktop. My five-year-old got the hang of it quickly.
If you are expecting real-time tutoring, then I'll have to stop you in your tracks. The platform is primarily a way for kids to pass the time. Think of it as a recreational platform, except that your kids will get some educational value out of it. I also did not like the lack of guarantees.
Unlike other similar sites, ABCya has no money-back guarantee. If you are unsatisfied with the service, consider your money gone. This is why I recommend trying the free version first. It is explicitly stated on the site that there is no refund after a subscription has been made. This is one area I wish they would improve on.
Also, there is no way to track or save a user's progress, nor is there an assessment center. These factors further inform my verdict that ABCya is predominantly a recreational app rather than language learning app like Mosalingua or Memrise.
I have compared it with two other similar apps in the table below. You can use this ABCya review vs ABCMouse to determine whether ABCya meets your requirements.
| | | | |
| --- | --- | --- | --- |
| Features | ABCya | Thinkster Math | ABCMouse |
| Plans | 4 | 3 | 1 |
| Prices | $9.99+ | $75+ | $12.99 |
| Subscription | Monthly, Six months, Yearly | Monthly | Monthly |
| Feature | Games & Printables | Live tutoring and self-paced learning | Different learning styles plus gamification |
| Devices | Up to 5 for Premium Family | – | Up to 3 |
| Ages | Pre-K – Grade 6+ | Pre-K – Grade 12 | 2 to 8 |
| Subjects | English, Maths, Sciences | Maths | Maths, Reading & Language, Art, Sciences |
| Device | Mobile App & Desktop Browser | Mobile App & Desktop Browser | Mobile App & Desktop Browser |
| Study Plan | None | Custom and personalized learning | Paid assessment center |
| Payback Guarantee | No | Yes | Yes |
Pricing of Games
As I mentioned earlier in this review, one of my favorite features of ABCya is its free subscription. While getting my kids acquainted with the software, I could subscribe for free and still get a pretty good deal.
This meant my kids could try out the games on the platform for free without a commitment. I would have been bummed if they didn't enjoy the games because I'd have lost money.
For the first week, we played for free. I should mention the limitations that came with a free account. While ABCya allows you to remain a free subscriber for as long as you please, you won't get access to all the features.
For one, we could only join with one device. This caused a little commotion as my kids had to take turns or share; you can only imagine how that went down!
We could only access six games every week and save three to favorites. After that first week, I saw how much impact ABCya was making on the kids and chose to subscribe to premium.
As a parent, you can subscribe to Premium Family for a fair token. You get three options, depending on whether you want a monthly, yearly, or six-month plan. Irrespective of your option, you'll get the full outfit, which offers great value for your money.
The three payment options are;
Monthly subscription: $9.99 billed monthly;
Six-month subscription: $7.50 monthly, billed $44.99 once every six months;
Yearly subscription: $5.83 monthly, billed $69.99 once every twelve months.
I opted for the six-month plan, and I must say it paid off. Before I forget, I thoroughly enjoyed the added benefit of extra screens in the premium package. With a single account, I could sign in on three devices, stopping the ABCya wars in my home. You can access up to five devices, irrespective of the payment option.
Two more options exist, but I believe they are tailored to teachers and schools, as their names suggest. With a yearly payment of $25 monthly, billed $299.99 once every twelve months, you get access to a Premium Classroom subscription.
The perks are the same as any Premium Family subscription, with one added benefit. A single account can be operated on up to thirty devices! The same perks apply to the Premium School Plan, except that it allows an unlimited number of devices for a payment of $166.67 monthly, billed $1,999.99 once every twelve months.
Is ABCya Worth the Money?
Now that you know the features of the ABCya platform and the different subscription plans, you may wonder if it is worth it. By comparing the features and my experiences, you should already have your answer. Speaking honestly and from my point of view, I will answer in the affirmative. I thoroughly enjoyed what this learning service provided to me and my kids.
Here's a little secret: I'll sometimes get lost playing games like 2048 on this platform. It's not only for the kiddies; you also get to enjoy your money!
If you cannot see yourself paying your kids to use ABCya, that's fine. You may be able to manage the limited access for a while. The best part is that this platform does not restrict your access after a while.
You can continue using your free account for as long as you please! The added perks that come with a paid subscription stand out. It doesn't matter which of the four plans you pick; you'll get these benefits;
Complete access to games on mobile and desktop;
Game category control;
Full-screen gameplay;
Access to worksheets and other resources;
Unlimited favorite games;
Ad-free experience.
User Experience With Different Subscriptions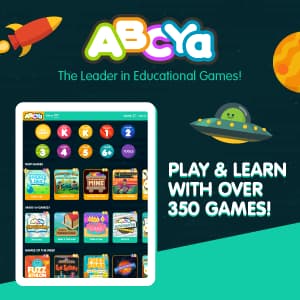 With the free account, your kids would often get interrupted by ads, which are necessary for the platform to keep its prices fair. Imagine being interrupted by your toddlers incessantly because ads pop up on the screen.
Another impressive add-on I truly enjoyed is the complete access to the mobile application. This option is only available to paid subscribers.
As I mentioned earlier, free users will have access to only six games weekly on their mobile devices and access to add only three to their favorites. While you can access the list of regular games on your desktop, I don't assume you'll be comfortable giving your toddler a PC. I know I wouldn't!
With the paid version, your kids will also be able to select a path, compared to the free version, which is somewhat all over the place.
From ABCya reviews, there are lots of complaints about the limited access to games for the free version. That says a lot about how much kids enjoy this platform and want more options to try out.
All things considered, the price point is extremely fair and affordable for the barrage of games and educational activities your kids can explore. With this learning platform, no questions asked, you'll get lots of value for your money.
User Experience and Help
Users may encounter issues even on the best websites, and ABCya is no different. I liked that they made provisions to deal with any issues as they arise. To seek assistance, tap on the "Help" tab from the homepage. You'll be sent to a detailed FAQs section, which stood out to me.
I liked how structured the different sections were, allowing users to easily get help when needed. The help section is divided into five categories, depending on what you require assistance with.
You'll find the following, complete with commonly asked questions and their answers:
General.
Subscription.
Technical.
Tools.
Apps.
Each section has about five FAQs, answering questions like "How do I cancel my subscription?" and "How does category control work." If you cannot find the information you need, use the "Contact Us" option in every section.
I didn't like that they did not provide an email or phone number, but you can submit your complaint and email address, and you should get a response in a short while.
Reputation and Student Reviews
In all its years of functionality, ABCya has strived to offer the best services to its users. With this in mind, you can expect that the platform's reputation is stellar and in check. Before deciding to use any online learning service, it is imperative to get feedback from other users.
From my reviews of such user reviews, I have come to learn a few pain points. The most recurring one is the grievance regarding the free account. Many users are annoyed that they have to pay to access more than six games weekly. I was fascinated that these reviews were mostly written by kids who use the platform!
Most of the complaints were related to the ABCya app review rather than the desktop version. Several users complained about the limited number of games available in the free version. Some other complaints were related to the unavailability of good ABCya games. Many claimed that the games were so fun, but there weren't enough.
A few users complained about late responses to their issues. Some also complained of glitches and login issues. Another recurring complaint about the fee was how high it was for parents with only one kid. Some asked for a grade-level plan rather than a family subscription.
On a lighter note, more users praised ABCya. Many were glad to have the service as it helped them to learn while enjoying fun gameplay. Several commented on the interesting features surrounding the use of the platform and how they could enjoy it both at home and in school, which is a plus for me.
Is ABCya safe? In my experience, neither I nor my kids have encountered any issues using this platform, both on mobile and desktop. I must point out that we use the paid version in my household, and more of the complaints came from free users.
My 11-year-old sometimes complains about the game library, wishing he had more titles to try out. In all, Some popular games I found from user reviews included Make an Animation (my 5-year-old's favorite), Adventure Man, and Bug Factory.
Pros
The mobile app is available on all smartphones and tablets, including Android, iPhones, and iPads.
Games are easily accessible and categorized by levels.
The desktop and mobile versions are easily navigable.
The paid version of ABCya is affordable.
Lots of printable materials help to reduce screen time.
Games and materials that are standard-aligned.
Cons
Although there is a free version, it is limited and has ads.
Parents must invest in the premium version to get good functionality on the mobile app.
There are no assessments or means of tracking progress.
Limited support on the platform for kids.
The platform requires an internet connection.
The Recap: Is ABCya Good?
From my experience and review of this company, I can say that ABCya is a great platform. One which I will recommend to anyone looking for a good online learning service for toddlers and adolescents. I think the subscription plans are affordable, and you will get incredible value for your money. You can even begin with the free plan to see what the platform offers.
Parents who are comfortable with their kids using the desktop can even stick to the free plan and still access hundreds of games and activities for free, with ads, of course. ABCya is safe to use for kids of all levels with minimal supervision.
FAQ
What are the pros and cons of ABCya?
ABCya offers incredible pros like free access to hundreds of games on PC. On the other hand, kids get no support on the platform. They'll need parents or teachers to guide them.
Is ABCya appropriate for kids?
Yes! ABCya is designed to cater to kids of different ages. You may need to provide some guidance to help your kids choose a path of the right games and activities, as levels differ for different ages.
What does ABCya cost?
Users can subscribe to get premium benefits. There are three available plans depending on your preference. $9.99 monthly, $44.99 every six months, and $69.99 yearly.
What age group is ABCya for?
This learning platform provides games for kids from Pre-K to Grade 6. While the age range for these classes differs, ABCya caters to ages 3 to 12.
Is ABCya free for students?
ABCya is free for the most part. However, users will need to use a paid subscription for added benefits. Schools can use the Premium Classroom package that allows up to 30 devices for $299.99 yearly or the Premium School Plan that allows unlimited devices for $1,999.99 yearly.
What are the benefits of ABCya?
The online learning service supports learning at home or in school with the aid of fun games and activities. You can also get printable, and the paid subscriptions are very affordable.