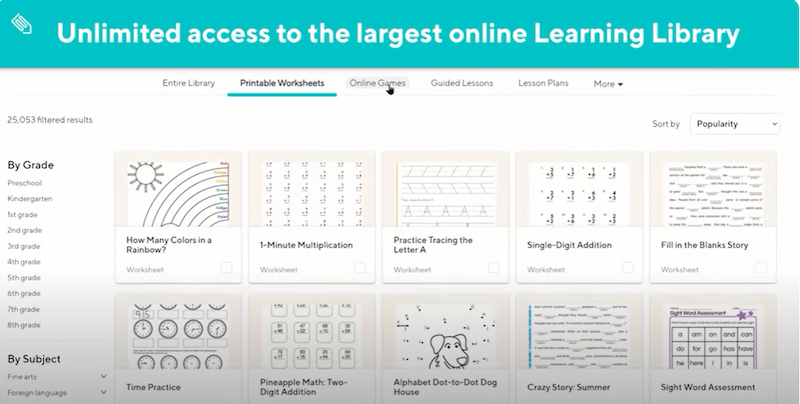 One of the earliest and most well-known websites offering a collection of academic resources is Education.com. The platform was established in 2006. The website states that it has over thirty-nine million subscribers, with an average of ten thousand new users signing up daily.
My experiments have shown that many platforms need more claims. Is Education.com safe and different from other platforms? You'll have a better understanding after reading our Education.com review.
Rules for reviewing academic providers:
My experience with different platforms tells me the difference between substandard and outstanding content.
I paid close attention to the features that every platform offers.
I compare the price to the value provided in my study.
Even if the platform has the best content, I will not consider using it when operating is not simple.
I will always ask myself if the learning website is worth my money and time.
I always consider my experiences since I tried them and understood their importance.
In my experience, reliable platforms provide guarantees, including privacy assurances and money-back.
Features of Education.com and My Opinions
Education.com is a good website filled with information, not just another teaching or tutoring website.
Having set its focus on teachers, tutors, parents, and students, it provides resources such as worksheets, interactive lessons, and learning games.
The site is a centralized location for all academic demands because of the outstanding diversity and quality of information, which guarantees that every academic style is met.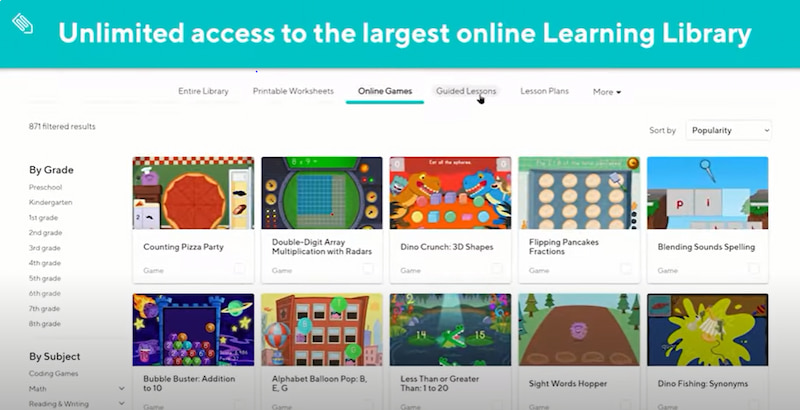 Who Will Benefit from This Platform?
Education.com offers learning materials for kids from preschool to eighth grade. These materials include foreign languages, science, social studies, fine arts, math, and reading and writing materials.
Adults, too, are included; the platform has lectures, stories, exercises, games, and other activities for adults. They also provide worksheets and printable workbooks for personal study.
Based on my experience, this platform is the best source for educators, adults, and elementary school kids looking for organized academic resources.
How does Education.com work?
After registering, users get access to learning materials. These consist of over twenty-five thousand printable worksheets, coloring pages, and teaching games. Both paid and free membership plans are available on the site.
What are the Key Features?
More than thirty-five thousand materials related to preschool through eighth-grade kids are available on this platform.
In addition to the abundance of information offered, joining the website will provide you with the following advantages:
A subscription system;
Progress Tracking System;
Learning materials related to Homeschooling.
Homeschooling Resources
Although Education.com also provides materials for teachers, parents who homeschool their children will find an extensive collection of resources tailored to this kind of instruction. A variety of activities (most especially games) are available that center on the parent-child bond and target youngsters who miss school.
A Subscription System
Many platforms have learning materials that bill you for every download and only provide a sample of the content; to view the whole text, you must pull out your payment card.
This platform is unlike other websites; you must pay a monthly subscription price. With the subscription approach, you can access their learning materials without incurring any more fees by making a single payment.
Although there isn't a free trial available, you can access three materials every month for free after you sign up.
Progress Tracker
You can evaluate the progress of your kid or your pupils' skills with the aid of the Progress Tracker on your dashboard, which you can access when you sign up for a personal account. This will enable you to determine how much time they have dedicated to every resource and whether any areas want improvement. The monitor:
Displays results categorized by skill.
Draws attention to issues that require improvement.
Suggest resources.
Demonstrates the amount of focus that must be placed on every pupil.
Quality of Education
Education.com offers vast resources. My experiments have shown that the platform boosts students' comprehension of many subjects, making studying more enjoyable.
Who Will Assist You? Who Are the Professionals and Owners?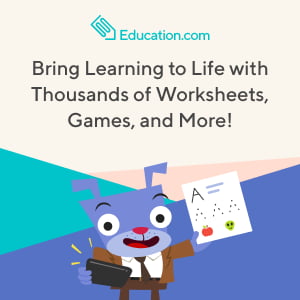 During my tests, I learned that committed educators and professionals support this platform. These folks form the core of the quality material accessible.
My experience with the website showed the continuous cooperation of experienced teachers, curriculum designers, guaranteeing that content stays current and delivered ideally.
Together, they have established a setting that encourages learning. Their support staff are also excellent—they are willing to help and show a dedication to learning.
Any Guarantees?
I tried their satisfaction guarantee, devoted to ensuring people are satisfied and pleased. Their support staff quickly responded to any issues I had during my inquiries.
How Is It Different from Other Brands Out There?
I tried and realized that Education.com provides a blend of engaging learning tools. My experiments have shown that it stands out with its many resources responding to various learning styles.
In What Ways Does It Surpass Other Platforms?
My experience with Chegg concentrated on higher education solutions, whereas Thinkster Math seemed more specialized. Below is a comparative analysis based on my study.
Cost and Enrollment
A free Basic membership on Education.com gives users entry to a restricted set of materials. Nevertheless, users can purchase a Premium membership with two price tiers to access the whole library of features and materials.
The monthly plan is $8.00, and the annual goal is $59.88, which equals $4.99 monthly.
The premium membership is an excellent option for those seeking all-inclusive educational help because it gives them unrestricted access to games, worksheets, lesson plans, and other materials.
Value for the Money at Education.com
According to my study, Education.com provides different features, tools, and materials for learning that are affordable, particularly when compared to other educational websites concerning the quality and features of the material.
Is it Worth the Price?
In my exploration of the site, I discovered it's filled with knowledgeable materials, active learning opportunities, and frequent updates, making it worth the cost.
How Do You Benefit From the Money You Pay?
Clients can access professionally created worksheets, lesson plans, stories, and games covering vast educational levels in exchange for a knowledgeable learning experience.
Does It Really Help?
Based on my experience, Education.com is very helpful. It helps students learn, remember, and apply topics better, making it easier to understand complex subjects quickly.
Reputation of Education.com and Student Feedback
Customer Service Support
Many Education.com website reviews feedback gave good recommendations for the Education.com support team. The team is considerate, kind, and always polite.
Some users said they were dedicated to answering questions, some also stressed how helpful the staff is, but some gave reviews about the customer service not responding to their aid.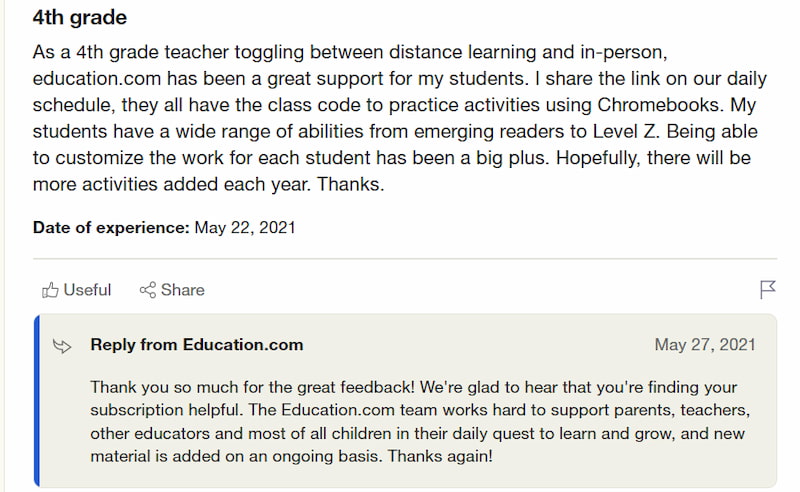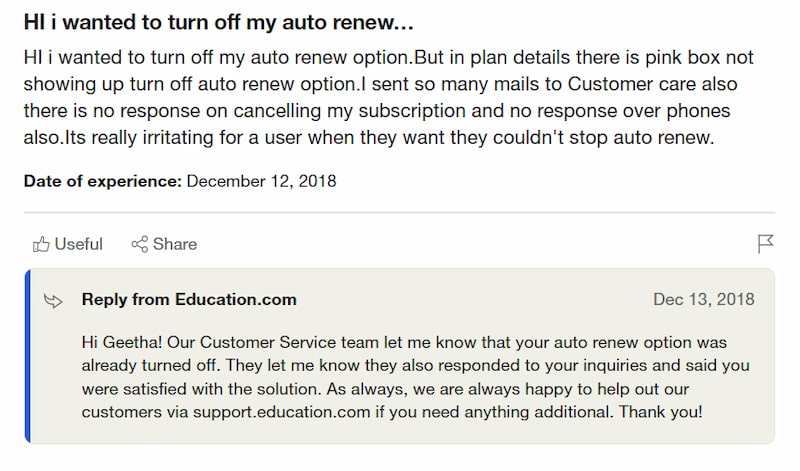 A user gave her feedback. She uses this website as a teaching tool while teaching adult students early childhood education at a proprietary institution.
She has been using this platform for about two years and loves it. Her students also gain from it because they can use the website to complete their teacher practicum.
She finds the interactive games very impressive. She pays for her access and has it set up for automatic payments. For her, it's a beneficial internet resource!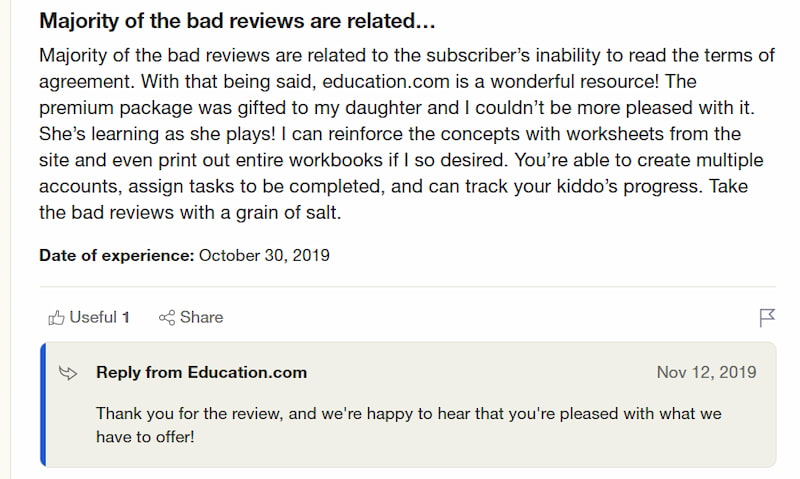 Another user also gave her feedback. Some reviews she read disappointed her. She said it is evident from the subscription pricing that the first month's charge is substantially less than the following ones. It also details how much the second month's membership will cost.
She thinks it's unjust to hold the firm accountable for a person's poor money management and bill-paying skills. The platform goes so far as to stipulate that the billing day, whether monthly or yearly, always stays the same. The following available date is charged if the specified date is not available.
Comparing My Experience
Though most comments reflect broad opinions, some individual experiences may differ. Having an open mind when reading these Education.com website reviews is essential because different people will have different experiences.
For example, a statement on the platform's user interface may be subjective; whereas one individual may find it simple to use, another may have difficulties. Despite this, the most actual viewpoint comes from personal research of the platform, even when reviews give insights.
Pros
Various materials are available on Education.com to accommodate multiple learning preferences and skill levels.
Kids of all ages can benefit from the platform since it is simple to use and operate.
The interactive puzzles and games add interest to learning.
For more practice, the downloadable worksheets are an excellent resource.
Kids can take classes at their convenience with guided lessons, which can be especially beneficial for those who struggle with learning.
Resources for parents and teachers are available on the platform to monitor development and offer further assistance.
Extensive collection of material.
Affordable.
Cons
Since the materials available on Education.com are intended for children ages 2 to 11, they might not be appropriate for older kids.
A few parents have mentioned experiencing technical issues using the site.
Some families might find the membership cost to be a bit pricey.
Maybe too much for beginners.
The Conclusion: Is Education.com Good?
Education.com is a complete online learning website providing a wealth of educational materials for young kids. The platform's guided lectures, games, and downloadable worksheets make it an ideal tool for parents wishing to improve their child's education—even though it might not be helpful for older kids. Although some families might consider the subscription cost a bit high, the platform's features and simplicity make it well worth the money spent.
FAQs
What is Education.com?
Education.com is a good website tool that offers instructors, parents, and students various subjects and grade levels of educational materials, including lesson plans, worksheets, games, and interactive exercises.
How Much is Education.com?
There are several price tiers available on Education.com, including free ones. There are monthly or annual subscription fees for premium memberships. The monthly plan is $8.00, and the yearly plan is $59.88, which equals $4.99 monthly.
Is Education.com Legit?
Yes, Education.com is a reliable source of educational materials for educators, parents, and students. It offers interactive online activities, lesson plans, and worksheets.
Who Made Education.com?
Todd Schwartz, Rich Yang, and Ronald Fortune launched Education.com in 2006 to give parents and teachers educational information and tools.