GRE or the Graduate Record Examination is a standardized test required to enroll in a graduate program in the USA or Canada. This internationally recognized exam is of two kinds: GRE Subject Test and GRE General Test.
The GRE Subject test focuses on a particular subject and should only be given when asked for by the institution.
The GRE General Test, on the other hand, is tested in Mathematics and English. The exam is divided into three sections: Analytical Writing, Quantitative Section, and Verbal Section. It costs $205 each time you give a test. The exam can be given in two unique ways, each with its structure: paper-based and computer-delivered approaches.
Unlike other standardized tests, there is no specific date to take the test. This convenient process can either be registered online, through phone, mail, or fax.
Comprising a total of 340 points (170 for Verbal Reasoning and 170 for the Quantitative section), there are multiple platforms available to help you get the perfect score.
This availability of multiple platforms can make it rather confusing for the test taker to choose a service to get the most benefit from.
Among many others, two of the leading choices of students to prepare for the GRE are Kaplan and Magoosh GRE Prep programs. These two programs have unique ways of providing their services and are considered one of the best prep for GRE online.
In this article, we will discuss further different aspects of Magoosh vs Kaplan for GRE so you can better judge them and invest accordingly.
Before we go further, Let's take a look at the Prep Scholar GRE review, mainly the review features it offers.
Magoosh vs. Kaplan GRE: General Overview
Kaplan and Magoosh are two companies that make unique and fun approaches to pave the journey to a perfect score. Along with the comparison between Magoosh vs Kaplan Self-paced courses, we will look into more detail of what else they have to offer.
We already made a comparison between Manhattan Prep vs Kaplan GRE, so if you are interested, check it out.

The Kaplan GRE offers multiple self-paced programs at different prices. The students have the freedom to either choose online or offline services based on their liking. They are known for their Rapid Review Live and Math Foundations along with an Advanced Math course too.
The Kaplan GRE program also offers its users the "Test Day Experience" which lets them take an exam in a feel-real setting.
Magoosh GRE program has the self-paced Prep program at different prices too. You can also hire a private tutor. They have extensive YouTube videos with strategies to help students get the score they aim for.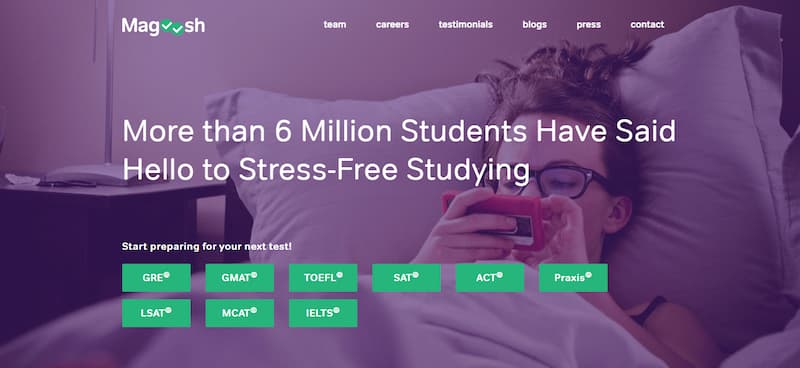 Unlike Kaplan, Magoosh does not offer any physical books, and hence all their services are online. Their different packages take students through a list of lectures, topics, and practice questions to get the most out of their experience.
Magoosh vs. Kaplan GRE: Services and Materials
Kaplan

Live instructions;
Customized quizzes;
Keep track of the areas you need help with;
Proctored exam day - a mock exam.
More expensive than Magoosh.
The Kaplan GRE program is expensive compared to Magoosh GRE. However, they also offer discounted prices with several courses and resources. Some of the GRE Channels provide live instructions and customized quizzes. It has more resources as compared to Magoosh GRE prep.
You've probably heard of Princeton Review too. If you have, don't forget to read our
Kaplan vs Princeton Review GRE
comparison and find many interesting points.
They also provide a score predictor to help personalize your scores and keep track of the areas you need help with.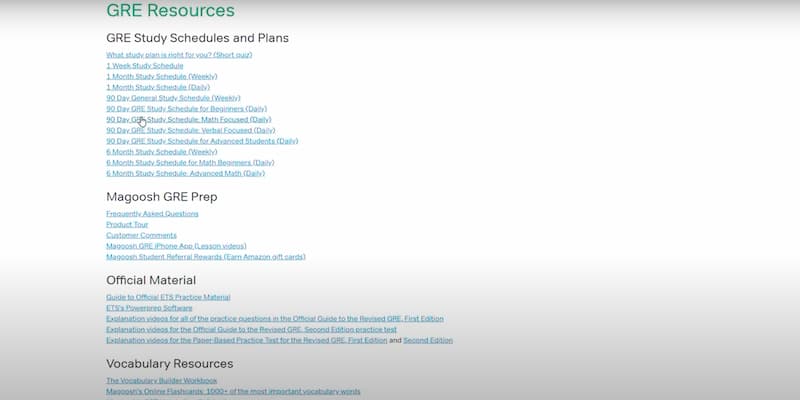 A detailed overview of the services:


Kaplan Complete In-person Course:


21 hours of live instructions, 7 full-length computer-based tests, 5000 practice questions, an official test mock exam, 180 hours of online instructions, and 2 prep books.


Kaplan Self-paced Course:


This could be a more economical option of the two. They have Rapid Review Live, Math Foundations, and Advanced Math Courses.
They also have a proctored exam day known as "The Official Test Day" to experience the exam in a mock setting.
Magoosh

Email assistance;
Score predictor;
large number of videos;
Lots of practice questions.
Less material than Kaplan has.
The Magoosh GRE program, on the other hand, has lesser services and materials compared to the Kaplan GRE program. Their courses are all online and can be either accessed from their website or their app.
From the two self-paced options, they have a total of 250 video lessons, 1200 practice questions, and 3 practice tests. Each video can be as long as 4-5 minutes which totals 21 hours of exercise.
Their videos provide alternative solutions and short-cut to answer the problems better. You can get a real-time experience of the scores as well. As a user, you can also get email assistance and a score predictor.
In this way, based on the comparative analysis of Magoosh GRE vs Kaplan GRE features, Kaplan seems to give a more rigorous practice program for students who need high-end program assistance.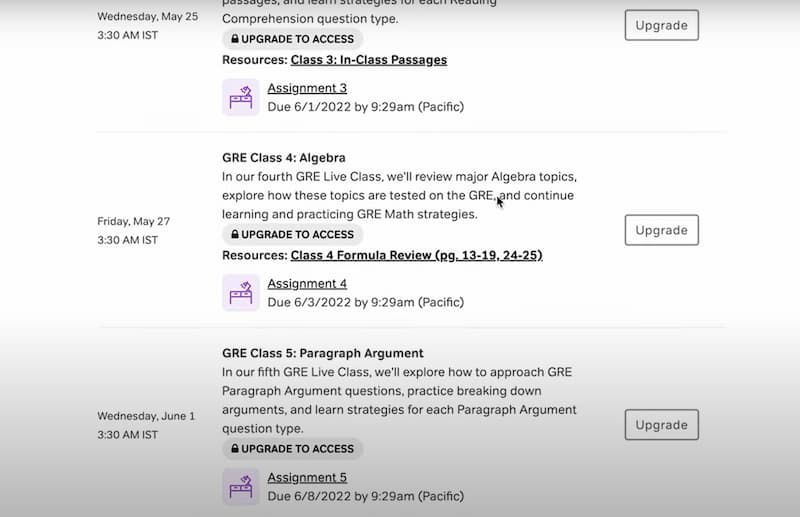 Despite the lesser materials, Magoosh covers that up with a large number of videos and practice questions. This shows that if you have enough time to prepare for GRE, you can choose the Magoosh, but Kaplan might be a better option in need of a high-end program.
Magoosh vs. Kaplan: The GRE Courses Pricing
Costs and monetary investment is a huge requirement to consider when enrolling into one of the services. Both companies charge different amounts for their services. Below is a list of prices to compare Kaplan vs Magoosh.
The Kaplan GRE Program has multiple platforms from which you can use their services. Along with the self-paced course, they also have two types of books that focus on different aspects of the GRE. With the Kaplan program, you can also use free event access instead of a free trial.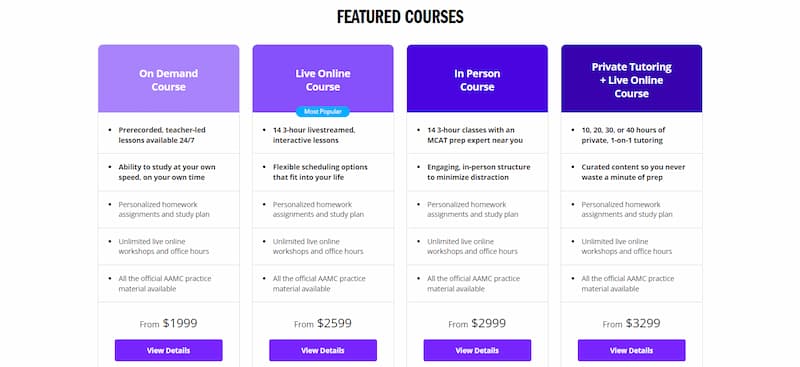 The costs of different services are:
6-month self-paced course = $699. 18 hours of video instructions, official test experience, 180 hours of the online lesson, more than 5,000 practice questions, 7 full-length tests, and 2 books for GRE Prep.
Premium "Plus" option along with the 6-month self-paced course = $899. You can get an additional 35 hours of live instructions and GRE Math Foundations and Advanced Math.
Complete course for GRE = $999.
Live Online = $849. 21 hours of live instructions, 35 hours of live instructions, 7 practice tests, 180 hours of instructions, over 5,000 practice questions, and 2 Prep books.
In-person session = $1099. Live Online service, along with 21 hours of live instructions, 3 hours long lessons, takes place twice a week.
Kaplan GRE Prep Plus Book is around $18.5.
Kaplan GRE Math Workbook is around $21.
When comparing GRE Kaplan vs Magoosh, Magoosh seems to have more limited options since everything is only available online. Their self-paced course covers the GRE Math Section, the Verbal Reasoning Section, and the Analytical Writing section.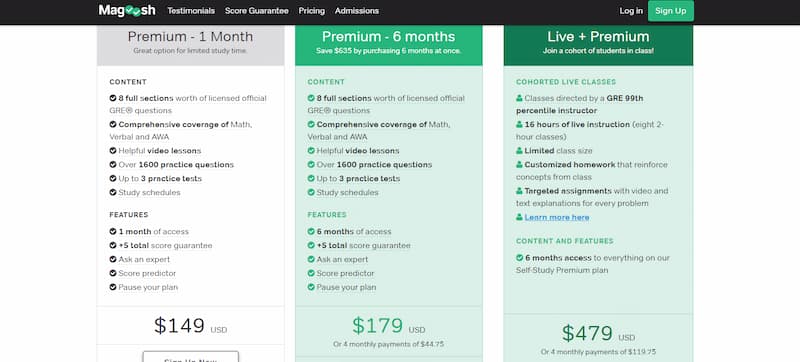 Unlike Kaplan, they do not have a physical book. They also have a 7-day free trial where you can access 20 lesson videos and 20 practice problems. You will also get access to a year-old demonstrative exam and 20 questions.
Prices of self-paced services:
1-month access = $129. This covers Math, Analytical Writing, and Verbal in more than 250 video lessons, 1200 practice questions, and 3 practice sets.
6-month access = $149. This covers the same video access, practice questions, and tests over 6 months instead of 1.
Kaplan vs Magoosh: Guarantees
The guarantee of a company plays a big role in understanding its services. Only companies that fully trust their services can confidently place guarantees for their users.
Although ultimately, it depends on us to make the most out of the resources available, we should first choose a service that will provide us with the best resources. We will now look at individual guarantee plans to make a proper comparison between GRE Magoosh vs Kaplan.

The Kaplan Program has the Higher Score Guarantee plan that has two individual conditions to apply for a money-back service:
Option 1 = If you were to give a test after completing the program and do not see an improvement, you can either reactivate your program for free for 12 more weeks or ask for the money back.
Option 2 = If you were to give a test after completing the program and get a higher score but are still not satisfied, you could then apply for a free 12 weeks of reactivation service. With this option, you cannot get a refund.
The program offered by Magoosh also has a similar score guarantee. They have a Money-Back guarantee policy that ensures your money will be refunded if your score does not increase by 5 points. This service can only be of use if you were to take a real GRE test before enrollment.

If you see no change in your score after the course, you can send an email with your before and after scores to get your money back. This guarantee rightfully evaluates the quality of their service.
Since both Magoosh and Kaplan GRE Prep offer money-back guarantees, it is necessary to look into more detail when and how this service can be applied by a user.
If you want to compare Magoosh with one more service, then check our Manhattan Prep vs Magoosh GRE complete comparison.
Kaplan and Magoosh: Policies
The Kaplan GRE Program does not allow children under 13 to enroll in the program unless under consent. You can select the Higher Score Guarantee option when enrolling to qualify for the reactivation or refund policy.

You can then cancel your enrollment within 3 days to get a full 100% refund on your money.
Similarly, the Magoosh GRE program does not encourage sharing the same account between multiple people, as they cannot keep track of your progress.
Hence, they will not be able to give the support they claim to offer. The program does not answer or assist with any questions other than what the program offers.

The policies of Magoosh vs Kaplan for GRE seem to be similar, including the refund policy as well.
Magoosh vs. Kaplan GRE: Additional Services
Both platforms are fairly easy to work on. Since Magoosh uses an online platform, they have more portable resources available through blogs and mobile apps to make your experience credible wherever you are.
Students can also get easy access to instructors and services through phone, email, or contact forms.
On the other hand, Kaplan uses a live chat option to help people get in touch.

Magoosh offers a tutoring service to students ranging in different price options from $100 to $900. The starter pack is $100 per hour, and the Just Verbal and Just Math sessions cost $350 each for the four hours.
The premium option for 8 hours is $800. Learn more in the Magoosh review on our blog.
Kaplan, too, has a tutoring service available. Once you request a tutor, you will directly get one with whom you can work out a time that is convenient for both.
The tutoring packages can be either online or in-person. Online tutoring costs $2299 for 10 hours, $3199 for 20 hours, $3999 for 30 hours, and $4899 for 40 hours.
Magoosh vs Kaplan GRE flashcards:
Kaplan has an online app that comes with free access to flashcards that have clues, and synonyms too. You have the freedom to customize your deck too.
Magoosh, on the other hand, offers an online collection of words that range from Basics, Common words to Advanced levels of words. You can get access to these through an app to get better practice anywhere you want.
Thus, since both companies have similar services, it is hard to choose one when considering Magoosh vs Kaplan GRE flashcards.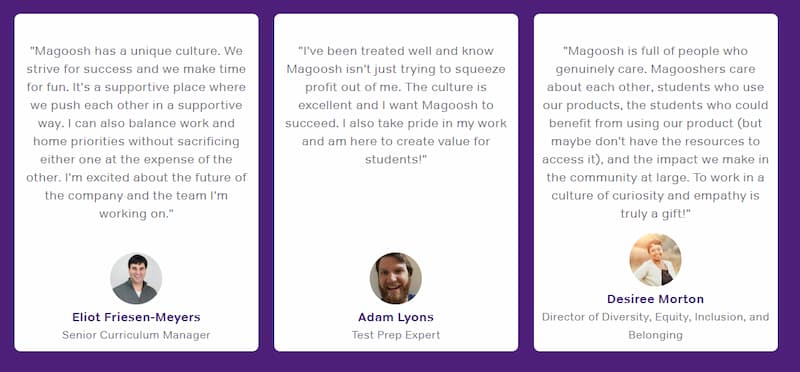 The Kaplan self-paced GRE prep has a complete set of practice essays along with a certified group of experienced instructors. You can submit two essays at one time that will be given back with a grade or score within a week.
Magoosh, however, does not have an essay feature. Although they have a grading and review service with their premium package, they don't have an essay service.
So, Who Wins?
Along with the Kaplan vs Magoosh GRE test Prep reviews, comparing all the above aspects with each other must have made things a little easier.
Using Magoosh is for someone who is price-conscious, and who wants flexibility in the course along with a dashboard to track your progress, good customer service, and a refund policy.
On the other hand, Kaplan can be the best option if you want the most practice tests, essay support, a book during the study, and live or in-person help from an instructor.
Therefore, when choosing between Kaplan and Magoosh, you need to consider the time you have left to prepare, your budget, and the personal choice between an online or physical book service.