"Learning is not the product of teaching. Learning is the product of the activity of learners." — John Holt
The Graduate Record Examination (GRE) is a standardized test that students sit through to apply for admission to graduate school and get an advanced degree. As you know, it is not an exam where you can cram practice questions or resources to ace it. You need significant preparation, which can only be done by taking a reputable GRE prep course.
As a student preparing for this test, you must have heard about Princeton and Magoosh, seeing as they're one of the best GRE prep books and courses around. In this review, I extensively discussed the Princeton Review vs Magoosh study plans, so you can decide which one would be suitable for you.
If you need more clarification, we have separate reviews of Princeton Review and Magoosh, so you can check them out. Before we get into the real deal, I'd like to state that during my review, I found some major differences between the two companies based on the specific values they add to their users:
Magoosh provides digital resources, while Princeton provides hard-copy materials.
Magoosh is affordable for the average student, while Princeton Review is pricey.
Magoosh is mainly for students with a specific end goal for their prep, while the Princeton Review is mainly for students who need more preparation.
The Princeton Review also has an elaborate syllabus compared to Magoosh.
If you are looking for even more different course, check PrepScholar GRE reviews on our website. Customers of this platform are pleased about their courses.
Overall Comparison Table
Before we go into an extensive Magoosh versus Princeton Review, I would use the table below to illustrate the differences between their plans and prices quickly. More on this will be discussed later:
Platform
Features
Prices
The Princeton Review
●       Comprehensive study guides

●       Best quality live videos

●       Numerous study materials, including hard copy

●       Private one-on-one tutoring.

●       GRE tests simulation

●       GRE 162+ — $2399

●       GRE 10 point+ —$549

●       GRE fundamental — $1199

●       GRE self-paced —$499

●       GRE Tutoring — $165/hr

Magoosh
●       Video texts explanations

●       Affordability

●       Live video lessons

●       Variety of schedule options

●       Flexible study plans

●       Self-study —$149

●       Premium — $179

●       Guided study —$479
This Princeton Review versus Magoosh illustration table just scratches the surface of what we will touch on in the following paragraphs. Let's get into it:
Magoosh vs Princeton Review GRE
The GRE preparation market hosts various big players, but the comparison between Magoosh vs Princeton Review GRE is particularly noteworthy.
Magoosh: Known for its Magoosh GRE prep app, this provider offers a modern, mobile-friendly approach. They also offer affordable GRE prep packages, self-paced courses, and a score improvement guarantee.
Princeton Review GRE Courses: These comprehensive courses provide various options from self-paced online to intensive in-person classes. The Princeton Review GRE courses also include extensive quiz banks and robust practice materials.
Key Features of these Platforms for Students
"Develop a passion for learning. If you do, you will never cease to grow." — Anthony J. D'Angelo
The Magoosh vs Princeton review discussion has been a debate forever, so I'm going to make this report very detailed and honest. I signed up at the two companies to gain deeper insight into their analytics and resources. In this section, we will look at the features of both and point out their strengths and weaknesses.
Quality of Materials: The Princeton review takes the cake when it comes to the value of the materials provided during course preparation. They provide Quantitative and Verbal 162+ materials in hard copies and other resources that let you study online and offline.
Pricing: This is one major advantage Magoosh has over Princeton Review. They offer affordable prices for different plans. You can get a study plan for as low as $149 and their monthly discounts.
Extensive Study Plans: Princeton Review has a more comprehensive study plan than Magoosh. They have a service suitable for every student, according to their goals. There is the GRE 162+ for those looking to get into the top Ivy League schools, a self-paced study routine, and other plans.
Flexible Schedule: While the Princeton Review offers a wide syllabus, learning requires a lot of time and effort. However, with Magoosh, you have extreme flexibility in studying and can access your materials whenever you like.
Princeton Review: Why is it Better than Magoosh?
I think one advantage the Princeton Review has over Magoosh is years of experience. This Princeton Review tutoring service has existed since 1981 and has since then developed several prep courses to help students study for exams like GREs, SATs, GMATs, ACTs, and so on. This means they know what to do and have had time to perfect their craft.

To make this more interesting, the Princeton Review has different courses and study plans to meet the different needs of students. Whether you require private tutoring sessions or group studying, slow or fast-paced, there is an option.
Princeton Review offers a variety of various GRE test prep courses and options, including in-person classes, live online classes, and self-paced online courses. Their curriculum covers all sections of the GRE, focusing on test-taking strategies, content review, and practice questions. Princeton Review's top prep courses often include practice exams and personalized score reports to track progress.

Their study plans are divided into five courses:
GRE 162+;
GRE 10 points+;
Fundamentals;
Self-paced;
GRE 165+ tutoring.
GRE 162+
This is the most popular GRE course offered by this tutoring service, and as the logo says: Maximum Results. Minimum Time. Let's see if their course materials are comprehensive enough to support this claim.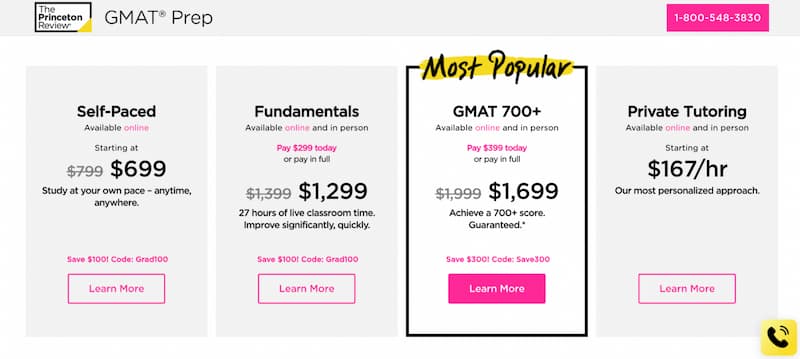 An average GRE score for Quantitative and Verbal is 150+/152+, but every student knows how competitive this test is. To have a chance, you should aim for a score of about 156+/158+. However, this course promises you a score of 162+.

Here's how it works:
45 hours live class option conducted by a GRE expert. This is broken down into 25 hours of the quantitative test; 20 hours of verbal.
Supplemental lessons to target problem areas. This takes another 20 hours of verbal and quantitative lessons.
Over 4000 practice questions, overview target tests, and drills.
8 full-length practice tests.

GRE 10 Points +
For those who are looking to improve their GRE scores, this course is for you. The logo is: Increase your score by 10 points guaranteed. There is even a money-back guarantee to back up this claim. Let's dive into the plan.

I was impressed by the syllabus and outline for this particular plan. Here's how it goes:
LiveOnline math lessons taught by field experts to review a foundational math concept.
Over 470 drills and 30+ recorded tutorial videos give extensive explanations to target problem areas.
5 practice tests.
Comprehensive score reports.
Interactive sessions and a detailed syllabus.

GRE Fundamental
Princeton Review says this is their most efficient GRE prep course. I liked it because it allowed you to get your lessons online or in person. If you are a student that doesn't have much time to study for the GREs, then this is the most suitable plan for you.

You are provided with:
24-hour live class option with experts who will cover all the necessary subjects;
180+ hours dedicated to tackling questions and weaknesses;
Score maximization;
8 computer-based practice tests;
TPR offers more practice questions ranging up to 3500+.
GRE Self-Paced
This is self-explanatory. It is for those who need more flexibility in their learning schedules, probably due to work or other occurrences. Like the logo says, Expertly crafted online study at your own pace.

When you enroll in this plan, they give you access to a lot of resources and materials that are personalized to your own pace and schedule. Here's what you get:
8 questions practice tests;
60+ online drills;
2500+ practice questions;
Instant online access to video lessons and drills.
GRE 165+
This is the most personalized approach in the Princeton Review and GRE preparation courses because it offers special one-on-one tutoring. This service assures a score guarantee of 165+, which is great. Students accepted into the top and Ivy League schools score 164/165. If this course guarantees a score of 165 and above, you already know what that means for you.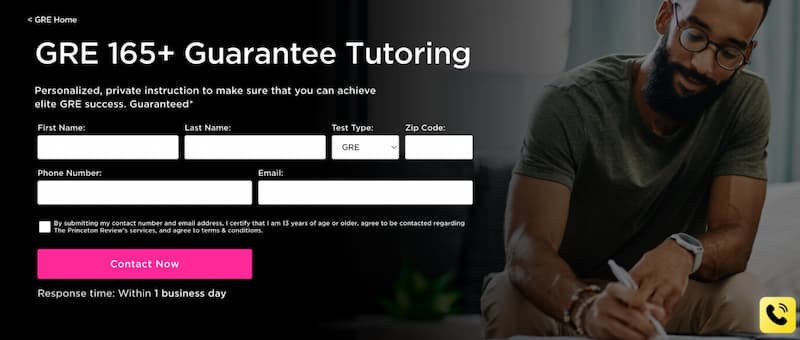 Here's how the Princeton Review makes this work:
Personalized tutor matching. This service will match you with a tutor that suits your academic needs and focus for this exam.
A high-grade dashboard with full and updated reports.
Money-back guarantee.
Custom-built apps for easy communication and management.
Key Takeaway: If you are looking for a tutoring service that provides comprehensive study plans to meet all your different needs, then the Princeton Review is a way better choice.

Magoosh: Why is it Better Than Princeton Review?
In our quest to find out whether Princeton Review or Magoosh is better for your GRE prep courses, it's time we check out the features of Magoosh. In the above section, I highlighted all the reasons why I thought Princeton was better, but in this section, we will see what Magoosh offers and whether it matches up with Princeton Review.

Magoosh the GRE course is known for its user-friendly online platform. The course comprises video lessons, practice questions, and full-length practice tests. Magoosh places a strong emphasis on adaptive learning, tailoring practice test questions to each student's performance and needs. Their video lessons are concise and easy to understand, making it suitable for self-directed learners.
One of the standout features of the Magoosh GRE prep course is its flexibility and accessibility. The online nature of the course allows students to study at their own pace and on their own schedule. Magoosh's mobile app further enhances accessibility, enabling students to study on-the-go.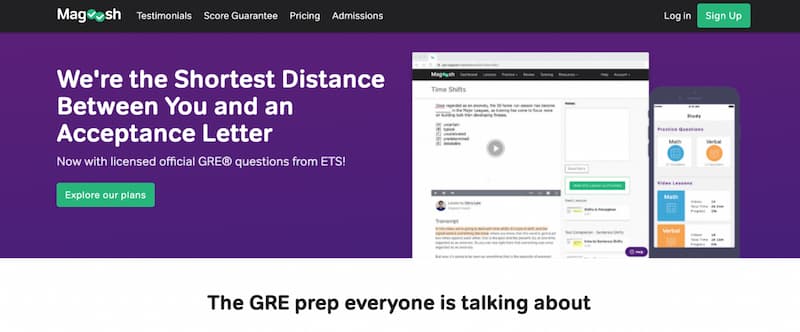 This service offers only three study plans which include:
Self-study
Premium
Guided study
Are you wondering how this works? Let's check it out.
Self Study
This analytics depends on how much time you have or how busy you are. If you can't dedicate a long period to studying, this is the best plan for you.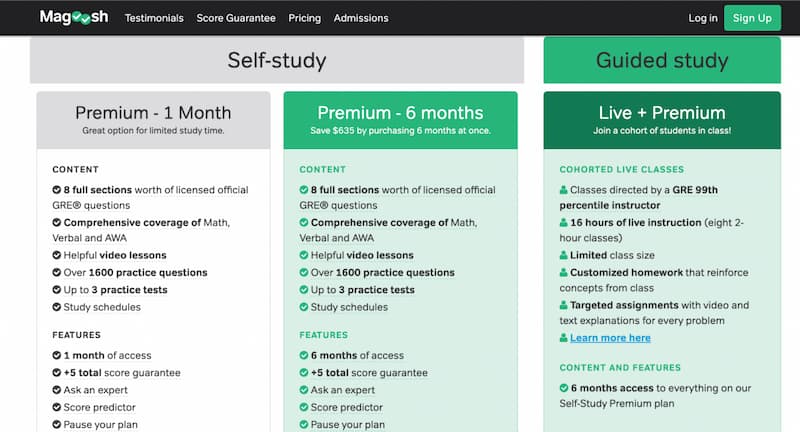 Magoosh has already been licensed by the ETS to release official GRE practice tests of past questions, and enrolling for this plan or any other plan will give you access to 8 full sections of these actual test practice questions.
Other essential feature includes:

Helpful video lessons that you can watch anytime you're online to study.
Expansive coverage of crucial subjects like Math, Vernal, and AWA.
Open communication with an expert.
You can pause your plan at will.
Over 1500 practice questions.
Up to 3 practice tests.

Premium Plan
This is an advanced version of self-study, only that this comes with better metrics and discounts. It is for those who have more time to study, hence why it was extended to six months, as opposed to the one-month self-study plan. The premium study offers all the same features of the self-study plan, only for longer access. You will get several video lessons and up to 1600 more practice material with problems and questions set by professionals to target problem areas and help you improve. There is always the option of customizing these materials to fit your schedule and help you study better.

Guided Study
You get six months of access when you enroll for this plan, and you can also go live and join a digital class where you get to mingle and communicate with your tutor and other students. Your tutor isn't just some professional or expert; it is someone who scored in the 99th percentile on their last GRE exam, which means they have a lot of explanations to teach. You also get eight 2-hour classes, leading to 16 hours of live instruction and assignments. 
Key Takeaway
: If you are on a budget, and need a casino that won't dent your pockets, then Magoosh is the better choice.

Pricing Comparison
When it comes to finally choosing between Princeton Review and Magoosh, prices and affordability are also metrics for making a decision. Let's see how the prices of these companies stack against each other:
Princeton Review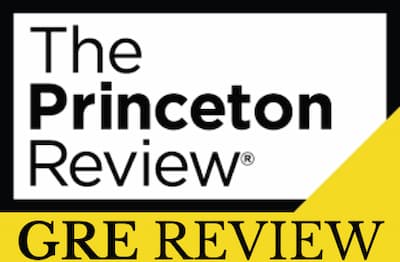 GRE 162+ — $2399;
GRE 10 Points+ —$549;
GRE Fundamentals — $1199;
GRE 165+ tutoring — $165/hr;
Self-paced — $499.
This tutoring service has five study options. Find each of them below, with their corresponding prices:


GRE 162+ — $2399


GRE 10 Points+ —$549


GRE Fundamentals — $1199


Self-paced — $499


GRE 165+ tutoring — $165/hr


You're probably wondering about the high prices attached to these plans, but the truth is, while I admit that it is pretty expensive, the plans are very extensive and provide hard-copy materials for your study.

For the $2399 to be paid for GRE 162+, the most popular plan, you get 45 hours of video, another 20 supplementary hours, and over 4400 questions and drills. If you're interested in any plans, you can check them out now since they regularly offer monthly discounts.

Magoosh
Based on the analytics, Magoosh is the most affordable of both companies. Check out their prices below:
Self-study — $149;
Premium — $179;
Guided study — $479.
Their highest plan costs $479, and it offers live and premium classes where you can learn alone and still mingle with a class during live sessions. When making payments, you can select your class cohorts or choose to watch at your own pace and on your demand. At this point, choosing between Magoosh or Princeton Review has just gotten easier now. While Princeton offers extensive study materials and plans, Magoosh has made its services a little more affordable for the average GRE sitter.
Quality of Learning and Value for Money
"The capacity to learn is a gift; the ability to learn is a skill; the willingness to learn is a choice." —  Brian Herbert
At this point, I still can't tell which of these companies is better, so our Magoosh versus Princeton Review is still going strong. While some people might automatically choose Princeton because they believe higher prices mean higher quality, I don't share that opinion. This is why I am going beyond the prices and comprehensiveness to capture the quality of their lessons fully and whether you will get the value for your money, regardless of how much you pay. Are you ready? Let's go:
Princeton Review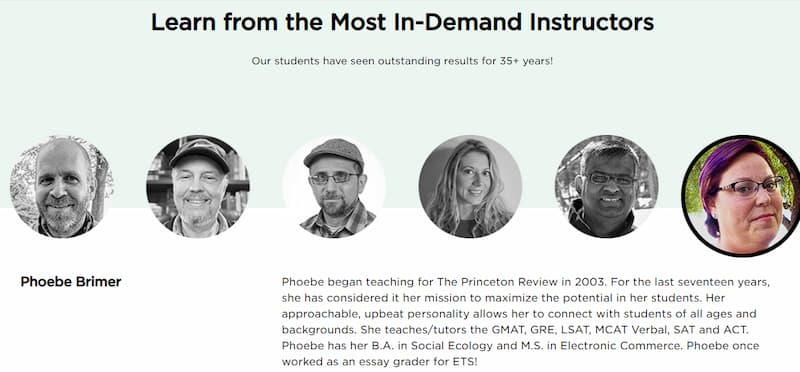 As I dug deeper into the learning quality of all the courses at Princeton Review, it became clearer why this service is expensive. This company values quality and puts in much effort to provide the best items for your study. Let's take a look at some of the ways this value is given:
A drill is an academic technique used in the classroom to aid memory retention using spaced repetition. The Princeton Review often used this method to ensure that students retain much information from their own practice questions and tests.
They perform a drill on you, then add a follow-up drill based on your score guarantee your first performance. This determines the type of test prep industry amount of questions to be set and the problem areas to focus on. When this is done, you have another drill, and continue this way until you're way better than your first result.

High-Tech Practice Tests:
The Princeton Review employs the actual GRE exam settings during practice tests. Sometimes, no matter how hard a student study, they get overcome with nerves and lose their focus when the real GRE test day comes. However, with the adaptive computer tests used by Princeton, their users are already familiar with the entire setup and will be a little more relaxed.
This is, by far, my favorite feature of the Princeton Review. For the most affordable plan, you get 120 days of access until you can view the materials no longer. This applies to those who purchase the self-paced or 10 points + plan. This means that whenever you have enough time, you can quickly go onto your dashboard and read all the materials to catch up.

The Princeton Review GRE prep course is unmatched in the test prep courses space. Although it is a little pricey, you will be getting more than the value of your payment. From well-rounded course resources to mock exams and open communication with an expert, you are well on your way to acing the exam with this course.
Magoosh
Although this is not as pricey as Princeton, I appreciated how this company can give quality on an affordable budget. While many people might think cheaper is less quality, they would be wrong about Magoosh. Here is how their courses provide value:
If you're the type of student that loves straightforward lessons and tutorials, then Magoosh has the best offers for you. They provide 16 hours of live instructions divided into two hours each. In the videos, tutors choose the most complex questions and break them into simpler steps. The tutor doesn't show on screen, just a whiteboard on which notes are written.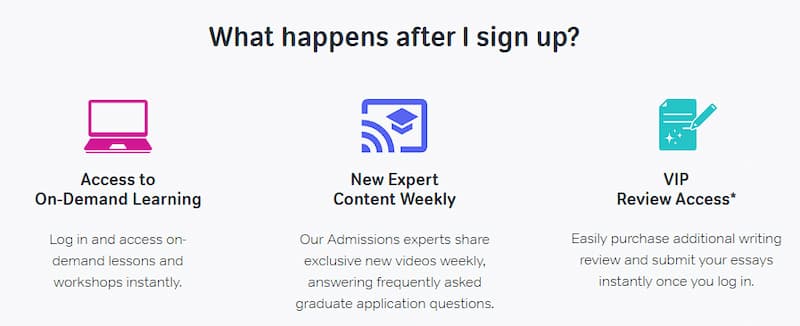 What is a GRE prep course without practice tests? Magoosh offers 3 full-length practice tests adapted and customized to give you the feel and simulation of what the real exam is like. Although 3 tests are not a lot, it is pretty decent, especially compared to the price.
In the past, Magoosh subscribers didn't have the privilege of enjoying live videos. They had to manage pre-recorded lessons, which didn't support communication or interaction. However, this feature has been made available, and now Magoosh subscribers on either of the six-months premium plan can enjoy live classes for a more engaging experience.

Although Magoosh is incomparable to Princeton Review regarding syllabus comprehensiveness and elaborate study plans, you will still get high value because the materials and resources both magoosh are helpful compared to the prices you pay.

Main Disadvantages of the Platforms
While there are many advantages of each of these platforms, there are also a few disadvantages, which is normal. Here are some of the disadvantages of each service:
Princeton Review
It is pricey;
No Mobile app for accessibility and convenience;
Requires a lot of time and dedication.
Magoosh
Limited practice tests;
No private tutoring;
No hard copy materials;
No personalized study materials.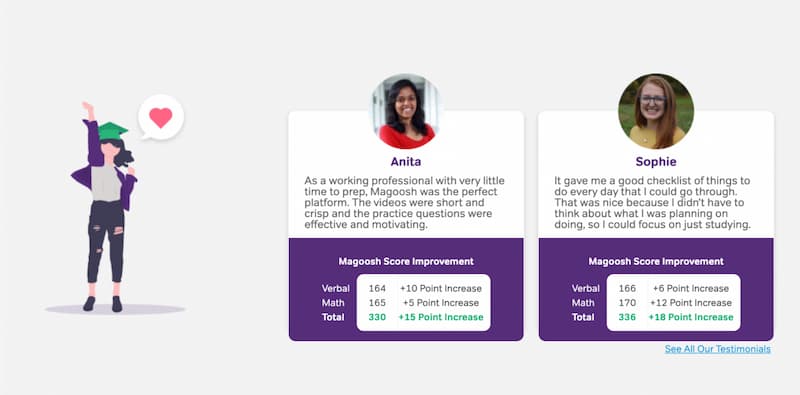 Verdict
Now that we have extensively discussed all the features of these platforms and compared their courses and pricing, it is up to you to choose which one is perfect for your GRE prep. Remember that when making a decision, you should consider the pricing, syllabus, targeted learning, and availability.

For those who ask which is better Princeton Review or Magoosh, I wouldn't categorically pick one over the other because I've realized they are made to suit the different needs of students. You just have to find the best plan for you and enroll. Both work just fine for any student.
Whether comparing Magoosh vs Princeton Review GRE, exploring top GRE prep courses, or seeking tailored tutoring through platforms like Varsity Tutors, the resources are abundant and diverse. From GRE prep packages to specialized apps like the Magoosh GRE prep app, aspiring graduate students have numerous tools at their disposal.
Utilizing these resources effectively, along with embracing valuable test-taking tips, can pave the way to GRE success. The journey might seem challenging, but with the right combination of materials, courses, and a dedicated approach, the path to your desired graduate program becomes achievable and rewarding.
FAQs
Is Magoosh Better Than Princeton?
Regarding pricing, Magoosh is better than Princeton Review because it is much more affordable. However, each platform offers monthly discounts to make its services more accessible.
Is Princeton Review Worth it for GRE?
Yes. Princeton Review is one of the best services for GRE prep and is worth it because of the quality of content they provide. They offer live videos, hard-copy materials, and other valuable resources.
Is Actual GRE Easier Than Magoosh?
No. The Magoosh practice tests are way harder than the actual GRE tests. This is to help you prepare better and train your mind to work quickly under tight time constraints.
Is Magoosh Effective for GRE?
Yes. The Magoosh prep course is effective in helping students prepare for the GRE. They provide trained experts who walk students through problem questions, explain subjects in live videos, and drill them regularly.