Introduction
Graduate Record Examination, also known as GRE, is a standardized test required in many graduate schools in the USA and Canada to determine an applicant's eligibility to an academic program in graduate school. The GRE is of two different types: GRE General Test and GRE Subject Test.
A High Score on the GRE is a Chance for Admission to the Best Master's Programs
Preparing for the GRE is a significant endeavor for individuals aspiring to pursue graduate studies. A high GRE score can greatly enhance one's chances of gaining admission to prestigious graduate programs. With a plethora of test preparation options available, selecting the best course can be challenging.
The GRE Subject test evaluates a candidate's capability in a particular subject and is required only if the school demands it. The GRE General test, on the other hand, is comprised of different sections that test on English and Mathematics.
Being a 3 hour 45 minutes long exam, the GRE is divided into three specific sections: Analytical Writing, a Quantitative Section, and a Verbal Section. The actual GRE itself can either be computer-delivered or paper-delivered, with each type having a particular structure.
The GRE registration can be done Online, through Phone, Mail, or Fax, and costs $205 each time you give a test.
Unlike other international standardized exams, there is no fixed date to take a GRE test. Instead, you can take the test at your convenience. To master the exam, many online and offline services are available for students to strive for the perfect 340 scores (170 Verbal Reasoning and 170 Quantitative Section).
Is the GRE harder than LSAT? Find an answer in our comparison of these two tests.
Magoosh vs. Manhattan GRE Overall Comparison
| | | |
| --- | --- | --- |
| Test Prep Firm | Magoosh | Manhattan Prep |
| Overview | Offers self-paced GRE Prep program and private tutor, online, and live classes | Many options with well-defined format with comprehensive and rigorous curriculum |
| Pricing | 1-month: $129, 6-months: $149 | 1-month: $249, 6-months: $399, Other options available |
| Free Trial | 7-day free trial with 20 lesson videos and practice problems | 7-day free trial with 15 lessons and practice problems |
| Guarantees | Money-back guarantee if no score improvement by 5 points | No explicit score guarantee mentioned |
| Tutoring Service | $100 to $900, varied by number of sessions | $255 per hour, offering both web and in-person |
| Dashboard | Personalized dashboard for progress tracking | Not explicitly mentioned |
| Strategies | Provides helpful test-taking tips | Detailed and effective test-taking strategies |
| Practice Questions | 1,200 practice questions, email assistance available | Over 100,000 practice questions |
| Flashcards | Free GRE vocabulary flashcards | Paid flashcards, costing about $19 |
| App | Good mobile app, accessible | Not explicitly mentioned |
| Material | Online-focused with video sessions | Both online and textbook versions available |
| Interactivity | Considered less interactive | More interactive videos |
| Refund Policy | 7-day refund policy | No refund policy mentioned |
With the introduction of many platforms to study for the exam, it can be unclear to choose the perfect service to help learn efficiently. Two of the leading benefits that students love using are Magoosh and Manhattan Prep.
Both Magoosh and Manhattan GRE are well-regarded players in the GRE test prep landscape, but they offer distinct approaches to GRE exam preparation. Magoosh is known for its innovative online platform, while Manhattan GRE is recognized for its comprehensive and rigorous curriculum.
In this article, we will compare the different aspects of Magoosh vs. Manhattan Prep so that you can better judge which service might be the best for you. This article includes the comparison between Manhattan vs. Magoosh GRE math practice questions, Manhattan and magoosh GRE prep books, vs. Magoosh Vocab, and many more.
General Overview of Magoosh and Manhattan GRE
Magoosh and Manhattan are two different companies that have taken an interesting approach to make the best GRE online prep course fun and effective.
Magoosh has a self-paced GRE Prep program for students to enroll in. You have the freedom to hire a private tutor as well as online classes well as live classes.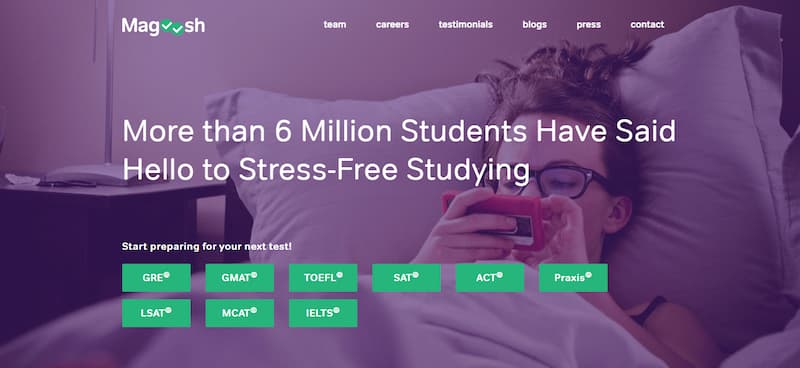 They also provide YouTube videos that give students strategies to get the score they aim for.
They have two self-paced courses: one-month or six-month packages. These packages take students through a sorted list of video lectures,, topics, study material, and practice questions.
On the other hand, Manhattan Prep has many options for students to choose from. Hence, they are a larger company and hence have resources, strategies, and practice questions in a well-defined format.
As you navigate through your GMAT preparation journey, understanding the various options available can be crucial. That's where our detailed Princeton Review GMAT review comes into play, offering a thorough assessment of the course structure, study materials, and student support systems.

The GRE self-paced class in Manhattan Prep has three levels: GRE Verbal, Quantitative Reasoning, and Analytical writing. These levels increase with difficulty. One can watch videos of instructors with clear audio and animations.
The company has also provided physical books on the GRE prep materials for courses to use as well. Learn more information about it in our detailed Manhattan Prep GRE course review.
Manhattan Prep vs. Magoosh: Services and Materials
Magoosh GRE

Mobile app is great;
1,200 practice questions
3 full practice sets;
250 video sessions;
Email assistance and a score predictor.
Is Magoosh good for GRE
? The Magoosh GRE Test Prep courses are all online. You can either access them through their website or their app.
With a total of 1,200 practice questions, 3 full practice sets, and 250 video sessions on different topics of the GRE, you will get rigorous high-end practice with Magoosh. Each video ranges from 4-5 minutes, totaling 21 hours of exercise.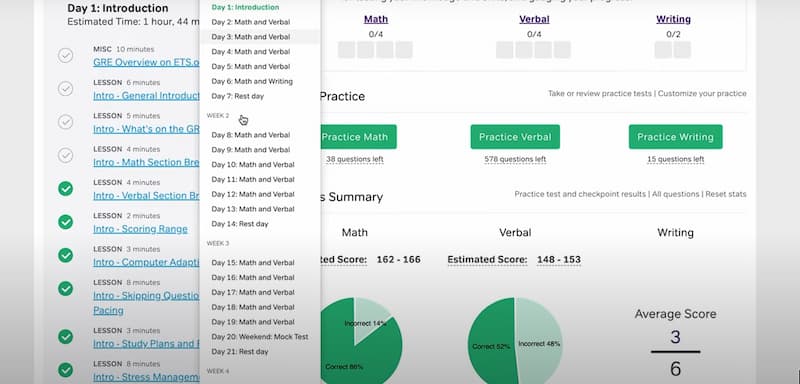 The videos provide the user with alternative solutions and short-cut skills to help them score faster and better on the GRE. You get a real-time experience of your scores as well.
You can also get email assistance and a full test score analysis and predictor to help keep track of your performance throughout your course, along with a personalized study schedule to better match your day-to-day life.
Manhattan Prep GRE

100,000 questions;
77 interactive video lessons;
Around 27 hours worth of video content;
6 practice sets;
Interesting and interactive videos.
The Manhattan, GRE Prep course has both the online and textbook version for GRE Prep. The Manhattan practice material has over 100,000 questions with 77 interactive video lessons and around 27 hours worth of video content.

With this prep course, you can get a strategy guidebook for each section and a separate book with practice tests and problems. Instead of 3 practice test sets like Magoosh, you will get 6 practice sets with Manhattan Prep.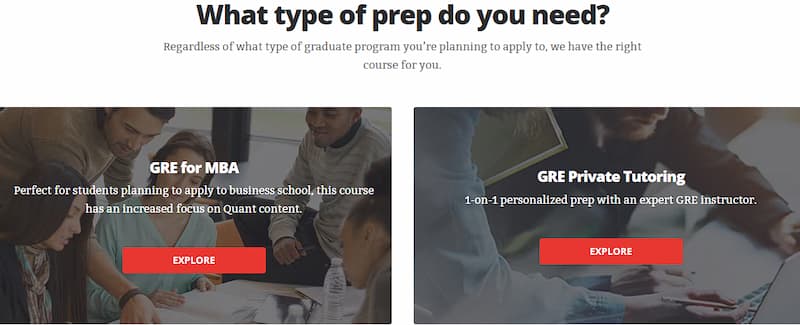 Based on people's experience, Magoosh has harder questions, but Manhattan has a larger set of practice problems.
Although the questions in Magoosh are more difficult than what is on the exam, they are considered good for proper clarification overall.
When comparing Magoosh vs Manhattan GRE video, Manhattan seems to have better and more interactive videos than Magoosh's rather dull and sometimes boring videos.

You can also either choose between the online Magoosh vs. Manhattan 5 lb book based on your liking. Magoosh vs. Manhattan in terms of materials comes down to quality vs. quantity.
Manhattan Prep and Magoosh GRE: Pricing
The services provided by both companies are very different in terms of their pricing as well. As a student, it can be quite daunting to invest so much money in service and the investment of registering for the exam.
The Magoosh self-paced course covers the GRE math section, the verbal reasoning section, and the analytical writing section. The costs for all of the mentioned services are different based on the package. You will be charged the following:
1-month access = $129;
6-month access = $149.
Both the courses are very similar to one another and only differ by the time of access you gain to each topic. Enrolling in the 6-month package might help you get the most out of your investment.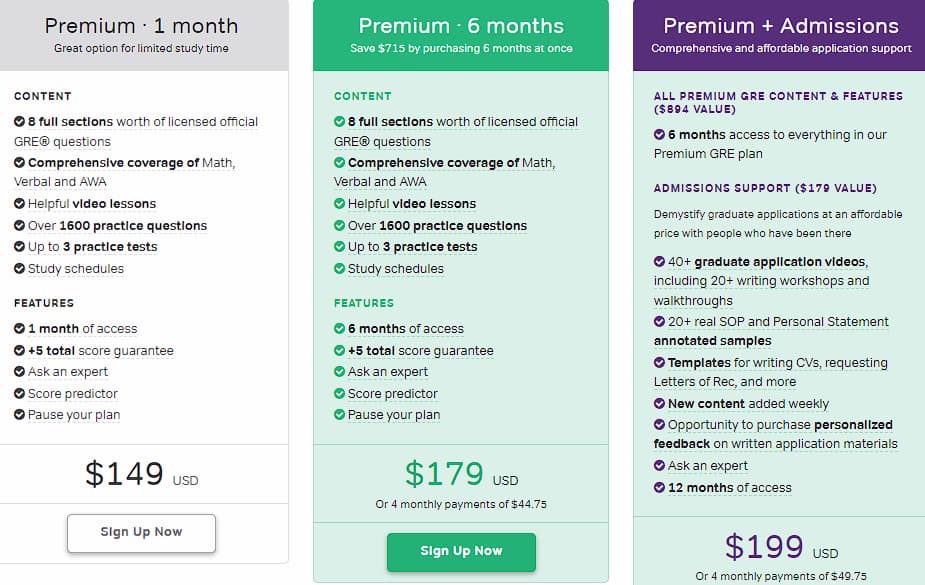 Other than this, it also offers a 7-day free trial. During the free trial, you can access and compare the Magoosh words vs Manhattan essential words too. In this trial, you will get 20 lesson videos and 20 practice problems. You will get access to a year-old demonstrative exam with 20 questions too.
Manhattan Prep Self-Paced GRE Course has a different price structure. You will also get coverage for GRE Math Section, Verbal Reasoning, and Analytical Writing with their services. The cost of this package is a little higher compared to Magoosh.
1-month access = $249;
6-month access = $399;
GRE Just Math Course = $699;
GRE Complete course = $1,199;
GRE MBA Course = $1,399.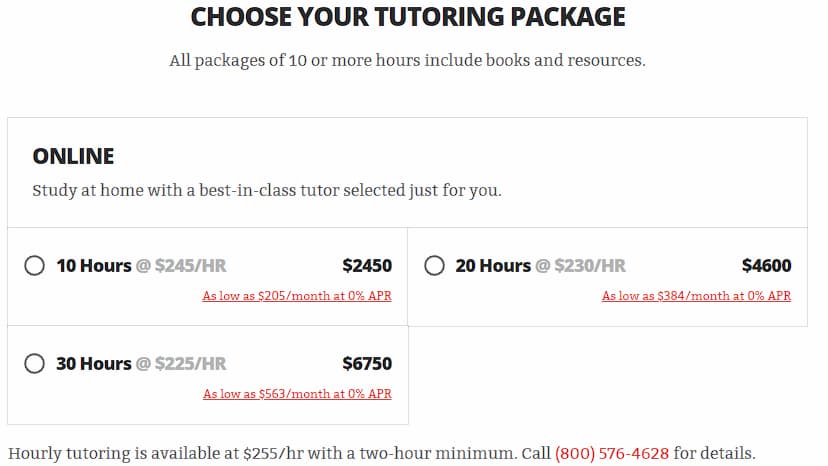 The 7-day free trial by Manhattan Prep offers you 15 lessons with practice problems. You will also have access to a free full-length GRE test that generally matches the real exam questions.
Guarantees of Manhattan vs Magoosh GRE
Both of the GRE practice companies have different levels of guarantee with the score. While the ability to increase your score mostly depends on your outlook and hard work in the exam, the courses you follow can play a big role in being a bridge between your dedication and your score.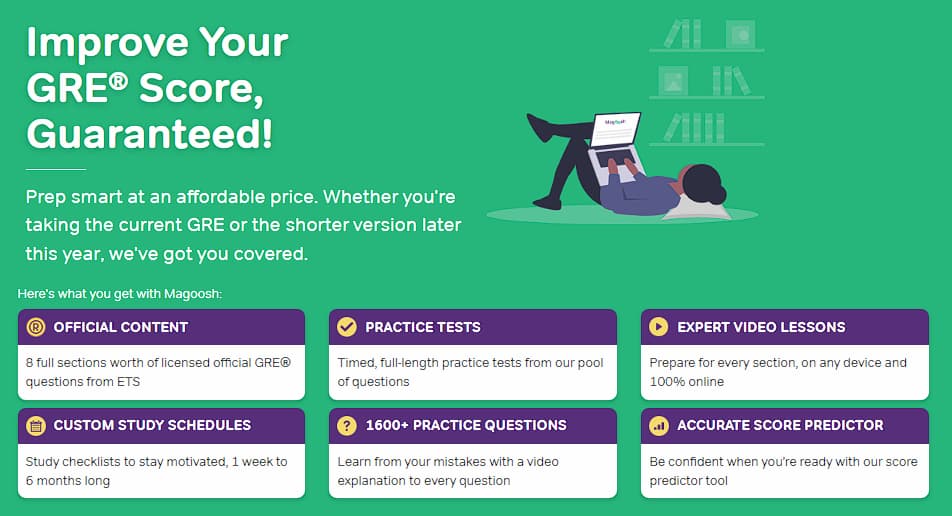 Comparing the GRE study guide, Magoosh vs Manhattan can hence be important in terms of their guarantee.
For GRE aspirants considering Varsity Tutors, our Varsity Tutors GRE review delves deep into their offering, presenting a detailed evaluation of their teaching methods, study materials, and overall student support.

The program by Magoosh offers a score guarantee, which Manhattan Prep does not. Magoosh believes in its services so much that it has introduced its Money-Back Guarantee policy.
Once you are done with your courses and lessons, if you do not see an increase of 5 points, they promise to refund your money back.
This guarantee rightfully evaluates the level of assurance that the company provides with its courses. To make use of this service, you will have to take a real GRE test before enrollment. If you see no change later, you can then email your before and after scores to get your money back.

Manhattan program, on the other hand, does not provide any such guarantee. Hence, between Manhattan GRE vs Magoosh, Magoosh could be your better option in terms of the guarantee.
Policies of Manhattan Prep vs Magoosh
Magoosh does not encourage sharing accounts with your family and friends in any way. One of the reasons they do not support this is because the program might not be able to keep track of your progress, so they will not provide any support.
Magoosh also has a strong policy not to answer any questions that are beyond what the program offers.
To further help with your GMAT prep, we've also compiled Princeton Review GMAT reviews. These provide additional insights into their course effectiveness, allowing you to make an informed choice.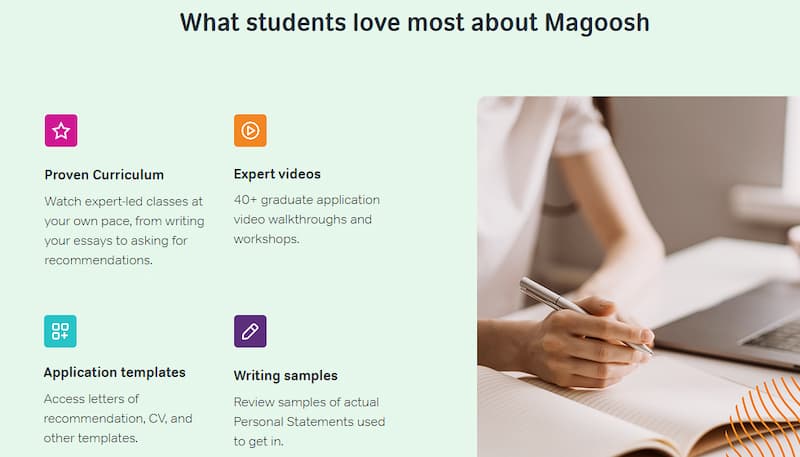 The Manhattan Prep does not allow anyone under age 13 to purchase the program. However, children can do so under the consent of the parent or guardian.
Both companies don't have a refund policy. Although Magoosh does offer a refund if you contact them within 7 days, Manhattan Prep has no refund policy at all.
Magoosh vs Manhattan GRE Prep: Additional Services
Private Tutor
Magoosh offers tutoring services to its users. These tutoring packages range at different prices from $100 to $900 based on the number of sessions you want to enroll in.
The starter option costs $100 per hour, the Just Verbal and Just Math sessions cost $350 each for four hours, and the Premium option is $600 for 8 hours.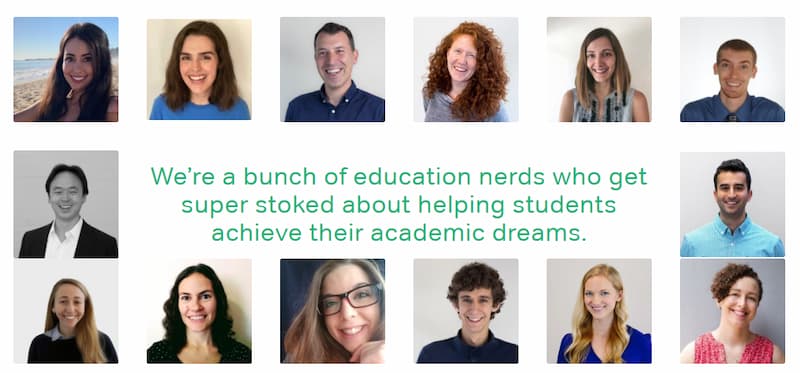 Manhattan Prep has a costlier tutoring service starting at 2 hours, increasing up until 25 hours. It costs $255 for each hour of tutoring. They offer both web and in-person tutoring services.
They also have a 5lb GRE Practice Book that can come in handy when taking these tutoring services. With the book, you can compare the physical Manhattan 5lb practice vs. Magoosh's virtual version.
Another notable player in the realm of GMAT preparation is Varsity Tutors. The reviews of Varsity Tutors GMAT tutoring on our site can help you assess their teaching methods, resource quality, and overall value for your prep journey.

Dashboard
Magoosh provides you with a dashboard service that is personalized to track your progress. You can track your speed, re-watch your videos, and customize your courses accordingly.
Magoosh does a wonderful job of keeping track of your progress through pie charts and comparing that pace with the other users.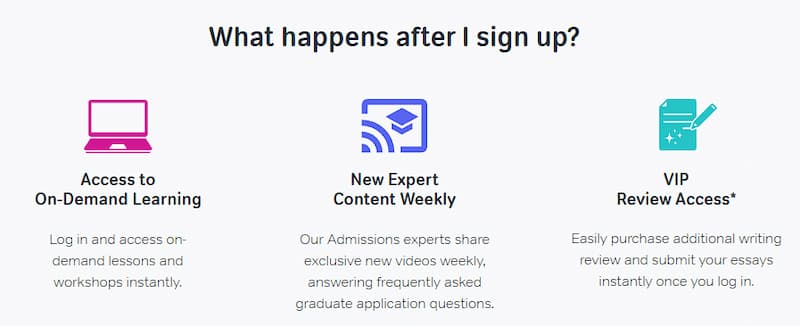 Strategies
Magoosh provides helpful test-taking tips. However, it is hard to trust the users' strategies since they seem highly unlikely to be applicable on the actual test day.
Manhattan, on the other hand, has effective test-taking strategies. They teach an efficient approach to the exam and will make sure to focus on each strategy in detail.
So, it is plausible for you to get better tricks from Manhattan Prep when comparing Manhattan Prep vs Magoosh vocabulary GRE.

Practice Questions
Magoosh follows a more hands-on approach to assistance. They have an email service for students who have enrolled in their course, through which the student can keep in touch with the service providers to clarify any confusion.
Manhattan has more realistic questions and will help to build on the basics of math or comprehension skill.
Manhattan GRE flashcards vs Magoosh flashcards
Manhattan Prep provides two sets of flashcards which are termed Essential or Advanced. However, the flashcards from Manhattan are not as easily accessible and need to be paid for. The GRE Flashcards for 500 words from the company can cost about $19.
In terms of flashcards, we also have a detailed Magoosh vs Kaplan GRE flashcards comparison on our blog. Check it out.
Comparing Magoosh vs Manhattan GRE vocab, Magoosh seems to be more promising with its easy accessibility and portability.

Magoosh program provides students with Free GRE vocabulary Flashcards. They offer an online collection of different decks from Basics, Common Words to Advanced Level words. The app version of the program allows much better practice to review vocabulary words more frequently.
Evaluating GMAT prep options can be daunting. If you're considering the Princeton Review, our article – the Princeton Review GMAT premium prep review – provides a thorough critique, assessing everything from course content to student support services.
Thus it is important to compare the Manhattan vs. Magoosh GRE cards by considering the accessibility and costs of each.
You can choose between the Manhattan Prep 500 vs. Magoosh online flashcards based on your preference.
So, Who wins?
For students who want to be in the top percentile and get the services for cheap, Magoosh is the way to go. Magoosh is a well-rounded and more convenient course with challenging questions and a portable app along with a score guarantee.
However, if you start early with your preparation and want to be in the higher percentile, Manhattan Prep seems to be a better option.
Both Magoosh and Manhattan GRE offer valuable resources for GRE test preparation. Magoosh's flexibility, affordability, and user-friendly platform make it a strong choice for self-directed learners. Manhattan GRE's comprehensive curriculum, advanced strategies, and personalized support make it appealing for students seeking a structured and interactive learning experience.
Ultimately, the decision between Magoosh and Manhattan GRE hinges on individual preferences, budget considerations, and learning styles. As students embark on their GRE preparation journey, it's crucial to carefully evaluate both options to choose the course that aligns best with their goals and needs.
Are you considering Varsity Tutors for your GMAT preparation? Our review of Varsity Tutors GMAT tutoring offers detailed insights into their program, helping you make an informed decision.