With the pandemic hitting us hard, it is difficult for us to go out of our homes for anything, be it jobs, schools, or even grocery shopping. But life doesn't stop moving forward, and neither should you. With your career and future life depending on how well you do in school and college, there is no need for you to neglect your studies just because a global pandemic is raging on.
However, this doesn't necessarily mean that you should neglect your health and stop taking precautionary measures. The safest way for you to continue studying hard is through the best math tutoring websites.
There are plenty of quality teachers and tutors available at various best math tutoring centers. Taking online help from the best online math tutor sites is like handing the future in someone else's hands because good teachers can make you, and bad teachers can have a deteriorating effect on you and your career.
Therefore, you need to be very careful when choosing the best online math tutoring services. There are plenty of features that you need to keep an eye on. To save your time and energy and make the process for you a bit easier, we are here to help!
We have reviewed a few of the best online tutoring websites with the best online math tutor and are very student-friendly. Moreover, we have listed some of the features you should consider before choosing the best math tutor online.
Without further ado, let's get started!
Best Online Math Tutoring Programs
Wyzant

Refund if not satisfied with the first-class;
Suitable for professional students;
Good customer support;
Easy to use the website;
Loyalty program.
Relatively expensive;
Hard to recover a forgotten password.
When it comes to Math, we can all agree that we have faced issues with solving Math problems at one time or the other. With the help of the best online math tutors at Wyzant, you can rest assured that not only will you get expert assistance, but all the ambiguities that are present in your mind will be cleared as well.
The average price of Math tutors on Wyzant is $33 - $55 per hour. With the tutors on Wyzant being professional experts, they set their prices based on their skill and demand. You can compare the tutor costs and choose one that suits your budget requirements.
There is no signup fee, and there are no costly packages. You only pay for the time you need – whether it is a single lesson or several lessons. You will not be charged before a class, only after it is complete.
There is an application for both Android and iOS so that you can take lessons on the go.  You can hire a local tutor as well; thus, you will avoid language barriers. However, keep in mind that this best math tutoring website operates in the USA and thus provides tutors from the USA only.
You can contact customer support via email, live chat, or phone call. You can also get help other than mathematics from Wyzant as well. Please find more information about this service in the
Wyzant tutoring complaints
that customers left on our blog and from our review we did the other day.
Preply

Low hourly rate;
Skype connection;
User-friendly interface;
Money-back guarantee;
The best online geometry tutor.
Package lessons aren't flexible;
You will have to spend some time searching for tutors.
One of the best math tutoring programs is Preply. When selecting the best math tutors, you need to pay attention to the qualification of teachers, and the teachers available on Preply have university degrees in mathematics.
You can check out the profiles of the tutors and read the reviews left by previous customers. With various tutors available, you can get help in subjects ranging from Linear Algebra to elementary school courses for kids. According to the students' knowledge, there are three levels, and you can select the one you think is a perfect fit for you. If you are still not sure, then you can contact the instructors anytime!
The prices start from $2/hour and go in according to the skill and demand of the best math tutor. You can schedule the classes with your tutor at your ease. The lessons are delivered via Skype. Find more about this company in our detailed
Preply.com review
.
Varsity Tutors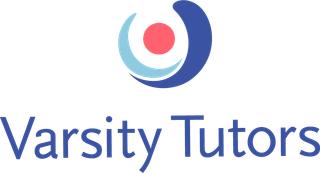 Mobile application;
Suitable lesson plans;
You can switch tutors;
A large number of experts.
No precise info about the pricing on the website;
Have to enter a lot of information to get access to the website.
Even if you are not majoring in mathematics, it is necessary to learn the general concepts and skills of mathematics you will use in your everyday life. However, without suitable tutors and guidance, it can be a bit daunting to learn math independently.
With the help of Varsity Tutors, one of the tutoring websites for math, where you can get immediate help with a math class or set up weekly best math tutoring online. From Line Algebra to Geometry, there is something for everyone!
You can get all the help you need with questions, assignments, problems, etc. Moreover, you can get the help you need in a short time period.
Varsity Tutors offers mobile application apps that are compatible with Android as well as iOS. Moreover, customer support is available 24/7, and you can get any query that you might have answered very quickly!
Even after this era of social distancing, there is nothing like studying from the comforts of your own home and calling up a tutor on-demand. Even if it is 3 am, and you are looking for homework help, or whether you have a 15-minute window between your back-to-back jobs, with the help of the best online math tutoring programs, you can get all the help you need. Instantly!
They have instructors of the highest calibers, and you can get online instruction anywhere and anytime! The pricing is slightly higher as they charge around $70-$95 per hour for the private tutoring sessions. If you look for more info about their tutors, we wrote a
VarsityTutors review
for you.
HelloThinkster

Money-back guarantee;
Top math tutor service;
24/7 customer support;
Mobile applications;
Trial package.
No live chat;
No interaction with other students.
Hellothinkster has been providing services to students for quite some time now. All you need to do is tell them what kind of Math problem you need help with. From Advanced Algebra and Geometry to Calculus and Trigonometry, you can get all the help you need.
At Hellothinkster, online math tutors are trained educators who make personalized learning plans for each student.
Not only is your data safe with Hellothinkster, but you also pay only when you are satisfied with their services. They have web applications for desktops and laptops. Moreover, mobile applications are available for both Android and iOS.
Various pricing programs are tailored as per your needs and requirements. They have three tutors-led pricing programs: Gold, Silver, and Platinum. You can even start from the zero pricing program on a trial basis. The tutoring and lessons are very interactive, with tutors providing worksheets daily with personalized comments for students.
With fast service, a money-back guarantee, and 24/7 support, Hellothinkster is an online tutoring site you should trust! For a detailed overview of HelloThinkster and their math tutoring, read our
Thinkster Math review
that is finally available.
Learner.com

Best-in-class tutors;
The free first session;
100% satisfaction guarantee;
Feedback is given every session;
Recordings of all sessions are available to access after.
Hourly rate is a bit high (standard for this level of quality);
It doesn't support other subjects if the student wants help in other academic areas.
Learner offers high-quality math tutoring across all subjects and education levels. They are an online service and leverage an innovative and secure platform connecting students and learners, also providing feedback for each session and progress reporting for parents. With a free first session and among the best tutors in the industry, Learner is a service that's hard to beat.
When you're ready to get started with Learner, you first fill out a comprehensive questionnaire covering your student's background and unique learning needs. After that, Learner's Academic Coach connects with you to discuss your responses, going into more detail in critical areas. From there, they match your student with the tutor who is the right fit.
The first session is complimentary, ensuring you are 100% satisfied without having to commit upfront financially. Learner's platform is also cutting-edge and secure. Each session is recorded, and at the end, feedback is given so parents can keep up with their child's progress. Their rates start at $40/hour. In our opinion, this is a good match for the level of quality and service.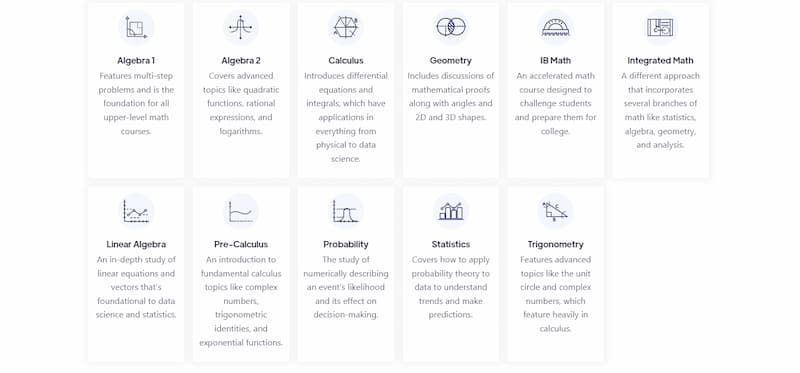 Learner covers all subjects in math from the elementary to post-grad level, including Algebra 1, Geometry, Trigonometry, Algebra 2, Pre-calc, Calc (AB/BC), Statistics, and others. The Learner also offers services preparing students for the most common college entrance exams. To find even more vital information about their tutors, check EduReviewer's
Learner review
and ensure they are an excellent online math tutoring provider.
TutorMe

Live chat;
Variety of tutors;
Reasonable rates;
Mobile application.
Monthly subscription;
Requires constant internet connection.
We all know that exact sciences are complicated to master, and when it comes to Mathematics, the tons of rules and formulas can be a bit overwhelming. However, with the right help and guidance, nothing is impossible, and that is the type of attitude that math tutors at TutorMe have!
They have the best online math tutors that are available for instant help. You can get subject specific-help from tutors that specialize in algebra, statistics, calculus, and a lot more.
With professional math problem writing help, all you need to do is choose the type of paper and assignment you need, the deadline you have, and any other requirements that you want to be fulfilled, and voila! You will have the help you need!
They give the utmost priority to the safety of customer data, and you don't have to worry about your personal information getting out. With 500+ tutors with plenty of high ratings and reviews, which not all math tutoring companies have, you don't have to worry about the quality of your work.
With their plagiarism-free policy, you won't have to worry about your assignments getting low grades. Since they adhere to deadlines, you get your tasks on the chosen date! They have a mobile application and have 24/7 customer support.
Contact them within 72 hours of availing of your initial session, and they'll set you up with a new one. In case you don't like the new session as well, you will get a full refund! If you are still not sure about this website, check our
Tutor Me review
and be sure that this is decent tutoring.
Best Companies for Math Tutoring: FAQ
What should you look for in math tutoring websites?
When it comes to online math tutoring websites and top math tutor websites, you need to look for features such as user reviews, ratings, pricing, customer services, etc. We have explained this briefly below as well.
What are the pros & cons of using math tutoring services online?
Instead of letting your grades go down the drain, you can get math tutoring services and let your academic career go up. From the comfort of your home, you can get math tutoring anytime.
You never know how much do top math tutor charges. Thus, the only con of these top math tutoring programs is that you have to pay for the help that you get, which can be a burden on your student budget.
Who can help me with math learning?
Experts with professional degrees in mathematics can help you with your math from these top online math tutoring sites. There are several expert tutors online, and you can take their help.
Where to get math tutoring help safely?
You need to ensure that the best online math tutoring program you are using keeps your information and card data safe and secure. The best online math tutoring websites that we reviewed ensure that the user information stays safe and you get math help safely.
How to choose the best online math tutor?
Keep an eye on the website's authenticity by checking out the online math tutoring reviews by users on their website. Moreover, read online math tutor reviews of the math tutoring website available on other social media sites.
Is it legal to have math tutoring online?
Yes, it is definitely legal to order math tutoring assistance. As long as you are not plagiarizing, taking help from expert top math education tutoring sites is perfectly fine.
Final Word: Vital Point for a Service
Prices
When it comes to online tutors and the best websites for math tutoring, the prices and rates are something that you need to keep an eye on. With us being students, we are in a financial crunch most of the time. With our student budgets, it gets hard to take out the money required for tutoring.
A higher price tag doesn't always mean high-quality as well. However, several agencies and websites don't charge exorbitant prices and yet offer you quality services. We have reviewed them below.
Keep an eye on your budget, check the prices of the best online tutoring for math you are looking for and then choose one that fulfills your requirements!
Secure Payments
When it comes to online payments, the security of your information is critical. It would not do to have your hard-earned money stolen away from you just because a service you used didn't pay enough attention to your credit card information security.
Make sure that the best online math tutoring website that you are using doesn't look fishy and properly ensures your credit card data security. Use one of the reviewed top math tutoring programs online services below, and you will not have to worry about the safety of your money!
Guarantees
A good tutoring company and website always put the needs of their customers first. There aren't a lot of companies that offer guarantees for the services they provide. For example, if you are looking for help with a math assignment and you are not satisfied with the services, does it mean your money and time will go to waste?
In the case of a good and reputed online tutoring service, this will not happen. No matter how complicated and difficult the tasks are, the professionals will ensure that everything is perfect and just the way you want it.
Moreover, they will provide you with revisions if you are not happy, and some even come with money-back guarantees!