Varsity Tutors Review
Check a brief Varsity Tutors review on Youtube by clicking the button below:
Undoubtedly, knowing that the rest of your future relies on a single exam is stressful. But, selecting a reliable platform to prepare you for the exams is more stressful and challenging. The right prep platform makes your way to the dream school; likewise, a wrong decision potentially wastes your time, money, and test score.
The days are gone when a student used to flip through the classified ads in newspapers to find reliable tutoring services. One can easily contact highly-qualified instructors online through tutoring platforms such as Varsity Tutors.
Varsity Tutors offers multiple options, allowing students to book lessons anywhere in the world in various subjects. Get instant tutoring options for all educational levels, from kindergarten and school to college. As well as you can book tutors for the prep courses. The site offers comprehensive tutoring services with guaranteed results.
If you are interested in their prep courses and classes, you can check one of my other reviews: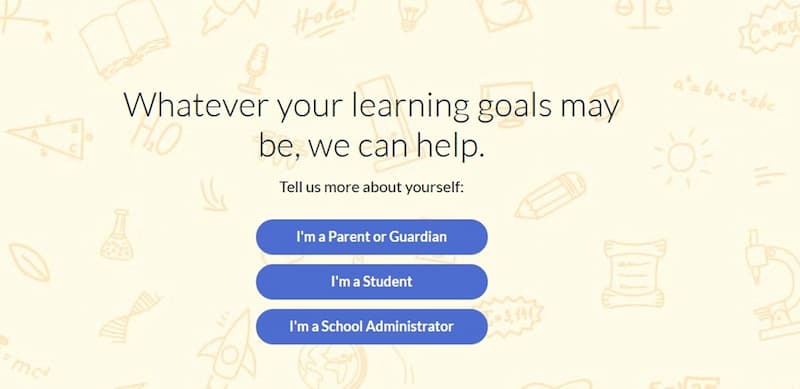 This Varsity Tutors review will greatly help those who need assistance finding an experienced tutor who is right for them.
So, what are you looking for? Get into this Varsity Tutors review and get the inside scoop on their teaching services and the pros and cons of this online teaching platform!
VarsityTutors Features
Varsity Tutors is an online learning platform offering in-person and online teaching classes in more than 1000 subjects at different educational levels.
The site welcomes students worldwide and offers remarkable services for kiddos in kindergarten to professionals struggling with their professional exams. So whatever specific subjects you have got, you will find the perfect teacher for them.
The coolest part is that the VarsityTutors connects you with tutors who are specialized in whatever topic you have been struggling with. The amazing platform was founded in 2007, and since then, they have provided 3 million plus lessons and classes which is incredible.
Our Varsity Tutoring review aims at providing unbiased information regarding the value of the service provided. We understand that the world of online education or online tutoring companies can be full of scams or untrustworthy websites.
We can help you decide if it is the right service for you. We evaluate this website based on the quality of the service, safety, and value and look for the best math tutor.
Why Is Varsity Tutors Better?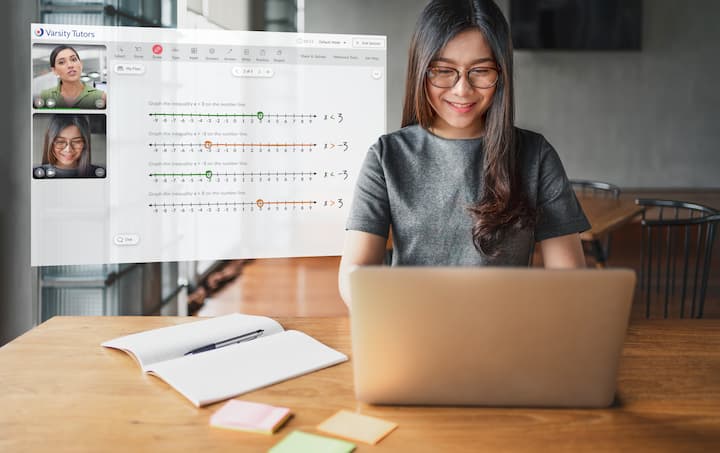 Before getting into the detailed varsity tutors review, let me make one thing clear to you why this site is better:
The students can get live online instructions and classes anytime, anywhere.
A unique learning style.
The highest caliber tutors.
Instructors have expertise in more than 3000 subjects.
The reviews of Varsity Tutors guarantee 100% instructor satisfaction.
Varsity Tutors ratings: 4.9/5.0 overall rating from more than 150,000 clients.
Varsity Tutors: How It Works?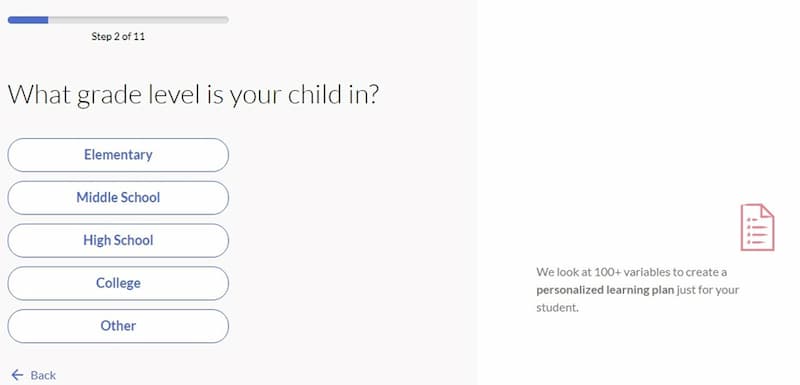 The strategy behind Varsity Tutors work is pretty simple. Every student has to complete an adaptive assessment. It helps analyze the students' strengths, weaknesses, and needs. Following the results, a plan provides the required support to the students through needed classes and experts.
Let me tell you one thing: your teaching services are completely customized here. Therefore, you get the in-person tutoring or can go for the group activities per your personal choice.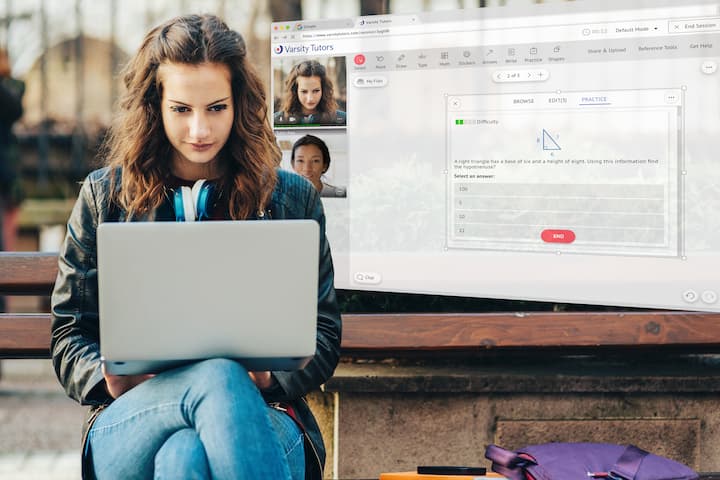 Now, if you think their group classes would not be effective, then you are on the wrong side. As per my experience, group classes are as effective as one on one tutoring.
Class sizes vary depending on whether you are in a small group (six to nine students) or a large group (consisting of video lectures with few live classes).
Also, you can join their workshops and summer camps linked to the various school programs.
A Great Platform for the Students of All Educational Levels
Now, you might be curious about whom this amazing platform is for. Well, it is an amazing place to learn, regardless of whether you are a Kindergarten or college student.
Most users would find some parents or grandparents sign up to provide the best academic teaching to their kids and let them succeed in their school/college. Also, many of the college students sign up here for themselves.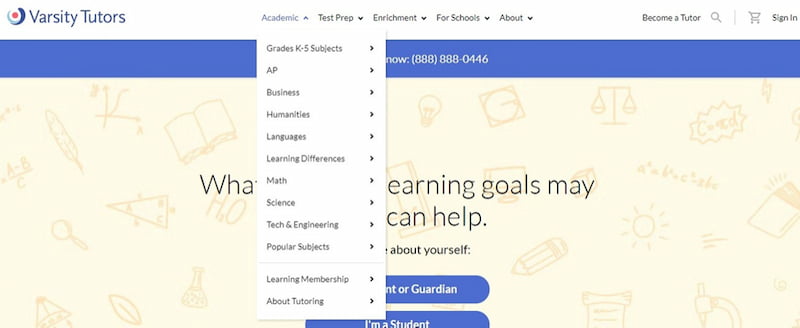 Like many other graduate students, I signed up by myself and got the most needed help in my college work. If you are a younger student at school , no worries; sign up by using your parent's credit card.
Who Are The Tutors There?
The tutor is the crucial and key factor that could assure you of the success of your teaching. These days, you can find countless online teaching platforms and online classes, and with closer attention, you will find that their qualification varies hugely.
At one platform, if you find the graduates, then at another site, there will be highly experienced with Masters or Ph.D. degrees.
But, when it comes to the tutors' qualifications and experience, what matters the most is what you want to teach your kid. It is what, Varsity Tutors believe in.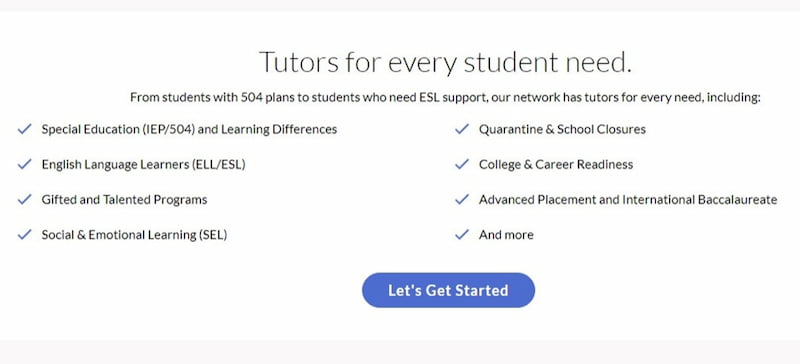 The tutors you get here at Varsity Tutors are those like you who have been through the same test or exam by themselves, which you have been preparing for. So, first of all, remember that the tutors you work with have enough experience in the subject matter.
Take the example of NAPLEX; the tutors you will get to prepare for this exam are licensed pharmacists who have already passed this exam with distinction. I must say that this is the bonus that many students like you and me get over here by having what we are looking for.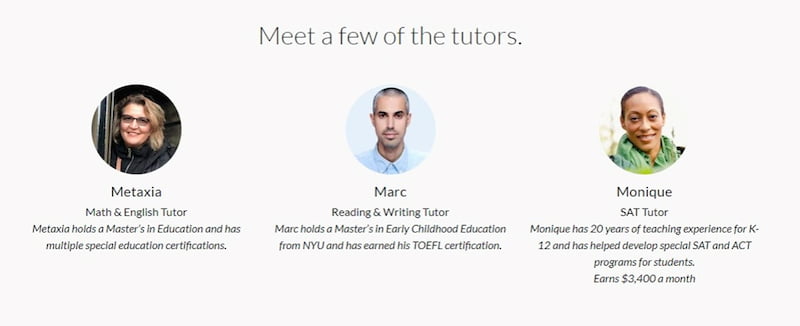 The other thing I believe is worth mentioning here is hiring tutors. At many other online teaching sites, they choose the teachers after a quick questionnaire, after which the selected candidates can start teaching immediately.
But, the tutors of Varsity Tutors have to go through a competitive interview and training before they start teaching. Only the individuals with certificates in the particular subject area got the chance to teach.
So this way, the families get a great tutor with experience and in-depth knowledge about the subject.
Also, the students get the tutor per his personality and learning style, which is worth mentioning here.
You can also check the profile of tutors to ensure they have the relevant experience to fulfill the needs of your kids!
Aspects of Quality Education
The abilities and experience of the tutor are undoubtedly one of the most important factors you cannot compromise on. But, in addition to it, there are certainly other aspects of quality education that cannot be looked over.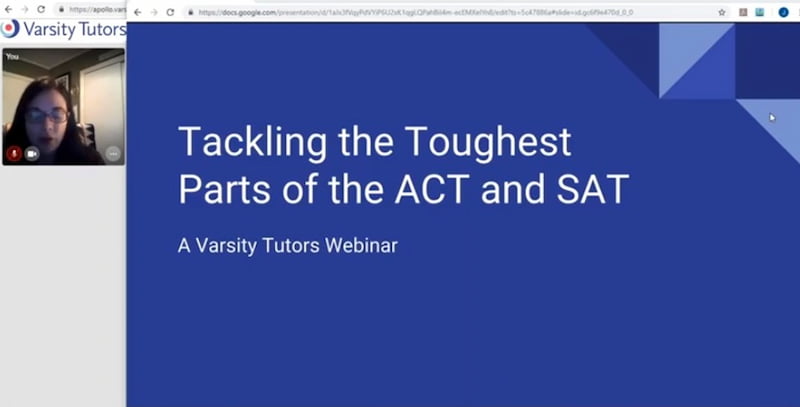 For instance, with Varsity Tutors for one on one tutoring, you will tell about your needs and preferences. Consequently, the kid will be paired up with the best available tutor, and the entire process did not take as long as you might think.
The other feature that has fascinated me the most is "instant tutoring," where students can start learning within seconds.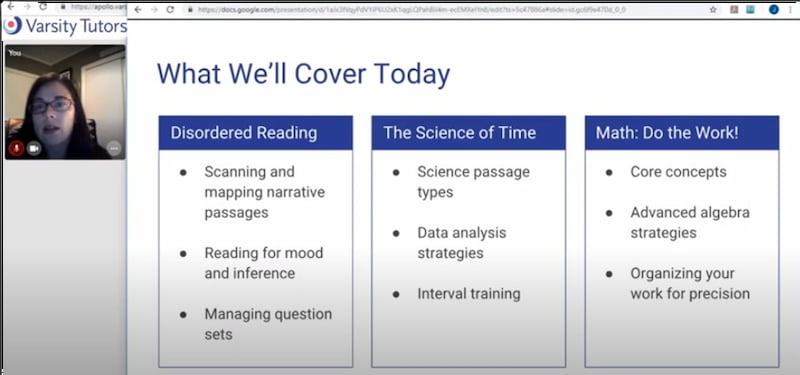 For many subjects, the minimum lesson length is one hour; for others (ACT and SAT preparation), two-hour teaching sessions are also available. It works amazingly for all the grown-up students, but these long sessions could be annoying for young kids or those with busy schedule who look to get into everything in a few minutes.
Also, if you got busy somewhere and would not be available to schedule, you can cancel with prior notice at least 24 hours ago, and I did it multiple times because of my bus schedule. But remember that if you cancel the planned lesson just a few hours ago (less than 24 hours), you will still be a chainsaw.
VarsityTutors Test Preparations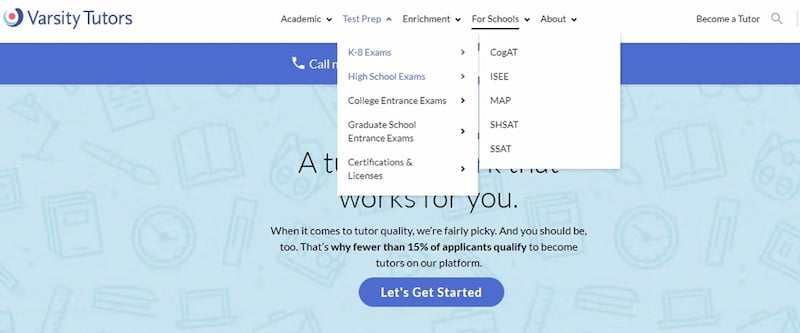 After an overview of this site's incredible features, learning about the tutors and teaching procedure, and being the Varsity Tutors reviewer, I should tell you about the courses the site offers you, particularly for preparing for various tests.
The site was made to provide educational assistance to students related to different academic subjects, including the:
Science;
Mathematics;
English;
Social Studies;
Humanities;
Languages;
Business;
Tech & Engineering;
Other Popular Subjects.
Well, the sub-categories of any of these subject matters depend on the age of the students using these services. For instance, if you are a student in grade 7, you will pair up with the tutors teaching elementary Math. But, the college students will pair up with the one teaching Calculus Math.
Below is the table giving you a complete overview of what VarsityTutors prep courses you can get admitted to here:
1
K-8 Exams
CogAT

ISEE

MAP

SHSAT

SSAT

2
High School Exams
ASVAB

AP

GED

HSPT

IB

ISEE

SHASAT

SSAT

TACHS

3
College Entrance Exams
ACT

PSAT

4
Graduate School Entrance Exams
GMAT

DAT

PCAT

5
Certifications & Licenses
Bar

CPA

Finance (CFA)

Medical

NCLEX

NMLS

Praxis

Securities

Real Estate License
VarsityTutors Pricing
At Varsity Tutors, you can find various types of packages depending on how many time frames you have and the number of lectures you want to attend. The prices at Varsity Tutors vary from $73 to $95/hour, depending on your chosen package. For instance, you can choose a package of 6 sessions or 12 teaching hours for $1140.
Most of the Varsity Tutors complaints are about Varsity Tutors prices. But let me tell you that you are paying for quality services, and the final grades of your kids will tell you that it is worth paying!
Also read: Varsity Tutors vs Princeton Review
| | | |
| --- | --- | --- |
| Number of Hours | Price | Grand Total |
| Basic 12 Hours | $95/hour | $1140 |
| Standard 24 Hours | $80/hour | $1920 |
| Advanced 36 Hours | $75/hour | $2700 |
| Complete 48 Hours | $73/hour | $3504 |
The Basic or 12 Hours program costs you $95/hour and $1140 in total;
The Standard or 24 Hours program costs you $80/hour and $1920 in total;
The Advanced or 36 Hours program costs $75/hour and $2700 in total;
The Complete or 48 Hours program, costs $73/hour or $3504 in total.
I feel that it is my obligatory duty to mention here that you can also avail the "Learning Membership Plans" of Varsity Tutors. In addition to my recommendations, many Varsity Tutors reviews depict that it is a wonderful deal for many students who must attend a few teaching hours each month.
So, why not join the unlimited group enrichment classes (4 hours/month)? Now, if you are thinking of its cost, that is just below:
$1794 for six months or $299 per month;
$3228 for twelve months or $269 per month.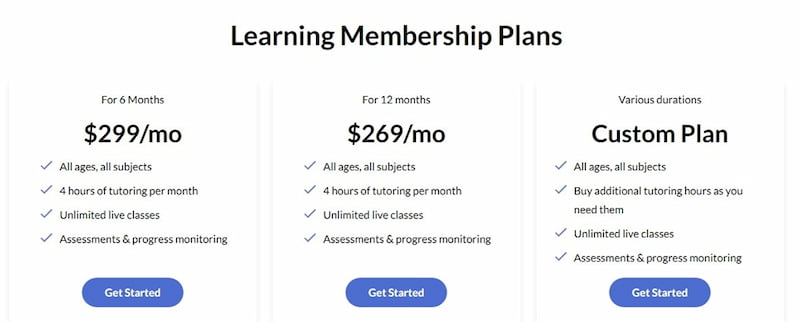 Also, you can join their SAT and ACT preparation classes at three different times, for instance:
One week bootcamp
Four weeks bootcamp
Eight weeks bootcamp
Though these sessions will not include additional support or practice tests outside the class time, many VarsityTutors.com reviews show that these test prep sessions greatly assist. The cost for each test prep bootcamp is the same, and that is $525 for 16 hours (group classes).
Which Payment Options are Available at VarsityTutors?
I prefer to pay through a Credit card, but the other VarsityTutors reviews show that the clients are using the following payment methods:
MasterCard;
Credit Card;
Debit Card;
Visa;
Barclaycard.
How Much Does VarsityTutors Pay to the Tutors?

How much does Varsity Tutors charge per hour?" The Varsity Tutors cost varies depending on different factors such as the subject's demand, difficulty level, and the student's geographical location. The tutor's pay varies from $15 to $30/ hour.
The teachers receive $15 for the private online classes, while the in-person tuition costs $18 to 20. Science, Math, and those with specialist academic knowledge earn higher. Also, after a few tutorials, the teacher can get the chance to join group classes, summer camps, and workshops which can pay up to $30 per hour.
Furthermore, one can also join instant teaching to increase their payments 2-4X than the standard rates. Though, you get these chances occasionally. The site also increases the pay rate from $3 to 5 after one completes the first month.
The teachers must submit their invoice for the payment while their amount is directly transferred to their bank accounts.
Quality
Regarding education, quality is the key factor that cannot be compromised. Here at Varsity Tutors, you can find a huge network of tutors who work for students.
The platform becomes picky as the parents need to be while selecting the learning platform for their kids to ensure the quality of education and classes. The figure might be surprising for many, but less than 15% of the applicants qualify for tutorship on this platform.
Now, the question arises how Varsity Tutors pick and evaluate the best tutors? Below are the steps outlined by a tutor follows before meeting the student:
Step 1: the interview is the first step of the vetting process, where the instructors' skills, experience, and capabilities are accessed.
Step 2:the tutor went through a teaching session where they could showcase their subject-specific knowledge and teaching skills.
Step 3:It is crucial, as virtual teaching differs from physical teaching.. Therefore, the applicant has to prove the ability to instruct in the virtual environment.
Step 4:After that, the instructor gets the rankings and scores per the criteria or standards of the VarsityTutors.
Step 5: Lastly, before contacting the students, the tutor has to pass several educational and personal background checks.
Tutors Who Fulfill the Needs of Every Student
What so ever a student needs, the tutors are so well-trained and experienced that they can fulfill everyone's needs. Below is what lets the instructors satisfy the needs of students:
English language learners;
Social and emotional learning social education and learning differences;
Quarantine and school courses;
Gifted and talented programs;
Quarantine school closures;
Advanced placements and international baccalaureate;
College and career readiness.
Guarantees

Varsity Tutors reviews prove that the site delivers the results as promised. The quality of teaching services with the tutors' efforts and focus guarantees the students' success in every exam. What Varsity Tutors guarantees you, let's have a look over them:
I. Better Score
The students avail themselves of the teaching services at Varsity Tutors to prepare for their college or graduate admission exams, and the platform guarantees them in their tests.
Also, if you are the one who will appear again in the test this year, congratulations; the site guarantees you will achieve a higher or better score this year.
II. Passing The Exams
Many students use these amazing teaching services to pass Professional certification exams. If you like one of them, cheer up Varsity Tutors guarantees you success. The teachers remain available until you don't succeed or get your money back.
III. Personal Satisfaction
Suppose you attempted the college admission test this year but failed to get the targeted score. Worry not; the Varsity Tutoring site offers a live online course related to the same exam you attempted. So this way, you can get yourself prepared for better results.
IV. Satisfaction Of The Tutors
This guarantee is for the customers throughout the teaching hours on this platform. Suppose you were not satisfied with the contacted Varsity Tutors; you need to get in contact with customer support and discuss your issue.
Here you need to explain why you are not satisfied with the instructor, and after a few minutes, you will contact another tutor.
Also, the coming teaching first session would be free of charge. Per my review of Varsity Tutors, you will not feel any need to replace or change the tutor.

How Is VarsityTutors Different From Other Tutoring Services and Platforms?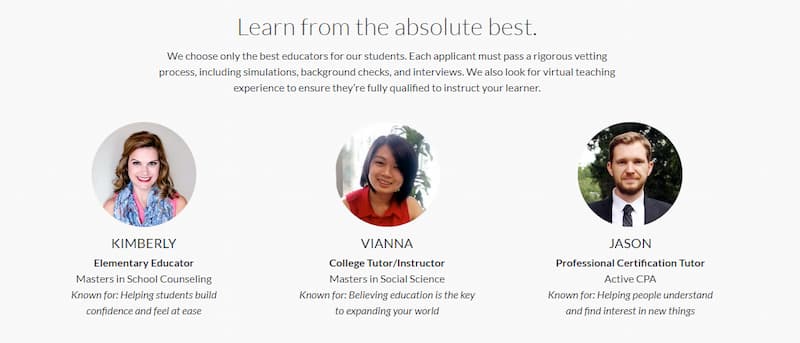 Let's compare the Varsity with other online tutoring service:
Tutoring Platform: Varsity Tutors
$95/Hour price, 3,000+ Subjects, and 4+ Star Rating
Tutoring Platform: Wyzant
$10/Hour price, 275 Subjects, and 4+ Star Rating
$1 To $40 Per Lesson price, 120+ Subjects, and 4+ Star Rating
Tutoring Service: : Princeton Review
$167/Hour price, 100+ Subject, and 4+ Star Rating
| | | | |
| --- | --- | --- | --- |
| Tutoring Services | Prices | Subjects | Quality Ratings   |
| VarsityTutors | $95/Hour | 3,000+ Subjects | 4+ Star Rating |
| Wyzant | $10/Hour | 275 Subjects | 4+ Star Rating |
| Preply | $1 to $40 Per Lesson | 120+ Subjects | 4+ Star Rating |
| Princeton Review | $167/Hour | 100+ Subject | 4+ Star Rating |
If you are looking for top English tutors, check this English tutoring services list.
Value for Money
Are the services worth the price? What will you get for the price paid? These would be the queries popping up in your mind. I have covered these and many other queries you have in mind.
Is Varsity Tutors legit company? The site has more than 150,000 clients, and the reviews of VarsityTutors.com revealed that Varsity Tutors have incredible 4.9/5.0 ratings for their live tutoring sessions.
These remarkable ratings and the reliance of so many parents on this site would have convinced you this is a reliable and legit learning platform.
Hopefully, now you would have got the answer to the question if Varsity Tutors is a scam popping into your mind.
Moving further, let's have a look over some key features of Varsity Tutors to show how the site values your money and provides you the quality services:
     I.         Personalized Learning
With this incredible feature, the students from school to college can get assistance per their needs. After completing the adaptive assessment, parents or students discuss their needs and create an adaptable learning plan and learning goals.
The simple-to-follow procedure brings some magical results. After contacting the teachers, you can review Varsity Tutors and change your instructor if unsatisfied.
  II.         Innovative Online Learning
Since its creation, the site has brought up innovations in the online learning strategy. So, from my perspective, this live learning platform has revolutionized the learning experience of countless students around the globe.
The collaborative workspaces, video chats, and session recordings make learning easier.

   III.         Varsity Tutors Has A Perfect Tutor In Mind
There are 40,000 plus tutors, and as you submit your query, the search for the best match start. Consequently, the Varsity Tutors customer reviews show that the students get the right expert to understand and solve their problems.
Varsity Tutors are very picky in this regard; in response to a student's query, they check the educational background and experience of the instructor to assure the student gets the perfect tutor.
  IV.         Private Tutoring: Just A Click Away
Do you need a private tutor to get yourself prepared as your test is around the corner? Why stress when Varsity Tutorsoffer private teaching anytime and anywhere. With their instant teaching, the live one on one tutoring options is accessible in more than 250 subjects.
So, you need to contact the experts regardless of whether you are having problems in test preparation, solving the algebra, or organic chemistry equations are the root cause of your pain; Varsity Tutors has the solution for all.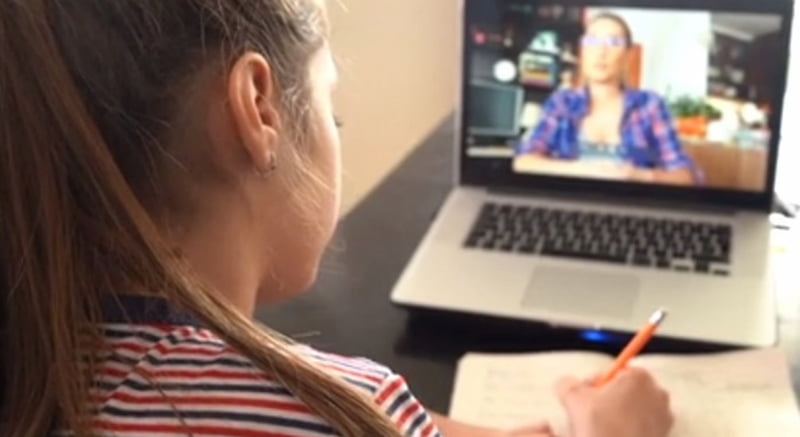 Student Feedback and Company Reputation
The Varsity Tutors is proven to be a great tutor and fulfills the needs of the students. The teachers guide the students to the question in just a few lessons. It is worth mentioning that the instructor teaches more than the student needs to learn.

Many of the students find Varsity flexible concerning timings. Moreover, the teachers use different approaches, which are pretty effective in teaching the students. Many of these approaches would not have been used by any other teachers.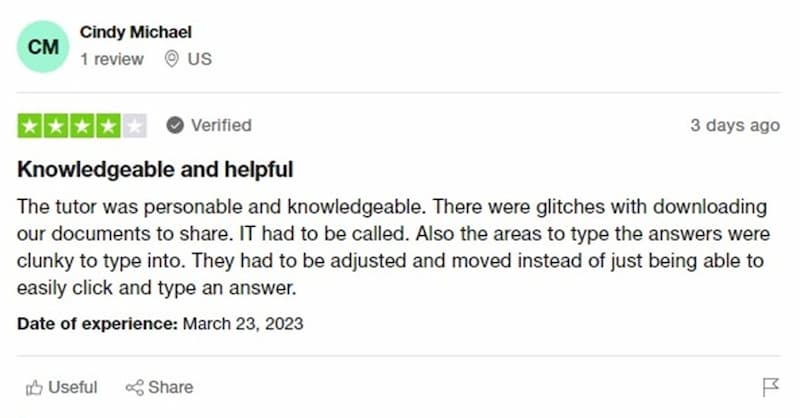 The tutors know which type of material you need and provide you in time, making your life easier. The provided documents help in learning the hard-to-understand/learn topics. The application, one on one learning, and customized teaching classes make this platform unbeatable.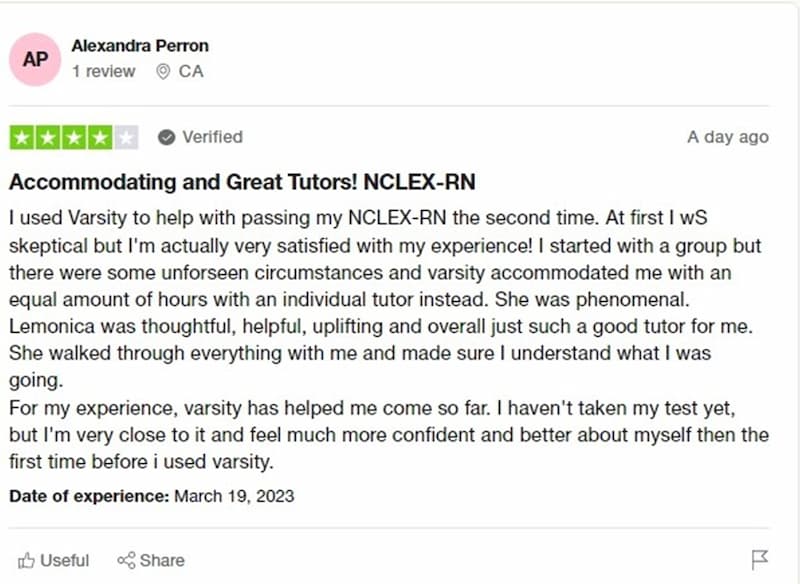 The teams are supportive, and customer services are fine, but the approachable and knowledgeable tutors make this platform worth considering the option for online teaching. The site should give a chance to the students to choose the tutor of their choice; all of their best teachers get booked so quickly.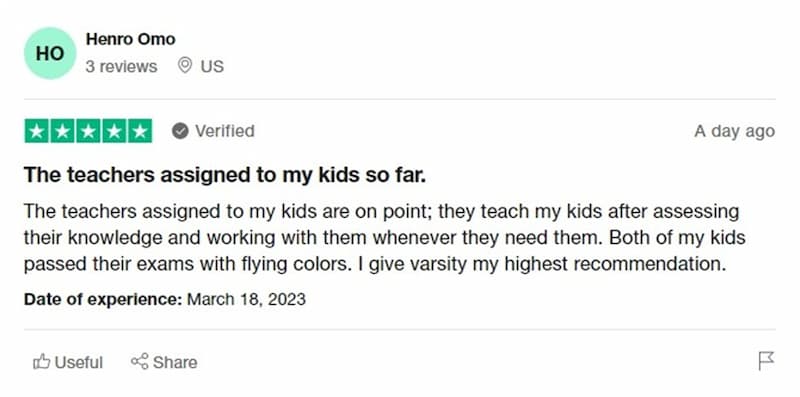 Many students prefer to know this information beforehand, so they use other tutoring services like Preply.com because of some pros. Is Preply safe? Read more in our detailed and complete review of Preply.
Pros
The site offers various course options based on the live instructions, making it different.
Teachers communicate the subject in a way students can understand easily.
Different teaching options include small group classes and private teaching.
Online classrooms are equipped with the latest teaching tools.
Teachers are available for students with limited disabilities.
Prices are lower as compared to other teaching services.
Take your study on the go with their mobile application.
You can get a lot of supportive learning material.
Choose the timings per your feasibility.
You get a tutor who suits your needs.
Tutors know the subject very well.
Cons
Limited practice options.
The website doesn't offer clear information about the prices.
The prices are a bit higher for a few courses, including the small group class.
The quality of the service provided is solely dependent on the person you are working with.
The Recap: Is VarsityTutors Good?
Presently, the advancing world has brought remarkable change in the education world. Therefore, students prefer personalized lessons instead of classrooms for the deep learning experience and impressive scores.
If you are also looking for experienced tutors who can help you to reach your academic and learning goals, Varsity Tutors is your destination. The site connects you with highly skilled, qualified, and experienced professionals who have the capabilities to fulfill all of your tutoring needs. Every student is unique; they have unique needs and learn in unique ways. Varsity Tutors believe in it and therefore provide what the students are looking for.
The feedback of the students/parents indicates the quality of their teaching services. The instant teaching, free access to resources and classes, and money-back guarantees assure this site is the best platform to search for personalized teaching services.
Being a flexible online learning platform, offers you teaching services at various prices. So, you can opt for any of them depending on your needs, budget, and availability!
Frequently Asked Questions
How Reliable Is Varsity Tutors?
So, if you are confused and are curious to find out whether is Varsity Tutors a legit company, yes, it is legit. The site is not a scam as they offer various satisfaction guarantees, which clearly shows that the platforms keep their customers as a priority.
The tutors are experienced and knowledgeable and guarantee educational improvement. Above all, the students can choose from hundreds of subjects with flexible time formats.
Is Wyzant Or Varsity Tutors Better?
Wyzant is a reliable teaching platform that is easier to use. Likewise, Wyzant is a reliable site offering teaching services in various subjects. But, when it comes to budget, flexible schedule, learning style, and customized tutoring sessions, Varsity Tutors wins.
Comparing Varsity Tutors vs. Wyzant, we should say that both platforms deserve their rating. So, comparing Wyzant vs. Varsity Tutors in terms of quality, prices, and professional tutors is hard.
 Is Varsity Tutors Good For Language?
Many students struggle while learning foreign languages, including English. If you are also one of them, then Varsity Tutors is your destination. You can contact expert teachers on this site to help improve your language skills. Consequently, you can learn to read, write, and pronounce difficult words in a particular language.
Is Varsity Tutors Overpriced?
Many customers feel Varsity Tutors is overpriced, specifically compared to a few competitors. But, in reality, this is not the case. The site offers video courses, live group classes, private sessions, and more. When you look for the quality of services you are availing there, it seems worth paying every penny.
Is Varsity College Worth It?
Based on the overall rating, it reveals that the students at school trust and love the way teachers convey the lectures at Varsity Tutors. Undoubtedly, the teaching services provided at the college greatly help the students, and the teachers support the students in every possible way.