Entry tests are something tough to face for every student since a big part of their academic future will depend on the results. It is only normal that the preparation generates so much anxiety. That is why many students look to have the best prep for ACT possible and go to admission exam preparation programs. There are so many options and not much guidance, so we prepare this article to tell you about the best ACT test prep online.
Why Should You Take Our Reviews Into Account?
You might be wondering how we decide what the best ACT prep courses are. To answer it, we tell you about the criteria we evaluate to see if the profile of a company leaves a good impression. By knowing this, you will know that we build our reviews with great care and detail.
Pricing. An inflated price is no guarantee of good results. The ideal is for the company to have fair pricing, and if it's a little above average, then they should offer some extra features to compensate.
Quality of courses. This is, of course, a paramount aspect. Previous client reviews and the success rate of their students are good gauges to determine the quality of the programs.
Duration of courses. To see if the courses are long or short is not really the point. What is important is that the company offers several plans with various lengths.
Customer Service/Support. The customers should be the priority, so it is a great sign if the program has 24/7 attention and a well-prepared team of workers for customer support service.
Other extras. Guarantees, personalization of the courses, practice tests, website accessibility… features like these are the ones that give a big plus to a prep program. We always check if the companies offer any extra tools to their students.
What to Consider While Choosing ACT Prep Courses
The program you choose needs to answer the specific requirements you have regarding the test. So, it is important to know which kind of courses are available before you start looking for one. That way, you will see which format fits you better, and you will know in advance where to look.
Online courses: the era of the internet is filled with amazing tools to help students. That's the reason why there is a long list of top websites for ACT prep. These kinds of courses are great because you don't need to leave your house to go to classes and you are not limited to the courses offered in your hometown.
In-person programs: for those a little more traditional, there are in-person courses. These offer a more intimate experience in direct contact with the tutors and other students. If you can fit the classes into your schedule and the choices are in your town, this format might be for you.
The Best ACT Prep Websites: Reviews and Ratings
What are the best ACT prep courses? Let us tell you the details about some of the best out there.
Magoosh.com

Great pricing.
Customized practice sessions.
The best SAT and ACT prep courses.
They don't have much variety of courses.
Don't offer private tutoring.
This website has some of the most attractive offers in the market. They have reasonable prices and give high-quality preparation, led by professional tutors. Magoosh is the best ACT prep company. For example, for a base cost of 49.50 USD, students can opt for video lessons. With Magoosh, students pay for self-paced courses to fit into their schedule as they need.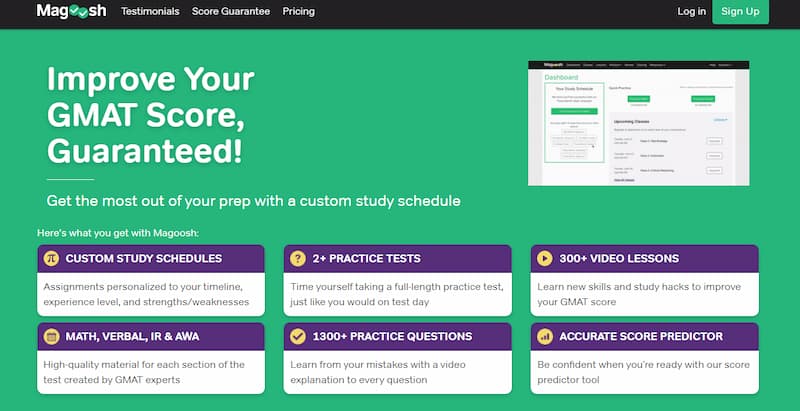 Also, they offer customized practice sessions that are designed based on the specific needs each student has. It is a company so sure of the quality of their courses that they guarantee that every student will increase their grade in the ACT by 4 points or more. This service is ideal for students with time management skills since they don't offer private tutoring or online classes.
PrepScholar.com

They have top rated ACT prep online course.
They have a lot of study resources.
Various programs to choose from.
Prices are a little high.
Don't offer in-person classes.
This is a widely known company with great courses for several entry tests and one of the best ACT prep online. It is not a cheap program (around 400 USD for the most basic plan), but the quality of the preparation is outstanding. They only offer online classes and online private tutoring, depending on the program the student chooses. Every course in PrepScholar starts with a diagnostic test that determines the weak spots the student needs to reinforce.
Students enrolled in one of PrepScholar's programs have access to a lot of resources and practice tests. The programs' duration varies from 2 to 5 weeks, and you can take it as many times as you like and keep access to the resources for a whole year. PrepScholar also gives a guarantee of improvement of 4 or more points in the results.
PrepExpert.com

They offer great study resources.
Professional ACT tutors with at least 99% of success on the test they teach.
One of the most expensive programs among with Kaplan.
PrepExpert is an outstanding company with attractive programs for students preparing themselves to present entry tests. They offer online courses that highlight the tremendous professional profile of their tutors and their well-designed curriculum. For the ACT, students can choose the tutor with the course from the start.
Tutors and their courses are great and include comprehensive ACT test prep. You'll be guided by a tutor and have hours of video lessons and private classes, and with the plus, you also have one-on-one coaching. Courses' duration can vary.
Many say that the best online ACT prep program is offered by PrepExpert. That is not an exaggeration because they have some of the best ACT tutoring programs since they only work with professionals who scored at least 99% of the grade. All students have access to practice tests, quizzes, and ACT prep videos.
Kaptest.com

Flexible study plans.
Affordability.
Best ACT prep material.
Great Customer Support.
Limited pre-recorded video content.
Kaplan is a leader in the market of preparatory courses. Do they have the best ACT test preparation? This is one of the first options to come up since this is a massively visited platform for students needing help with various essential exams. You can have a look at the library of study materials and focus on a format that suits your learning style.
This is also one of the most affordable choices on the market, with discounts available regularly. You can look over the study materials and test them before making the purchase, so that's a big plus. You can also download articles and eBooks with learning tips and significant study resources.
Customers can send inquiries and questions via email or direct call, and they will quickly get a detailed overview of the course. Although live instruction is available, there is also a massive library of recorded content to look over by yourself in your downtime.
PrincetonReview.com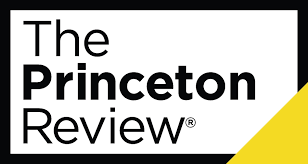 They have 24/7 customer support service.
Practice tests are available for their students.
Prices are some of the highest.
This company has some of the best ACT test prep online courses you can find in the market. They work with professionals only and offer courses to prepare for the ACT and other entrance tests. The method of this organization is to create a personalized study plan for each student, designed according to the aspects they need to enhance the most.
Some programs for the ACT have a duration of 2 months, but the total time you spend preparing will depend mainly on the format you choose. You can put together your perfect program with the possibility of selecting live online classes, in-person classes, self-paced study, and private tutoring.
Testive.com

Their courses are designed using top technology.
Mobile app.
They don't offer any self-paced programs.
Their pricing is high.
Many students insist that Testive offers the best ACT prep class and that you can't do better. There are two main reasons for this popularity: they use top technology to design their programs and work with professionals only. The method of this company is founded on the belief that guidance must be as good as it can be so that the students can have an effective learning process.
They have several plans. The Bootcamp is a short and intense program, lasts between 4 and 6 weeks and is done mainly through video chats with the tutors. The Coaching programs are two, the simple last up to 3 months and includes weekly private tutoring, and the Coaching Plus, which includes two weekly meetings. Prices for the different programs can vary between 350 USD and 800 USD.

OnlinePrep.ACT.org

Some of the best prices in the market.
Several plans to choose from.
Books have an additional cost.
There are some bad reviews about their services.
This is the choice for students with a tight budget. Some reviews say that this company does not offer the ACT online prep course, but its prices are so competitive that they have many clients. Their programs are designed using real questions from previous versions of the ACT as a model. Among the features, this company offers to its students there are a mobile app, flashcards to learn vocabulary and math, and a wide range of study resources.
ACT Online Prep Pack has different prices depending on the program you choose. There is a 6-week plan that costs around 100 USD, a 3-months plan costs 180 USD, and a 6-months plan costs up to 250 USD. There is also the option to pay and access the study resources only, without tutoring, around 50 USD.
The ACT Exam: Challenges That Students Face
The ACT, like the SAT, is an entry test applied to students during High school and has a huge influence on their academic future and their possibilities to get into a good college. It is a harsh test that assesses the individual's potential for success. The problem is that these aspects create an environment of anxiety and stress that might block the learning process for many students.
Under these circumstances, it is completely understandable that they look for the ACT test prep courses or book online. Luckily many great programs will help students propel their potential and improve their performance on the ACT.
Tips On Finding The Best ACT Test Prep
Want some practical tips on how to find the best ACT online prep in the market? Keep reading, and we'll tell you the methods.
Don't go with the first option. We know that searching for a prep course can be exciting, but try not to jump into the first offer you find. Evaluate several choices and see what the different sites offer you.
Read reviews of customers. To find a top-rated ACT prep online course, it is important to see what other clients can say. We strongly recommend that you check customers' reviews from every site you are considering.
Read EduReviewer's reviews on

ACT prep companies

. Besides reading customers' reviews, it is also recommended that you read reviews from websites dedicated to it, like ours. We already told you the strict criteria we follow to assess test prep courses, so you can trust that we will have a clear vision of which sites have good offers.
Extra features are a big plus. Guarantees, multiple resources, an option to private lessons, 24/7 customer support services, etc. These are all extra features that the ACT prep programs should offer. This offering does not imply that the quality of the services is higher than others, but they are great aspects that will benefit students.
FAQ
We already gave you great information regarding the best ACT prep classes, but there is always something else to learn. So, let us give you the answers to the most frequently asked questions about the ACT and how to choose the suitable program for you.
Where to find the best ACT prep course?
There is one answer to this question: online. Yes, we are in the internet era, which means that almost every aspect of life has found a place on the web. Consequently, the companies offering the ACT and SAT prep classes use the internet as a platform. Not just to show their services but also to impart courses through distance learning using online services.
What should a good ACT prep course have?
You can identify the top ACT prep courses by looking for some characteristics, which are the ones that make them good.
If a service is good, it won't be a secret, and every previous client will be talking about it. So, the first thing to do when considering a prep course is to see what other students have to say about it.
When a company chooses not to show their tutors' professional profiles, then they probably have something to hide. You need to be sure that the one imparting the course to you knows what he or she is talking about.
Many companies offer group classes, and it's not a bad thing. The negative aspect comes when the classes are filled with students because the teacher won't be able to focus on every student's issues. To be effective, a class should have a maximum of 11 students. If there is more than that, it might not be a good choice.
Those companies offering just one plan to prepare you aren't too recommendable. There should be several courses for each test that offers different duration, methods, and resources. That way, students can find a rhythm that fits their own schedules.
How to find a high-quality online ACT prep course?
It is not enough to find an ACT course; actually, it is pretty easy to find it since there are so many offers available. The secret is to find the absolute best ACT test prep courses. It might sound challenging, but it's not that hard if you know how to look.
To achieve it, you need to pay attention to some aspects. First, look for legit companies with a great background. Please don't go for the first option. Check other companies, and read reviews like ours to know how reliable they are. If you keep these aspects in mind, you will be on the way to finding the course for you.
How to choose the best ACT prep sites?
Once you have checked several sites and considered various offers, you need to narrow it down to the ones. To determine if a company is good, reliable, and with quality results, you need to see if it meets some requirements. One of them is working with professional tutors and specialists on the tests they are teaching about.
Also, see if the content they impart is integral and if they use the real tests to design their practice tests. That way, you will know if they will teach you what you need to learn. Extra features like improved score guarantees and apps for your smartphone and tablet are always a plus. The page needs to have great usability, which translates to a good and simple design that it's easy to use. This is how you will identify the best ACT prep websites.
What is the top ACT prep course to take?
It is hard to point out the best ACT prep course ever because the offer is so varied and wide that they can't all be evaluated by the same aspects. It is not the same a course that offers only private tutoring as those offering group classes. So, the best course will be the one that answers your specific needs and requirements.
When is the time to take the ACT prep class?
In one word: ASAP. Yes, the moment to start getting ready for your ACT is as soon as possible. This does not mean that you should start three years before the test's date, although some students preparing some years in advance has been the greatest help. But for the average student, the ideal is to prepare for a year.
Many programs and courses offer plans with some duration, and this flexibility is a plus since it allows students to choose a course that adapts to their current schedule. If you choose a one-year course, you will have the opportunity to prepare yourself in your spare time.
If you go with a shorter course, you will be in an intense program where you need to study a little harder; still, you can make the best of it and have great results in the end.
How do you know which company to choose?
To identify the right online ACT test prep, you will need to identify your needs first. Ask yourself what you specifically need: private courses? Online classes? Do you need to enhance a particular topic or field? According to the answers, you can see which companies offer courses that fit your needs. The ones that can fulfill your requirements are the ones that will work for you.
Would you pay for online ACT courses or use free materials?
Yes! Paying is the most recommendable thing to do. Remember that the ACT is one of the most important tests you will take in your academic life and that it can determine your college options. So, with such a big and important influence, you can't just take the luxury of choosing a mediocre course to prepare you for it.
Not all free courses are mediocre; actually, there is a great material at Khan Academy that can help you get through the test. But they don't offer any guarantee and, since you didn't make a contract for it, there is no real commitment to you and your grades. If you pay a company for a service, they acquire a legal and moral duty to you and will do the best they can to comply with it.
This test will define several aspects of your future, so paying for a prep course should be considered an investment.
What is the Best ACT Prep Course? Our Vedict
So, what are the best online ACT prep programs? There are a lot of aspects that will help you decide what are the best courses in the market. We did our own research and found the five companies in the vanguard of the prep courses market: PrepScholar, Magoosh, Princeton Review, Prep Expert, and Testive.
These websites include some of the features in their programs, like a guarantee of increased points and a wide library of resources available for students. Check their profiles so you can determine which company has the program that fits your better.