It is normal to feel anxious when tests like GMAT are coming close. This is an important test, and many students struggle with the possibility of not doing great.
Luckily, many GMAT prep courses in the market offer to help students in this situation.
But you can't just pick the first one that you come across. The better approach is to evaluate several options and decide which ones are the best GMAT test prep courses for you.
We can help you with this decision, so keep reading these GMAT prep course reviews if you want to know who offers the best GMAT prep class.
Why Should You Care About My Review?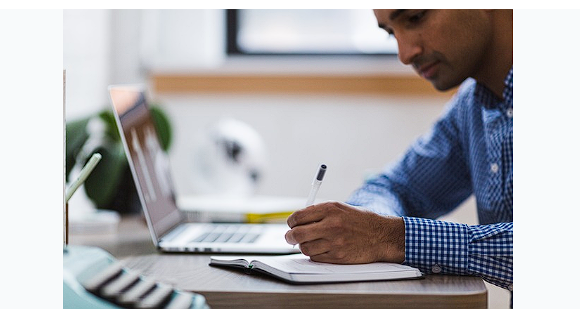 Here at EduReviewer, we work hard to create outstanding reviews to give you the most useful information. To achieve great quality reviews, we have developed a method in which we evaluate the most relevant criteria.
The results of each criterion on its own and the overall performance of the programs are what determine our recommendations.
Criteria We Take Into Account When Writing Reviews
Let us tell you about the criteria that we take into account when writing our reviews.
First, we look at the best GMAT prep courses and the quality of their services. Reviews from previous clients are a good indicator of the programs' quality level, so we always read what others have to say.
There is a misperception that the more expensive a service is, the better. That is not necessarily true since a high price is no guarantee of a great result. What you need to look for is fair pricing that offers exactly what you are paying for.
Customer support. You can measure a company's seriousness by paying attention to its customer support service. A good company, such as Target Test Prep, prioritizes the clients, attends to their needs as soon as possible, and answers every inquiry. The best online GMAT course does all these, so it´s safe to say that it is reliable and cares about its clients' welfare.
It is always a good sign when a company is so sure about its services that it is willing to guarantee improvement. Some offer a score improvement guarantee of just a few points, and others give a bigger range, depending on the company's profile. With these guarantees, the companies offer a full or partial refund of the money in case there is no improvement.
Customization of the courses. A personalized GMAT training course is a big advantage because it means that the program will answer specifically to its client's requirements. The best GMAT prep courses offer a tailored curriculum to their clients.
Magoosh

Their GMAT prep courses cost is one of the most attractive on the market.
Score improvement guarantee.
They don't offer group classes.
Web usability is not 100% good.
This is one of the most known companies, and it is considered by many previous clients that it has the best GMAT prep for math on the market. That is quite a good selling point. Magoosh has both online and in-person prep courses for the GMAT. Some of the resources they have for their students include video lessons, practice questions, and even custom-made practice tests.
Also, they have a money-back policy if the student doesn't reach the GMAT score improvement of 50 points promised by the company.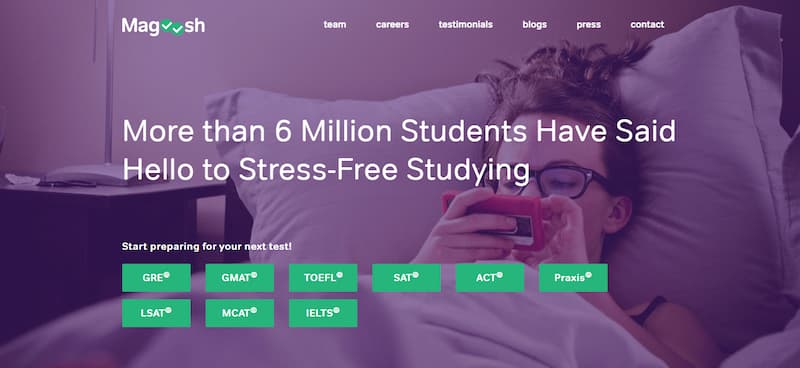 Programs
They offer several plans for each section of the GMAT. The basic program for both sections costs around $220 and gives access to video lessons, practice questions, e-mail support service, and a tailored study plan.
The premium version of this program costs around $250 and provides access to some extra features like practice tests and score predictors. Students can include tutoring in the premium plan, but it will end up costing around $800 for the privilege of having 6 hours of tutoring a week.
Kaptest.com

You can opt for one-on-one lessons.
The course materials they provide are some of the most useful for GMAT prep.
For some Kaplan GMAT prep courses, you'll have to pay a pretty penny
The main characteristic of Kaplan's GMAT prep courses is that they offer various options to choose from. Students can have in-person classes, live online classes, video lessons, self-paced courses, and other options. This is a great benefit since students will always find what they need in one of these formats.
The company's practice exams and their practice questions are particularly good too. Kaplan is known for delivering excellent results, and many previous clients said that they are the best GMAT prep course.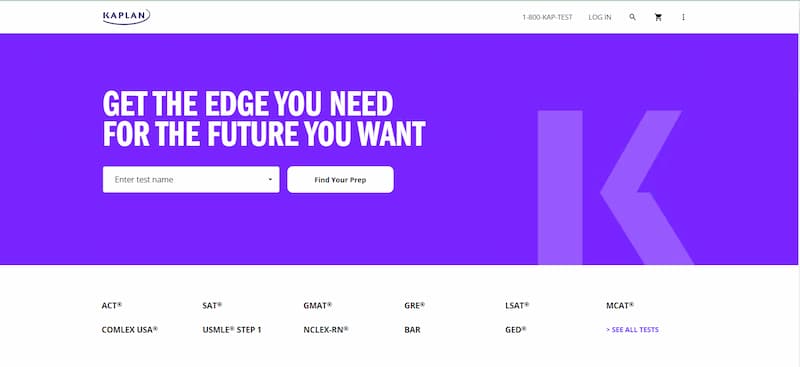 Programs
According to the program you select, you will find a variety of prices. For example, the self-paced option gives the client access to most of the study material, so students can decide how to fit study sessions into their schedule.
This program costs around $800. In-person courses cost around $1500, and the same online course costs $1250. Other programs, like online tutoring, can cost up to $2500, and some more simple ones, like the practice package, cost barely $150.

PrepScholar.com

Its unique algorithm helps them create tailored courses.
They have many study resources.
They don't have group classes.
There aren't many GMAT prep courses to choose from.
PrepScholar is well known for having some of the best GMAT prep courses online. They are an innovative company that uses technology to enhance the academic results of students. At the beginning of courses, students take a diagnostic test, and along the courses, they take a few practice tests and do some drills for the exam.
Diagnostic tests aren't about getting the highest mark; instead, they're set so that teachers can assess their students' strengths and weaknesses. Using diagnostic tests is a key advantage that PrepScholar's GMAT course has over other ones.
The results of each test are analyzed by the unique algorithm, which helps the tutors create a tailored and effective curriculum for every student. This is a great technology that has proven its efficiency many times.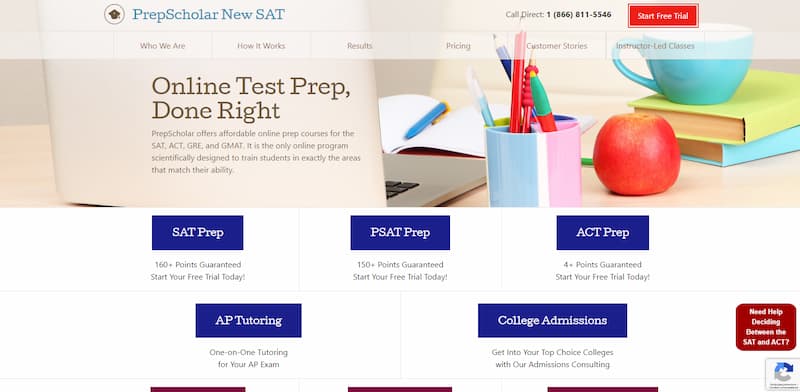 Programs
You can buy PrepScholar's services with different plans. If you only want access to their impressive library of study material, you can pay around $69 for a plan that includes video tutorials and practice questions. A tailored course with video lessons, study plans, progress trackers, and practice tests will cost $260. At the same time, a self-paced plan costs around $140.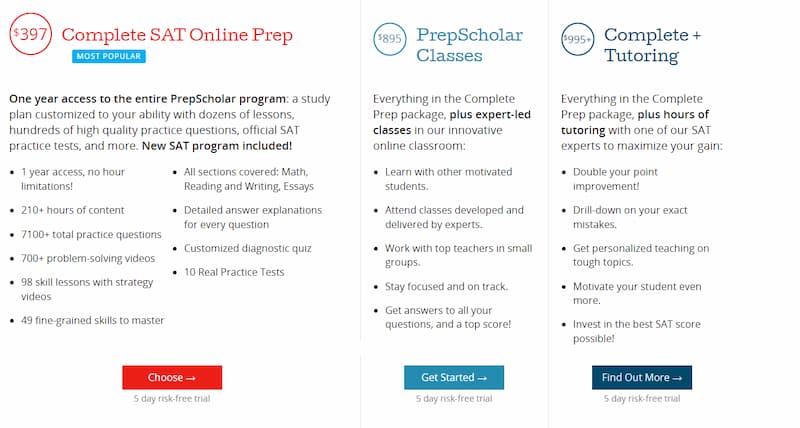 ManhattanPrep.com

It has more than 20 years of experience in the market.
They have excellent resources for students.
They don't have much in the way of prep materials.
The best plans are expensive.
If you search for reviews of the best GMAT prep courses, you will find this company, Manhattan Prep, is listed in nearly all of them. This company has a little more than 20 years of experience in the field and has developed some of the most effective online GMAT prep courses, along with courses for other entrance tests.
Also, they offer great resources to their students, like full-length practice tests with great practice questions, some free classes, blogs, and forums. Any resource a student might need to solve his or her academic issues. They work only with professional tutors who had an outstanding performance on their entry tests.

With Manhattan Prep, students can choose one of two formats for their course: self-paced or led by tutors. With the first option, students will be given access to the company resources and features that will complement their study.
The other option is to choose a program directed by an instructor, in which students receive weekly private or group lessons from a tutor. These live instruction options can cost you around $1000. Also, you could pay for some private tutoring from this company, which will cost you around $150 per hour.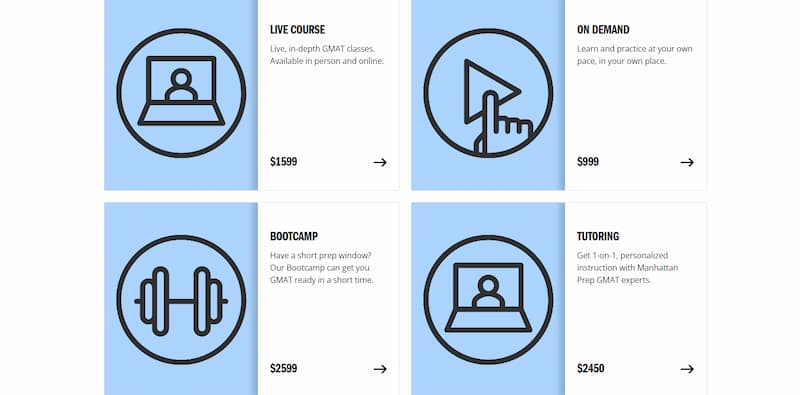 PrincetonReview.com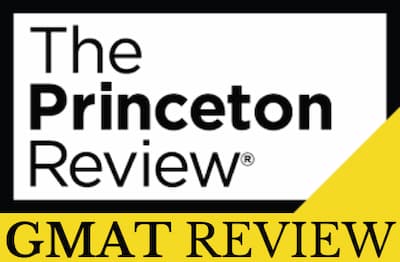 Private tutoring.
The courses have several formats: self-paced, in-person, online, tutored, etc.
Prices are a little above the average range.
They don't have discounts.
Not the best GMAT prep courses online.
There are many reasons to recommend Princeton Review to prepare you for the actual GMAT exam. First of all, they offer quality courses with great results, including their GMAT fundamentals course, and they're highly considered in the reviews. This is partly due to the technology they use to create courses tailored to each student's learning process.
Also, they offer students looking to get into business schools many resources to help them prepare. These include forums, video lessons, GMAT explanation sessions, practice exams with lots of useful practice questions, and a lot of prep materials.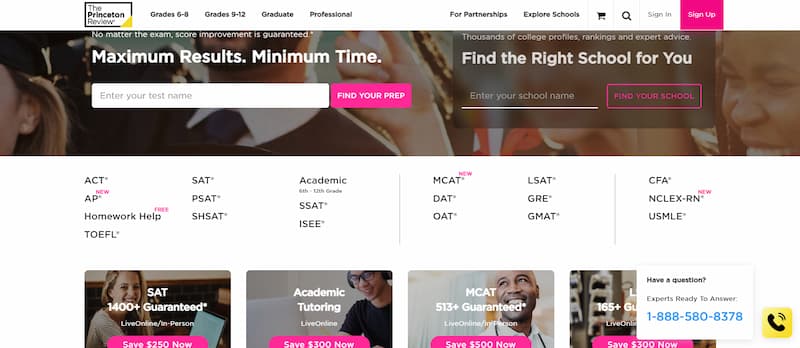 This company allows students to choose between a self-paced course and a curriculum led by a tutor. The self-paced courses might focus on various GMAT sections and cost between $150 and $300, and the entire comprehensive course costs $500.
The classes led by tutors can be done in person or online, as the student prefers. These tutoring options cost $18 per hour, and they come in "packages" of 10 hours. For many, Princeton Review is the best GMAT course online you can get.

The GMAT Explained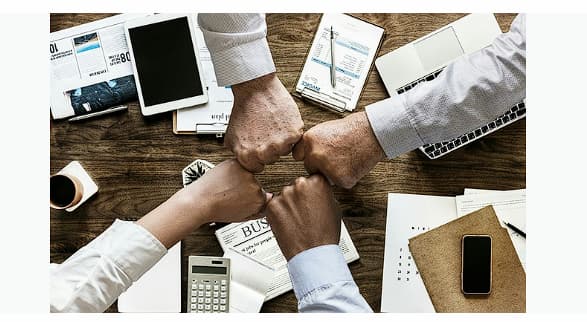 The GMAT is also known as the Graduate Management Admission Test. It's run by the Graduate Management Admission Council, and to get into a good business school, a good GMAT test score is necessary.
Many students want to take GMAT practice exams to hopefully improve their final GMAT score.
The exam has four sections: an analytical writing assessment and integrated reasoning, quantitative and verbal sections. Each practice test is designed to reflect the real thing.
Types of GMAT Prep Courses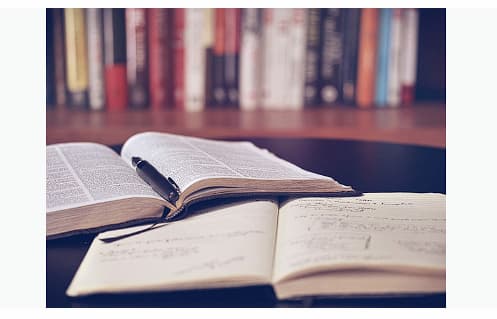 Programs
Choosing the right program is not just about selecting a GMAT course with a good profile. You also need to consider the specific needs you personally have to choose a program that can fulfill them. Here are some types of prep courses in the market, so you can find out what format will answer your needs and determine the right GMAT prep course for you.
Online courses
The internet has given us the benefit of not moving from our computers to get things done. So, if you don't need personal contact to enhance your learning style, you can easily take a comprehensive GMAT prep course in advance. That way, you should improve your GMAT score without having to leave the comfort of your home.
In-person programs
If you like person-to-person contact, then maybe in-person classes are the best for you. Look for companies that are located in your hometown to assist their classes. Many companies offer both online and in-person classes. Some even offer one-to-one private tutoring.
Group classes
Group classes are always very enriching and can become a good learning environment. It is OK if you prefer a group class, but we recommend you choose small group classes with a maximum of 11 students. If you are in a big group, you might find the large class size a distraction. Plus, the tutor won't have enough time to address each student's needs individually.
Private lessons
Many students are shy or easily distracted. If that is the case with you, it will be best to hire a private tutor to help you. With this format, you will have one-on-one time with the tutor. During the private tutoring session, you and your tutor can work on your academic weaknesses together.
Problems of the GMAT Prep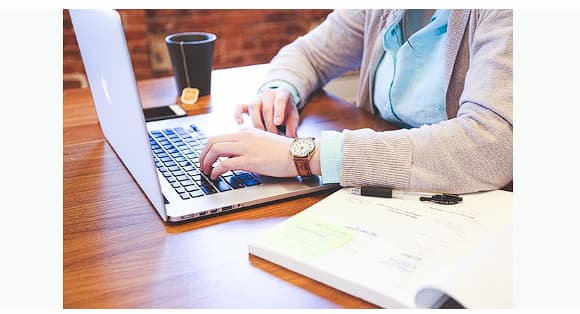 While browsing for the best GMAT test prep course, you might find many articles that encourage you to study by yourself.
But the problem is that tests like the GMAT create circumstances that aren't enriching for the learning process. The stress of everything being at risk plays a not-so-positive role and can even block students' processes.
That is why many students opt for the best online GMAT test prep possible and have professional guidance. They take part in lessons, take practice exams with realistic practice questions, and do plenty of studying, all to improve their score.
Tips on Finding the Best GMAT Prep Course
There is no straight path to finding the top GMAT test prep courses. Every search is unique since the academic needs of each student are different.
Still, there are general suggestions that will help in every search. Here are some tips to give you a hand with your quest for the best GMAT prep options.
Check several options before making your choice
Most GMAT prep courses, like the ones run by Target Test Prep, are attractive but don't fall for the first one that comes to you. We suggest you check several options and see what each company has to offer. For example, you could see what each one's free practice tests and practice questions for the GMAT exam are like. Some companies even have free trial periods. Try a few of these and see which one is better without having to pay.
Read EduReviewer's own reviews of these sites
Remember that we offer the best GMAT review course, counted among the most reliable reviews. You should also remember that the best programs are reviewed in the top one percent of GMAT reviews. So, it is a good idea to check what we have to say about a GMAT boot camp company before making the final choice.
Read reviews from previous customers
It is also strongly recommended that you see what previous clients have said about a program. Many test takers share their experiences online. Knowing what others have experienced can give you perspective on what to expect from the programs.
Look for services that work with professionals
Professional teachers and tutors who have experience with entry tests can help you prepare for the GMAT. The best website for GMAT preparation is the one that hires professionals to help test takers.
Conclusion: So, Which one's THE BEST?
There are many good choices and great companies that can successfully prepare you for the GMAT exam. We have analyzed the most popular ones and concluded that the best GMAT prep courses are currently offered by Magoosh and Kaplan.
If you're after a GMAT prep company that offers excellent service, choose one of these two. Compare them and see which suits your learning style better.
FAQ About Online GMAT Prep Classes
There is no such thing as too much information when you need to decide what is the best GMAT prep course for you. To give you as much help as we can here, we give you the answers to the most frequently asked questions about preparation programs.
There is no such thing as too much information when you need to decide what the most ideal GMAT prep course for you is. To give you as much help as we can, we give you the answers to the most frequently asked questions about preparation programs.
Where to find the most suitable GMAT prep course?
In today's world, where the internet is the place to find it all, we recommend you go online to look for the best GMAT test prep. The internet is not just a platform where all companies have displayed their offers, it is also the easiest way to discover what you need.
You can check all your options from your computer without having to leave your house, the most convenient place to find the top GMAT prep course you need to be ready for your test.
How do you find the top GMAT online course?
If you have decided to take an online course to prepare yourself for the GMAT, you need to find the best possible option. To do that, you should keep In mind some factors:
Look for courses with a great platform to make video calls with your tutor.
Top GMAT online prep courses have various apps available for clients.
Video lessons should be of great quality.
It is a plus if the company allows you to download the study material.
What is the best prep course for the GMAT?
It is a risk to say which GMAT prep course is best since there are so many different offers. Still, there are some aspects that you can check and will indicate to you if a program is convenient or not too good.
We told you some tips that will be useful, like looking for companies that work with professionals and checking several reviews before making a choice. But there are other things you can pay attention to.
For example, you should see if the company you are considering is legit. Check its background and see if there are any suspicious reviews or bad experiences from other clients.
Another thing is to see the performance of students who have taken the course and how good were their scores. If everything seems to be good with these two things, then you might be looking at one of the top online GMAT prep courses.
When is the best time to take the GMAT prep class?
Entry tests like the GMAT are very harsh and need a lot of preparation. That is why it is recommendable to start preparing for it as soon as possible. Some students who want to get into business schools prefer to study up to three years in advance. On the other hand, there are some who just need a couple of months.
Every student has his or her rhythm; top GMAT prep programs know that, and it's why they offer several courses with different durations. You need to find an option that makes you feel comfortable, whether it´s a long course or a short one.
However long you need, things like full-length practice exams can be very useful indeed. The top business schools have high standards for GMAT tests. Doing even just one practice exam can help you when it comes to the real thing. Whatever course you choose, take advantage of GMAT practice exams and the practice questions they come with.
What is the best online GMAT prep course for you?
All top-rated GMAT prep courses have many things to offer, such as full-length practice exams. Finding the best GMAT prep course online simply isn't enough: you need to find the best one for you.
To do so, you have to consider aspects like what course format suits you better and whether you're okay with live instruction through online classes or if you need direct contact.
Also, consider if you want to take group classes or private tutoring. And decide whether or not you need to work with a self-paced course; you may find it is better to take a scheduled program instead.
Don't forget about the resources and tools the company offers. These include a practice test with realistic practice questions, so test takers can get a feel for what the actual exam will be like.
How can you tell which company offers the best test prep for GMAT?
GMAT best prep companies are not so hard to identify if you know what to look for in them. The most important factors are to see that the background is clean, which means that it does not have any controversy or shady stories, and to see if it has suitable courses to help you learn effectively.
If you're serious about getting into business school, you should be equally serious about doing well in the GMAT.
Should I spend money on online GMAT courses or stick with free courses?
Many defend the use of free courses, and certainly, there are many free programs on the internet with decent quality that offers good results.
Still, when it comes to a grade that will possibly define your academic future, it is best not to take risks. If you want the best prep for GMAT, the safest road is to pay for it.
Some companies with paid services have top features, such as a score improvement guarantee; they promise to improve GMAT test scores by a certain number. They offer a refund to test takers whose GMAT scores don't improve by this number.
When you hire a company, such as Target Test Prep, to give you a service, you initiate a contract that bounds the company to you. With this legal and morally acquired commitment, the company sees itself in the obligation of doing the best it can for you.