It is hard to prepare for entry tests like the GRE by yourself. There is so much to study to do, and you can make so many mistakes without even knowing. That is why preparation courses for the GRE are so popular and abundant. In addition, students can find a huge variety of programs designed to help them get through this test with success.
Are you conflicted because there are a lot of options, and making a choice is very hard? No worries, read our review if you want to know how to find the best GRE online prep course for you.
Why Should You Take EduReviewer's Review Into Account?
It is paramount that you can count on reliable reviews to make the best decision when choosing a preparation program. We are committed to offering you the best, so we work hard to create great reviews and give you the information you need to make the right choice.
To do that, we developed a method in which we assess several aspects that define preparation programs, like pricing and quality. Then, according to the results, we write our reviews and decide what deserves to be recommended to you.
Let us tell you here about some of the criteria we evaluate. This way, you will have a better idea about how to choose the best prep for GRE.
Quality. Of course, this is the first aspect to check when assessing the profile of a company. It is necessary to see if the programs and methods they use are really effective when preparing students for tests. The best way to do it is by reading the previous client´s experiences and checking the success rate of the students who took the course.
Price. It is unnecessary to look for the most expensive course; in fact, a program that costs more than what it should is not reliable. We consider that a higher price does not necessarily mean higher quality, so to us, the best programs are those with fair pricing. If a program is more expensive, we expect it to have some additional features that justify its costs.
Customization of the Courses. The programs with courses customized to each students' needs are the most attractive. That is because a customized curriculum will directly address the academic weak spots that students have. It is an effective way to solve issues and create a great learning process.
Customer Support Service. A respectable company offers top attention to its clients. When a program has poor customer support service, it is a bad sign, and it usually means that they won't be attentive to the clients' requests. So, we always check if the program has 24/7 customer support if they have several means of contact and if they offer an immediate response.
Extra Features. Guarantees of score increase, study material, and resources, mobile app… These are some of the extra features that good programs give to their students. When a company offers one or several of these is a great sign since it means that they are willing to go a little further to offer a great service to their clients.
GRE Prep Courses: Types to Consider When Choosing a Program
There is no easy way to find the GRE best prep possible; it's necessary to search a lot and consider many aspects. The market is huge, you can find any offer you can imagine, and that variety can also be confusing.
To narrow the possibilities a little, we recommend you start your search by defining the kind of course you want. Make this decision by evaluating the profile that will be most effective for you.
Group classes: If you like teamwork and feel comfortable learning with peers, then group classes are probably for you. These are interesting because they offer the opportunity to learn from other doubts but stay away from big classes. A massive group will become a distraction, and the tutor won't have time to concentrate on every student's issues, so the learning might not be as effective. 11 students is the ideal number for this kind of group class.
Private lessons: students that are shy or too easily distracted will be best with private lessons. The tutor can meet each student to address the specific doubts he has and guides him in the preparation process. In general, students feel more comfortable if they don't have to talk about their difficulties in public, so private tutoring has become the favorite format for many.
Also, you have to decide if you want in-person classes or online lessons. Choose in-person classes if you feel more comfortable with direct human contact, and check if the institutions in your town have good programs or if there are good tutors nearby.
On the other hand, if you go with the online lessons, you will enjoy some benefits of the internet era, like not having to leave the comfort of your home and having all the information of the world at your reach.
Top GRE Prep Courses
We told you our method to assess preparation programs now. Let us tell you about some companies that we have evaluated with this method. Don't miss any detail, and you might find the right course here.
Magoosh.com

Great web usability.
Guarantee of increase of score points.
They don't offer online tutoring.
It just gives up to 3 practice tests.
Magoosh is an institution that offers self-paced preparation programs, and it is considered by many that they have the best GRE math prep. It is well known for the quality of its study material and its score increase guarantee. In addition, their programs have a system that gives feedback and reports of progress. Having this information, students will know how they are advancing and what aspects need to be reinforced.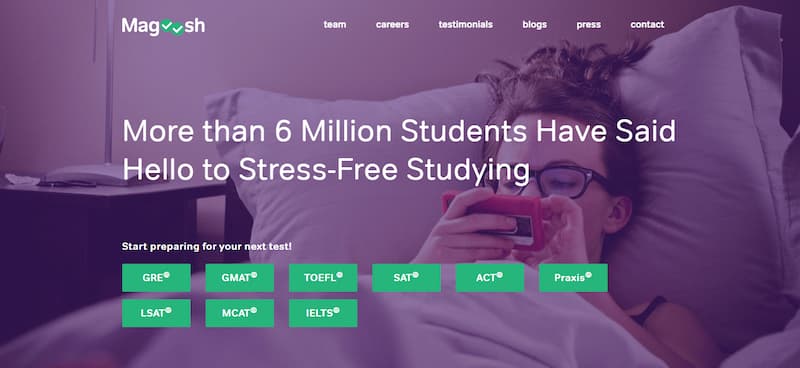 The website has an excellent interface, user-friendly, and has good usability. They work only with professionals and have an extensive library of study material at the service of students. Also, they offer their lessons in different presentations, so you can choose whether to read them, hear them or see them in the video. For the GRE, they offer two plans: a 1-month plan which costs 149 USD and includes video lessons, practice questions, and practica predetermined tests; and the 6-month plan that costs from 179 to 894 USD and includes video lessons, practice questions, and practice tests, but also an increase of 5 score points or more on the final result, email assistance and a score predictor.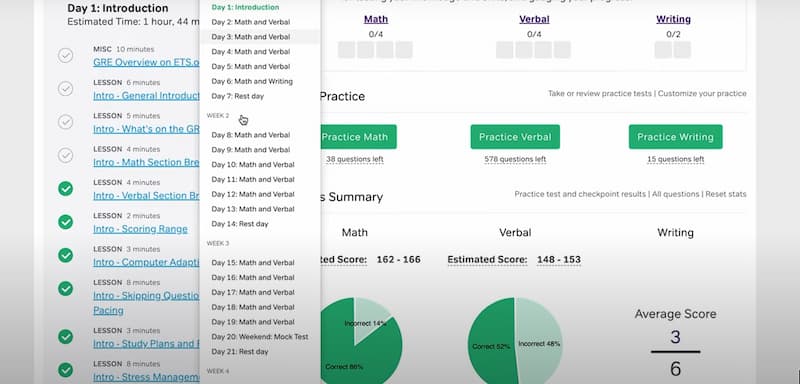 PrepScholar.com

They offer a free 5-day trial period, so possible clients can try the program before deciding.
Guarantee of increase in points.
Even though they have the best online GRE test prep, they have no tutoring.
They don't have group classes.
For those looking for complete preparation for the GRE, PrepScholar is one of the best options. This company has been on the market since 2013 and, in less than a decade, it has managed to find a position as one of the best in the field. They offer self-paced courses that have the flexibility to allow students to fit the program into their schedules. Also, they give students access to quizzes, practice tests, and interactive lessons, for which students have access 24/7.
Every PrepScholar course starts with a diagnostic test designed to identify the student's weak spots and the topics he needs to work on. That is how they manage to offer interactive classes to each student and mini-lessons focused on the aspects he needs to improve to enhance his score. They are so sure about the quality of their programs that they guarantee a score increase of at least 7 points.
Achievable

Great web and mobile usability.
Personalized learning.
They don't have group classes.
They don't have videos (yet).
Achievable offers test preparation courses for professional advancement exams, including the GRE. They focus on the "adaptive learning" model, meaning each learning material and course they provide for you are tailor-made for your review needs, learning pace, and studying habits. Powering this is an algorithm based on learning science research – they give you personalized content based and how long you can remember information. This maximizes your time studying and ensures that you effectively absorb and apply the new knowledge.
Achievable GRE provides a great self-study option with a $199 course and gives you access to it for a year. This program consists of an approachable online textbook, endless quant review questions, powerful vocabulary drills, instant essay grading, and full-length practice exam sections. And we have to note that the mobile usability of their website is good, so you can learn on their platform using almost any device and at any time suitable for you. Achievable GRE is "for those who learn by doing," a great slogan, isn't it?
Kaptest.com

Students have access to the study material all the time.
Offers private tutoring.
They only offer one practice test.
Their prices are a little high.
If you have a loose budget and need an excellent course to prepare you for the GRE, Kaplan is the way to go. These courses are done with the sponsorship of the educational company Kaplan, an institution that has existed for more than 80 years. With this back up they can design great programs with effective results.
Among its study materials, Kaplan offers video lessons, practice tests,  practice questions, and flashcards. According to the plan you choose, there are various prices. The self-paced program costs 500 USD for six months, and in-person courses cost 1,299 USD or more. Also, they offer a guarantee of points increase, so, in case the student doesn't improve his score, they can retake the course for free or get a full refund.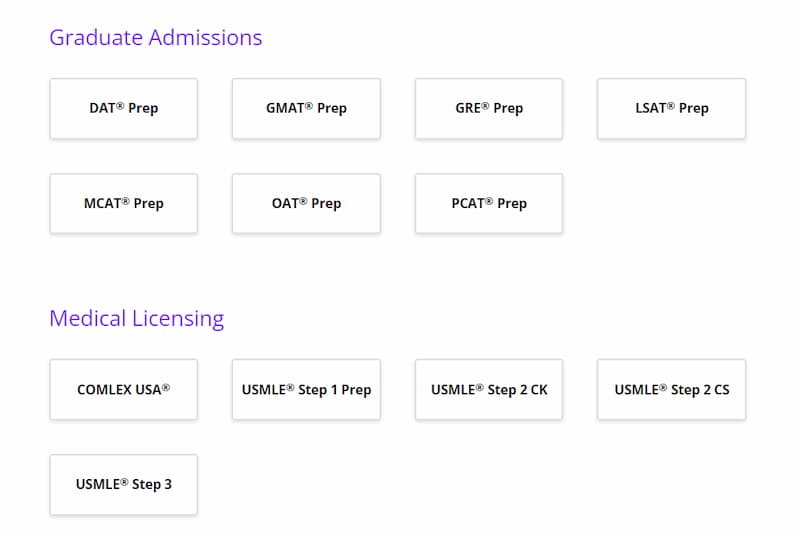 ManhattanPrep.com

Up to 6 practice tests.
They work only with professionals.
They do not offer guarantees nor refunds of the payments.
There is no direct tutoring available.
This is a company that gives some of the best GRE study prep in the market. Manhattan Prep allows its students access to many study materials to guide their preparation. Video lessons, specialized books on some specific topics, and practice tests are some of them. Also, the students have access to this material at any time and, since most of it is downloadable, it can be used from portable devices like smartphones and tablets.
Each practice test you take with a Manhattan Prep program includes analyzing the results to indicate to students which aspects can be improved. This company works only with professional tutors, specialized in the topics they teach. The Manhattan Prep course is self-paced, and students can opt for periods of access to the lessons: the 1-month access costs around 250 USD, the 3-month access costs around 350 USD and the 6-month access costs 400 USD.
PrincetonReview.com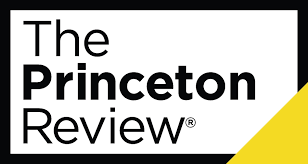 They work with professional tutors.
Courses in different formats.
There are some terrible reviews about this company.
Prices are a little above the average range of prices.
Princeton Review offers great GRE Prep courses to students that need a little help in preparing. They provide a lot of resources and study material of the most standing quality. Also, they give feedback on each student's progress and strategies to make the learning process more effective. Their lessons are customized for every student.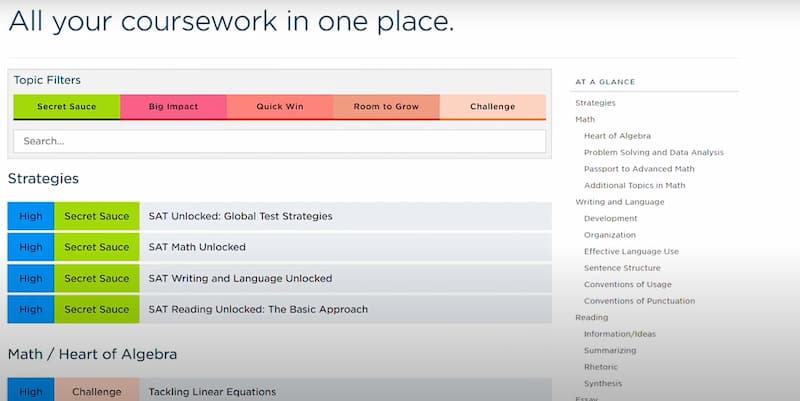 With Princeton Review, clients choose between in-person classes, online programs, and self-paced courses. Modules and systems have different prices; the most direct cost is around 300 USD, and some monthly programs cost about 500 USD.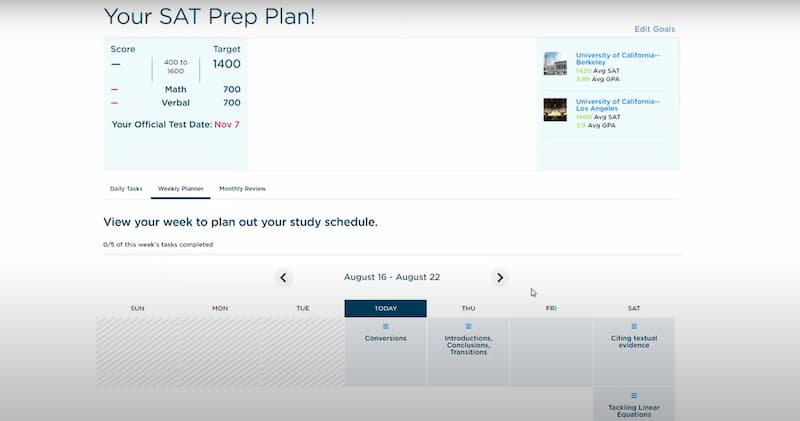 GRE Exam Problems Students Face
The GRE (Graduate Record Examination) test applies to students who want to opt for postgraduate study. It is an admission test focused on assessing the knowledge a student has over certain topics, intending to measure their readiness to do a postgraduate study. A lot depends on the results of this test, so the closeness of the date to take the test generates anxiety and stress in students. Also, to get a good score, the student needs to study a lot, and it does not seem to be enough time.
The considerable pressure a student must feel in the previous months to taking the test can create the worst learning context. For many, it does not matter how much they read or study; the stress won't let the learning process be effective. That is why many students prefer to look for the best GRE course to find the guidance they need.
Are Tests Like GRE Effective?
There are many recent, and not so recent studies that have focused on the effectiveness entry tests have on "predicting" the students' performance in future school years. Some conclude that these tests, among which is the GRE, are working as they should and offering the results to make accurate predictions. But many others have concluded that there are more negative consequences for applying these tests than positive ones from the study of their results.
One bad aspect is that many students with skills that can't be measured through a standardized test lose the opportunity to get a good education. Other studies point out the disadvantages of students that aren't native English-speakers. And, even so, there is a considerable amount of registered cases of students that didn't do too well on an entry test and turned out to be excellent students in college.
Entry tests like the GRE have been used for a long time, and it is becoming obvious that maybe they should be suppressed altogether. But it does not seem to be happening soon, so, for now, we recommend that you find the best test prep GRE possible to help you be as ready as you can.
Best GRE Test Prep: Tips On Finding
There are effective ways to identify the best online GRE courses on the market, and finding them is all about knowing what to look for. Here are some great tips to help you with your search.
Read EduReviewer's reviews of these websites

. It is important to read the opinion of institutions that are dedicated to writing reviews. We have a method to determine the profile of prep programs and give recommendations according to what's more convenient for the student. However, it's always a good idea to have a look at some reviews.

Read customer reviews

. It is also very recommendable to check previous clients' experiences and see how the program works for them. The opinion of other students can be beneficial in giving you a good idea of what to expect from the courses.

Variety in the offer is always a plus

. For example, some companies offer just one course for each entrance test. But, ideally, you should look for one that offers several programs and approaches for each test. That way, you will have the possibility of choosing a course that adapts to your schedule, learning rhythm, and general preferences.

Look for GRE courses that work with professionals

. We can't stress enough its importance. It is paramount that the tutor leading your study is a professional trained to do so. The best GRE courses also worry about hiring professionals with outstanding performance on the test they are imparting.
Online GRE Prep Classes: Questions You Might Have
There is a lot of information in this article, but a little more won't harm you. So here are the answers to the most frequently asked questions about the best GRE online prep courses.
Where to find the best GRE prep course?
The internet era gives us many advantages and, among them, is the fact that you can find almost anything without having to leave the comfort of your home. So, when looking for the best GRE test prep course, we recommend starting on the internet. Online you will find top online GRE prep and even the means to contact institutions for in-person classes.
How to find the best online GRE prep course?
The offer of programs to prepare you for the GRE is quite big, and in the middle of all those choices is hard to make a decision. We already give you some tips to keep in mind when looking for the best GRE prep course online.
Apart from the factors we told you before, you should also make sure that the company you are considering has a great background and that there are no shady aspects to watch. The best programs have nothing to hide and only leave satisfied clients.
When is the best time to take the GRE prep class?
Just as the best GRE prep online suggests, it is important to start preparing as soon as possible. If you start a year in advance, you will have spare time to prepare, and if you study just a couple of months in advance, you can take an intensive course to give the final touches to your preparation. There are programs with several durations, so you can choose the one that fits you better.
What is the best GRE prep course to take?
The best choice for you will be the one that adapts to your learning process and makes you feel comfortable. No matter how good the program is, if you don't feel like fish on the water, then it might not be the choice for you.
How do you know which company is the best test prep for GRE for you?
It is not enough to find the best test prep for GRE, and you need to find the best for you. Everyone has a particular learning process, and not all formats work for every student. So, you should find a course that gives you the tools to help you study, making you feel comfortable. Many companies offer a trial period for free, and you could try a couple and see which one you feel better with.
Would you pay for online GRE courses or use free courses?
You can look for the best free GRE prep on the internet, and surely you will find a good amount of respectable courses. Still, our recommendation regarding this aspect is that you look for a paid service. Mainly because when you pay, there is a contract between you and the company, which implies a certain commitment that is not acquired with free programs. This contract represents a moral and legal obligation, which translates to a bigger effort from the company and, in consequence, better results.
Conclusion: So, What is the Best GRE Test Prep Course?
There is a lot to say about the big offer of preparation programs for the GRE. However, the wide variety is an aspect that creates confusion and might complicate your decision.
To help you, we have studied some programs and, we conclude that if you are in the quest for the best online GRE prep, you should check what Magoosh and PrepScholar have for you. Both companies offer integral programs to prepare you to get the score you need in the GRE.