English is the most spoken language all around the globe, and gaining expertise in it can be a valuable and great asset in your professional career and personal life. No matter where you live, or what you do, good communication skills in English can help you a lot.
Now that we all agree on the importance of learning and improving your language skills comes the million-dollar question: Where to find the best English tutor? With the world under siege from lockdown, going out to take physical classes is a bit risky.
However, fret not! There are various best English tutoring services that you can use where you can find the perfect English tutor for online lessons! With your career and future life depending on how well you do in school and college, there is no need for you to neglect your studies just because a global pandemic is raging on.
Finding a good quality tutor has never been this easy, thanks to a multitude of online websites providing their services. With so many English language websites, it can get a bit difficult to choose one that is perfect for you in all regards. To make this process easier for you, we have reviewed a few good-quality English online tutoring programs that offer quality services.
So, without further ado, let's get started with listing the best English tutoring!
Best Online English Tutoring Services and Companies
Wyzant

Easy to use their website;
Loyalty program;
Polite customer support;
Get a refund if you are not satisfied.
Hard to recover a forgotten password;
Expensive in the beginning.
When choosing the best online English tutoring services, you need to consider plenty of features such as technical support, the cost of the services, the professionalism of the staff, etc. Wyzant is a high-quality online community and one of the
best tutoring companies
that helps students find and hire tutors from all over the globe.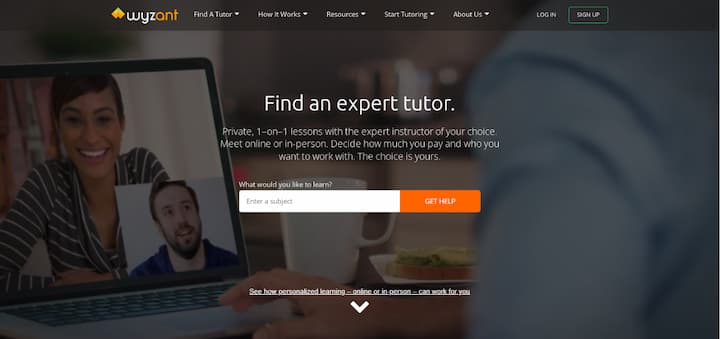 With an A+ rating at the Better Business Bureau, Wyzant has a team of professional and expert English tutors who will help you with any issues. There are no hidden payments, and you can create an account on Wyzant free of cost.
While you are registering, you don't have to add your payment information. According to various user reviews, Wyzant has excellent customer service, and the representatives are there to solve any issues you might have.
The website has a user-friendly interface that is straightforward and easy to use. However, in case you forget your password, you will have slight difficulty recovering it. Other than that, the website works perfectly, and the new logo of Wyzant (changed in 2016) looks much better!
The English Tutors cost around $35 - $55 per hour on average. There are no costly packages and no upfront fees. You can compare the tutor costs and choose one that fits your budget. With a variety of options, you will find one that fits your needs!
The Wyzant app is available for Android and iOS users and ensures that you can take your lesson even on the go! With their "Good Fit Guarantee", you can rest assured that you will not be charged for it if you don't like your first lesson!
TutorMe

Satisfaction guarantee;
Highly qualified staff;
Data security;
Well-structured lessons;
Conducive environment.
Prices are non-negotiable;
Tutors are automatically matched with students.
With the best online tutoring services such as TutorMe, students can learn and acquire knowledge without even setting foot in classrooms! As students, you can get access to the best and most qualified tutors instantly.
TutorMe is a fantastic academic platform where students can access the best English online tutoring and learn from experts in their fields. There are various packages available, and you can choose from the 2 hr., 4 hr., and 8 hr. monthly packages with rates of $69/month, $119/month, and $209/month, respectively. You can also choose to "pay-as-you-go' at the rate of $1/minute.
You don't have to worry about your data and payment information getting out since TutorMe ensures that your data remains safe and secure. They prioritize customer data safety, and you don't have to worry about your personal information getting out.
When it comes to using online services, website usability plays a considerable role in making your experience good or bad. The TutorMe website is not only easily navigable but also has a professional design. They have a "Tutor satisfaction guarantee'' in which if you are not satisfied with our first lesson, you can contact them and get a refund!
You can get all the help you need with questions, assignments, problems, etc. Moreover, you can get the help you need in a short time period. Unfortunately, they don't have a mobile application, and you will have to take your lessons via a web browser only.
To learn more, check our
TutorMe.com review
and find out more about this company.
Preply

Affordable;
Good customer service;
Great Skype classes;
Money-back guarantee.
Choosing tutors takes time;
No flexibility when it comes to package lessons.
Many online tutoring services are available, ranging from courses by world-famous universities to lectures by experts in their fields. However, not all the online English programs available are of good quality.
With Preply, you don't have to worry about the quality of the tutors and experts teaching you. You can check out their profile, see how much experience they have, and read the reviews left by previous users to determine whether they are a perfect fit for you or not.
If you are not happy with the selected instructor, you get a 100% money-back guarantee. If the first lesson doesn't go well, you will get a refund, so you don't have to worry about your money going to waste.
You can contact customer services via email or get in touch with them using the message board on the website to resolve any issues you might have. The prices start from $1/hour and go on up to $40 according to the skill and demand of the best English tutor.
You can schedule the classes with your tutor at your ease. The lessons are delivered via Skype. Unfortunately, there isn't a mobile application that you can use for Preply. However, you can download Skype on your mobile devices and take lessons on the go!
While we covered some basic details about this company here, you can read our
Preply tutor review
that covers all the questions you may have about this website for more information.
Cambly

Great web and app usability;
Lessons don't have to be scheduled;
Connects people from all over the globe;
Affordable packages.
Slow customer service;
Informal lessons.
Education is something that can change the path of your entire life – it is not something that you can compromise on. When you search for the best tutoring centers for English, you are handing your future over to them.
The smart move for you is to do ample research and learn as much as you can about the various options that you have. If you are searching for a good quality English tutor, then Cambly is a good choice. It is an ESL (English as Second Language) platform.
Cambly helps students from all over the world improve their English language skills. Mostly, students use Cambly to get help with various exams such as IELTS and TOEFL. You can schedule meetings with your tutors, or you can go online at any moment and pair yourself up with a tutor who is available at that moment.
There are several plans and packages that users can choose to receive lessons from tutors. Once you complete 10 hrs. of private English classes, you get a certificate!
The subscription packages vary both in price and duration. The overall cost ranges from $21 to $270. There are monthly subscription options and quarterly and yearly subscriptions – you get discounts on the quarterly and annual subscriptions.
According to the user reviews, it takes some time to hold the customer service representatives at Cambly. If you have any queries, you will have to wait for a while before getting addressed.
Cambly has an excellent user interface both for its website and mobile app. The website has excellent navigability, and you can receive your lessons on it if you prefer. Otherwise, you can use their application which is compatible with both iOS and Android devices.
If you look for a more detailed description of this company, you should check the
Cambly IELTS review
, which covers most issues raised by their customers.
Varsity Tutors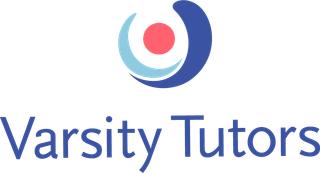 High-quality instructors;
Handy mobile application;
Variety of lesson plans;
You can switch instructors.
Ambiguous pricing;
Need to provide personal information at the beginning.
As students, we all struggle with the academic workload that we have to take care of. When we are studying on our own, we tend to get confused, which ends up showing bad grades. However, with the help of correct guidance from expert tutors, we can ensure that our rates don't go down and that we always stay at the top of our game.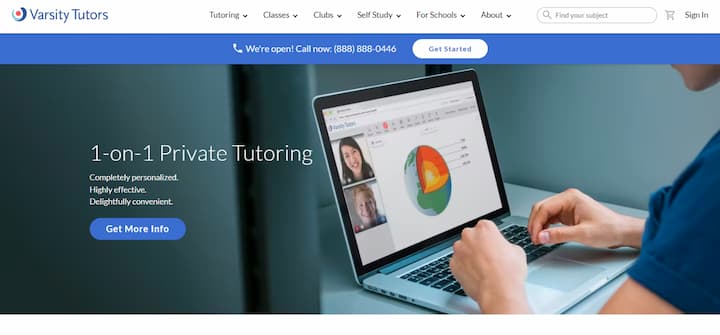 When it comes to Varsity Tutors, they promise to deliver customized and personalized learning plans. The experts that you hire will design a learning program that will cater to your specific needs. From kindergarten students to grad school students, Varsity Tutors provides help for all!
The pricing depends on various factors, including your geographical location, the type of tutor you are looking for, the topic you need help with, etc. For example, if you live in another country and want to talk to your tutor after working hours, you will need to pay additional charges for this.
However, since the prices are not transparent, it can be a bit difficult for students to put their faith into a service, which they could probably end up not affording.  When it comes to customer service, there is a phone number, which you can use to contact them. However, since the website is operated by many people, it can take a while before you get connected.
With the customer satisfaction guarantee, you can rest assured that you can get in touch with the administration if you are not satisfied with the professional you are working with. They will find you a tutor who is better suited to your needs.
You have to enter a lot of personal information such as your name, email, phone number, etc. Many people are not comfortable doing that. Moreover, you get a clear idea about the pricing through email after you have placed an order.
Varsity Tutors offers mobile apps that are compatible with Android as well as iOS. They have instructors of the highest calibre, and you can get online instruction anywhere and anytime!
Read more about the features and apps they have in our
VarsityTutors review
, and there are tons of information you might want to check.
FAQs
As students, we are always on a budget and in a financial crunch. With back-to-back jobs, it can get tough to find enough time to manage our studies, social life, and personal life easily. It wouldn't do for you to get bad grades just because you don't get quality academic help.
Why do you need to take into account EduReviewer's reviews?
With a lot of misinformation available online, we at EduReviewer always strive to provide you with authentic information that will help you better your career and education. After using these services ourselves and scouring hundreds of user reviews online, we have put together this honest and unbiased list of the best English online tutoring services that you should use!
What is an online English tutoring service?
If you needed help with something in your studies in the days of old, you needed to get tutoring face-to-face. However, with the advent of technology, learning has become a lot easier, and you can acquire knowledge from top English tutoring companies.
An online English tutoring service will help you better your English skills and will improve your grades. With various courses being offered, no matter what your proficiency level is, you will fit your needs perfectly.
What are the pros & cons of using English tutoring websites?
Do you want your grades to go up? Want to ace an interview and think your English isn't up to the mark? Well, all you need to do is to use the best English tutors' websites. You can get homework help right from the comfort of your home!
However, it can be a bit hard to get the amount you would need to pay the tutors as students. There are several affordable options, so you don't have to worry a lot about this.
How much do English tutoring services cost?
The prices of English tutoring services vary according to the skills of the tutors, the duration of the lessons, the difficulty level of the lessons, etc.
What should you look for when choosing English tutoring services?
When it comes to English tutoring services, you need to look for features such as the number of user reviews, ratings, pricing, customer services, etc. We have explained this briefly below as well.
How do we know that a particular English tutoring service is the best?
Best online English tutoring companies are rampant. Any tutoring service that fulfils your needs and requirements and is well within your budget is the best one for you. However, there are a few things that you need to look for in a good-quality service, such as expertise, customer service, guarantees, pricing, etc.
Things to look for when hiring an English tutor
How to choose a good tutor? Well, you can't just simply search online and select the first tutor that pops up, right? Before you go online and search for a good English tutor and the best places to find English tutors online, you need to set forth your requirements.
Think about the reasons you need a tutor. What are your goals, and what are you hoping to accomplish after finishing the tutoring? Figure out what your budget is and how much money you are willing to spend on the lessons.
Once you are clear about your needs, check if the tutor you are looking at fulfils those requirements. If you want to learn American English, it will not do to hire a British tutor or an Australian tutor, right? Check the rates of different tutors and check if they fit your budget easily.
User reviews and ratings matter a lot when it comes to checking out the authenticity of tutors. Many top English tutoring online companies have a rating system that allows the students to provide feedback, and read the reviews to know the tutor's qualities and why people didn't like learning from them.
Conclusion
A good tutoring company and website always put the needs of their customers first. If you are looking for help with an assignment and are not satisfied with the services, does it mean your money and time will waste?
In the case of good and reputed online tutoring services like Wyzant, Preply and Varsity Tutors, this will not happen. No matter how complicated the tasks are, the professionals will ensure that everything is perfect and just the way you want it.
Moreover, they will provide you with revisions if you are not happy, and some even come with money-back guarantees! Give the above-mentioned tutoring services a look, and you will find one that you are satisfied with.
Happy studying, folks!